Pink Blush Maternity

Pink Blush Maternity
Okay before the rumor mill starts firing away, no I am not pregnant. I'm not expecting a thing – well other then a good night's sleep every once in a while (is it odd that I just heard my son giggling away as soon as I typed this?). When I was pregnant with my son, I bought maternity clothes right away. It was a great investment (and yes, I still wear some of the shirts) but don't start sneering your noses at me! Maternity clothes have come a long way, they're (dare I say) fashionable now. I was sent a shirt from Pink Blush Maternity and I'm in love.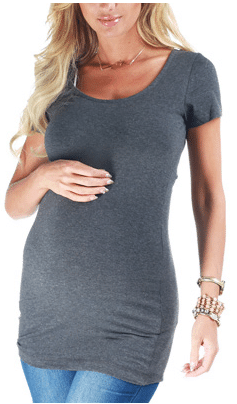 Who would have thought that I would be in love with a maternity shirt brand at 16 months postpartum (ha! Is that even a thing?). I chose to review the Charcoal Basic Maternity Tee. This beauty only retails for $18.99 (on sale), and I'm pretty sure I now have the attention of all the women who are not pregnant right now. I'm going to start out my review by saying this; I love how Pink Blush has made being fashionable while pregnant, affordable. When I bought my maternity shirts while pregnant with Carter, I spent $30-$40 on ONE t-shirt. It was nuts, I was pretty upset about how a well known Canadian brand was taking advantage of pregnant mommas. It was either that or wear my hubby's beer shirts (which I still rocked in the comfort of my own home).
This shirt is long, but that's a good thing. Not only is it slimming but because of the length, it will grow with you. You can literally wear this shirt from the day you find out you're pregnant until your due date and for many months after. You really get a great bang for your buck. Whether you're pregnant or not, it's a great look. It is a bit long on us non-pregnant women but I just folded up the bottom a bit and I was good to go.
Pink Blush Maternity sells everything from t-shirts to evening dresses. They really cater to the expecting women out there who care about fashion, looking good and feeling great.
Pink Blush Maternity Dress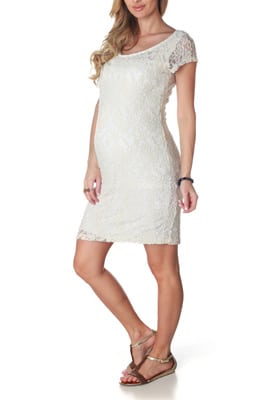 Another item that I adore from Pink Blush Maternity is this white lace maternity dress. What a great dress to wear on a night out with your partner, enjoying a meal before the baby arrives. It also looks fairly cool, so it's perfect for the hot summer days we have been having lately.
If you like these choices, you'll definitely like the huge selection that Pink Blush Maternity has to offer. Check them out and don't forget to Like Pink Blush Maternity on Facebook.