METRIN Skincare #METRINSkin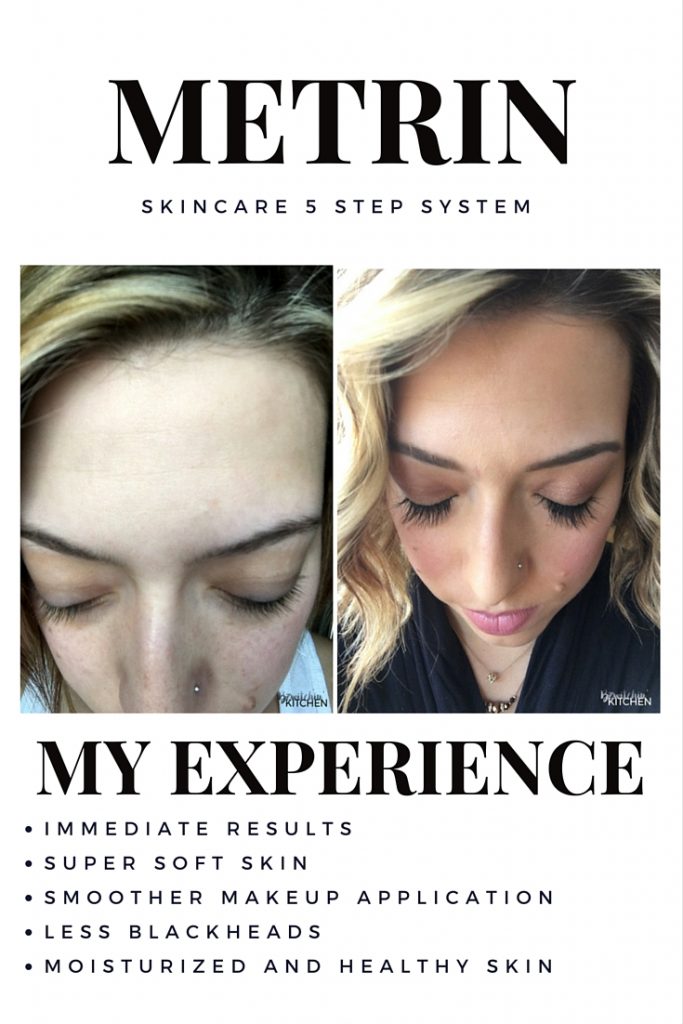 For the past few months, I have been working on taking care of myself. I've been doing so in the form of exercise, quiet time that's just for me and taking care of my skin with METRIN Skincare.
I have never been one to use a bunch of products on my face. From high school until now, I kept my face regimen minimal. When I was younger, that plan worked well. I was never one to have a lot of acne and I had nice skin as a teenager.
I'll be 28 in August and my skin has changed. It's not as soft as it once was, I'm starting to develop a few lines across my forehead and my nose seems to be the place where blackheads like to settle in and call home.

When my METRIN Skincare package arrived, I vowed I was going to take better care of my skin (aka actually do something). I was really excited when it arrived (hence the IG post) and got started right away. Here's what arrived:
Step 1 – Deep Cleanser
Step 2 – Lathering Cleanser
Step 3 – Vita Conditioner
Step 4 – Protective Lotion
Step 5 – Enriched Vita Conditioner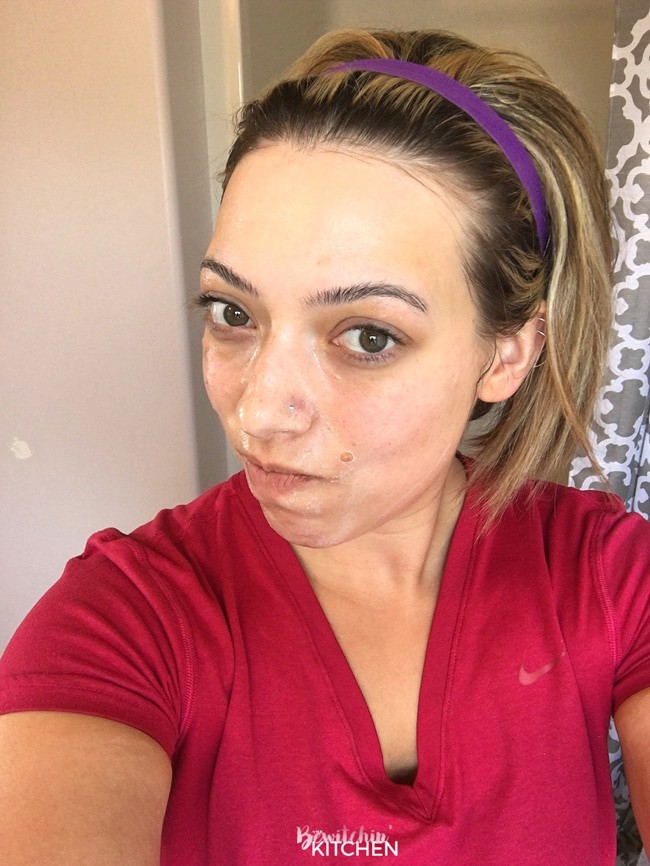 Me while doing Step 2.
Us ladies get a five-step system (men, you get four) because we get an additional moisturizer. Women have a lipid layer and men do not. What that means it that it's harder for all the nutrients from the moisturizer to get into the skin (thus is why women tend to have dryer skin). I didn't know that before using METRIN Skincare. It's been an educational experience. To learn how to use these steps and read the benefits, please read how METRIN Skincare works.
METRIN Skincare: A little about the company
The METRIN Skincare System for Her works in harmony with your skin's natural systems while cleansing, nourishing, and protecting. It is a complete and comprehensive skin care system that is scientifically formulated and specifically designed to deliver the ultimate skin care goal – healthy, youthful, beautiful, glowing skin for life.
METRIN Skincare has been around for over 80 years, in those 80 years the packaging has come and gone but the recipe has never changed. Some important things to note:
They do not test on animals, cruelty-free.
Gluten Free
Fragrance Free
Dye Free
Safe and effective for all women
METRIN Skincare: 6 Month Promise
METRIN offers a 6-month guarantee on all of their products. If you're not happy, you get your money back.
METRIN Skincare Experience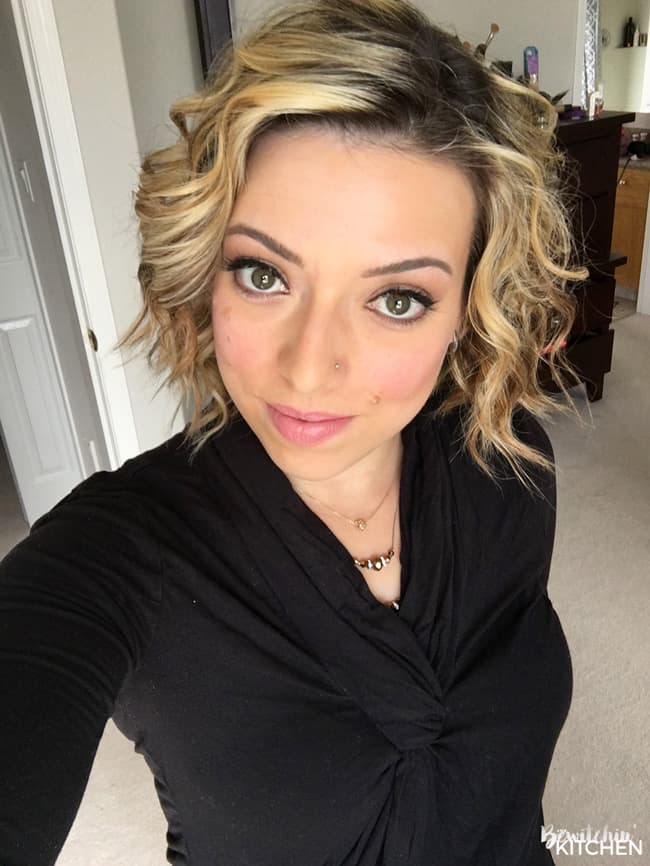 When I first laid out the bottles in my bathroom I thought it was a little much. I was a little overwhelmed that I had 5 steps to take after years of doing a whole lot of nothing. After using the system for the last two months, I couldn't imagine doing it any other way. It doesn't take long (like I original thought it would) and my skin thanks me for the extra moisturizing and love.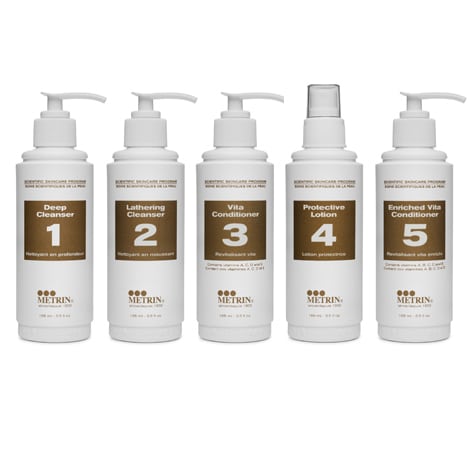 I have the 5.5 fl oz bottles, a little goes a long way and, at first, I was using way too much product. These bottles are supposed to last you 6 months, so with that being said you don't even need half a pump (or even 1/4 pump) of the cleansers/lotions. The cost is $152 for 6 months, not bad considering it's 6 months worth and five products. There are also travel sized options and a 2.5 fl oz option for the skincare line.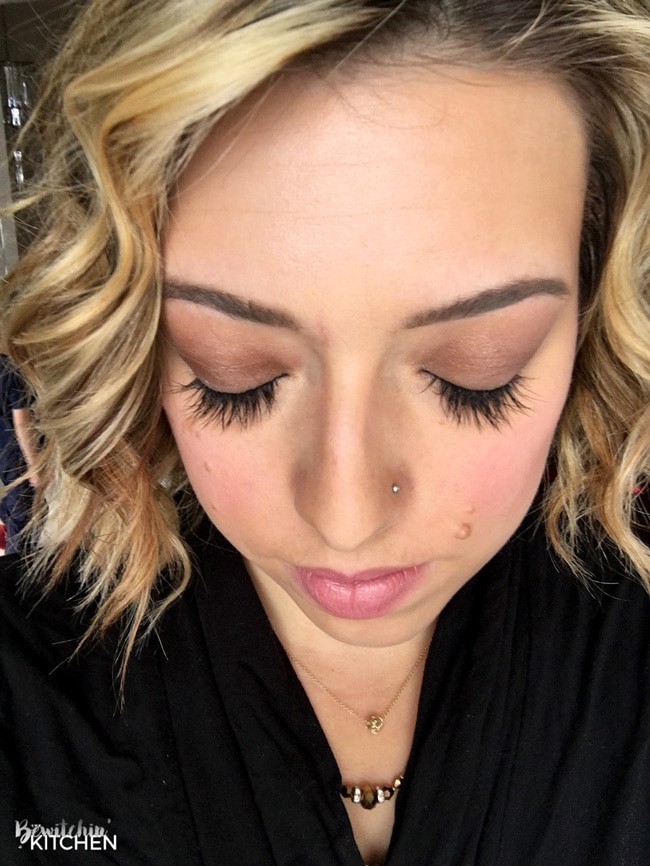 I noticed a change in my skin after the first use. My skin was so soft, I tweeted it out and I found a few other METRIN users that agreed that they're skin felt incredible. There are two cleaning steps and 3 moisturizing steps (I read that Khloe Kardashian washes her face twice plus extensively moisturizes and she has amazing skin).
When I first started METRIN I had a large blackhead above my left eyebrow that refused to get out. I was on that thing daily and it wouldn't budge. After three weeks of using METRIN Skincare, it was gone. The gentle exfoliation from step 2 (which by the way feels like a lotion, not an exfoliant) made a huge difference.
A little over a month into using METRIN I saw that my blackheads on my nose weren't as black. They were still there, but a lot less noticeable.
METRIN In Mexico
I brought the skincare system with me to Mexico and I had one of the spa workers tell me that I had beautiful skin and a lot of the clients were burnt and dried out where I had dewy and soft skin.
I'm not perfect with my regimen. In Mexico, I used it once a day (if that) but I did use the Vita Conditioner, Protective Lotion (which is a spray, BTW) and Enriched Vita Conditioner often. I even used a few sprays of the Protective Lotion on my scalp and back when I was on the receiving end of a bad sunburn.

Since I've been back I've been going double time with the Enriched Vita Conditioner. In Mexico, I had a little accident on the Outdoor Adventure Zipline Tour and I brought back a nasty cut/scar with me as a souvenir. The vitamins will help heal my skin (and I have my fingers crossed that the scar won't be too bad).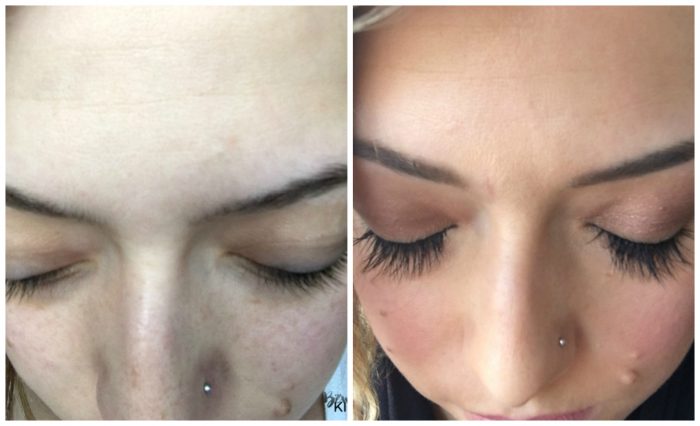 Before/After. I do have makeup on the right but you can an improvement with the blackheads on my nose and above my right eyebrow. My pores were never able to be hidden by makeup before Metrin.
I'm really happy with METRIN and the results that it's brought me over the past few weeks. I can't wait to see what the full 6 months does.
To learn more about Metrin Skincare, and to place an order please visit https://www.metrin.com/.
This post has been sponsored by Metrin Skincare, all opions are 100% my own.