Moroccan Carrot Salad
This Moroccan carrot salad recipe is a healthy side dish that uses the fun vegetable spiralizer, marinated carrots, and fragrant spices. It's a fresh salad that uses a zesty vinaigrette (no mayonnaise) as it's dressing! It's a cleanse recipe I tried years ago that has stayed in my recipe box. Let me tell you, it's a keeper.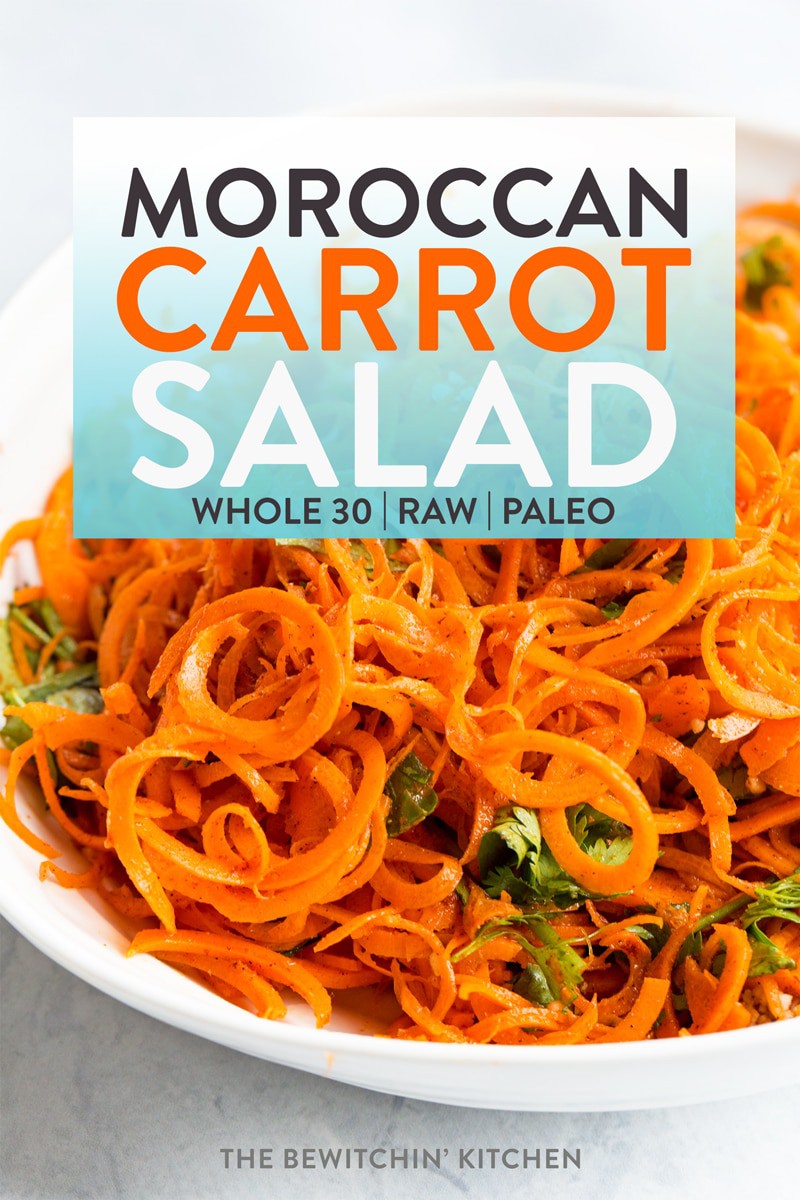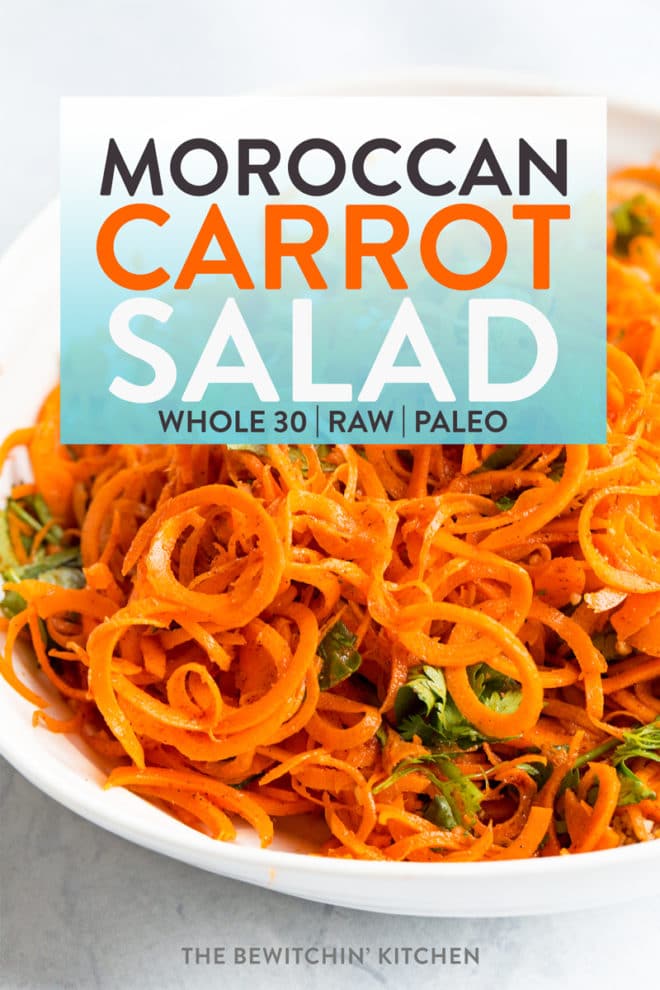 Disclosure: This post contains affiliate links for your convenience. As an Amazon Associate I earn from qualifying purchases.
A few weeks ago I wrote a post about the 3 Day Refresh, a cleanse I did to help jump start my system. Not only did it help me crush my sugar cravings but it brought new recipes to my attention, like this tasty Moroccan carrot salad. You can grab the 3 Day Refresh here.
Moroccan Carrot Salad
This marinated carrot salad recipe is quick and easy to put together and has an incredible taste! Easy and tasty? I'm sold.
My favorite feature (can a salad have features?): I like how it's something that can be made ahead of time and doesn't require any cooking (perfect for the coming summer heat).
The zesty dressing is heavenly. Cumin is my favorite spice, so when I saw the recipe for carrot salad in the 3 Day Refresh book, I knew I had to try it. I was a little apprehensive about the cinnamon (I don't like my meals to be sweet) but it really compliments the meal.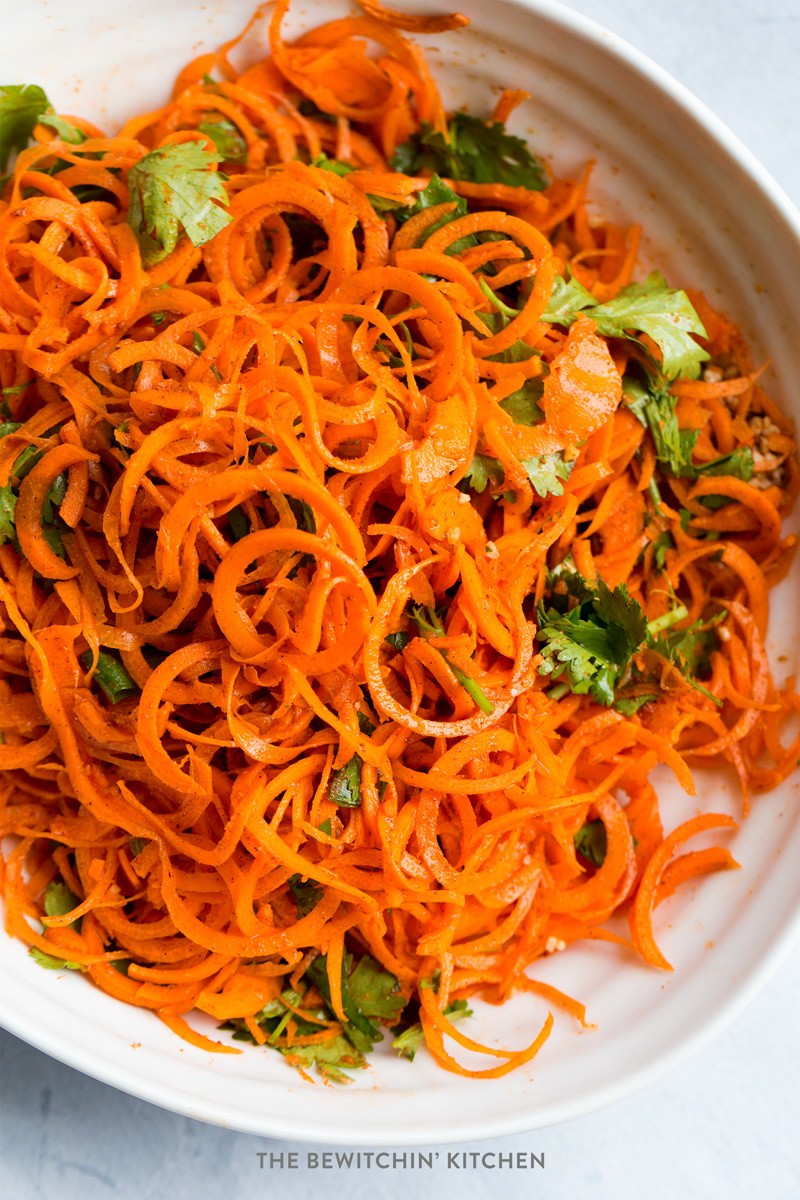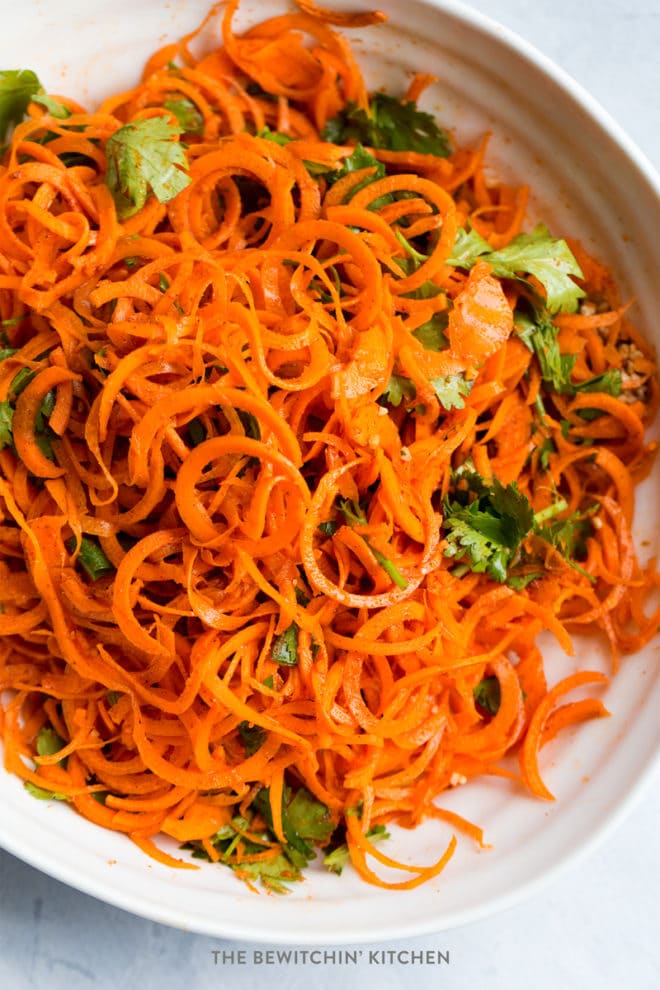 Carrot Salad Recipe
More summer salad recipes from The Bewitchin' Kitchen
If you wanted to beef up this vegan dish, it's easy to add more vegetables and filler. Here are my ingredient recommendations:
quinoa
spinach
chickpeas
red bell peppers
Okay, now I have a whole new recipe planned in my brain. Isn't it funny how inspiration just shows up at the most inopportune times?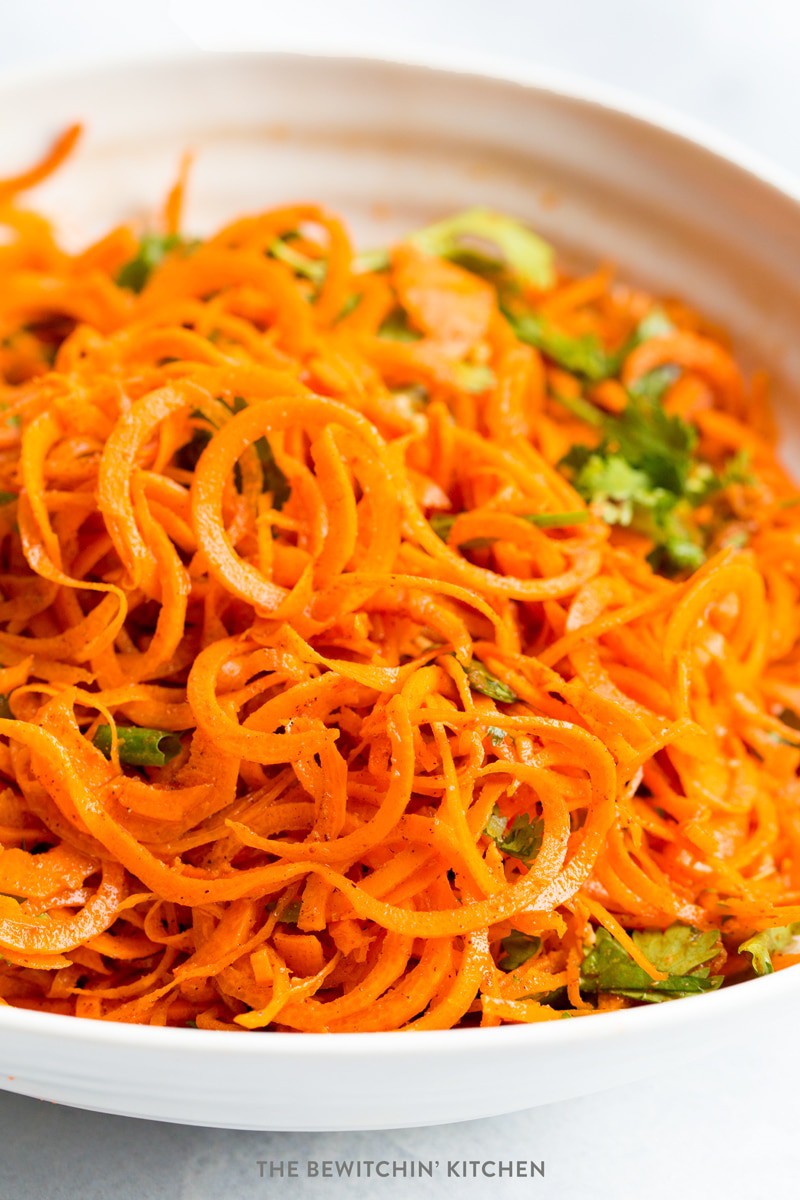 Spiralized Carrot Salad
I used a spiralizer to make raw carrot noodles (or coodles, as they're apparently called) to make this dish "fun".
TBK's Pro Tip: No spiralizer? No problem. You can use shredded carrot or chopped carrot for this salad.
What spiralizer is the best? 
I have 4-5 spiralizers hanging around in my kitchen. From handheld spiralizers
to the crank handle style
. My favorite is the crank handle style.
I have read incredible reviews about the Paderno spiralizer
, but I have a President's Choice brand from Superstore that only cost me $10 and it works great! It just goes to show that you don't always have to buy high price to receive high quality. That being said I've been eyeing up the KitchenAid spiralizer attachment
for a few years now.
How to use a Spiralizer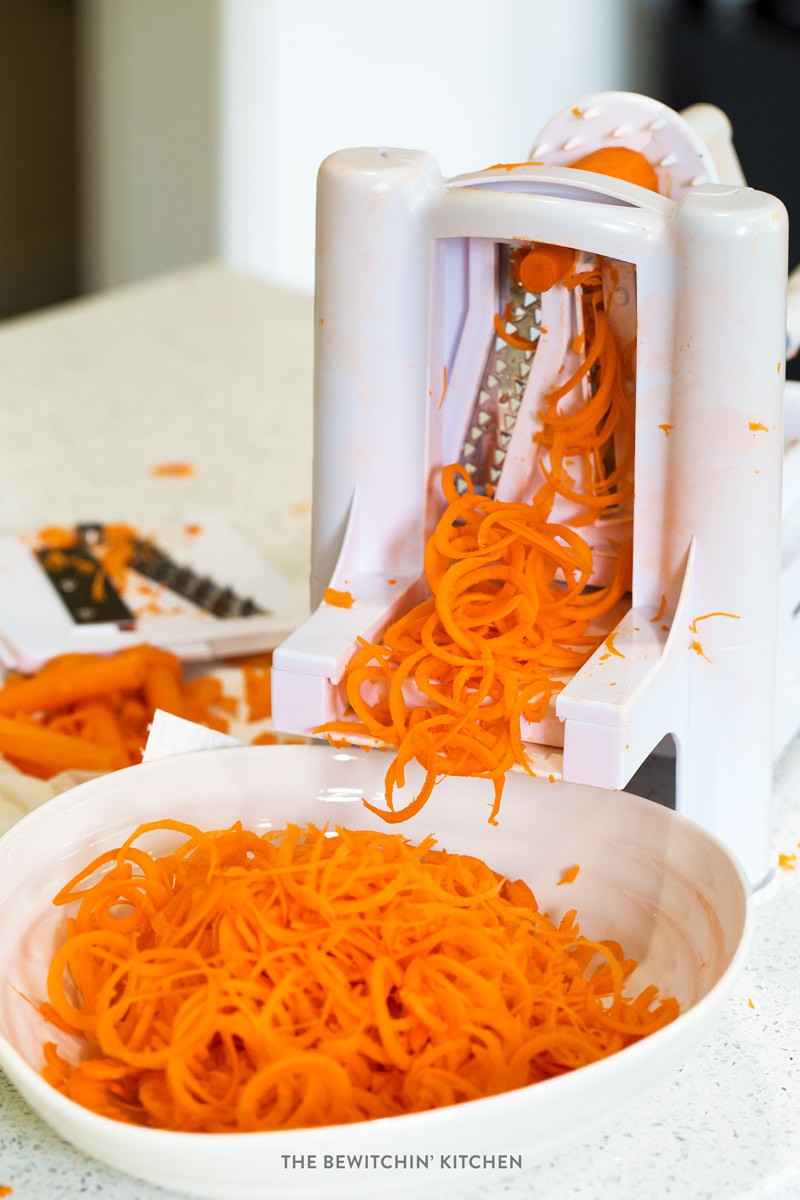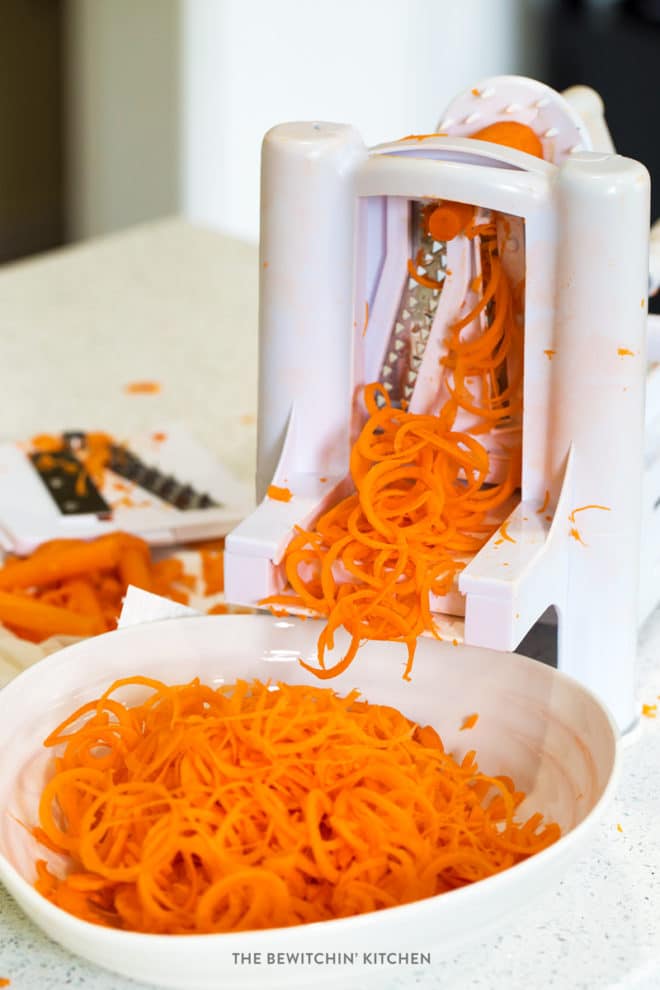 I found it easier to cut the carrots in half before I used the spiralizer. I used the small plate (since that made "noodles" for my narrow carrots vs little half moons the bigger plate made) and pushed the handle forward while cranking the handle and voila – spiralized carrots!
It took me a while to realize that I had to push it forward to have it work efficiently. You'll be able to use a little force since the suction cups at the bottom keep the spiralizer from moving.
Do you have to peel carrots?
As long as you scrub the carrots well when you wash them, you don't have to peel the carrots. That being said, I do peel them.
How to make carrot salad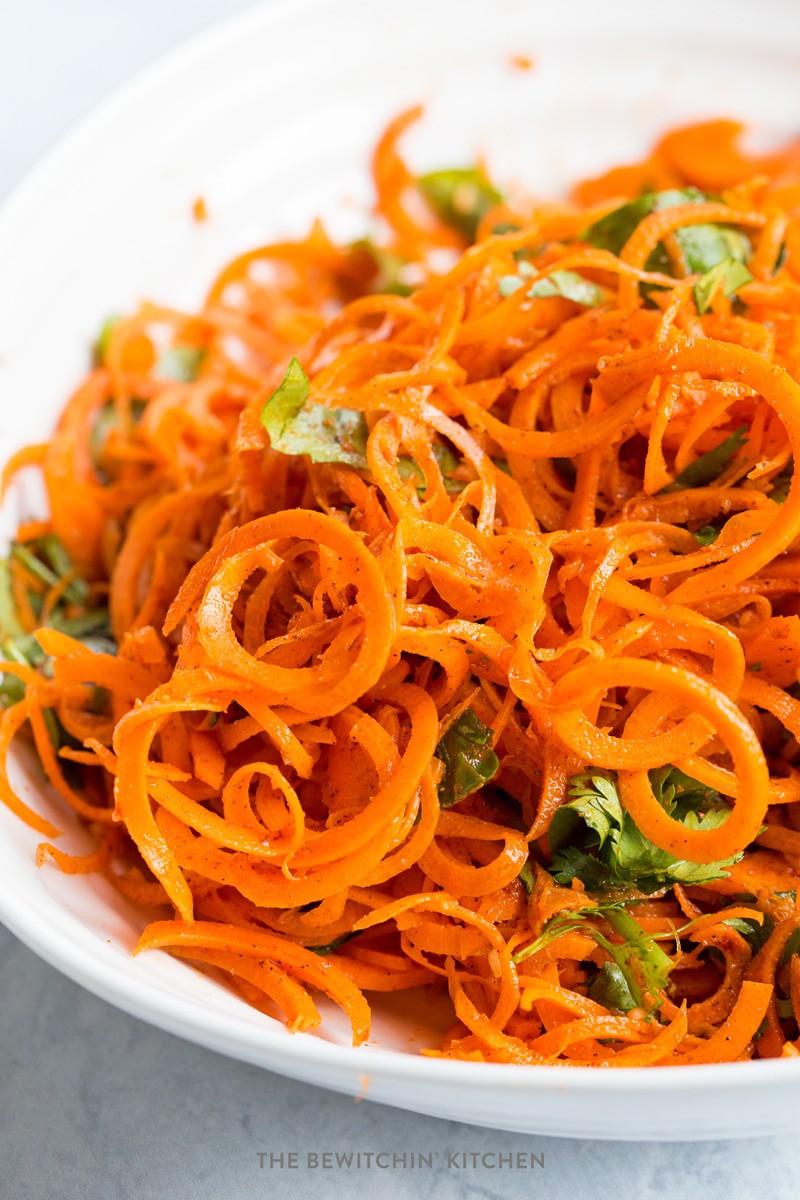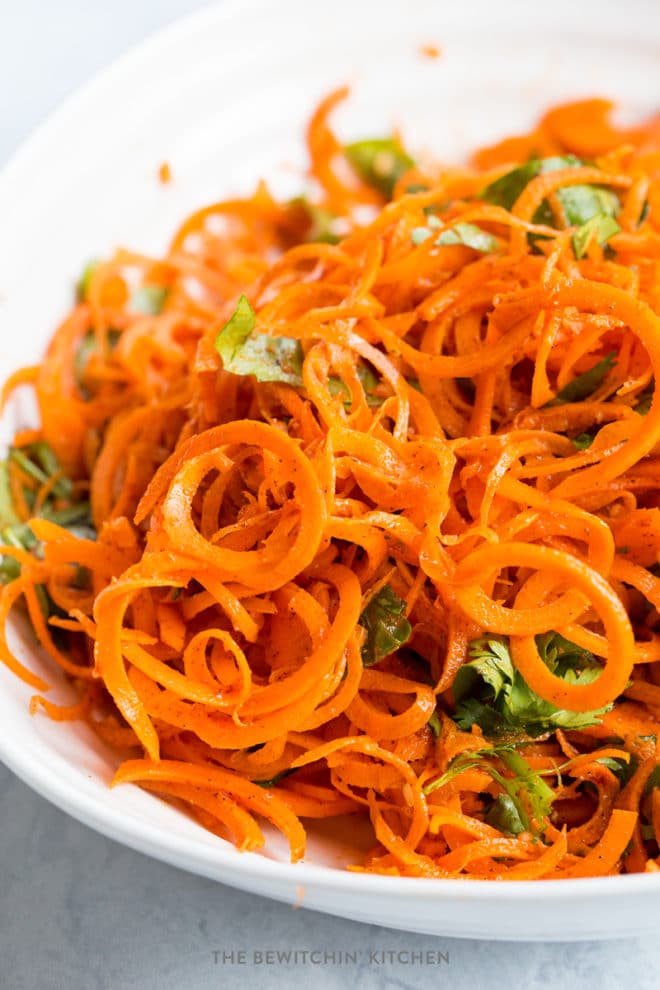 This is the best carrot salad recipe and it's perfect for the coming summer months. In our home, we spend so much time with the main course, that I can forget to plan out a side dish. Since this is simple and easy, it's one of those last minute barbecue recipes that works out every time. I have made this a few times now as a side dish to dish, a lunch with shredded chicken mixed in, and even as a healthy snack to help me get over the dreaded afternoon hump.
TBK's Pro Tip: Make ahead of time and let the carrots marinate.
Recipe note: If you like a spicier salad, you can add a more cayenne.
What's your favorite summer salad recipe? Leave me a comment and let me know (and leave me a link so I can check it out).
Looking for more delicious and healthy recipes? Follow me on Pinterest.
Moroccan Carrot Salad
This Moroccan carrot salad recipe is a healthy side dish that uses the spiralized carrots and fragrant spices. It's a fresh salad that uses a zesty, cumin based vinaigrette (no mayo) as it's dressing!
Servings 4 servings
Calories 87kcal
Ingredients
8 medium carrots grated (I used a spiralizer)
1/2 cup chopped parsley
3 tbsps lemon juice
2 tsps olive oil extra virgin
2 cloves garlic chopped
1/2 tsp cumin
1/2 tsp paprika
1/2 tsp cinnamon
1/2 tsp sea salt
1/2 tsp cayenne pepper
Instructions
Combine all of your ingredients in a bowl and mix well.

This salad is best if you let it sit and marinate (covered) in the fridge for about 2-3 hours before serving.

Serve with your favorite summer main course.
Nutrition
Serving: 1g | Calories: 87kcal | Carbohydrates: 15.6g | Protein: 1.6g | Fat: 2.8g | Saturated Fat: 0.4g | Sodium: 393mg | Fiber: 4.5g | Sugar: 7.1g
Follow On Pinterest
Follow @bewitchinkitchen On Pinterest for more delicious recipes!