3 Day Refresh Review & Ultimate Guide + FREE Downloads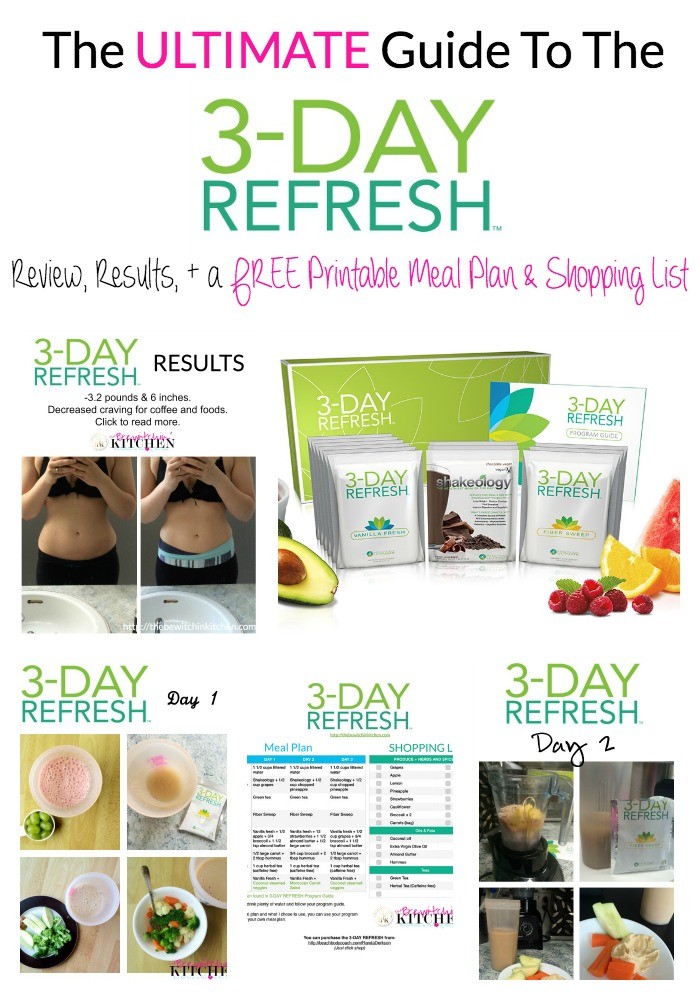 A product I have been wanting to try for a while now is the 3 DAY REFRESH from Team Beachbody, as soon as I found out it was available in Canada: I didn't waste much time and ordered it.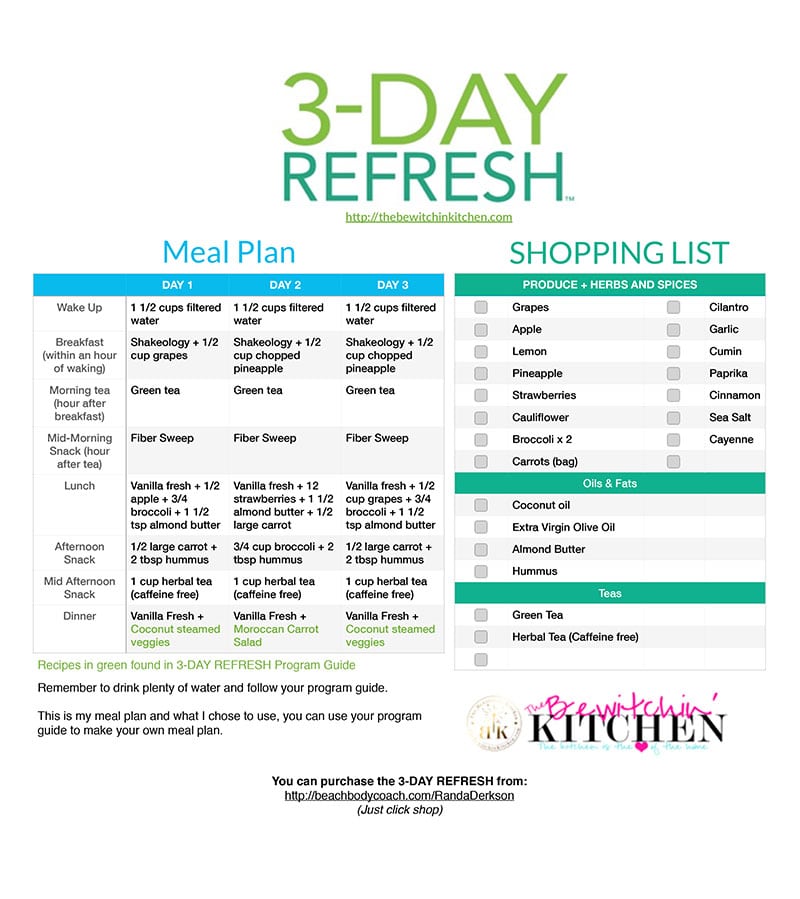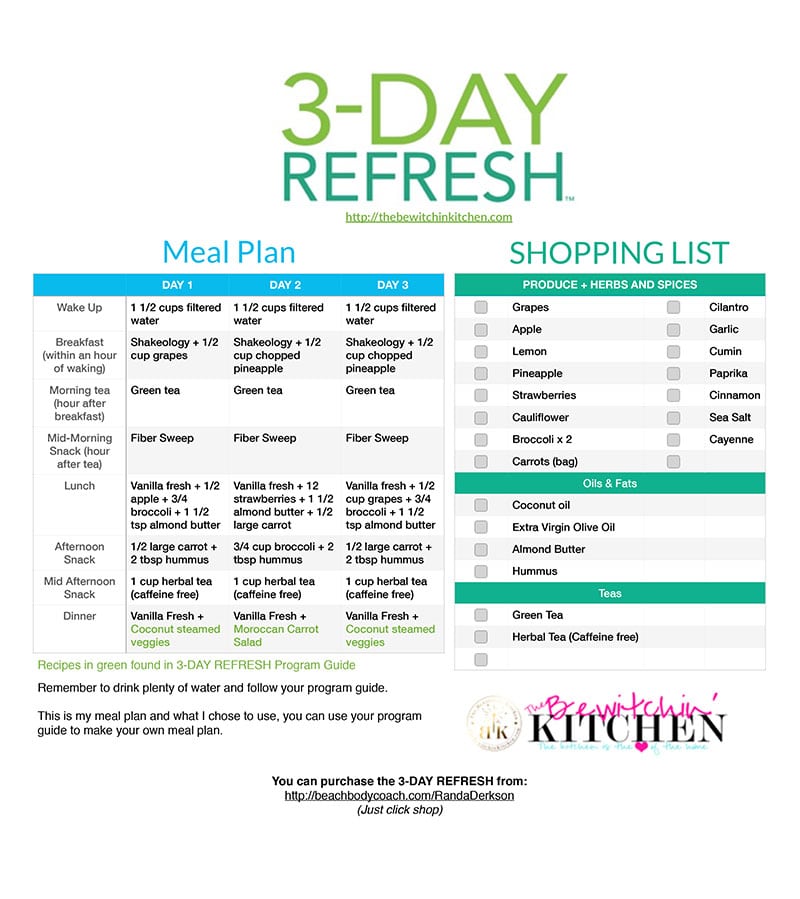 I didn't order it for weight loss reasons, I ordered it to help me bounce out of some bad habits and to kick off the start of me reaching my new health and fitness goals.
The plan was to start the 3 Day Refresh on Good Friday, so come Easter Monday I will be fresh and ready to start the 21 Day Fix Extreme program without all the cravings in the back of my brain. <— Yes I'm crazy and decided to do this when I knew I would be surrounded by chocolate but you know what?
I had enough chocolate the week before, and I could always have chocolate later.
3 Day Refresh Instructions: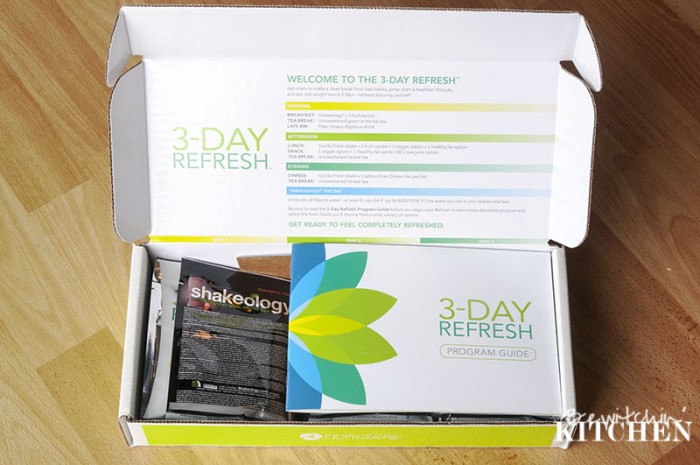 Over the course of three days, you will be giving up meat (say what!). The instructions are clearly printed in the box and it goes into detail in the program guide (gives you a list of fruit/vegetables/fats to choose and what a serving size is).
It was really easy to follow. Each day you will have 1 Shakeology**, 2 teas (caffeine free), 1 Fiber Sweep drink, 2 Vanilla Fresh Shakes, 2 servings of vegetables, 2 servings of fruit, 2 healthy fats, dinner (recipes in the book) which include a few servings of vegetables. In addition to that, you will also be drinking a boat load of water.
Note: you can have coffee on this but it's supposed to be black (of if you're desperate use some Stevia) but since I'm dealing with adrenal fatigue and have a suspicion of an allergy I thought this would be the perfect time to kick the coffee habit.
*You can find all the nutritional information for the supplements (Shakeology, Fiber Sweep and Vanilla Fresh) here.
**There is a version of the 3-DAY Refresh available without Shakeology.
Although Team Beachbody recommends that you use Vegan Shakeology, I personally don't like it so I ordered it with the regular Strawberry Shakeology (it's my new favorite).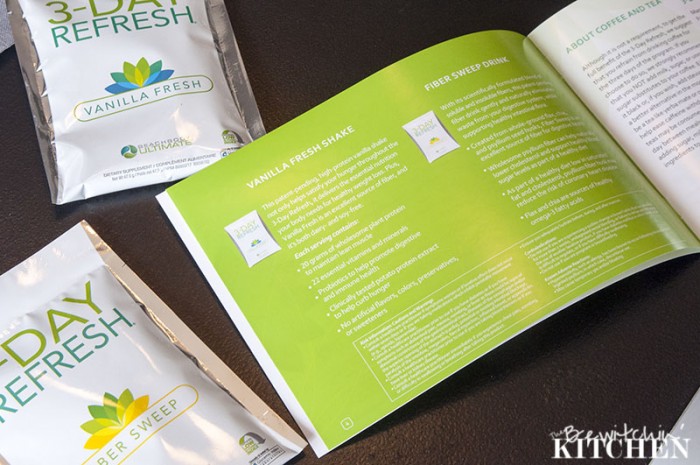 3 Day Refresh Review Day 1: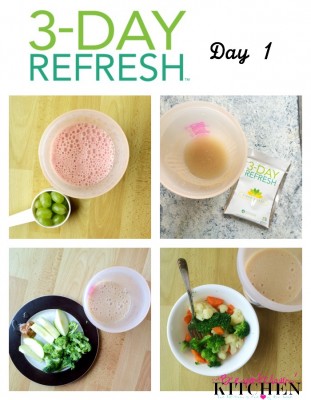 I was pleasantly surprised with day 1. I'm typing this now at 8pm, and I am a bit hungry now but other than this moment I haven't been hungry all day. I was pretty sedentary though, I spent all day writing an exam and catching up on case studies for my Holistic Nutritionist program. Tomorrow I'll be a little more active, so I'm interested to see how that affects my hunger.
Almost every review I read online there were complaints on Fiber Sweep. Maybe I'm weird but I liked it. It has a lemony taste and ya, it kind of gels up if you let it sit so drink it fast and you're done.
Dinner was good, I even said to my husband that I should make vegetables like that more often. So simply, but very tasty (cooked cauliflower, broccoli, carrots tossed in coconut oil and salt).
3 Day Refresh Review Day 2:
Day 2 went the way I thought it would, a lot like day 1. My biggest surprise is the fact that I'm not suffering without coffee as I have in the past.
I went out and about shopping today and I didn't feel any excess hunger or annoyances.
I'm still liking the Fiber Sweep, there clearly must be something wrong with me because I'm the only positive review out there on it.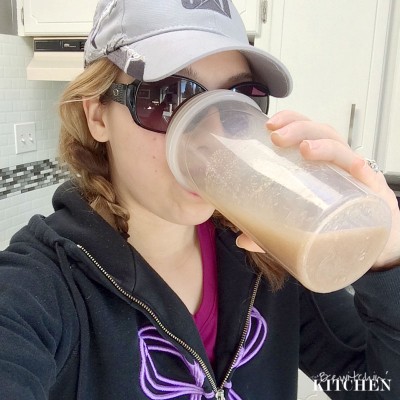 3 Day Refresh Review Day 3:
Today was Easter Sunday, so I was surrounded by chocolate. I almost broke and dove into my son's Kinder Eggs (my favorite), but I held strong. I just reminded myself that those chocolates were available anytime and I was fine.
I completely forgot to take photos of Day 3, but it was basically the same as day 1. I didn't venture off too much on my eating plan. Keeping it simple made it easy and cheap.
3 Day Refresh Results & Final Thoughts: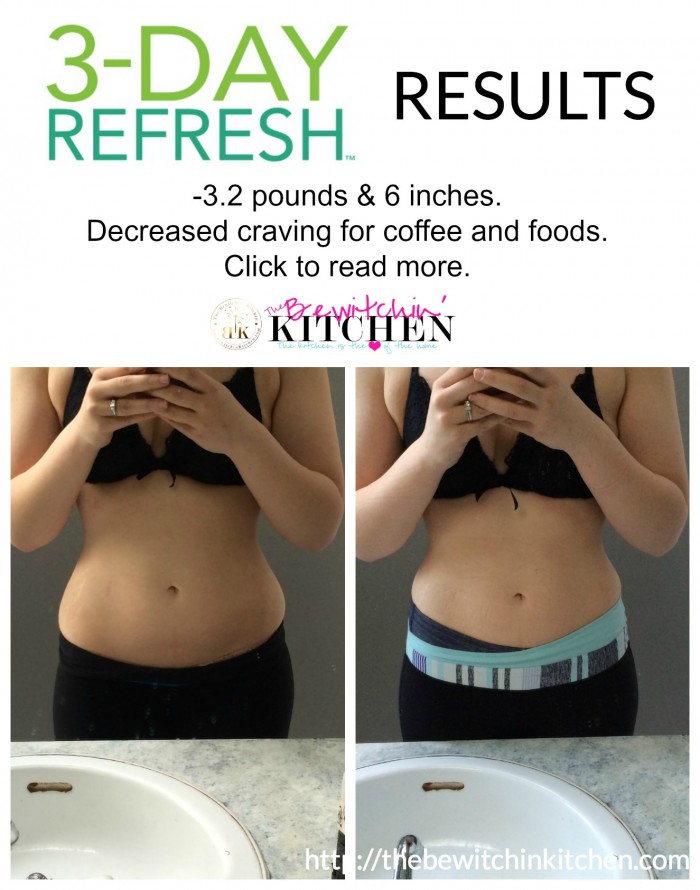 Personally, I don't notice a huge difference in the photos, it doesn't help that these pants are different but they're also a size apart. The left is a size 6 lulu and the right is a size 4. I wouldn't say that I lost a size as I fit both before, but the size 4's fit a heck of a lot nicer.
How I feel: Awesome. I'm writing this on the day after the cleanse and I feel great! I feel like I have more control and that my cravings are better.
The best part – I don't feel as though I'm a slave to coffee anymore. I went three days with no coffee, and I didn't even experience a single withdrawal symptom. I usually do when I give it up on my own, so that was a huge bonus for me.
I didn't have any embarrassing bathroom moments, no discomfort, nothing negative.
Total weight lost: 3.2 pounds (141.6 –> 138.4).
Total inches lost: 6″ (1″ was just off my waist and 1 1/2″ off my belly alone!).
Was it worth it and would I do it again: I already ordered another one to have on hand (I'm trying to convince my husband to give it a try). Although it is marketed towards weight loss, I think it's a great way to get your body a little boost to gain control again.
Little note: aside from my thyroid meds, something I still supplemented was take a probiotic. If you're curious as you what I use it's the Renew Life Ultimate Flora Critical Care, available at Amazon.com, Amazon.ca and Vitacost (PS- if you sign up for Vitacost through my link you get a $10 coupon).
3 Day Refresh Meal Plan:
When it comes to vegetables and fruit, just call me picky Polly. That's why my meal plan isn't that varied, but at the same time I like keeping it simple and it makes the meal plan easier. I think that's why I was able to succeed in sticking to the plan.
Speaking of success, I want you to succeed as well. So whether you're a customer of mine or not, I have put together a free download for you!
You can purchase the 3 DAY REFRESH here. Retails for $69.95 USD ($52.46 USD for Coaches).