5 Herb Chicken Pasta Salad
This 5 herb chicken pasta salad recipe is a summertime favorite. Made with fresh herbs, your favorite pasta, and marinated grilled chicken you are going to love this recipe. Whether you use it as a main dish or a side dish for your barbecue, this pasta salad with chicken will be a hit.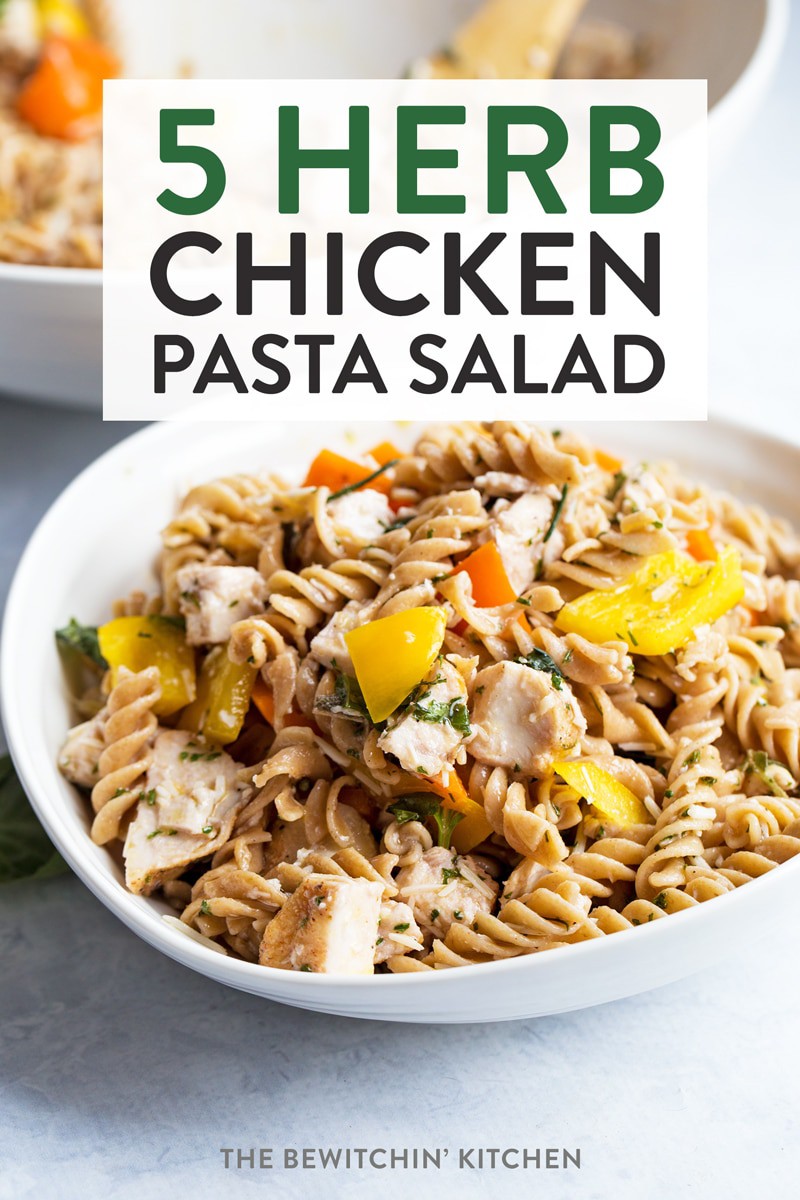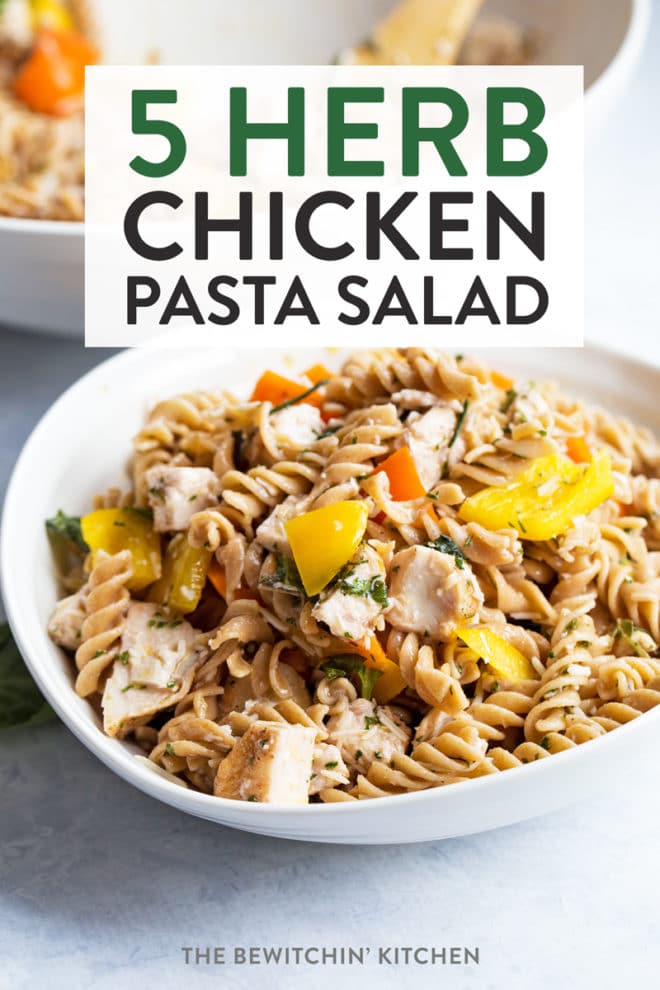 Disclosure: I am participating in the Chicken Farmers of Canada campaign managed by SJ Consulting. I received compensation in exchange for my participation in this campaign. The opinions on this blog are my own. Search the grilled recipe sections over at Chicken.ca. Follow them on the following social profiles: Facebook, Twitter, Instagram, and Pinterest.
Chicken Pasta Salad
When you hear pasta salad what do you think of?
Me? I think of backyard barbecues and hanging out with friends and family.
There is nothing better than sitting around the patio table with good food and friends, laughing and soaking up the sun's rays. Whenever we have a bbq, pasta salad is always on the menu and I'm sharing with you one of my new favorites 5 herb pasta salad, made with Canadian chicken.
Did you know: Over 80% of Canadians want one mark that indicates that chicken is raised by a registered Canadian chicken farmer, who is subject to our mandatory and auditable programming for things like food safety and animal care?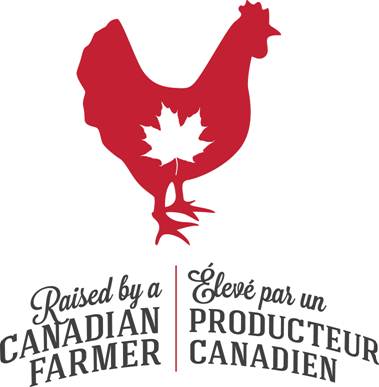 The good news is there is a program like that here in Canada. To ensure that the chicken you buy is Canadian, look for the Raised by a Canadian Farmer logo. If your store doesn't use the "Raised by a Canadian Farmer" brand, just ask!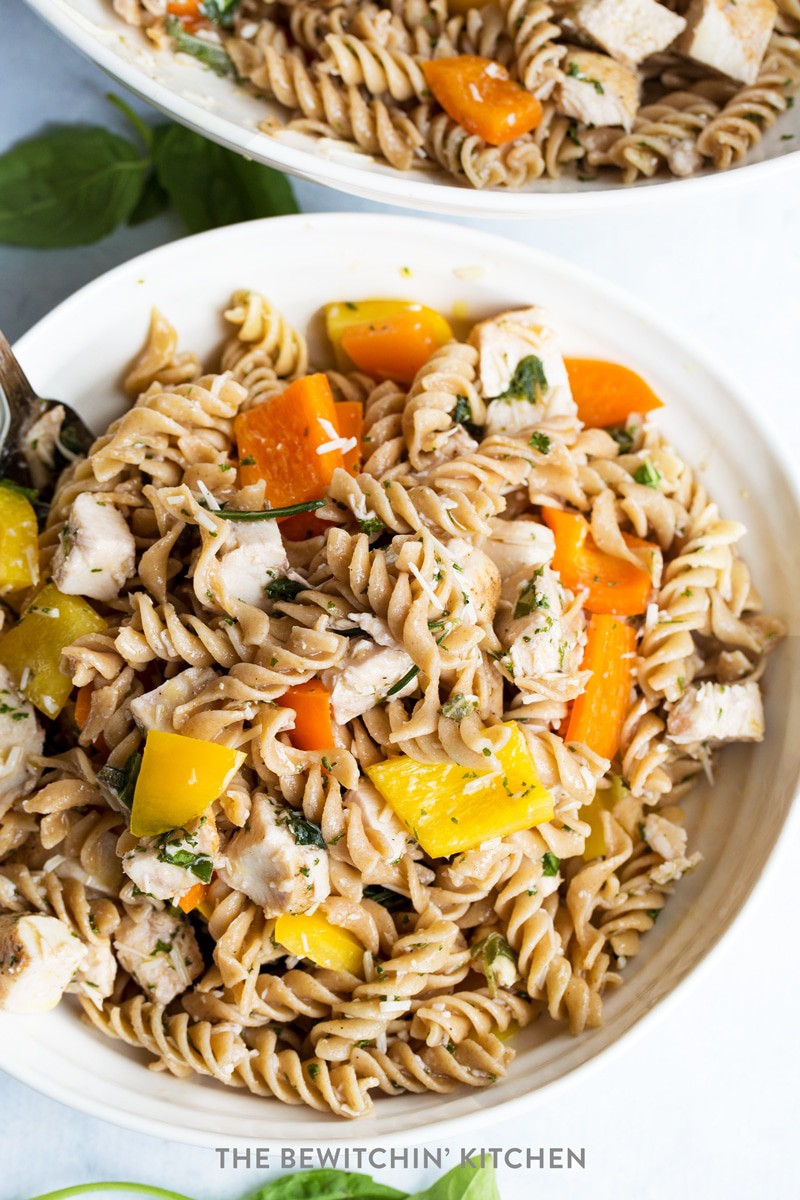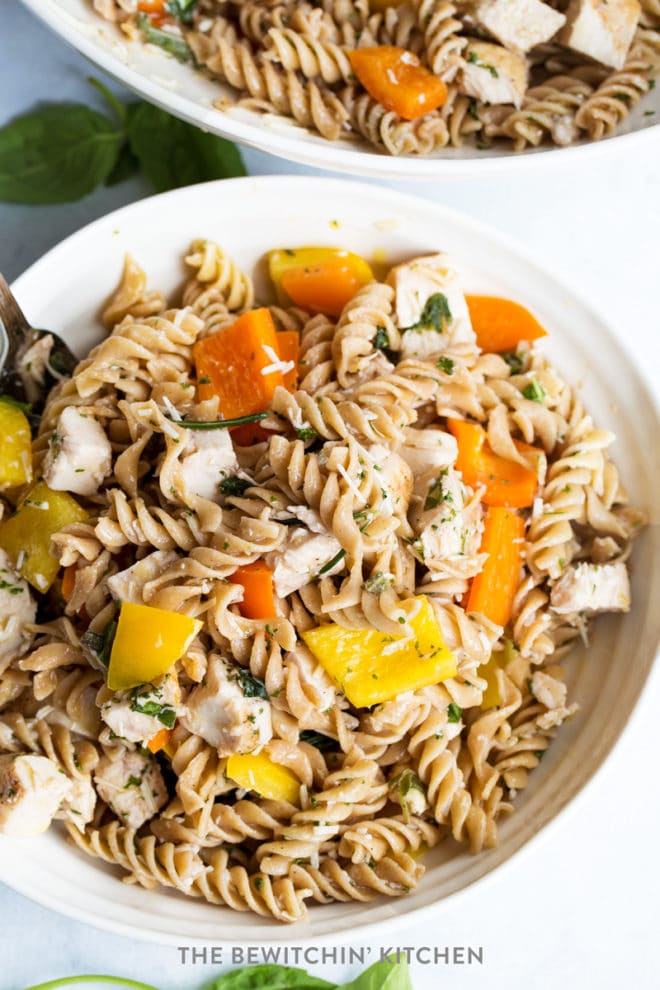 Can pasta salad be healthy?
Absolutely! In fact, this is a healthy chicken pasta salad recipe! When you add fresh vegetables, lean grilled chicken, and fresh ingredients it really takes the healthy factor up a notch. There is a common rumor out there that pasta isn't healthy and that's simply not true. The pasta I used is a brand that uses ancient grains in their pasta, which ups the protein factor (and helps you eat less since you get fuller, faster). Pasta salad can be healthy if you eat the proper portions, not the whole recipe!
TBK's Pro Tip: Add more vegetables for more nutrition, I recommend 1-2 cups of spinach!
How many calories are in 5 Herb Chicken Pasta Salad?
This recipe makes about 12 cups, and for 1 cup of chicken pasta salad, there are 249 calories. You can find the rest of the nutritional information at the bottom of the recipe card.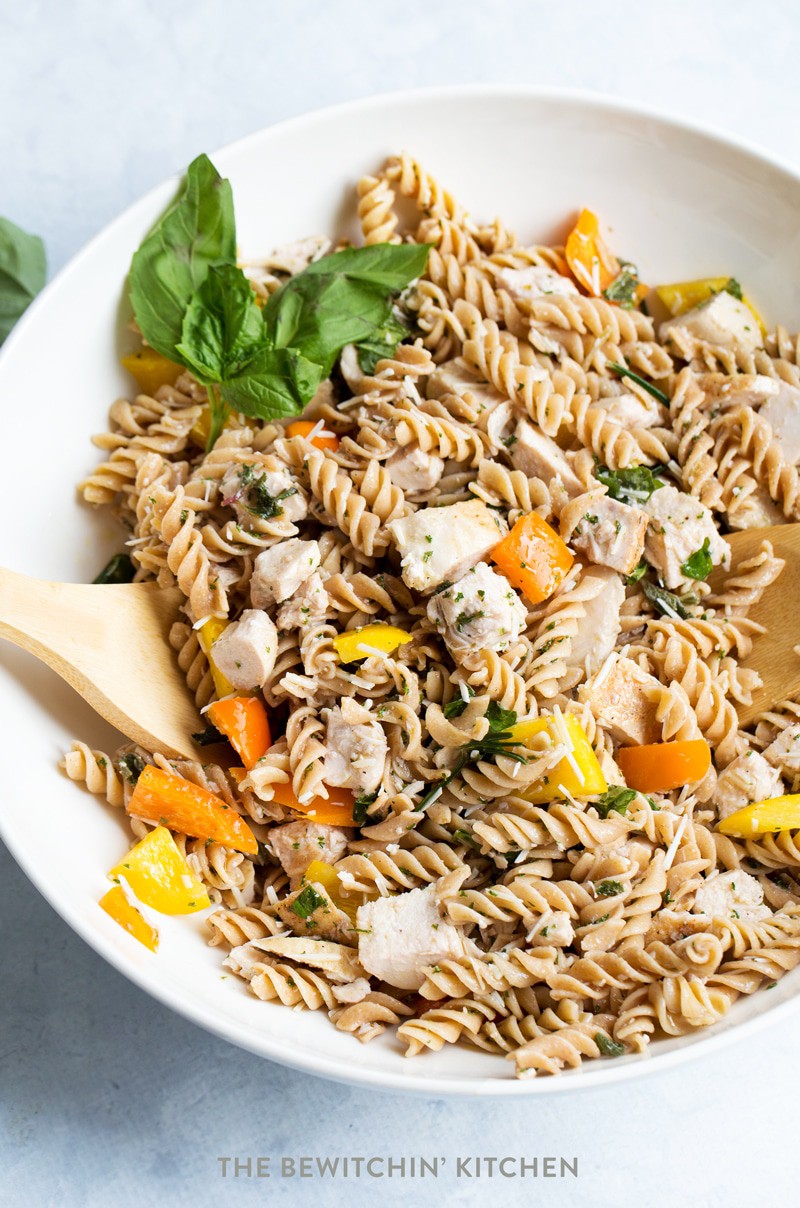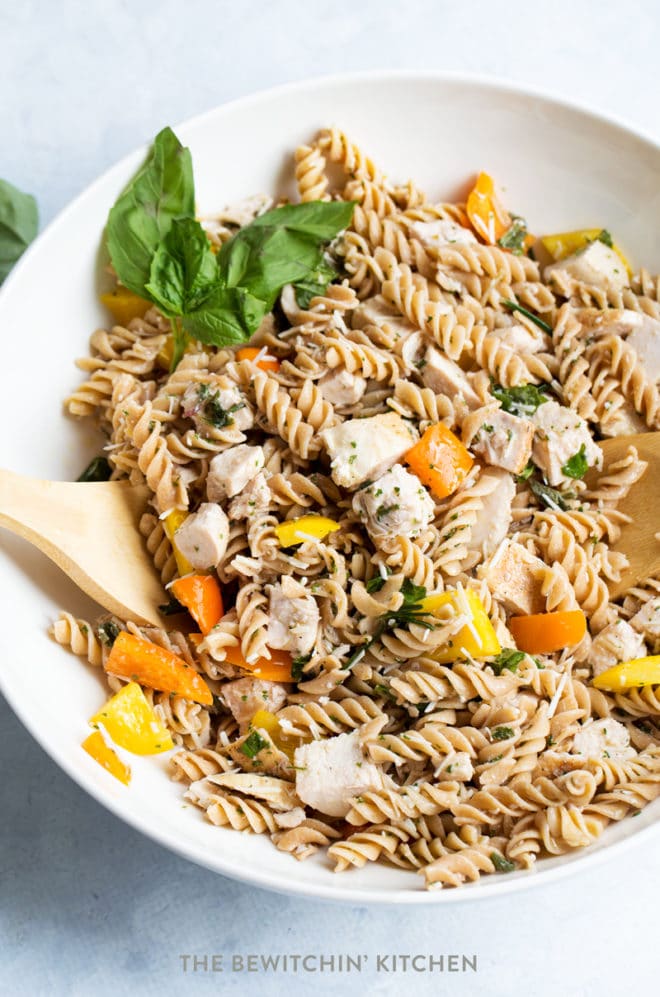 Pasta Salad with Chicken
I love pasta salads that have chicken in them because it offers versatility. Whether it's a side dish or a main dish when you add chopped chicken you have options!
Here are some cold chicken pasta salad recipes (and a pasta salad recipe that would be amazing with chicken) that I'm sure you'll love.
5 Herb Chicken Pasta Salad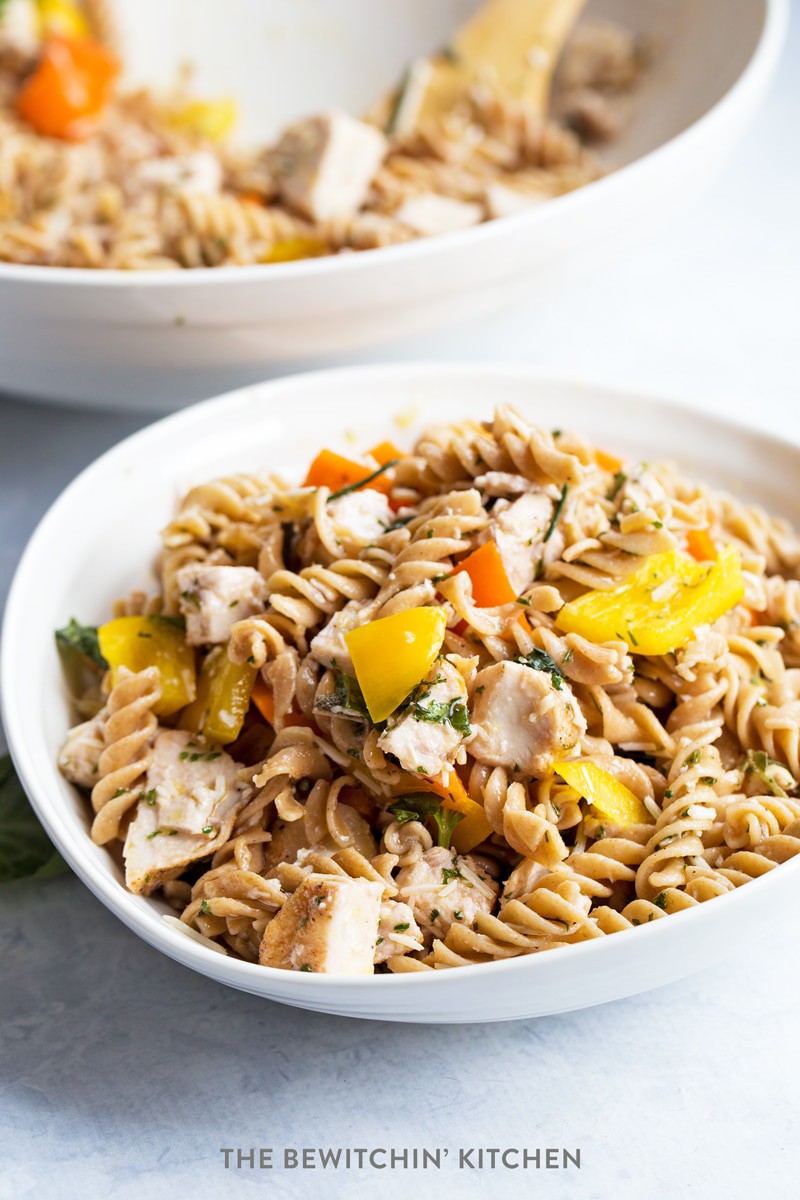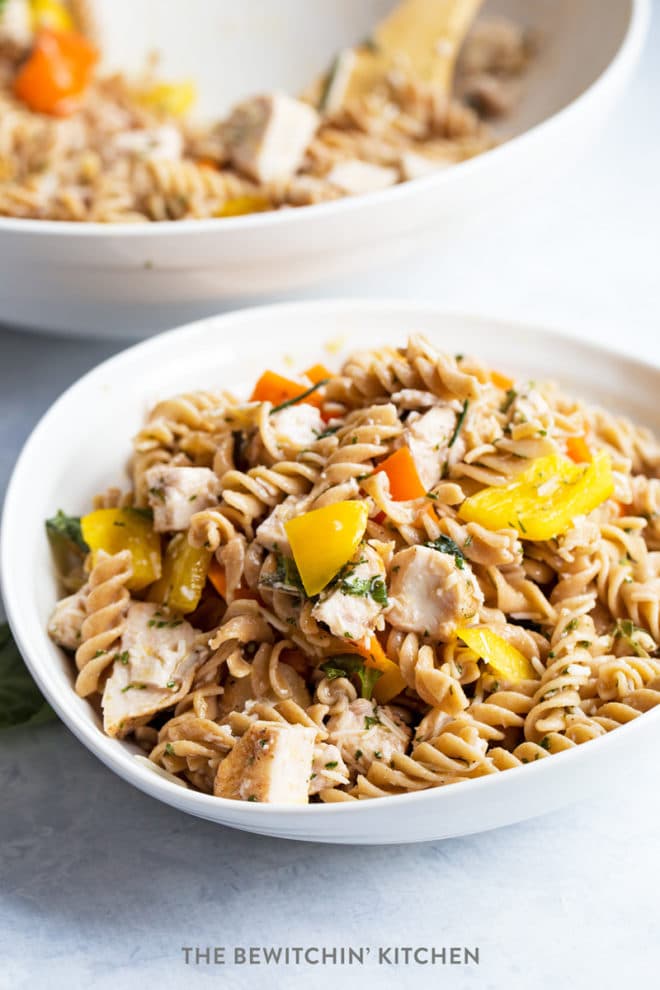 This easy pasta salad recipe is going to be the talk of your bbq, no one will believe just how simple it is to throw together.
How to make pasta salad
Chicken pasta salad ingredients
Pasta
Bell peppers (any color)
Parmesan cheese
Fresh herbs
Olive oil
Red wine vinegar
Pepper
Garlic Powder
The key to this recipe is using fresh herbs. I would have never thought that mint would be so good in cold pasta salad, and the tip here is to go easy with it. A little goes a long way. I prefer a zesty flavour to not just my pasta salads but salads in general so I used red wine vinegar but apple cider would be just as delicious.
5 Herb Chicken Pasta Salad
Made with fresh herbs, your favorite pasta, and marinated grilled chicken you are going to love this chicken pasta salad recipe.
Servings 12 cups
Calories 249kcal
Ingredients
Chicken Marinade
3 chicken breasts
Juice of one lemon
1 tbsp olive oil
1/4 tsp  cayenne pepper
Salad
1 package whole wheat fusilli pasta
2 bell peppers chopped
1/2 cup grated parmesan cheese
1/2 cup fresh parsley minced
3 tbsps fresh basil minced
1 tbsp fresh sage minced
1 tbsps fresh rosemary minced
1 tbsp fresh mint minced
1/2 cup olive oil
1/2 cup red wine vinegar
1 tsp pepper
1/2 tsp  garlic powder
Instructions
Chicken
Combine the lemon juice, olive oil, and cayenne pepper in a small bowl. Pour over the raw chicken breasts and let marinate for at least an hour.

Grill until fully cooked (12-15 minutes per side) or bake for 45 minutes at 375F.

Cool and slice.
Salad
In a large bowl combine the chopped red bell pepper and chicken.

In a small bowl combine the parsley, basil, sage, rosemary, mint, olive oil, red wine vinegar, pepper, and garlic powder. Let sit.

Cook the pasta according to box instructions, drain and let the pasta cool.

Add the pasta to the bowl of peppers, along with the chicken.

Pour the herb vinaigrette over the pasta salad and add parmesan.

Toss to coat.
Nutrition
Serving: 1cup | Calories: 249kcal | Carbohydrates: 18.2g | Protein: 17.8g | Fat: 12.4g | Saturated Fat: 2.4g | Cholesterol: 43.8mg | Sodium: 88.5mg | Fiber: 3g | Sugar: 1.5g
Follow On Pinterest
Follow @bewitchinkitchen On Pinterest for more delicious recipes!
Do you have a favorite pasta salad recipe?