Nordic Naturals | Fish Oil Supplements

 I'm going to be blunt and straight to the point. I hate fish. For as long as I can remember I have never been able to stand the taste of the scaly creatures. It's because of my fish aversion that I have started to worry about my nutritional needs. Omega-3, DHA and EPA are the nutrients that I worry about the most.
Nordic Naturals believes that omega oils are essential for well being and for life. As a whole, we are global deficient in omega-3 and Nordic Naturals are doing their best to solve that problem with their variety of supplements.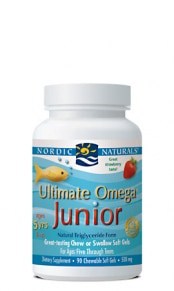 It wasn't until recently that I learned the omega-3, EPA and DHA are essential in childhood for development and play important roles in brain and eye function. Have I mentioned that I'm pregnant and I don't cook fish – ever. All these facts have me concerned on how I am going to raise my son. Thankfully Nordic Naturals has soft gel supplements for children to take to give them these important nutrients they may otherwise miss. Now, it's to my understanding that it's not the easiest thing to have children take vitamins. Nordic Naturals solves that problem with flavoring the supplements with a strawberry flavor. 
With Nordic Naturals you will find a large selection of omega-3, DHA, EPA supplements for your child that will suit your needs. They even have supplements for babies in a liquid form and a dropper.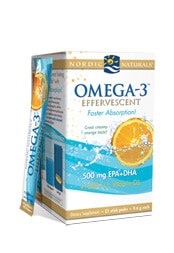 For us adults (and more typically, moms) we tend to forget about ourselves and our health, as we try to do our best for those around us. I'm first to admit that I'm guilty when it comes to the fact of forgetting to take my vitamins and supplements. It's hard to remember that tasteless part of the day (even when I do it everyday). That is why I think the Omega-3 Effervescent's are genius! Just pop a couple of the packages of the cream orange packets in your purse and add it in your water at work or in the car. You'll be getting nutrition without even knowing it. This mixture also contains vitamin D3 to help with bone and joint health.
These two supplements only begin to cover what Nordic Naturals has to offer you and with so much selection how do you know what supplement is the right one for you and your family? How do you choose a fish oil supplement? You want a supplement with not only purity and freshness but the taste is important too. If your fish oil supplement tastes fishy, that's not good. That just means it is poorly manufactured. You also want your supplement in triglyceride form (which all of Nordic Naturals are) because your body absorbs it better (70% better to be exact).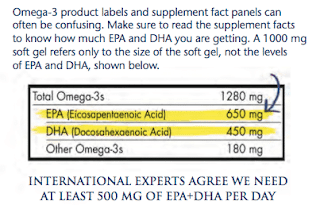 For more information on Nordic Naturals and their products or to further read about the benefits of fish oil supplements, visit the Nordic Naturals website.
Don't forget to follow Nordic Naturals on Twitter and Like them on Facebook.
Pin It