Penne Jambalaya (Boston Pizza Jambalaya Copycat)
Updated September 2016: Wow, I can't believe that it's been 7 years since I originally posted this copycat recipe for Boston Pizza Jambalaya. However, I added a twist and made it Randa style (and yes, this is the way I order it too). Ladies and gents, I bring you Penne Jambalaya.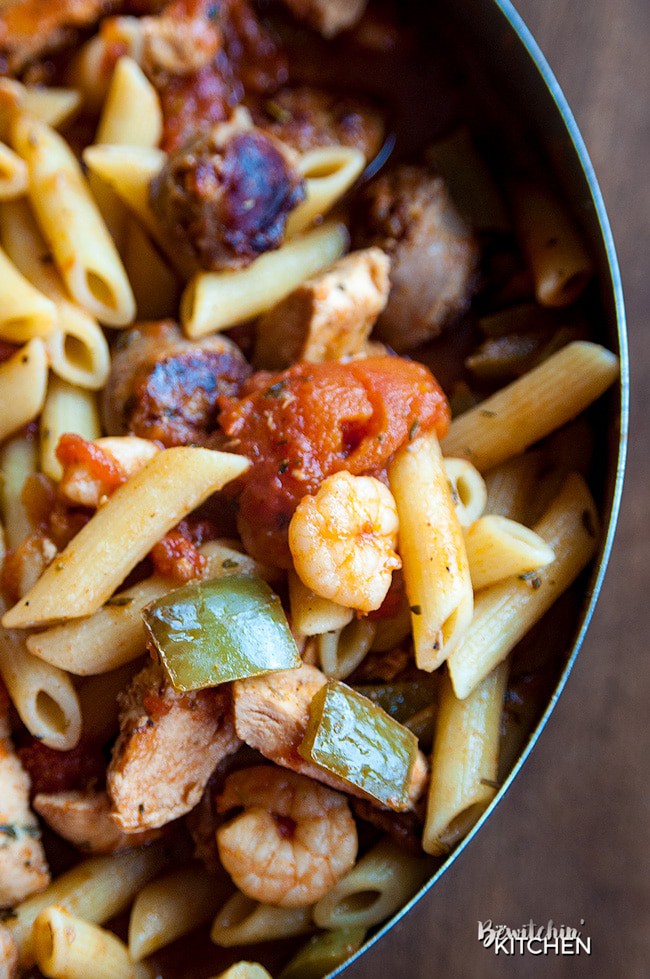 I'm so excited to share one of my favorite recipes. I make this frequently and the boyfriend loves it. This penne jambalaya recipe is a copycat recipe of the Boston Pizza Jambalaya and it tastes just like it.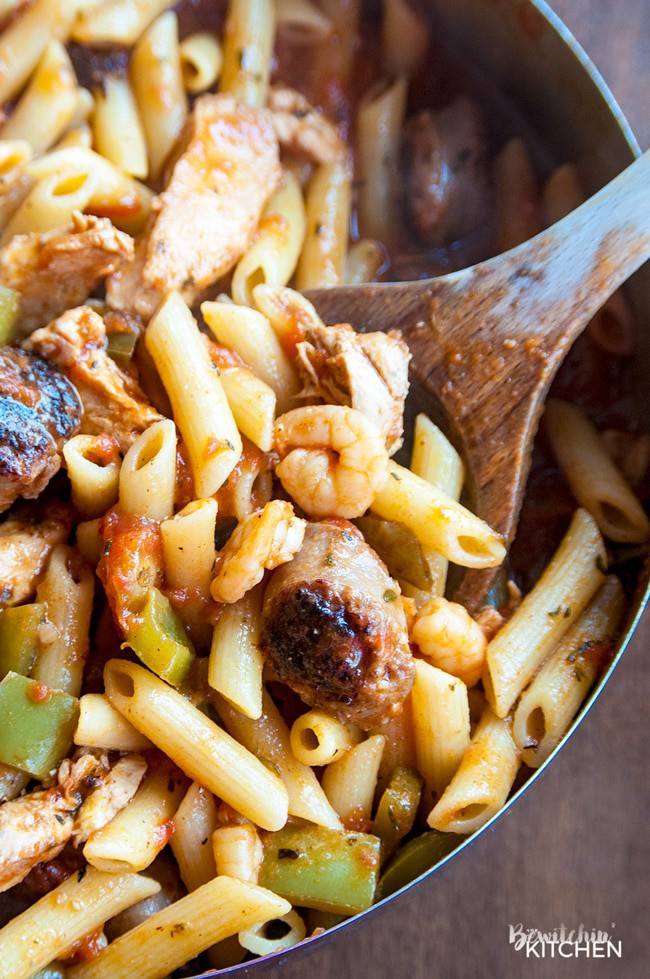 I often don't have hot Italian sausage or shrimp on hand, so it's not uncommon for me to cook this up using just chicken or vegetarian style.
So yes, this isn't tradition jambalaya with rice and what not (I have never had true authentic jambalaya) but it's still delicious.
Every time I make this recipe I can't help but sing Jambalaya (On The Bayou). My favorite version is from Nitty Gritty Dirt Band.
Jambalaya, crawfish pie, an' a fil'e gumbo. 'Cause tonight I'm gonna see my ma cher amio. Well, a pick guitar, fill fruit jar an' be gay-o. Son of a gun, we gonna have a big fun on the Bayou.
Okay sorry about that, I'll stop singing. Just be glad that it wasn't on video.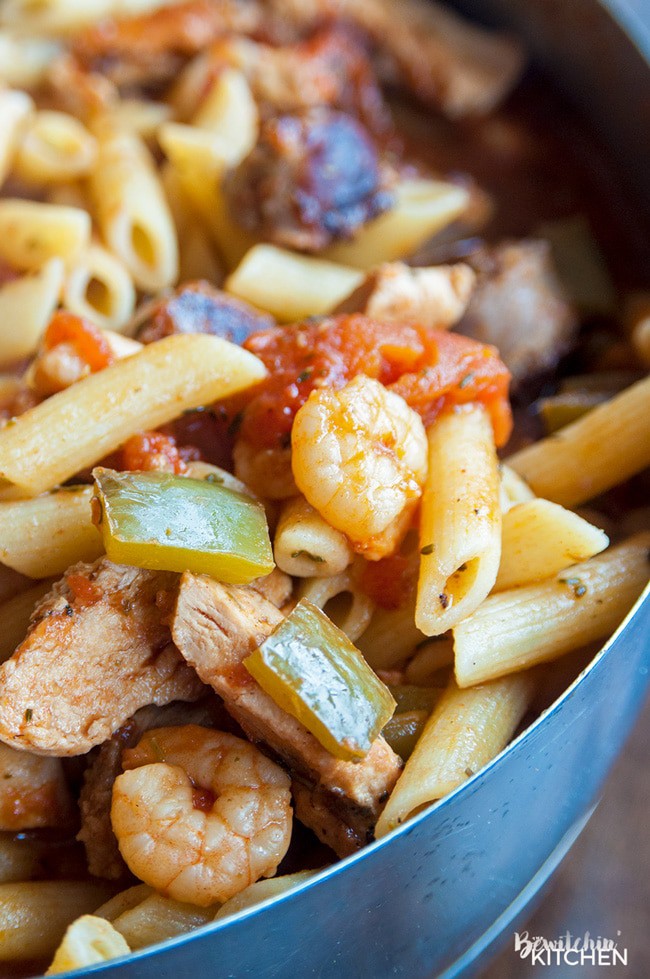 Boston Pizza Jambalaya Recipe (Penne Jambalaya)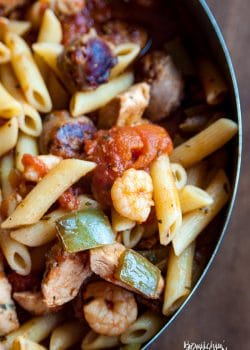 Penne Jambalaya
Inspired by Boston Pizza's Jambalaya, this Penne Jambalaya is awesome and is a copycat of Boston Pizza's version. Shrimp, chicken, pasta, hot Italian sausage, tomatoes, and green peppers. What's not to love?
Ingredients:
1 can whole tomatoes (28 oz or 796 ml)
1/2-1 cup chicken broth
2 garlic cloves
1 tsp each thyme and basil
1 tbsp olive oil
1 tsp paprika
1-2 tsp cayenne pepper (add to your liking)
3 links of hot italian sausage
1/2 cup Frozen cooked shrimp
1 lb chicken breast, sliced.
1/2 package penne noodles
Directions:
Add olive oil and fry up the chicken. Add sausage and shrimp and fry until fully cooked. Sprinkle with paprika and cayenne.
Add tomatoes, crush up with a potato masher and let simmer for 15-20 mins on medium. (Until it reduces a bit.)
Add the chicken broth, thyme and basil. Simmer until reduced, about 1/4-1/2 of the way.
Cook penne in separate pot until al dente.
Taste and adjust seasonings. Adding more cayenne and paprika if you would like.
Toss with penne and serve.
Every once in a while, I will toss some cheese on top and bake in the oven at 350 for 20 minutes. Baked jambalaya!
All images and text ©
.
Let's take a moment and look at my humble food photography beginnings. I'm a member of Food Blogger Pro and it's helped improve my photography a lot.
If you're looking for some more inspired pasta recipes you have to check out this Spinach Artichoke Jalapeno Bake.
***UPDATE…Check out and see what new ingredient I add in, to make it extra delicious HERE
If you like this recipe, please share it with your friends. Don't forget to Pin it!

FREE Recipe Binder
Are you constantly wondering what's for dinner?
When I don't meal plan I feel behind, and we usually end up ordering take out. This recipe binder will keep you organized and make life a little bit easier.