Personalize Christmas With Stuck On You
If you're looking for a great Christmas Gift for a little one, you can't go wrong with personalized items. Kids love knowing that a product is theirs and only theirs and known does personalizing better then Stuck On You. I worked with Stuck On You before and reviewed their personalized pajamas for Carter. So when I had another opportunity to work with them for Carter's first Christmas, I was really excited to begin some traditions with their help.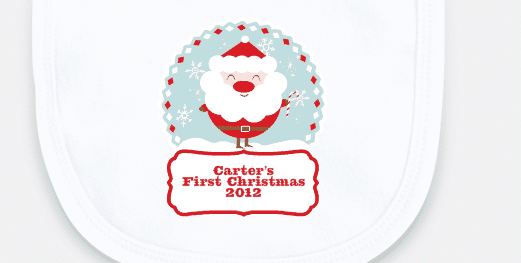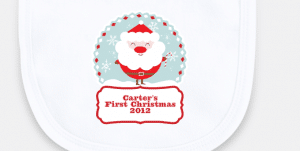 Being that it's Carter's first Christmas, I couldn't visit Stuck On You without checking their bibs. Food is a huge part of Christmas for us and when we sit down to our Christmas dinner I wanted Carter to have something special. The bib I received vs the bib I designed (as pictured) looks the exact same. The bibs are made from 100% cotton and have a pressed stud closure. When you design your bib you can have up to three lines: twelve characters on the first, fifteen on the second and twelve on the last line. I chose the Santa character, but there are many more to choose from and a few other colors as well. All of the designs for the personalized Christmas bibs are too cute.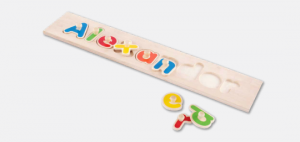 Classic toys are popular yet again (or did they really even fizzle?). Remember the personalized wood name puzzle as a kid? As soon as I saw that Stuck On You had them, I knew I had to get it for Carter. It's important to me that his toys also add an educational aspect to his life. He's on eight months so he's not at the stage where he is going to recognize the letters and learn to read and write his own name but he is at sensory development. The wood puzzle will teach him what shapes go where and builds his sensory levels with touch. The puzzle is MDF and lead free, which is a relief since Carter puts everything in his mouth. You have two options for colors: boy (pictured) or girl (various purples and pinks).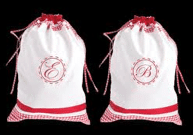 All of these products are fantastic, but my favorite (and THE must have item from Stuck On You this Christmas) would have to be the Santa Sack. What better way then to present Santa's gift to your little one then in a personalized sack from Santa himself. As soon as I saw it, I knew I had to have it and I couldn't wait to start a new tradition. There were many options for design: you could have it initialed, or have characters (like the one seen above in the bib). I wanted a more classic looked and decided to have it presented with a "C". When I received the Santa Sack, my expectations were blown away. It was a lot larger and durable then what I had originally thought. The sack is made from custom canvas and has a lot of room for whatever surprise Santa brought your child. With red ribbon trim and the initial embroidered on to the center, I was thoroughly impressed with the quality. The Santa Sacks also come in red as well. The Santa Sacks are so popular that the white ones are currently SOLD OUT. The red ones are still available.
For more information on Stuck On You and how you can begin some new Christmas traditions visit StuckOnYou.ca.