Sili Squeeze
Carter's in the exploring stage when it comes to food. We're generally new to the baby food scene and I'm going to be 100% honest here, I'm not a fan. This may come as a surprise because from talking to a lot of moms, it seems like most moms love this stage. Not I: it stinks and it makes a massive mess (I know and I've heard it, "Welcome to the life of having a boy."). Over the last few weeks I've been testing out a product from The Sili Company called The Sili Squeeze and it's made this experience a little more enjoyable.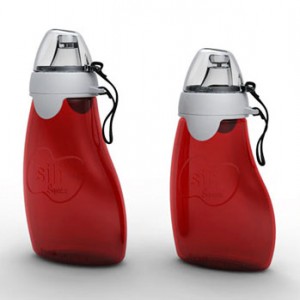 My first impression of the Sili Squeeze was that I thought it looked like a bottle, but with an open top. It's not a bottle, it's a reusable food pouch. Sili Squeeze is made out of 100% food grade silicone and is BPA- PVC- and Phthalate- free. This product is truly revolutionary and true money saver.
I've bought the store bought pouches. They're convenient for on-the-go, but they're costly. You pay for the convenience and I'm already tired of it. Sili Squeeze is genius! Now you can take your soft foods or fruit smoothies on the go in this dishwasher safe container. Empty your baby food into the pouch or make you're own, with the Sili Squeeze you finally have an option.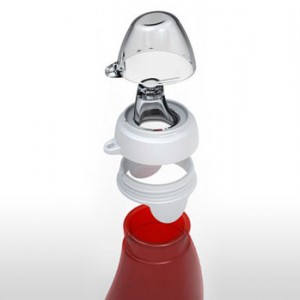 I should mention that I have both reviewed the Sili Squeeze with Eeeze and the original Sili Squeeze. The spout is not spill proof on the Eeeze and is intended for resistance free, easy flow feeding. If you're wanting a spill proof nipple, then you want the original Sili Squeeze.
Everything comes apart smoothly for easy cleaning and comes back together in a snap. After the ring comes back on the silicone, twist the cap and nipple back on and close snap the lid on. It's fool proof.
As I said before, I love the Sili Squeeze for on the go but I use it in the house more often then not. As previously stated, I don't care for pureed food because of the mess and smell (yeah, I know how pathetic that sounds but I also know that I can't be the only one who gags at some of the stuff out there) the Sili Squeeze fixes those issues. Carter keeps his hands to himself (or on the pouch) when I feed him, instead of grabbing the spoon and throwing green beans everywhere so it prevents a big clean up for me. I also find that I don't notice the smell as much when I use Sili Squeeze either. Awesome. I recommend it just for that alone.
For more information on how your purchase will support special needs children or to learn more about the Sili Squeeze (and find some yummy recipes) visit siliqueeze.com.
Now for a recipe:
Blueberry Bliss
2 cup blueberries
2 1/2 cup Greek vanilla yogurt
1/2 cup apple juice
Add berries, yogurt and apple juice to a food processor and puree until smooth. Serve in Sili Squeeze or divide into ice cube trays and freeze until later use.