Paleo Turkey Stuffed Peppers
This recipe for paleo turkey stuffed peppers is on of the more popular healthy recipes here at The Bewitchin' Kitchen. It's also one of my family's go-to quick paleo meals during the week.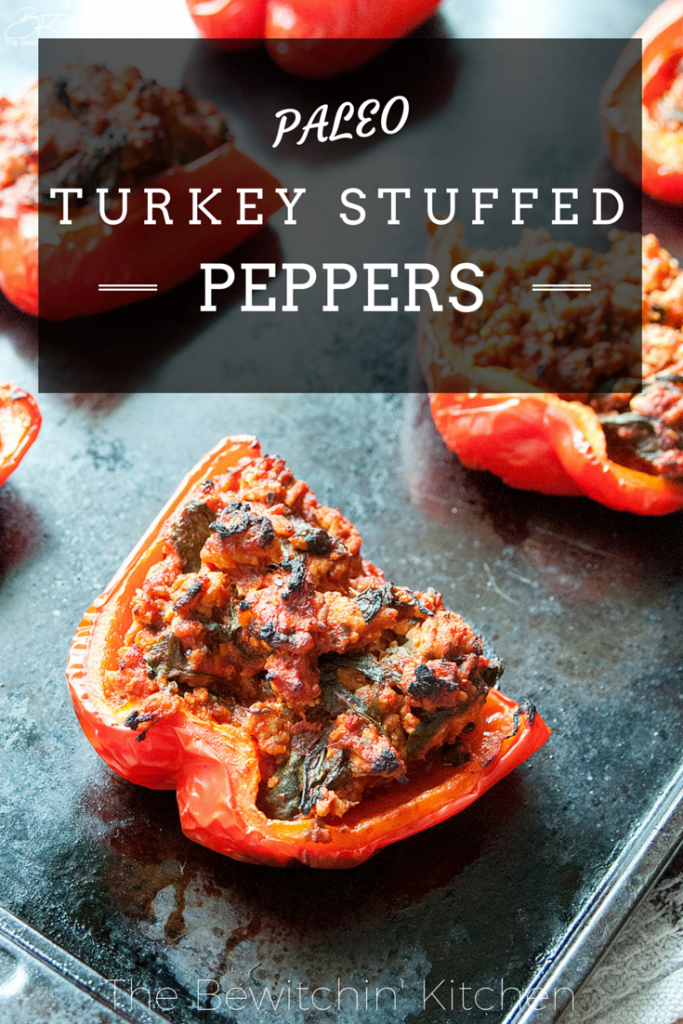 My husband and I have recently started to eat Paleo. Don't know what Paleo is? Basically: eat what a caveman would eat, but these days it's a little more gourmet. If you can grow it or kill it – you're good. I made these Paleo Turkey Stuffed Peppers tonight for dinner and they were delicious. Plus they're super quick! Talk about an easy recipe and a low calorie dinner when you don't have much time to cook.
You can always find more paleo recipes on this paleo recipes search page.
These delicious peppers stuffed with turkey and a homemade marinara and veggies have been a hit, I think it's time I add some more don't you think? If you have any paleo recipe ideas you would like to see, mention them in the comments.
Paleo Turkey Stuffed Peppers
This is the first version of the stuffed pepper recipe, I call it the easy version. It uses organic marinara sauce (you'll have to read the label to see if it's paleo or not). A completely made from scratch paleo stuffed pepper recipe can be found below on the recipe card.
Ingredients
1lb ground turkey
2 cups organic marinara sauce (I used Catelli Organics)
1 tbsp basil
1 tbsp garlic powder
2 cups spinach
3 red bell peppers
Method
Pre-heat to 450
Cook up the ground turkey and add marinara and spices. Let simmer for the flavors to incorporate. In the meantime, take the tops off the peppers, slice them in half and de-seed them.
Add spinach to turkey mixture and stir until wilted.
Distribute the turkey evenly to the halved red peppers and bake for 25 minutes.
*Update August 2015: I finally made the paleo turkey stuffed peppers completely from scratch and wanted to share what I did. Here is a printable recipe for you:
If you like this recipe then check out these Paleo recipes:
Paleo Stuffed Peppers
Paleo Turkey Stuffed Peppers
This paleo stuffed peppers recipe is so easy to make!
Servings 6 halves
Calories 156kcal
Ingredients
1 tbsp olive oil
1 lb ground turkey
3 cups spinach
2 cloves garlic minced
2 cups crushed tomatoes
1 tbsp parsley
1 tsp dried oregano
1 tbsp chopped basil
1 tsp sea salt
3 red bell peppers
Instructions
Sauté the ground turkey, in olive oil, until cooked over medium heat. Add the spinach and stir until wilted.

Add the rest of the ingredients, except for peppers, and simmer for 20 minutes.

Cut the tops off of each pepper and remove the seeds and stems. Slice each pepper in half, down the middle.

Lay the peppers down on a baking sheet and spoon the turkey mixture into each half.

Bake at 425 F for 25 minutes.
Nutrition
Serving: 1g | Calories: 156kcal | Carbohydrates: 11g | Protein: 20g | Fat: 4g | Saturated Fat: 1g | Polyunsaturated Fat: 1g | Monounsaturated Fat: 2g | Trans Fat: 1g | Cholesterol: 42mg | Sodium: 548mg | Potassium: 682mg | Fiber: 3g | Sugar: 6g | Vitamin A: 3541IU | Vitamin C: 89mg | Calcium: 58mg | Iron: 3mg
Follow On Pinterest
Follow @bewitchinkitchen On Pinterest for more delicious recipes!
Recipes you may also like (click the image):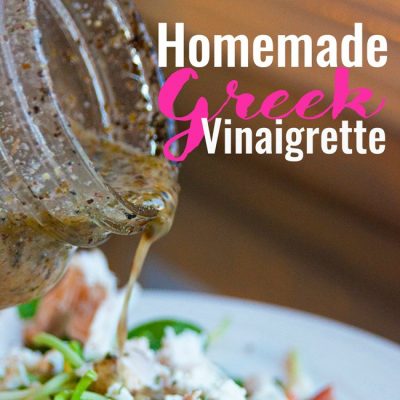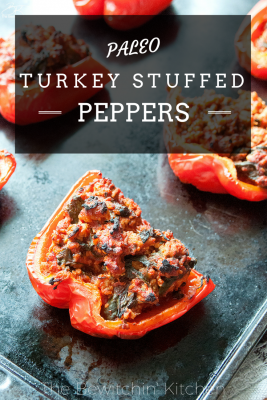 I have made many versions of this recipe, if you don't have some of these ingredients – no big deal. Use whatever it is that you have on hand: carrots, corn, green peppers: it's all good.
Looking for more ground turkey recipes? Check out these 20 Mouthwatering Ground Turkey Recipes:
Looking for more great ideas? Please Click here to follow me on Pinterest!
Visit Randa | The Bewitchin' Kitchen's profile on Pinterest.