Pulled Pork Tacos
Pulled Pork Tacos are easy enough for a weeknight meal, but there's plenty for guests or game day feasts as well. Simmered low and slow on the stovetop, these BBQ pulled pork tacos are ready in just 2 hours!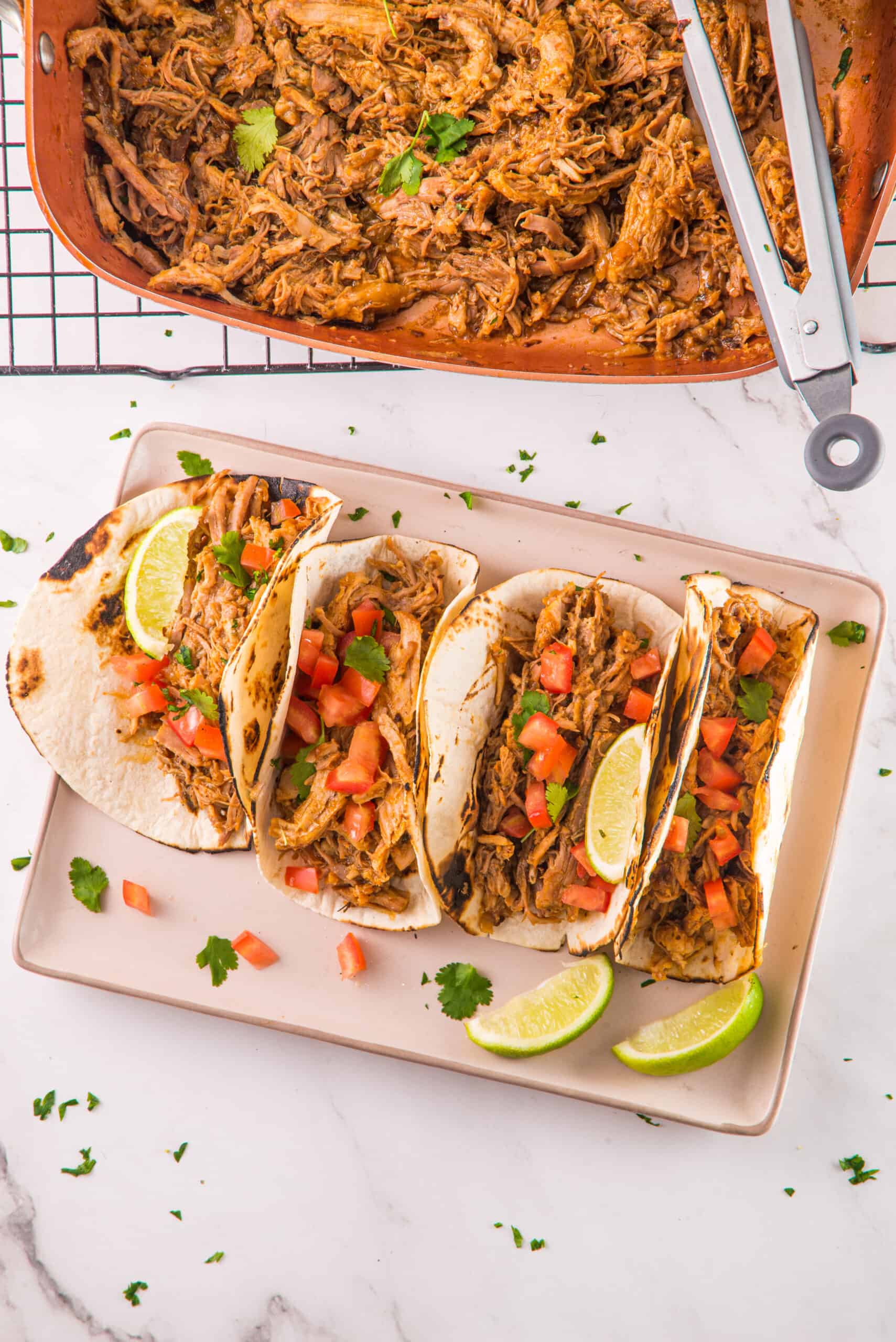 Pulled Pork Tacos
What could be better than tender, flavorful, melt-in-your-mouth meat — unless it's wrapped in a warm tortilla, of course!
Pulled pork tacos hit every flavor note, especially when piled high with all of your favorite fresh toppings. With just a bit of BBQ sauce, the pork will taste like it was in the smoker all day.
If you need an even more hands-off pulled pork tacos recipe, you can cook your meat in the slow cooker instead. Rotate these out with easy chicken or sofritas recipes to add plenty of variety to your Taco Tuesdays!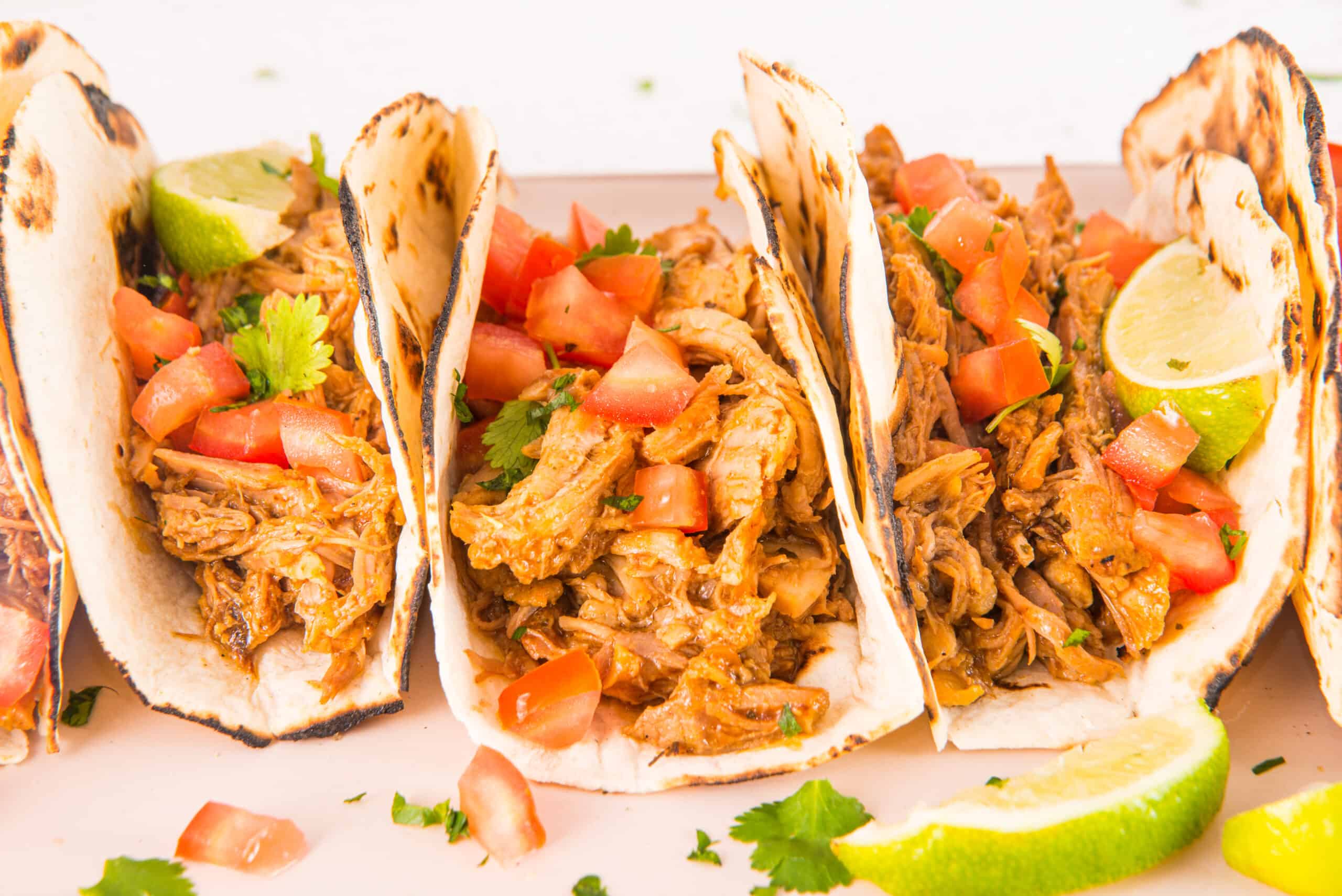 Why you will love this recipe
Succulent meat with bold flavor
Uses simple ingredients you probably have on hand
Cooks in one pan on the stovetop
Makes plenty for parties or leftovers
Simple prep and (mostly) hands-off cooking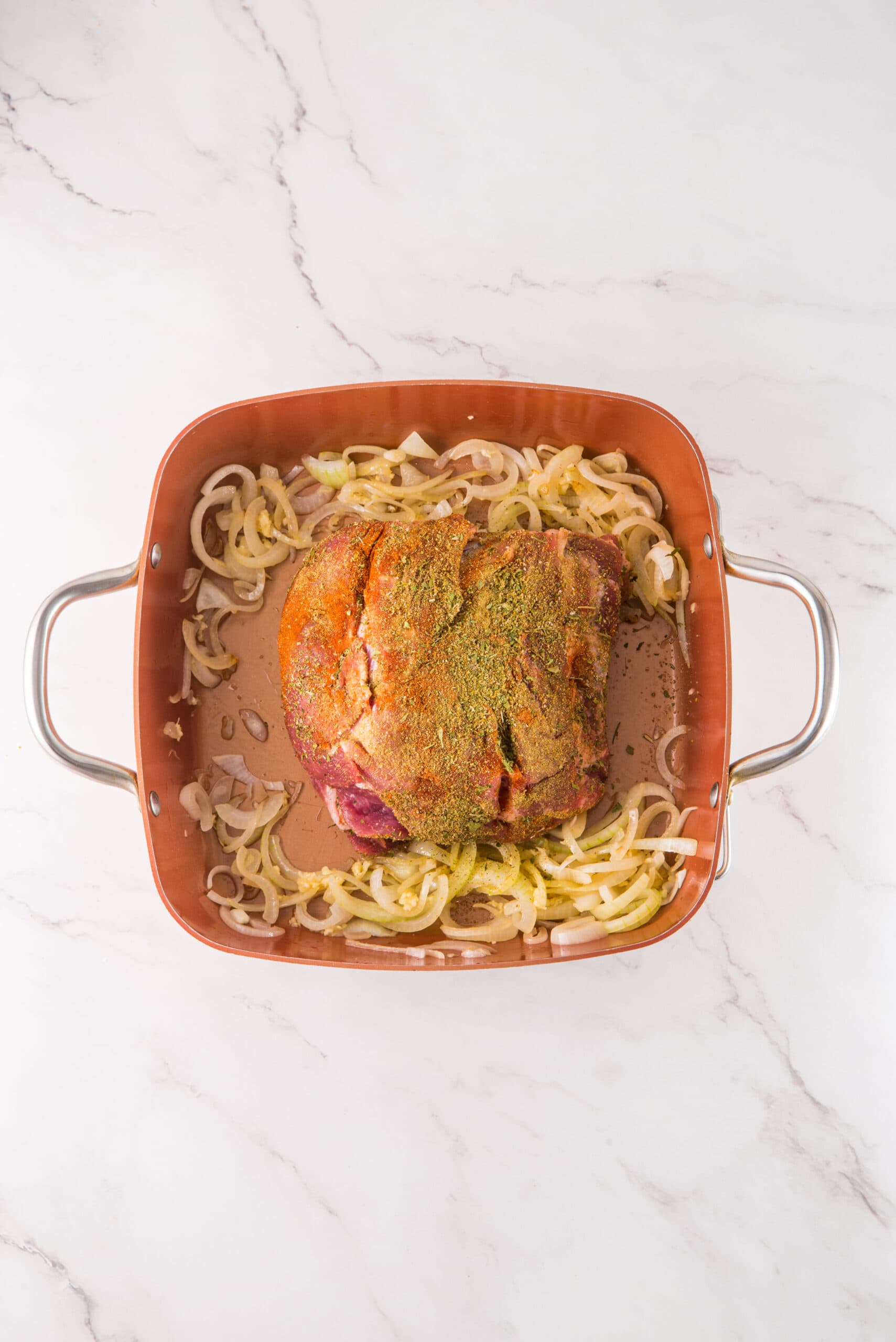 How to Make Tender BBQ Pulled Pork Tacos
Prep your ingredients. Cook sliced onions in oil until translucent, then toss in the garlic and stir until fragrant.
Meanwhile, coat all sides of the pork shoulder with the spices, rubbing it into the surface for maximum flavor.
Slow cook until the meat shreds easily. Place the seasoned meat over the onions and smother with BBQ sauce and beef broth. Stir, then cover and cook on low for 1 ½ to 2 hours, flipping the meat after the first hour.
Once the pork pulls apart easily, shred and let it simmer in the sauce to absorb more flavor.
Assemble your pulled pork tacos. Nestle some shredded meat into a warmed tortilla — tongs usually work best — then add your favorite toppings and dig in!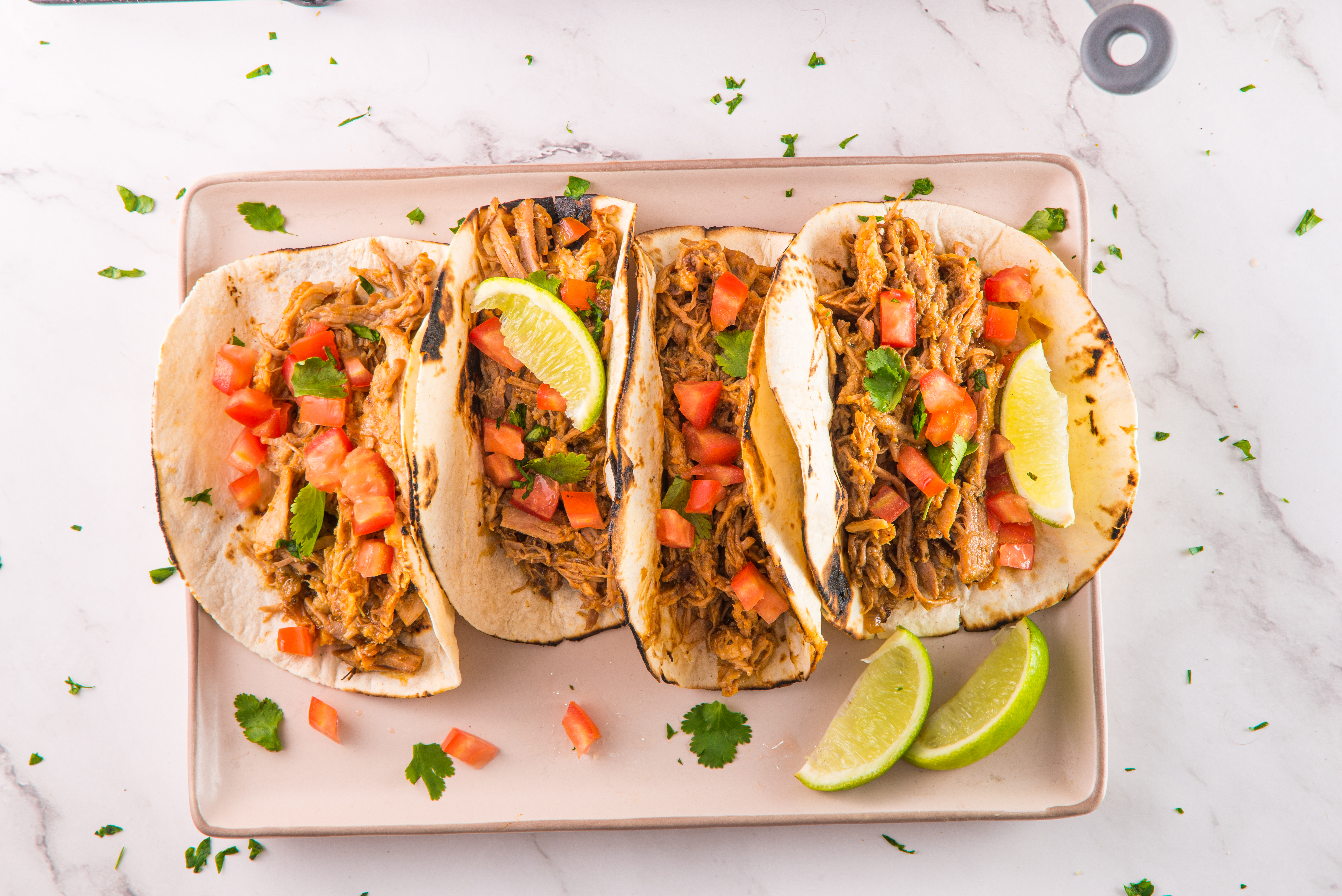 Pro Tips
Use the right pan. When we say large saucepan, we mean it! It should be wide and deep enough that there's plenty of room for the meat without it seeming squished. A Dutch oven or braising pan will work as well.
Enhance the flavor. If you've got a few extra minutes, sear the pork shoulder in hot olive oil before placing it over the onions.
Keep it low and slow. You may be tempted to turn up the heat so your pulled pork tacos are ready sooner, but you'll ruin the results! This cut of meat really benefits from slow cooking for a longer period of time to get it nice and tender.
Warm tortillas before assembling. This makes them nice and pliable so they won't crack or tear when folded — plus, they're more enjoyable to eat that way. Heat them on both sides in a dry skillet or microwave them for 5-10 seconds.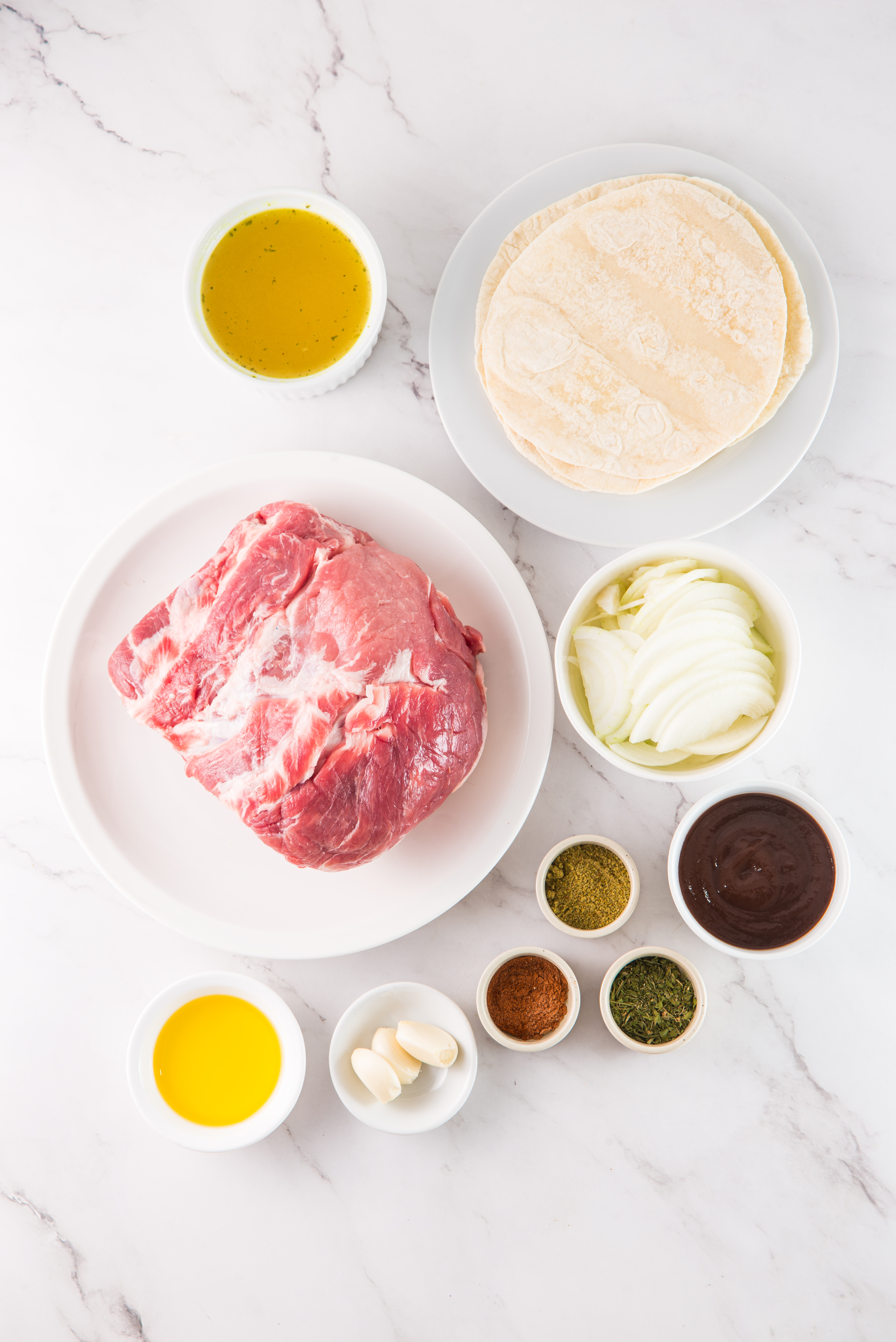 Key Ingredients and Substitutions for Pulled Pork Street Tacos
Pork Shoulder: Pork butt will also work for this pulled pork tacos recipe. Both cuts have the right amount of marbling (fat) to create ultra-juicy and tender meat.
Spices: A simple rub of cumin, oregano, salt, and chili powder infuses the meat with smoky flavor and a touch of heat. Mix everything together before applying so you get an even distribution.
BBQ Sauce: They wouldn't be BBQ pulled pork tacos without this ingredient! It adds just enough smokiness without tasting too much like BBQ sauce. For a more traditional take, feel free to omit this or replace it with salsa.
Tortillas: Pulled pork street tacos are typically served on corn tortillas, but you could easily use flour tortillas if you prefer.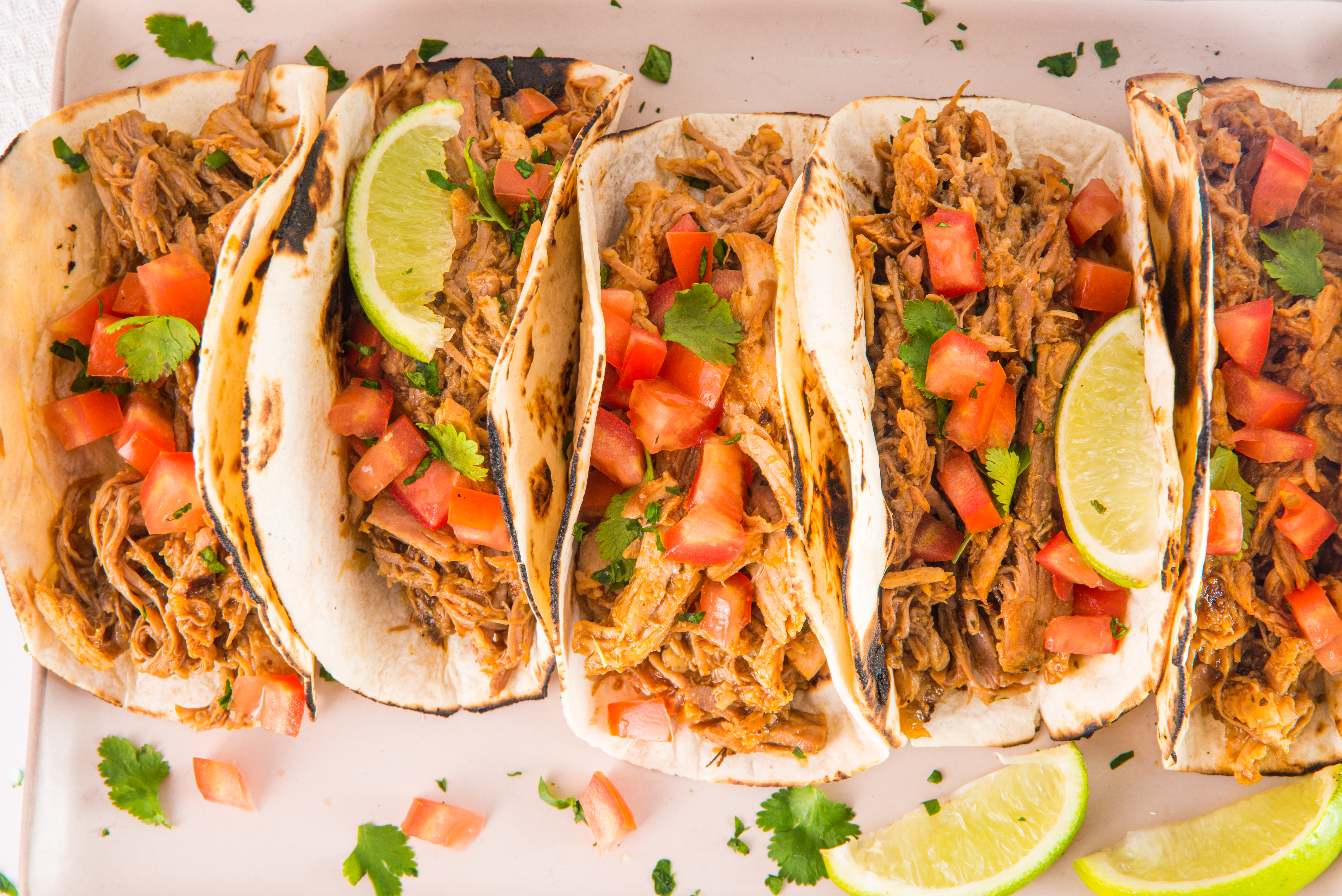 Frequently asked Questions
What toppings go with BBQ pulled pork tacos?
Traditional pulled pork street tacos are served with salsa, cilantro, and onions, plus lime wedges on the side. However, there is no shortage of toppings that would be tasty in your homemade version!
Sour cream or Mexican crema
Guacamole
Queso fresco or cotija cheese
Sliced or pickled jalapeños
Chopped tomatoes
Shredded lettuce or coleslaw
Is carnitas the same as pulled pork?
Essentially, yes — but with one key difference. Both are made by slow-cooking pork shoulder until tender. To get carnitas, the shredded meat is roasted or broiled until browned and crisp.
What's the best way to save pulled pork leftover tacos?
Assemble tacos as you eat them so any leftover meat isn't mixed with the other ingredients. Store cooled pork and all of your toppings in separate containers in the refrigerator for 4 to 5 days. You can also freeze BBQ pulled pork tacos meat for up to 3 months.
Warm the meat on the stovetop or by microwaving in bursts until heated through. Then, assemble according to the original recipe to enjoy pulled pork leftover tacos that are as good as fresh!
Pulled Pork Tacos
Pulled Pork Tacos are easy enough for a weeknight meal, but there's plenty for guests or game day feasts as well. Simmered low and slow on the stovetop, these BBQ pulled pork tacos are ready in just 2 hours!
Servings 4 Servings
Calories 527kcal
Ingredients
2 tbsp Olive Oil
1 medium Yellow Onion sliced
3 clove garlic cloves minced
2 lb pork shoulder
1 tbsp cumin
2 tsp dry oregano
2 tsp salt
1/2 tsp chilli powder
1/3 cup BBQ sauce
3 cup beef broth if your broth is sodium-reduced, you may need to add extra salt to the recipe
8 medium flour tortillas
Instructions
Heat olive oil in a large saucepan. Then, add sliced onion and stir for 5-8 minutes until it is translucent. Add minced garlic and stir for a minute.

Rub pork shoulder with spices and salt. Then, place it over the onion and incorporate BBQ sauce and beef broth. Give it a quick stir.

Cover with a lid and set the stove over low heat. Cook the meat for one hour, and turn it over. Continue cooking it for 30 to 60 more minutes. Then, pull the meat apart with a fork to check if it is ready. If that is the case, shred it apart before the last 10-15 minutes of cooking so that the meat infusions with the remaining cooking sauce.

Prepare your tacos with warm pulled pork and your favorite taco fillings.
Notes
Tips
Choose the Right Cut of Pork: Use pork shoulder or pork butt for the best results. These cuts have a good balance of meat and fat, which makes the pulled pork tender and flavorful.
For flavor enhancement, you can sear the meat in hot olive oil before adding it to the saucepan.
Cooking the pork over low heat for an extended period is key to achieving tender pulled pork. Be patient and resist the temptation to increase the heat.
Warm your flour tortillas before assembling your tacos. You can do this in a dry skillet or microwave them for a few seconds to make them pliable and more enjoyable to eat.
Get creative with your taco fillings. Consider using ingredients like shredded lettuce, diced tomatoes, chopped cilantro, sliced jalapeños, diced onions, shredded cheese, sour cream, guacamole, or salsa.
Recipe Notes
These Pulled Pork Tacos are a celebration of bold flavors, tender meat, and the freedom to personalize each taco to suit your taste preferences. Whether you're hosting a gathering or enjoying a cozy family dinner, these tacos are sure to be a crowd-pleaser, making them a go-to recipe for any occasion.
Nutrition
Calories: 527kcal | Carbohydrates: 44g | Protein: 35g | Fat: 23g | Saturated Fat: 6g | Polyunsaturated Fat: 3g | Monounsaturated Fat: 11g | Cholesterol: 93mg | Sodium: 2633mg | Potassium: 793mg | Fiber: 4g | Sugar: 11g | Vitamin A: 173IU | Vitamin C: 4mg | Calcium: 168mg | Iron: 6mg
Follow On Pinterest
Follow @bewitchinkitchen On Pinterest for more delicious recipes!