Dijon Vinaigrette – 21 Day Fix Approved Salad Dressing
This homemade Dijon Vinaigrette is my new favorite dressing! It only takes a minute to make, and I make a fresh batch every week. While bottled dressings are typically more convenient, this recipe is a game-changer. Simply add the ingredients, shake, and chill!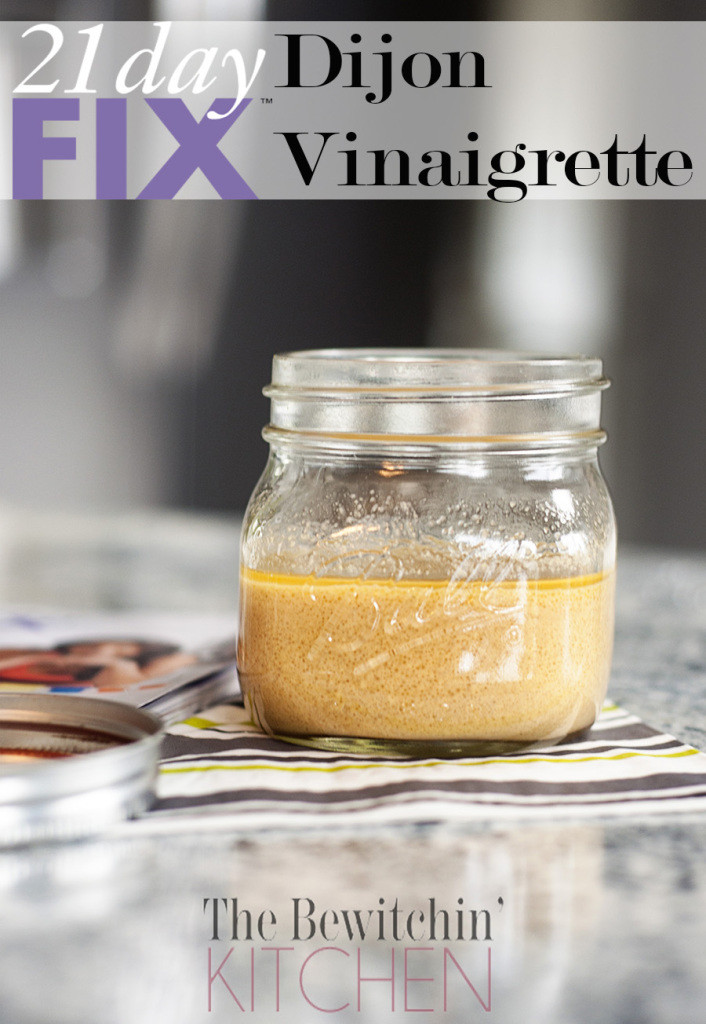 21 Day Fix Dijon Vinaigrette
While I have always loved homemade dressings, I never did bother too often because the pre-packaged ones were really convenient when I was in a rush (I'm looking at you, Italian).
Now, I no longer have that excuse!
This recipe comes from the 21 Day Fix eating plan and guidebook. There are not too many recipes in there, but this is one of them, and it's my favorite. I serve this dijon vinaigrette over salads and steamed vegetables, plus it's a really good marinade as well.
If you're not sure what the heck I'm talking about when I say the "21 Day Fix", you can read about it here. You can also find my results and a little more information on my 21 Day Fix Page (it has all my archive posts).
In a nutshell, the 21 Day Fix helps you get into the habit of eating well and working out (it takes 21 days to make or break a habit). The whole point is to eat REAL food and eliminate the processed stuff from your diet.
What you will love about this dijon vinaigrette recipe
Quick and easy – This dijon dressing comes together in just minutes.
Bursting with flavor – Tart, tangy, and beautifully bright.
21 Day Fix approved – Add this one to your list of approved 21 Day Fix dressings.
Easy to customize – All it takes is a few easy tweaks to make this dijon salad dressing exactly how you like it.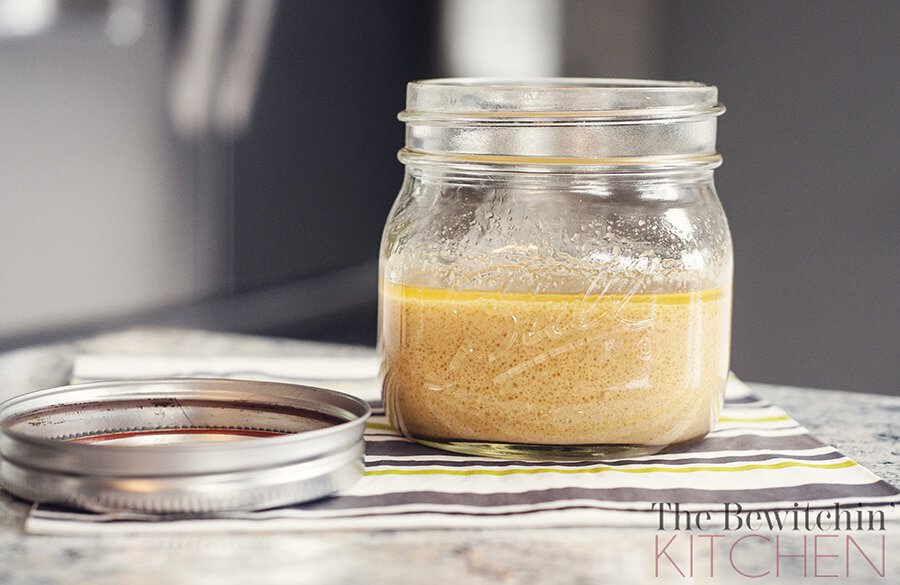 How to make 21 day fix dijon vinaigrette
It doesn't get much easier than this dijon vinaigrette! You are only a few simple steps away from this tasty, tantalizing goodness!
Combine all ingredients – Add all of the ingredients to either a large mixing bowl or a Mason jar with a lid.
Whisk or Shake – Thoroughly blend everything together by whisking what is in the bowl, or by placing a lid on the jar and shaking vigorously.
Chill and Serve – Store the dressing, covered, in the fridge for up to a week. Remove from the fridge 30 minutes prior to serving, shake well to mix, and enjoy!
Key ingredients and substitutions for dijon dressing
This easy dijon vinaigrette recipe is made with simple ingredients. Olive oil and vinegar team up with lemon juice, dijon mustard, and a few spices to create this divinely delicious dressing.
While it is all pretty straightforward, here are a few ingredients you can substitute while still keeping it in the realm of approved 21 day fix dressings.
Vinegar – The recipe calls for red wine vinegar, but feel free to sub in balsamic, apple cider, or any of your favorite vinegars.
Oil – A high quality olive oil is ideal, but another healthy oil (like avocado) can pass the test if you need a sub.
Mustard – Go with classic dijon mustard or substitute a spicy brown, stone ground, spicy, or horseradish mustard.
Lemon Juice – Fresh lemon juice is best, but go ahead and use the bottled stuff if that's what you have on hand.
Spices – I've included a simple blend of garlic, salt, and pepper, but the sky is the limit when it comes to spices. Add in a bit of turmeric, cayenne, dill… whatever flavor floats your boat!
Frequently asked questions about dijon salad dressing
What is a 21 day fix approved dijon dressing?
This dijon vinaigrette is similar to any other dijon vinaigrette recipe out there, except that it is crafted with the 21 Day Fix in mind. That means it is free from unhealthy, overly processed ingredients like refined sugar, unhealthy fats, and chemical preservatives.
How can I use this dijon salad dressing?
This dijon dressing is (obviously) perfect for drizzling over your salads, but the fun doesn't stop there! You can use this delightfully tangy dressing to add brightness to steamed vegetables, grilled meats, or any dish your heart desires.
If you are doing the 21 Day Fix, be sure to pair it with foods that fit into your program. Not on the 21 Day Fix? No problem. You can still enjoy this deliciously healthy vinaigrette on all your favorite foods!
This recipe makes eight servings, with each serving being roughly 2 tbsp. For those doing the fix, it equals one ORANGE container.
More 21 Day Fix Dressings
7 Homemade Vinaigrette Recipes That'll Knock Your Socks Off
Dijon Vinaigrette – 21 Day Fix Approved Salad Dressing
This dijon vinaigrette is amazing and takes under a minute to make. It's 21 Day Fix approved and can be found in the eating plan provided.
Servings 6 tbsps
Calories 133kcal
Ingredients
3 tbsp red wine vinegar
3 tbsp lemon juice fresh is best but I use concentrated most of the time
3 tbsp Dijon mustard
2 cloves garlic minced
1/4 tsp sea salt
1/4 tsp black pepper
6 tbsp extra virgin olive oil
Instructions
In a glass mason jar (or a medium Tupperware bowl works fine as well) combine all the ingredients.

Place lid and shake until it's mixed. If you're using a bowl, just whisk it for a few seconds.

Store in the fridge, covered, and take out 30 minutes prior to serving so it softens a bit. Or, if you forget to do that (like I always do), zap it in the microwave for 5 seconds.
Nutrition
Serving: 1tbsp | Calories: 133kcal | Carbohydrates: 1g | Protein: 0.4g | Fat: 14g | Saturated Fat: 2g | Polyunsaturated Fat: 2g | Monounsaturated Fat: 10g | Trans Fat: 0.002g | Sodium: 181mg | Potassium: 27mg | Fiber: 0.4g | Sugar: 0.3g | Vitamin A: 6IU | Vitamin C: 3mg | Calcium: 8mg | Iron: 0.3mg
Follow On Pinterest
Follow @bewitchinkitchen On Pinterest for more delicious recipes!
Purchase 21 Day Fix
21 Day Fix Extreme Essential Package
21 Day Fix Extreme Ultimate Package