Play-Doh Sweet Shoppe Cake Mountain #TBKGiftGuide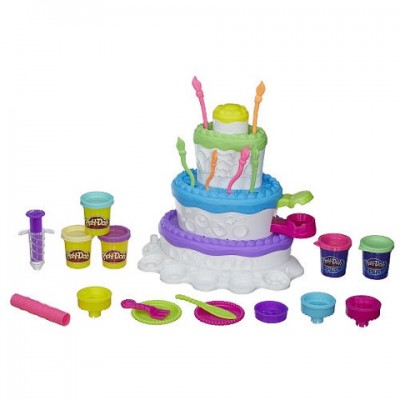 As a parent of two toddlers, I love that I can now begin to share toys & activities with them that bring back fond childhood memories. One of the products that brings those memories of fun filled afternoons with my siblings is Play-Doh. Hence, the excitement when Randa asked me if I'd like to review Play-Doh Sweet Shoppe Cake Mountain with my girls. From the moment I opened that first container of Play-Doh the memories came flooding back and I was excited to explore, be creative and make new memories with my daughters.
Our Play-Doh set was delivered a few days before my husband & I left on a vacation. My 3 year old daughter saw the box and was so excited to play with it. She had never played with Play-Doh before but she loves to bake & help in the kitchen, so the prospect of decorating her own cake was very intriguing. I promised her we would play with it when Mommy & Daddy came home. As expected, 2 weeks later, soon after we walked in the door, she excitedly asked if we could PLEASE play with the Play-Doh?! She had patiently waited two weeks and I have to admit I was excited to play with it too.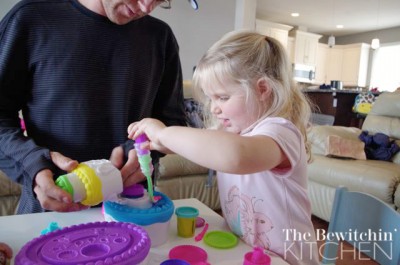 Contained in the box was 2 cake structures (bottom tier & cake machine with cake stand) that could either be used separately or together to make a variety of cakes, cookies, cake pops & decorations or simply be decorated as a cake! There were 5 different cans of Play-Doh which led to endless colour combinations for our treats. Also included was 6 sticks, 3 cake molds, 2 plates, knife, fork, textured roller and a 2-piece extruder for piping the icing.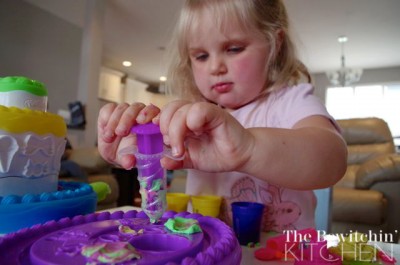 After exploring all of the contents, my 3 year old's favourite activity was filling the tube of icing by herself to then squeeze & decorate her handcrafted cakes. She also really enjoyed the textured roller & rolling patterns onto her creations. Using her imagination and creating with Play-Doh kept her busy for an entire afternoon & she was sad when it was time to clean up for dinner.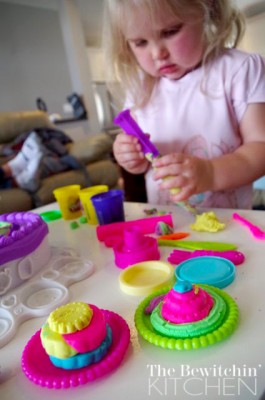 My 1 1/2 year old had the most fun mixing her own colour creations and plating that treats that Mommy created. She then delivered them to Daddy while he sat reading on the couch. "One More Dad?, More?!"
This will be a set to enjoy for years to come as I, at 26 years old, had just as much fun as the girls creating more detailed cakes & cake pops. The sky really is the limit on the age recommendation for this Play-Doh Sweet Shoppe Cake Mountain set as it is a fun activity that sparks your creativity and can be enjoyed by the whole family!
Play-Doh Sweet Shoppe Cake Mountain is the perfect gift to give or for your own family to enjoy during the holidays! It's a fun activity that sparks your imagination indoors on a cool winter day. AND, if Cake Decorating is not your forte, there are so many other varieties of fun Play-Doh themed sets available from Hasbro!