Sofritas
Sofritas are a fantastic way to get plenty of protein in one flavor-packed, vegan-friendly meal! Chow down on these tacos with a boatload of juicy veggies and soft braised tofu.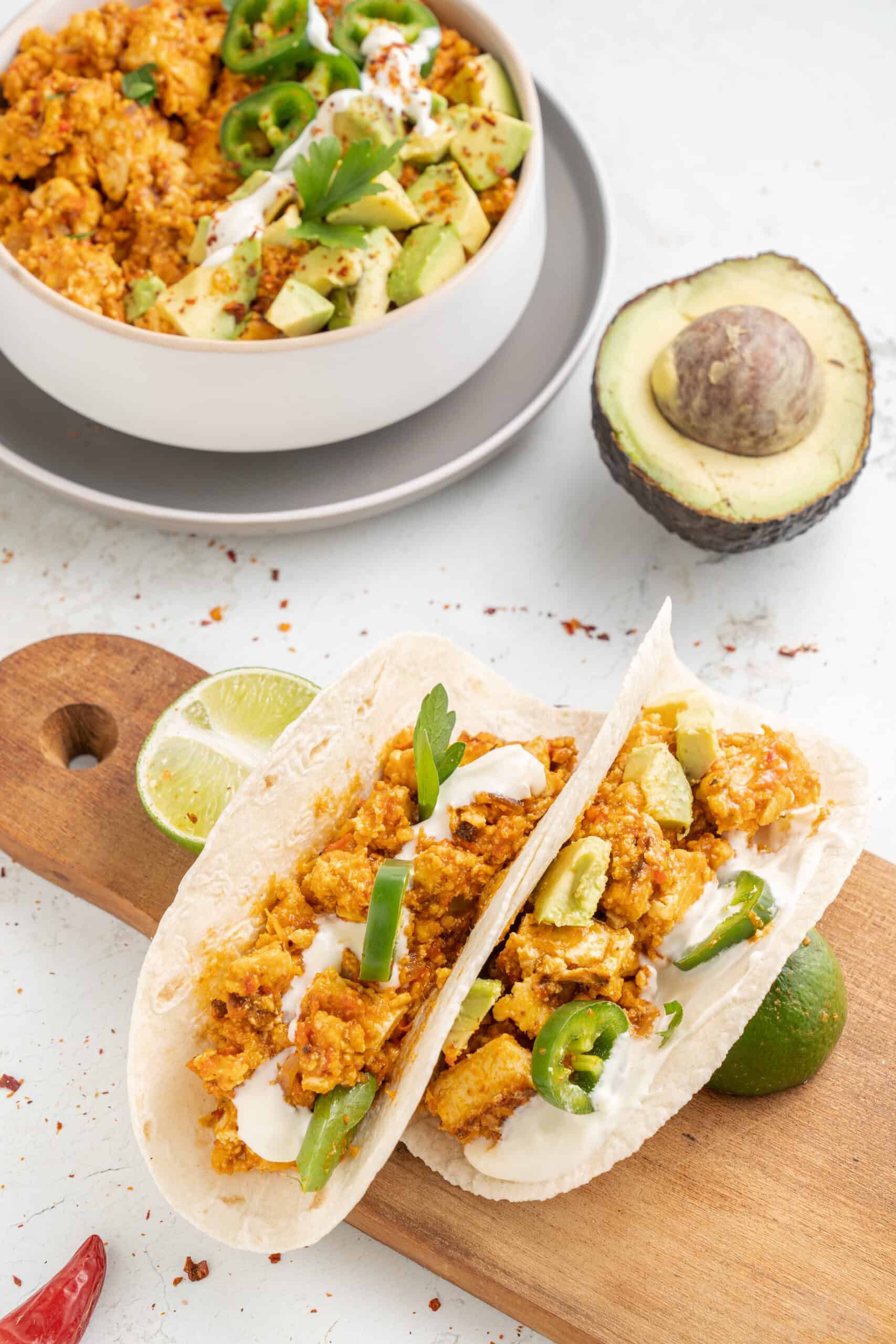 Spicy, Saucy Sofritas
There's nothing quite as satisfying as making your fast food favorites right at home! To make things even better, you can throw in your own preferred ingredients, play with different seasonings, and end up with a dish that's even more delicious!
This Chipotle-inspired recipe is just a tad sweet, soft and juicy, and is at a moderate heat level.
For more vegan-friendly dishes that'll fill you with energy, try our vegan Buddha bowl or throw this dish on top of a warm salad!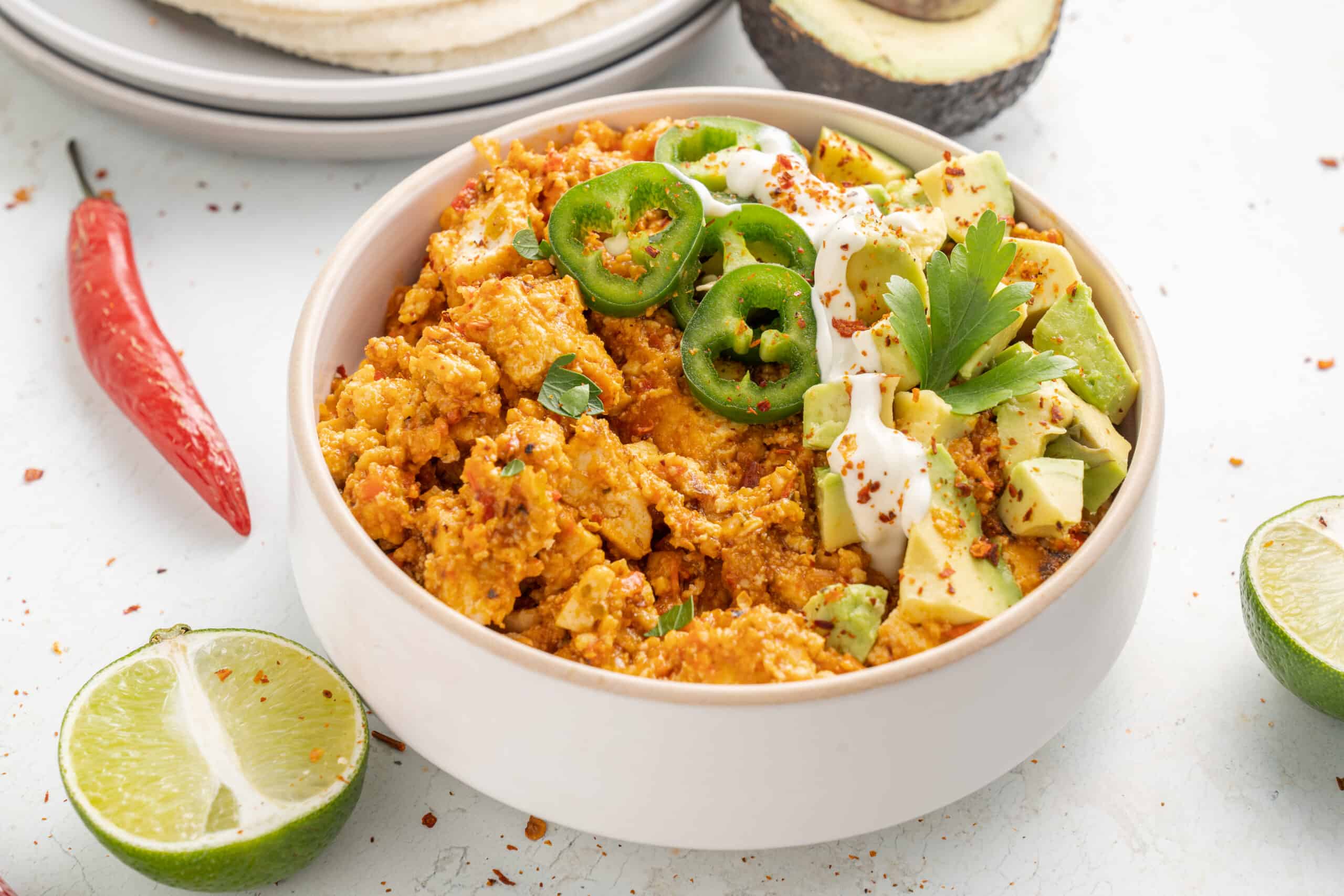 Why you will love this recipe
An incredibly saucy, subtly spicy, and smoky homemade Chipotle sofritas recipe!
You can control the heat level with different peppers and spices
Extra acidity levels it all out for a deep, satisfying flavor.
It's vegan-friendly yet still packed with protein and texture!
It makes a mouthwatering vegetarian option for your family burrito and taco nights.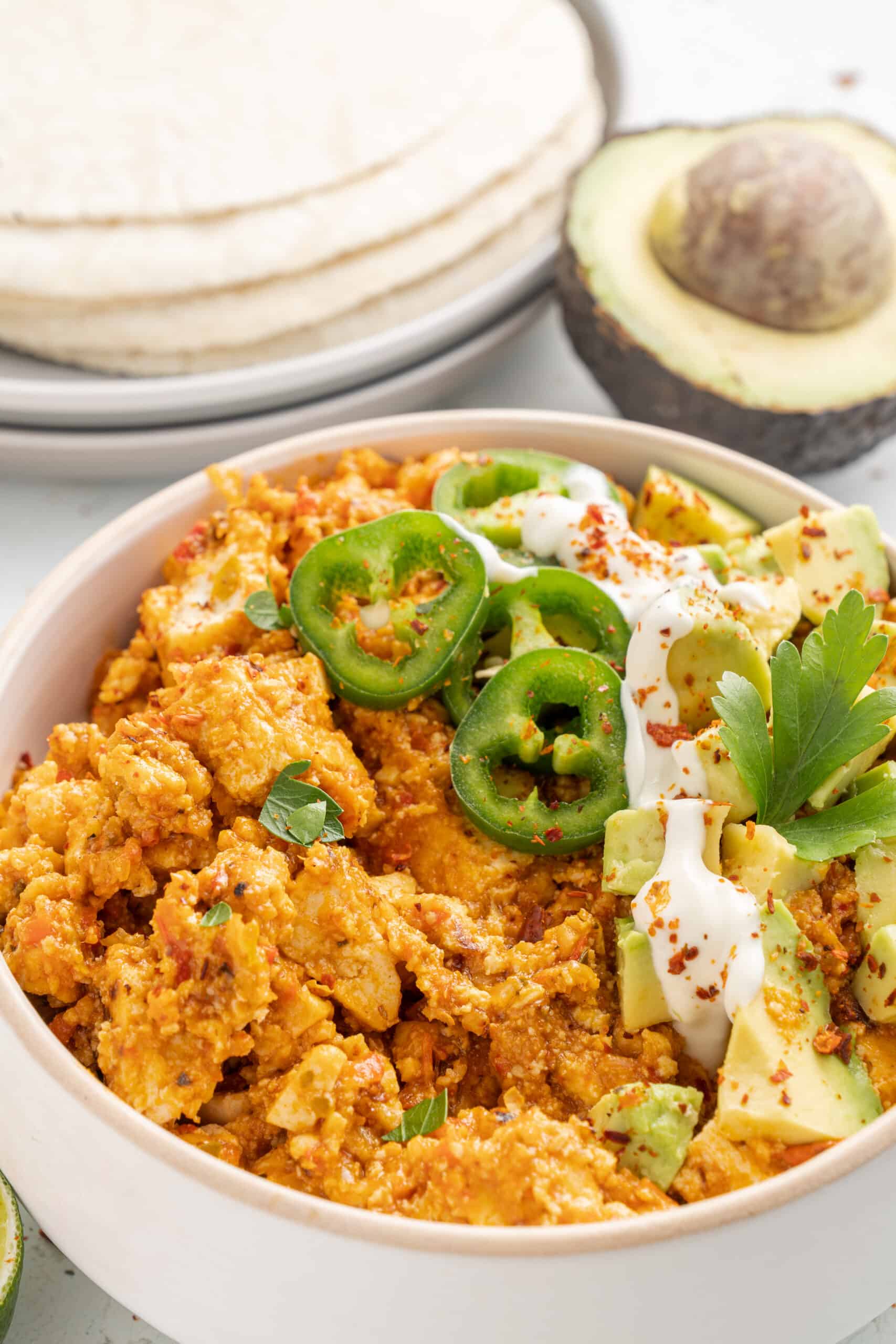 Sofritas Meaning
The word sofritos is Spanish in origin. It's derived from the word sofrito, which directly translates to "gently fried."
Chipotle sofritas ingredients are relatively consistent, and the word itself is almost always associated with the dish we're making here: tofu prepared with characteristic spices and cooked with flavorful, aromatic vegetables.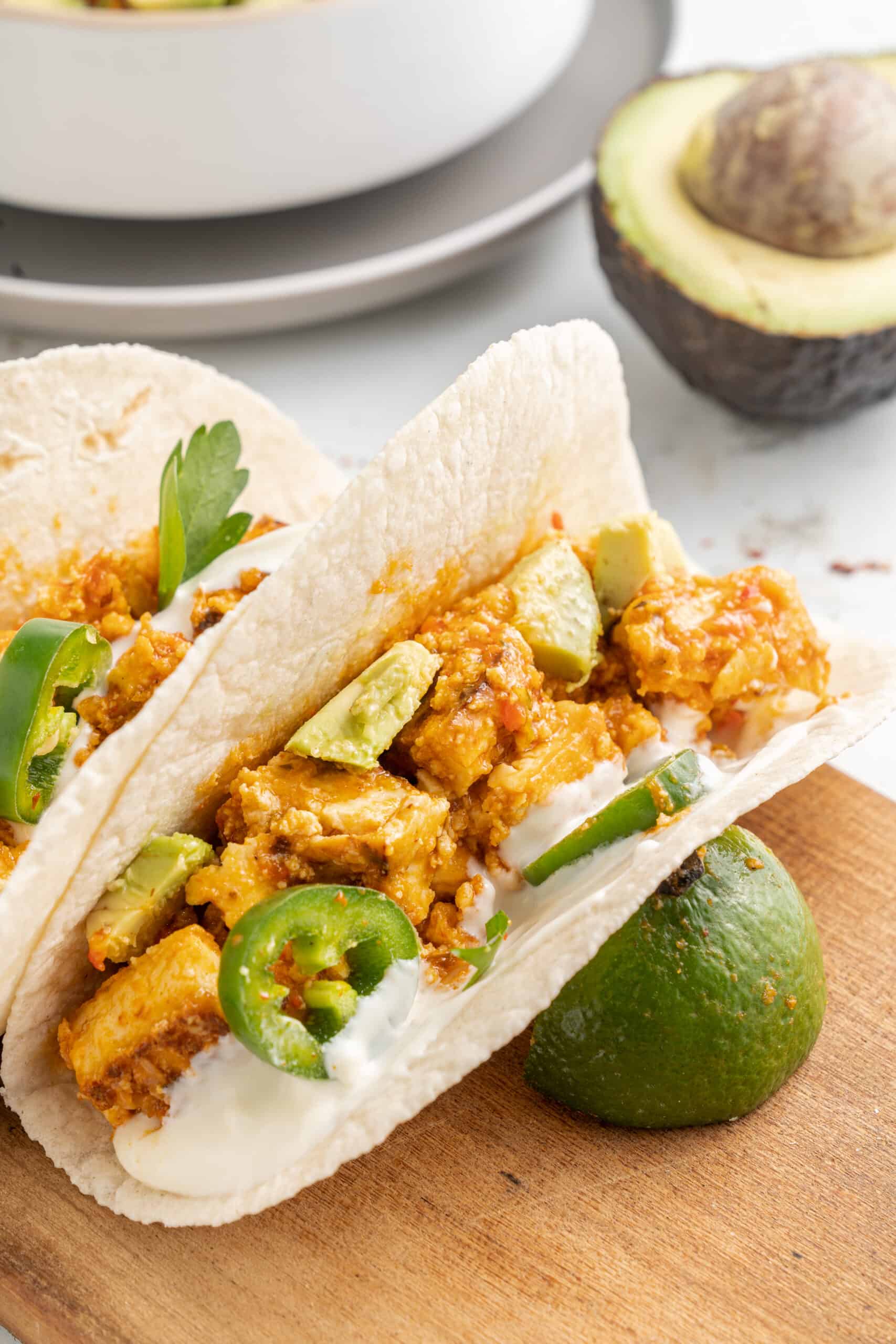 How to make perfect Sofritas
Prepare the vegetables: Clean and slice the jalapenos, red bell peppers, and onion. Sauté in olive oil. Once soft, add the minced garlic and stir fry everything until the garlic becomes fragrant.
Puree the sauce: Remove the veggies from the heat and add to the food processor. Add the remaining saue ingredients, excluding the water, and process until smooth.
Simmer the sauce: Pour the sauce mixture into a saucepan. Add the water, stir, and let simmer for 10 minutes.
Prepare the tofu: While the sauce is cooking down, press the tofu to squeeze out any excess moisture (check out Pro Tips to learn how to make this easier). Dry with a paper towel. Break the tofu into chunks with your hands or give it a few pulses in a food processor – just to break it apart, not to pulverize it.
Heat 1 tablespoon of oil in a pan until it shimmers. Toss the tofu in the cornstarch, coating all sides, and add it to the pan. Sauté until crisp. Tofu needs plenty of space to brown – fry in batches if necessary.
Toss the tofu in the sauce: Finally, heat another tablespoon of oil in a large skillet and add both the tofu and sauce. Stir and simmer until well combined and coated.
Serve or Store: Serve right away in burritos or tacos. Otherwise, let the mixture come to room temperature and store in an airtight container for up to 5 days in the refrigerator.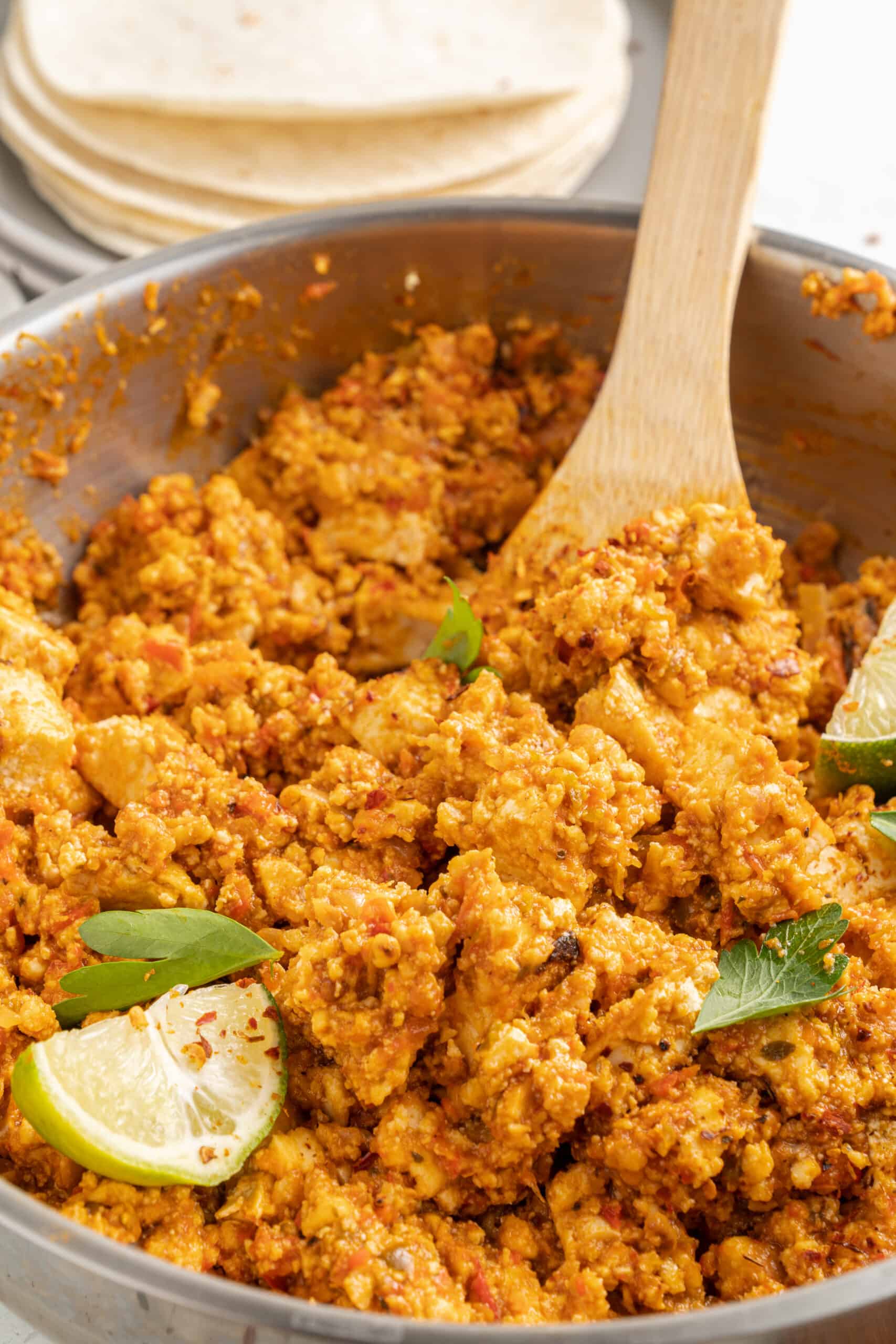 Pro Tips
Pro Tip 1: This plant-based protein mix is best served as a taco or burrito filling. Serve with flour or corn tortillas to complete the meal!
Pro Tip 2: Roast the peppers and onion beforehand for extra smoky flavor.
Pro Tip 3: Frozen tofu is excellent at absorbing spices, sauces, and seasonings – it dries out and becomes more porous, opening it up to any and all flavors you're trying to incorporate. So if you can plan ahead, definitely pre-shred the tofu, freeze, and thaw before preparing our Chipotle sofritas recipe.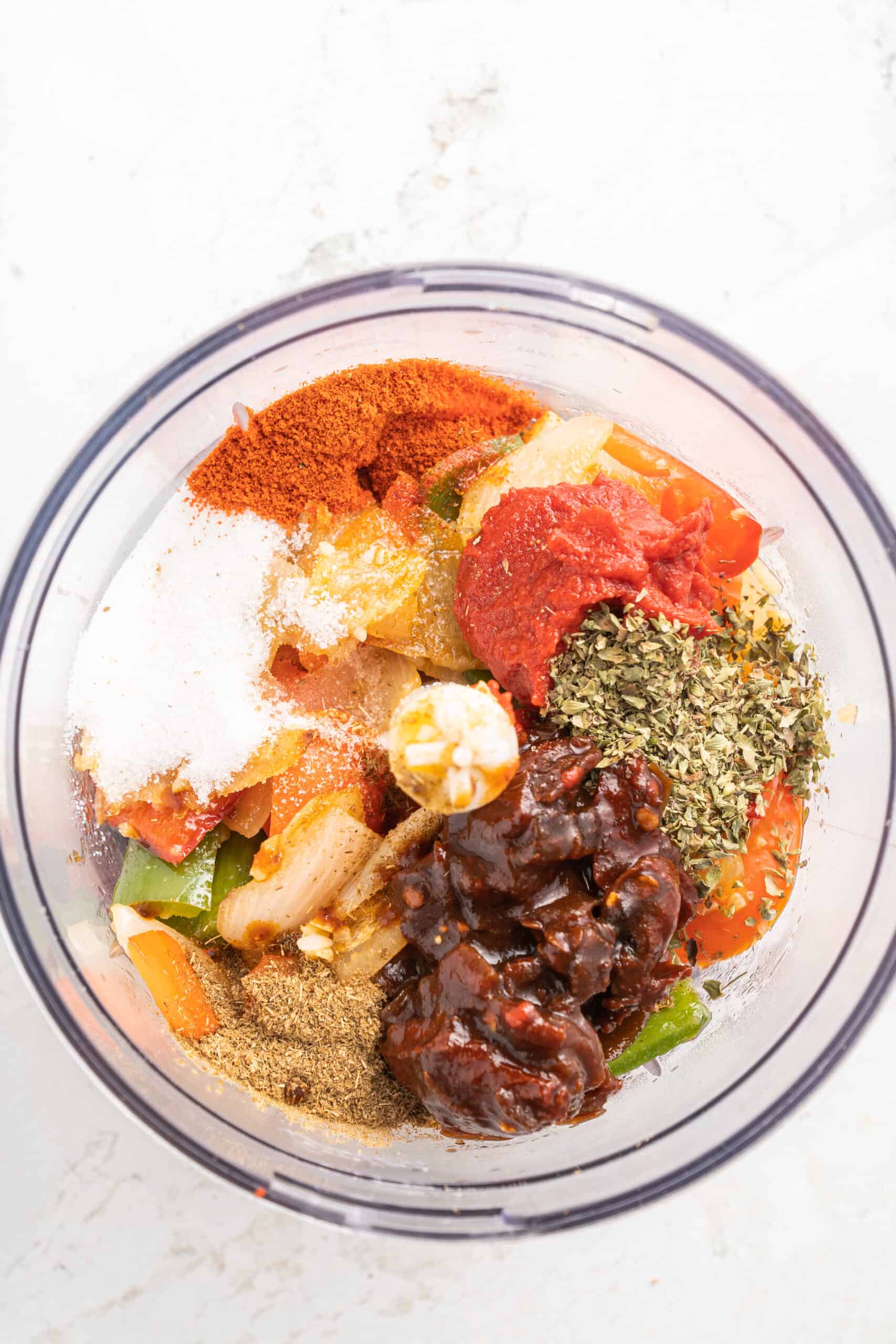 Key Ingredients and Substitutions for Sofritas
Extra Firm Tofu: Tofu comes in silken, regular firm, firm, extra firm, and super firm varieties. We recommend extra or super firm tofu that will hold its shape and take on flavors best.
Jalapeno Peppers, Chipotle in Adobo, and Red Bell Pepper: The peppers you incorporate are entirely your choice! Add more of the hot ones, or swap in some banana or additional bell peppers if you prefer less heat.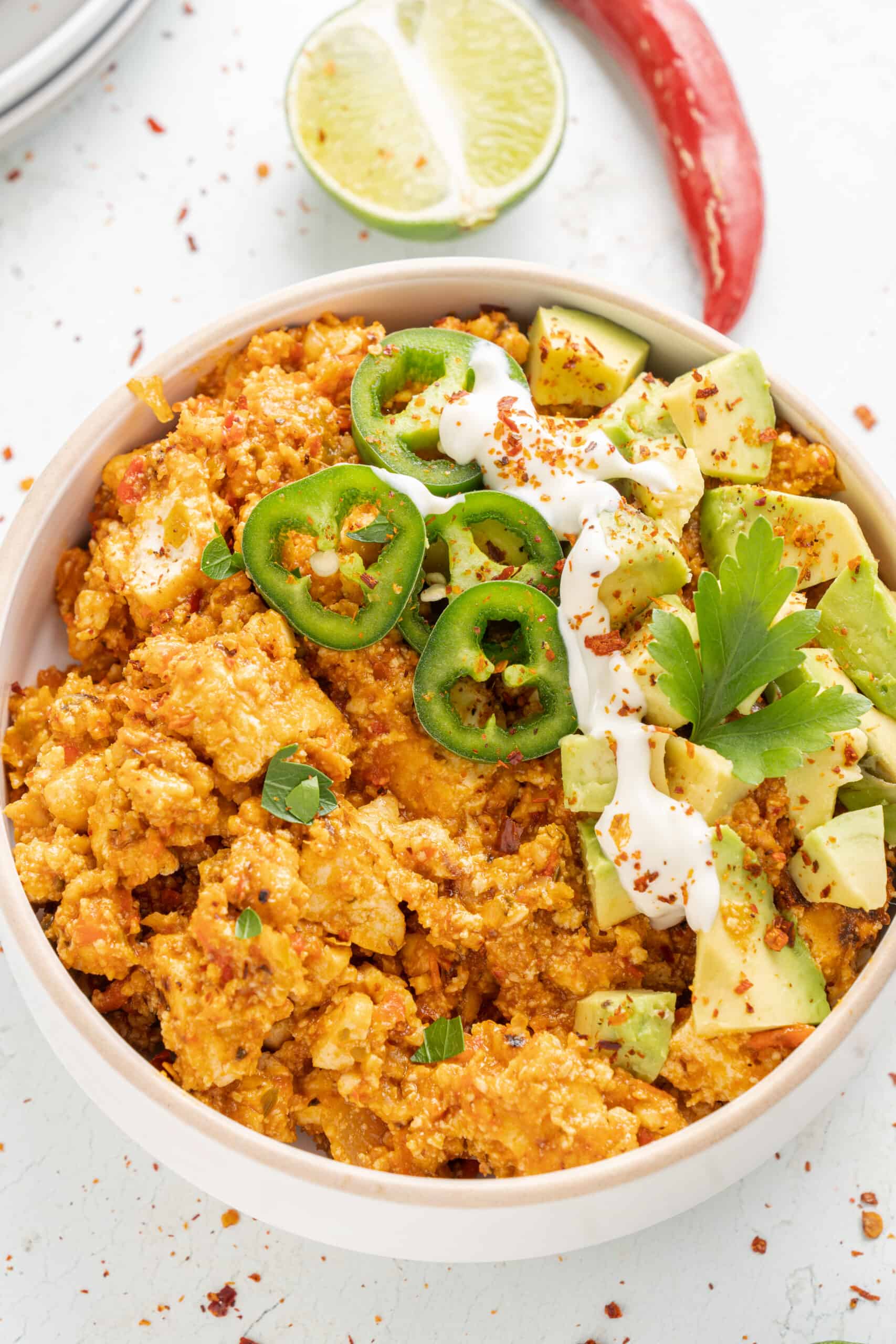 Frequently asked Questions about Our Sofritas Recipe
What are Sofritas?
This is a dish made with firm tofu that's been braised and prepared alongside spices, chilis, and other vegetables – usually a variety of peppers, onions, and garlic.
It's a generally consistent dish! The biggest difference lies in the way the tofu is prepared. Sometimes it's shredded, cut into uniform chunks, or chopped roughly in uneven pieces.
Is sofritas tofu good for you?
In most cases, an ingredient is only as healthy as the way it's prepared and the other ingredients it's served with.
And in this case, you can be confident that you're choosing one of the healthiest protein options available to you. Tofu has plenty of protein and is more heart-healthy than beef, pork, or chicken.
What is Sofritas at Chipotle?
It's a vegan protein option on Chipotle's menu containing both poblano and chipotle peppers for a lovely, fragrant spice.
The sofritas meat alternative has been around since 2014! With the recent rollout of vegan and vegetarian options in fast food chains nationwide, this option has gained more attention and popularity in recent years.
Sofritas
Sofritas are a fantastic way to get plenty of protein in one flavor-packed, vegan-friendly meal! Chow down on these tacos with a boatload of juicy veggies and soft braised tofu.
Servings 8 tacos
Calories 112kcal
Ingredients
Sofritas
10 oz tofu extra firm
3 tbsp cornstarch
3 tbsp olive oil divided
Sauce
2 medium jalapeno peppers
1 medium red bell pepper
1 medium onion
1 tbsp tomato paste
1 small lime
2 tbsp chipotle in adobo
2 tsp granulated sugar
2 clove garlic clove
1 tsp dried oregano
1 tsp ground cumin
1 tsp smoked paprika
1/2 cup water
Instructions
Roughly chop jalapeno pepper, red bell pepper and onion. Then, add a tbsp of olive oil into a skillet, and sauté chopped veggies until softened. Next, add minced garlic and stir over heat until fragrant. Remove from the stove.

Place cooked veggies, and the rest of the ingredients for the sauce, except water into a food processor or blender. Pulse until smooth.

Pour the sauce mixture into a small saucepan, add ½ cup of water and simmer for 10 minutes to bold in flavors. In the meantime, prepare the tofu.

Press tofu to absorb excess moisture. Path dry with a clean cloth. Then, use your hands to break tofu apart, creating irregular pieces. You could also use a food processor, just pulse a few times to not pulverize it. Transfer it into a small bowl and mix it with 3 tbsp of cornstarch. Sauté in a non-stick skillet with 1 tbsp of olive oil until crispy. It's probably that you need to do this in batches as tofu needs space to golden.

Heat a tbsp of olive oil in a large skillet, add golden tofu and the prepared sauce. Stir to combine and warm.
Notes
These sofritas are delicious. Taste-wise they are spicy, slightly sweet and saucy. Match them with other Mexican garnishes as cilantro, lime juice or sour cream.
Tips
Serve this sofritas as taco or burrito filling. Create a Mexican Buddha Bowl or salad.
Store it, covered, in the fridge, for up to five days.
Nutrition
Calories: 112kcal | Carbohydrates: 10g | Protein: 4g | Fat: 7g | Saturated Fat: 1g | Polyunsaturated Fat: 2g | Monounsaturated Fat: 4g | Sodium: 21mg | Potassium: 105mg | Fiber: 2g | Sugar: 3g | Vitamin A: 669IU | Vitamin C: 27mg | Calcium: 61mg | Iron: 1mg
Follow On Pinterest
Follow @bewitchinkitchen On Pinterest for more delicious recipes!