Pork and Broccoli Stir Fry
I love an easy recipe! This Pork and Broccoli Stir Fry has been floating around The Bewitchin' Kitchen for many years now but it wasn't until recently I decided to revamp it.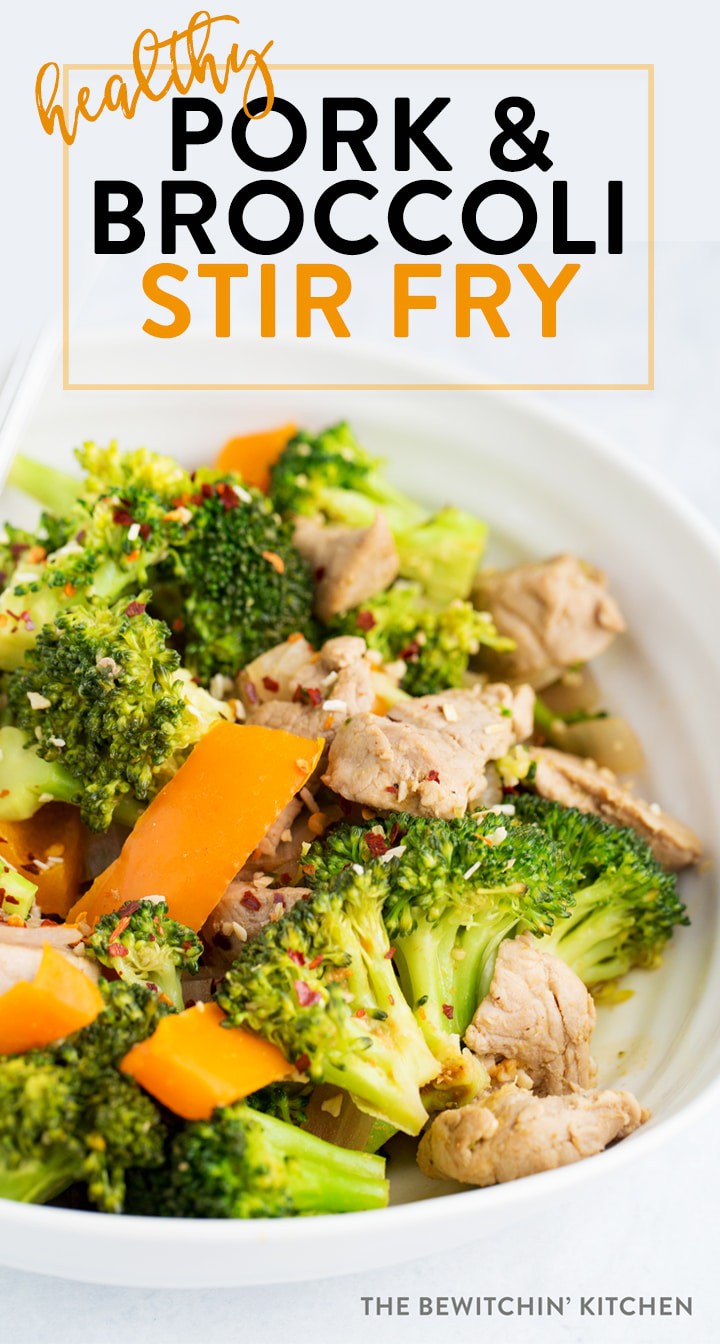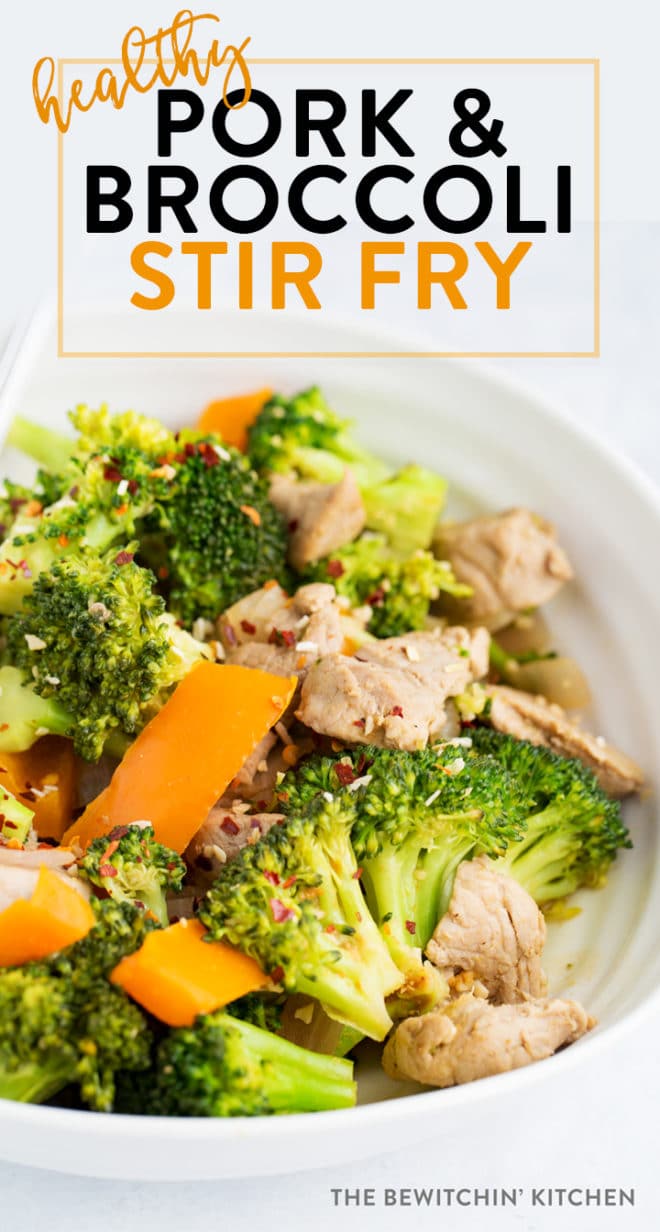 Pork and Broccoli Stir Fry
Disclosure: This post contains affiliate links. This recipe was originally added to the TBK library way back in March 2010, but has been updated and improved since then.

Do you know what's amazing? Before Whole30 was a thing, before Paleo was cool, and before keto was a buzz word: there was just real food. It's pretty simple, eat real ingredients and you're basically covered with all the diet fads, buzz words, and lifestyles.
I'm not putting down these lifestyle choices, I tend to follow the rules (when I'm not pregnant) myself but I wanted to make a point.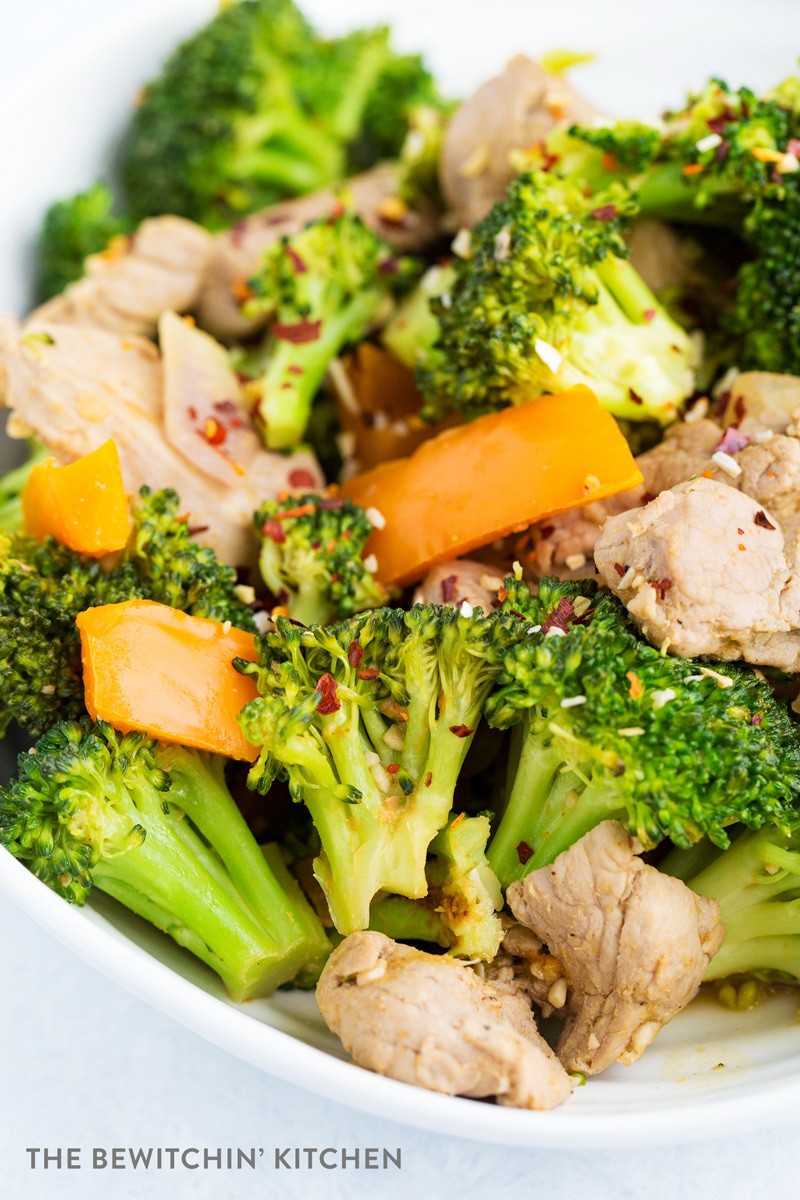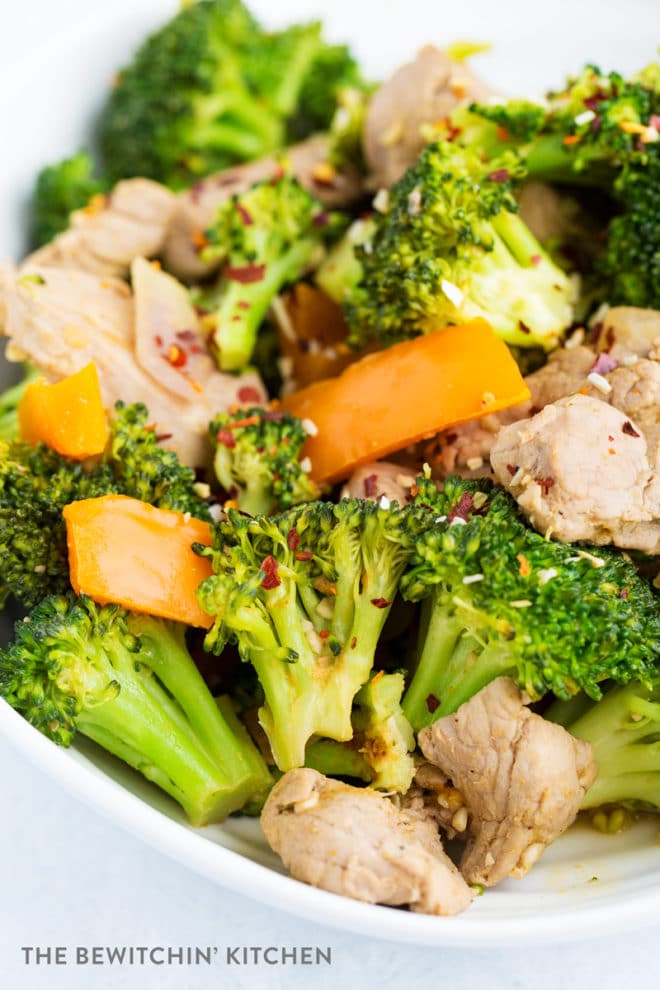 This recipe for pork and broccoli stir fry has been in my dinner time rotation before I even knew what healthy recipes were. Before understood nutrition, before I understood how important the basic rules are.
Sometimes, it's the simple flavors that really make a recipe great.
Honestly, I'm an over saucer. I love a jam-packed dish full of flavor. My husband likes recipes that are simple, so this time I went and made a simple recipe and both my picky husband and my picky child were happy with the end result.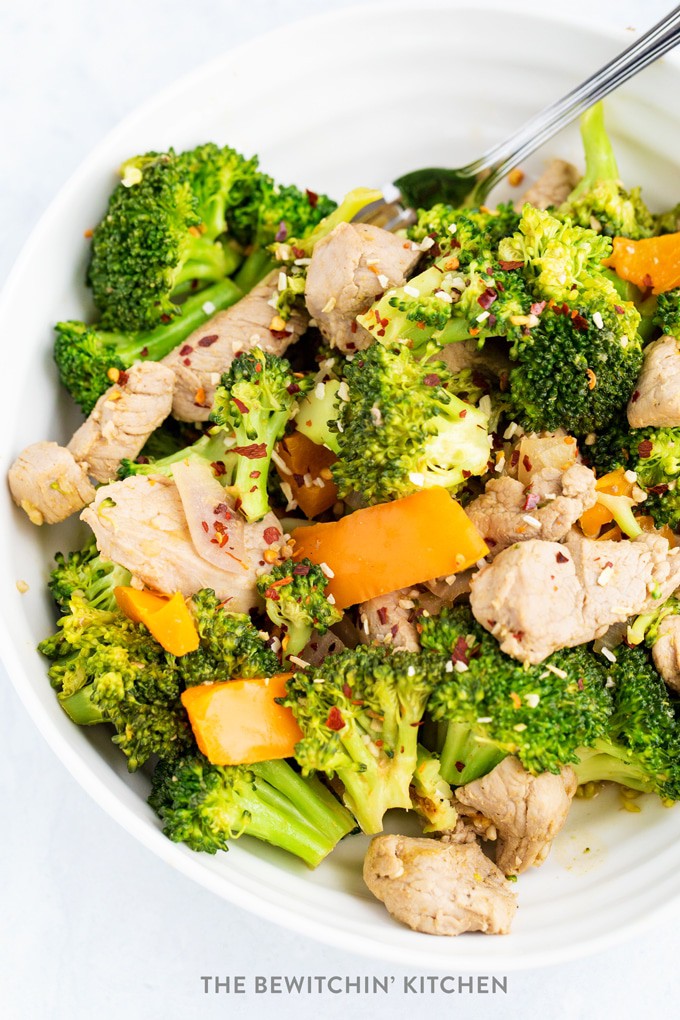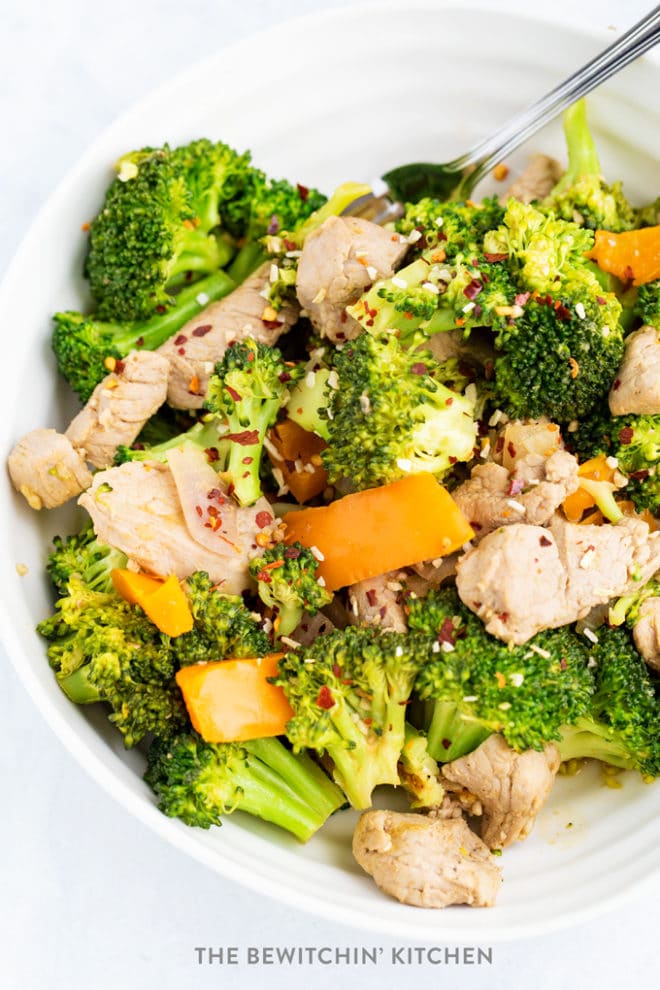 If I didn't have insane acid reflux, I would add a little Sriracha to the sauce 😉
Pork Broccoli Stir Fry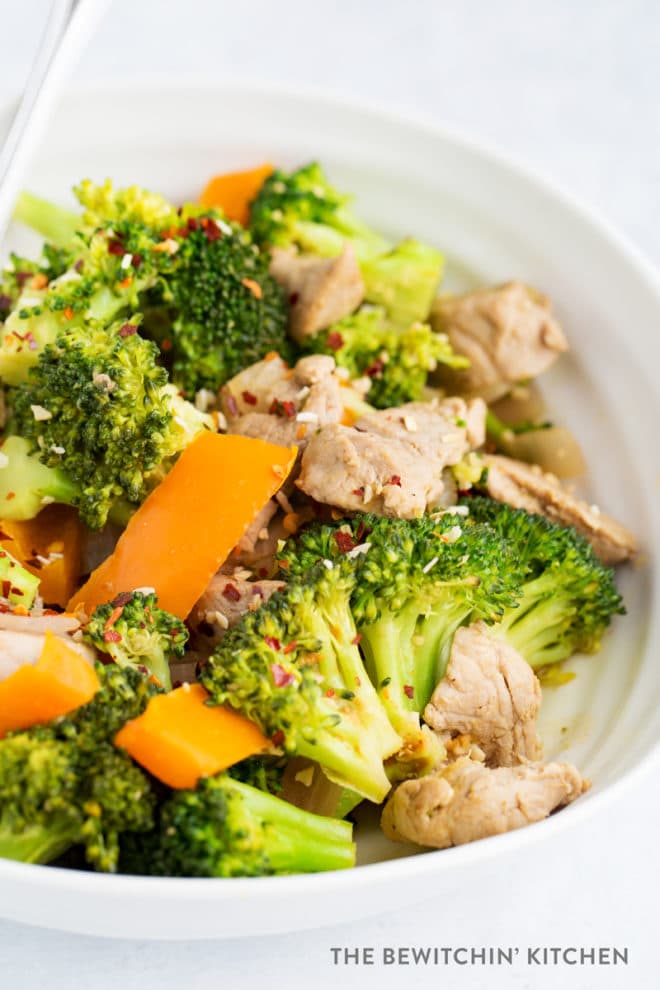 More stir-fry recipes you may like:
Supplies and ingredients I recommend:
This pork and broccoli stir fry recipe is easy, healthy, low calorie and fast. Everything that makes a busy mom a happy mom when it comes to dinner time!
As for serving, you have options. You can either eat it like it is or serve it over rice, cauliflower rice, or (my favorite) gluten-free ramen noodles
.
Pork and Broccoli Stir Fry
This pork and broccoli stir fry recipe is easy, healthy, low calorie and fast. Everything that makes a busy mom a happy mom when it comes to dinner time!
Prep Time 3 minutes
Cook Time 12 hours
Total Time 15 minutes
Servings 4
Calories 258kcal
Ingredients
1 tbsp olive or avocado oil
1/2 tsp  salt and pepper
1 lb boneless pork tenderloin cut into small slices
1 red onion chopped
1 red bell pepper sliced
4 -5 cups broccoli
1/2 cup chicken broth
1 tablespoon low-sodium soy sauce coconut aminos for Whole30 or Paleo
2 tablespoons minced garlic
2 teaspoons ginger powder
1 tablespoon sesame seeds
Optional: red pepper flakes
Instructions
Heat oil over a wok (or large pan) and add the pork. Cook until it's halfway cooked. Sprinkle with a little salt and pepper.

Add the red onion and bell pepper. Cook until pork is cook and onion is soft.

Add the broccoli, stir for about 1-2 minutes.

While that cooks, add 1/4 of the chicken broth, soy sauce, garlic, and ginger in a small bowl. Mix and add to the wok.

Stir fry (add the rest of the chicken broth if needed) until the pork is tender.

Serve with sesame seeds and option red pepper flakes.
Nutrition
Serving: 1g | Calories: 258kcal | Carbohydrates: 13.5g | Protein: 29.8g | Fat: 9.8g | Saturated Fat: 2.3g | Cholesterol: 72.1mg | Sodium: 618.5mg | Fiber: 3.9g | Sugar: 4.3g
Follow On Pinterest
Follow @randaderkson On Pinterest for more delicious recipes!
FREE Recipe Binder
Are you constantly wondering what's for dinner?
When I don't meal plan I feel behind, and we usually end up ordering take out. This recipe binder will keep you organized and make life a little bit easier.
products I used to make this happen Shop This Post
(may include affiliate links)