Easy Chicken Tacos (Using Leftovers or From Scratch)
There is nothing I love more than easy chicken tacos. The best part about this recipe? You can throw it together with leftovers from the night before, or start from scratch with a zesty chicken taco marinade as a base, inspired by a favorite – chicken street taco recipe.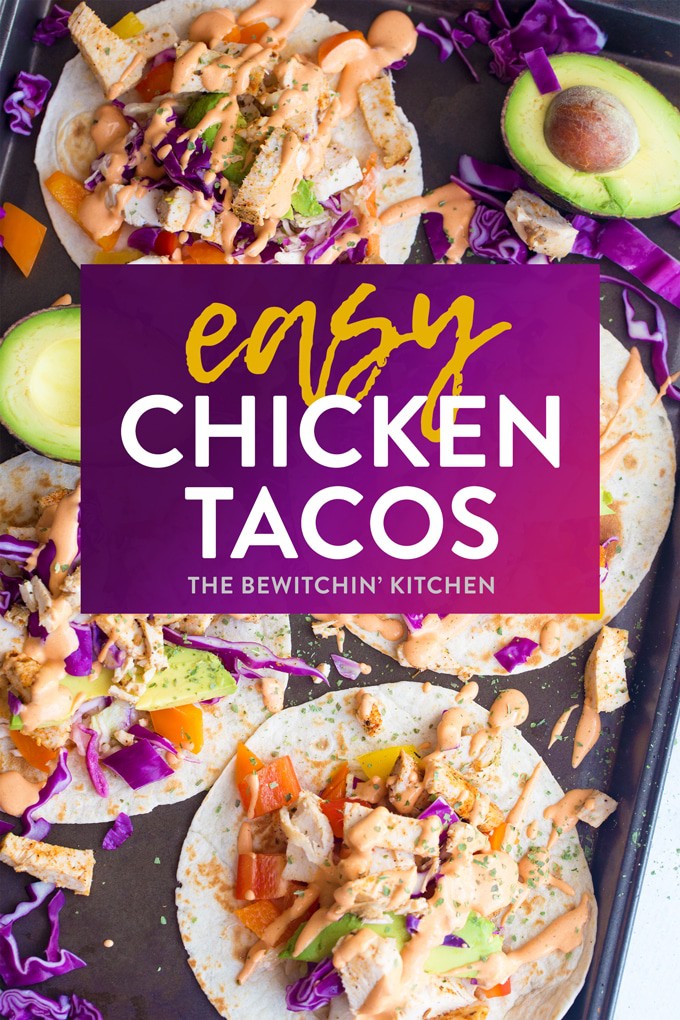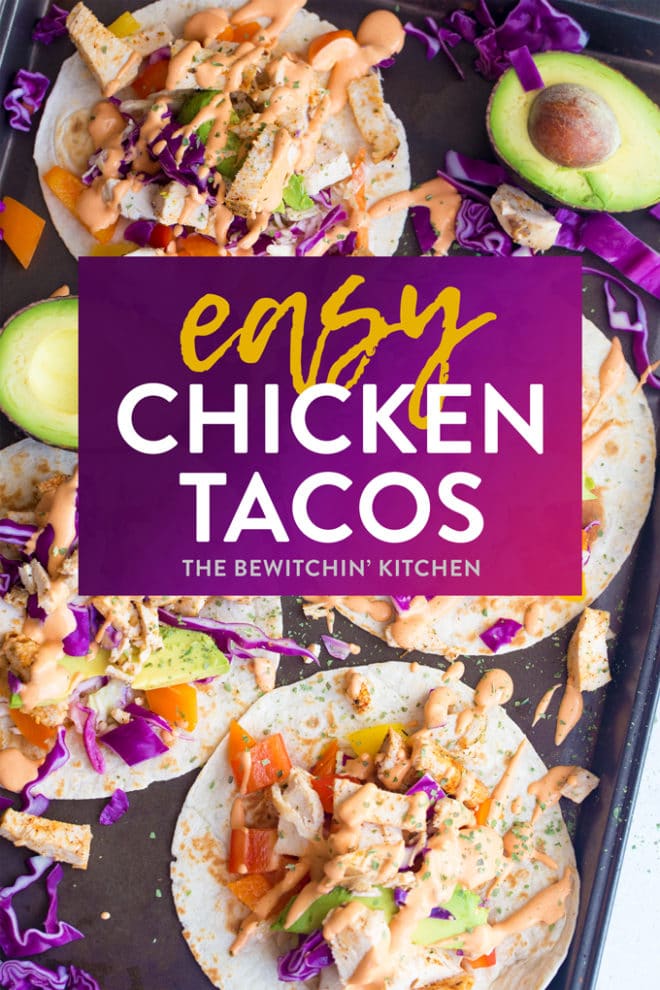 Easy Chicken Tacos
Disclosure: I am participating in the Chicken Farmers of Canada campaign managed by SJ Consulting. I received compensation in exchange for my participation in this campaign. The opinions on this blog are my own. Search the recipe sections over at Chicken.ca. Follow them on the following social profiles: Facebook, Twitter, Instagram, and Pinterest.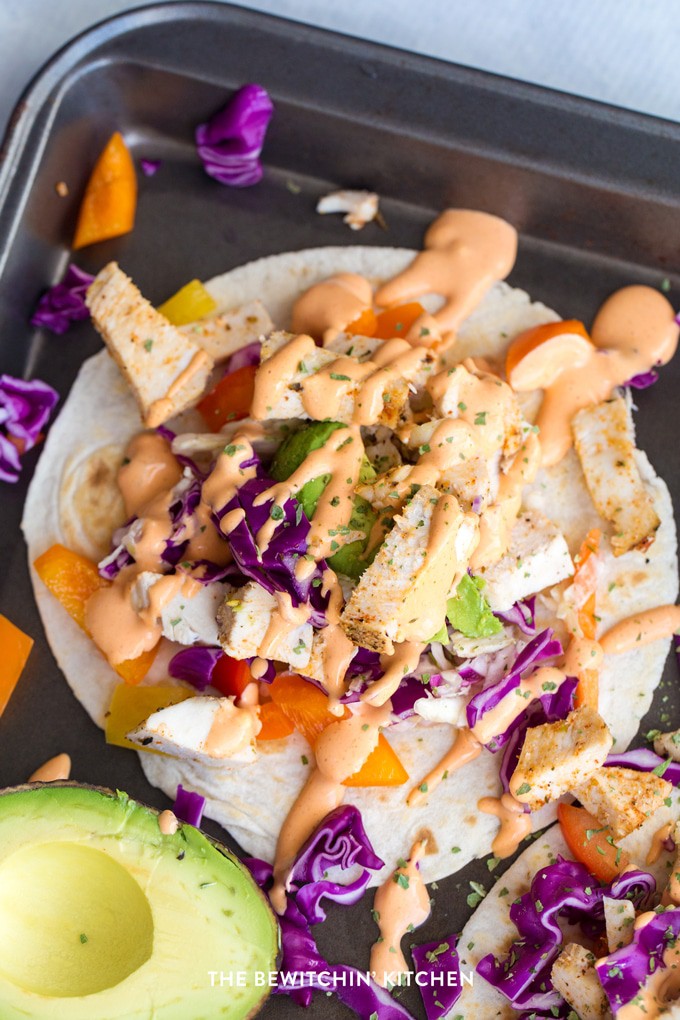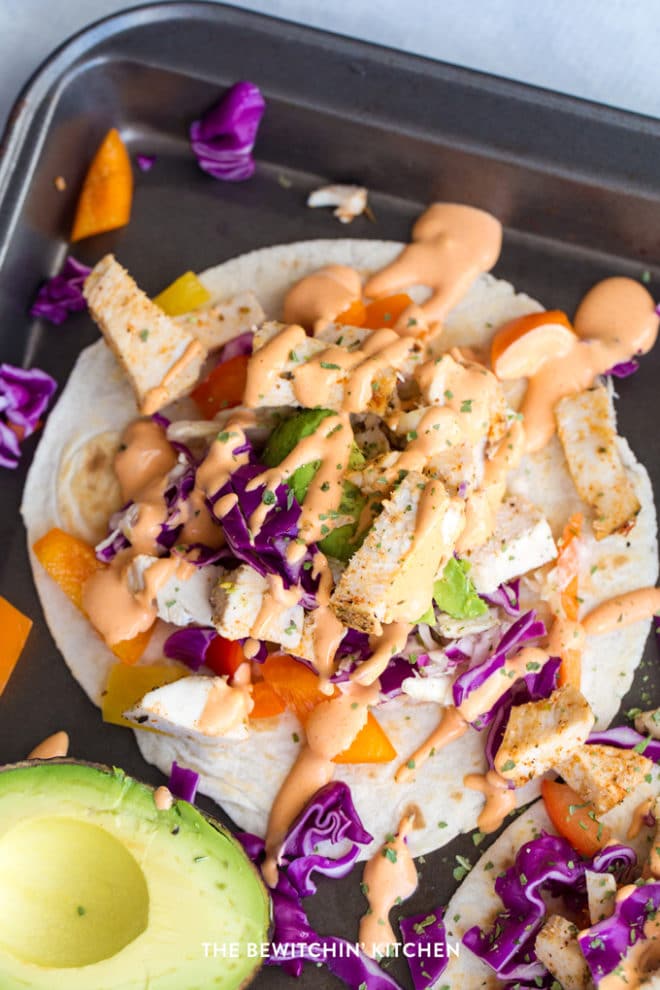 This month my friends at Chicken Farmers of Canada are challenging me with creating a budget friendly recipe. I have to be honest, this is not my area of expertise.
When I make a meal plan, I make what I want and don't factor budget in. I always cook what I feel like and work out the budget in other areas of my life. So this was very challenging for me.
Originally, I wanted to make a Southwest Chicken Spaghetti Squash Casserole, but it's 34 degrees (93.2F for my US friends) and I don't have air conditioning. Needless to say, the oven is not turning on until Mother Nature figures out her stuff.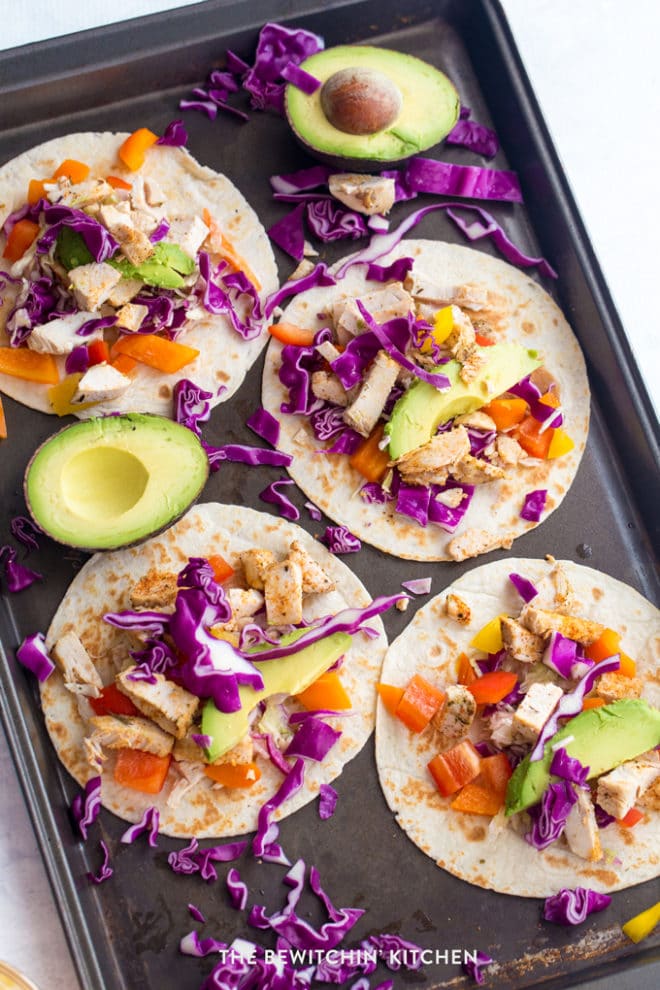 Healthy Meals on a Budget
It's not easy to be mindful of a budget when it comes to cooking, so I wanted to think about ingredients (or dishes) that I could stretch out and that are filling. In addition to a budget recipe, I wanted it to be healthy (which works in my favor since vegetables are both filling and healthy).
Here's what I did:
I marinated and grilled a bunch of Canadian Chicken on Saturday (Canadian chicken costs less compared to most meats and you can make it, even more, cost-effective by using chicken thighs instead of breasts). This fed us grilled chicken on Saturday night, plus gave me easy lunches and quick no cook dinners for the remainder of the week.
I tossed together my favorite coleslaw salad recipe. By doing this I had a side for our bbq chicken and a pickled inspired topping for our tacos.
On Sunday I made tortillas, chopped up vegetables, and whipped up a quick sauce.
With a package of Canadian Chicken, a salad, and some vegetables I easily had two meals for my family with one go.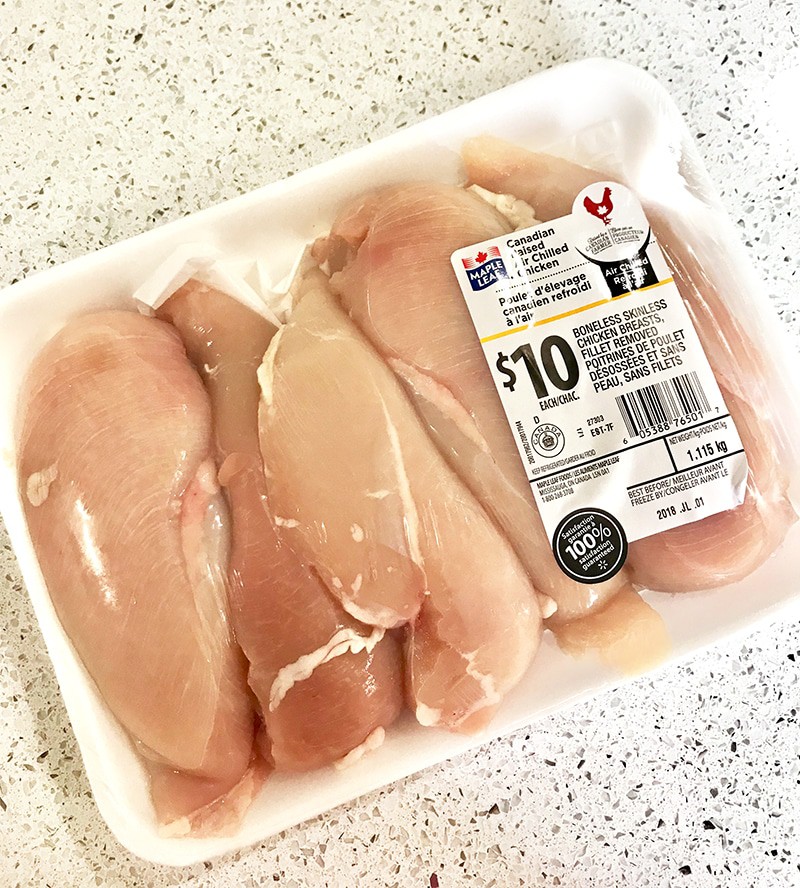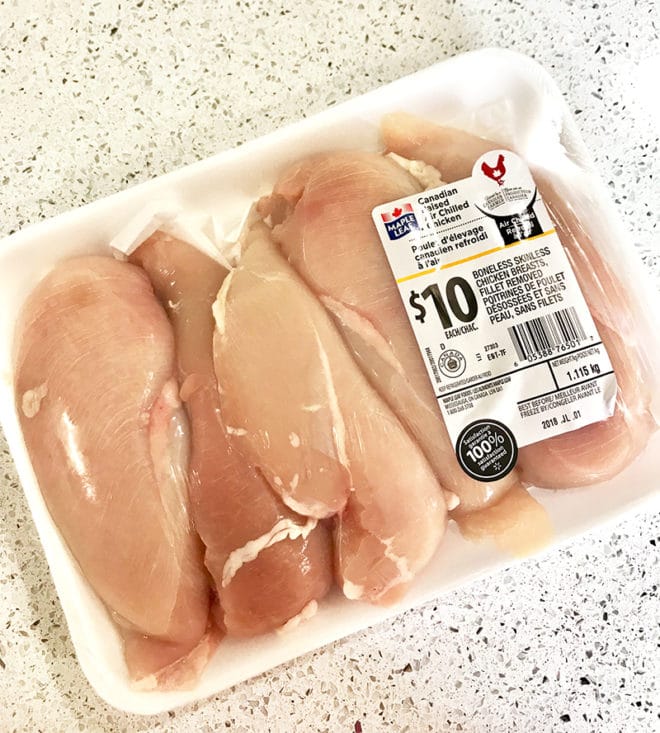 Why Canadian Chicken? Not only am I supporting Canadian Farmers, but I'm providing my family with chicken that is grain-fed, free of hormones, and steroids. Plus Canadian chicken is raised here in Canada according to nationally-set, mandatory food safety, and animal care standards.
You can find Canadian Chicken by searching for the Raised By a Canadian Farmer logo (seen in the above photo).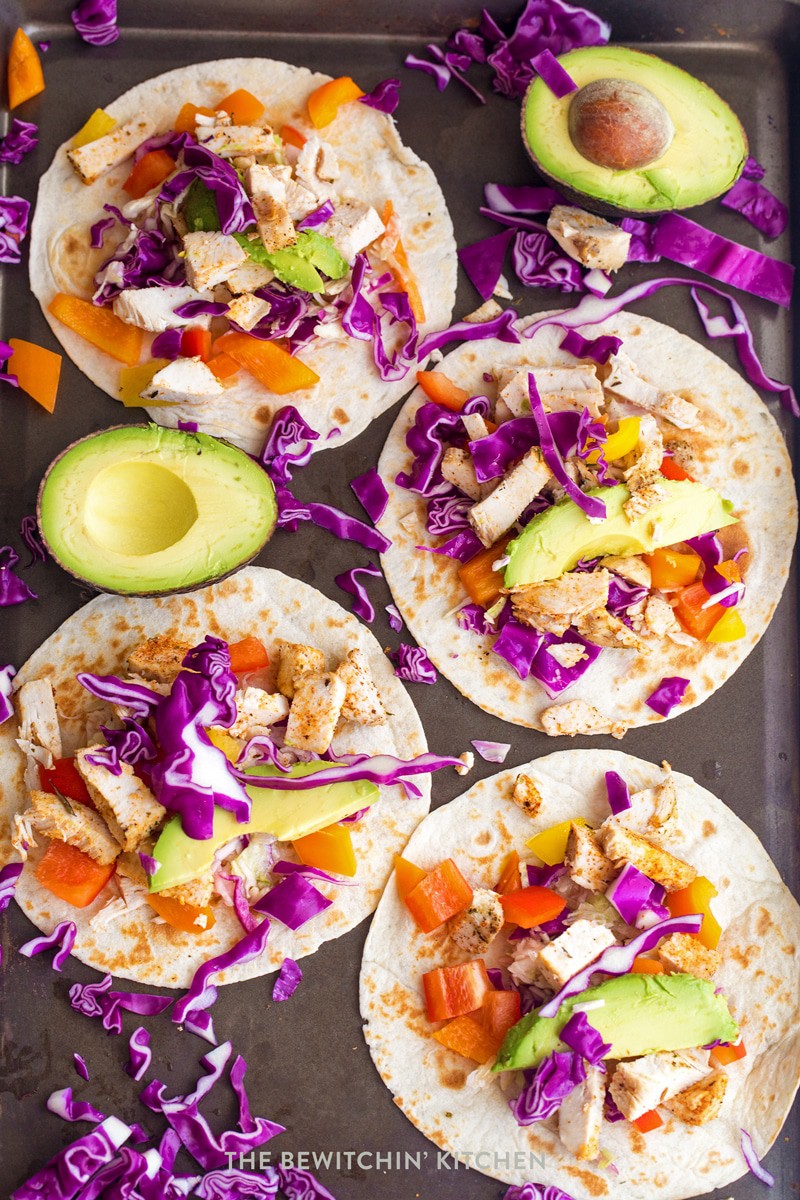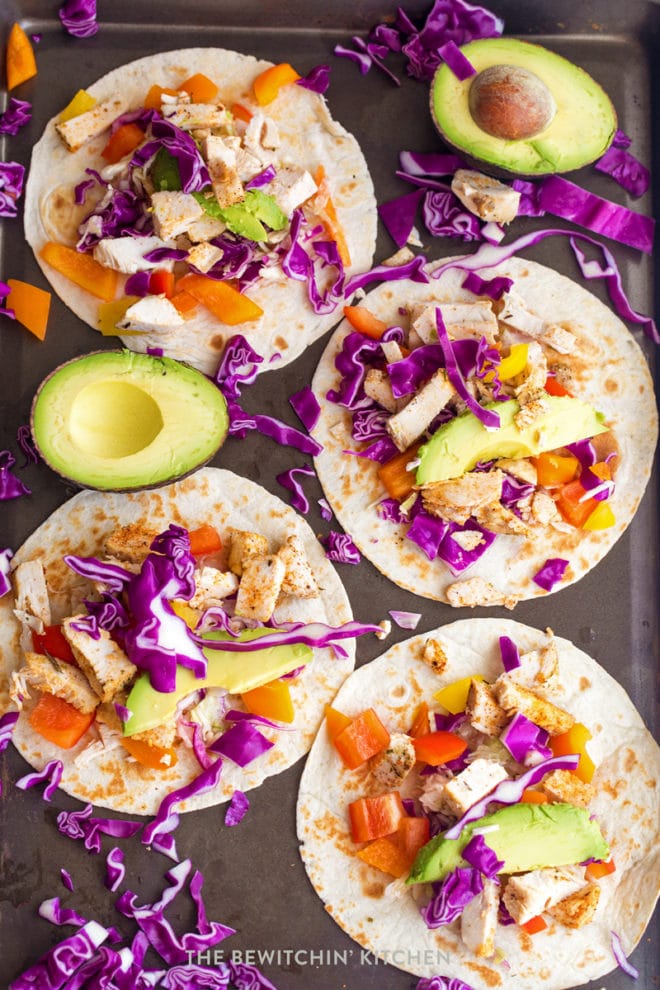 Budget Chicken Recipes
Want more budget friendly chicken breast recipes? Try some of these fan favorites:
Make Your Own Tortillas
My favorite way to serve these easy chicken tacos is on homemade tortillas. Here are two recipes for gluten free tortillas and flour tortillas:
If you're not a fan of a soft taco, you can crisp them up in the oven.
Chicken Taco Marinade
If you're cooking up the taco recipe from scratch, I recommend marinading the chicken. My favorite chicken taco marinade recipe uses the following ingredients:
Olive oil
Lime juice
Chili powder
Salt
I used chicken breast because it's a personal preference, but you could use chicken thighs for another low cost chicken option.
TBK's Pro Tip: Throw the chicken in an Instant Pot or slow cooker for easier prep, and this makes perfect shredded chicken tacos!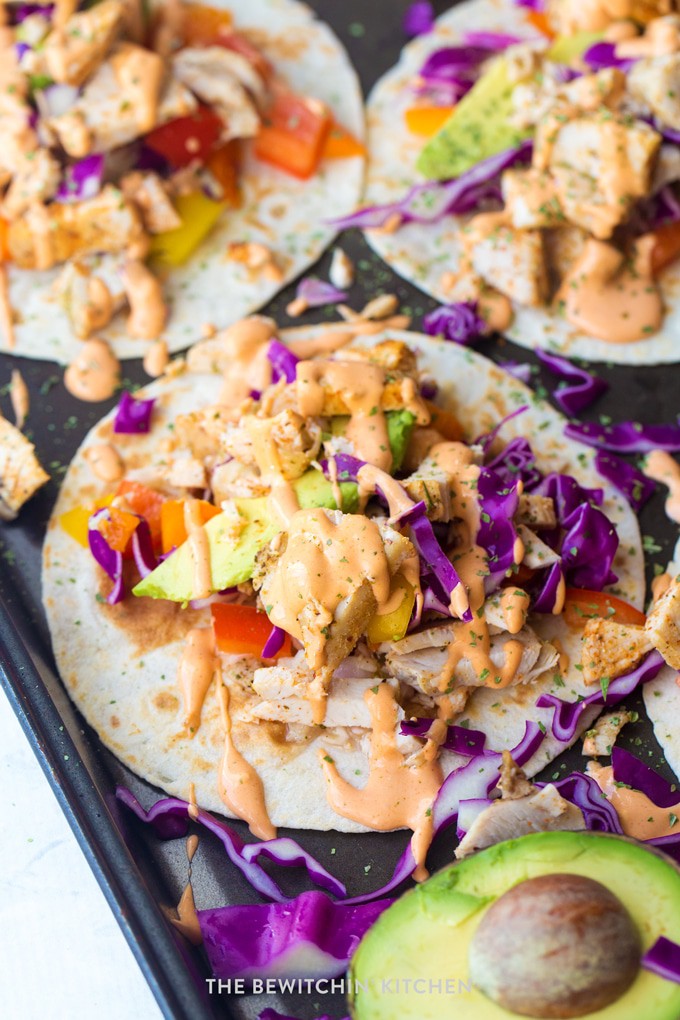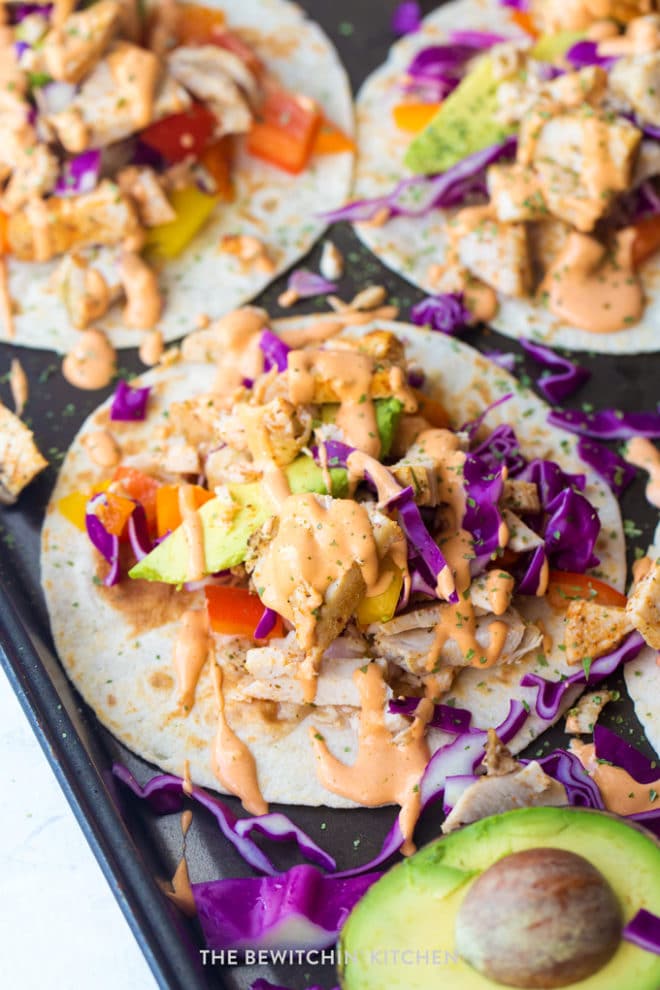 How many calories in a chicken taco?
I have the full nutrition information at the bottom of the recipe card, but for two chicken tacos it's 480 calories.
Please keep in mind that this is dependent on the kind of tortillas you use (store-bought, homemade, etc). In addition to how much avocado and vegetables you use. 
21 Day Fix Recipe Counts
Full recipe: 3 1/2 green, 4 red, 6 yellow, 4 blue.
Per serving: 1/2 green, 2/3 red, 1 yellow, 2/3 blue.
Counts for entire cole slaw recipe 8 green, 1 purple, 8 orange (not included).
How to Make Chicken Tacos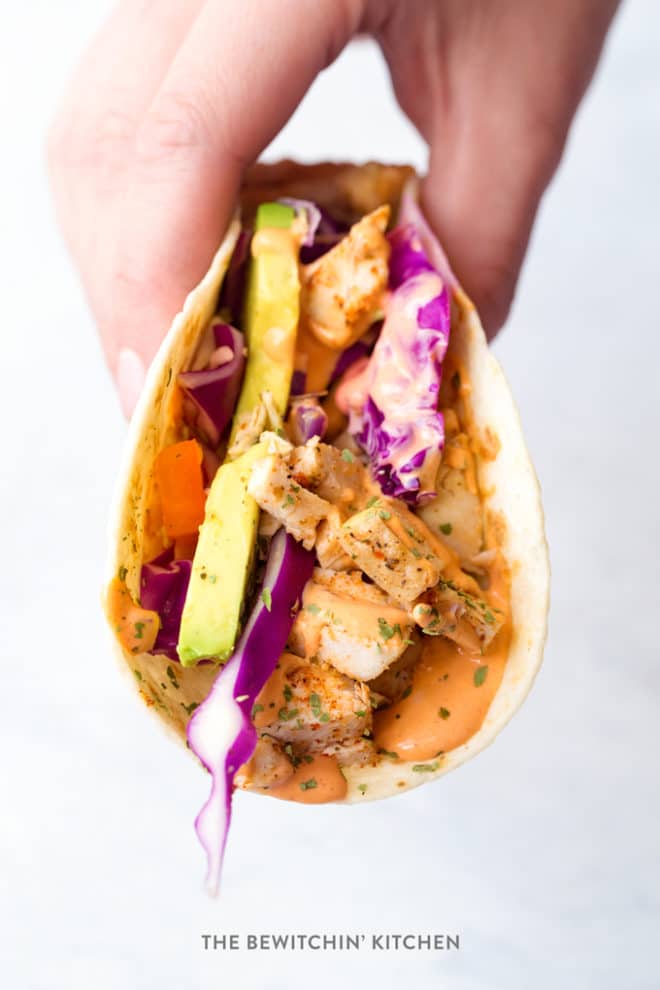 The best part about these easy chicken tacos? They're so fast to put together! This benefit my sister and I when we ate them on Sunday (to say we get hangry is an understatement).
If you have everything prepped from the night before, or earlier in the day – it takes 5 minutes to put together. You can use leftovers from a roast chicken.
In just 5 minutes, you'll be sitting down with your family to eat.
How's that for a leftover buster?
Easy Chicken Tacos
These easy chicken tacos are so darn simple and SO GOOD! You can either cook up some marinated chicken or use leftovers with this healthy budget chicken dinner. Use grilled chicken or shredded from the Instant Pot or Slow Cooker/Crockpot!
Servings 6 servings
Calories 480kcal
Ingredients
12 tortillas homemade or storebought
2 – 3 cups leftover zesty coleslaw
4 cooked chicken breasts shredded or cubed
1 red pepper diced
1 orange pepper diced
1 yellow pepper diced
2 avocados sliced
1/2 purple cabbage shredded
Optional topping: spicy mayo and chopped cilantro
Spicy Mayo
1/4 cup hot sauce I use Valentina
1/4 cup mayonnaise
Optional chicken marinade
for when chicken is raw and you're cooking ahead of time
1/4 cup olive oil
Juice of 2 limes
1 tsp  chili powder
Salt and pepper to taste
Optional cayenne powder for a little kick
Instructions
Since all the ingredients are already cooked and prepped, putting together these chicken tacos is so easy!

Lay out your tortilla.

Add the rest of the ingredients in whatever order you want. I did slaw, chicken, vegetables, a small slice of avocado, and drizzled with the spicy mayo.

That's it!
Spicy Mayo
Combine both the mayo and hot sauce together. Use a spoon to drizzle over your tacos, or place it in a squeeze bottle.
Chicken Marinade
Put the marinade ingredients together in a bowl.

Add chicken and marinade for at least an hour.

Grill for 8 minutes on each side, or until chicken reaches an internal temperature of 165.
Notes
Weight Watchers Freestyle: 7 per taco when using coleslaw and sauce and a corn tortilla for 2 SmartPoints – Mission Corn Tortillas are only 1 SmartPoint each and a good recommendation to make.
21 Day Fix Recipe Counts
Full recipe: 3 1/2 green, 4 red, 6 yellow, 4 blue.
Per serving: 1/2 green, 2/3 red, 1 yellow, 2/3 blue.
Counts for entire cole slaw recipe 8 green, 1 purple, 8 orange (not included).
Nutrition
Serving: 2tacos | Calories: 480kcal | Carbohydrates: 45.7g | Protein: 23.7g | Fat: 24.5g | Saturated Fat: 4.3g | Cholesterol: 67.7mg | Sodium: 383.3mg | Fiber: 10.7g | Sugar: 11.2g
Follow On Pinterest
Follow @bewitchinkitchen On Pinterest for more delicious recipes!