Easy Chicken Tacos
These Easy Chicken Tacos can be made with leftover chicken to make an entirely new meal! Or you can use my zesty marinade and make shredded chicken tacos from scratch. Either version makes a flavorful, healthy chicken taco for any busy weeknight!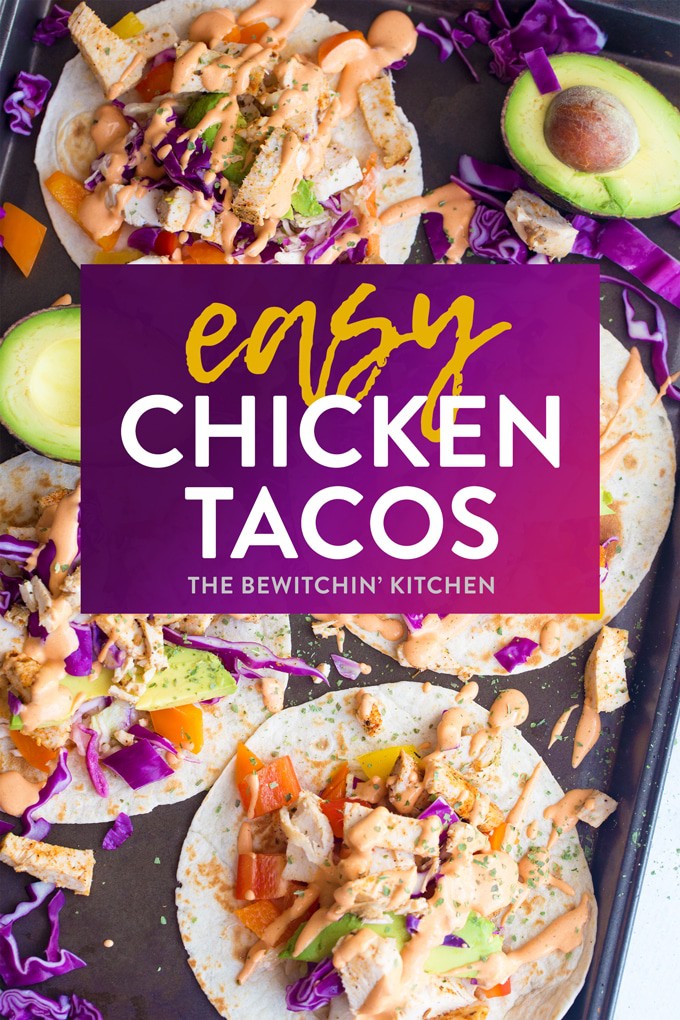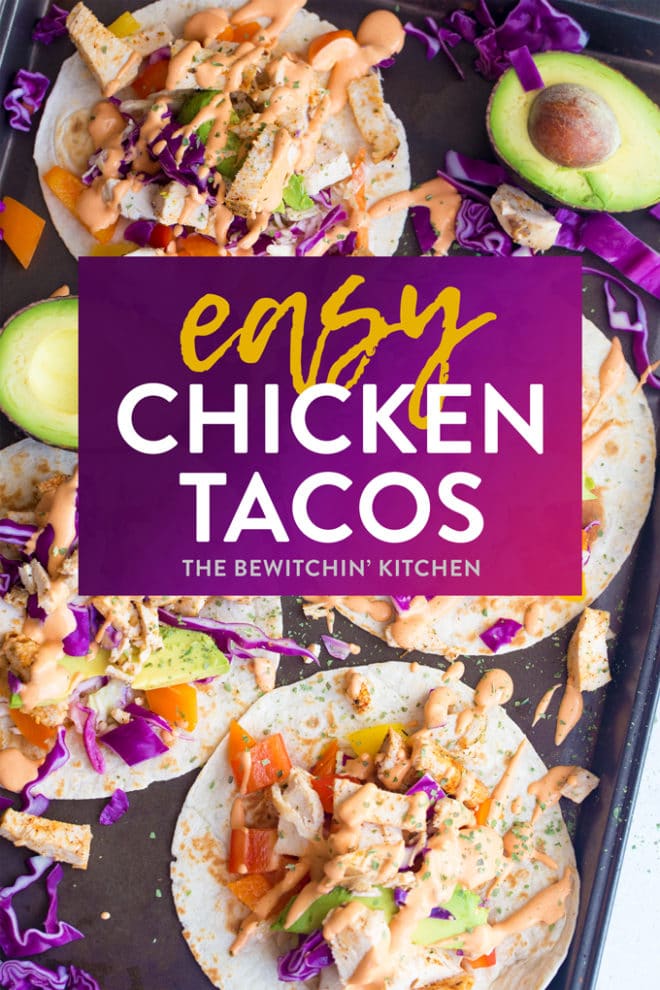 Easy Chicken Tacos
Leftover chicken tacos make for a budget-friendly, economical meal utilizing the leftovers from a previous meal that would otherwise sit in the fridge until they spoiled. The easy, homemade spicy mayo creates a customizable flavor in every bite.
Create even more flavor by using the optional marinade for a grilled chicken tacos recipe worthy of any barbecue. Make these grilled chicken tacos even more impressive by making your own tortillas. I have easy homemade recipes for Flour Tortillas and Corn Tortillas.
Why You'll Love Shredded Chicken Tacos
Convenient – Using leftover chicken for these grilled chicken tacos makes this meal convenient and economical on busy weeknights.
Easy – Simple ingredients with minimal prep make this grilled chicken tacos recipe a no-brainer even for beginners.
Delicious – The whole family (and all your guests!) will be asking for the recipe thanks to the spicy mayo and marinade flavors.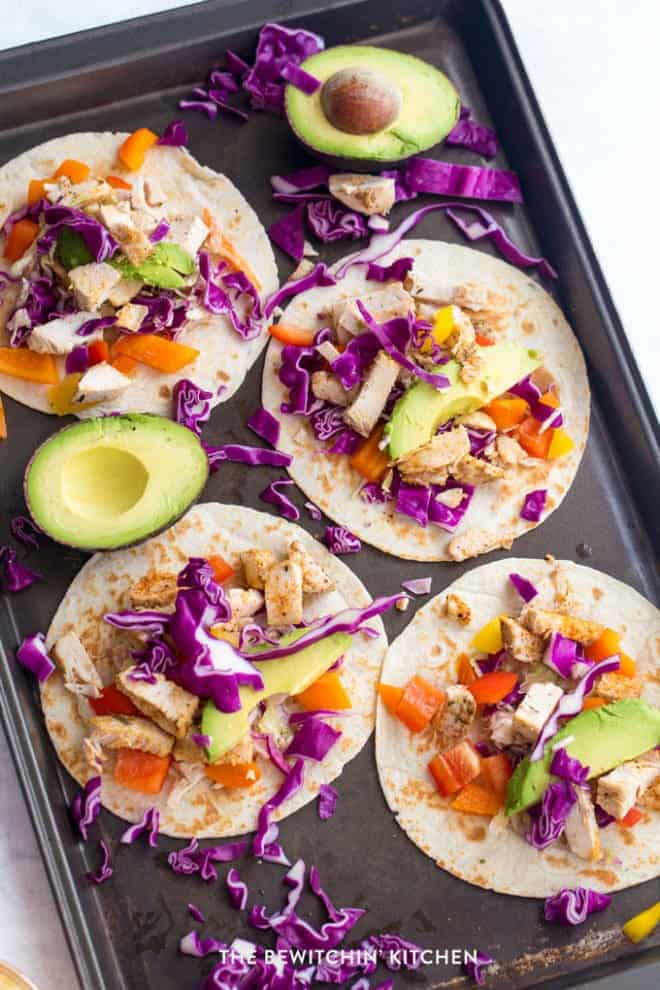 How to Make Grilled Chicken Tacos
To Make Leftover Chicken Tacos
Shred or cube your leftover chicken. You can use leftover roasted chicken or whole chicken breasts.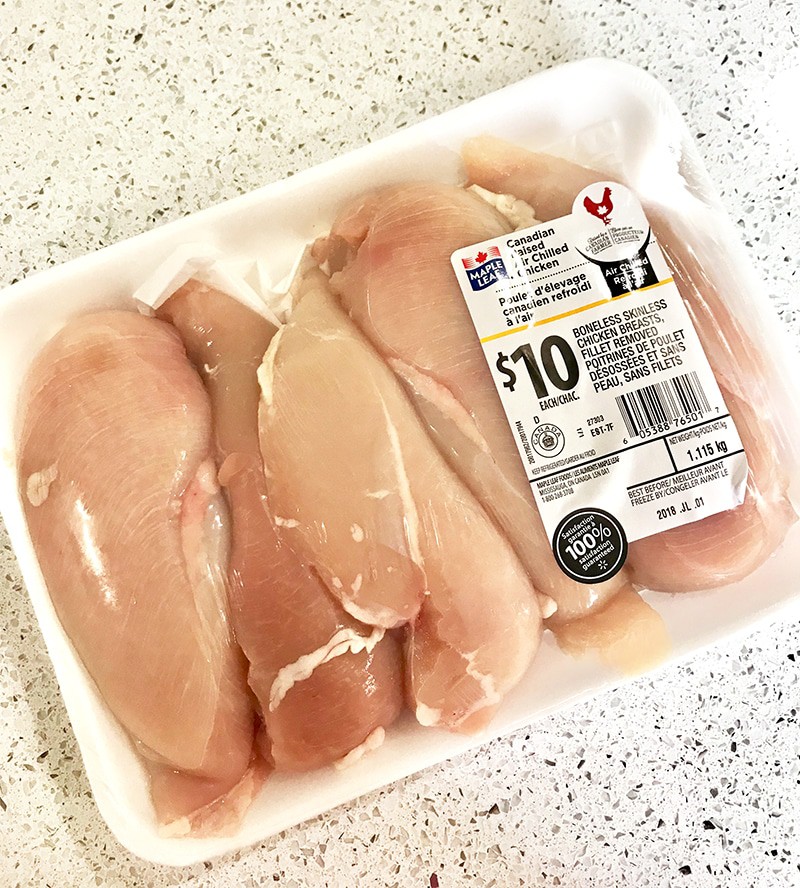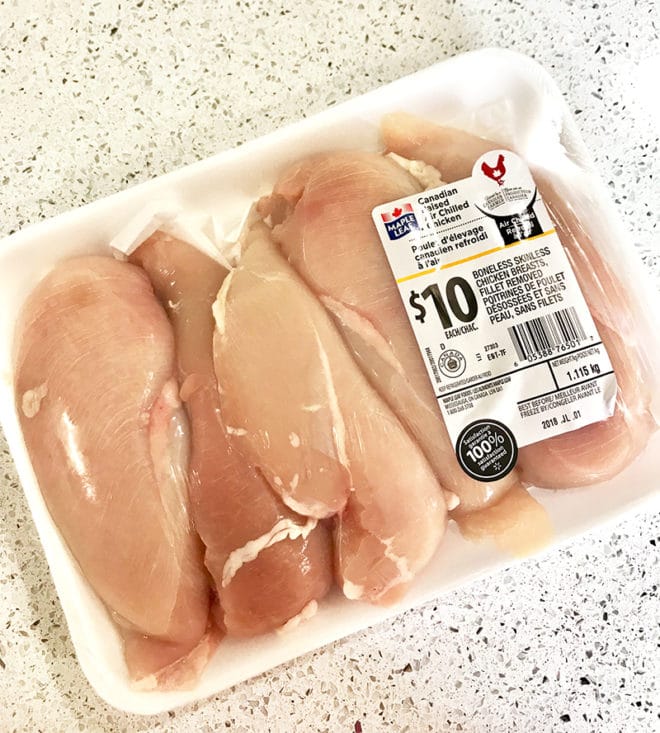 To Make Chicken from Scratch
Even making the chicken from scratch is simple for these easy chicken tacos! Combine marinade ingredients in a bowl. Add raw chicken to the bowl and fully coat.
Marinate in the fridge for at least 1 hour, up to overnight. Grill for 8 minutes on each side or until the internal temperature reaches 165F.
TBK's Pro Tip: Throw the chicken in an Instant Pot or slow cooker for easier prep, and this makes perfect shredded chicken tacos!
Prepare Toppings
Dice your red, yellow, and orange peppers, slice the avocado, and shred your purple cabbage.
Make the spicy mayo by mixing your favorite hot sauce with mayonnaise. You can drizzle your sauce with a spoon or pour it into a squeeze bottle.
If you haven't already used the Zesty Slaw in a previous recipe for the week, make the slaw and place it in the fridge until it's time to use.
If you're making the tortillas from scratch, make them now.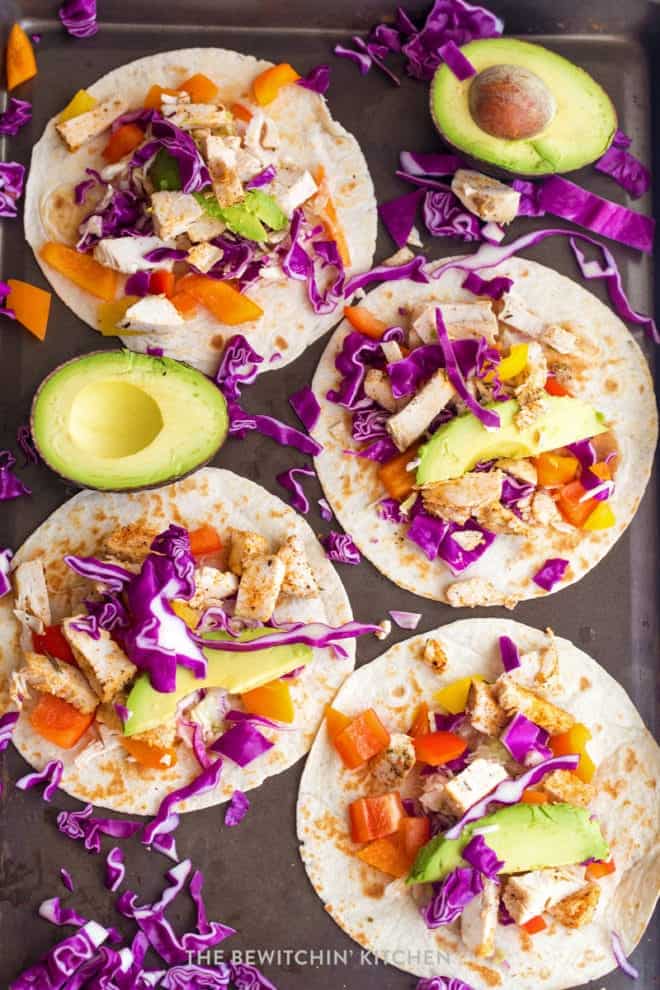 Assemble the Chicken Tacos
Simply lay open your tortilla and layer your chicken, toppings, and sauce. That's it! Leftover chicken tacos can't be any easier to make.
Grilled Chicken Tacos Recipe FAQs
Do You Have to Use the Homemade Slaw Recipe?
Definitely not! Since the spirit of this recipe is using up leftovers, and slaw and tacos go hand-in-hand, I included it in these easy chicken tacos. You're welcome to use store-bought coleslaw if you'd like, or you can omit it completely if you prefer your tacos without it.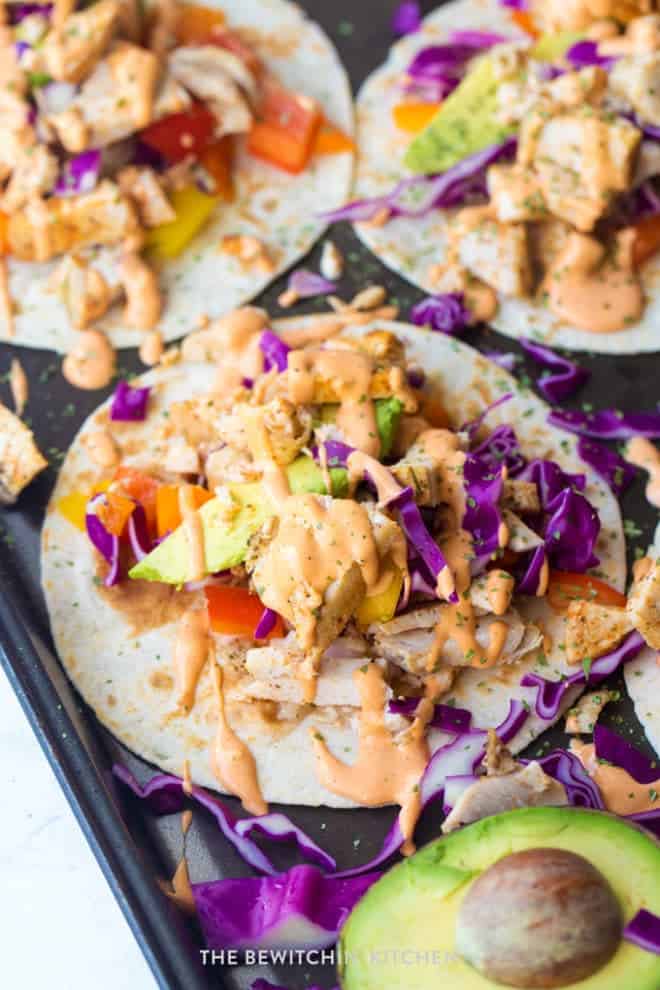 Do I Have to Use Chicken Breasts?
Nope! You can cut up a roasted (or rotisserie) chicken or use chicken thighs for this recipe if you'd like.
How Long Is Leftover Chicken Good For?
It's best to eat leftover chicken within 3-4 days, so this recipe is best made a day or two after your original chicken meal!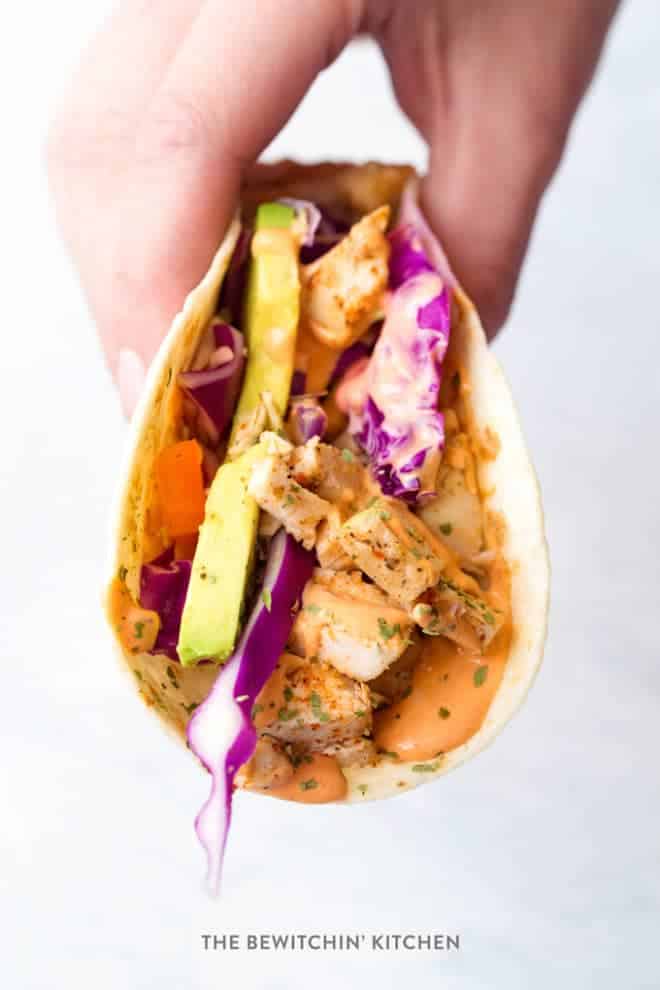 More Budget Chicken Recipes
Instant Pot Chicken Tortilla Soup
Easy Chicken Tacos
These easy chicken tacos are so darn simple and SO GOOD! You can either cook up some marinated chicken or use leftovers with this healthy budget chicken dinner. Use grilled chicken or shredded from the Instant Pot or Slow Cooker/Crockpot!
Servings 6 servings
Calories 594kcal
Ingredients
12 tortillas homemade or storebought
2 – 3 cups leftover zesty coleslaw
4 cooked chicken breasts shredded or cubed
1 red pepper diced
1 orange pepper diced
1 yellow pepper diced
2 avocados sliced
1/2 purple cabbage shredded
Optional topping: spicy mayo and chopped cilantro
Spicy Mayo
1/4 cup hot sauce I use Valentina
1/4 cup mayonnaise
Optional chicken marinade
for when chicken is raw and you're cooking ahead of time
1/4 cup olive oil
Juice of 2 limes
1 tsp  chili powder
Salt and pepper to taste
Optional cayenne powder for a little kick
Instructions
Since all the ingredients are already cooked and prepped, putting together these chicken tacos is so easy!

Lay out your tortilla.

Add the rest of the ingredients in whatever order you want. I did slaw, chicken, vegetables, a small slice of avocado, and drizzled with the spicy mayo.

That's it!
Spicy Mayo
Combine both the mayo and hot sauce together. Use a spoon to drizzle over your tacos, or place it in a squeeze bottle.
Chicken Marinade
Put the marinade ingredients together in a bowl.

Add chicken and marinade for at least an hour.

Grill for 8 minutes on each side, or until chicken reaches an internal temperature of 165.
Notes
Weight Watchers Freestyle: 7 per taco when using coleslaw and sauce and a corn tortilla for 2 SmartPoints – Mission Corn Tortillas are only 1 SmartPoint each and a good recommendation to make.
21 Day Fix Recipe Counts
Full recipe: 3 1/2 green, 4 red, 6 yellow, 4 blue.
Per serving: 1/2 green, 2/3 red, 1 yellow, 2/3 blue.
Counts for entire cole slaw recipe 8 green, 1 purple, 8 orange (not included).
Nutrition
Serving: 12tacos | Calories: 594kcal | Carbohydrates: 47g | Protein: 44g | Fat: 26g | Saturated Fat: 5g | Polyunsaturated Fat: 8g | Monounsaturated Fat: 11g | Trans Fat: 0.02g | Cholesterol: 101mg | Sodium: 886mg | Potassium: 1089mg | Fiber: 10g | Sugar: 9g | Vitamin A: 2248IU | Vitamin C: 149mg | Calcium: 173mg | Iron: 5mg
Follow On Pinterest
Follow @bewitchinkitchen On Pinterest for more delicious recipes!