Slow Cooker Chicken Tacos with Slaw and Spicy Mayo
2017 is the year that I have fallen in love with homemade chicken tacos. I finally attempted them myself and they're amazing, my first attempt were these slow cooker chicken tacos with slaw and spicy mayo (say that 5x fast).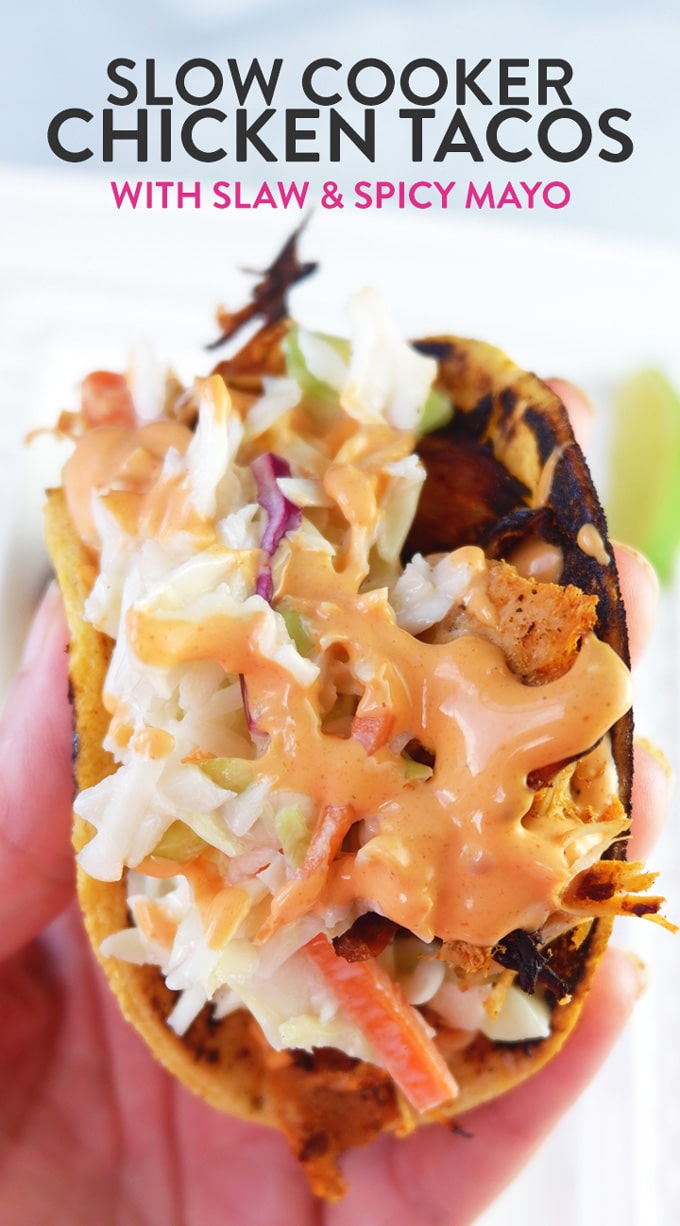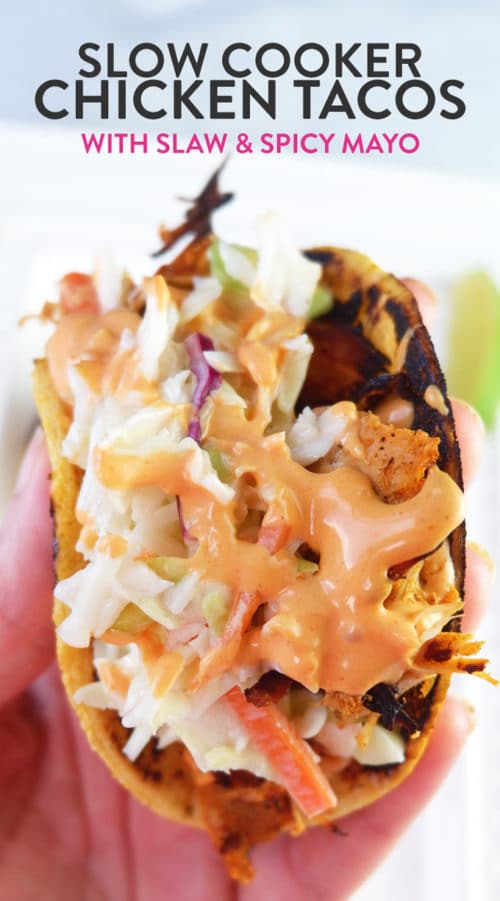 Chicken Tacos
This post contains affiliate links.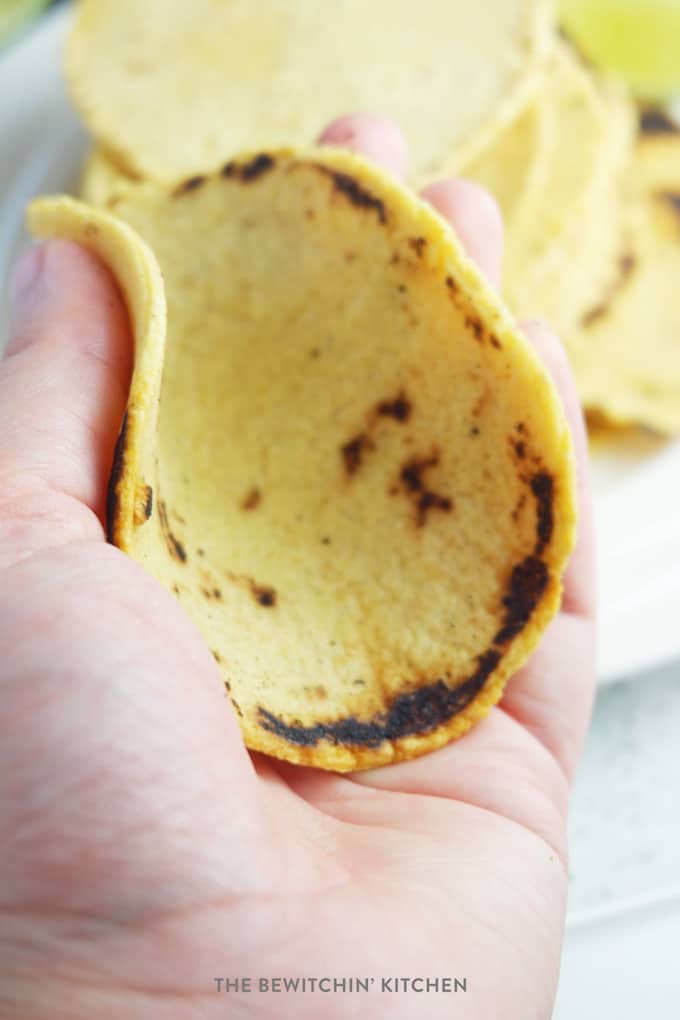 Before 2016, I have never had a real taco. I only knew of what came out of a box. I never knew that those tortillas and corn shells were not what real tortillas tasted like. Total food liberation.
I recently shared how to make corn tortillas, so be sure to check that out. It's super easy, homemade corn tortillas only take 3 ingredients (one being water).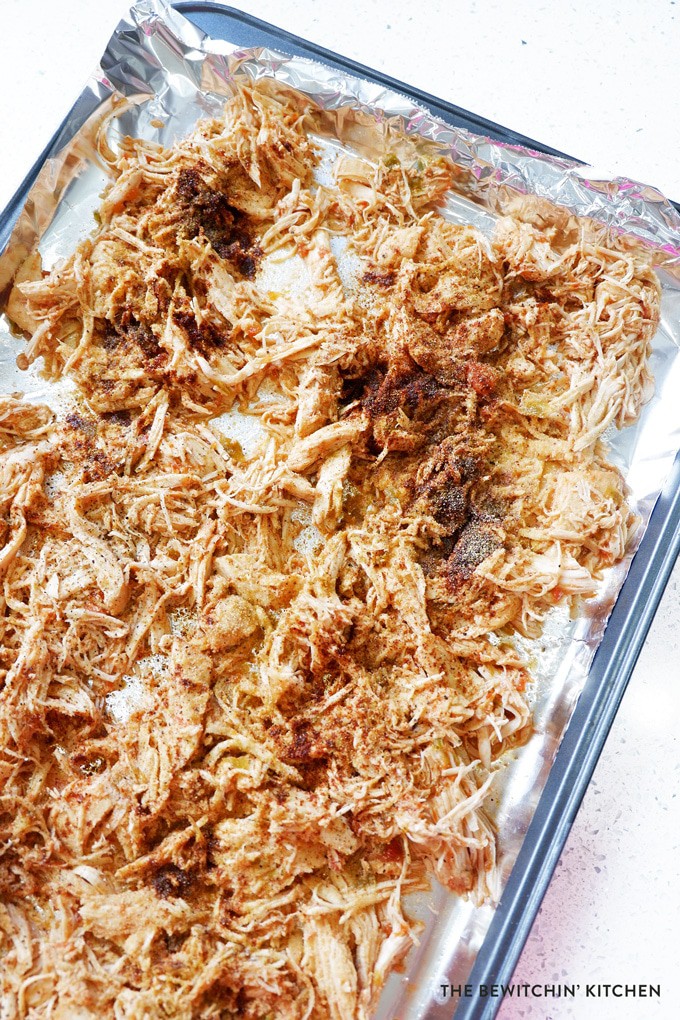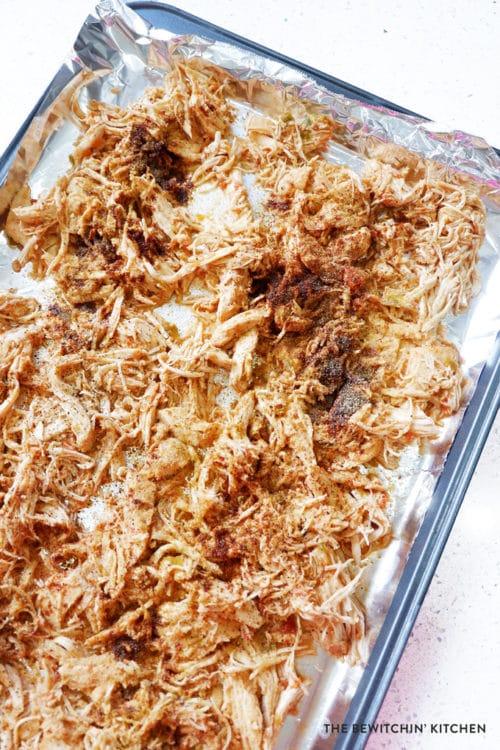 These homemade chicken tacos are crazy easy.
Simply add the chicken breasts to a crockpot, top with a little salsa and seasoning and let it do it's thing. An optional step is to crisp up the chicken my adding the pulled chicken to a lined baking sheet and baking for 20-25 minutes.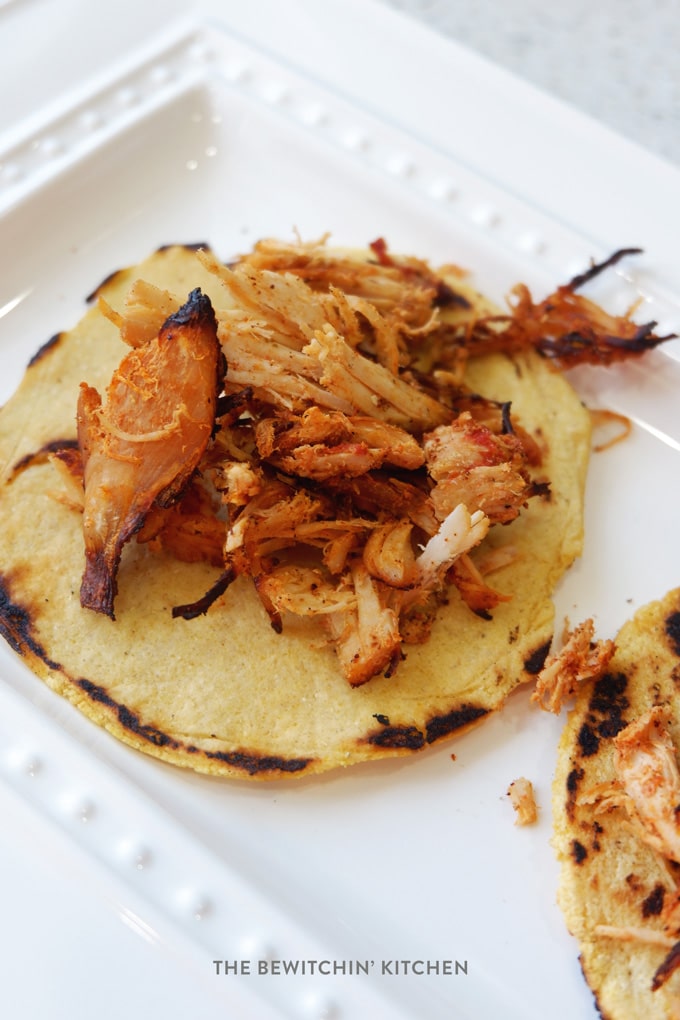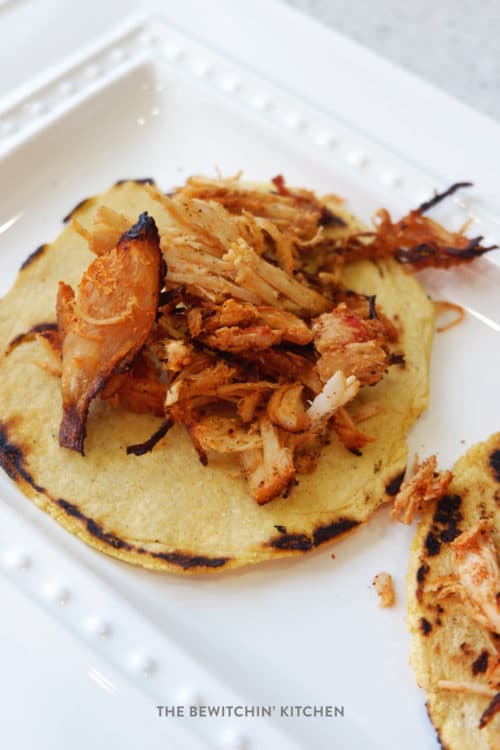 Note: 30 minutes in the oven is too much. As you can tell with the above photo, the chicken was a little too crispy. Still edible, and delicious, but I recommend cooking it a little less (and pay attention to the oven instead of watching TV, don't ask me how I know).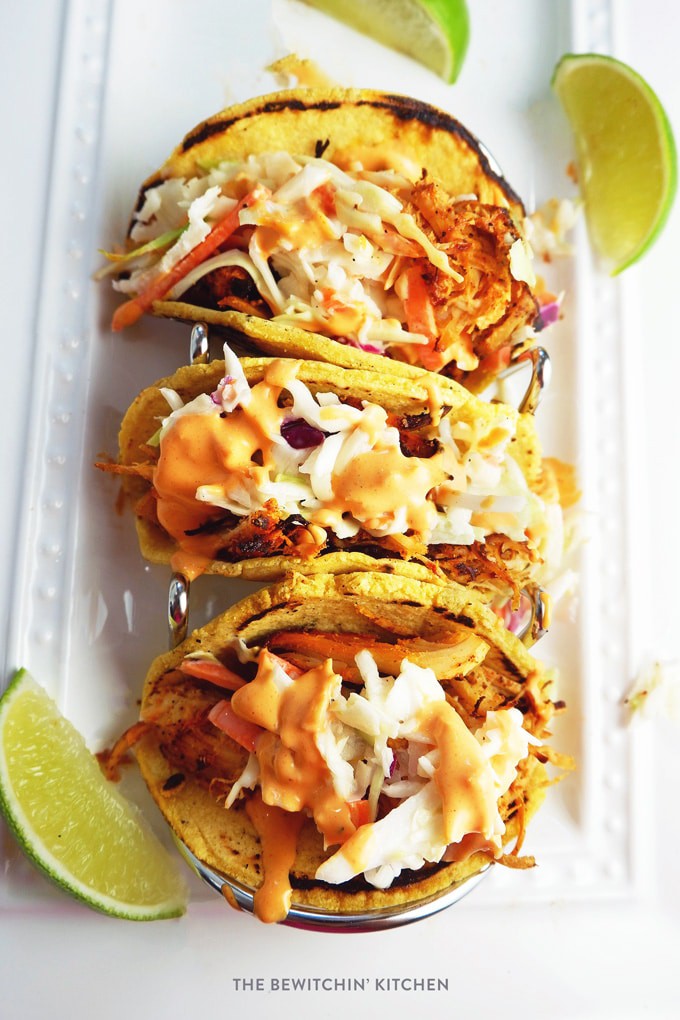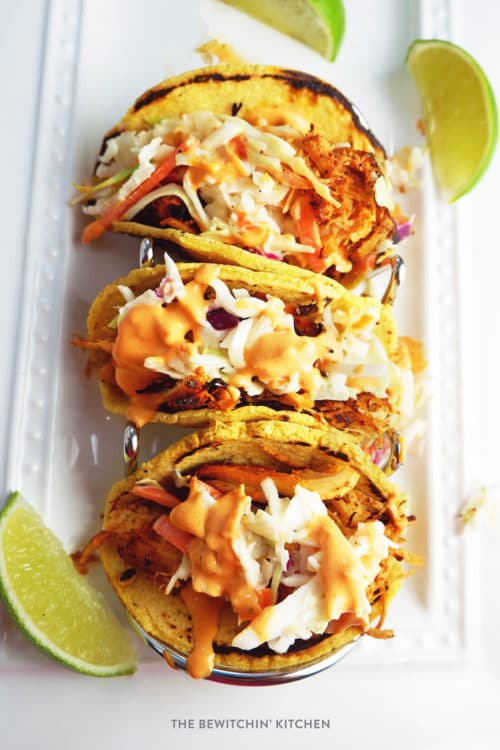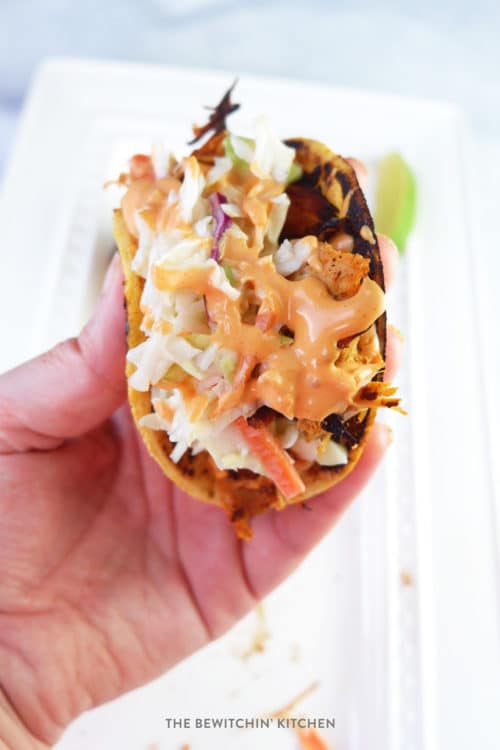 Yummy yummy yummy, I've got tacos in my tummy.
I topped the chicken tacos with zesty coleslaw (my favorite is Disneyland's Coleslaw recipe) and a spicy mayo. I loved how the chicken was mildly flavored. The vinegar base of the coleslaw brightened up the tacos and the spicy mayo just brought it home.
Is flavour town trademarked by Guy Fieri? Because I'm using it here.
Homemade Chicken Tacos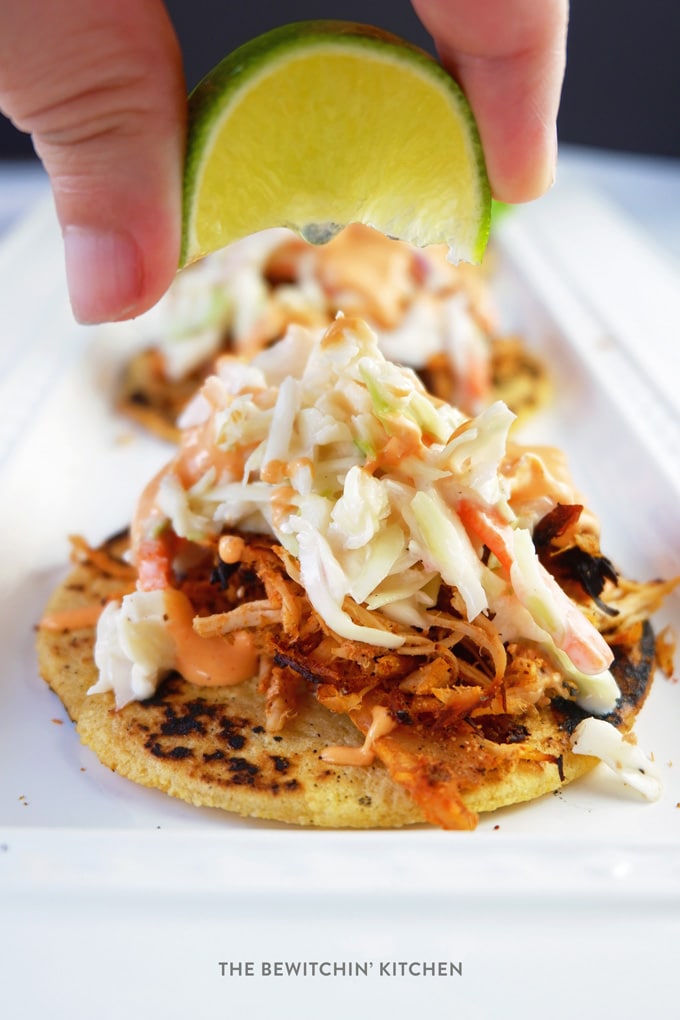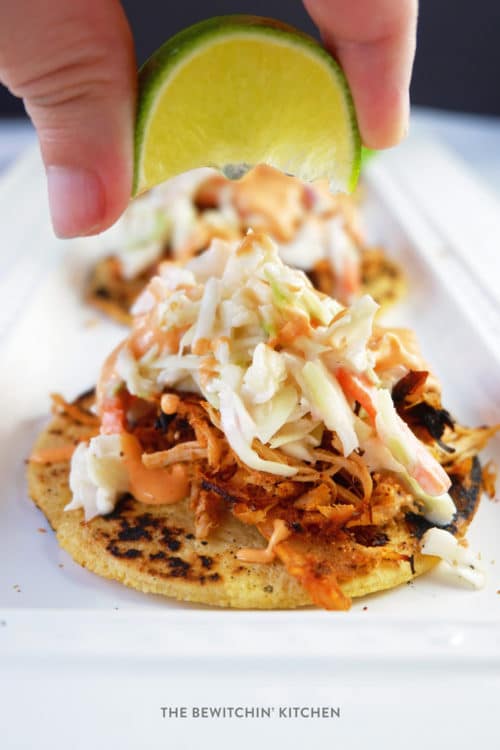 It seems as though there are more steps than a typical recipe here on The Bewitchin' Kitchen but I promise you: these chicken tacos are so easy to make!
TBK's Pro Tip: Use a tortilla press if you're making homemade tortillas. It speeds up the process, and they're inexpensive.
I made this chicken taco recipe using this recipe for homemade corn tortillas.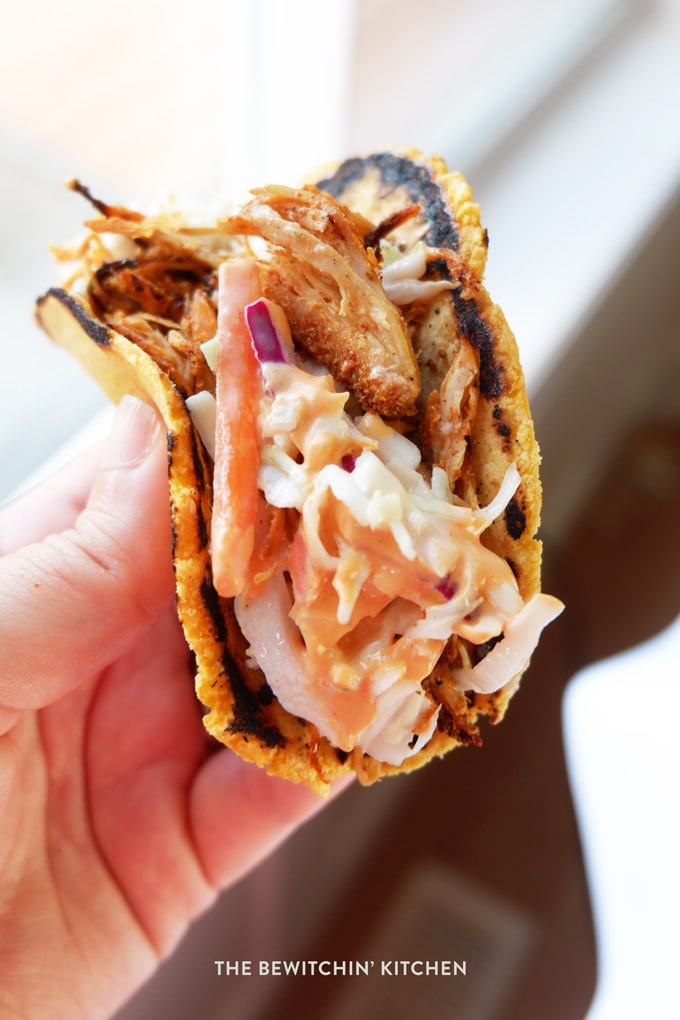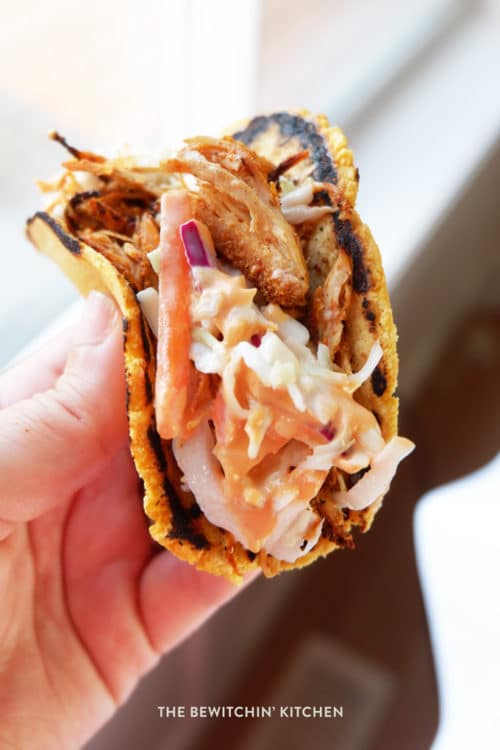 Supplies I used for these chicken tacos
Another tasty (and similar) recipe is this one for easy chicken tacos. Check it out!
Chicken Tacos with Slaw and Spicy Mayo
These chicken tacos are the bomb dot com! Simple chicken roasted in the slow cooker and crisped in the oven topped with tangy slaw and spicy mayo. Yum!
Servings 10
Calories 240kcal
Ingredients
Chicken Filling
5-6 chicken breasts
1/3 cup salsa
1 tsp salt
1/2 tsp pepper
1 tsp chili powder
1 tsp garlic powder
1/2 tsp cumin
1/4 tsp salt
Spicy Sauce
1/4 cup Mayonaise
1/4 cup Valentina Hot Sauce
Instructions
Add the chicken breasts, salsa, salt, and pepper into a slow cooker. Cook on high for 4-5 hours.

Preheat oven to 400.

Transfer the meat out of the slow cooker, and place on a sheet pan lined with aluminum foil.

Spread around the foil, top with chili powder, garlic powder, cumin, and salt.

Bake for 25-30 minutes.

While the chicken is crisping up, mix together the coleslaw, and spicy mayo sauce. For the spicy mayo, simply add as much as you would like. If you like spicier foods, add more hot sauce!

Make the homemade tortillas, or prep the store bought ones.

Arrange your tacos: tortilla, chicken, coleslaw, and spicy mayo!
Nutrition
Serving: 1g | Calories: 240kcal | Carbohydrates: 15g | Protein: 26g | Fat: 8g | Saturated Fat: 1g | Cholesterol: 74mg | Sodium: 695mg | Potassium: 518mg | Fiber: 2g | Vitamin A: 165IU | Vitamin C: 6mg | Calcium: 34mg | Iron: 1mg
Follow On Pinterest
Follow @bewitchinkitchen On Pinterest for more delicious recipes!