Vitamix S30 Review #TBKGiftGuide
I have had my eye on owning a Vitamix for a really long time, I have heard so many amazing things about these machines. So does it live up to the hype? I've been trying out the Vitamix S30 for the past few weeks and I'm about to let you know.
Here is what's included with the Vitamix S30:
Base
Tamper for the 40oz container
40oz container
Portable 20oz container and flip lid
Interchangeable blade base that attaches easily to both containers
Personal Blending dual-language cookbook
I use my Vitamix daily whether it's for my Shakeology, protein shakes (like this Oatmeal Cookie Protein Shake) or food prep. Since I use it daily, it stays on my counter and I love how I can do that because the Vitamix S30 is very compact. From base to the top it's 14.55 inches, which means it just fits under my kitchen cabinets. I like that because it doesn't stick out like a sore thumb.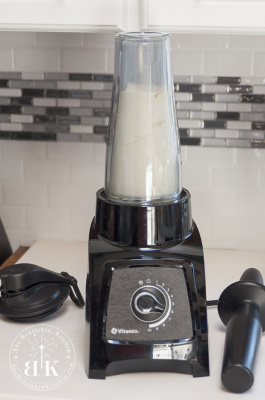 My favorite feature is the portable 20oz container, which is funny because I was certain I wouldn't use it as often as I do. I love how I can make my shake, take the blade off, put on the flip lid and start my day. It's perfect for quick and healthy breakfasts while on the go.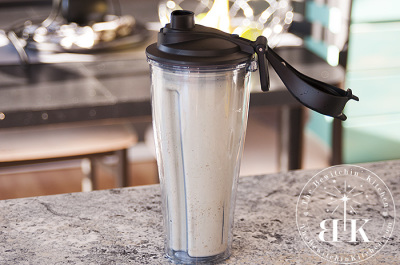 The cup itself is BPA free and double walled. What does double walled mean? Simple: it keeps your drinks at the temperature it should be. So if you made yourself a delicious shake or smoothie, you don't have to worry about it warming up as quickly.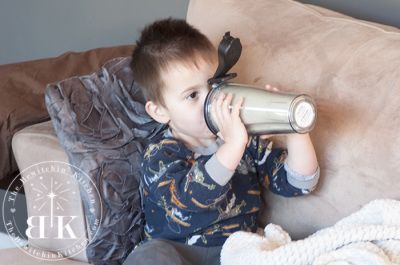 Even my toddler loves the Vitamix S30 portable cup. It's easy for him to drink out of which prevents spills and keeps me from scrubbing my sofa.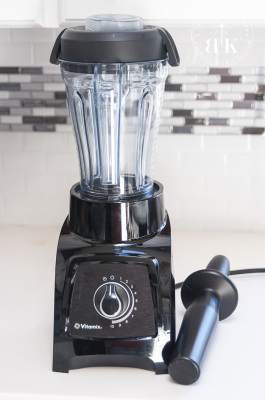 The 40oz container is perfect for bigger blending jobs like soups, family sized shakes, making your own nut butters and Larabar inspired snack bars. I made some No Bake Coconut Bars the other day (recipe coming later this week) and they turned out great. I really like how the Vitamix S30 was able to provide me these tasty treats in the fraction of the time as my previous blender. I did learn a few of Vitamix tips and tricks in the process.
When making thick treats remember the following:
Go slow, you don't want to burn out the motor.
Do not press the whole mixture into the blades with the tamper, you could overheat it. Instead, do a little bit at a time.
I learned all this the hard way, but I also was able to experience a safety feature that the Vitamix has. If you are on the verge of burning out the motor, the Vitamix will automically shut off. It will not turn back on until you clear out the blades and wait a few minutes for it to cool down. I was worried that I broke it at first, but after speaking with the Vitamix team I was relieved to hear that this is totally normal. I really appreciate this feature because I would be devastated if I broke it and this feature prevents that.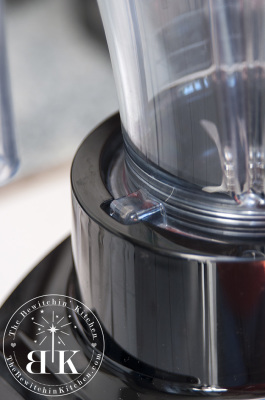 Another great safety feature is the magnetic interlocking system. If you lift or happen to rock the container from the base while the Vitamix is on, the machine will sense this disruption and turn off automatically for your safety. I actually knocked over my Vitamix and this feature prevented a massive mess.
Cleaning the Vitamix S30 is easy. Usually I can get away with adding hot water, some soap and blending and then repeating with just water to rinse. For more stubborn days I toss the cups in the top rack of my dishwasher. I usually hand wash the blade and the tamper (but they are dishwasher safe, I just usually end up using the blades again right away).
What Is a Tamper?

The tamper is designed to give those stubborn ingredients the extra push to the blades. This really helped me out when I made the Coconut No Bake Bars since I was blending sticky and hard ingredients like dates, almonds and walnuts. I use it most mornings when I'm making my shakes as well, as I blend with frozen fruit. It just ensures that my shakes are smooth and there are no chunks. You do not use the tamper in the 20 oz container, just the 40oz. The safety stopper makes sure that the end of the tamper never touches the blades.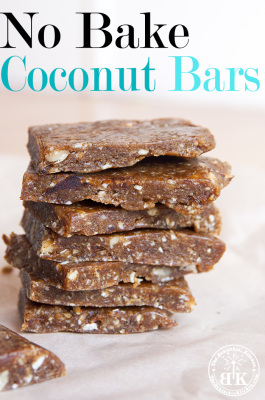 Vitamix also gives you a Personal Blending Cookbook. It's not just smoothies and juices either. There are recipes for soups, desserts and dips. Dips such as this Roasted Cauliflower Dip I shared a few days ago.
I have had an amazing experience with my Vitamix S30 and I highly recommend the investment. Personally I have gone through quite a few "high end" blenders over the past few years and none of them have been near as good as the Vitamix and with their amazing 5 year warranty, if something goes wrong you know that Vitamix has your back. I'm really looking forward to using the Vitamix S30 for developing more recipes in the years to come.