How to Make Homemade Applesauce
I can't believe how easy it is to make homemade applesauce. Just a few minutes and you have a healthy, sugar free applesauce that can be used in baking, as baby food, or on its own.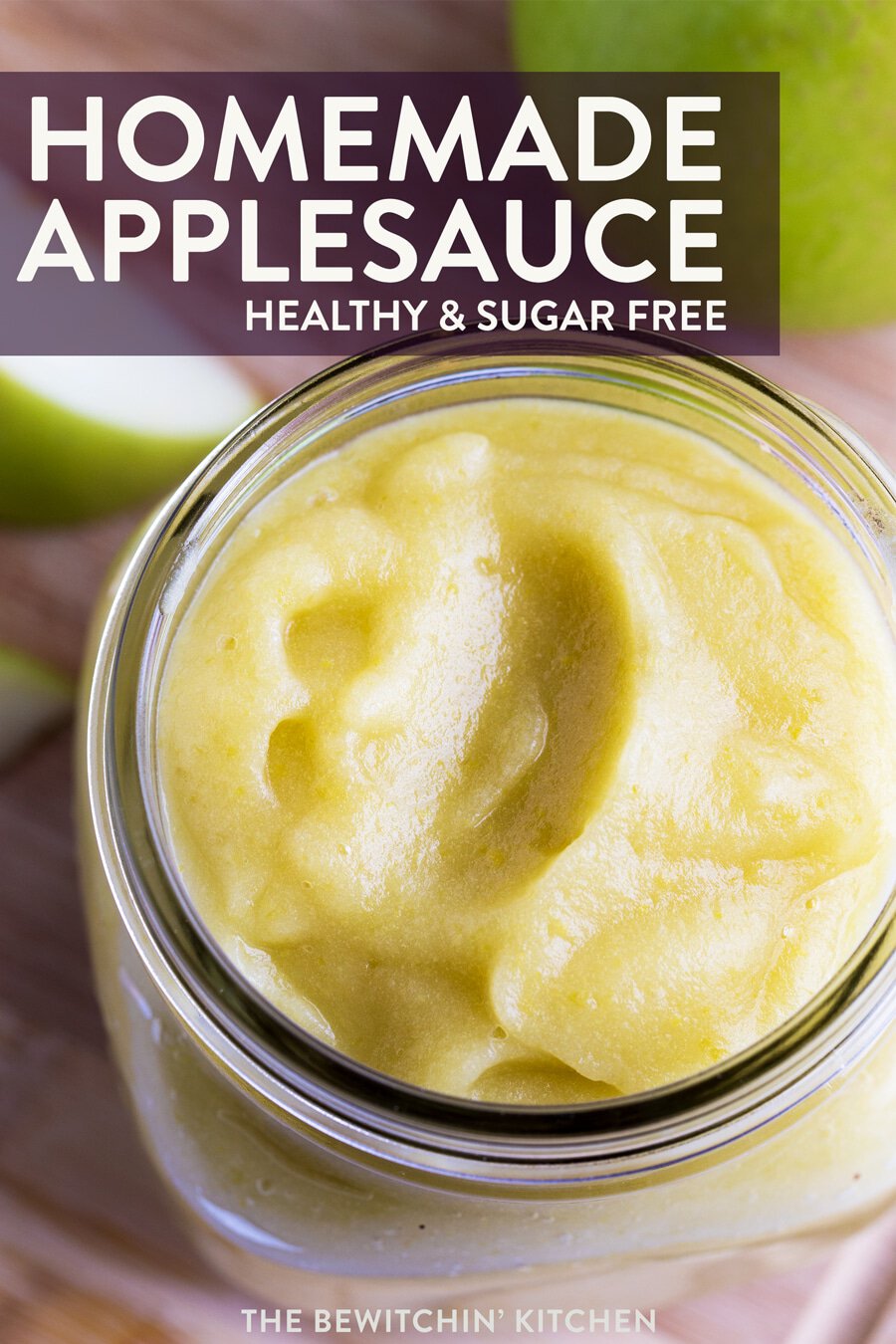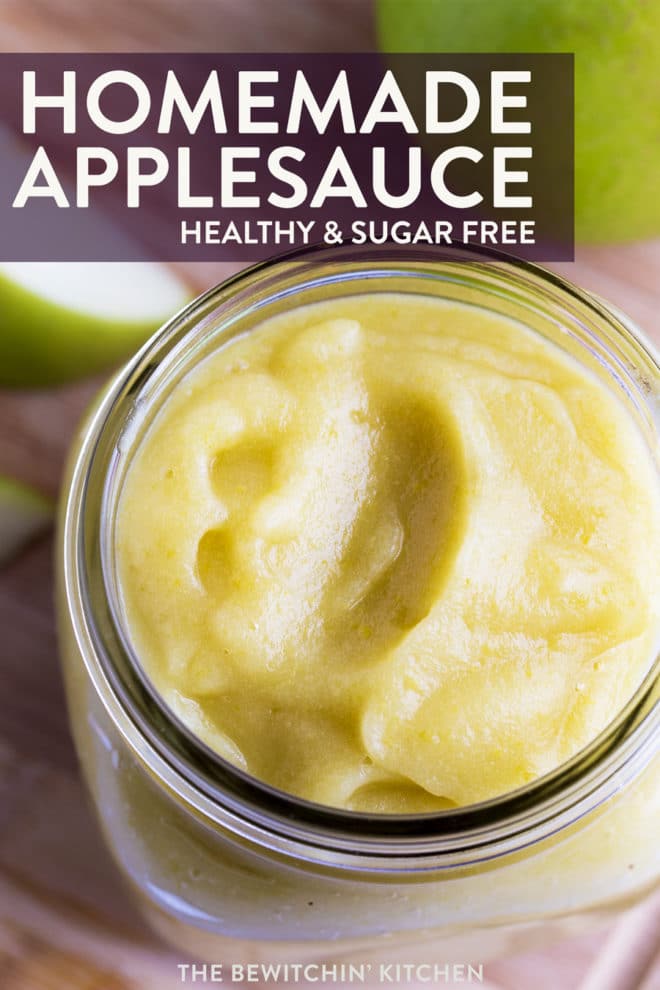 Homemade Applesauce
Disclosure: This post contains affiliate links.
I have always had a fire in my belly for nutrition. How food makes us feel intrigues me. For the most part, The Bewitchin' Kitchen features healthy recipes but I do have a few goodies from time to time.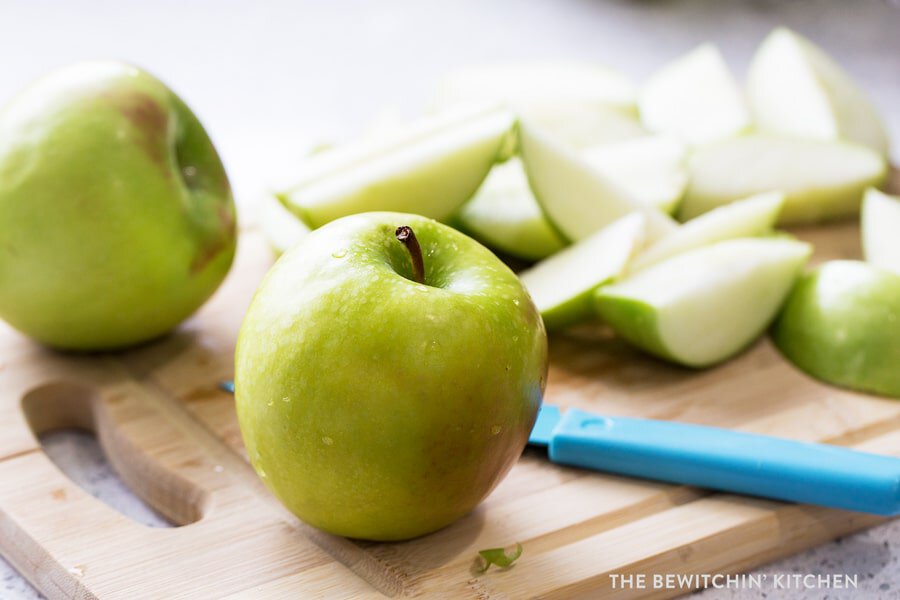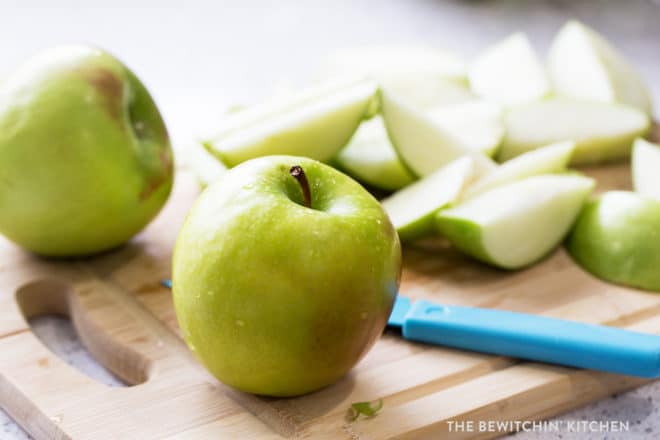 I've had a hard time with that. I've had a hard time because I've felt that I was pointing you guys in the wrong direction. It took me a few years but I realized my philosophy is balance. Yes, I want healthy and fresh ingredients but hey – life is a little boring without a celebratory cupcake.
In 2014 I enrolled in the Canadian School of Natural Nutrition, I did two years of education in nutrition and when it came time to get ready for the exam. I froze. I had the strongest gut feeling to stop and not carry forward. I was so overwhelmed at this time, working on TBK, moving to another city, it was chaotic. So I unenrolled.
Do I regret it? Yes and no.
I regret not following through, but I didn't find that the school was for me. I found myself not loving it.
Fast forward four years and here I am today.
In the fall of 2017, I enrolled in the Academy of Culinary Nutrition.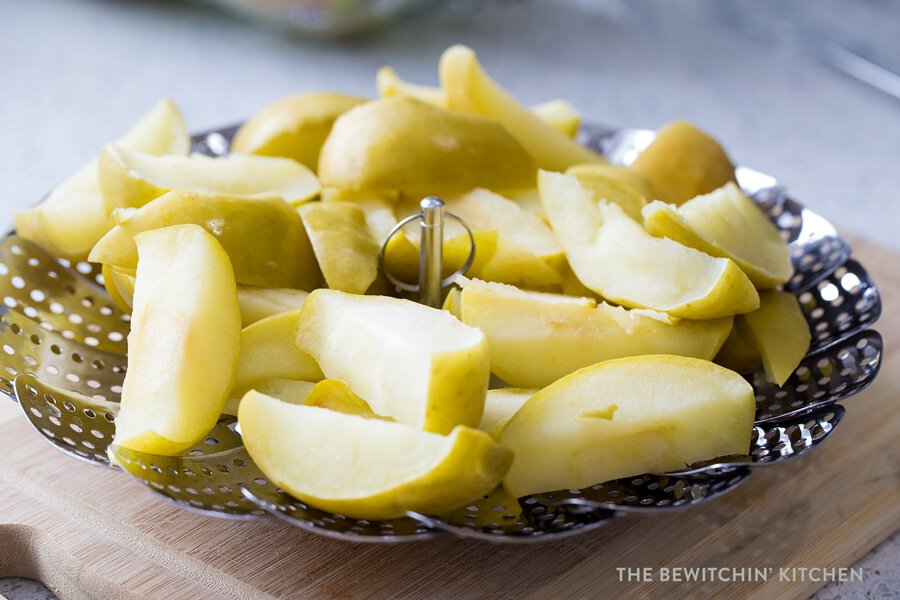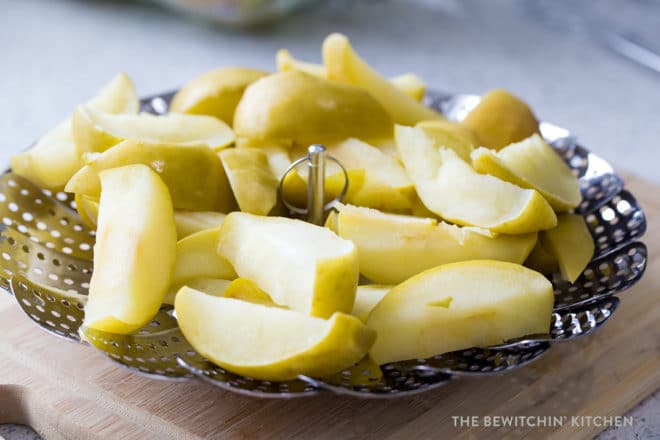 I don't start until September but I did a mini training held by Meghan and the Academy of Culinary Nutrition team and I wanted to share a few of the recipes with you. This homemade applesauce, all purpose gluten free flour, and the end result: Allergy-Free Muffins.
Sugar Free Applesauce
I've never made homemade applesauce, I did a pear sauce recipe once upon a time. To be honest, I wung it. It was delicious but I had no idea if I was doing it right.
To be totally honest, I typically buy unsweetened applesauce at the store and there is nothing wrong with that but since I was doing this mini training I figured why not try homemade sugar free applesauce.
I didn't realize how easy and quick and it was to make.
What's amazing about making applesauce from scratch is that you get to control what you put in it. In this case, I am just adding lemon juice and granny smith apples (my favorite apples ever).
If you want you can add a little cinnamon, vanilla, nutmeg – whatever.
You do you.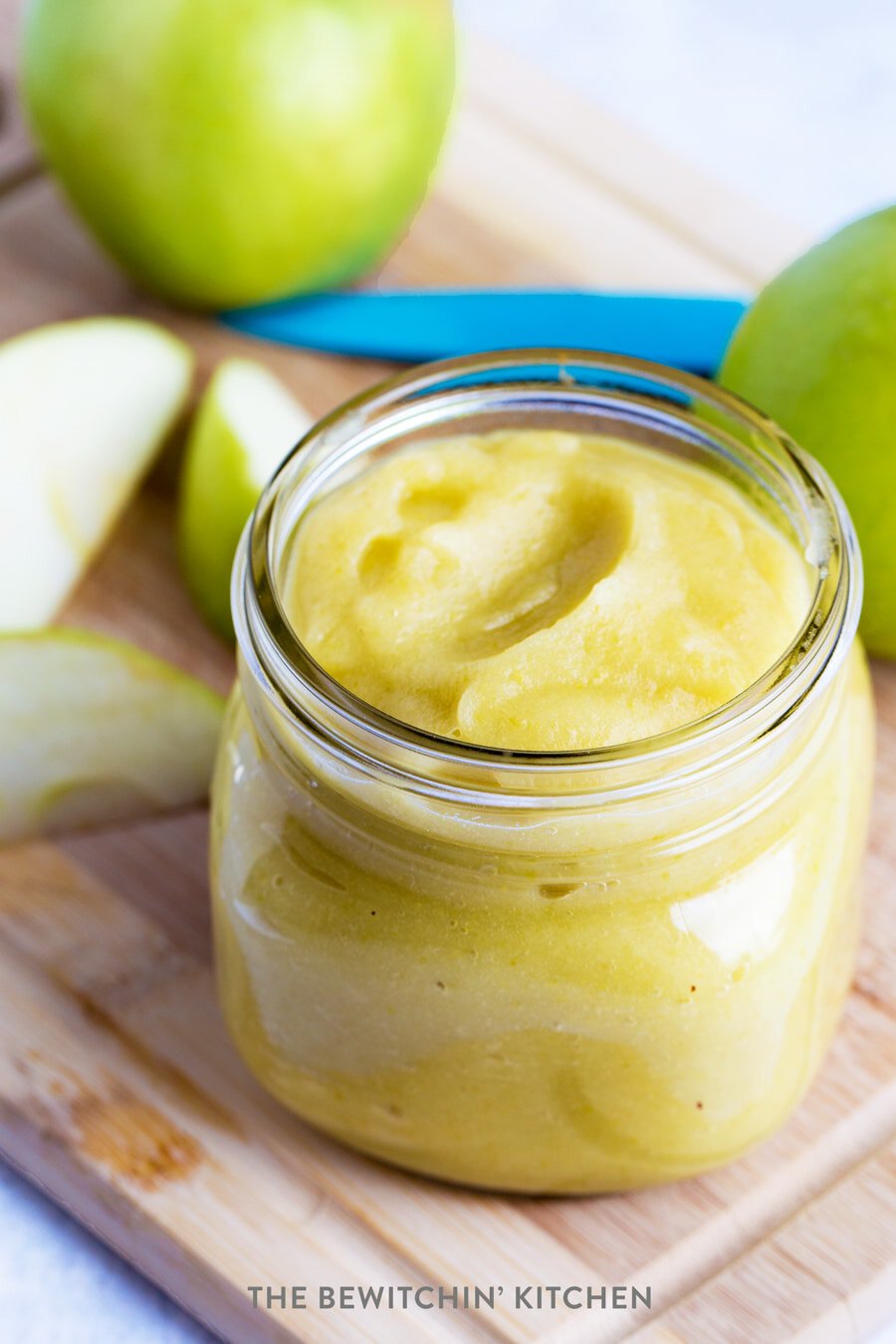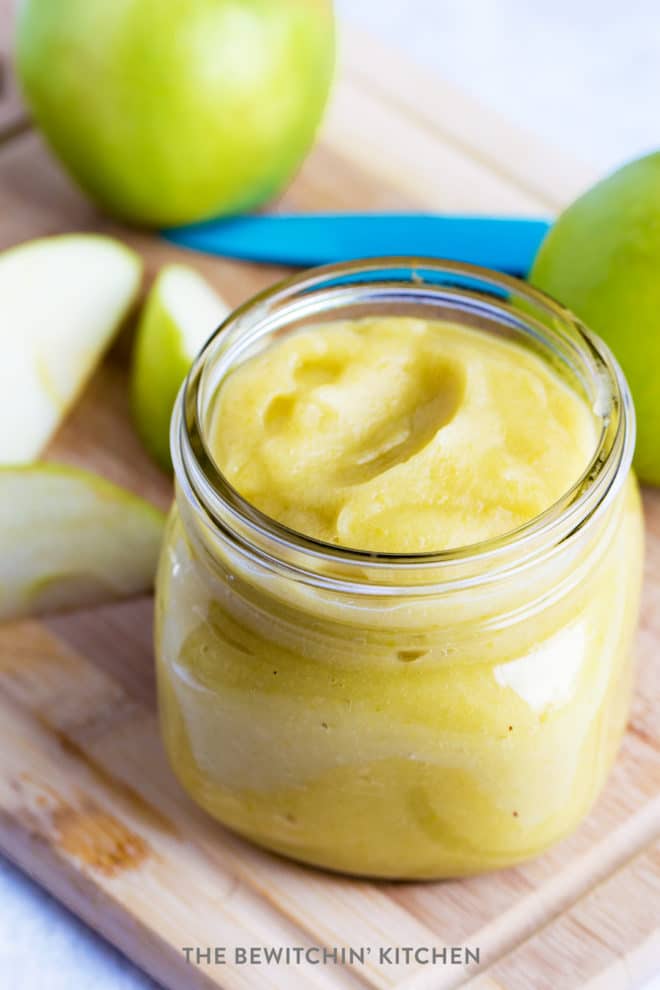 TBK's Pro Tip: Did you know the kind of apples will change the taste? I love sweet and tart so granny smith apples with lemon juice give me the taste I love.
So what can you do with homemade applesauce? Aside from eating it straight out of the jar or using it as homemade baby food here are a few recipes from The Bewitchin' Kitchen: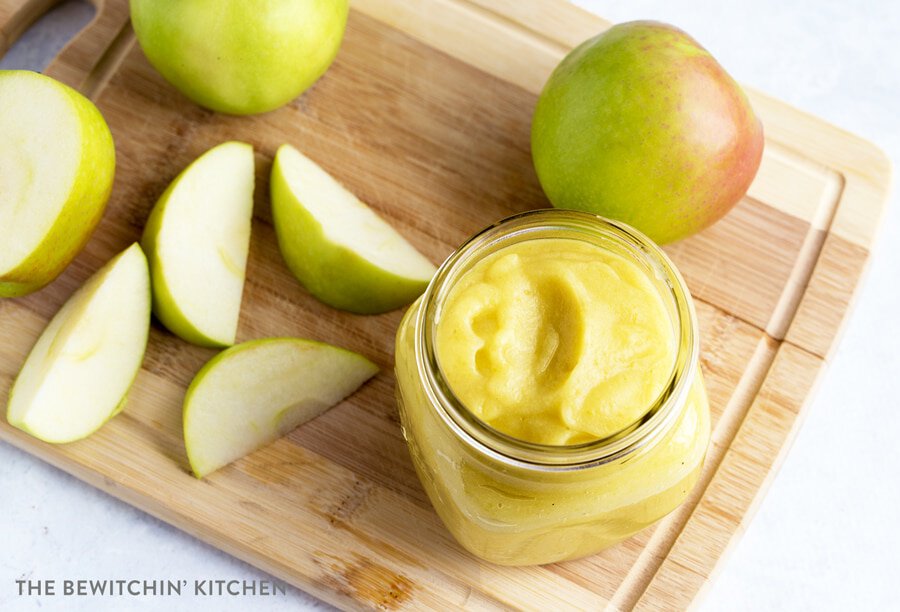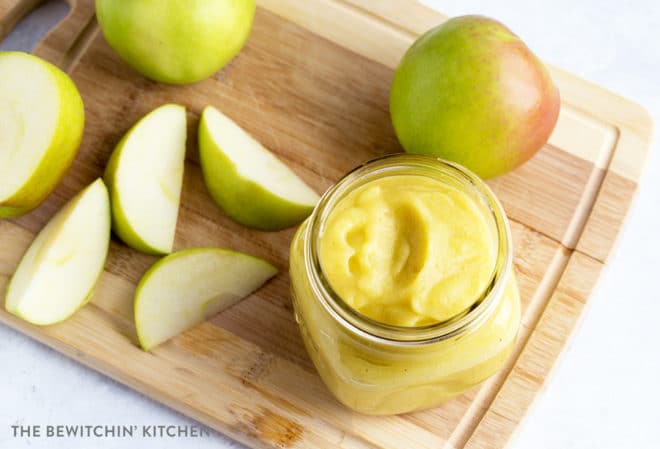 Helpful tools:
TBK's Pro Tip: Don't throw away the water from steaming the apples! Let it cool and use that to water your garden and or flowers.
Homemade Sugar Free Applesauce
I can't believe how easy it is to make homemade applesauce. Just a few minutes and you have a healthy, sugar free applesauce that can be used in baking, as baby food, or on its own.
Servings 2 cups
Calories 60kcal
Ingredients
4 apples of choice I used granny smith
1/4 cup lemon juice
Instructions
Cut the apples into quarters.

While slicing the apples, drop a steamer into a pot of water and bring to a boil. Once it reaches a boil, turn it to medium.

Add the apples to the steamer and steam for 10 minutes, or until a knife or fork easily punctures the apple flesh.

Transfer the apples to a blender and add the lemon juice.

Puree until smooth.

Store in a glass jar for 3-4 days in the fridge.
Nutrition
Serving: 0.25cup | Calories: 60kcal | Carbohydrates: 11.6g | Protein: 2.8g | Fat: 0.8g | Saturated Fat: 0.3g | Cholesterol: 8.2mg | Sodium: 9.2mg | Fiber: 2g | Sugar: 8.6g
Follow On Pinterest
Follow @bewitchinkitchen On Pinterest for more delicious recipes!
What's your favorite way to enjoy sugar free homemade applesauce?