Smoky Curry Chicken Kebabs
These smoky curry chicken kebabs are so simple yet they pack a huge punch of flavor. I recommend marinating them overnight but try for at least 30-60 minutes (yes, I'm totally putting this up top so you see this and don't miss out on the marinating part…we've all done it).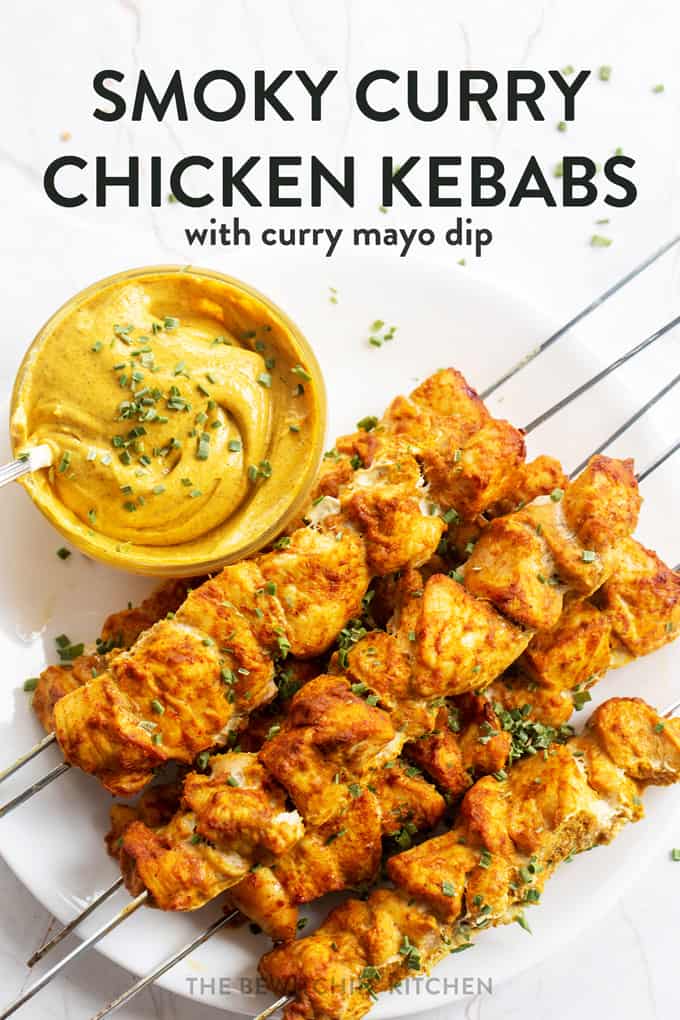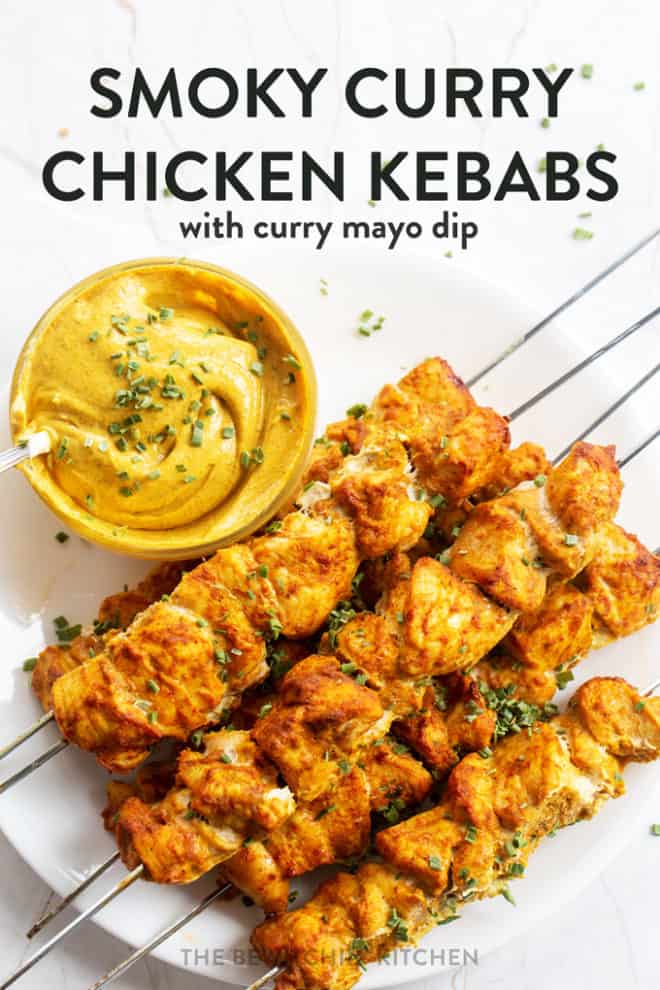 Curry Chicken Kebabs
Disclosure: I am participating in the Chicken Farmers of Canada campaign managed by SJ Consulting. I received compensation in exchange for my participation in this campaign. The opinions on this blog are my own.
I'm starting to feel that spring will never come. Here in Northern British Columbia we keep getting hit with snowfall after snowfall and my back yard still has a foot of snow.
It's not my scene.
I originally wanted to cook up this recipe on the barbecue but it was -13 plus wind so I adapted and focused oven baked kebabs instead.
I still included grilling instructions in the recipe card below, because summer is coming (and some of you live in sunshine all year round, which I'm insanely jealous of).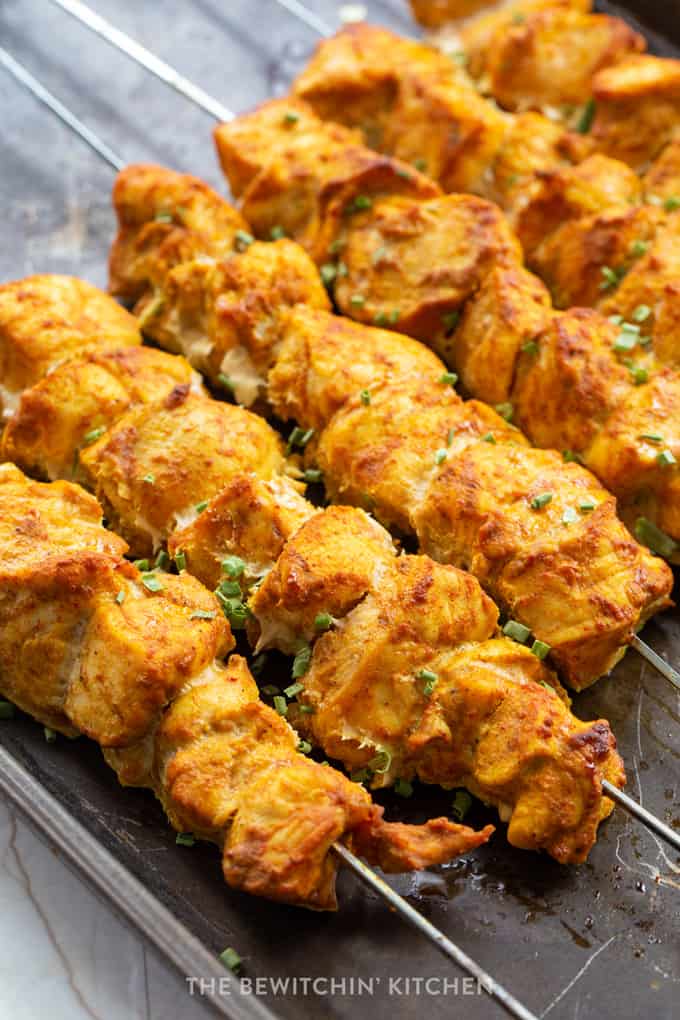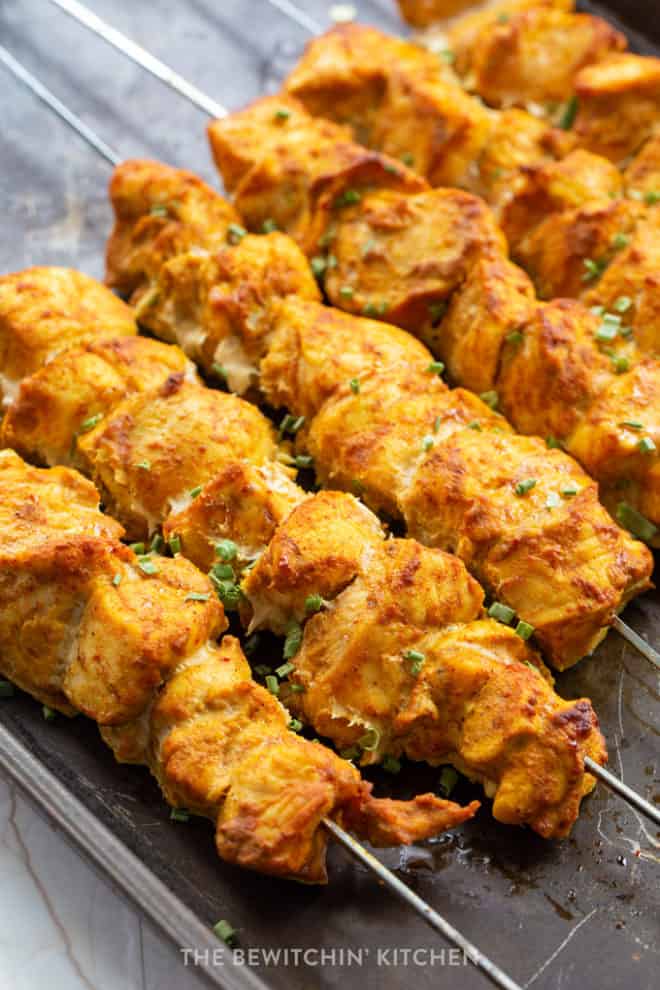 Ingredients Needed
For this recipe, I used simple curry powder, you can easily make your own but I used a store bough blend from Simple Organics (it's my favorite curry powder). I wanted to switch it up a little and add a little chili powder and paprika to give it a smoky taste too.
It worked out well!
As for the mayo, I used avocado mayo, curry powder, and lime juice. I find the paleo avocado mayo I use lacks a little "zing" so I added the lime juice to give it just that.
You can also add a little sriracha for pizzaz.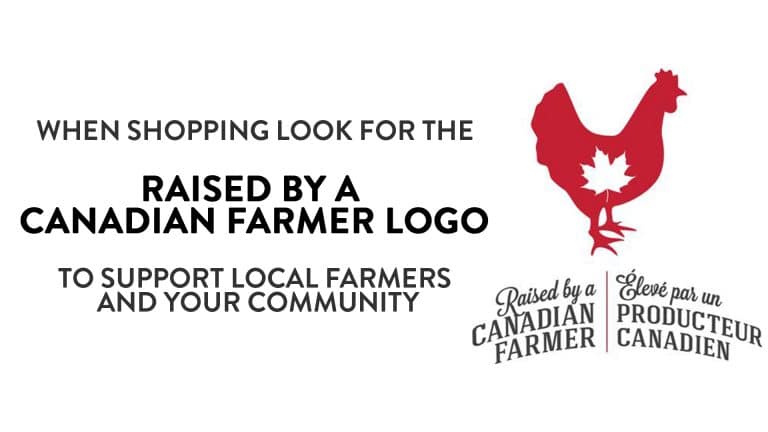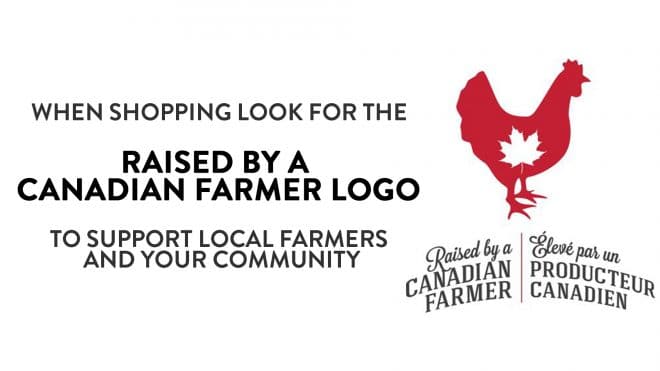 As always, I used Canadian Chicken in this recipe. To ensure that you're buying chicken that has been Raised by a Canadian Farmer, look for the logo (see above).
Here in Northern British Columbia, I can find the logo at my local Walmart. If your regular supermarket doesn't have it, just ask!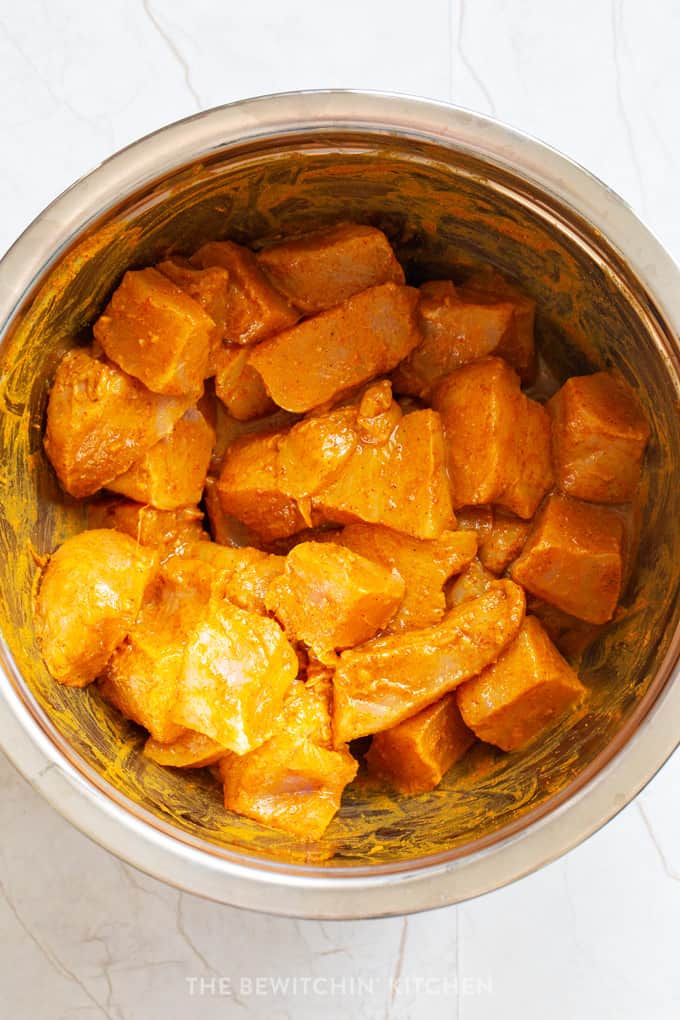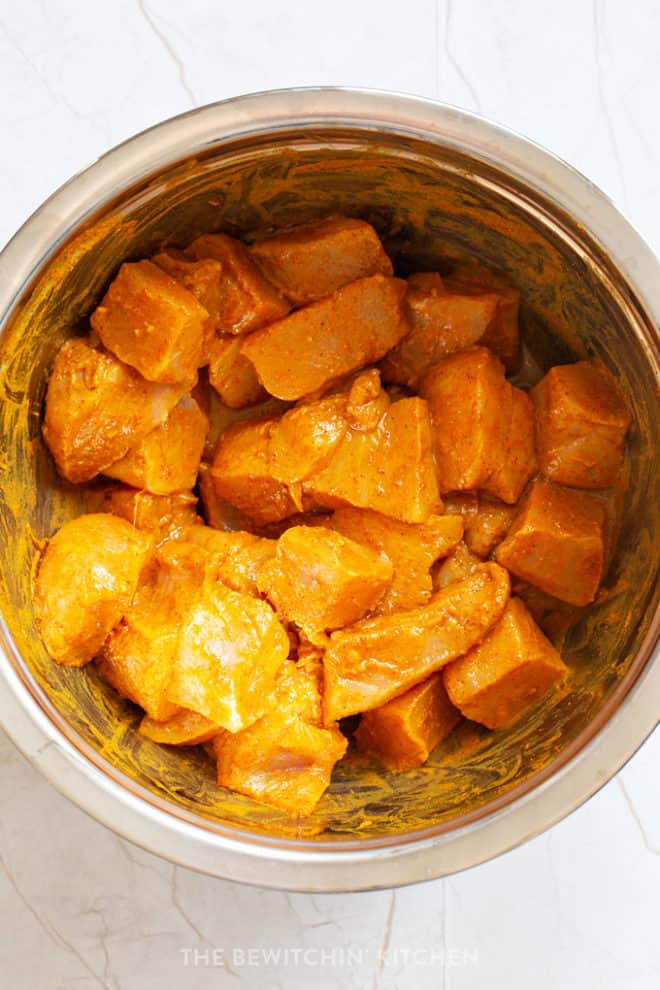 Why Canadian Chicken?
When you see the Raised By a Canadian Farmer logo you can rest assured:
The chicken was raised by a registered Canadian chicken farmer.
The farm is subject to mandatory and auditable programming for food safety and animal care.
You're supporting our local economy and giving back to our communities.
You're supporting a family farm (some of them going back a few generations).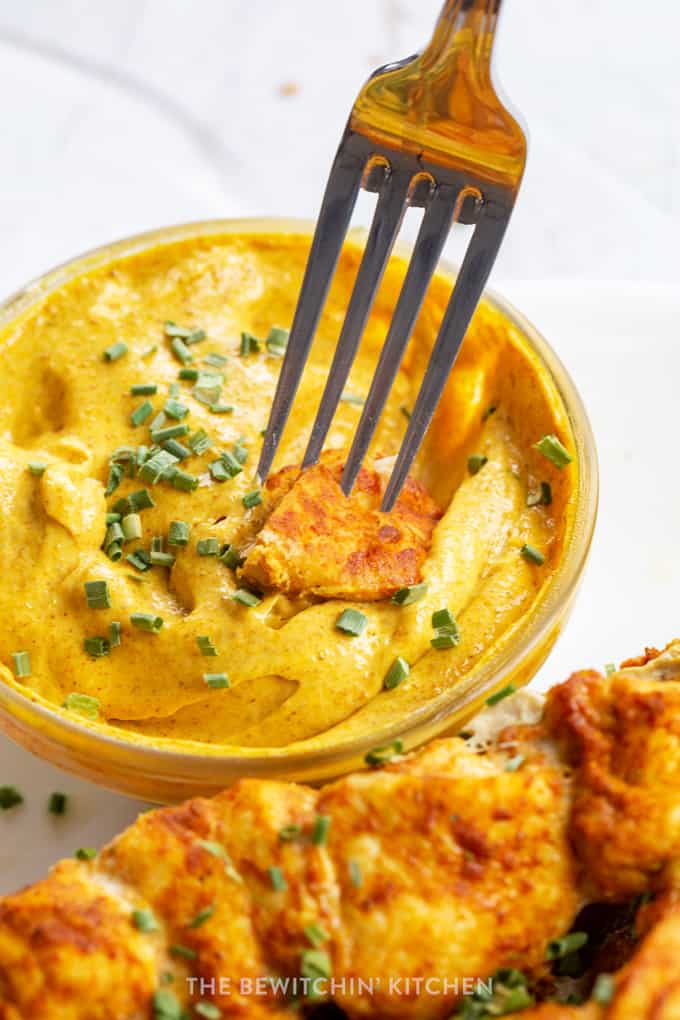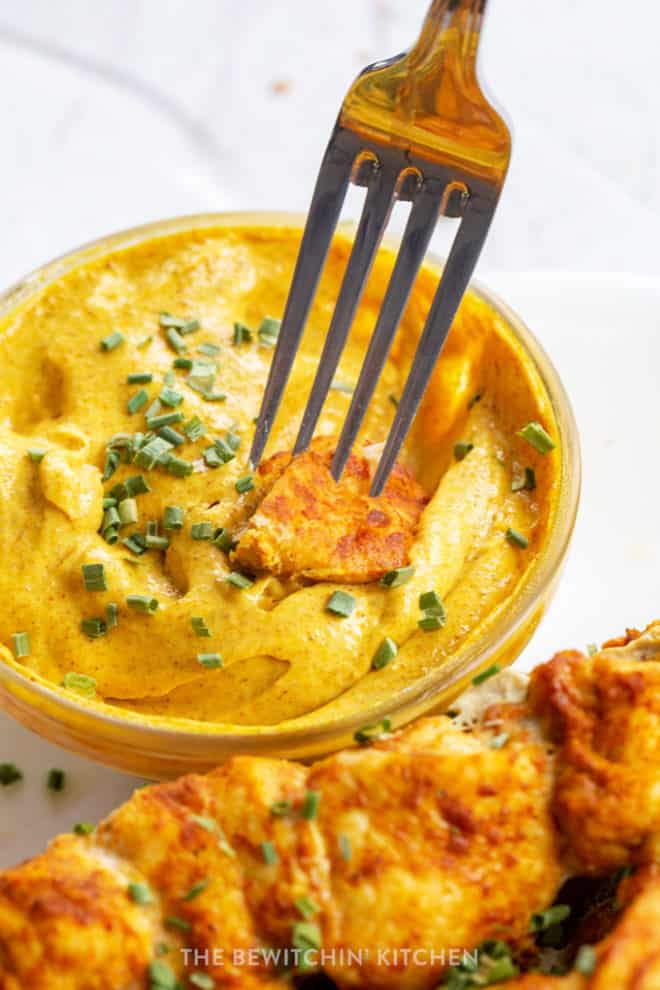 Is this recipe healthy?
Absolutely!
Curry powder is known to be an antioxidant and anti-inflammatory (thanks to the turmeric that gives it it's bright color), plus it packs a lot of flavor!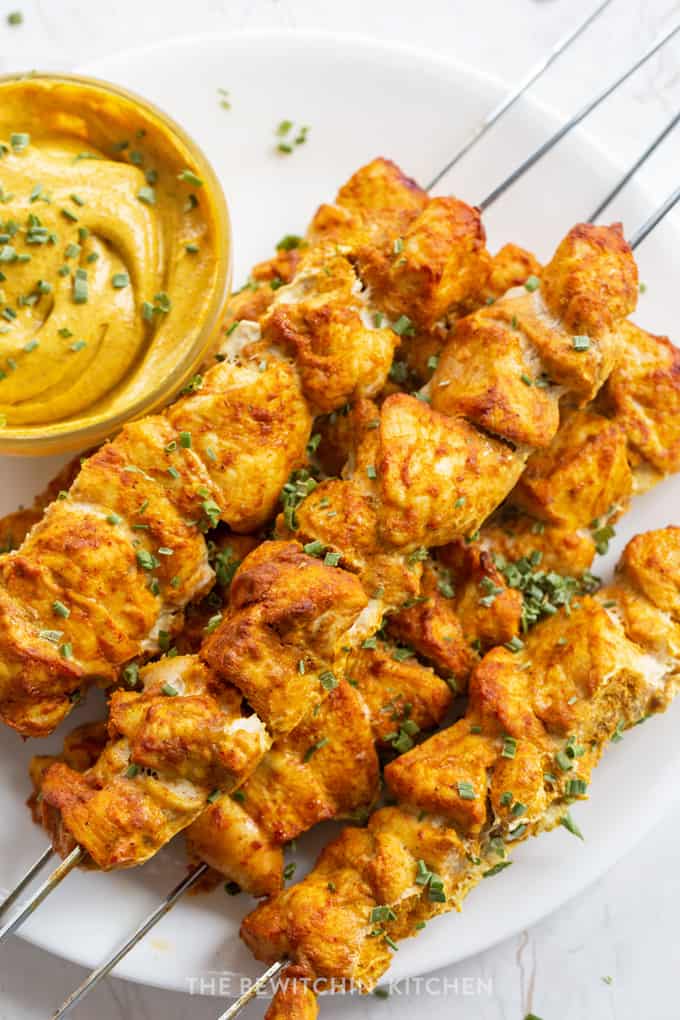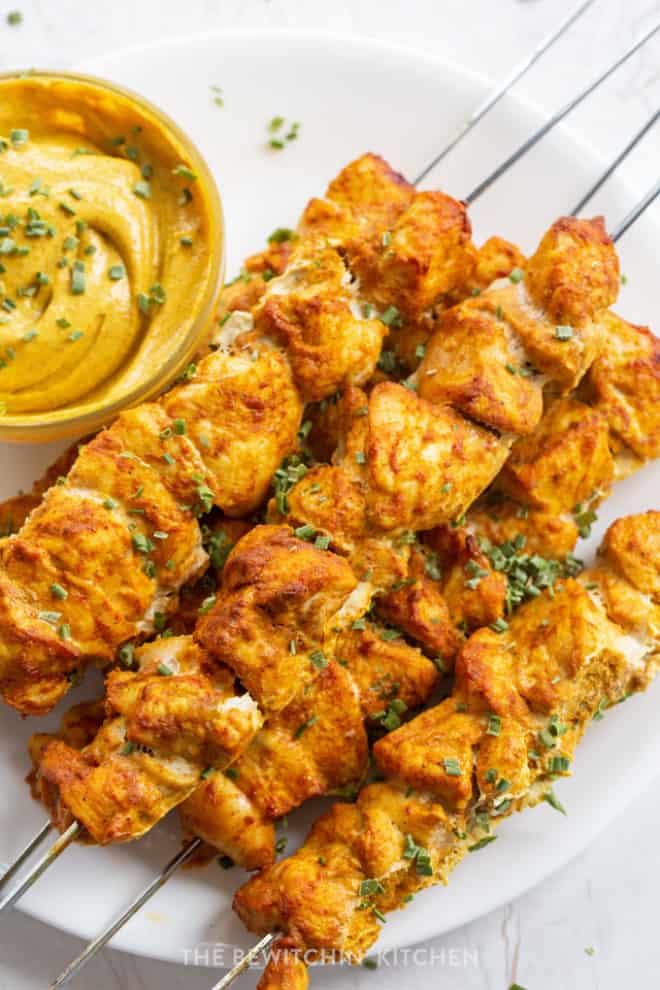 Chicken is high in protein which helps repair muscle and keeps your full (so you're not reaching for all the chips later after dinner).
If you're concerned about the mayo dip, skip it.
Tips for Making Kebabs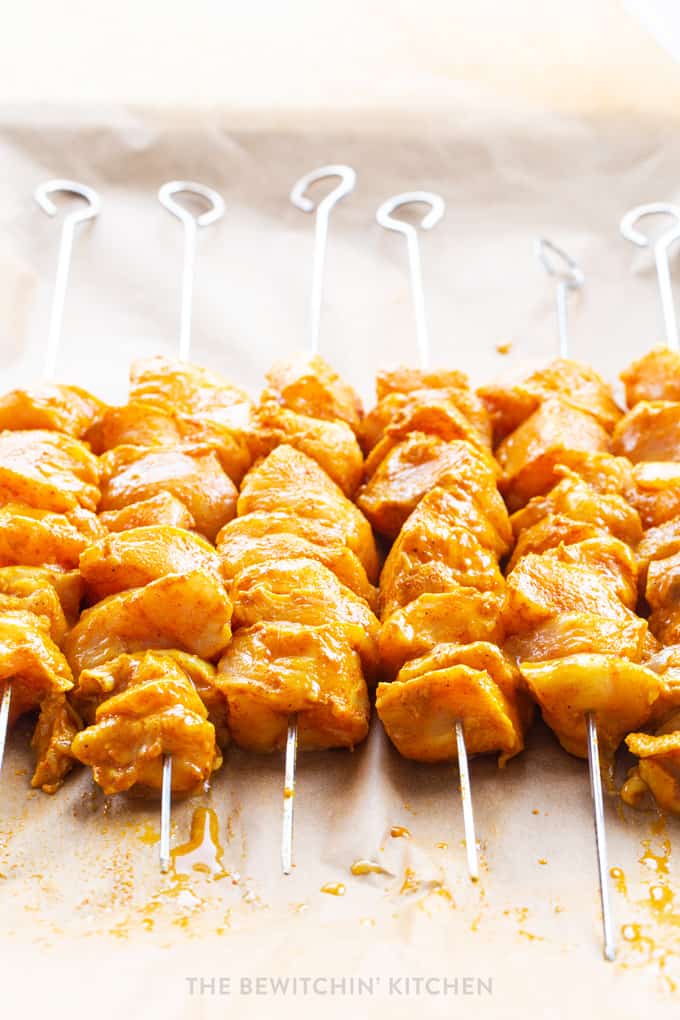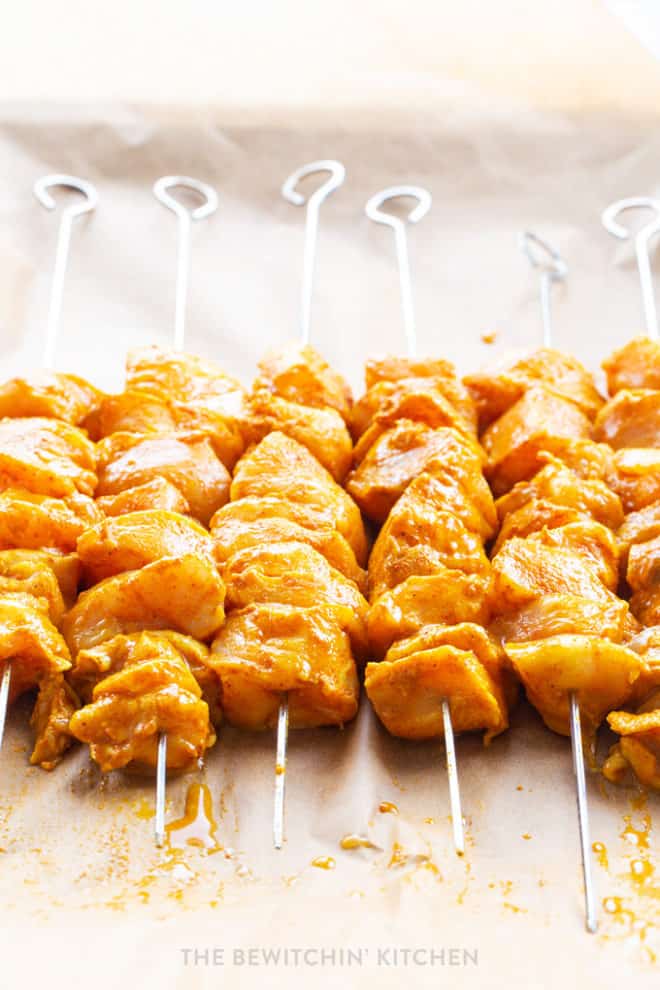 I have a few tips that will help you when it comes to kebebas.
Use the stainless steel skewers, there is no prep work and you can use them over and over (plus they're easy to clean).
If you do use wooden skewers, soak them in water for at least thirty minutes but I recommend longer. This prevents them from burning up if you grill them.
Marinade the chicken for as long as possible for a flavorful dish. I recommend overnight, but do it for as long as you can.
Feel free to skewer vegetables on the skewer as well, we served it with a salad so I didn't feel the need to at the moment. Try red onion, red peppers, etc.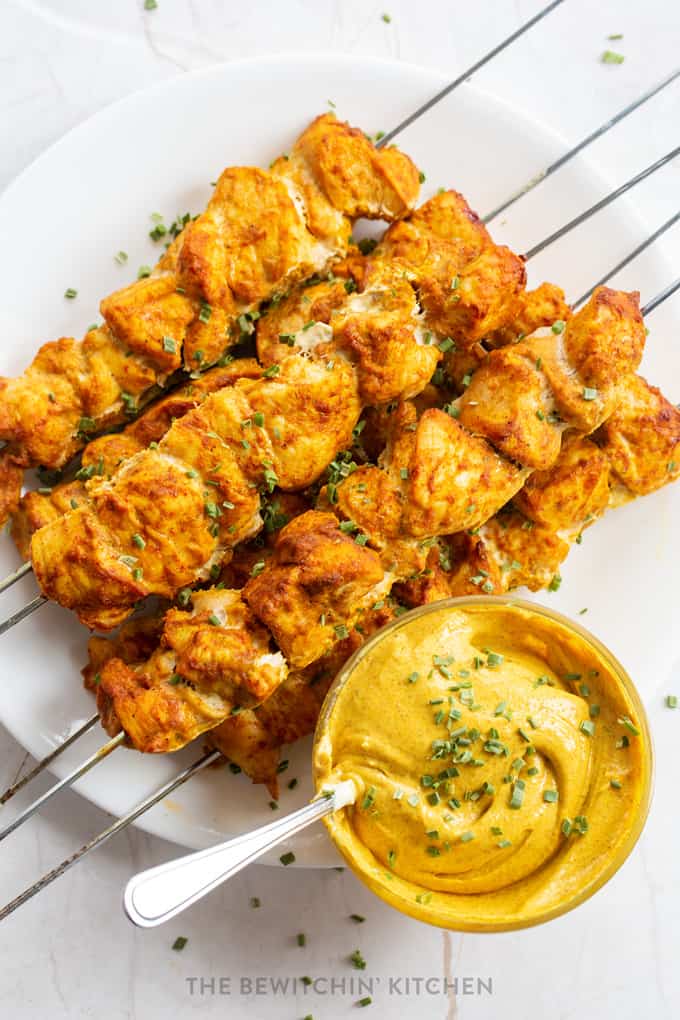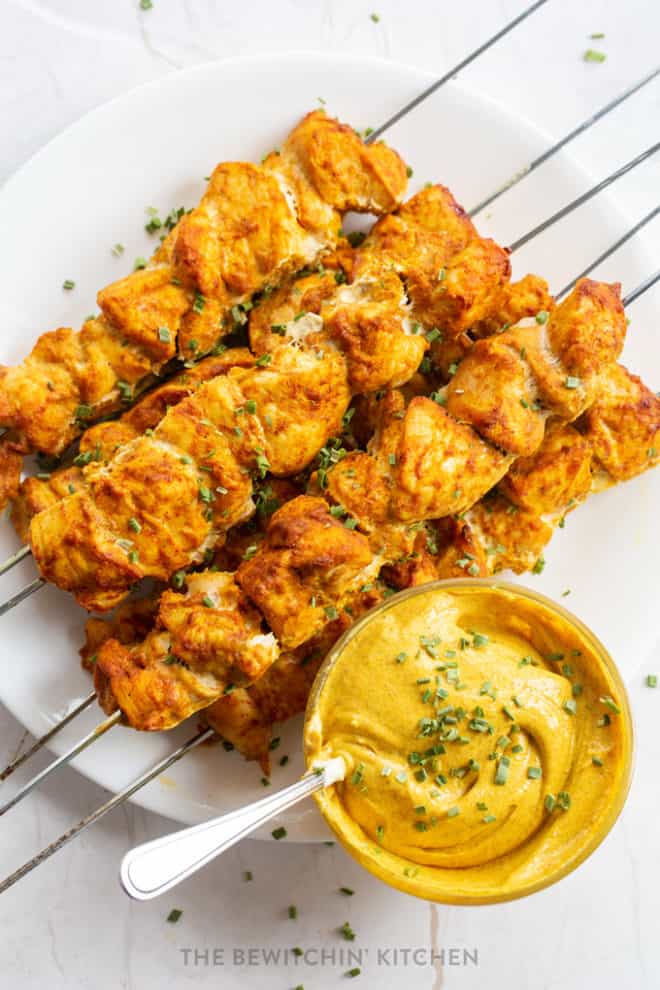 More Chicken Kebab Recipes
I love a good kebab, I'm pretty sure I have mentioned how meat on a stick os one of my favorite dinners (haha). Here are some more chicken skewer recipes that I know you'll love:
Want more? Search the recipe sections over at Chicken.ca to discover more healthy recipes. Don't forget to follow them over at Facebook, Twitter, Instagram, and Pinterest.
Curry Chicken Kebabs
These curry chicken kebabs are an easy recipe that can be both baked in the oven or grilled on the bbq. Perfect for summer, this healthy dish packs a ton of flavor with minimal ingredients.
Servings 6 skewers
Calories 356kcal
Ingredients
4 chicken breasts diced into cubes
2 tbsps avocado oil
1 lime juiced
2 tbsp curry powder
1 tsp paprika
1 tsp chili powder
1/2 tsp sea salt
Curry Mayo
1/2 cup mayo I used Primal Kitchen's Avocado Oil
2 tbsp curry powder
1 tsp lime juice
Instructions
Curry Chicken Marinade
Whisk together all the marinade ingredients in a bowl, add the diced chicken. Stir to coat it, cover with saran wrap or beeswax paper and chill in the fridge for at least 30-60 minutes (I had my marinade overnight).
Chicken Skewers
Preheat oven to 450F (instructions for grilling will be bellow)

If you're using wooden skewers, soak theme for at least 30 minutes. If you're using stainless steel skewers, you're good to go.

Skewer the chicken on to the sticks (I did 6-7 large pieces per skewer) and lay on a parcment lined baking sheet.

Bake for 25 minutes, flipping at the 15 minute mark.
Grilling Instructions
Skewer the chicken as instructed above, but turn on your grill to medium.

Spray avocado or grilling oil onto the grill (stand back when you do this).

Grill for 3-4 minutes per side.
Curry Mayo Dip
Add all the ingredients for the mayo dip together. Serve with the chicken. Taste will depend on the brand of mayo you use, so taste and adjust as needed (I added more lime juice, sriarcha would also be good).
Notes
Calories with the mayo is listed below in the recipe card. 
Calories and nutritional information without the curry mayo dip: 


222 calories, 2g carbs, 32g protein, 9g fat, 1g fiber.
Nutrition
Serving: 1g | Calories: 356kcal | Carbohydrates: 3g | Protein: 33g | Fat: 23g | Saturated Fat: 4g | Cholesterol: 104mg | Sodium: 691mg | Potassium: 636mg | Fiber: 2g | Sugar: 1g | Vitamin A: 394IU | Vitamin C: 3mg | Calcium: 27mg | Iron: 2mg
Follow On Pinterest
Follow @bewitchinkitchen On Pinterest for more delicious recipes!