Pineapple Chicken Skewers
If you're looking for a summer chicken recipe that's not only tasty but easy, check out these pineapple chicken skewers. Whether you call then skewers or kebabs, it doesn't matter. Meat on a stick is always a winner, am I right?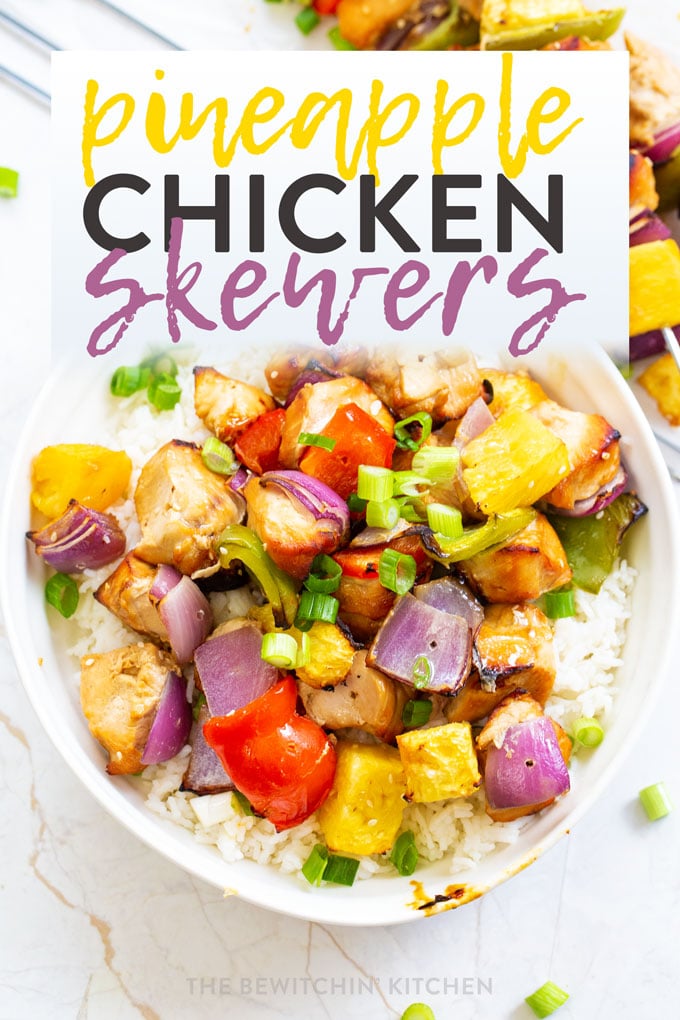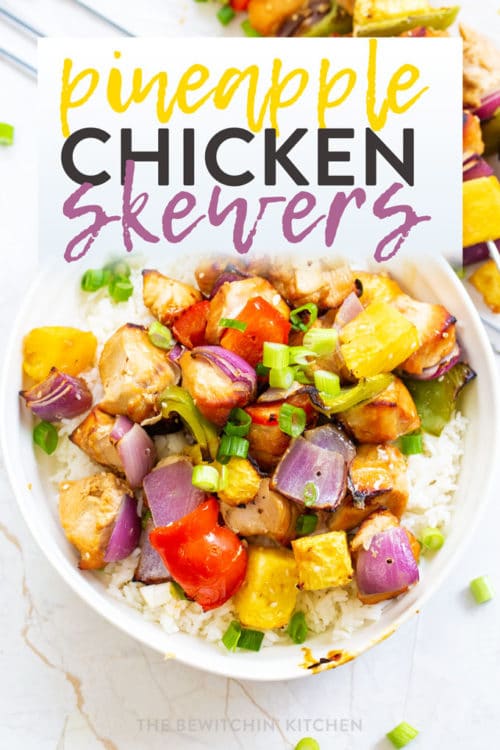 Pineapple Chicken Skewers
Disclosure: I am participating in the Chicken Farmers of Canada campaign managed by SJ Consulting. I received compensation in exchange for my participation in this campaign. The opinions on this blog are my own.
Chicken kebabs are a common occurrence during the summer months at my house.
Not only are the easy, but they're colorful and fun. I like to cook up a bunch at once so I have easy lunches throughout the week.
I either eat them off the skewer or toss with some rice or cauliflower to make a healthy chicken bowl.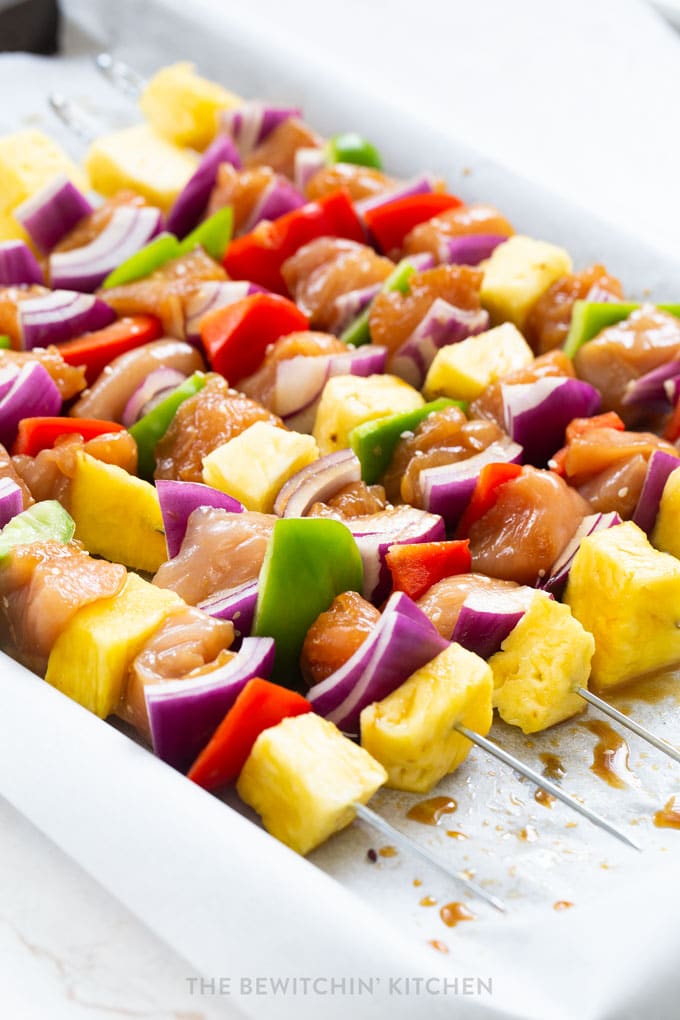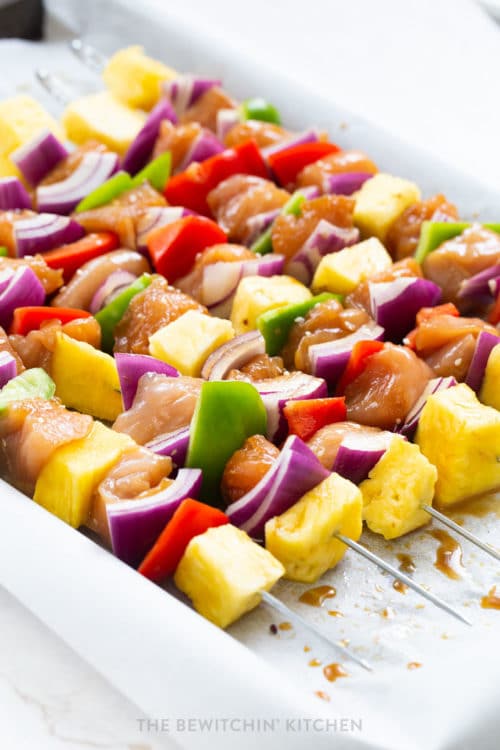 This week I enjoyed these chicken pineapple kebabs in a bowl form and they were so darn good!
How to Find Canadian Chicken Raised by Canadian Farmer's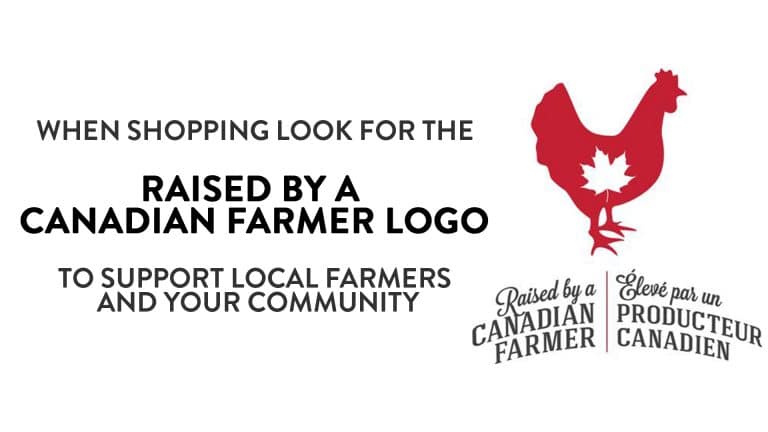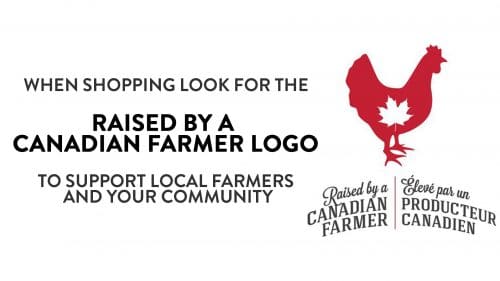 Look for the logo above at your local supermarket to ensure you're supporting local farmers and your community.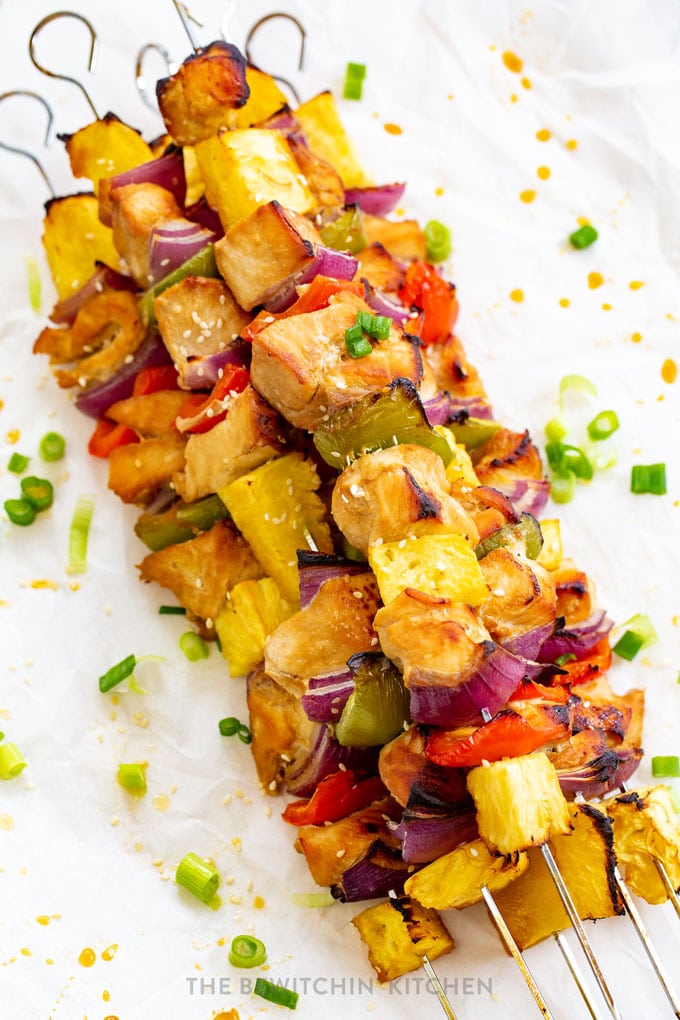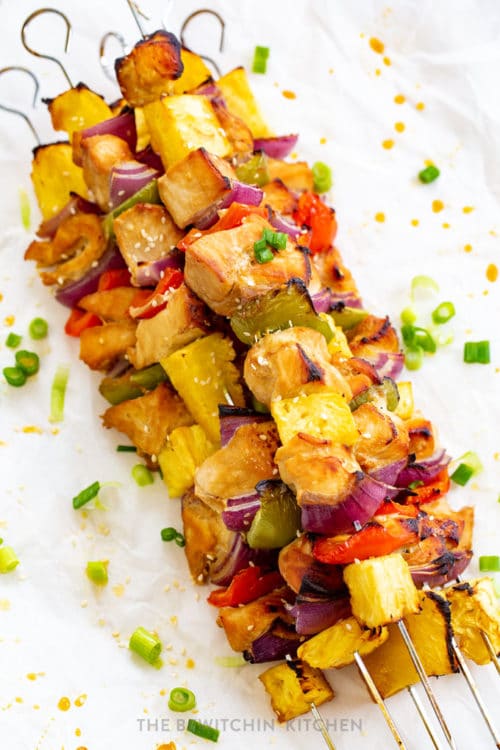 Why Canadian Chicken?
Canadian chicken is grain-fed, free of added hormones and steroids, and raised here in Canada according to nationally-set, high food safety, and animal care standards.
There is a mandatory, robust, third-party-audited Animal Care Program that is administered across all Canadian chicken farms.
Canadian chicken farmers adhere to a strict mandatory On-Farm Food Safety Program.
Chicken raised my Canadian farmers are committed to sustainability through innovation, by preserving the health of the land, providing value to Canada's economy, making affordable food for Canadians.
How long to marinate the chicken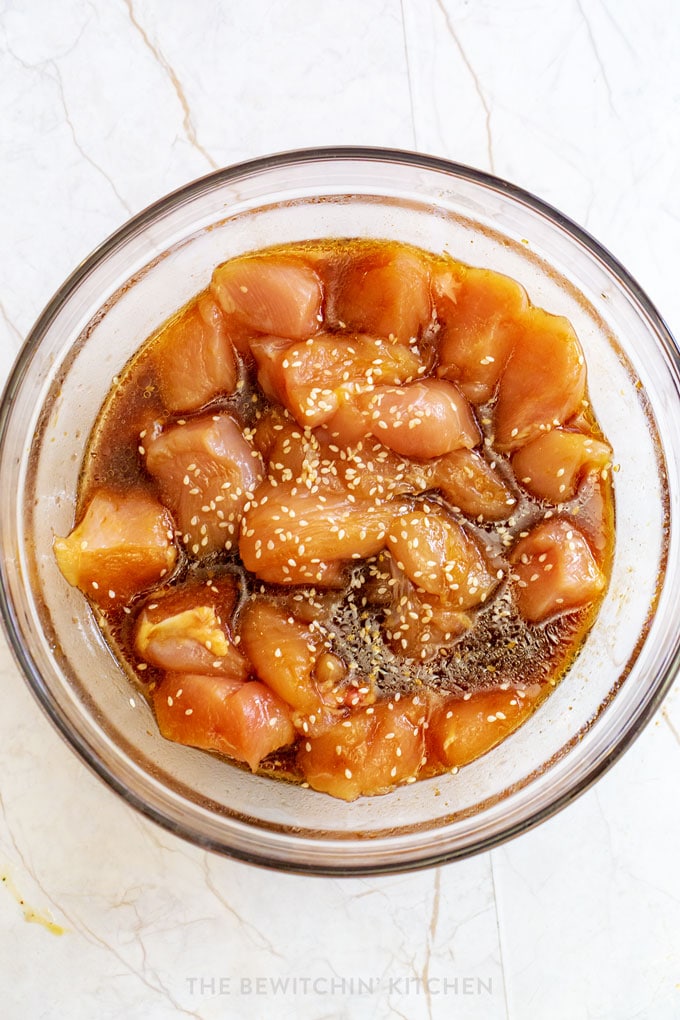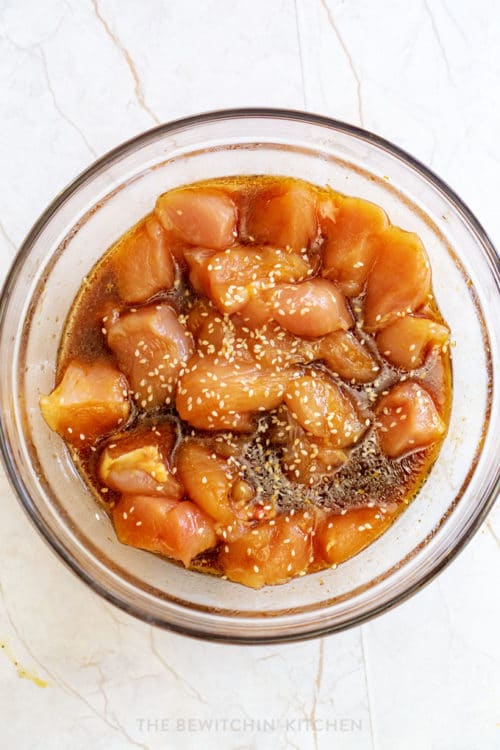 The longer the better. I've made this a few times and I prefer to marinate it overnight.
However, if you're anything like me. You probably opened up this recipe and you have today (or even 30 minutes).
Marinate the Hawaiian bbq chicken as long as you can. I recommend a minimum of two hours, but 30 minutes will work too (the flavor just won't be as "deep").
How to make chicken pineapple skewers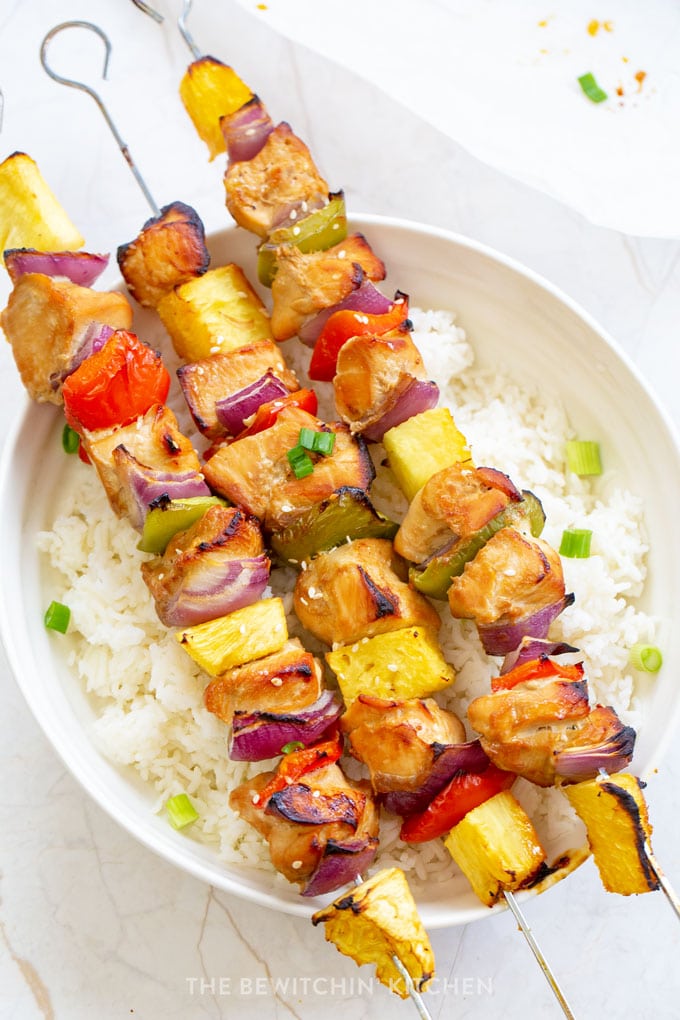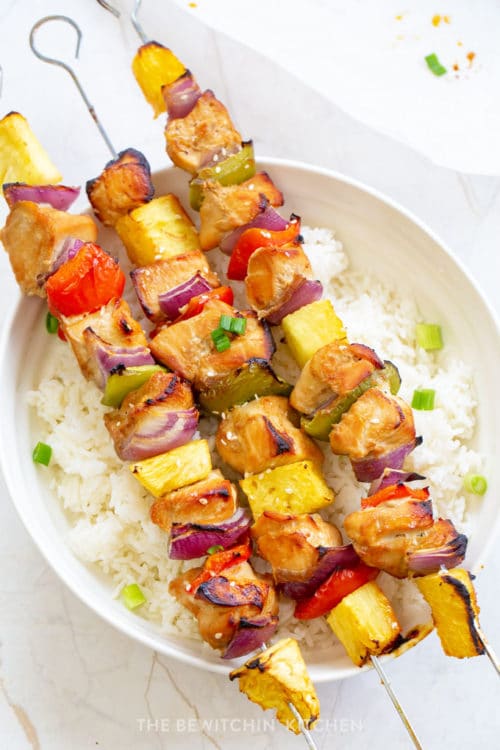 Putting together these Hawaiian chicken skewers is a breeze.
It really doesn't matter what order you put the vegetables, pineapple, and chicken on so do whatever pattern you want.
Randa's Tip: If you have young kids around, this is a fun activity for them. It helps them work on patterns!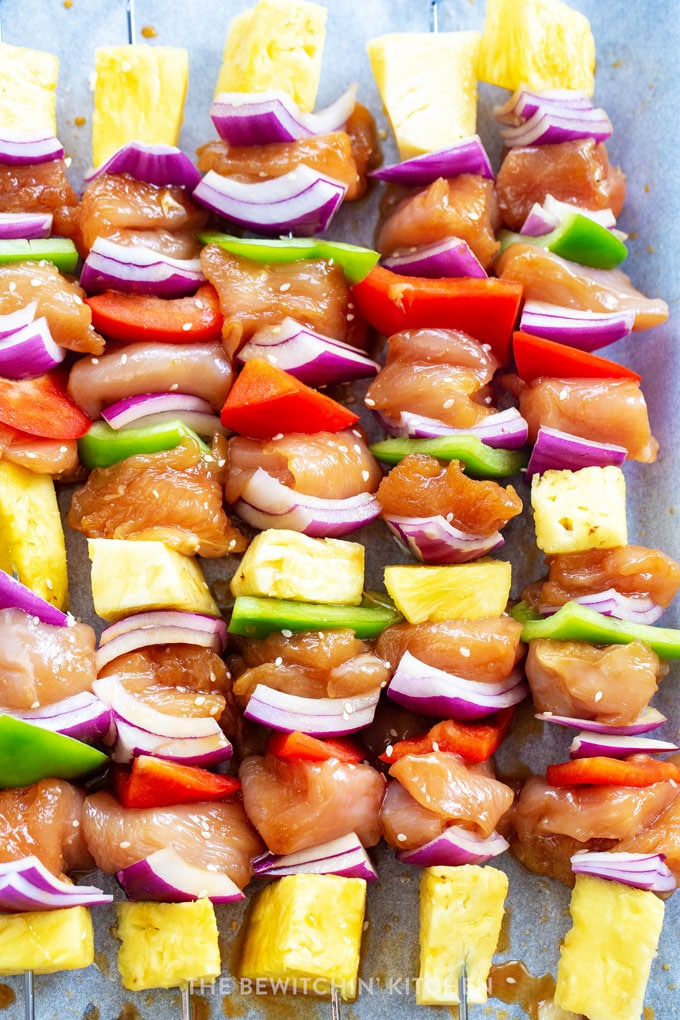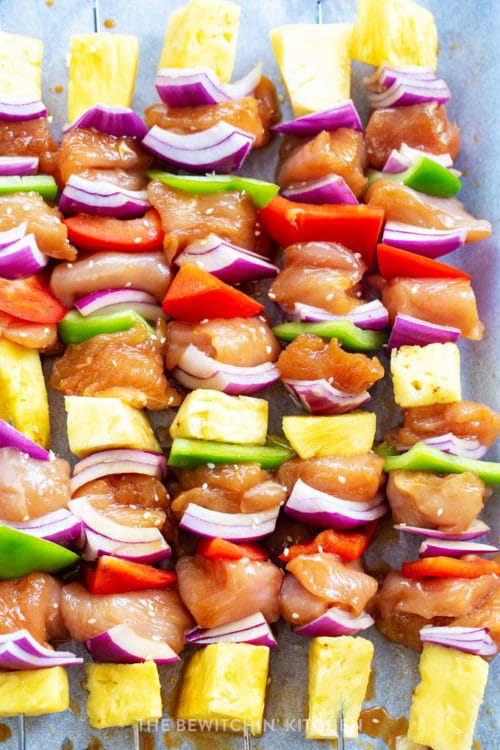 Looking for more? Search the recipe sections over at Chicken.ca to discover more healthy recipes. Don't forget to follow them over at Facebook, Twitter, Instagram, and Pinterest.
More chicken recipes that are perfect for summer:
Chicken Pineapple Skewers
Prep Time 15 minutes
Cook Time 25 minutes
Total Time 40 minutes
Servings 6 skewers
Calories 148kcal
Ingredients
1/4 cup coconut aminos or soy sauce
1 tbsps sesame oil
1/2 tsp ginger powder
1/4 tsp sea salt
1 tsp sesame seeds
1 lb chicken breasts cubed
2 pineapple spears cubed
1 red onion cubed
1 green pepper cubed
1 red pepper cubed
Instructions
In a bowl whisk together the coconut aminos, oil, ginger powder, salt, and sesame seeds. Add the cubed chicken, cover the bowl, and marinate for 2-4 hours.

Preheat oven to 450

Take 6 skewers (I used the long metal ones) and alternate the pineapple, onion, chicken, green pepper, onion, chicken, red pepper, onion, and pineapple. Repeat until there is no room.The sequence of the ingredient really doesn't matter. Make it how you want.

Bake in the oven for 25 - 30 minutes, flipping at the 15-minute mark, or until cooked through.
Grilling
Oil the grill and grill over medium heat. 2-3 minutes on each side.
Nutrition
Serving: 1skewer | Calories: 148kcal | Carbohydrates: 8g | Protein: 16g | Fat: 4g | Cholesterol: 48mg | Sodium: 412mg | Potassium: 406mg | Fiber: 1g | Sugar: 4g | Vitamin A: 725IU | Vitamin C: 45.3mg | Calcium: 16mg | Iron: 0.6mg
Follow On Pinterest
Follow @randaderkson On Pinterest for more delicious recipes!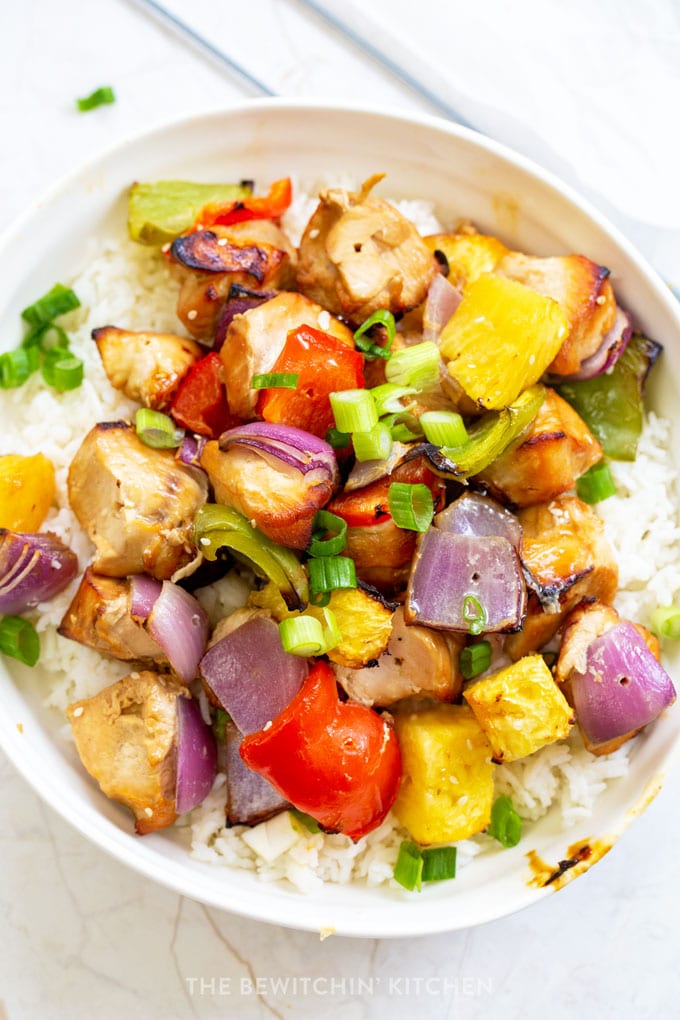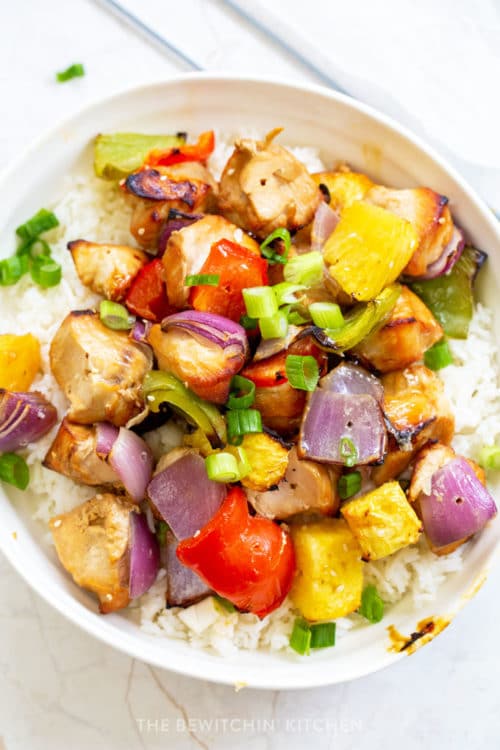 FREE Recipe Binder
Are you constantly wondering what's for dinner?
When I don't meal plan I feel behind, and we usually end up ordering take out. This recipe binder will keep you organized and make life a little bit easier.