Smothered Chicken
This recipe for Smothered Chicken makes a restaurant-worthy meal that is sure to impress family or dinner guests. Ready in about 30 minutes, Southern smothered chicken is intensely flavorful and satisfying!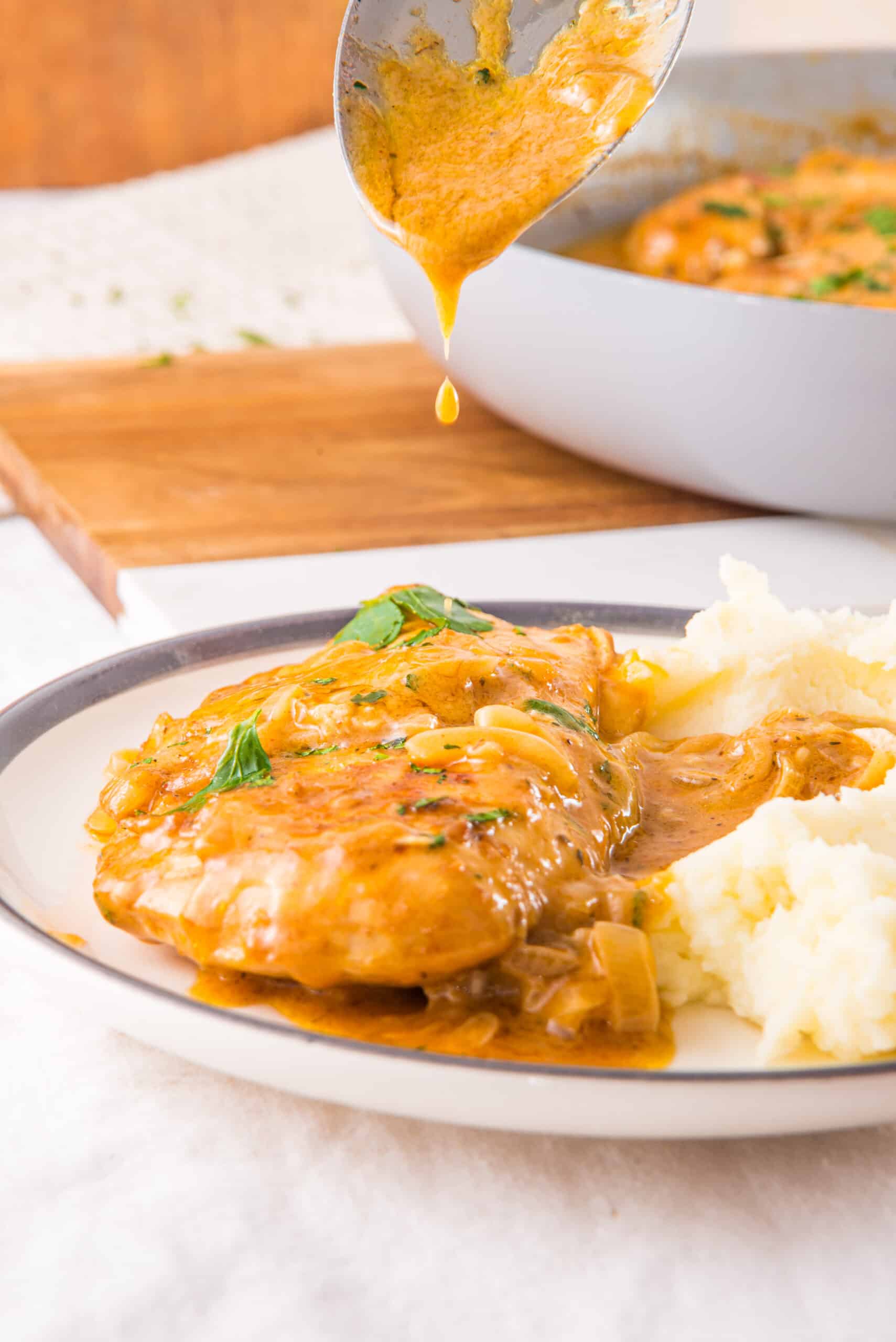 Recipe for Smothered Chicken
Need a new way to enjoy chicken? Transform simple pan-seared poultry into a comfort food delight with a flavorful gravy. It only takes a few minutes to make, but the results are phenomenal.
The best part about this smothered chicken recipe truly is the sauce. Smooth and creamy with a bold, savory flavor, it's easy to make with a few ingredients — and can be drizzled over your entire plate!
Learn how to make smothered chicken in a few simple steps, then serve alongside comforting sides such as mashed potatoes or cottage fries. Don't forget some marinated green beans or roasted asparagus to lighten up your plate! I also love this keto cornbread recipe. It would pair really well with the sauce.
Why you will love this recipe
Ready in 35 minutes
Impressive enough for guests
Pairs with a variety of sides
Easy to double or triple
Customize with your favorite herbs and spices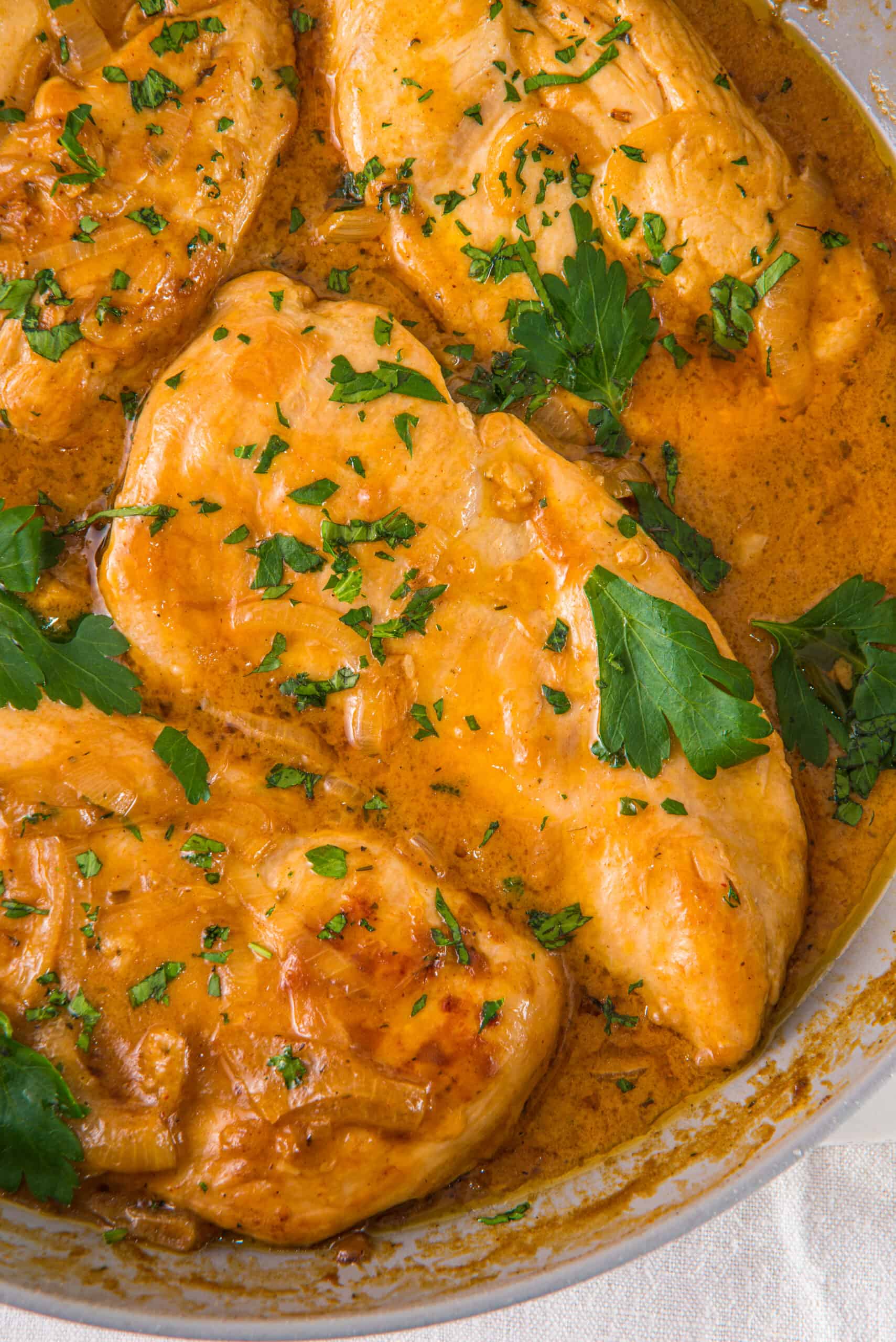 How to Make Smothered Chicken
Cook the chicken: Slice both breasts lengthwise into four filets, then rub with salt and pepper. Melt butter in a heavy-bottomed skillet and cook filets on both sides until just cooked through. Transfer to a plate and cover to keep warm.
Sauté onion and garlic: In the same skillet, sauté onion slices in olive oil until softened and golden brown. Stir in minced garlic and cook until fragrant, about a minute.
Make the sauce: Add cream, broth, paprika, thyme, and Worcestershire sauce to the skillet, stirring until well combined. Bring to a boil, then reduce to a simmer and stir in a cornstarch slurry — 1 tablespoon cornstarch mixed with 1 tablespoon water.
Simmer all together: Return the chicken to the pan and simmer in the sauce for a few minutes. Serve smothered chicken with your choice of sides, spooning the sauce over the top for maximum flavor.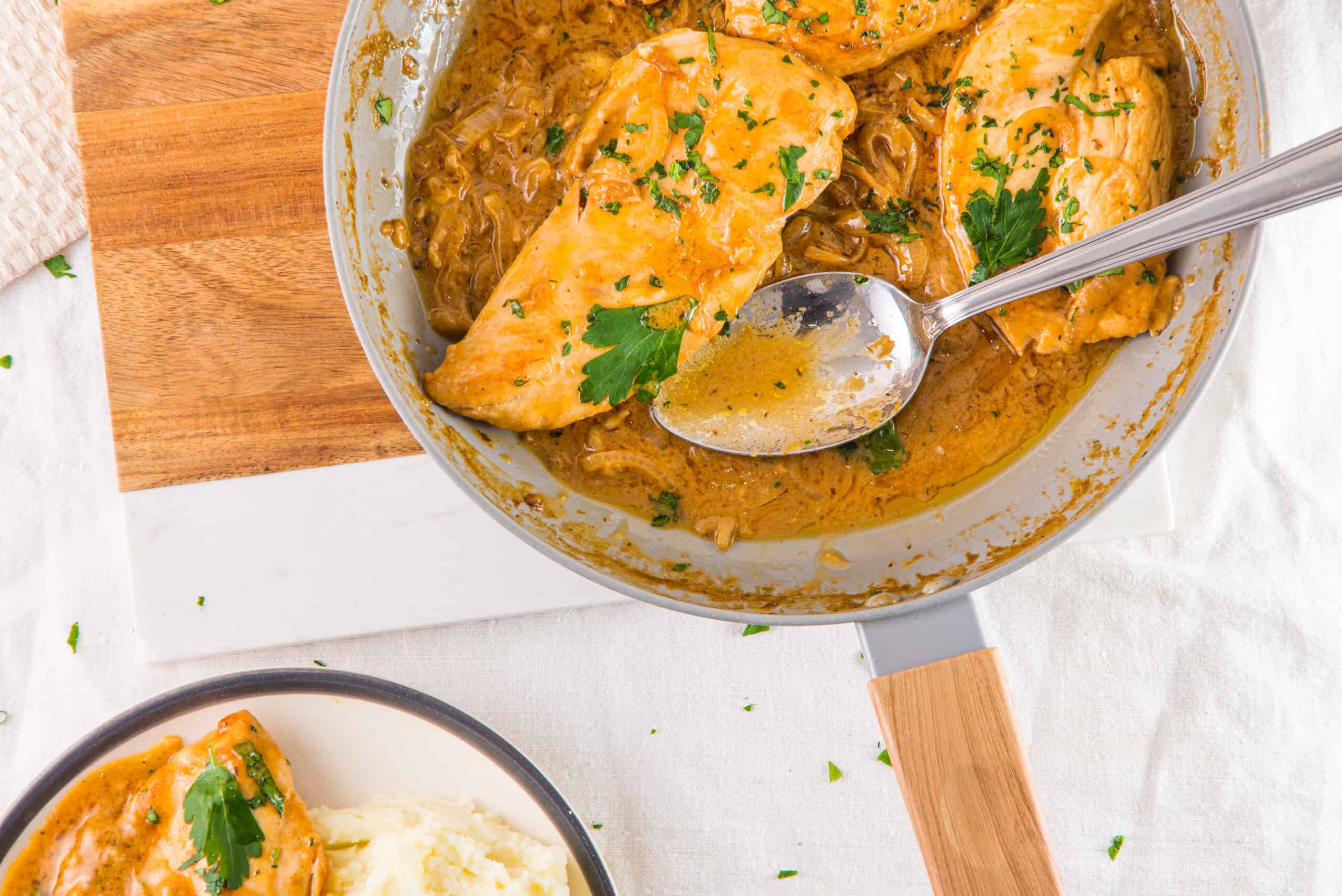 Pro Tips
Keep filets evenly sized. Choose chicken breasts that are similar in size and thickness, then slice evenly through the middle so every filet is nearly identical. This ensures that they cool evenly and no parts are over- or undercooked.
Don't overcook the chicken. Not only will the filets continue to cook as they rest, but they'll finish cooking when simmered in the sauce. If you cook them through at the beginning, your smothered chicken will be tough and dry when served.
Bring heavy cream to room temperature. This ensures that your smothered chicken sauce remains silky and smooth! If you don't have time to let it warm on the counter, then be sure to drizzle it slowly into the pan while whisking constantly.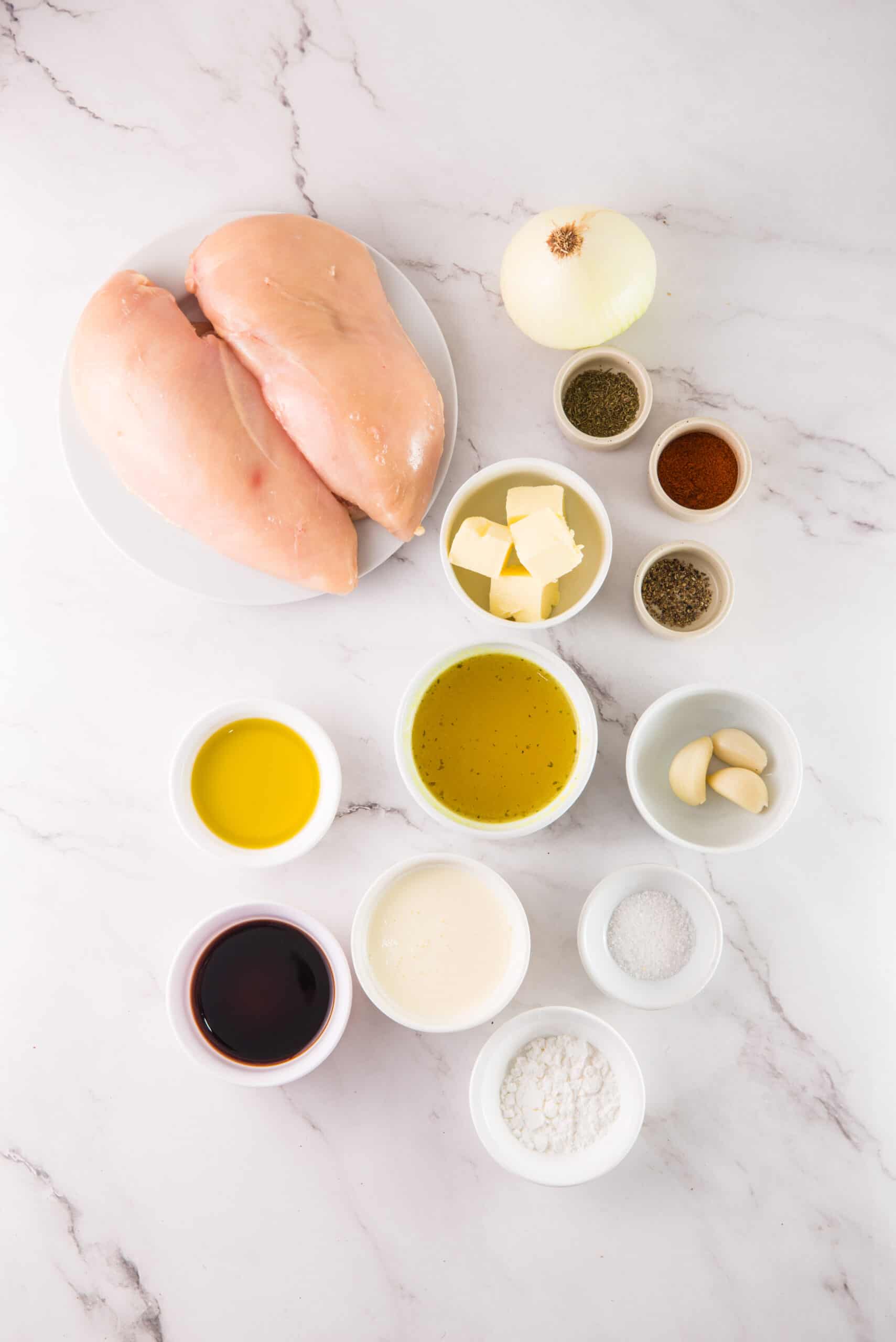 Key Ingredients and Substitutions for Southern Smothered Chicken
Chicken Breasts: Opt for large boneless and skinless breasts to make this recipe for smothered chicken. They need to be thick enough to slice into filets.
Butter and Olive Oil: Yes, we're using both! Butter is best for browning chicken, while oil is preferred for onions and garlic since it won't burn. Plus, the combination creates a delicious base of flavor.
Heavy Cream: For a lighter version of this smothered chicken recipe, feel free to use half & half or milk instead. Keep in mind that you may need to double the cornstarch slurry to achieve the same consistency.
Cornstarch: This simple ingredient is key to thickening your sauce. Whisk with an equal amount of water until dissolved to make a slurry. Arrowroot powder is a good substitute and will keep this recipe gluten-free.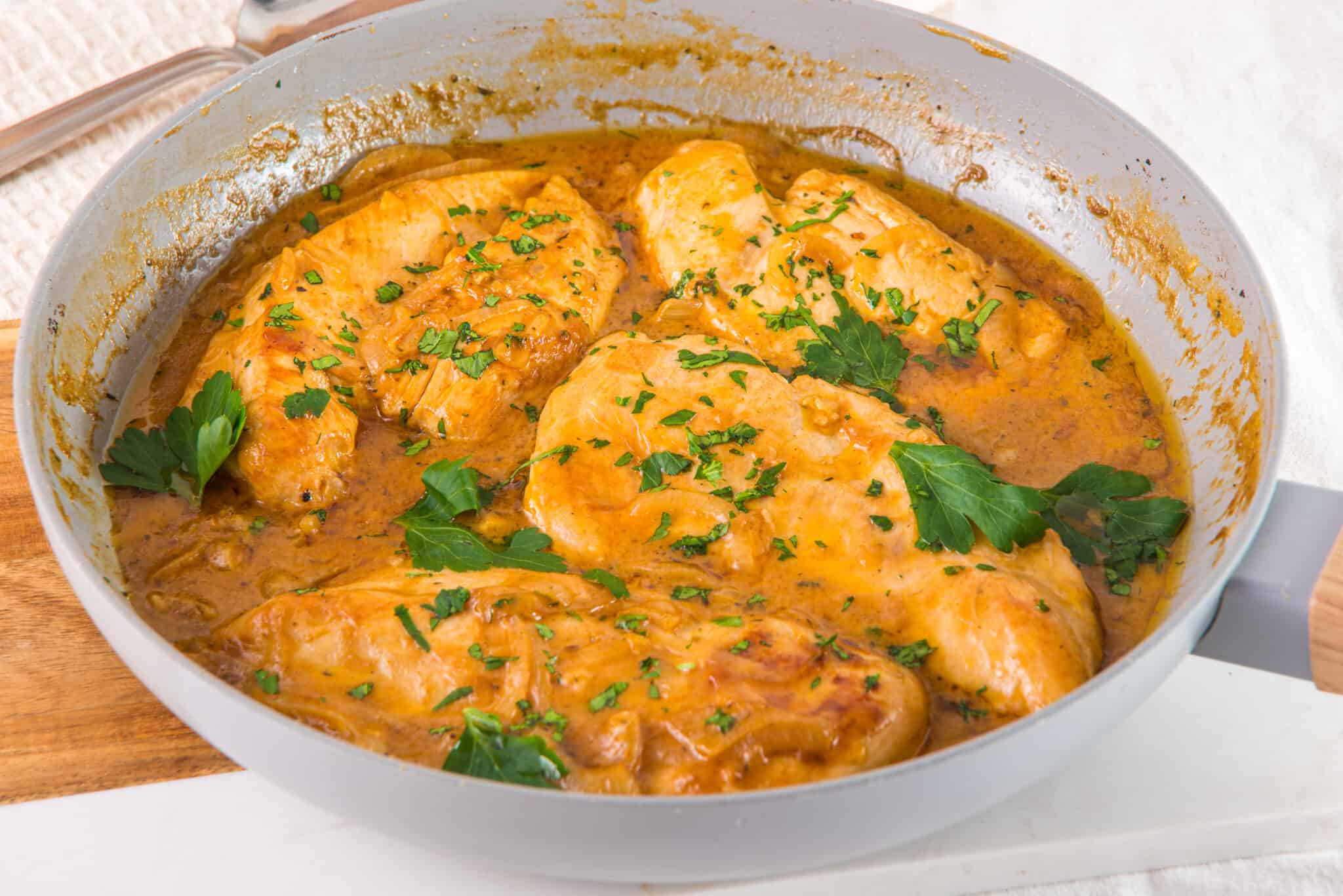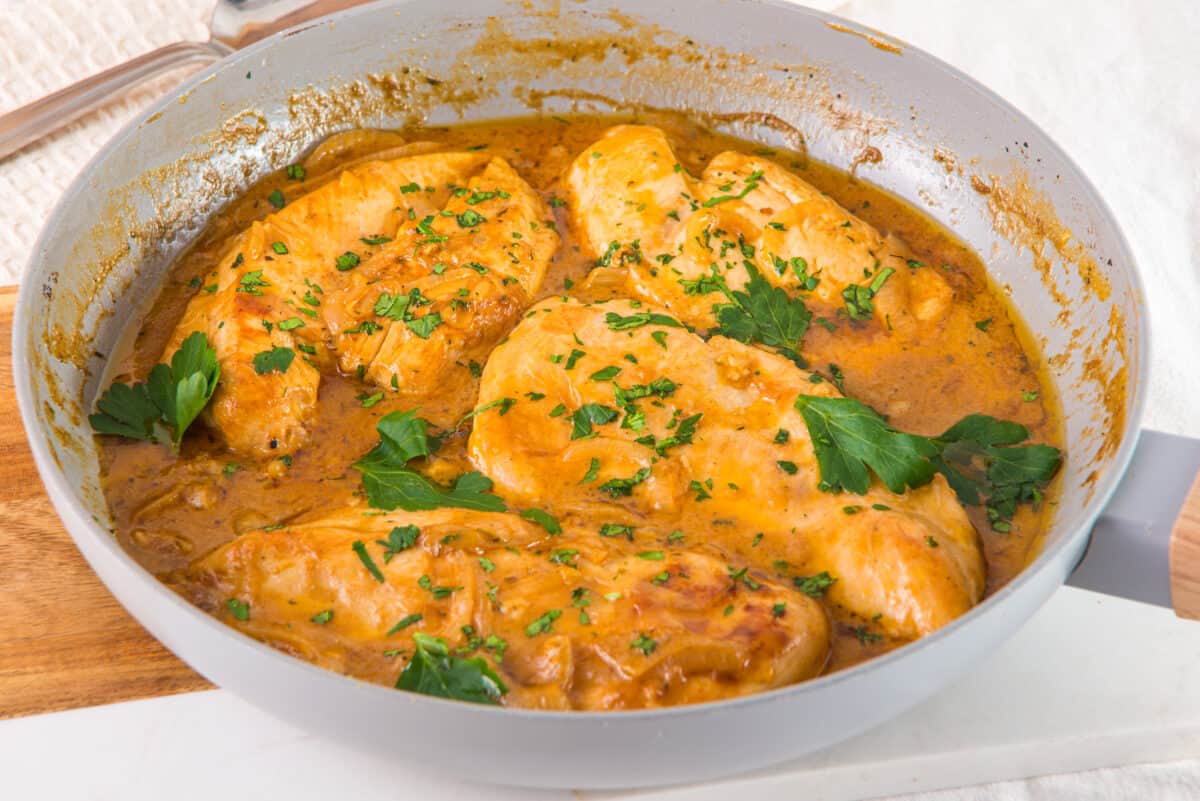 Frequently asked Questions about this Smothered Chicken Recipe
What is smothered chicken?
It's a simple dish of pan-seared chicken simmered in a creamy pan gravy. The poultry can be breaded or not, depending on the version. Many Southern smothered chicken recipes use thighs or drumsticks instead of breast meat, but the recipe works with whatever is available to you!
Can I freeze leftover chicken with gravy?
Sure! Transfer both meat and sauce to an airtight container and freeze for up to 3 months. Leftovers will also keep in the refrigerator for 4 to 5 days.
To reheat, simmer smothered chicken on the stove until warmed through. Thaw in the refrigerator first if frozen.
What other seasonings can I use for Southern smothered chicken?
There are so many ways to make this smothered chicken recipe your own! You can even toss in some mushrooms with the onions to make the gravy extra savory. As far as seasonings, here are some ideas to get you started:
Add red pepper flakes or cayenne pepper for some heat.
Replace thyme and paprika with your favorite poultry seasoning.
Swap regular paprika for smoked paprika.
Use Italian seasoning for a stronger herb flavor.
Include Cajun or Creole seasoning for true Southern flavor.
Smothered Chicken
This recipe for Smothered Chicken makes a restaurant-worthy meal that is sure to impress family or dinner guests. Ready in about 30 minutes, Southern smothered chicken is intensely flavorful and satisfying!
Servings 4 Servings
Calories 376kcal
Ingredients
2 large chicken breasts
1 tsp salt
1/2 tsp black pepper ground
2 tbsp butter
2 tbsp olive oil
1 medium yellow onion thinly sliced
2 clove garlic cloves minced
1/2 cup heavy cream
1 cup chicken broth
1 tsp paprika
1/2 tsp dry thyme
1 tsp Worcestershire sauce
1 tbsp cornstarch
Instructions
Cut chicken slices into 4 filets. Then, rub them with salt and pepper.

Heat 2 tbsp of butter in a large skillet, preferably a heavy bottom skillet. Add chicken filets and cook from both sides until golden. Cook the chicken until it's just cooked through. Overcooking can make it dry and tough. Remove it from the skillet and cover it to keep it warm and moist.

Add olive oil to the skillet and sauté sliced onion for 5-7 minutes or until golden. Next, add minced garlic and stir to fragrant.

Incorporate heavy cream, chicken broth, paprika, thyme, and Worcestershire sauce. Stir to combine and bring it to a boil. To thicken the sauce, add cornstarch. First, dissolve the cornstarch in a small amount of cold water to create a slurry. Then, stir it into the sauce. This prevents lumps and ensures a smooth consistency.

Reduce heat and add chicken breast. Simmer it in the sauce for a couple of minutes with the lid on. This allows the flavors to meld and ensures the chicken absorbs the delicious sauce.

Serve warm with mashed potato on the side. Spoon the flavorful sauce over the chicken for maximum enjoyment. Consider garnishing with fresh herbs, such as chopped parsley or chives, for a pop of color and freshness.
Notes
Tips
When cutting the chicken breasts into filets, try to make them uniform in thickness. This ensures even cooking and prevents some pieces from overcooking while others are undercooked.
Recipe Notes
This restaurant-style dish will impress your guests or family. The result is a flavorful, juicy, and satisfying chicken that combines perfectly with different types of sides like mashed potatoes, potato wedges, green beans, or asparagus.
Taste-wise, the sauce is smooth and creamy with a powerful taste due to the onion, garlic, Worcestershire sauce, and thyme.
Nutrition
Calories: 376kcal | Carbohydrates: 7g | Protein: 27g | Fat: 27g | Saturated Fat: 12g | Polyunsaturated Fat: 2g | Monounsaturated Fat: 10g | Trans Fat: 0.2g | Cholesterol: 125mg | Sodium: 1011mg | Potassium: 551mg | Fiber: 1g | Sugar: 3g | Vitamin A: 903IU | Vitamin C: 4mg | Calcium: 45mg | Iron: 1mg
Follow On Pinterest
Follow @bewitchinkitchen On Pinterest for more delicious recipes!