Watermelon Fruit Cake
Serve Watermelon Fruit Cake as a healthy alternative to classic bakery treats. Made with fresh fruit and a homemade whipped cream, it's suitable for any occasion!
Watermelon Fruit Cake
The recipe for watermelon cake about technique with how to cut the watermelon and how to display the fruit to get a beautiful dessert.
Create a stunning display for your next event with this recipe for watermelon cake. This all-fruit dessert is perfect for first birthdays, as well as a vegan or allergen-friendly alternative to traditional cakes.
Better yet, you can enjoy a sweet dessert (without the guilt) knowing that it's loaded with vitamins, minerals, and dietary fiber. Go ahead and help yourself to a second slice!
And for more scrumptious Bewitchin' Kitchen fruit desserts, check out our Peach Compote, Baked Apple with Coconut Cream, and Healthy Fruit Popsicle Recipe.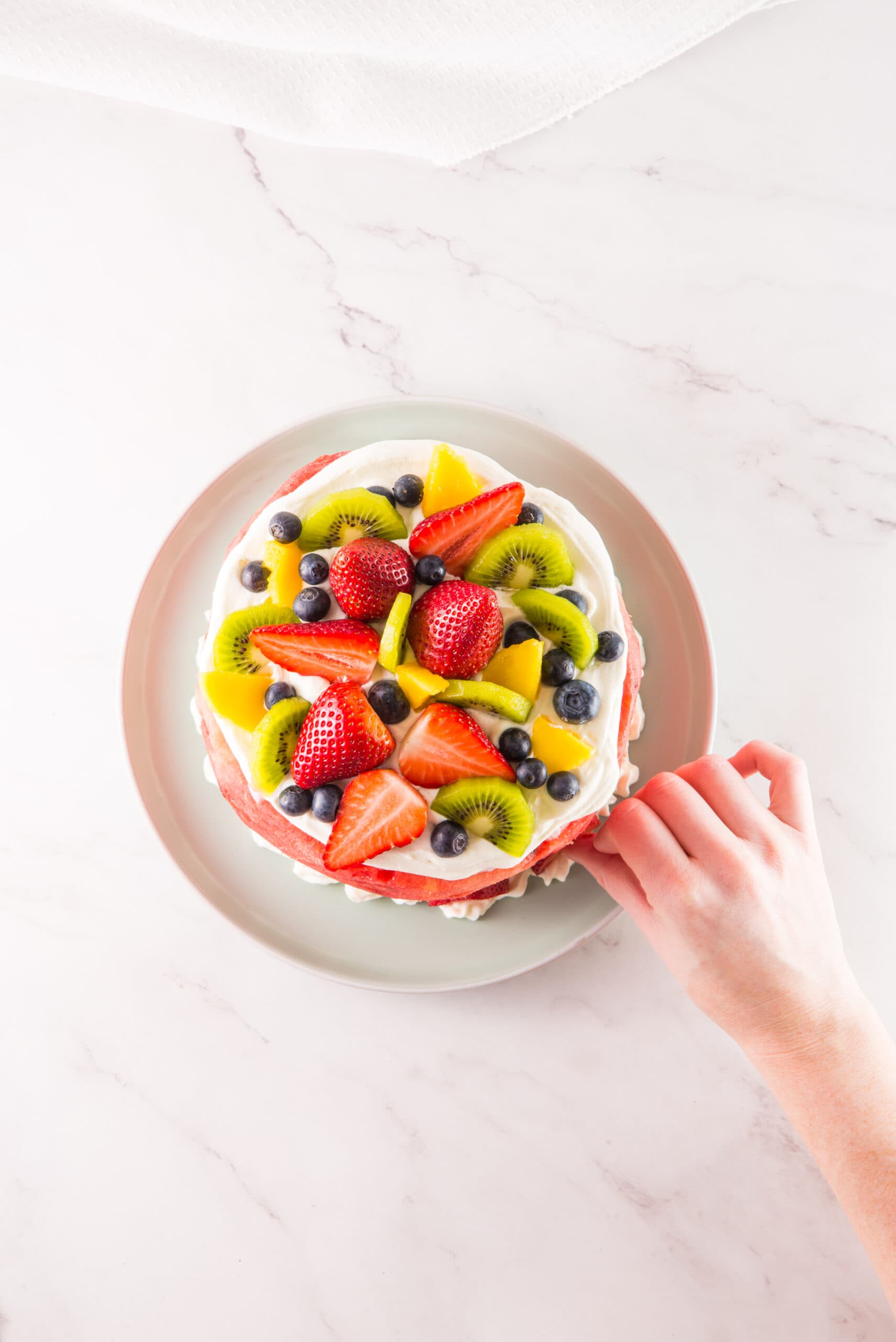 Why you will love this recipe
Naturally gluten-free
Low in calories and sugar
No oven required
Bright and colorful
Extra hydrating in warmer weather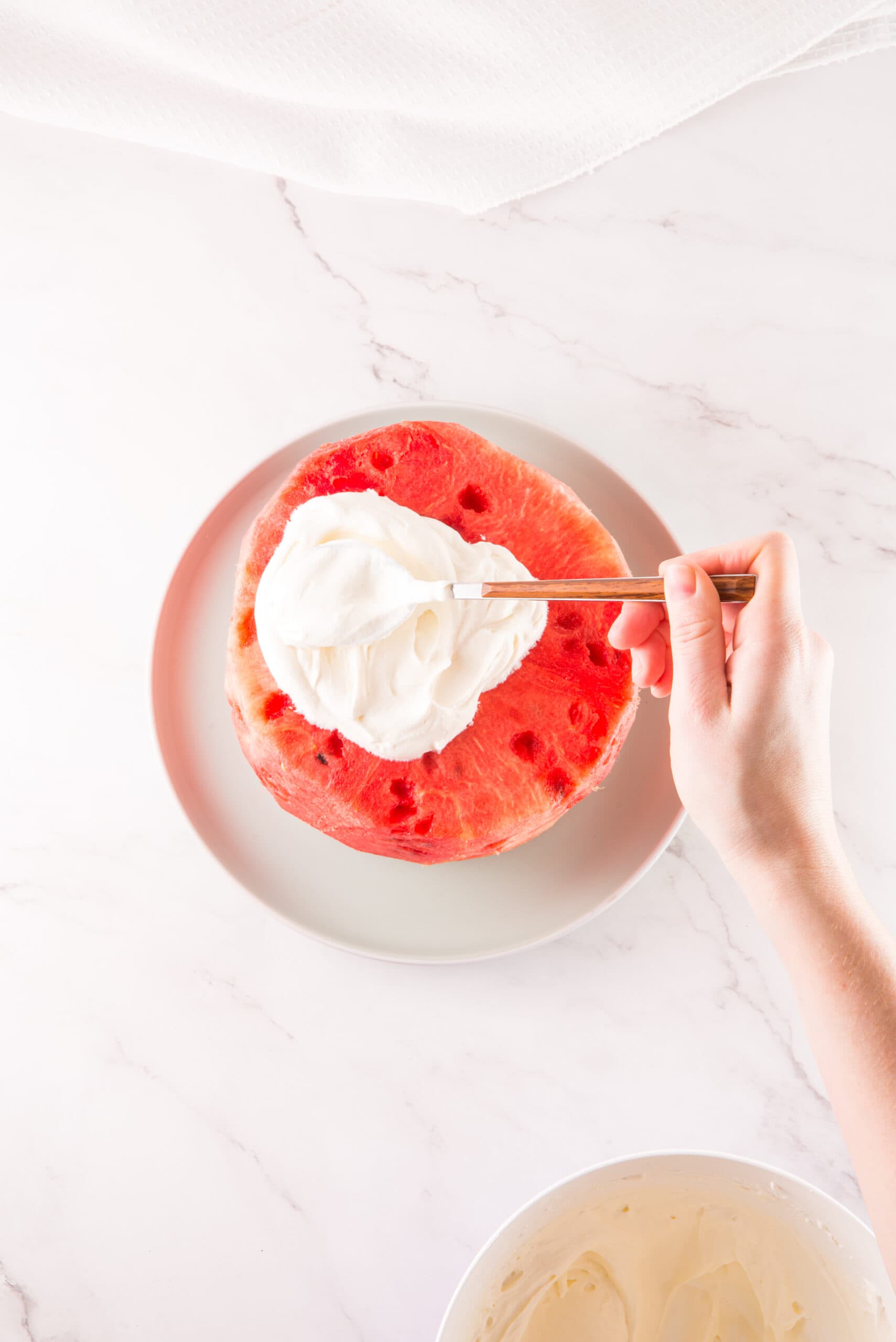 How to Make Watermelon Cake
Carve the melon. Slice off both ends, then carefully remove the rind with a large sharp knife. You can slice more off of each end if you would like your watermelon fruit cake to be a bit shorter — just save those pieces to munch on later!
Make stabilized whipped cream. Using the whisk attachment, whip cold heavy cream, powdered sugar, and vanilla until soft peaks form.
Then, gently incorporate the powdered milk with a spatula so the whipped cream doesn't deflate. Refrigerate until you're ready to decorate.
Decorate with fresh fruit toppings. Rinse and dry the berries, removing the stems from the strawberries. Peel and chop the mango and kiwi to your desired size and shape.
Use a piping bag to add the whipped cream to the watermelon fruit cake. You can smooth it out like buttercream or decorate with accent dollops. Then, add the remaining fruit — it would be lovely around the base, on top, or a combination of both.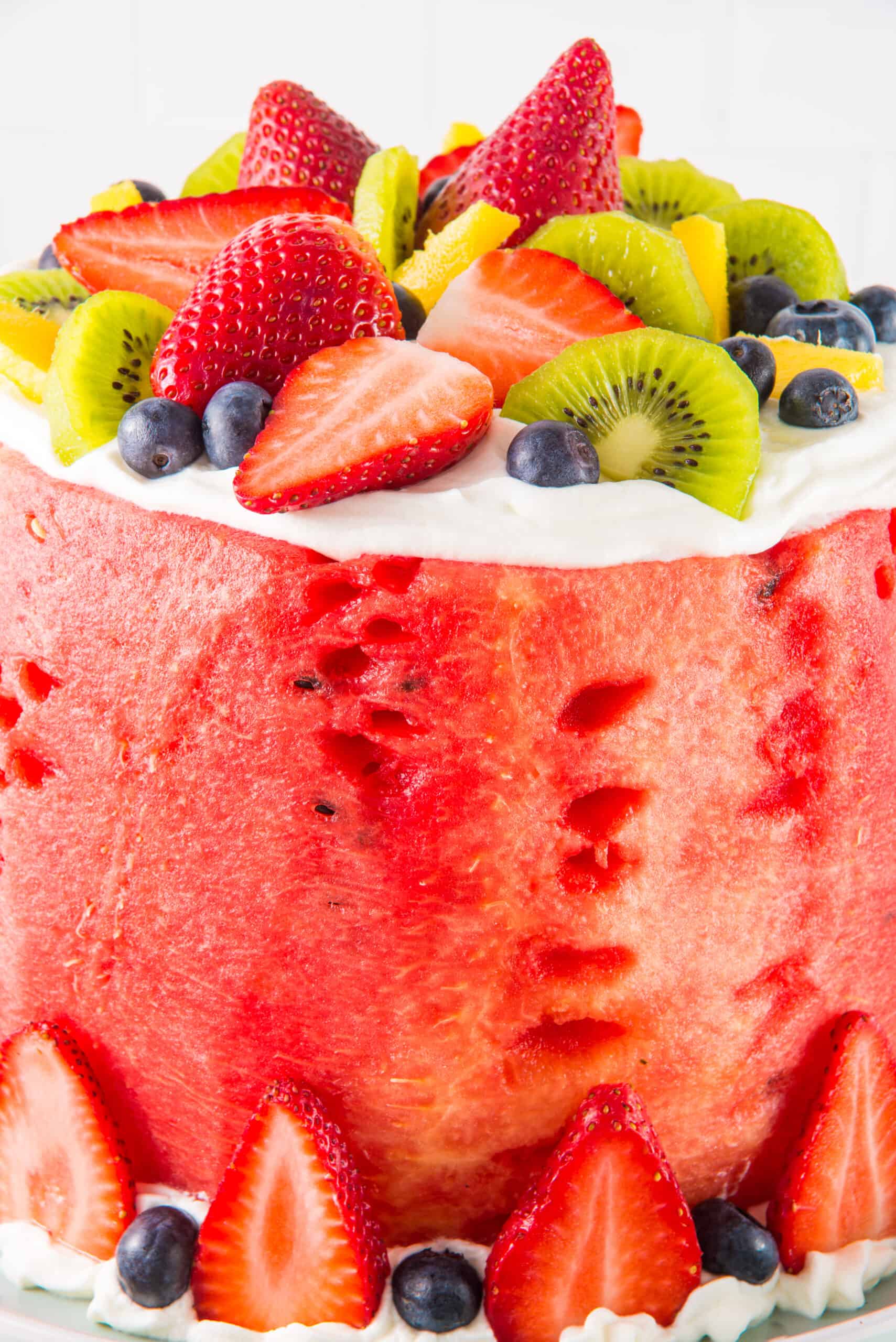 Pro Tips
Slice carefully. Work slowly to ensure that the peel is removed evenly on all sides. You don't want to leave any part of the peel, including the inner white layer.
Pat the fruit dry. This goes for both the watermelon cake and the fruit toppings. Excess moisture will cause the whipped cream to slide right off the surface.
Toothpicks are your secret weapon! If you want to decorate the sides of your watermelon fruit cake, use toothpicks to secure the berries and mango pieces. Kiwi will be too fragile to put on a toothpick, though, so keep that in mind.
Use chilled heavy cream. We're talking straight out of the refrigerator! In fact, toss your bowl and beaters in there too. The colder the cream, the easier it will whip up into soft peaks — and cold tools help it along even more.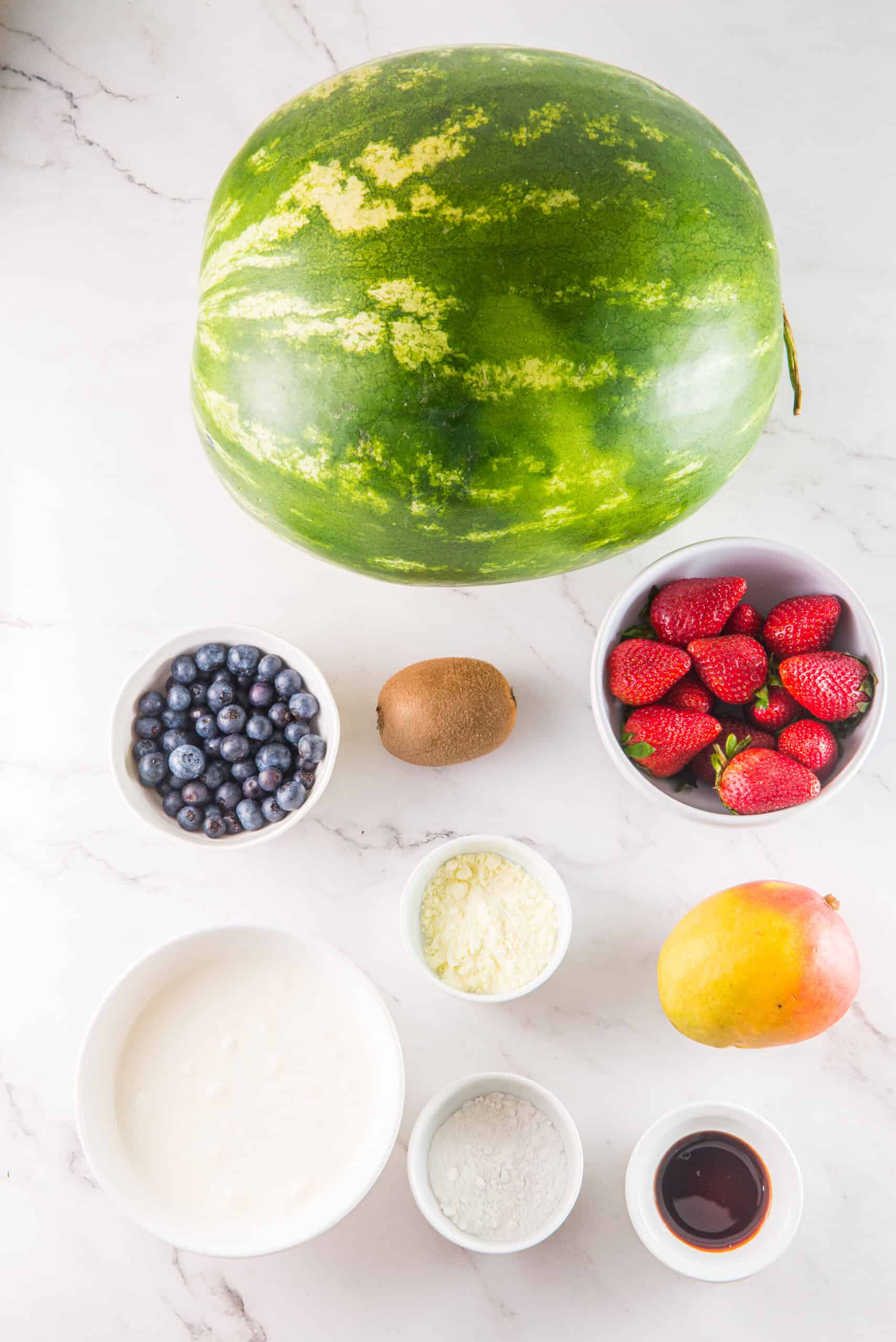 Key Ingredients and Substitutions for Watermelon Cake
Watermelon: Choose a small, ripe watermelon for best results — find plenty of tips for doing so in the FAQ below. Also, opt for a seedless variety if you can.
Whipped Cream: Make this yourself with heavy cream, powdered sugar, and vanilla extract. A little powdered milk will help to stabilize it so that it doesn't deflate too quickly. For a dairy-free or vegan watermelon cake, use coconut cream or a plant-based whipping cream and replace the powdered milk with cornstarch.
Fresh Fruit: This watermelon cake features blueberries, strawberries, kiwi, and mango for toppings. Raspberries and blackberries would be tasty additions, as would sliced stone fruit like apricots and nectarines.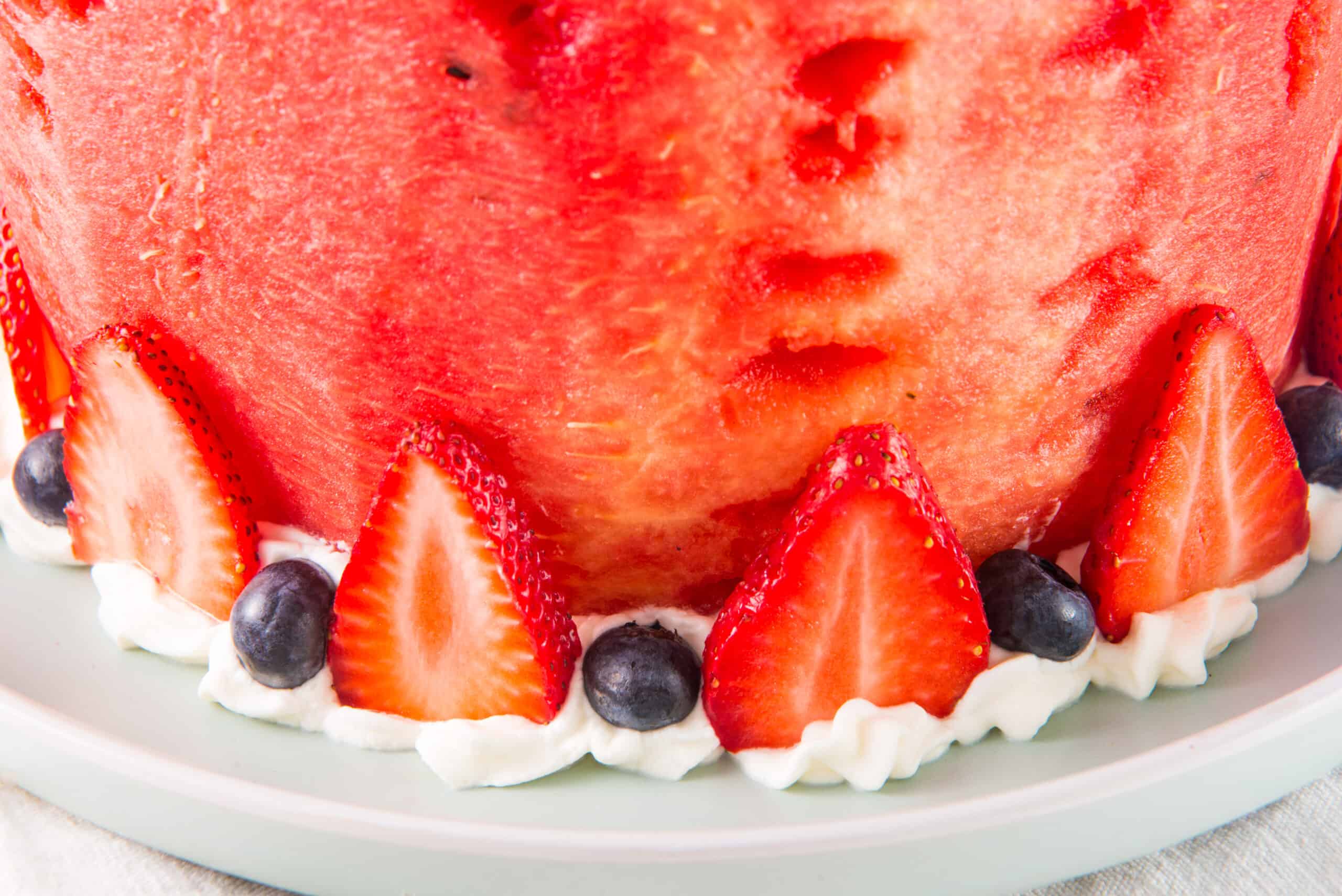 Frequently asked Questions about this Recipe for Watermelon Cake
How do you cut a watermelon for watermelon cake?
First, slice off both ends to make a flat surface. Rest the melon on one end and slice down with a large, sharp knife, following the natural curve, to remove the outer green rind. Continue until all that's left is the red inner fruit.
You can then use your knife to clean up the edges and create a nice, consistent shape.
Can I make this recipe ahead of time?
A fully assembled watermelon fruit cake can be chilled for up to 6 hours. You can also trim the watermelon and prepare the other fruit toppings a day in advance, but wait to make the whipped cream until just before decorating.
How do you choose a ripe watermelon?
First, look for a creamy yellow spot on one side, also known as the "field spot." This is where the melon rested on the ground as it ripened. The stem should also be dry and yellow-brown, not green.
Vein-like webbing on the surface is a sign of extra sweet fruit, and a hollow sound when you knock on the fruit indicates that it's extra juicy — as does being heavy for its size.
Finally, rounder watermelons tend to have more flavor. Keep in mind that watermelons do not continue to ripen off of the vine, so be sure it's fully ripe when you purchase it from the store.
Watermelon Cake
Serve Watermelon Fruit Cake as a healthy alternative to classic bakery treats. Made with fresh fruit and a homemade whipped cream, it's suitable for any occasion!
Servings 10 Servings
Calories 337kcal
Ingredients
1 small watermelon
2 cup heavy cream chilled
3 tbsp powdered sugar
2 tbsp powdered milk
1 tsp vanilla extract
1 cup blueberries
12 small strawberries
1 small kiwi fruit
1/2 medium mango
2 tsp mint leaves
Instructions
Start by chopping off the tips of a watermelon. Use a large knife with a sharp blade for better results. Then, place the watermelon onto the flat side and chop off the sides. After removing the hard peel, work around it gently to give it a nice finish.

Whip up the cream: Utilizing either a hand-held or stationary mixer equipped with a whisk attachment, beat the heavy cream, powdered sugar, and vanilla extract at a medium-high speed until you achieve peaks, which typically take around 3 to 4 minutes. In the event of accidental over-whipping resulting in a curdled and dense appearance, simply add a small quantity of chilled heavy cream and gently incorporate it by hand using a spatula until the texture becomes smooth once more.

Once the cream is ready, incorporate powdered milk using a spatula. Refrigerate while you prepare the toppings for the cake. Use some paper towels to drain excess moisture from the watermelon so that the cream sticks properly. Next, chop your fruit toppings to your liking and set them aside.

Use a piping bag to decorate your cake. This amount of cream will be enough to play around. You can opt for covering the top and sides or only the top of the cake.

Finally, arrange the fruit topping around the cake. Serve immediately or refrigerate for up to 6 hours. This cake is definitely best when freshly made. After a few hours, the cream will lose its glossy appearance, and the fruit will become soggy.
Notes
Tips
Select a small watermelon that's ripe and firm. A ripe watermelon will have a sweet and juicy flavor.
Recipe Notes:
Watermelon Cake is a delightful and healthier alternative to traditional cakes. It features a base of ripe, sweet watermelon, topped with a light and creamy whipped cream, and adorned with a colorful array of fresh fruits such as strawberries, blueberries, kiwi, mango, and mint leaves.
Why it's a Good and Healthier Cake Replacement:
Low in Calories: Watermelon is naturally low in calories and sugar, making it a nutritious choice for a cake base. It's a refreshing and hydrating fruit.
Minimal Added Sugar: The only added sugar in this recipe comes from the powdered sugar used to sweeten the whipped cream. Compared to traditional cake recipes, which can be loaded with sugar, this dessert is relatively low in added sugars.
Fresh and Nutrient-Rich: Watermelon, strawberries, blueberries, kiwi, and mango are all packed with essential vitamins, antioxidants, and dietary fiber, offering a variety of health benefits.
Creamy and Light: The whipped cream, enriched with powdered milk, provides a creamy and indulgent texture without the heaviness of traditional frosting or icing.
Gluten-Free: This dessert is naturally gluten-free, making it suitable for those with gluten sensitivities or dietary preferences.
No Baking Required: Unlike traditional cakes that involve baking, this watermelon cake requires no oven time, making it a quick and easy dessert option, especially during hot weather when baking can be less appealing.
Eye-Catching Presentation: Watermelon cake is visually appealing, with its vibrant fruit toppings and fresh, summery colors, making it a fantastic centerpiece for gatherings and celebrations.
Hydrating: Watermelon has a high water content, which can help keep you hydrated, especially in warm weather.
Nutrition
Calories: 337kcal | Carbohydrates: 44g | Protein: 5g | Fat: 18g | Saturated Fat: 11g | Polyunsaturated Fat: 1g | Monounsaturated Fat: 5g | Cholesterol: 55mg | Sodium: 24mg | Potassium: 630mg | Fiber: 3g | Sugar: 36g | Vitamin A: 3404IU | Vitamin C: 54mg | Calcium: 83mg | Iron: 1mg
Follow On Pinterest
Follow @bewitchinkitchen On Pinterest for more delicious recipes!