Smothered Potatoes
With tender pieces of potato smothered in a rich and savory sauce, Smothered Potatoes is a perfect side dish! Each bite is a flavor explosion that satisfies the stomach and the soul.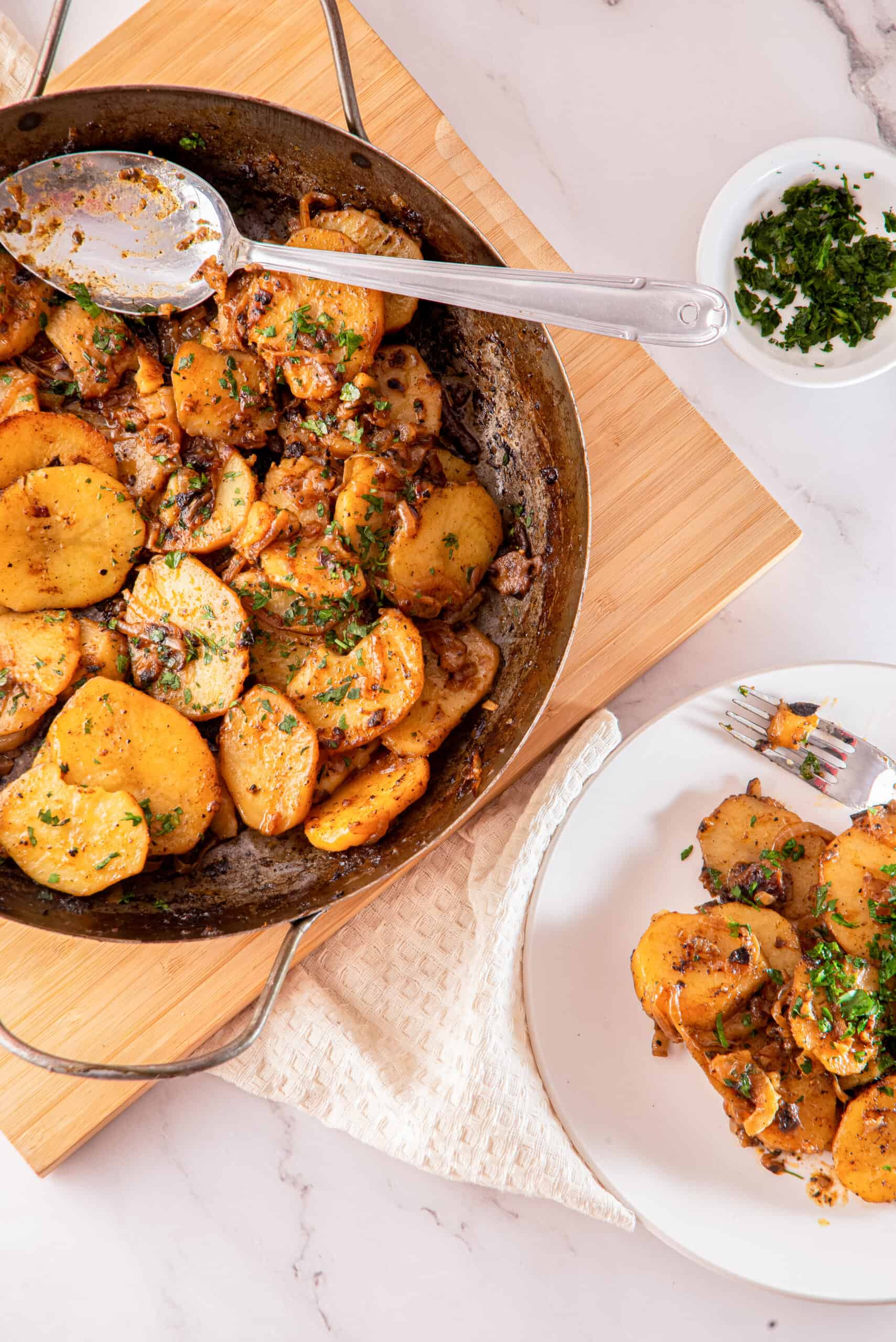 Creamy and Dreamy Smothered Potatoes
When it comes to comfort food, few dishes can compete with the warmth and heartiness of this smothered potato recipe.
This dish is a true delight for the taste buds, made with Yukon Gold potatoes, a creamy sauce, and a flavorful blend of spices. As you savor each bite of tender potatoes coated in rich, savory goodness, you'll be transported to a place of pure culinary bliss!
The perfect combination of chicken broth and heavy cream elevates the dish to new levels of richness, while a sprinkle of chopped parsley adds a burst of freshness.
These smothered potatoes can be enjoyed alone or alongside a mouthwatering main dish like our Slow Cooked Beef Stew or Chicken Pot Pie Soup!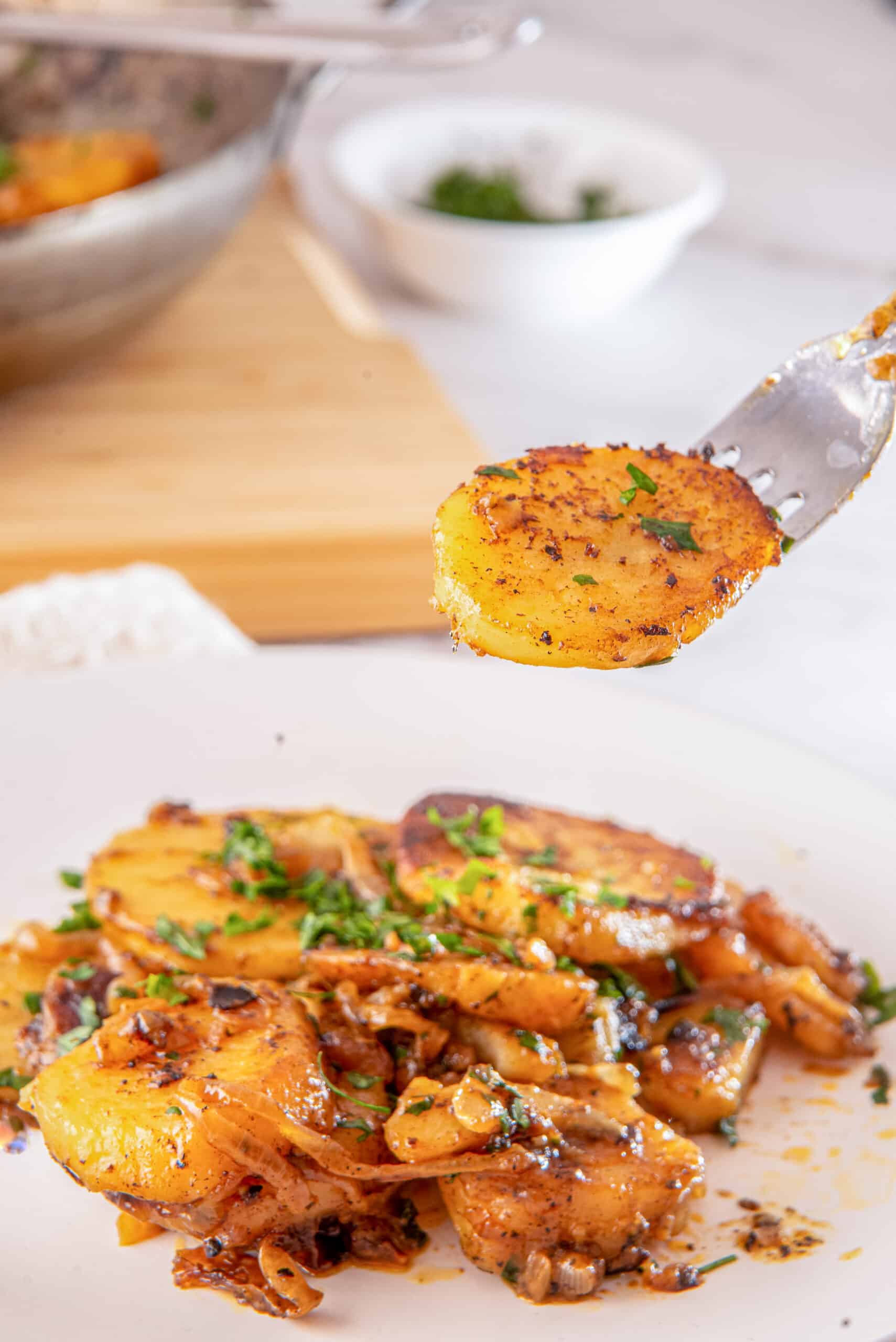 Why You Will Love This Smothered Potato Recipe
The butter and heavy cream used in the recipe give the potatoes and sauce a silky smooth texture that is simply irresistible!
The dish is gluten-free and can be made dairy-free by substituting plant-based cream.
The recipe is effortless to make and can be whipped up in no time – perfect for busy weeknights!
The combination of potatoes and gravy is a match made in heaven, providing a delicious and filling meal that is sure to satisfy your cravings.
Smothered potato leftovers reheat beautifully, making this dish perfect for meal prep. You can enjoy it all week!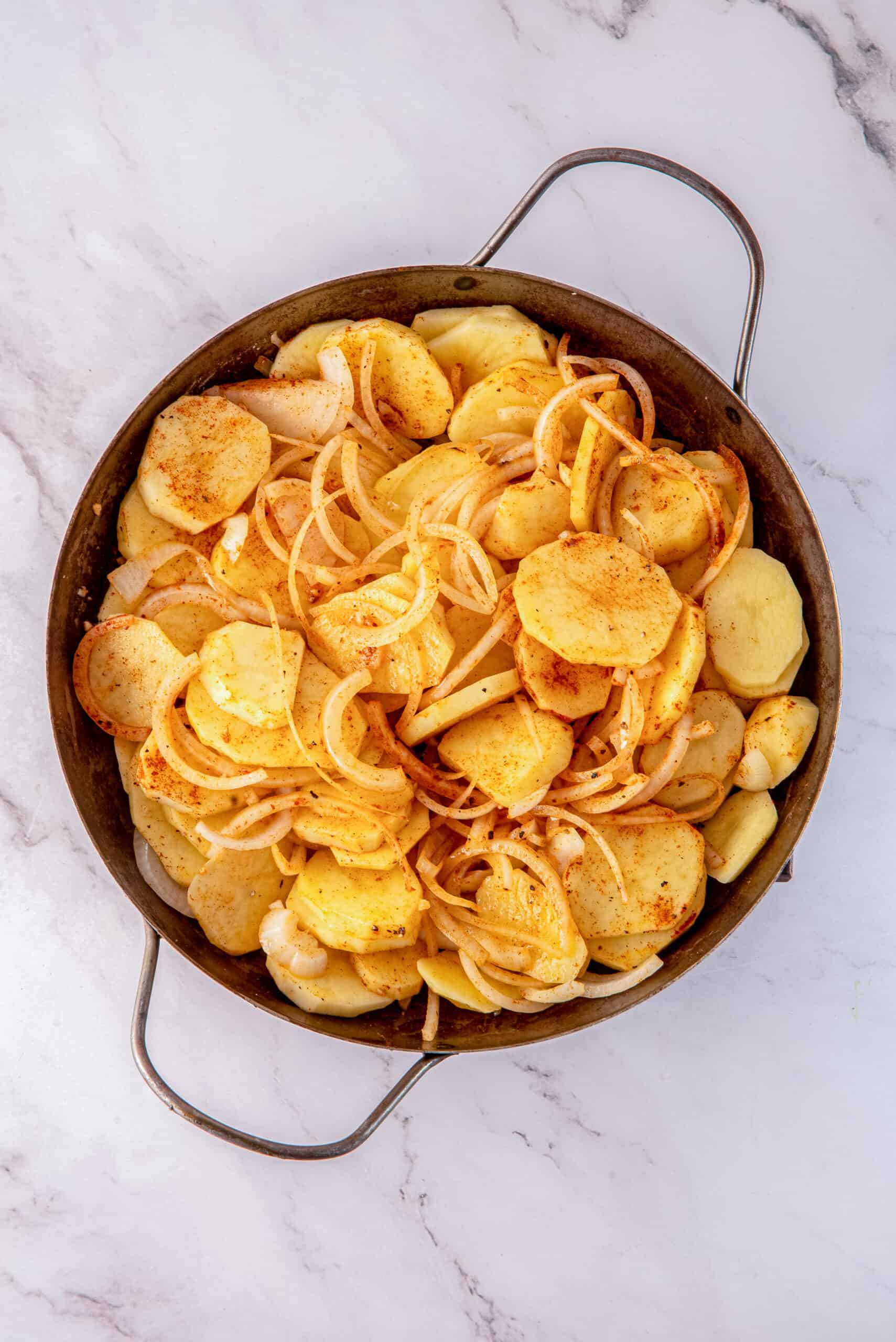 How to Make This Smothered Potato Recipe Perfectly!
Choose the correct pan: For the best results when cooking this recipe, opt for a skillet with a thick bottom, such as a cast iron or steel skillet!
Preheat the skillet: Before you begin cooking, preheat the skillet over medium heat on your stove. This will ensure even heat distribution and help prevent hot spots.
Avoid using non-stick pans: Non-stick pans can be convenient for some recipes, but they are not ideal for this smothered potato recipe as they may not provide the desired texture!
Watch your potatoes: Don't overcook your potatoes. Keep an eye on them and remove them from the heat once they're tender. This prevents them from becoming mushy and losing their texture!
Adjust the sauce consistency: If your sauce is too thick, don't panic! Simply add more chicken broth to thin it out to your liking.
Add herbs for extra flavor: Elevate your dish by adding chopped herbs like parsley or chives to the finished smothered potatoes. This simple addition can add a lot of extra flavor!
Store leftovers properly: If you have any leftovers, store them in an airtight container in the fridge for up to four days. When reheating, add a little liquid like broth or milk to refresh the potatoes and maintain their moisture.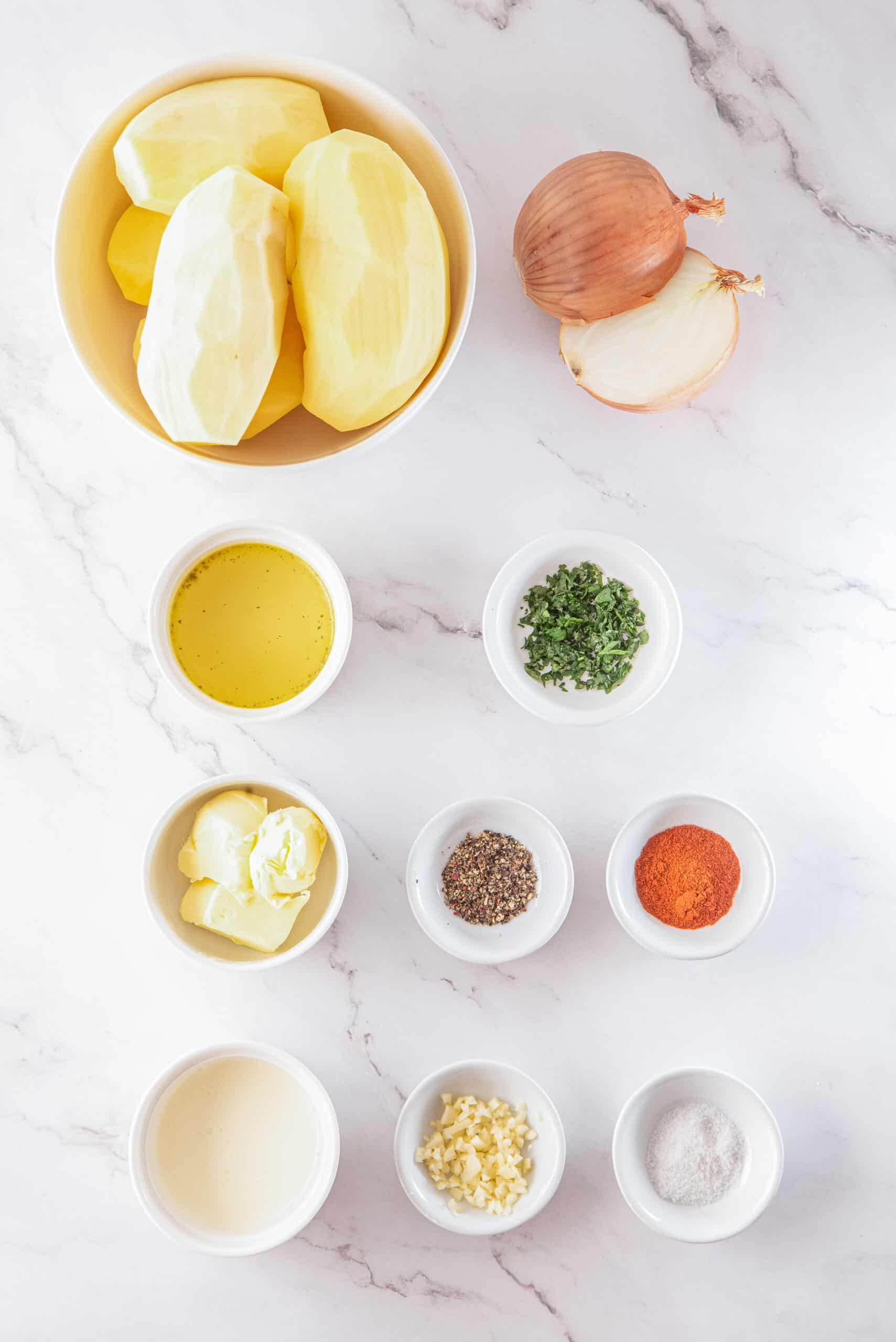 Key Ingredients in Smothered Potatoes and their Substitutions!
Potatoes: Don't limit yourself to just Yukon Gold potatoes! Mix it up with other varieties, like sweet potatoes or purple potatoes, for a colorful twist.
Onion: Try using caramelized onions or leeks instead of the classic yellow onion for a slightly sweeter taste.
Garlic: If you're a garlic lover, feel free to add extra cloves or swap it out with roasted garlic for a more mellow flavor!
Spices: Mix up the spices to give your dish a new twist! Add a dash of cayenne pepper for some heat, or use smoked paprika for a smoky flavor.
Broth: Don't have chicken broth on hand? Try using beef broth, vegetable broth, or even beer for a unique twist.
Cream: Substitute the heavy cream with coconut or cashew cream for a dairy-free option that still has a creamy texture!
Herbs: Try using fresh herbs like rosemary, thyme, or basil instead of parsley if you're looking for a different flavor profile.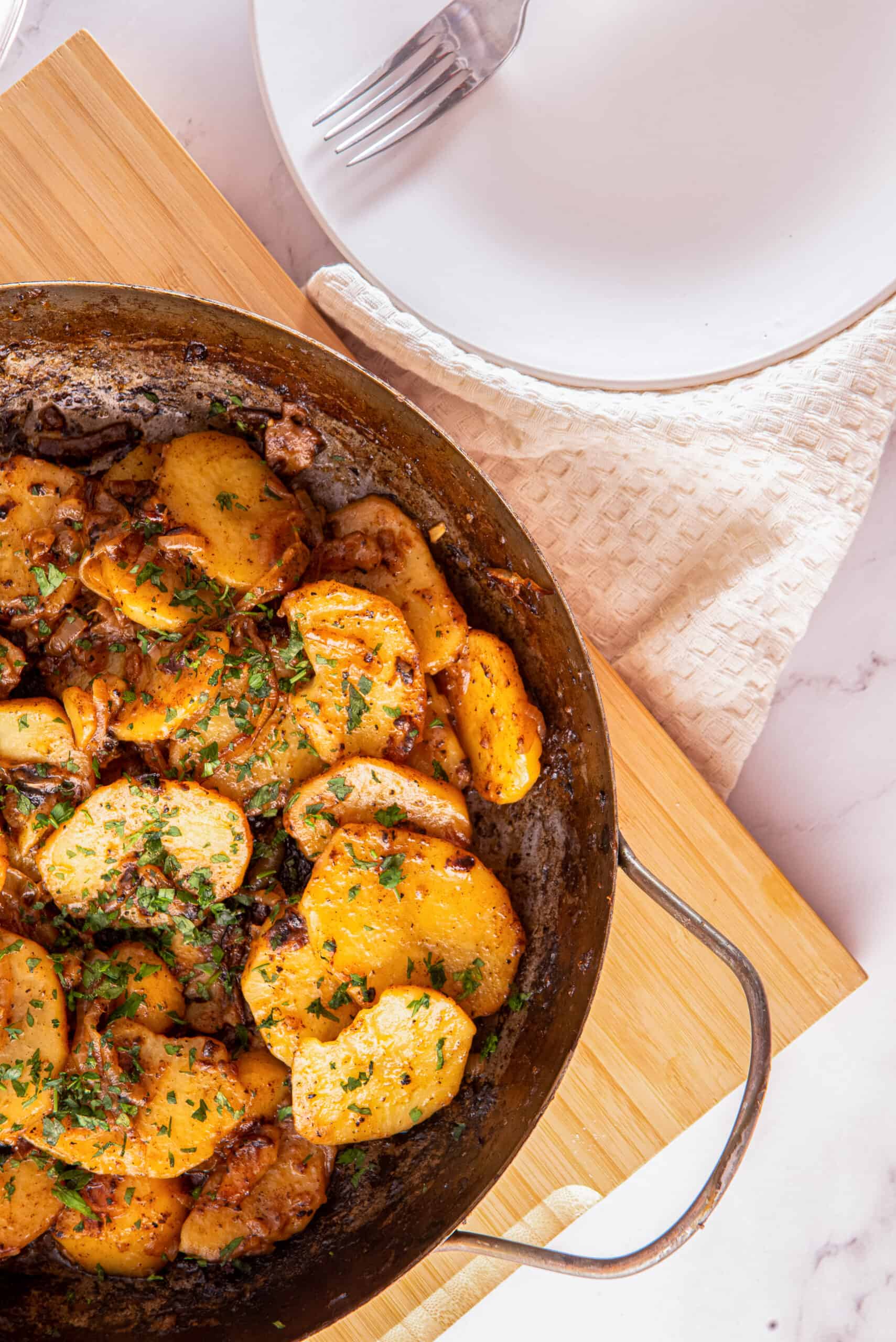 Frequently Asked Questions about Smothered Potatoes
Can I make smothered potatoes in a slow cooker?
Yes, you can! Simply add all of the ingredients to a slow cooker and cook on low for 6-8 hours or on high for 3-4 hours, stirring occasionally.
Can I use milk instead of heavy cream?
While heavy cream is traditionally used in smothered potatoes, you can use milk as a substitute if you prefer a lighter dish.
Can I add meat to my smothered potatoes?
Yes! Adding diced bacon, sausage, or chicken can give your smothered potatoes an extra burst of flavor.
Can I make smothered potatoes ahead of time?
Of course! Smothered potatoes can be made ahead of time and reheated before serving. Just be sure to store them in an airtight container in the fridge for up to 4 days.
Can I freeze smothered potatoes?
While smothered potatoes can be frozen, the texture may change slightly upon thawing. Enjoying them fresh or storing them in the fridge for up to 4 days is best.
Smothered Potatoes
With tender pieces of potato smothered in a rich and savory sauce, Smothered Potatoes is a perfect side dish! Each bite is a flavor explosion that satisfies the stomach and the soul.
Servings 4 Servings
Calories 427kcal
Ingredients
4 large potatoes 2lb
3 tbsp butter
1 medium yellow onion chopped into half sliced
2 clove garlic cloves minced
1 tsp paprika
1/2 tsp black ground pepper
1/3 cup chicken broth
1/4 cup heavy cream
1 tbsp parsley fresh, chopped
Instructions
Chop peeled and rinsed potatoes into ⅙ inches-thick slices. Then, place them into a large bowl with chopped yellow onion.

Add minced garlic, paprika, ground pepper, and salt. Stir to mix.

Add butter to a large skillet, thick bottom iron steel or iron cast skillets are the best ones for this kind of recipe. Heat the skillet over the stove on medium heat.

Add the mixture to the skillet. Cook the potatoes for 10-12 minutes or until they get brownish. Flip them occasionally, and scrap the bottom so they don't get burned.

Once potatoes are golden on top and bottom, pour chicken broth and heavy cream. Cover your skillet with a lid and simmer until potatoes are tender about 10-12 minutes. If you'd like to release the liquid, remove the lid and continue cooking for 2-3 minutes until the liquid evaporates.

Serve immediately, garnished with fresh parsley.
Notes
Smothered potatoes are a delicious and easy dish that's sure to please. They're creamy, comforting, and oh-so-satisfying!
Tips
Don't overcook the potatoes, as they can become mushy and lose their texture. Check them frequently and remove them from the heat once they're tender.
If the sauce is too thick, you can thin it out with a little more chicken broth.
For extra flavor, you can add chopped herbs like parsley or chives to the finished dish.
Store any leftovers in the fridge, in an airtight container, for up to four days.
These are best when freshly made. But, if you have some leftovers, you can reheat them in the microwave or a pot over the stove. In both cases, adding a little bit of liquid like broth or milk, will help for moisten you potatoes and refresh them
Nutrition
Calories: 427kcal | Carbohydrates: 69g | Protein: 9g | Fat: 14g | Saturated Fat: 9g | Polyunsaturated Fat: 1g | Monounsaturated Fat: 4g | Trans Fat: 0.3g | Cholesterol: 40mg | Sodium: 169mg | Potassium: 1640mg | Fiber: 9g | Sugar: 5g | Vitamin A: 821IU | Vitamin C: 77mg | Calcium: 70mg | Iron: 3mg
Follow On Pinterest
Follow @bewitchinkitchen On Pinterest for more delicious recipes!