Slow Cooker Beef Stew with Red Wine
This is a sponsored post written by me on behalf of DIY MY Wine Co.. All opinions are 100% mine.
This slow cooker beef stew with red wine recipe keeps getting rave reviews over and over. If you're a fan of CrockPot beef stew recipes, this is going to make your life complete! It's rich, easy, and oh-so-tasty.
I have also included instructions for the Instant Pot if you're running on last minute dinner ideas.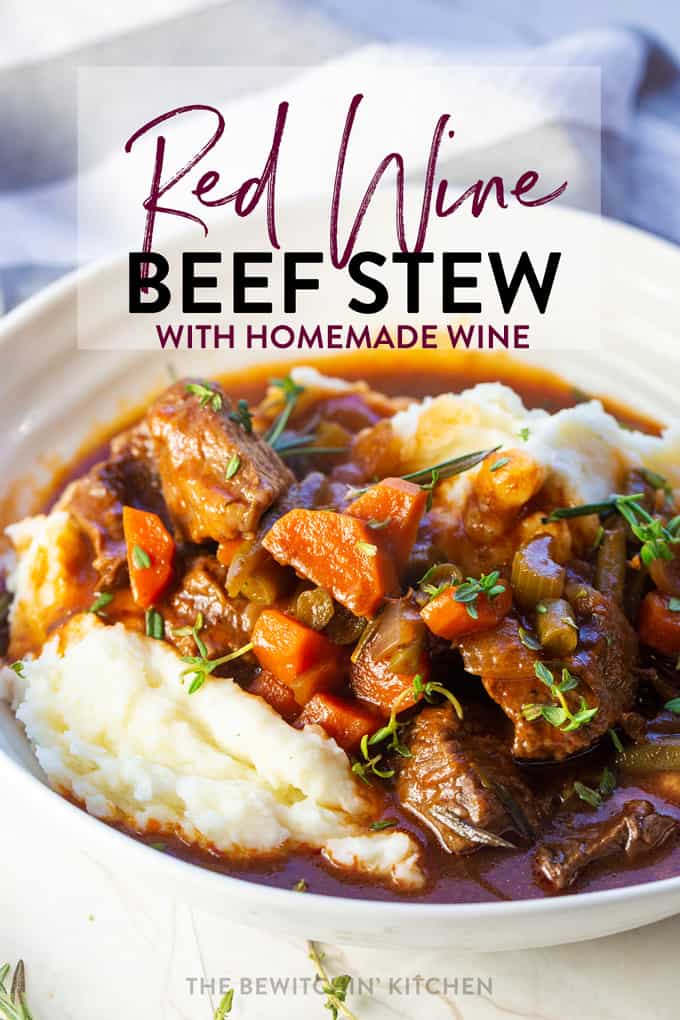 Like you, I am a fan of a nice glass of wine. I wine tour in the summer, cook with it seasonally, and enjoy a glass every so often.
I'm also on the picky side.
Homemade Wine
I recently found out that I could make homemade wine with DIY MY Wine Co. and, trust me, it's worth sharing.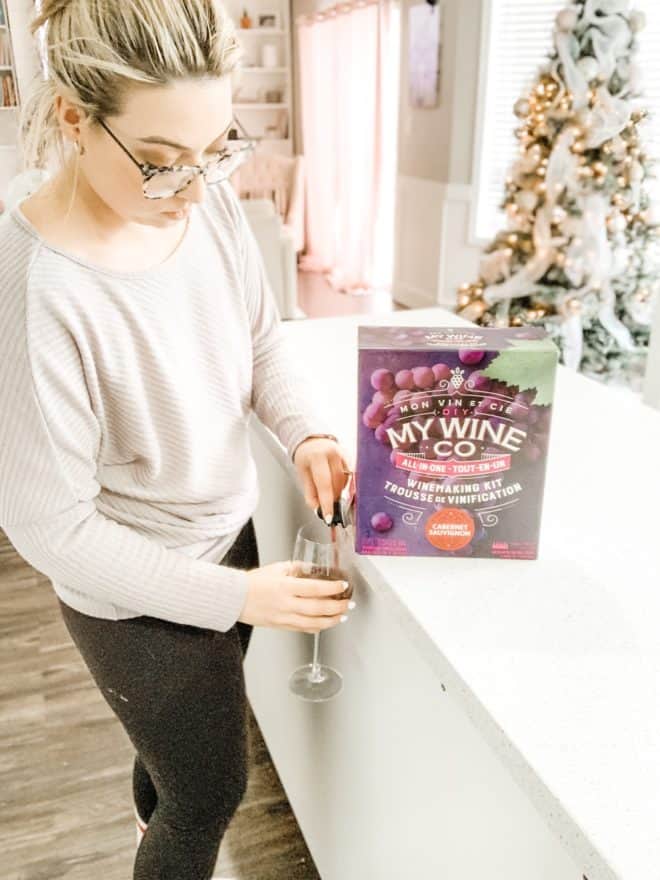 This DIY wine kit makes a ton (4L!), so it's perfect for holidays or if you're one who enjoys entertaining.
I love how accessible it is, being available on Amazon for only $29.99.
It takes 3 weeks from the beginning stages to when it's drinkable and it's so much fun.
Click here to find out where to buy the DIY MY WINE KIT.
The wine itself was easy to make. I simply followed the instructions and set reminders on my phone to do the next step on the specific day the directions asked for. My favorite stage is fermentation, you could see and hear all the bubbles, I felt like a chemist.
If you're not sure what you're going to do with 4L of red wine, don't fret it's good for six weeks. That's almost two months of sitting down to dinner with a glass of wine, visiting friends, and a lot of cooking.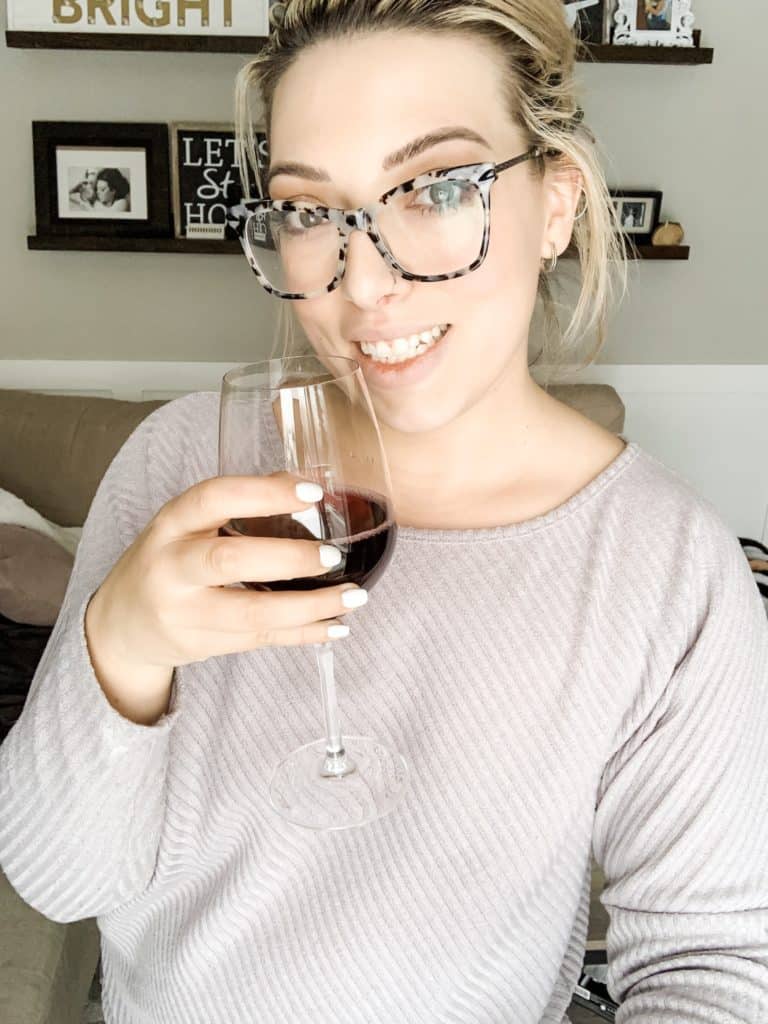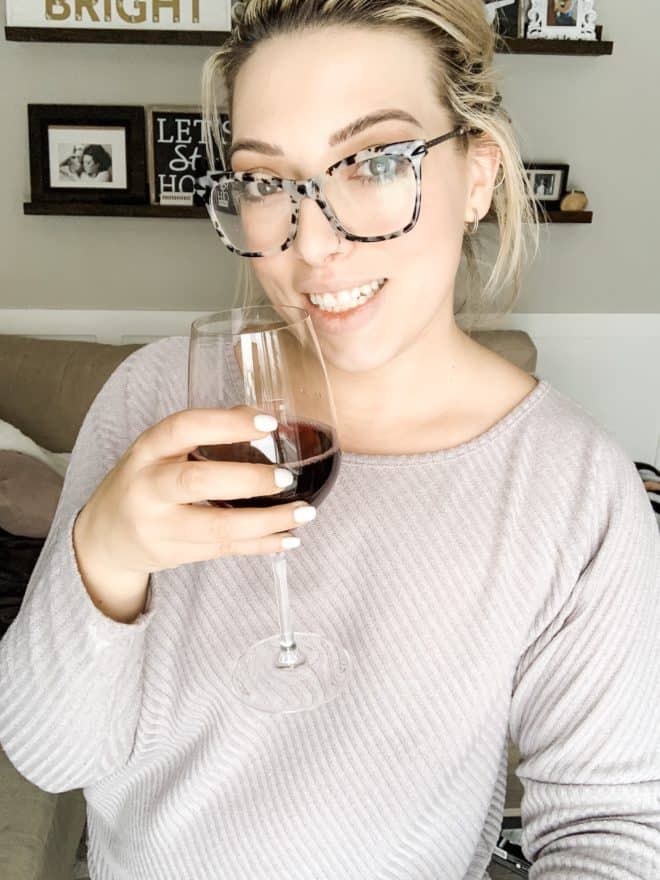 I use wine often in marinades, bases for soups and stews, and I have even seen a recipe in the past for red wine potatoes and a red wine apple pie.
Plus, there is nothing better than kicking back after a long day with a little chocolate, a glass of red, and your favourite TV show.
That being said, I'm going to share one of my family's favourite recipes, CrockPot beef stew made with red wine.
Slow Cooker Beef Stew with Red Wine
I have such a hard time coming up with titles for the recipes on my blog. When I asked my husband what I should name this Red Wine Slow Cooker Beef Stew his response was, "Yummy yummy in my tummy." I think that means that the recipe was a success.
Yesterday, when I made this, it was a bit of a busy day. My sister is down for a visit before she has to go back to school and since I knew it was going to take a good portion of the day plus visiting, I wanted to pop a few things in the slow cooker and not fuss over the stove all day.
Before this, I have only had slow cooker beef stew one day, my mom's way. So I basically did the same thing here but swapped the soy sauce for red wine.
What kind of wine goes with beef stew
For this red wine beef stew recipe, I used the Cabernet Sauvignon DIY My Wine kit and it worked perfectly.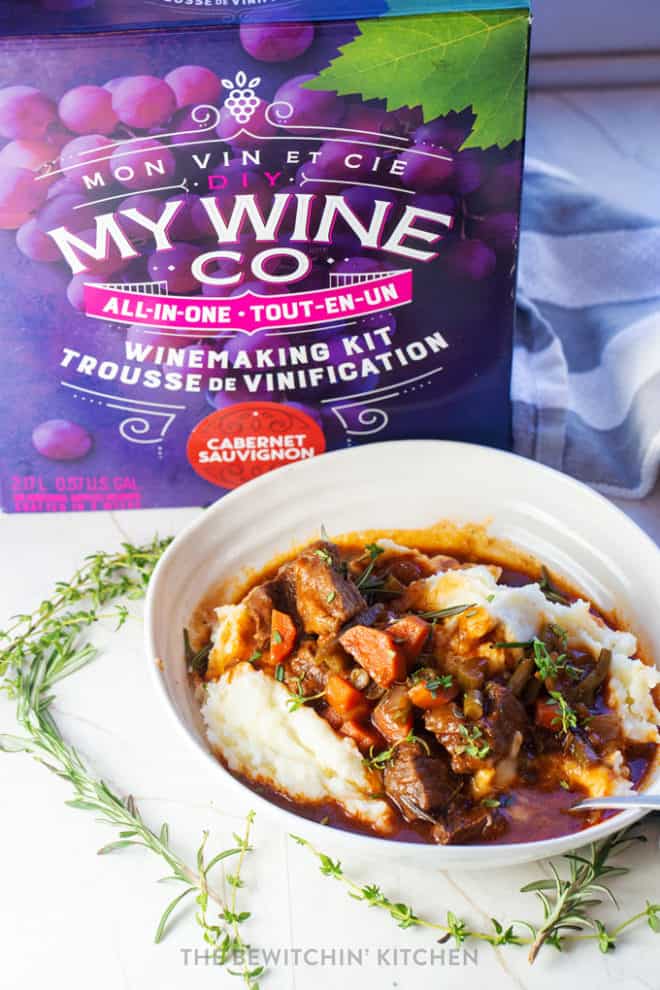 The wine kit is perfect for all the upcoming holiday parties, or if you don't entertain that much and stuff have leftovers it is incredible added to spaghetti sauces, used in a red wine steak marinade, or in this red wine beef stew.
As I mentioned before, It's good for six weeks after opening, so you'll have a ton of time to play and create new recipes or enjoy a glass or two with friends.
How do you thicken beef stew in a slow cooker
To thicken beef stew in a slow cooker or Crockpot, I simply toss seasoned flour (flour with salt and pepper) over the stew meat and give it a stir before I add the rest of the ingredients.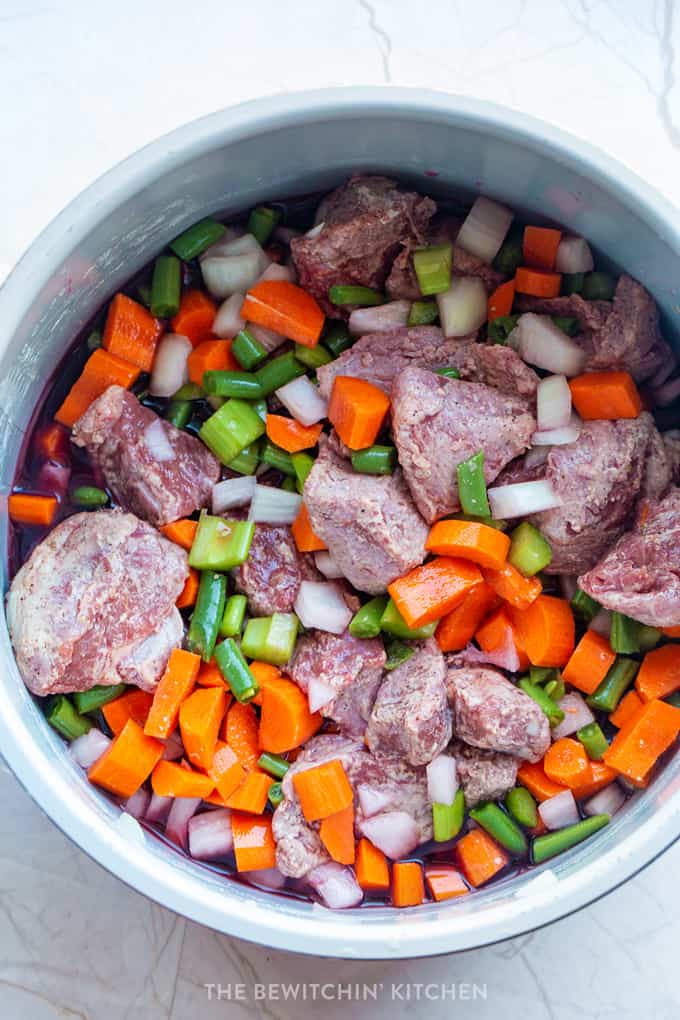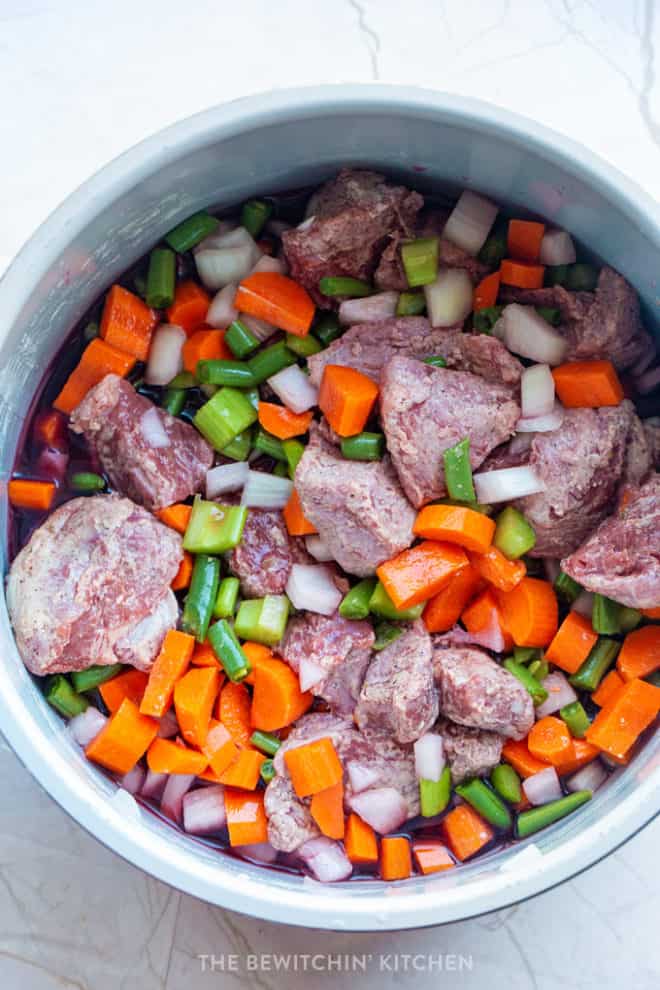 I use very little flour, as I like to have the base a little thinner but you can thicken to your preference.
How do I make beef stew gluten free?
To make a gluten free beef stew, all you have to do is substitute seasoned all-purpose flour for tapioca or your favorite gluten-free flour.
You don't need much, so this will not affect the taste and texture. I have personally done it with tapioca flour and it works really well.
I usually add potatoes to the stew itself but I've been seeing a lot of stews served over mashed potatoes and I wanted to try it out.
What to serve red wine beef stew with?
You can serve the stew as is, over roasted potatoes, roasted broccoli, or (my personal favorite) whipped potatoes.
Easy Whipped Potatoes
I whipped my potatoes in my mixer with the rest of the cream I had on hand (about 1/4 cup). I also included a lot of minced garlic (don't be shy, I probably used 2 tablespoons), then added 1/3-1/2 cup parmesan cheese and sprinkled in some parsley.
These whipped potatoes are the best potatoes I have made.
As you can tell, I don't have a specific recipe but sometimes the best recipes are those that come from the heart. Simply taste and adjust flavors and seasonings as needed.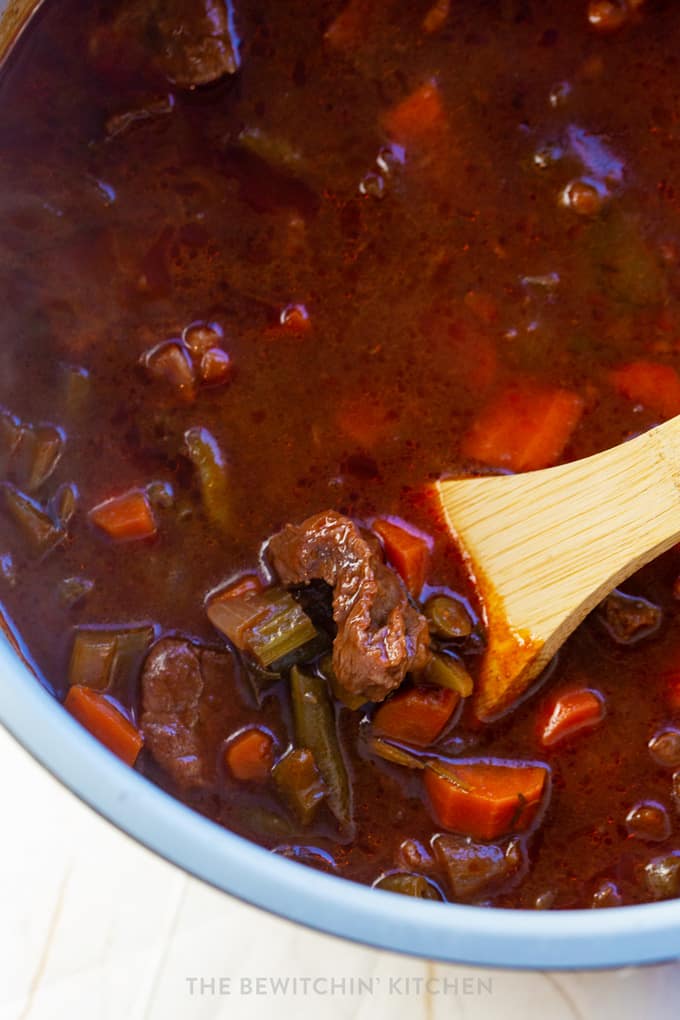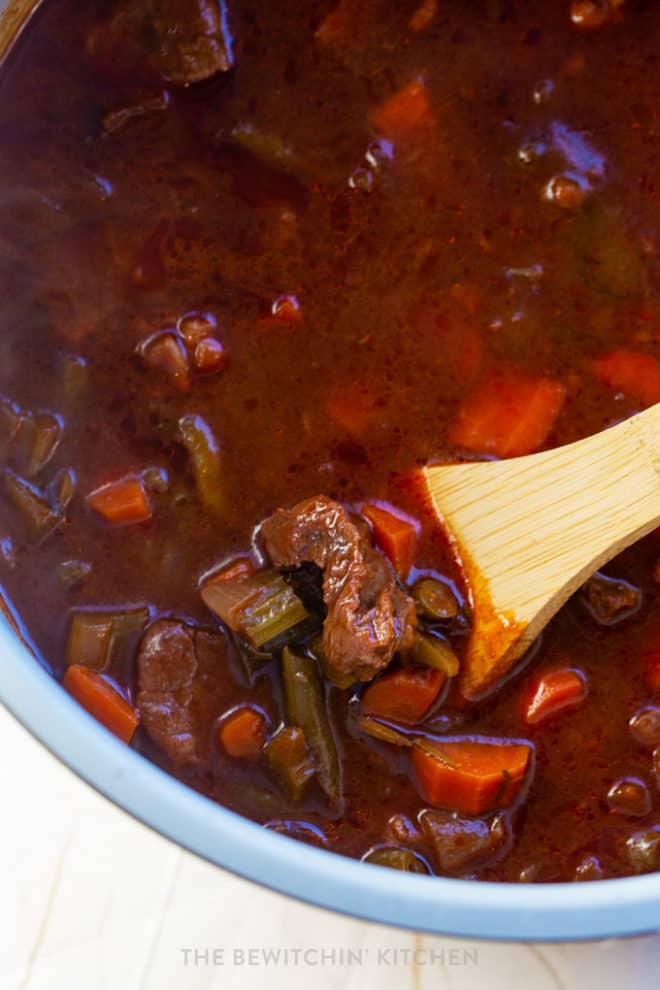 Ingredients Needed for Beef Stew with Red Wine
Stew meat
Flour (all-purpose or gluten-free)
Salt and pepper
DIY MY WINE Co's Cabernet Sauvignon
Carrots
Celery
Onion
Beef broth
Herbs: bay leaf, rosemary, thyme
Tomato paste
Cooked garlic mashed potatoes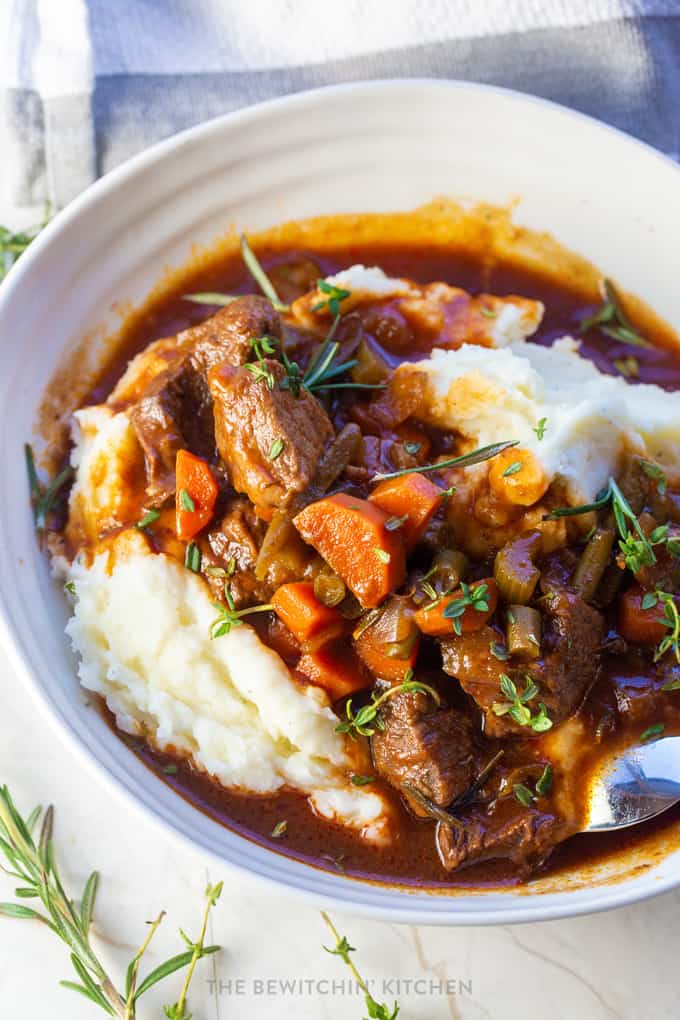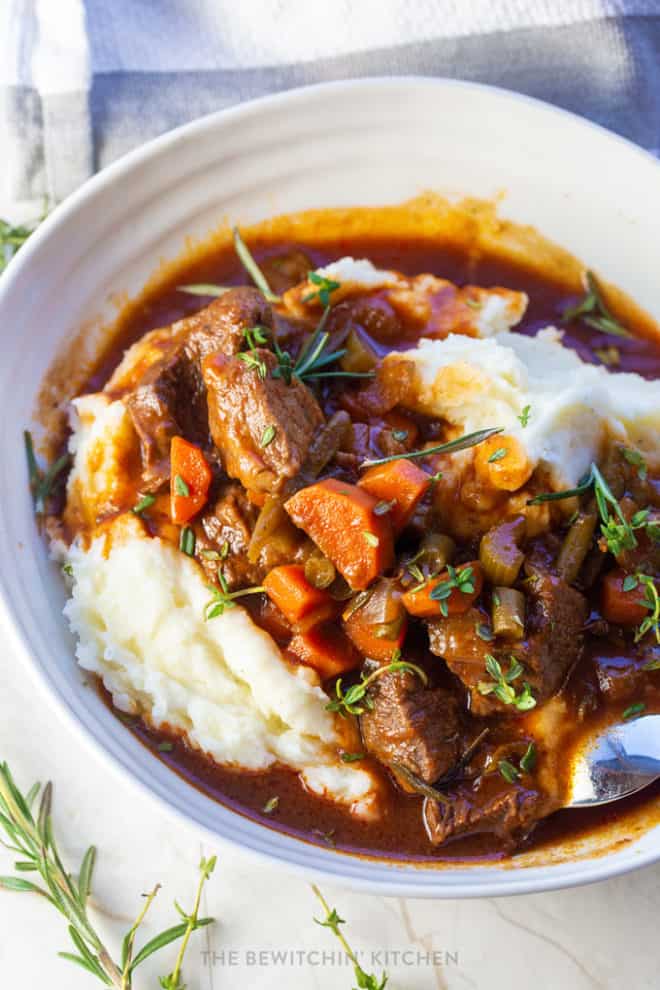 More Beef Stew Recipes
I have a couple more beef stew recipes here on The Bewitchin' Kitchen that you may enjoy!
How to make beef stew with wine
This recipe for red wine beef stew may be one of the easiest recipes on the blog.
Simply toss it in the slow cooker and walk away. It's as easy as that.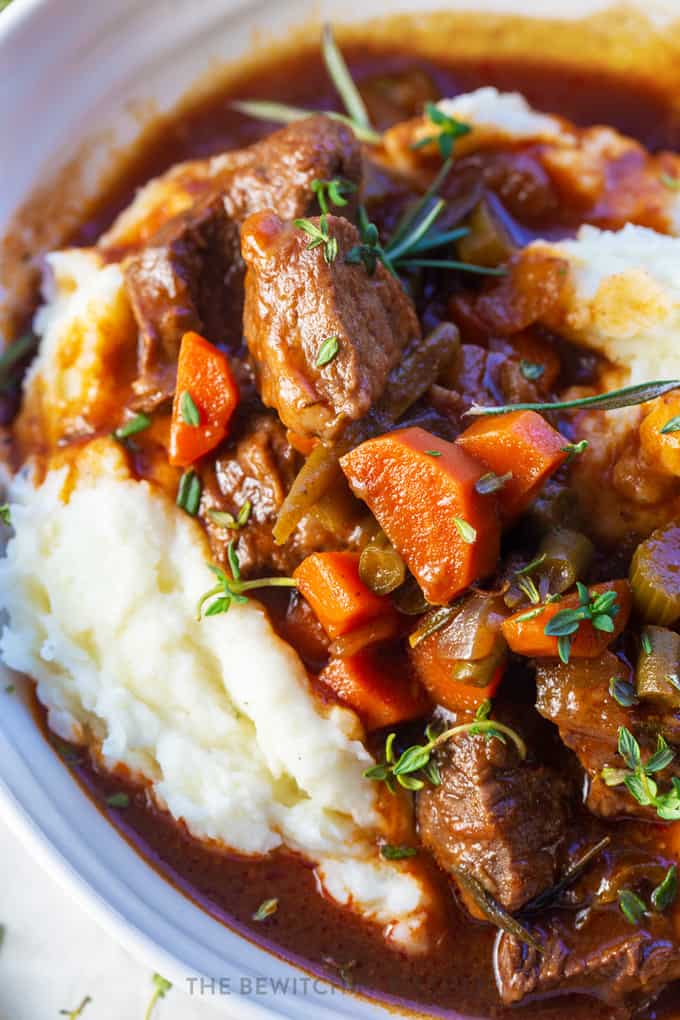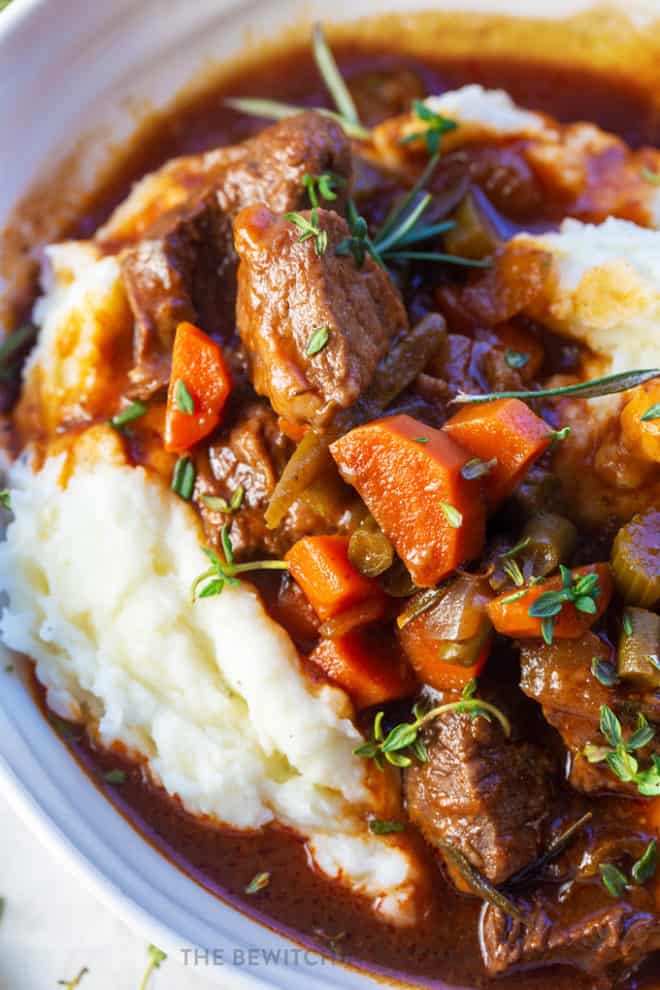 How to make red wine beef stew in the InstantPot / pressure cooker / NinjaFoodi
I personally use a NinjaFoodi so it has a slow cook and pressure cook function.
If you're short on time and need dinner on the table in less than 30 minutes, I have included Instant Pot instructions in the recipe card below.
Ultimate Portion Fix Container Counts
Full recipe: 6 green, 4 red, 1 yellow
Per serving: 1 green, 2/3 red, trace amount of yellow.
Slow Cooker Beef Stew with Red Wine
Simmered in beef broth and red wine for hours, this beef stew with red wine is perfect to add to your slow cooker recipes. It's hearty and comfort food at it's finest.
Servings 6
Calories 197kcal
Ingredients
1 lb beef stew meat
2 tbsps flour or tapioca flour for gluten free
1/2 tsp sea salt and pepper each
1 1/2 cups DIY MY WINE Co's Cabernet Sauvignon
4 carrots peels and sliced
2 celery diced
1 large onion diced
1 cup beef broth
1 large bay leaf
2-3 tsps rosemary & thyme each
1 6 oz can tomato paste
Optional: cooked garlic mashed potatoes
Instructions
Slow Cooker Instructions
In a slow cooker at your meat, salt and pepper and flour. Stir to ensure meat is coated.

Add the rest of the ingredients, cover and cook on low for 8-10 hours.

Optional: When the stew is cooked, serve over garlic mashed potatoes.
Instant Pot Instructions
In the pressure cooker combine the stew meat, salt, pepper, and flour. Stir to coat.

Add the rest of the ingredients. Place the cover on, seal, and set manual pressure on high for 25 minutes.

Release the vent and serve over garlic whipped potatoes.
Notes
Ultimate Portion Fix Container Counts Full recipe: 6 green, 4 red, 1 yellow Per serving: 1 green, 2/3 red, trace amount of yellow.
Nutrition
Serving: 1g | Calories: 197kcal | Carbohydrates: 9g | Protein: 18g | Fat: 4g | Saturated Fat: 1g | Cholesterol: 46mg | Sodium: 234mg | Potassium: 550mg | Fiber: 1g | Sugar: 3g | Vitamin A: 6855IU | Vitamin C: 4.2mg | Calcium: 45mg | Iron: 2.2mg
Follow On Pinterest
Follow @bewitchinkitchen On Pinterest for more delicious recipes!
What's your favorite fall comfort food?