Slow Cooker Beef Stew with Red Wine
Oh my gosh! You guys are going to love this slow cooker beef stew with red wine. If you're a fan of crock pot beef stew recipes, this is going to make your life complete! It's rich, easy, and oh-so-tasty.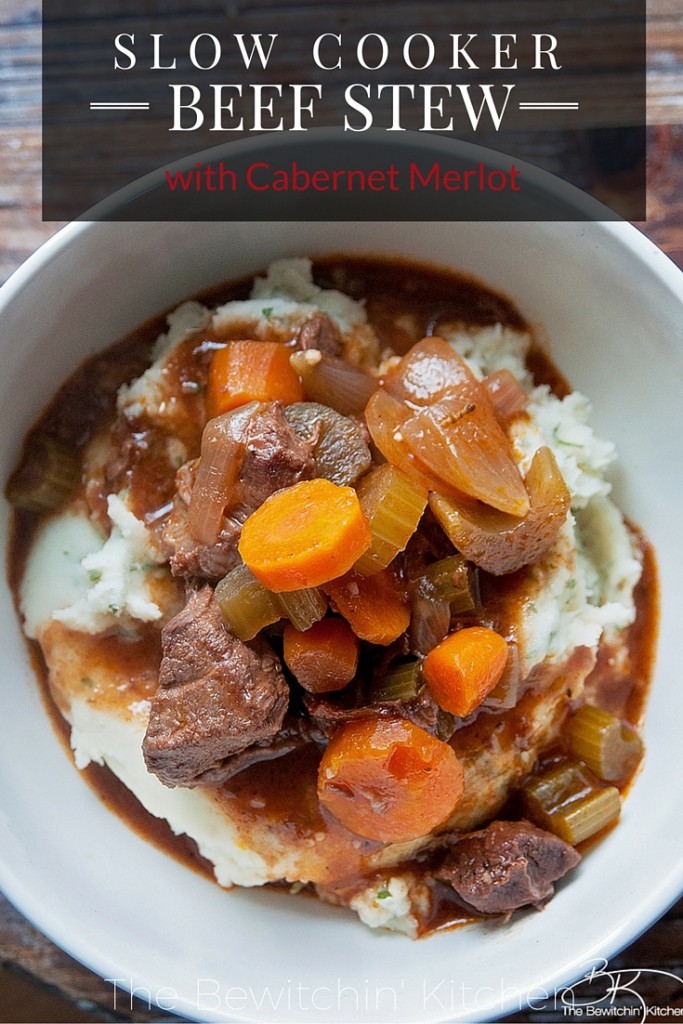 Slow Cooker Beef Stew with Red Wine
Disclosure: This recipe for red wine beef stew contains affiliate links.
I have such a hard time coming up with titles for the recipes on my blog. When I asked my husband what I should name this Red Wine Slow Cooker Beef Stew his response was, "Yummy yummy in my tummy." I think that means that the recipe was a success.
Yesterday, when I made this, it was a bit of a busy day. My sister is down for a visit before she has to go back to school and we were making Chocolate Peanut Butter Cupcakes (AKA The PMS Buster) and since I knew it was going to take a good portion of the day plus visiting, I wanted to pop a few things in the slow cooker and hope for the best.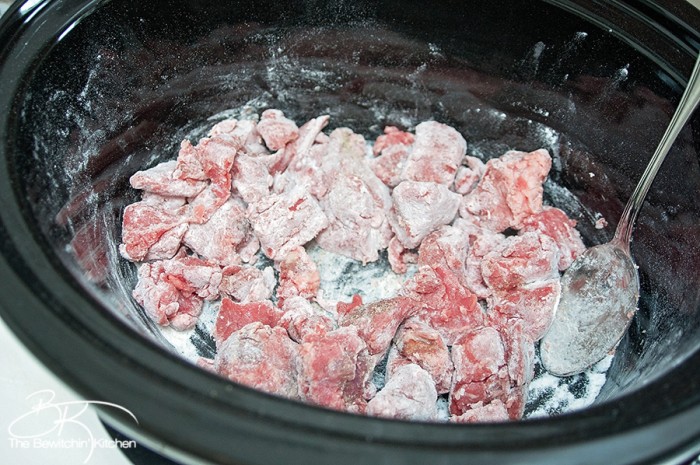 Before this, I have only had slow cooker beef stew one day, my mom's way. So I basically did the same thing here but swapped the soy sauce for red wine. If you're curious, here is my Classic Slow Cooker Beef Stew recipe. It's the recipe I grew up on and warning: this was one of my first recipes on the blog and I still don't have an image for it.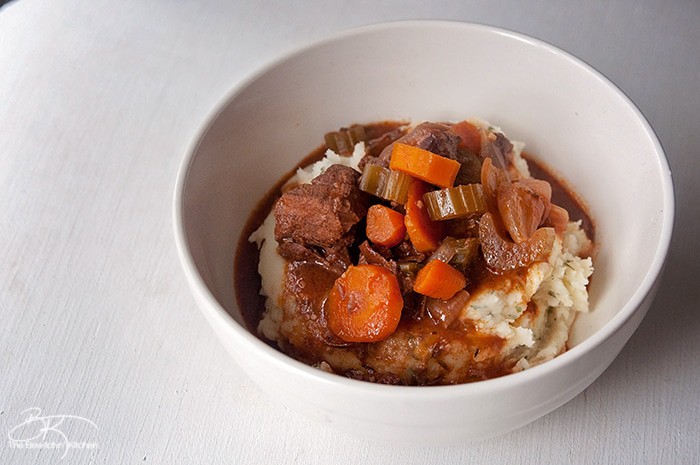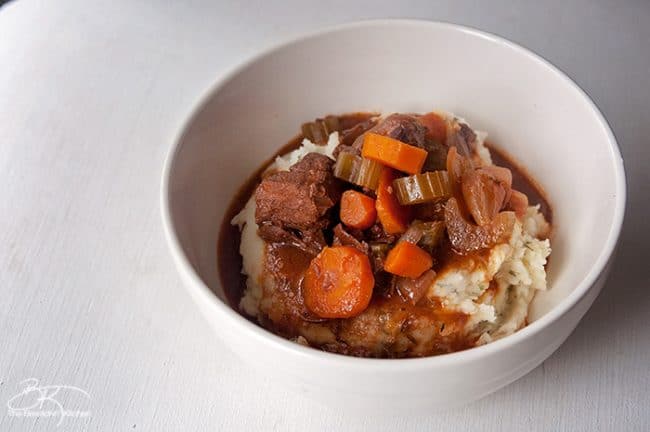 What kind of wine goes with beef stew
For this red wine beef stew recipe, I used a Cabernet Merlot. I really wanted a deep, rich, underlying flavor in the broth. However, with that being said, I know nothing about wine (other than I enjoy it). I jumped to my old friend Google and it tells me that (to drink) a Cabernet Sauvignon or a Malbec is best to pair with a beef stew with red wine.
How do you thicken beef stew in a slow cooker
To thicken beef stew in a slow cooker or Crockpot, I simply toss seasoned flour (flour with salt and pepper) over the stew meat and give it a stir before I add the rest of the ingredients. I use very little flour, as I like to have the base a little thinner but you can thicken to your preference.
How do I make beef stew gluten free?
To make a gluten free beef stew, all you have to do is substitute seasoned all-purpose flour for tapioca or your favorite gluten-free flour. You don't need much, so this will not affect the taste and texture. I have personally done it with tapioca flour and it works really well.
Slow Cooker Beef Stew: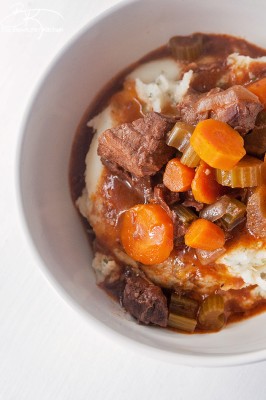 I usually add potatoes to the stew itself but I've been seeing a lot of stews served over mashed potatoes and I wanted to try it out.
Easy Whipped Potatoes
I whipped my potatoes in my mixer with the rest of the cream I had (maybe 1/4 cup, if that) dumped some pre-minced garlic in (a lot) and dumped some parmesan cheese flakes in with it as well, along with parsley. They were probably the best potatoes I have made (and I don't care for potatoes) and naturally, I didn't write or measure out anything. That's usually how it works, I will create something phenomenal and have no idea what I did.
Ingredients Needed for Slow Cooker Beef Stew with Red Wine
Stew meat
Flour (ap flour or gluten-free)
Salt and pepper
Red wine
Carrots
Celery
Onion
Beef broth (I love better than bullion)
Herbs: bay leaf, rosemary, thyme
Tomato paste
Cooked garlic mashed potatoes
Beef Stew Recipes
I have a couple more beef stew recipes here on The Bewitchin' Kitchen that you may enjoy!
Slow Cooker Beef Stew with Cabernet Merlot
Simmered in beef broth and red wine for hours, this beef stew with red wine is perfect to add to your slow cooker recipes. It's hearty and comfort food at it's finest.
Prep Time 10 minutes
Cook Time 8 hours
Total Time 8 hours 10 minutes
Servings 6
Calories 197kcal
Ingredients
1 lb stew meat
2 tbsps flour or tapioca flour for gluten free
Sprinkle of sea salt and pepper
1/2 bottle of cabernet merlot or whatever red wine you have on hand
4 carrots peels and sliced
2 celery diced
1 large onion diced
1 cup beef broth
1 large bay leaf
2-3 tsps rosemary & thyme each
1 6 oz can tomato paste
Optional: cooked garlic mashed potatoes
Instructions
In a slow cooker at your meat, salt and pepper and flour. Stir to ensure meat is coated.

Add the rest of the ingredients, cover and cook on low for 8-10 hours.

Optional:

When it's done, serve over garlic mashed potatoes.
Nutrition
Serving: 1g | Calories: 197kcal | Carbohydrates: 9g | Protein: 18g | Fat: 4g | Saturated Fat: 1g | Cholesterol: 46mg | Sodium: 234mg | Potassium: 550mg | Fiber: 1g | Sugar: 3g | Vitamin A: 6855IU | Vitamin C: 4.2mg | Calcium: 45mg | Iron: 2.2mg
Follow On Pinterest
Follow @randaderkson On Pinterest for more delicious recipes!
What's your favorite fall comfort food?
FREE Recipe Binder
Are you constantly wondering what's for dinner?
When I don't meal plan I feel behind, and we usually end up ordering take out. This recipe binder will keep you organized and make life a little bit easier.
products I used to make this happen Shop This Post
(may include affiliate links)