Snuggy Baby | Baby Gift Guide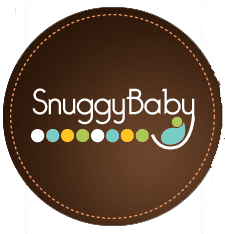 Snuggy Baby is a great online store where you can purchase slings and wet bags. It started out when Snuggy Baby's founder had her first daughter. She couldn't find anywhere to purchase a sling, so she learned how to make them herself. After receiving compliments and support, she went into business and Snuggy Baby was born.
What started out as company that offered some fashionable slings now offers trendy wet bags. I received a wet bag from SnuggyBaby in the design Midnight Surf. This is my favorite wet bag I own, so much in fact that when I toss this wet bag in the wash, I pray my little guy won't dirty another diaper so I don't have to use one of my other ones and I can wait it out.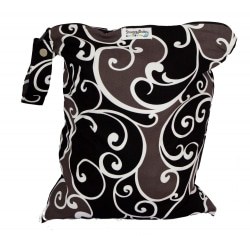 Not only is my Midnight Surf wet bag "fashion friendly" (it matches my nursery decor perfectly and has a beautiful design) but it works so much better then the other wet bags I have purchased (including my Planet Wise bag). The waterproof lining inside the bag seems to be thicker and has an obvious waterproof quality when felt (something my PW bag lacks).
I have this wet bag in a large size which measures 14″x17″, which means you can fit in between 10-12 diapers inside. With it being large, you can also fit yours or your family's clothes inside if you head for a day at the pool, beach, etc. It has a little loop on the side, which makes it perfect to hang on our door knob in the nursery. That way it is always at an arms reach for when I need to discard a dirty diaper.
For more information on Snuggy Baby or to see all the beautiful products carried, visit snuggybaby.com.
Pin It