Momzelle | Baby Gift Guide

I have reviewed a few nursing tanks in the past, but living in central Alberta it's not practical to have only nursing tanks (sometimes even in the summer months). That is why I am thrilled to have found Momzelle and the variety they carry in their product line.
About Momzelle
After the birth of her daughter Christine created her own nursing top in order to feel comfortable breastfeeding in public. The shirt worked perfectly with her squirmy newbornand her friends started to want their own. Nine months later, Christine's  brother Vincent, with his entrepreneurial spirit, saw the potential of the Momzelle nursing top and together they co-founded the business. That's how Momzelle was born.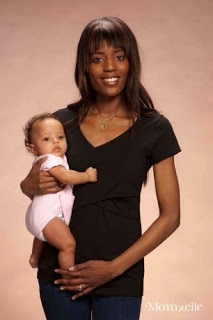 I was sent the Nursing Criss Cross Tee in black. This tee shirt is very easy to nurse in, you just have to move one of the discreet panels and you're in business.
I'm just going to jump to my favorite part of this shirt. Even on day three postpartum, I looked slimmer and it was all because of the way this shirt was designed. It is incredibly flattering, which is perfect right after you have a baby and you're not feeling 100% yourself. The fact that it's a nursing top is something that only you will know, and it's fashionable so you can continue to wear it even after you are finished with nursing.
Momzelle doesn't just offer clothing either. On their website you can find
breastfeeding help
. There are many articles that you can read up on to answer the many questions and concerns that come with breastfeeding.
Momzelle has a variety of nursing clothes. They also offer nursing tanks, dresses, and long sleeved shirts so you can have a whole wardrobe that is not only functional but fashionable as well.
One of my readers will win a $25 gift certificate to Momzelle. To enter fill out the Rafflecopter form below:
a Rafflecopter giveaway
Pin It