Steak Fajita Kebabs
I love cooking up skewers! It's a fun way to get my protein and vegetables in and these steak fajita kebabs make it tastier than ever!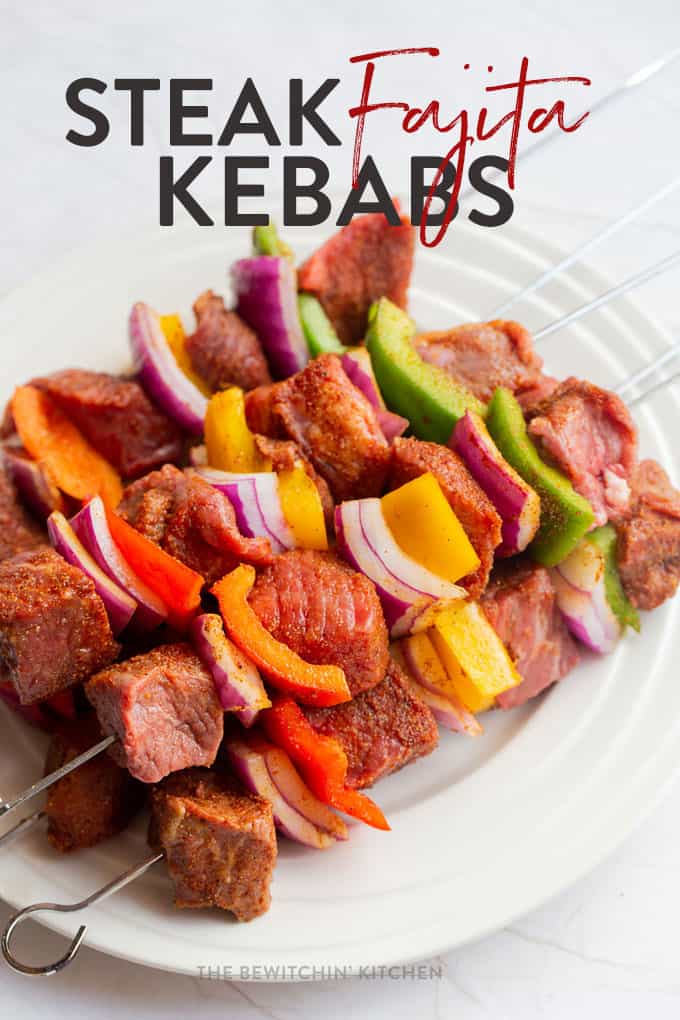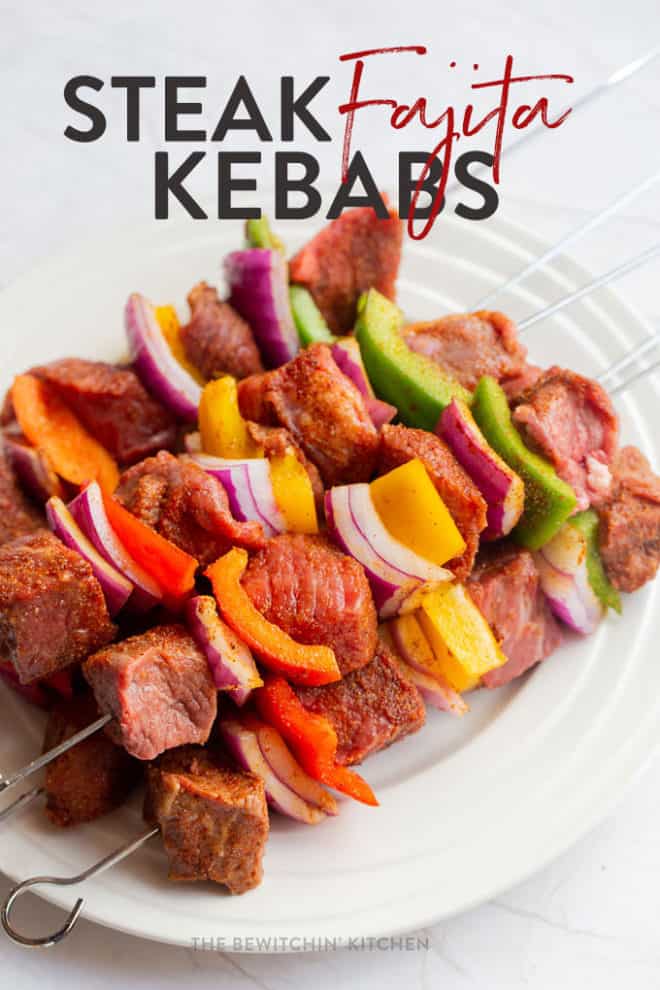 Steak Fajita Kebabs
Disclosure: This post contains affiliate links for your convenience. As an Amazon Associate, I earn from qualifying purchases.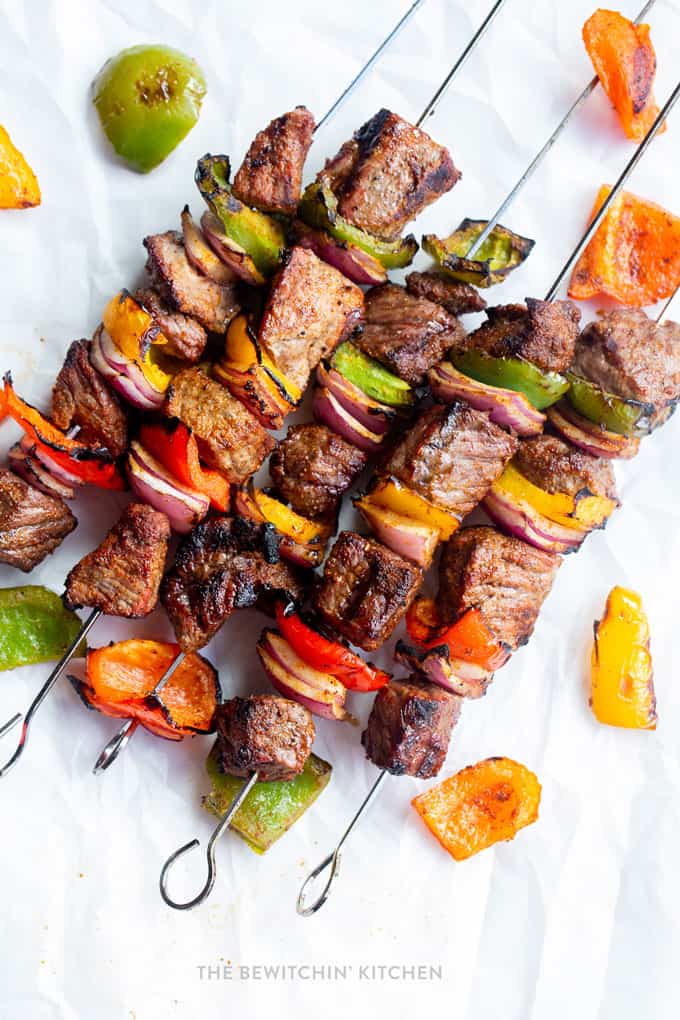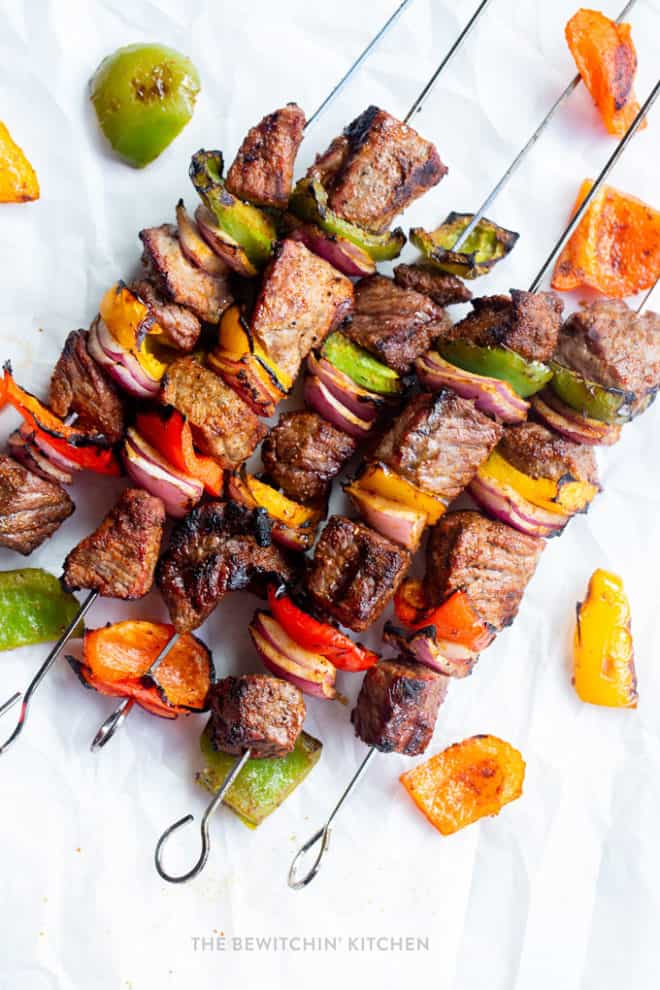 During the summer when it comes to cooking – the easier the better.
Bonus points if I can toss it on the grill and basically walk away (we don't have AC and when it's hot out, it's torture to have the oven going in my kitchen).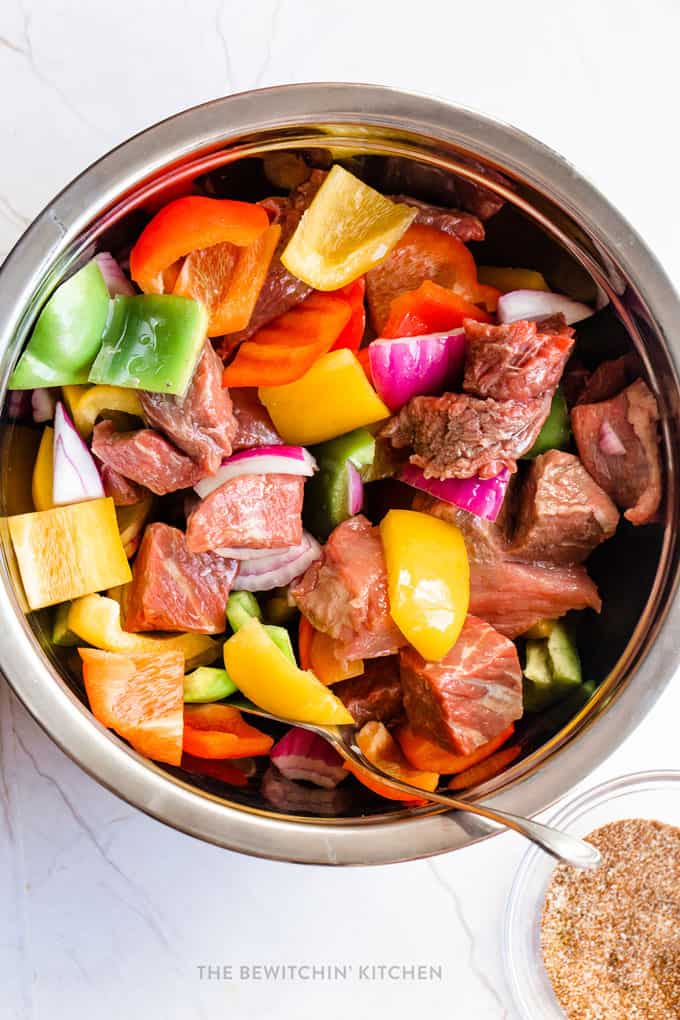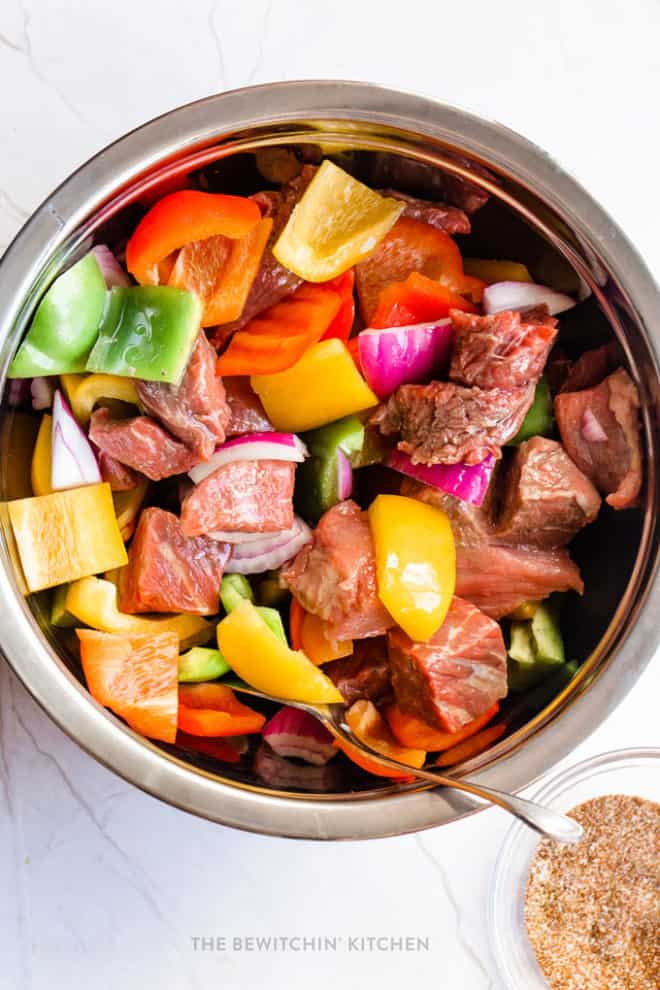 These steak fajita skewers are tasty, easy, and they can be grilled or baked in the oven.
How to make fajita beef skewers
I put this recipe together for fajita steak kebabs while I was putting together my mini-course sharing how I meal plan, The Meal Planning Method.
I needed to follow what I taught and create meal plans, but I also needed something quick and easy because I basically lived behind my computer for that month: shooting and editing videos, writing sales funnels, creating images, etc.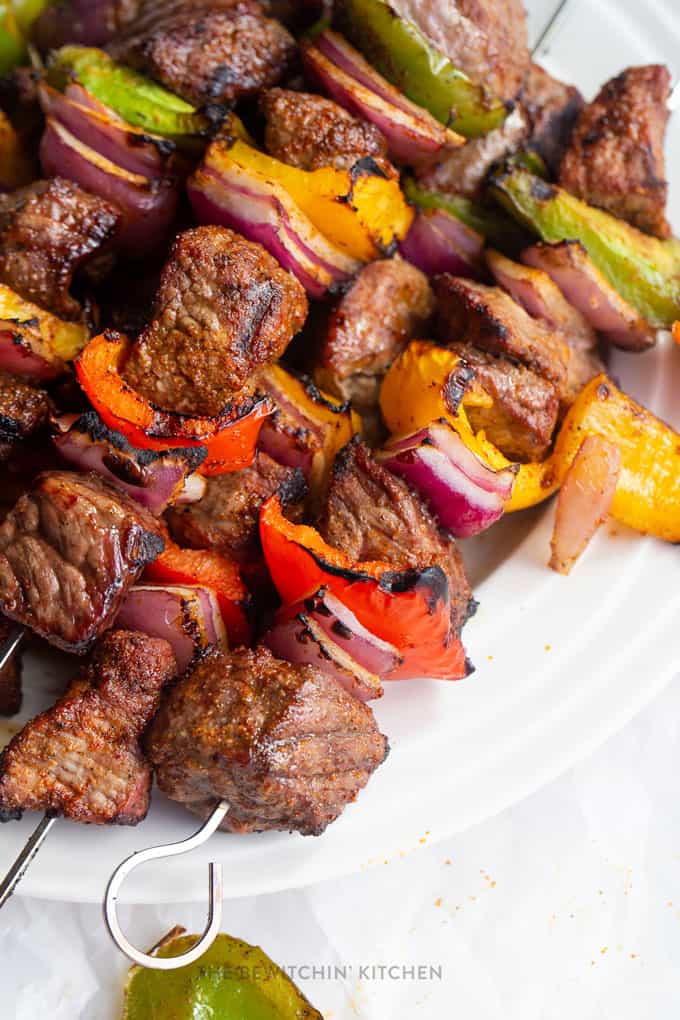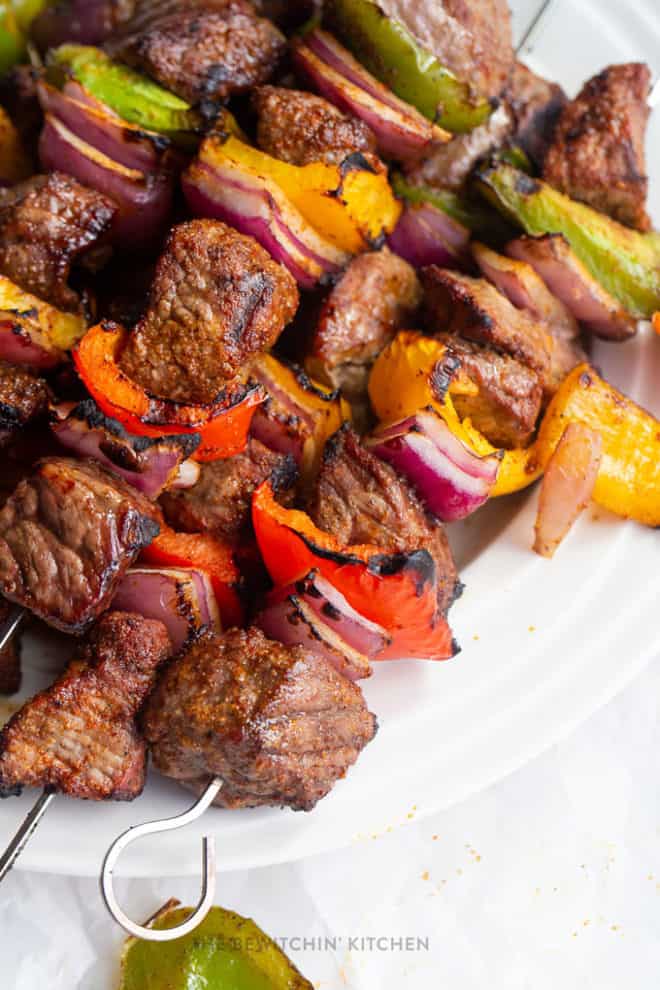 This recipe was just what I needed: easy, tasty, and it wasn't a stir fry (I was stir fried out).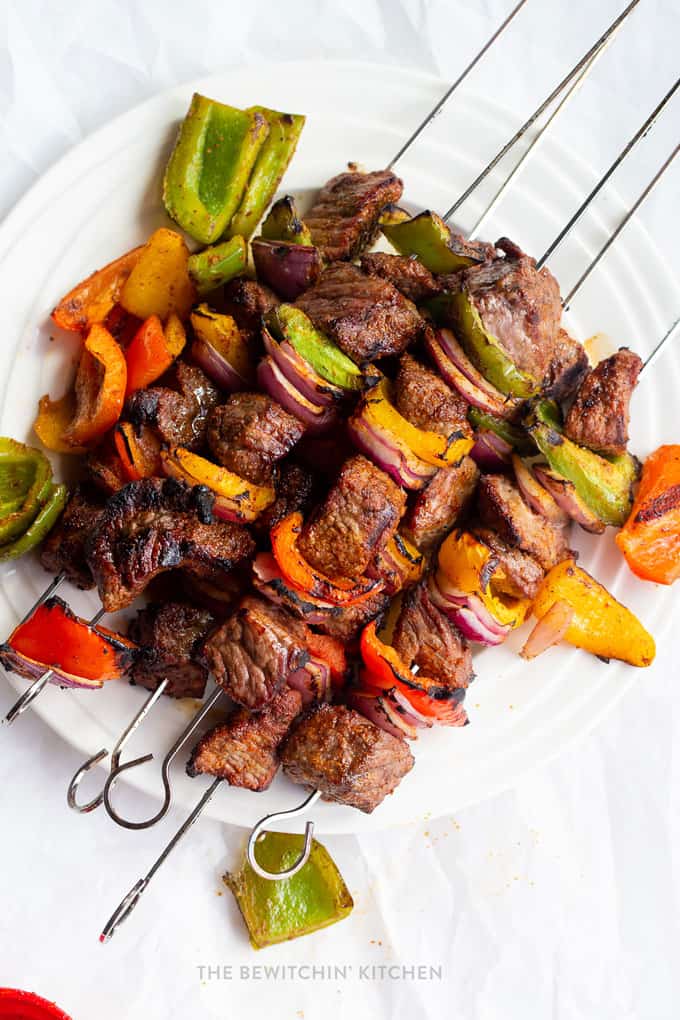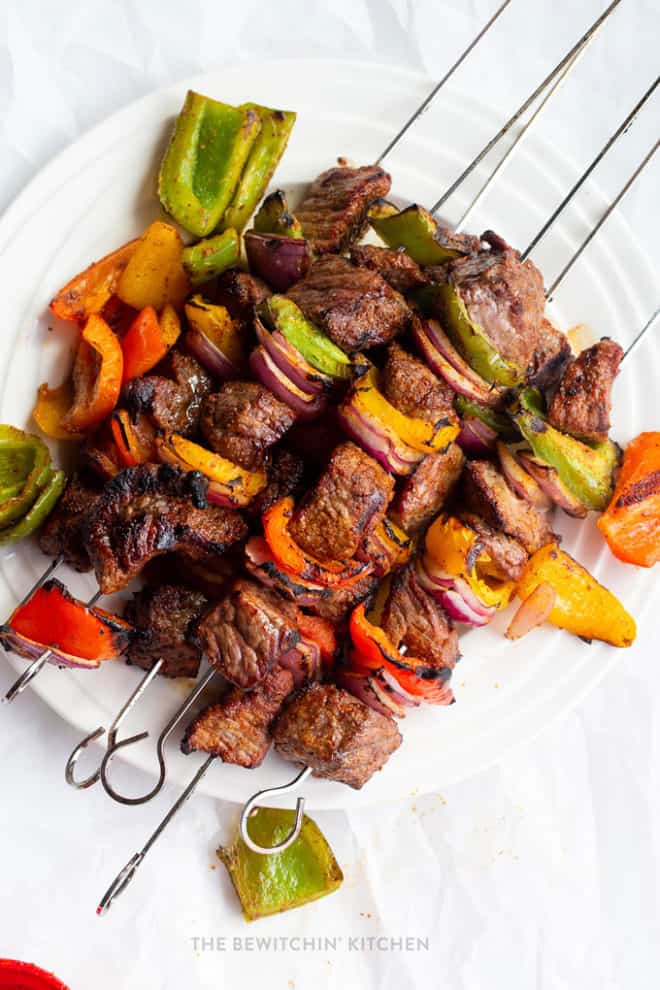 The best part about these fajita beef skewers? They don't need time to marinate. Just mix them, skewer them, and grill them and you'll have a ton of flavor!
Supplies needed to shish kebabs
Skewers (I use these ones)
Spices (listed below in the recipe card)
or if you're in a hurry a fajita seasoning will work too. If you're gluten free, read the labels a lot of them have flour in the ingredients.
Randa's Tip: I prefer using the metal skewers but if you use wooden, remember to soak them in water for a few hours before use.
Another quick tip is to buy stew meat. This way the beef is already cut up for you. That's what I did for this recipe and it saved me a couple of extra minutes.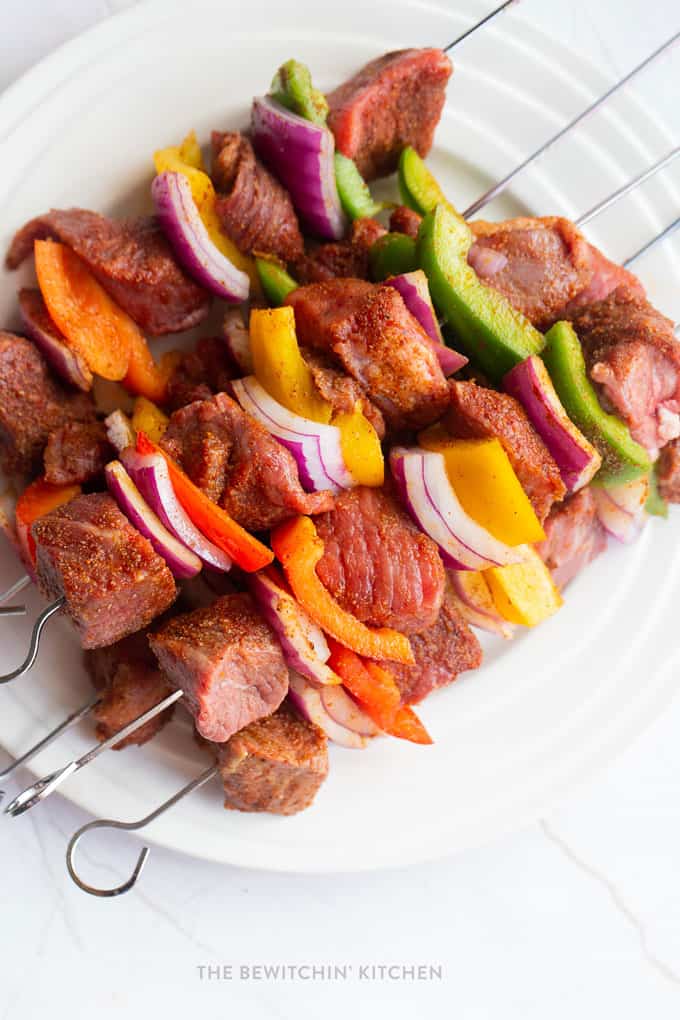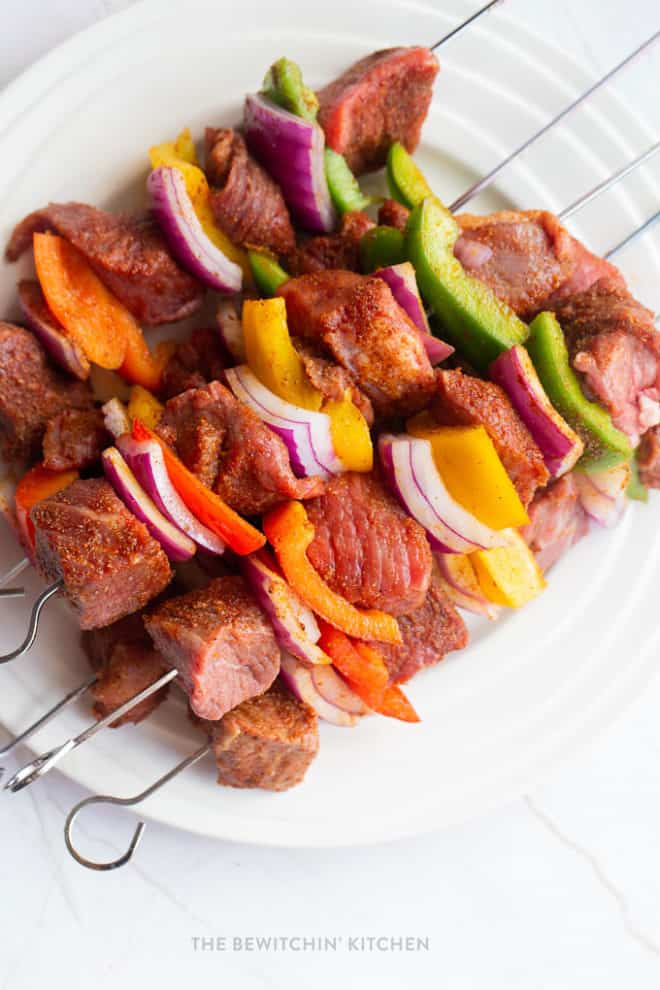 More Skewer Recipes
Is there anything better than meat on a stick? I don't think so. Here are a few more skewer/kebab recipes that I think you'll love.
Steak Fajita Kebabs
A yummy twist on beef skewers these easy steak fajita kebabs are a summer bbq favorite and also keto diet, Whole30, and clean eating approved.
Prep Time 15 minutes
Cook Time 12 minutes
Total Time 28 minutes
Servings 8 kebabs
Calories 198kcal
Ingredients
1.5 lbs steak cut into large chunks, or use stew meat
1 green pepper cubed
1 red pepper cubed
1 yellow pepper cubed
1 red onion cut into chunks
1 tsp chili powder
1 tsp cumin
1 tsp garlic powder
1 tsp sea salt
1/2 tsp pepper
1/2 tsp onion powder
1/4 tsp cayenne powder
Instructions
In a large bowl add all of the ingredients and toss until evenly coated with the fajita seasoning.

Slide the vegetables in steak cubes onto the skewer. Use whatever pattern you want, I like to add onion between every vegetable and beef for extra flavor.

Preheat the bbq and turn the dials to medium-high.

Add the skewers and cook for three minutes on each side (12 minutes total) or until your desired doneness. This method cooked mine medium well.

Enjoy!
Notes
Randa's Tip: I prefer using the metal skewers but if you use wooden, remember to soak them in water for a few hours before use.
Nutrition
Serving: 1skewer | Calories: 198kcal | Carbohydrates: 5g | Protein: 18g | Fat: 12g | Saturated Fat: 5g | Cholesterol: 52mg | Sodium: 343mg | Potassium: 353mg | Fiber: 1g | Sugar: 2g | Vitamin A: 685IU | Vitamin C: 59.2mg | Calcium: 15mg | Iron: 1.9mg
Follow On Pinterest
Follow @randaderkson On Pinterest for more delicious recipes!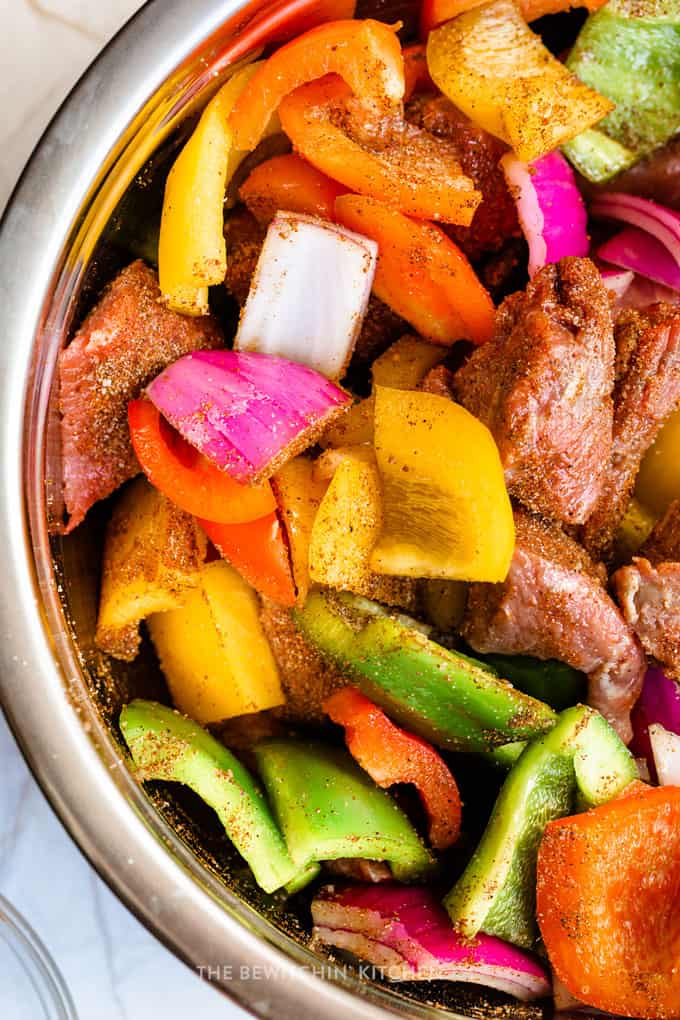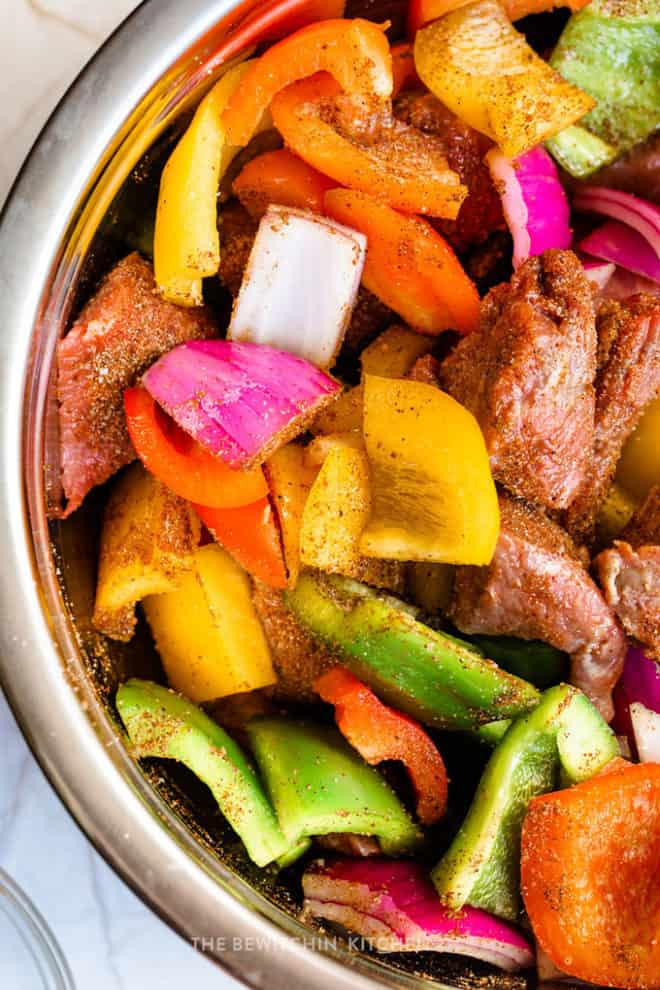 FREE Recipe Binder
Are you constantly wondering what's for dinner?
When I don't meal plan I feel behind, and we usually end up ordering take out. This recipe binder will keep you organized and make life a little bit easier.