Asian Beef Kebabs
We're meat-o-saurs's here in our household, there is usually only one night a week where we eat a meatless meal (if that). We tend to stick with chicken and turkey but usually on Fridays we do steak. The weekend is usually when we partake in one of our favorite foods, but steak dinner gets old every week. So I decided to switch it up and cook up these Asian Beef Kebabs.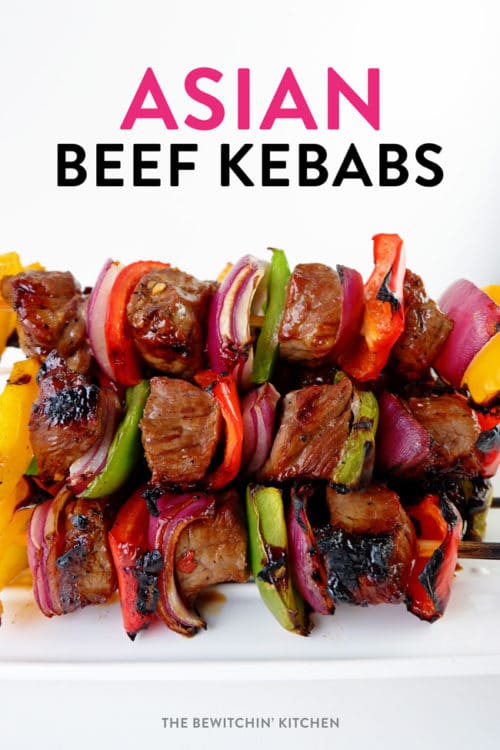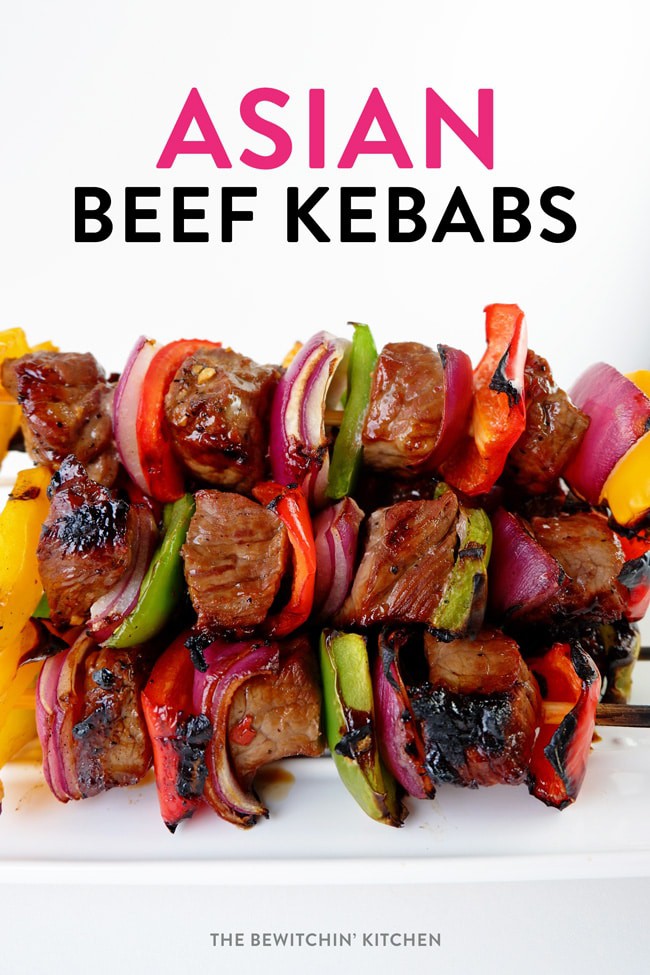 Rawr goes the meat-o-saurs …. sorry I'm corny like that.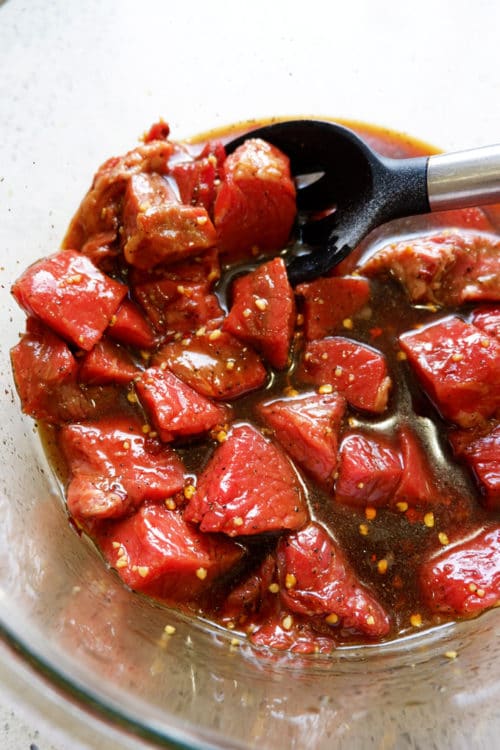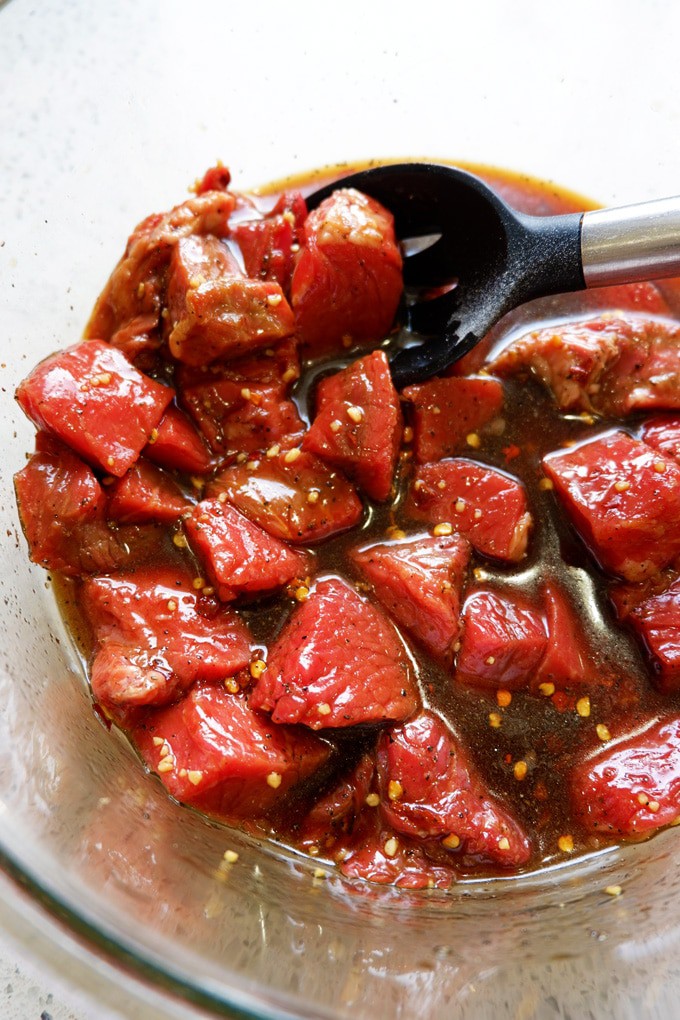 I found a recipe on Pinterest for Korean BBQ Beef from Six Sister's Stuff and thought it would be a delicious addition to our meal plan. A few weeks went by and I finally decided to get the ingredients that would work for us, made some adjustments and made these Asian Beef Kebabs.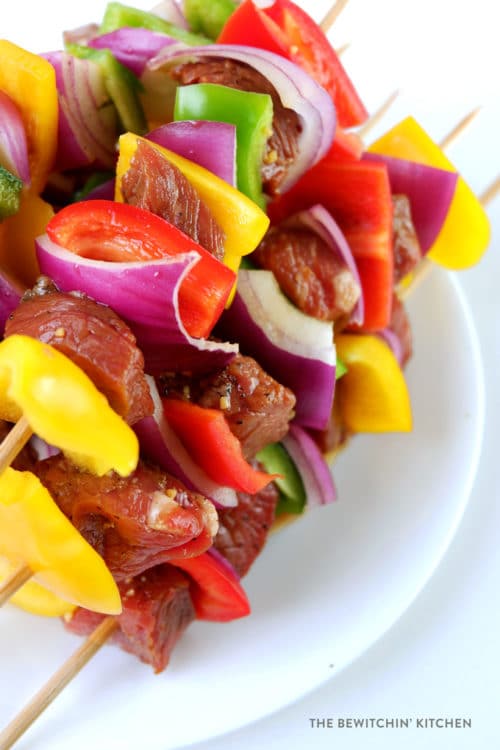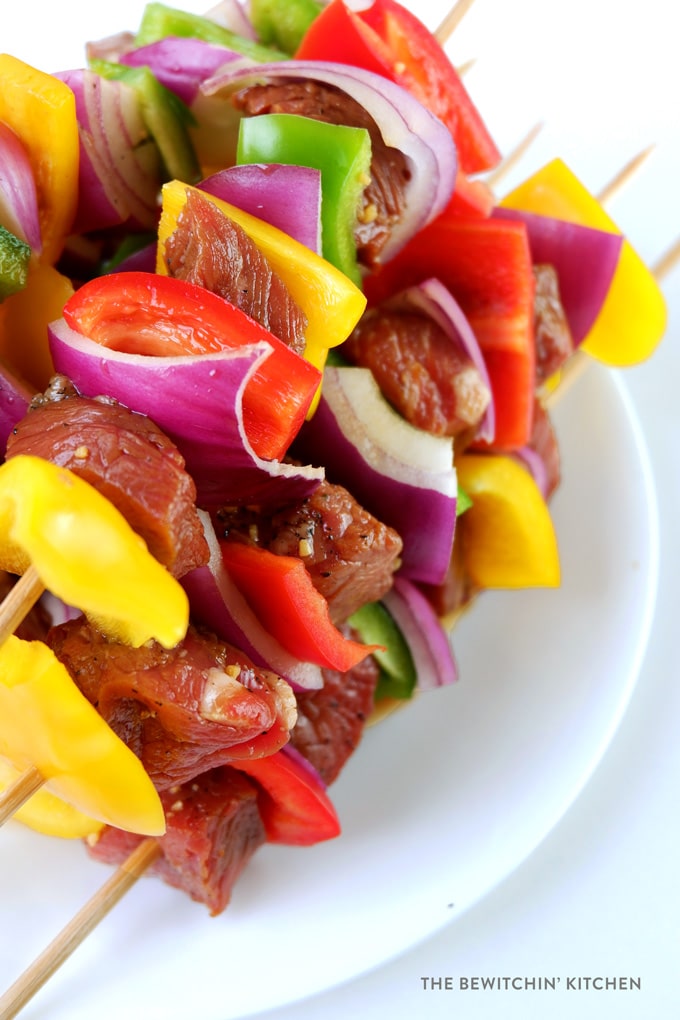 They turned out amazing, and I will be making them again.  Like all recipes, this one is fairly flexible with herbs and spices. Fresh basil would be another delicious addition. As you can tell, I used the baby version of pear juice – in all fairness, it really doesn't matter what you use. Six Sister's Stuff used rice wine vinegar, but I didn't have any. Regular vinegar would work just as well (may have a little bit of a different flavor but it would tenderize the meat a great deal).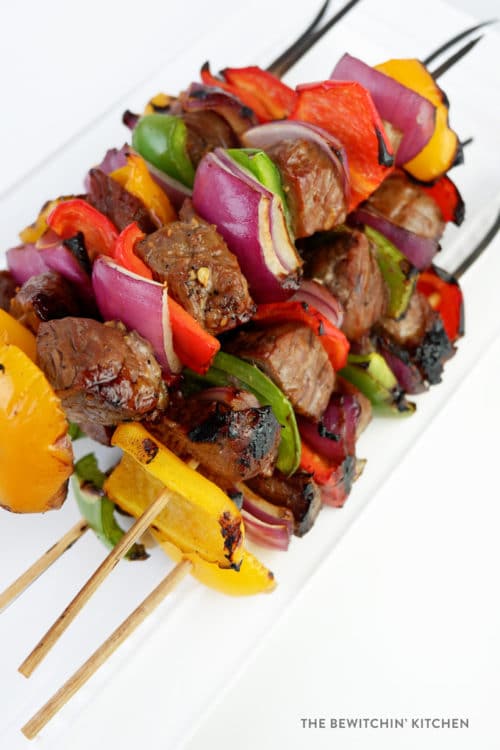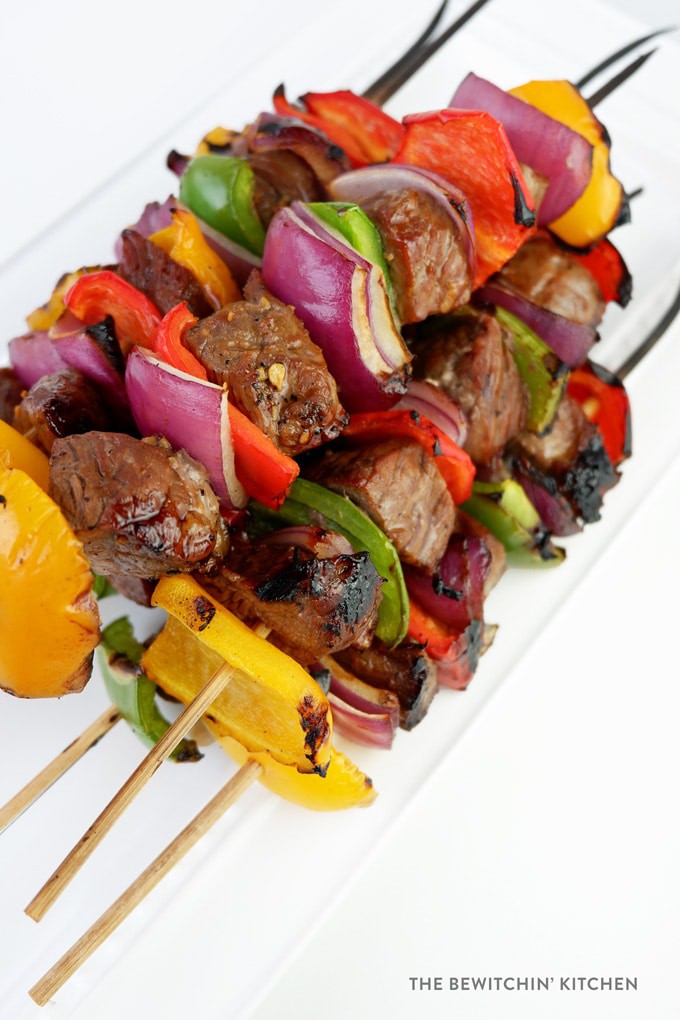 Randa's tip: if you're using wooden skewers, remember to soak them in water for at least an hour, otherwise they will burn up on the grill!
Asian Beef Kebabs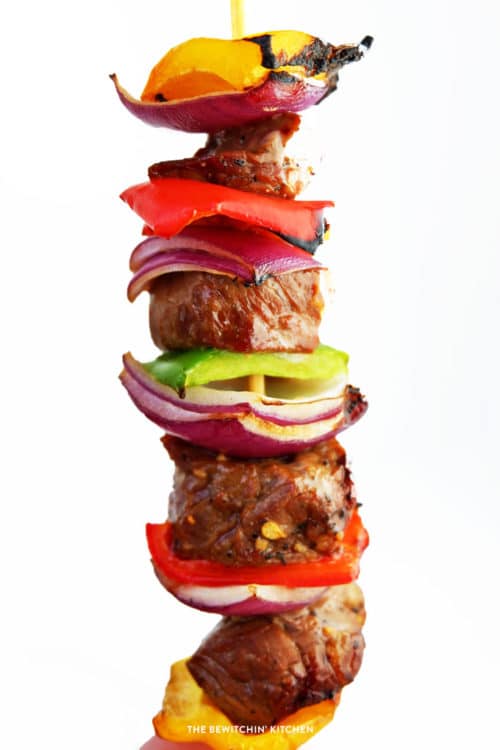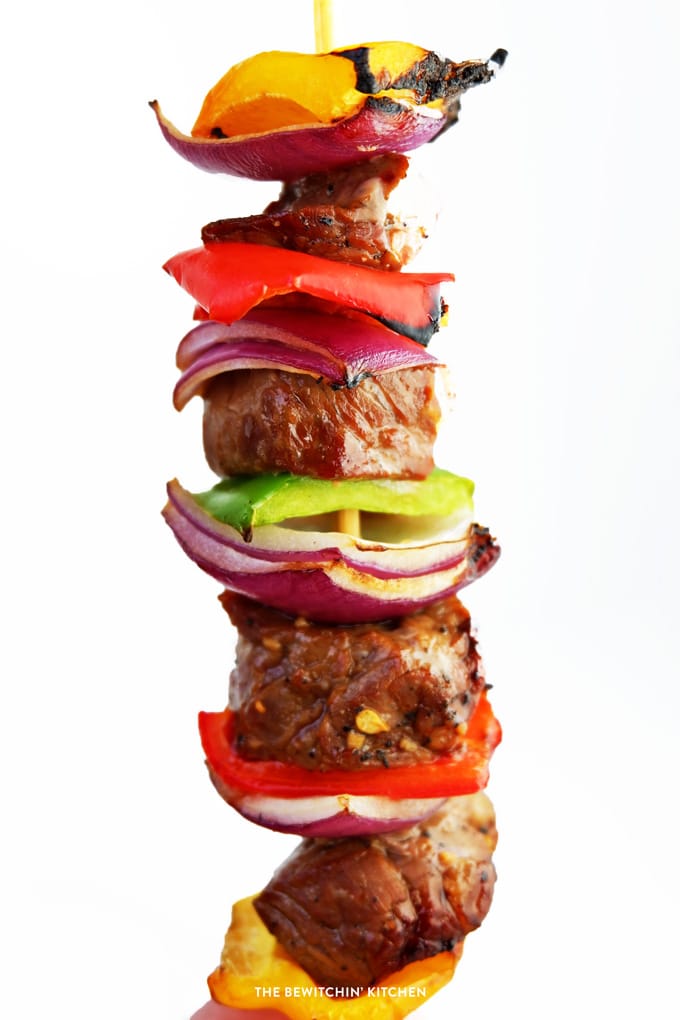 This Asian beef kebabs recipe are a sweet twist on a savory favorite. The steak skewers are easy to make and only take 12 minutes to BBQ.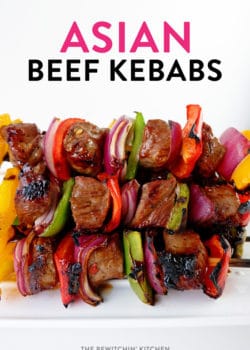 Asian Beef Kebabs
This recipe for Asian beef kebabs is a fun way to grill up some steak with a sweet and salty flavour.
Ingredients:
1 – 1 1/2lb stew meat
1/2 cup pear juice
1/2 cup liquid or coconut aminos
2 tbsp minced garlic
1 tbsp sesame oil
1 tbsp brown sugar
1 1/2 tsp Sriracha
2 tsp red pepper flakes
1 tsp sea salt
1 tsp pepper
1-2 red bell peppers (depending on size)
1 red onion
Skewers (wooden or metal)
Directions:
Prepare your veggies first, cube them so they can be evenly cooked on the skewer. If you are using wooden skewers make sure they have been sitting in water for at least an hour before hand.
In a bowl combine all of your ingredients (adding the beef last) and marinate all day. If you're like me, and just read this now as you are preparing dinner, let it marinate for at least an hour (the long the better).
Skewer a piece of meat, onion, meat, pepper or whatever order you prefer.
Grill on a preheated BBQ for 3-4 minutes on each side.
Enjoy!
Nutrition Information
Yield: 4, Serving Size: 1
Amount Per Serving:
Calories: 250 Calories
Total Fat: 7.2g
Saturated Fat: 2.5g
Cholesterol: 72.6mg
Sodium: 941.8mg
Carbohydrates: 17.1g
Fiber: 1.6g
Sugar: 9.7g
Protein: 28.5g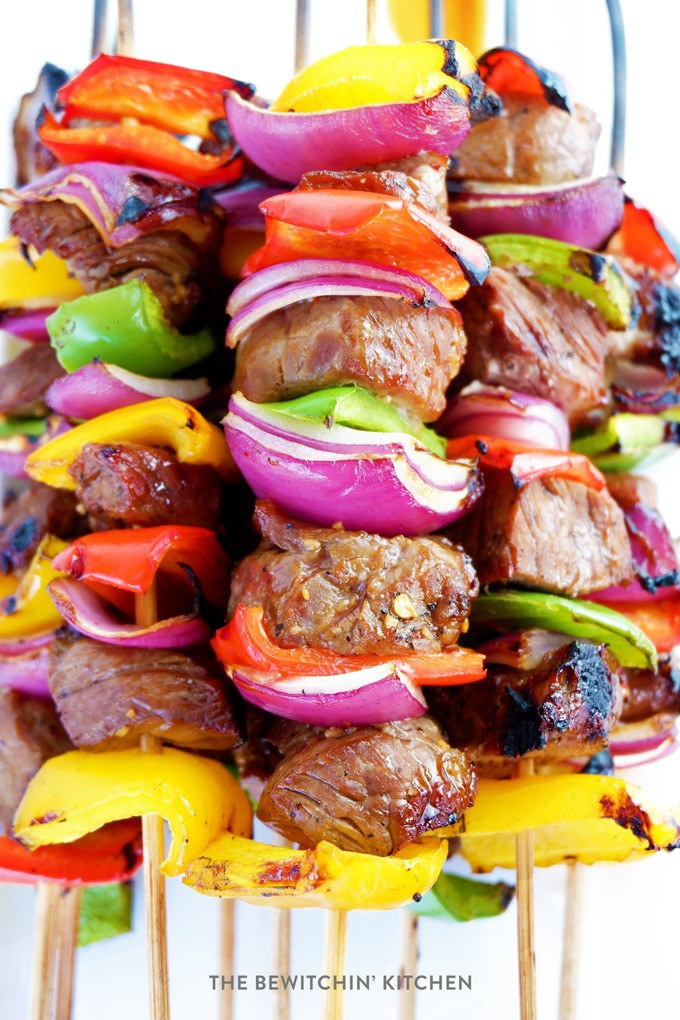 This recipe is amazing and I know that you will enjoy it. If you're super lazy (like I am most of the time) this would be a great marinate for a different take on steak dinner or you could use my red wine steak marinade (I highly recommend this one).
FREE Recipe Binder
Are you constantly wondering what's for dinner?
When I don't meal plan I feel behind, and we usually end up ordering take out. This recipe binder will keep you organized and make life a little bit easier.