Toddler Birthday Party Ideas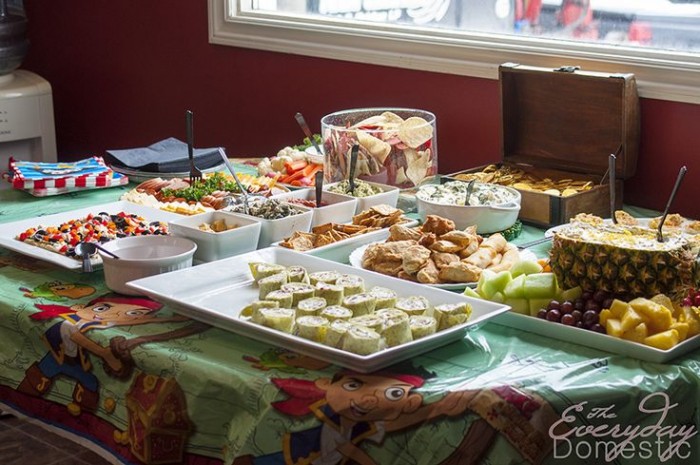 A few weeks ago my son celebrated his second birthday (two years, seriously where did the time go?). Having a toddler birthday party was easy, and aside from the cake – didn't take much effort to pull off.
Update: I lost all my images as I merged blogs, so please be patient as I update this and a few other posts.
I decided on the theme "Jake and The Neverland Pirates", my son really likes the Disney Jr. TV show and I thought it would be easy enough to find. (PS: I was wrong, everything is Cars for birthday parties. Cars everywhere!)
I found a lot of inspiration on Pinterest, but I had to be honest with myself: it was not going to be a "Pinterest Party". I was out of town, with many blog deadlines due. Choose your battles Randa. The kids are two, and only a few came. I didn't need "loot bags", and it's not like my son was going to remember the party anyway. Here are some of the photos (click on the image for the link) that inspired me:
The party was held at my parent's house in my home town, with both sets of grandparents there along with friends and family, it was easier that way.
I picked up a few supplies at a party store in Alberta, and called it good enough. I thought the banner was cute and you can customize the age (you can find the pirate banner here
). That and the balloons were the extent of my decorating.
On to the more important parts of the party, the food. Everything that was made was pretty simple:
Mediterranean Dip
Meat & Cheese Tray
Veggies & Dip
Cranberry & Cream Cheese Pinwheels
Frozen Chinese Appetizers & Sweet Thai Chili Sauce
Tortilla Chips & Crackers
A variety of dips: Hot Spinach & Artichoke, Guacamole, Spinach Dip, & Salsa
Goldfish Crackers
Deviled Eggs
Chocolate coins (stashed in a treasure chest looking storage thing my mom already had)
Pineapple & Citrus Fruit Dip (I could eat this everyday for the rest of my life)
And we can't forget the cake: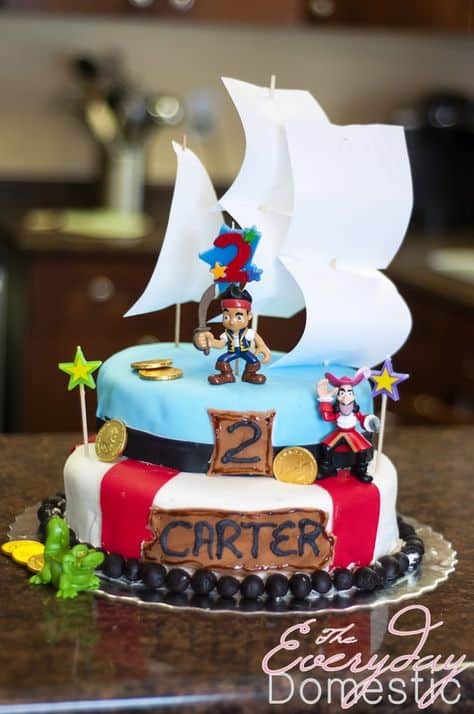 I made a Jake and The Neverland Pirates Birthday Cake, it took quite a few hours to decorate it but it was worth it. Be sure to click on the link to be taken to my post on how I did it.
I kept his party simple. Didn't really do any decorating, but focused on the food. Even then, I kept it fairly simple. Less stress that way and I was able to enjoy my son's party visiting and capturing his party moments.
Moments just like this one.
What are your go to foods for a toddler birthday party? Or any birthday party for that matter?