Texas Turkey Spaghetti Squash Bake
In the last year I have discovered a wonderful new vegetable: spaghetti squash. I have made "spaghetti" with it many times, and it's a great way to feel like I'm eating a high calorie/comfort food meal but stay in my daily goals. That being said, one can only eat so much of the same meal with the same ingredient. I was getting bored and it was time for some variety. I played around with a few of my favorite flavors and came up with Texas Turkey Spaghetti Squash Bake.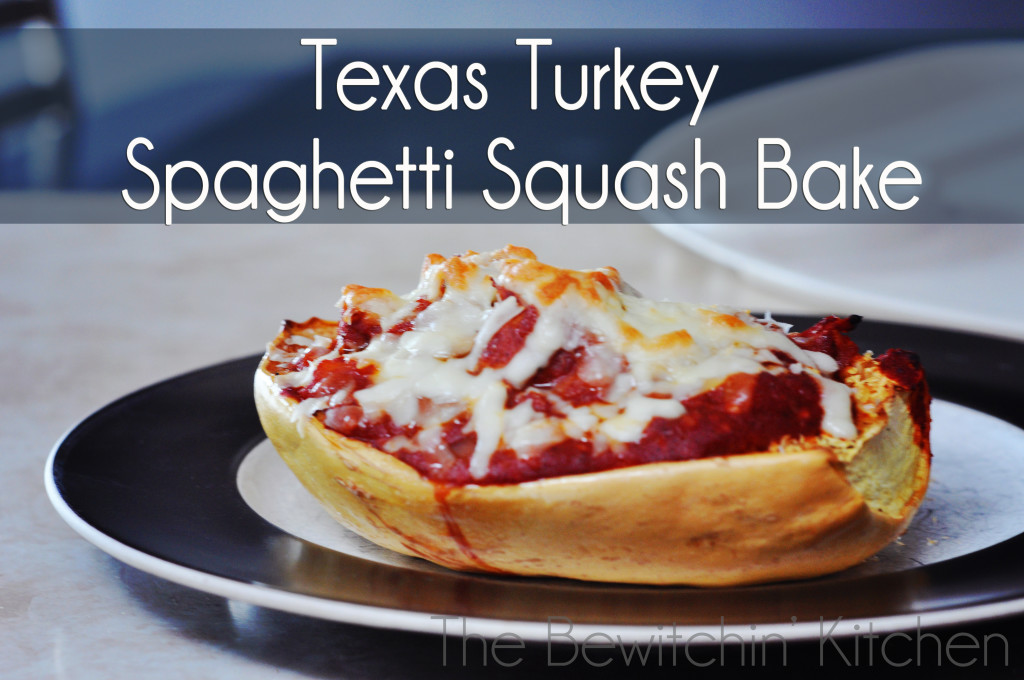 I have never been to Texas, nor do I know anything about it (other than it being the Lonestar State). That being said Texas Turkey Spaghetti Squash sounded much better than Southwestern Turkey Spaghetti Squash. The alliteration made my ears dance and I had to keep it. (Yes, I just used some personification and yes, I had to Google it to make sure I had the right word. Don't judge, 5th grade English was a long time ago.)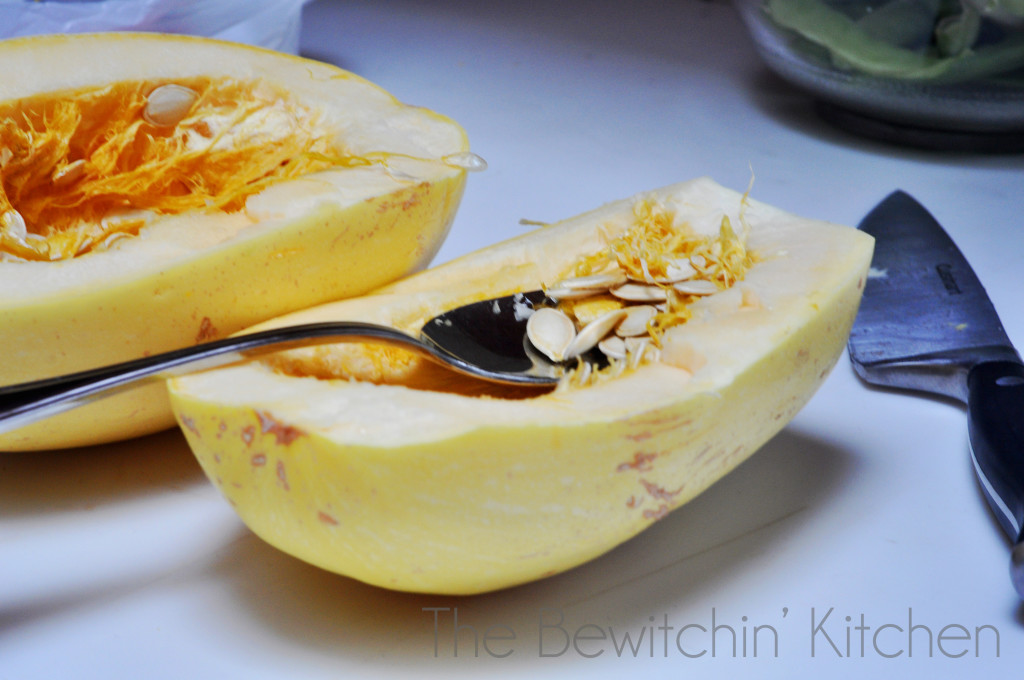 Everything I did for this recipe was made up on the spot, I usually never use measuring spoons but I kept them handy because I wanted to have something to say other then "dump some cumin in". I wanted it precise. The only thing I needed help from Google on was how to roast halved Spaghetti Squash (before this I always just stabbed it a bunch and cooked it whole).
How To Roast Spaghetti Squash
First take your squash and slice it in half, lengthwise. When you open it up you will find a a mess of stringy flesh and seeds, simply scoop that stuff out. Lightly drizzle from olive oil over the squash and season. Place flesh side down onto a baking tray and roast at 400 degrees for about an hour. As it's roasting, prep your sauce (recipe below).

If you like this recipe then you will LOVE my Tomato Pesto Spaghetti Squash Bake.
Texas Turkey Spaghetti Squash Bake
This gluten free and paleo recipe is not only a healthy dinner idea but it's delicious and man approved. Spaghetti squash recipes are a great way to sneak in some extra vegetables for your family.
Servings 2
Calories 473kcal
Ingredients
Roasted spaghetti squash halved
1 package ground turkey I had a half pound
1 small onion
2 cloves garlic
1/4-1/2 bell pepper green would be ideal
1 can tomato sauce
1 can tomato paste
2 tsps chili powder
1 tsp cumin
1/4 cup red wine I used a cabernet merlot
1 tsp red pepper flakes
5-6 basil leaves
Sea salt to taste
1 tbsp oregano
Optional but recommend
Parmesan Cheese
Italian Blend Cheese
Instructions
In a large skillet or pot over medium heat, scramble fry the turkey until almost done. Season with 1 tsp of the chili powder.

Add onion and bell pepper until onion is translucent. Add garlic cook until fragrant.

Add your sauce, paste and spices. I noticed at this point the sauce was too thick and didn't look right so I added some red wine. I didn't measure it out (whoops) but it looked to be about 1/4 cup.

Simmer on low until spaghetti squash is cooked (about an hour). The longer is simmers, the better the sauce.

Assemble

Once the sauce is cooking to your liking and the squash is out of the oven, scoop the sauce onto the squash. It will fill the crater that you have made from scooping the seeds out. Pile it high.

Bake at 400 for 20 minutes.

Add cheeses and bake for another 10 - 15 minutes, or until cheese is golden brown.

Let cool and enjoy.
Nutrition
Serving: 1g | Calories: 473kcal | Carbohydrates: 44g | Protein: 63g | Fat: 6g | Saturated Fat: 1g | Polyunsaturated Fat: 2g | Monounsaturated Fat: 2g | Trans Fat: 1g | Cholesterol: 125mg | Sodium: 2624mg | Potassium: 2900mg | Fiber: 12g | Sugar: 27g | Vitamin A: 4290IU | Vitamin C: 65mg | Calcium: 159mg | Iron: 10mg
Follow On Pinterest
Follow @bewitchinkitchen On Pinterest for more delicious recipes!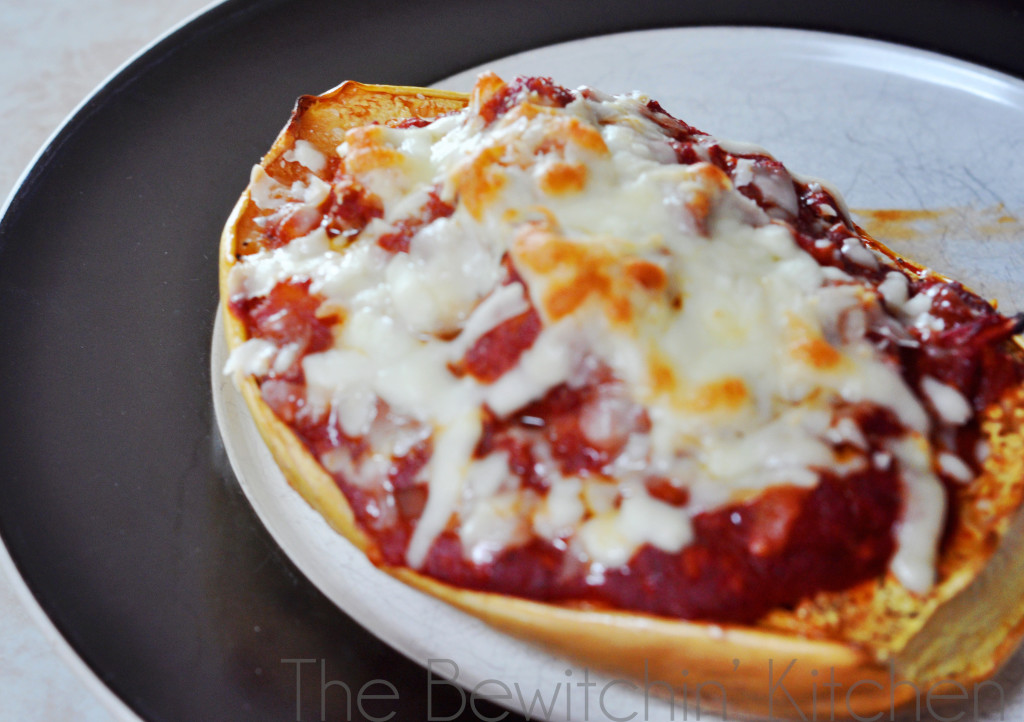 Looking for more low carb recipes? Check out my two favorites: Cauliflower Pizza Crust and Paleo Turkey Stuffed Peppers.
Have you tried cooking with Spaghetti Squash? What's your favorite way to cook it?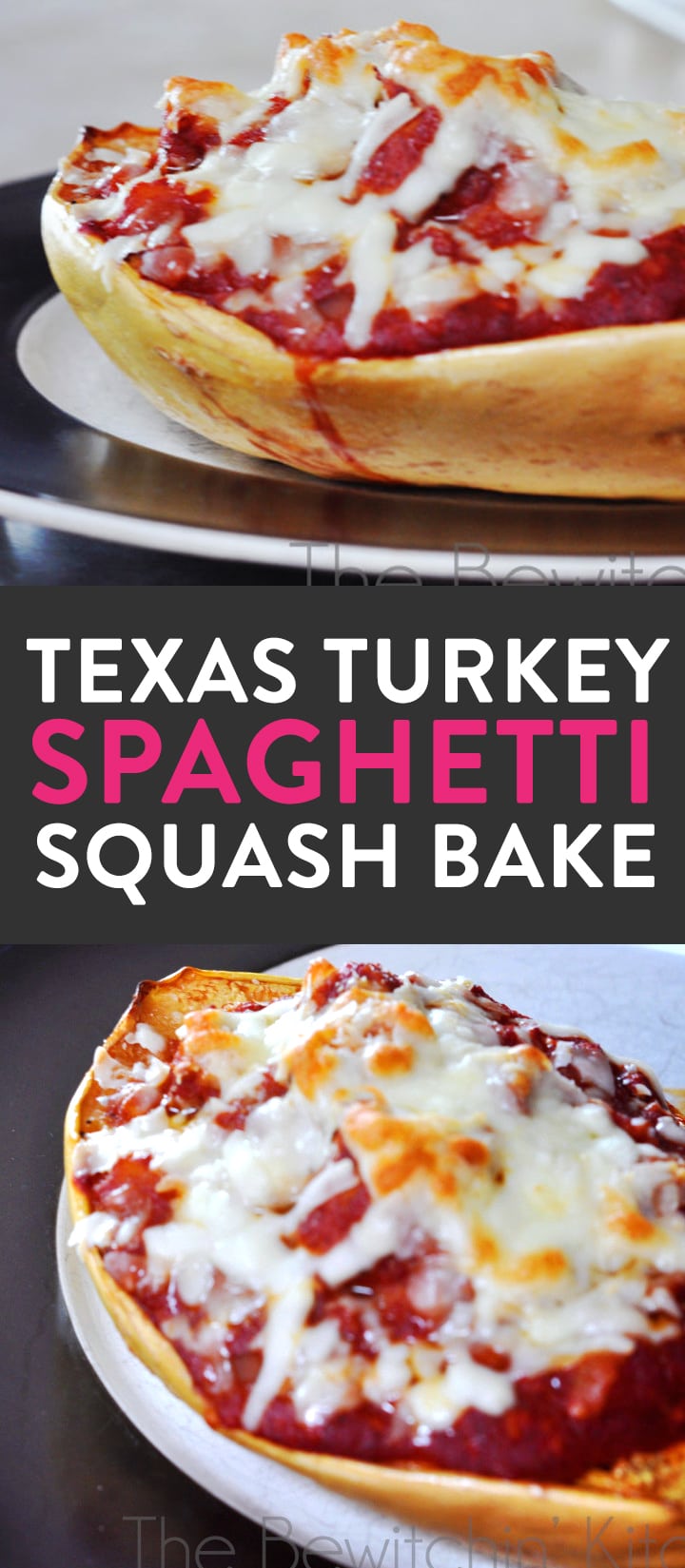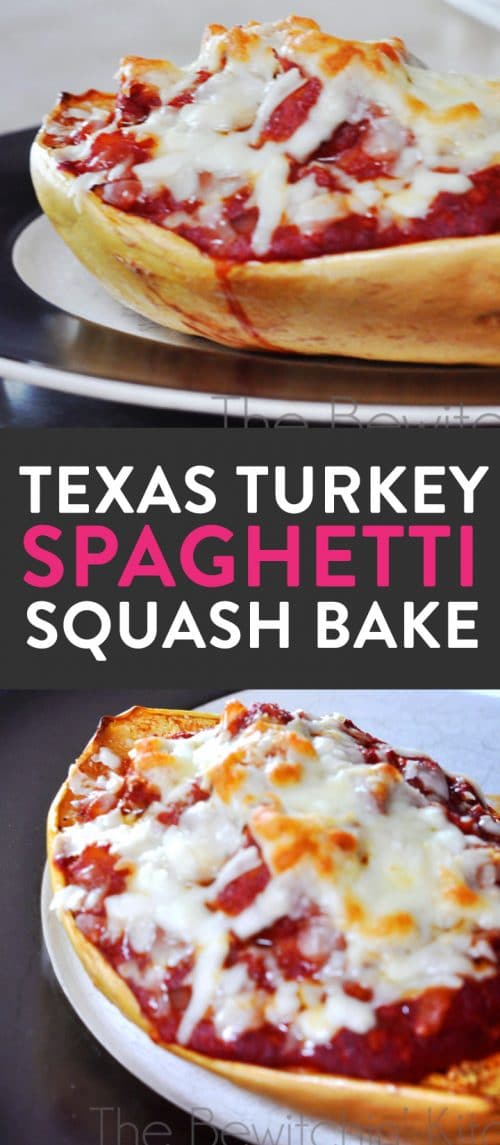 Looking for more great ideas? Click here to follow me on Pinterest!
Visit Randa | The Bewitchin' Kitchen's profile on Pinterest.