Whole30 Chicken Shepherd's Pie
A comfort food classic with a healthy twist, this Whole30 Chicken Shepherd's Pie with cauliflower mashed "potatoes" is a new staple in our family's recipe book. I hope it will be in yours too.
Whether you call it shepherd's pie or cottage pie, this low carb dinner is one your whole family will love. Plus, there's the fun added bonus that it's such an easy dinner to throw together.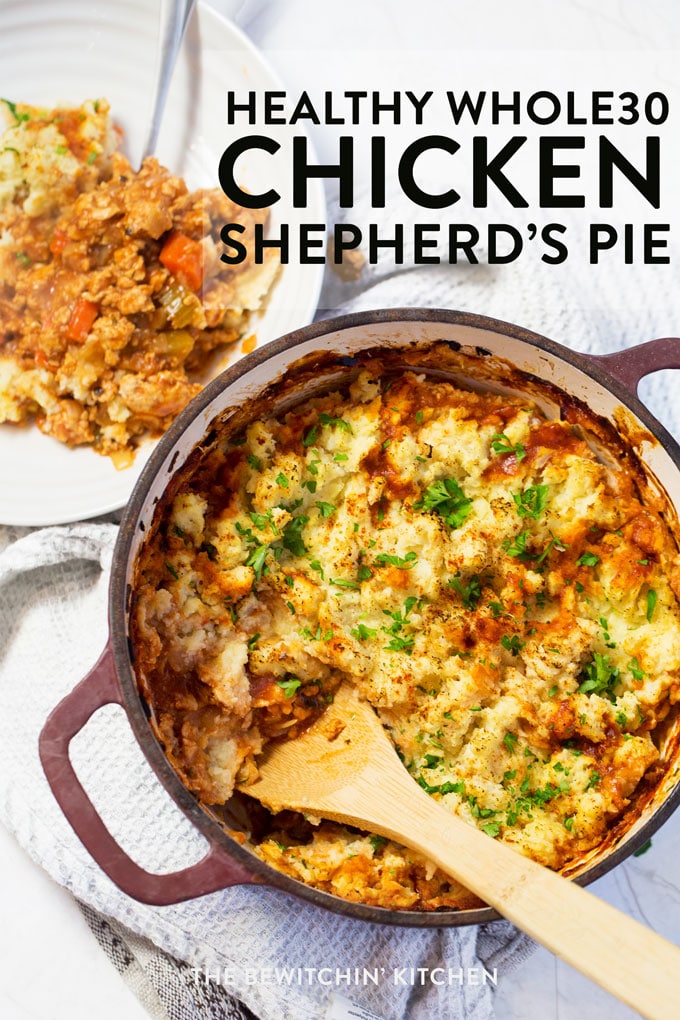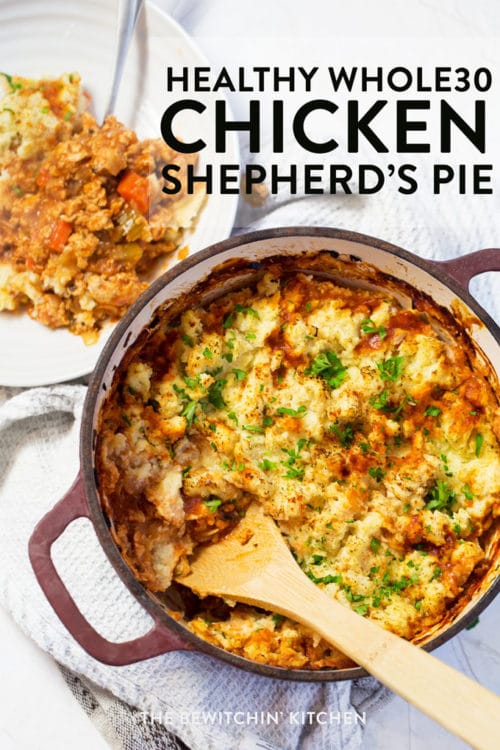 Healthy Shepherds Pie
Disclosure: This post contains affiliate links for your convenience. As an Amazon Associate, I earn from qualifying purchases.
With winter comes snow here in British Columbia. During these chilly months, I have to say that there is nothing better than hearty comfort food.
Comfort food recipes don't always have to mean heavy and unhealthy. Actually, the majority of comfort food recipes have incredibly healthy ingredients: most feature whole foods and tons of vegetables (think chicken soup, mashed potatoes, lasagna… and this chicken shepherd's pie recipe).
It's simple to tweak a few ingredients to make any meal wholesome and healthy. Healthy comfort food dishes made with easy recipes for the win!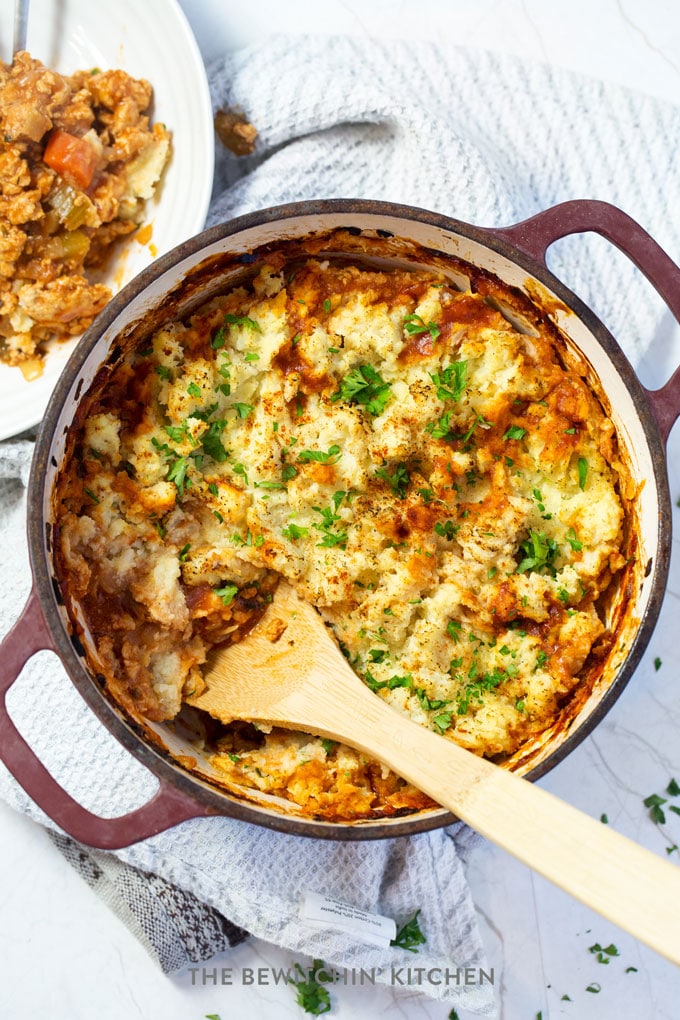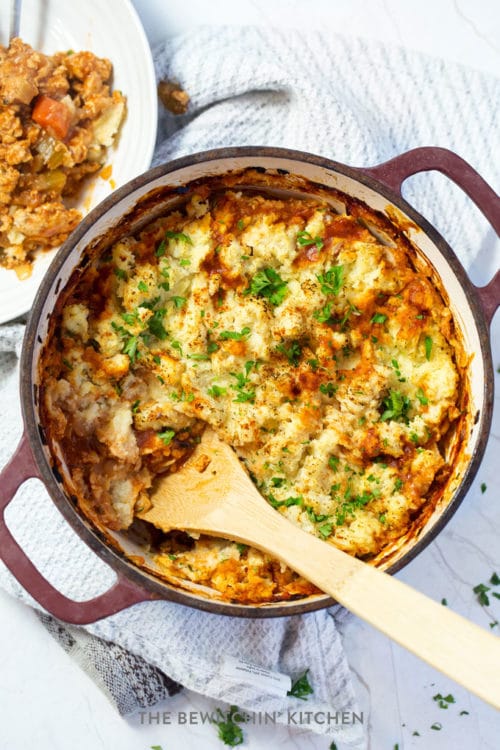 Why you will love shepherd's pie with chicken
Ready in under an hour
Simple, whole food ingredients
Use whatever veggies you have on hand
Good for the whole family
Low carb and low calorie
Shepherd's Pie vs Cottage Pie: What's The Difference?
Shepherd's Pie has lamb (think shepherds = sheep) and cottage pie uses ground beef, which is how I grew up with it. My family always called it Shepherd's Pie, even though it's technically cottage pie, but does it really matter?
This Whole 30 shepherds pie recipe uses neither lamb nor ground beef — it uses ground chicken. So I phrased my own term.
Coop Pie.
Think it will catch on? Me neither, but it's worth a shot.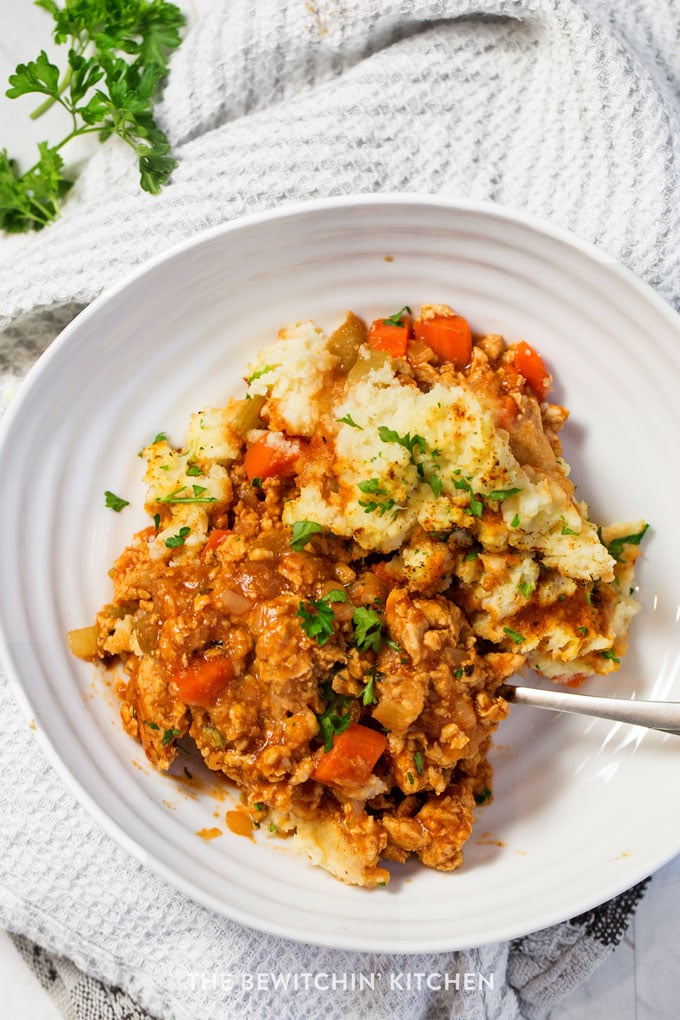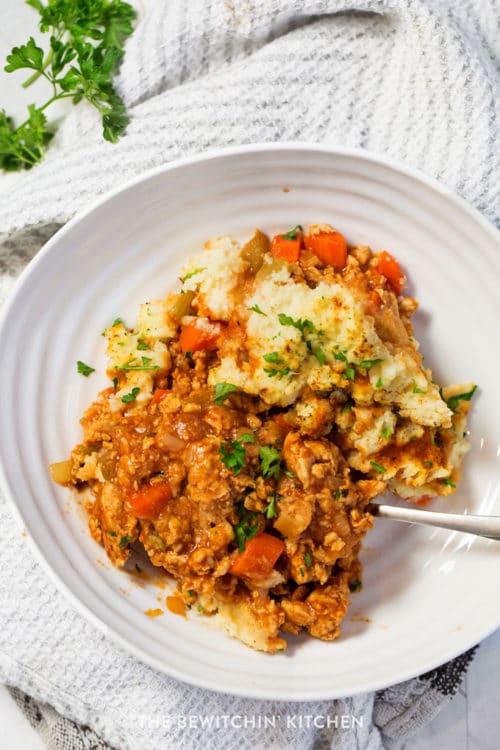 How to Make Perfect Chicken Shepherd's Pie
The best part about this chicken shepherd's pie recipe is how easy it is to throw together!
Toss cauliflower florets into a pot to boil while you work on the chicken filling. Once they're tender, mash and mix in ghee and seasonings.
In a Dutch oven, saute your veggies. Add the ground chicken and cook through, then mix in the remaining ingredients (including a slurry of beef broth and arrowroot powder).
Spread the mashed cauliflower over the top of the chicken mixture and sprinkle on some paprika for color. Bake shepherd's pie with chicken until the top is golden, then serve and enjoy!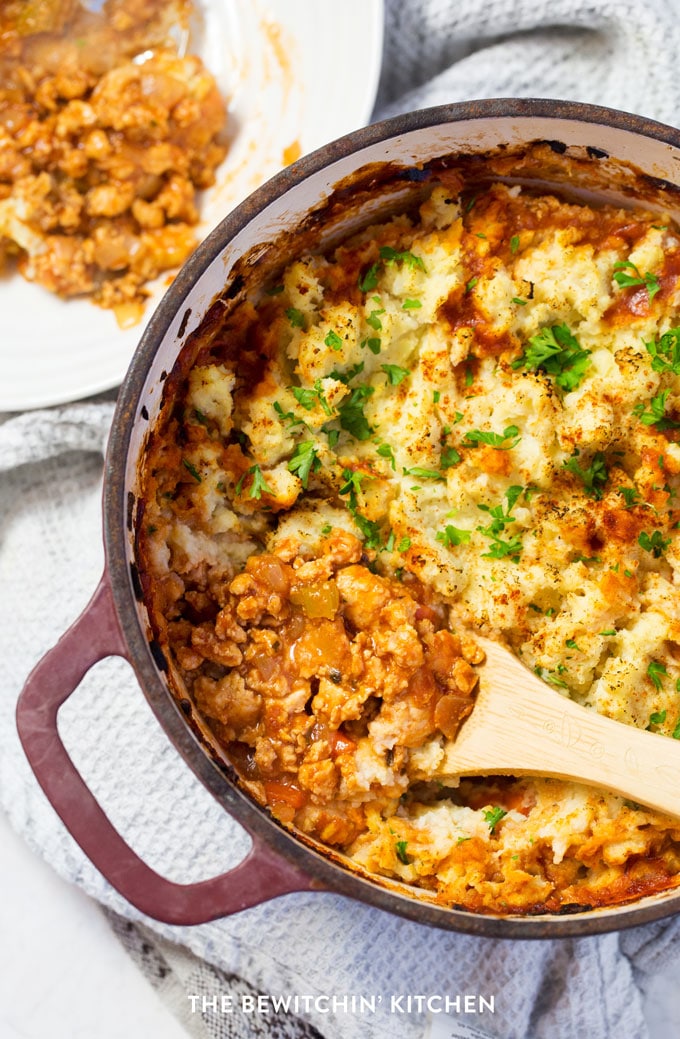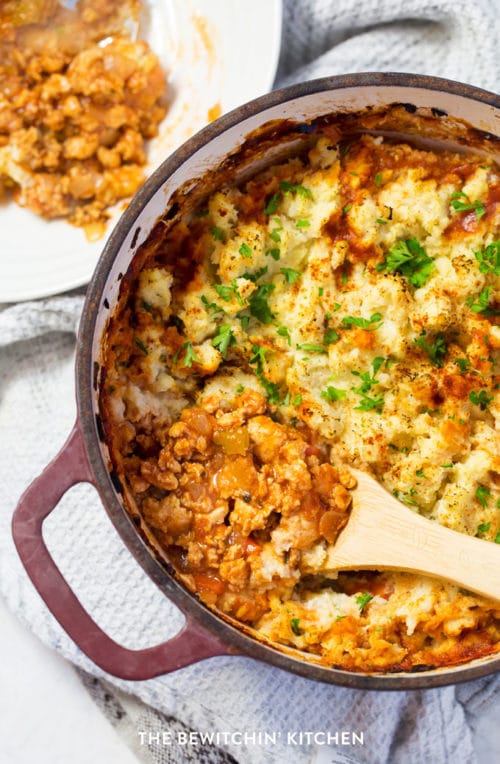 Whole 30 Shepherds Pie
Shepherd's Pie is pretty healthy as it is. It's full of healthy vegetables. However, the traditional cream-loaded potatoes throw it off, just a bit.
Instead, I used a cauliflower mash with some ghee to make this comfort food classic into a low carb shepherd's pie. It's perfect for those who are doing keto, Atkins, or even 21 Day Fix and other Beachbody Portion Fix programs.
I used ground chicken to help lighten it up a bit.
Swapping ground lamb or beef for chicken and potatoes for cauliflower changes the calorie and macronutrients astronomically.
1/4 of this healthy shepherd's pie recipe has only 337 calories! So eat to your heart's content.
You can find the full macronutrients and nutritional information at the bottom of the recipe card.
Frequently Asked Questions about Healthy Shepherd's Pie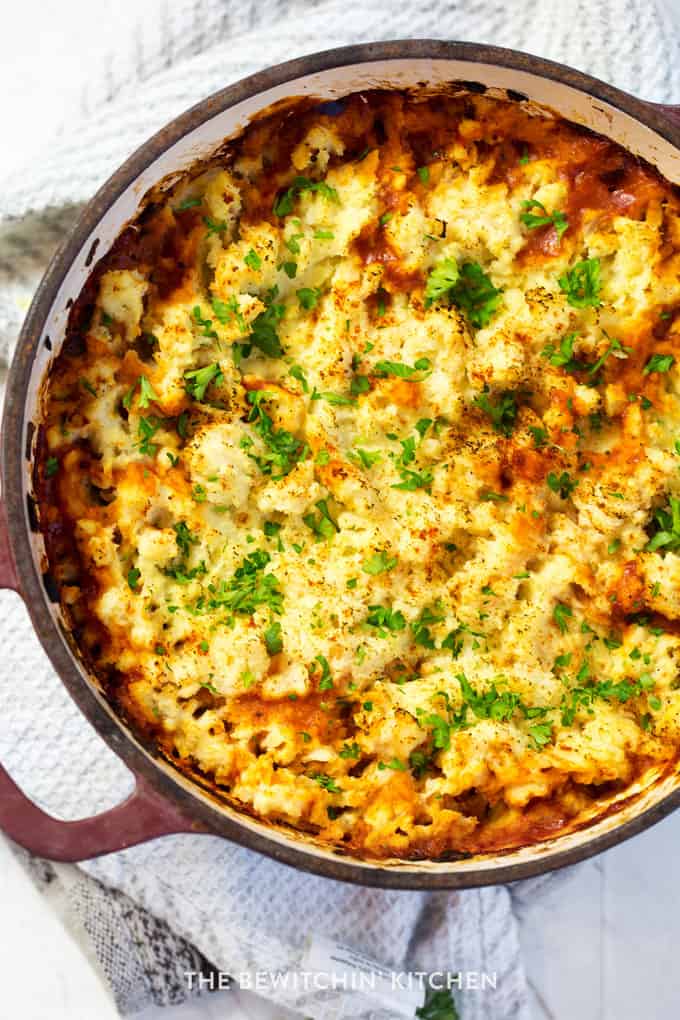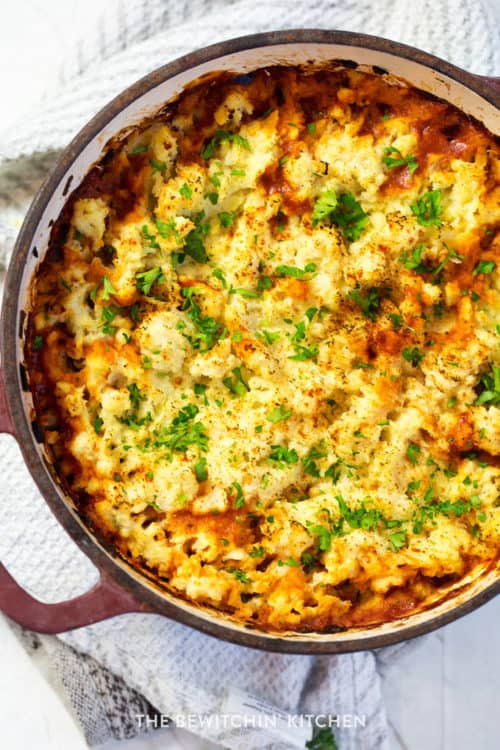 What goes with chicken shepherd's pie?
This shepherd's pie with chicken is more than enough for a meal on its own. It's packed with protein and plenty of veggies to keep you feeling full.
Still prefer a side dish? Try a green salad to lighten your plate, or a slice of your favorite low carb bread to mop up every last bite!
What vegetables go in shepherd's pie (or cottage pie)?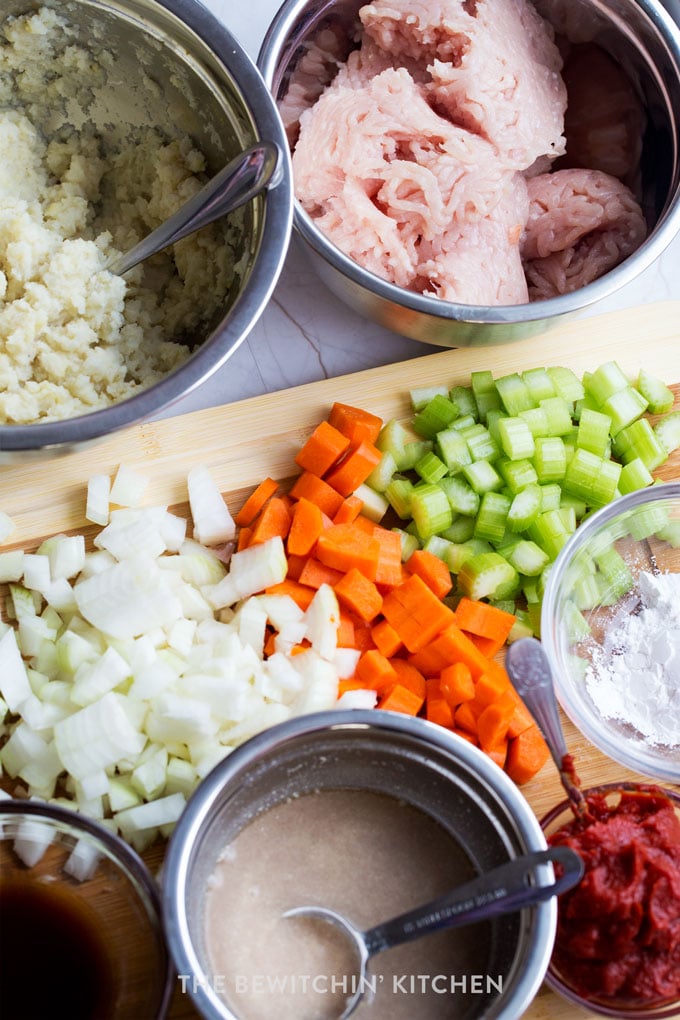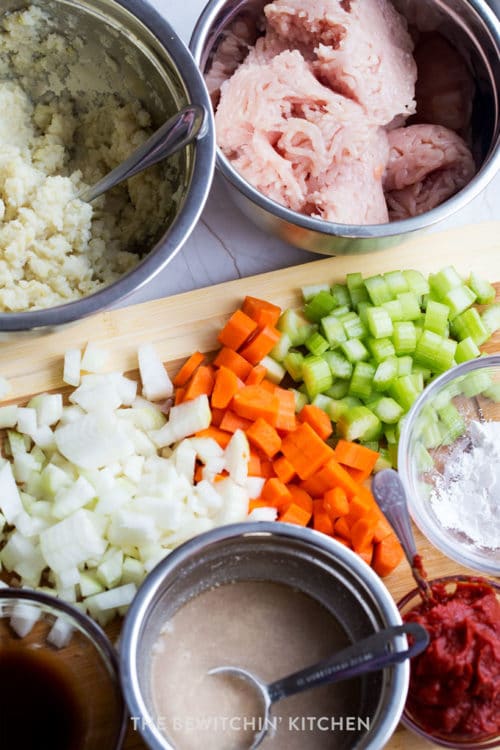 Short answer: any vegetable you want! I like to add whatever I have in my fridge that I need to get rid of, but here are a few examples:
Carrots
Celery
Onions
Peas (if not Whole30)
Kale (I originally had kale out on the counter for this and totally forgot it)
Spinach
Bell peppers
Mushrooms
Tomatoes
Zucchini
Turnips
Leaks
Potatoes
Sweet potatoes
Cauliflower
Do you see where I'm going with this? Add whatever you want and make your own version of a healthy shepherd's pie.
Are cauliflower mashed "potatoes" good?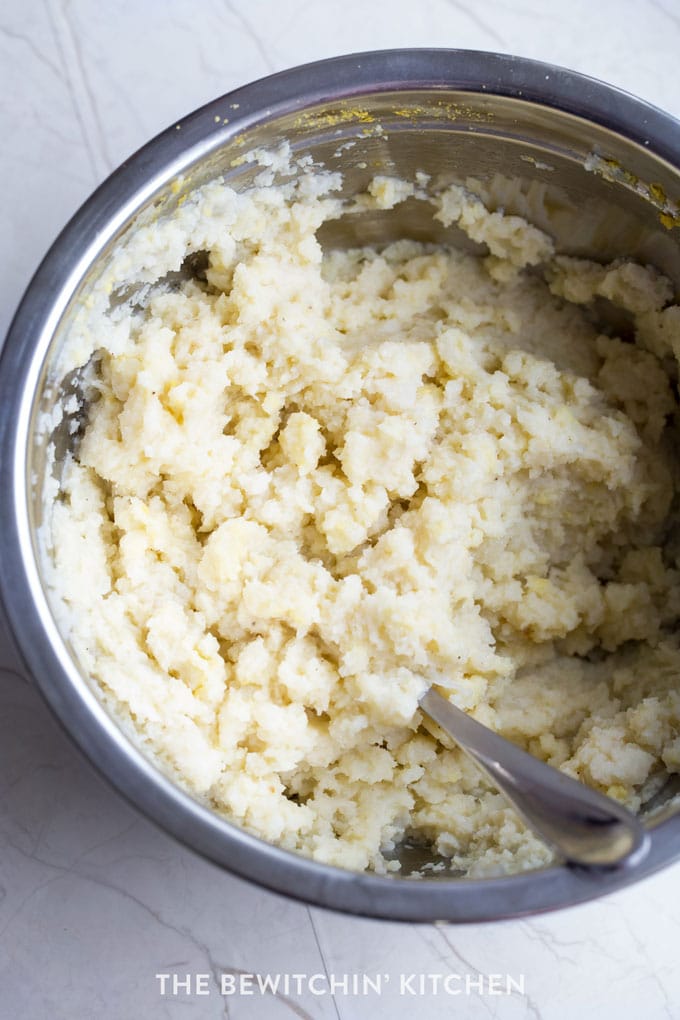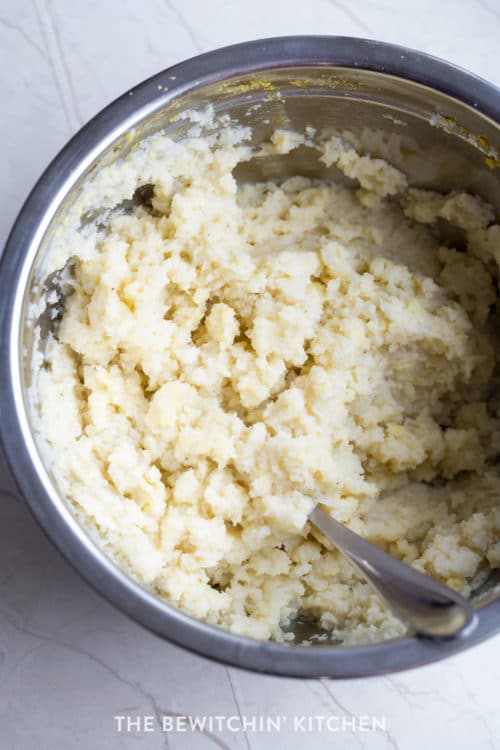 Using cauliflower mash or fauxtatoes was a risky move. My husband loves Shepherd's Pie, and his favorite part is the potatoes. So, serving this Whole 30 shepherds pie with cauliflower made me wince a bit as he took his first bite.
He loved them! He said, although he knew it was cauliflower, it had a similar taste and consistency to potatoes. He also thumbed up this healthy comfort food recipe and declared it to be man approved.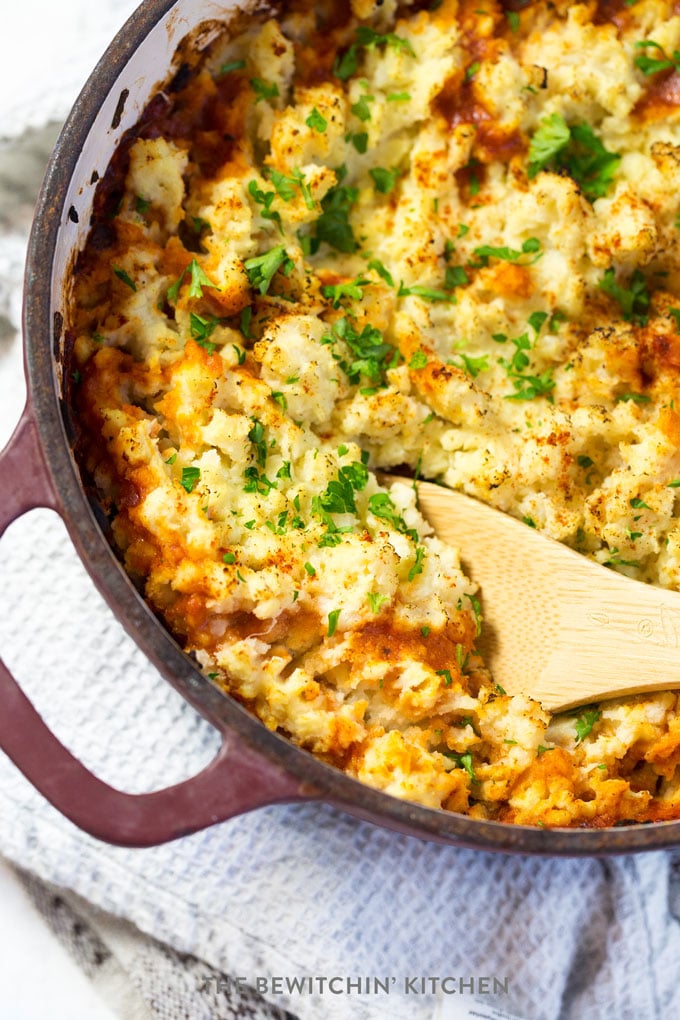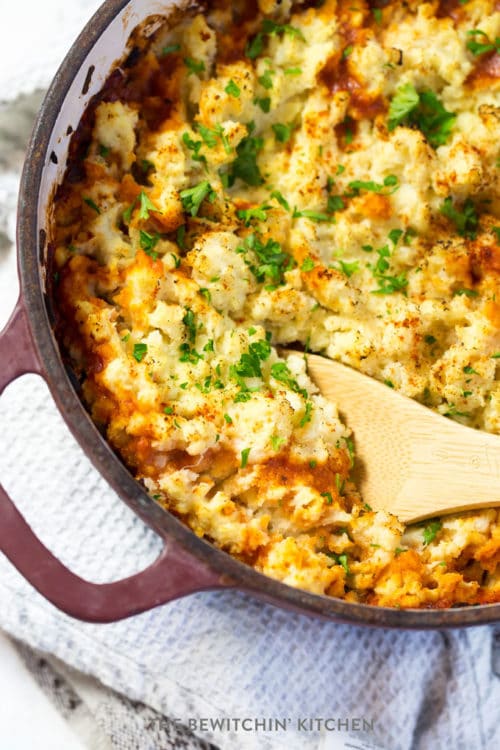 Container Counts
By popular demand, I am now offering the container counts for the Ultimate Portion Fix. I'll be slowly updating all my recipes so you can use my recipes for Beachbody programs like 21 Day Fix, 80 Day Obsession, Liift4, and more.
Here are the counts for this creamy scallops recipe:
Full recipe: 9 green, 4 red, 9 tsps.
Per serving: 1 green, 1 red, 1 tsp.
More healthy chicken comfort food recipes:
Whole30 Chicken Shepherd's Pie
A tasty and low carb twist on a traditional Shepherd's Pie (or cottage pie).
Servings 4 people
Calories 378kcal
Ingredients
Cauliflower Mash
1 head cauliflower stem removed and chopped into florets
2 tbsps ghee
1 tsp sea salt
1/2 tsp pepper
2 tbsps nutritional yeast add more for a cheesier taste
Filling
1 tbsp ghee or coconut oil
1 onion diced
2 carrots carrots peeled and cut into half moons
2 celery stalks diced
1 lb ground chicken
1 tbsps herbs de provence or rosemary
2 cloves garlic minced
1 6oz can tomato paste
1 tbsp coconut aminos
1 tbsp apple cider vinegar
1/4 cup beef broth
1 tbsp arrowroot powder
1 tsp paprika
2 tbsps parsley for garnish
Instructions
For the cauliflower mash
Bring the cauliflower florets to a boil in a large stockpot. Boil for 10-12 minutes, or until cauliflower is soft.

Puree the cauliflower with an immersion blender, or use a masher. Add ghee, nutritional yeast, salt, and pepper. Set aside.
For the chicken filling
Preheat oven to 400F.

In a dutch oven (or large skillet) heat ghee over medium heat. Once hot, add the onions, carrots, and celery. Sautee until soft and onions are almost translucent (about 4-5 minutes).

Add the ground chicken. Scramble fry until cooked (see note).

Add the herbs, de provence, garlic, tomato paste, coconut aminos, and vinegar. Combine the beef broth and arrowroot powder together, add to the chicken mixture.

Once everything is stirred together, bring to a bubble and remove from heat.

Add the cauliflower topping. Fluff up with a fork and sprinkle the paprika over top.

Bake for 20 minutes, or until cauliflower is lightly golden. Sprinkle with parsley, serve.
Notes
If you have a narrower ditch oven (like me). Put the lid on it, it will help the ground chicken cook quicker. Weight Watchers Freestyle Points: 5
Container Counts
Full recipe: 9 green, 4 red, 9 tsps.
Per serving: 1 green, 1 red, 1 tsp.
Nutrition
Serving: 1slice | Calories: 378kcal | Carbohydrates: 24g | Protein: 27g | Fat: 21g | Saturated Fat: 10g | Polyunsaturated Fat: 2g | Monounsaturated Fat: 7g | Trans Fat: 1g | Cholesterol: 126mg | Sodium: 603mg | Potassium: 1626mg | Fiber: 7g | Sugar: 9g | Vitamin A: 1195IU | Vitamin C: 84mg | Calcium: 90mg | Iron: 5mg
Follow On Pinterest
Follow @bewitchinkitchen On Pinterest for more delicious recipes!