Whole30 Fajita Hasselback Chicken
This easy whole30 recipe for fajita hasselback chicken is a clean eating must do! A healthy, high protein, low carb alternative to a dinner favorite is always good in my books. A twist on fajitas with the simplicity of sheet pan chicken.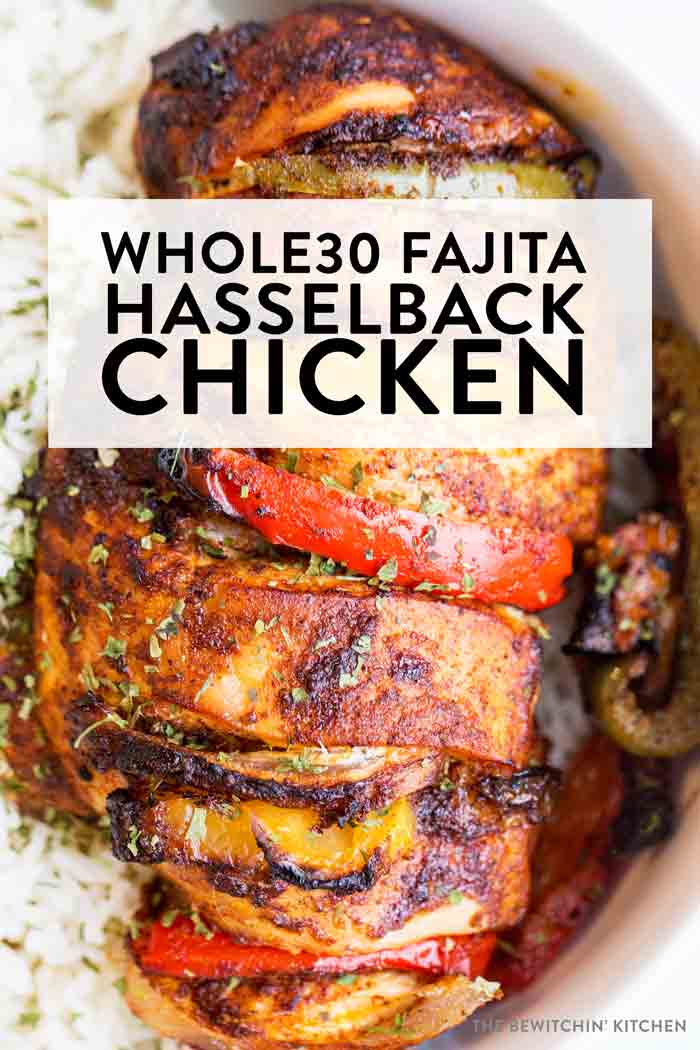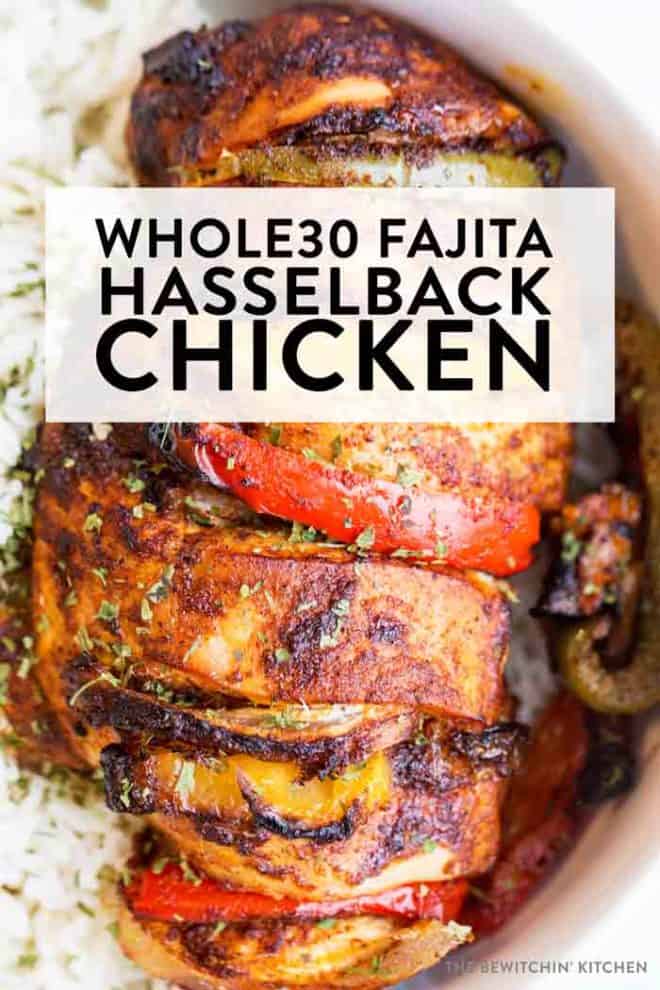 Whole30 Fajita Hasselback Chicken
Disclosure: I am participating in the Chicken Farmers of Canada campaign managed by SJ Consulting. I received compensation in exchange for my participation in this campaign. The opinions on this blog are my own.
I love southwestern flavors! Cumin and chili powder are spices I often cook with because they go with absolutely everything, just like Canadian chicken.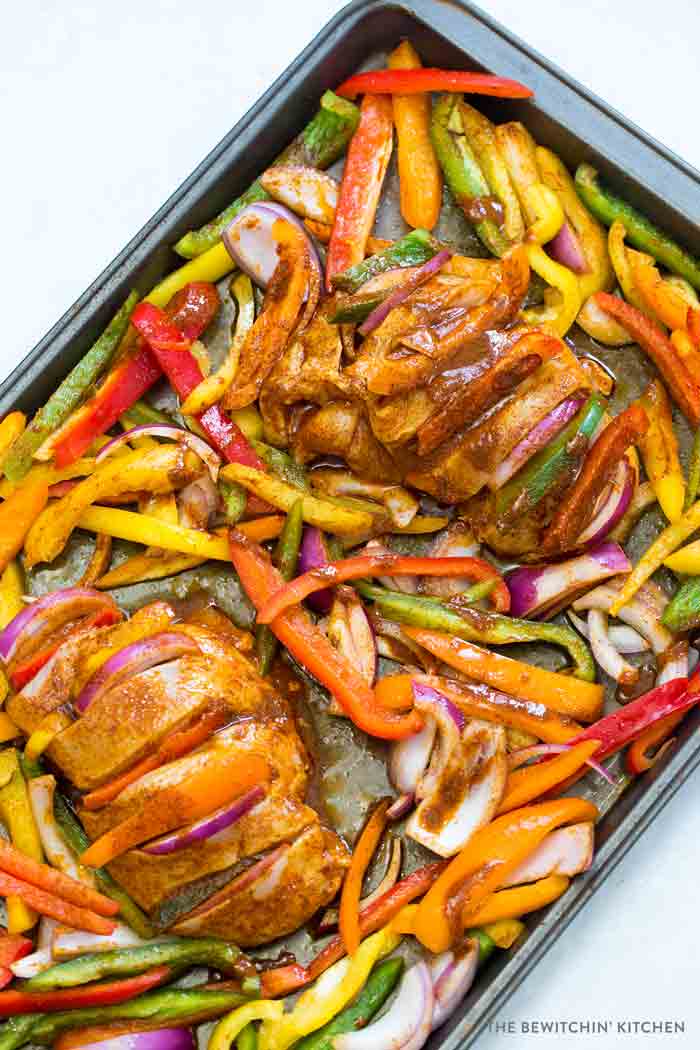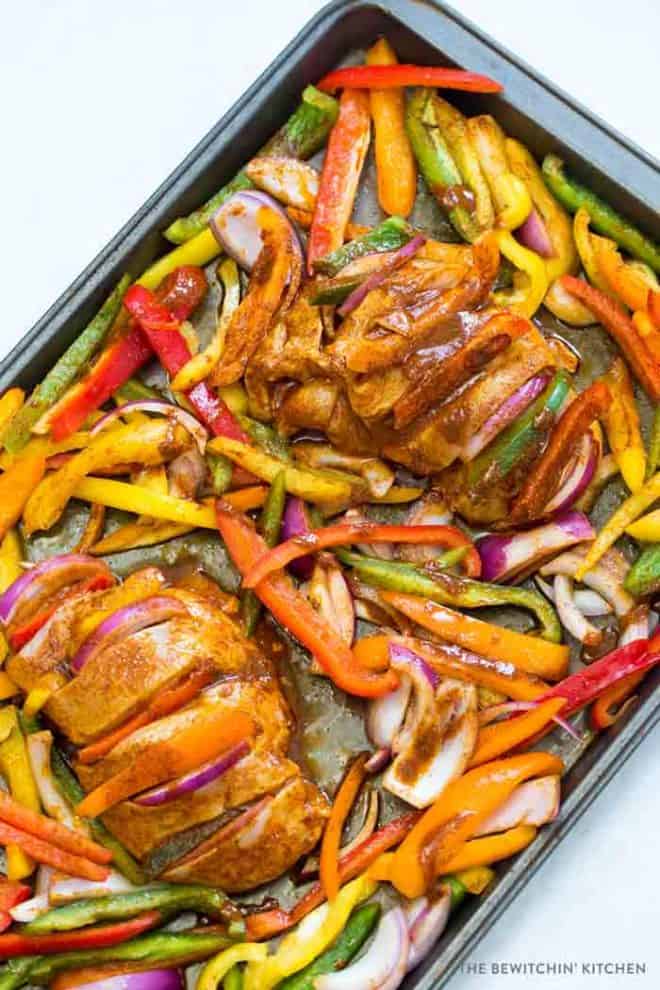 I am honored that Chicken Farmers of Canada has invited me back to me a brand ambassador for the third year in a row. Not only is it a lot of fun with creating healthy recipes using my favorite protein (Canadian chicken) but I love spreading the word about the amazing chicken farmers we have here in Canada!
Did you know: Over 80% of Canadians want one mark that indicates that chicken is raised by a registered Canadian chicken farmer, who is subject to our mandatory and auditable programming for things like food safety and animal care.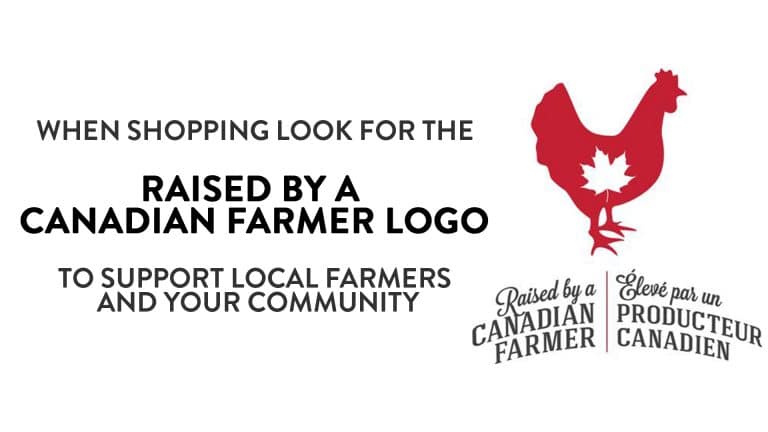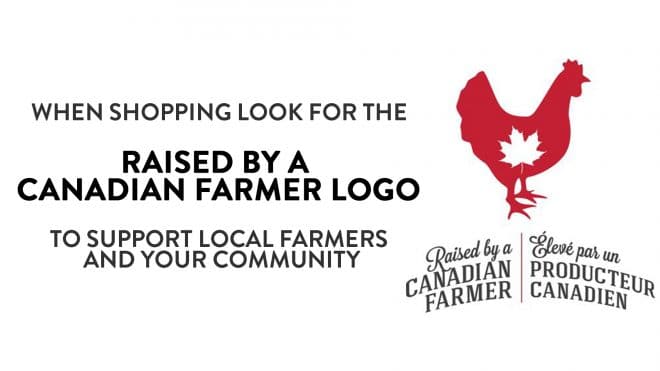 It's easy to spot chicken that was raised by a Canadian farmer, just look for the logo above on your package. Western Canadian's, Walmart Supercenters have it!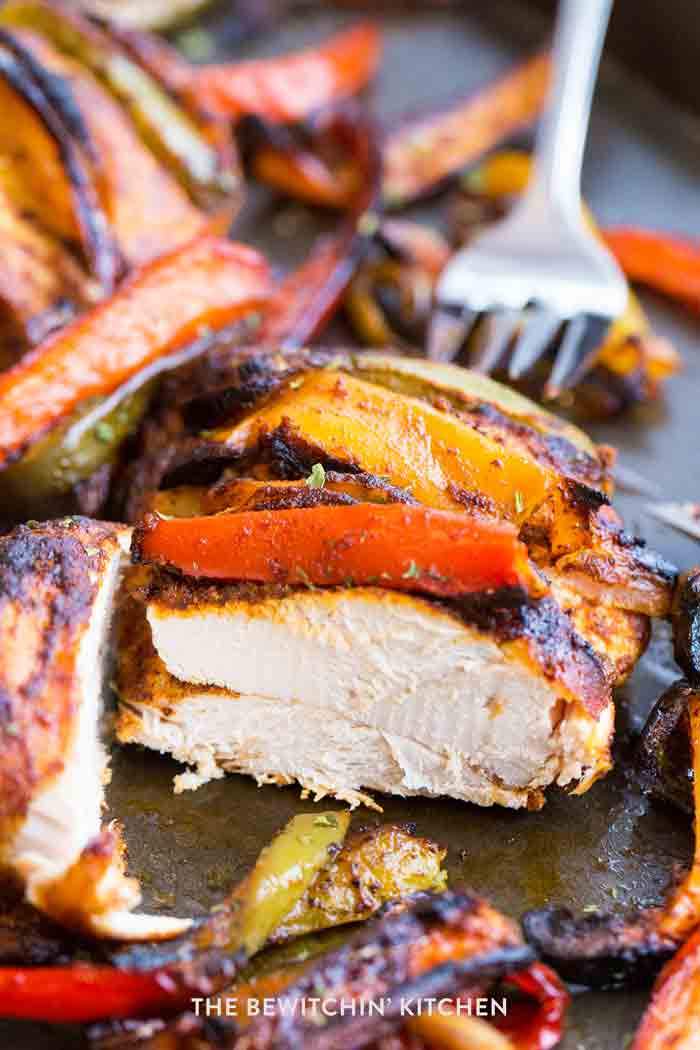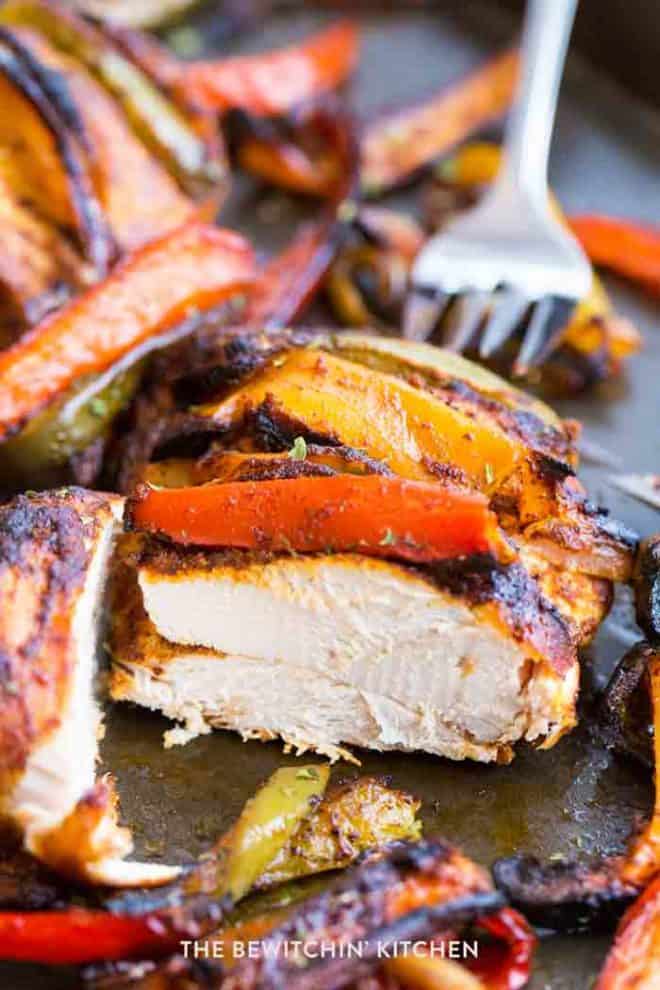 There are many different kinds of farming when it comes to our dinnertime poultry. Here they are:
Free Range: Free range birds must have access to the outdoors (varies from farm to farm).
Free Run: Free run chickens do not need to be raised outside but they are required to be able to move around freely within the barn. All chickens raised for meat in Canada are free run.
Grain Fed: This is mostly for marketing. All chicken in Canada is given a feed that consists of at over 88% grain.
Halal: Meat that comes from chicken that are well-rested and handled in a way the minimizes suffering. This practice is common in the Muslim faith.
Hormone Free and/or Steroid Free: Hormones have been banned from chicken since the 1960's in Canada.
Kosher: Kosher means that this fits the dietary requirements of Jewish law.
Organic Chicken: Organic chicken is raised to a specific standard as laid out by the Canadian General Standards Board, in addition to the standards set by an organic certification board. Generally, chicken must be raised with certified organic feed that contains no animal by-products or antibiotics and any supplements, such as vitamins, must be approved by a certification body.
Vegetarian Grain Fed: This means that the feed has no animal by-products. For the protein source, soy is included but keep in mind that it can alter the taste and color of the meat.
Raised Without Antibiotics: This means that the chicken was raised without any antibiotics.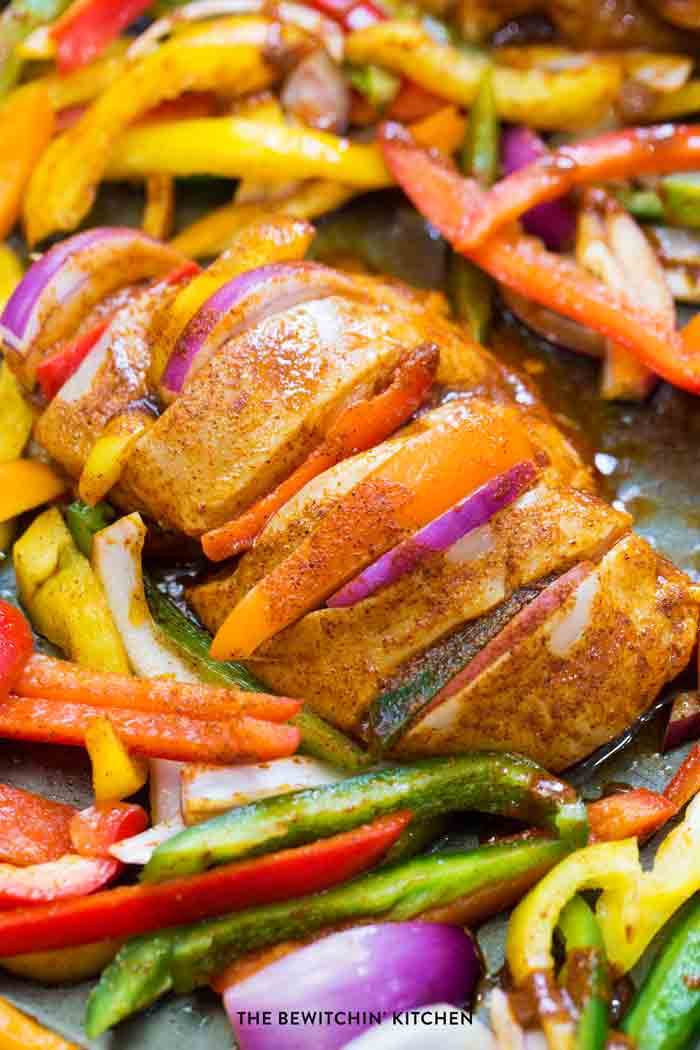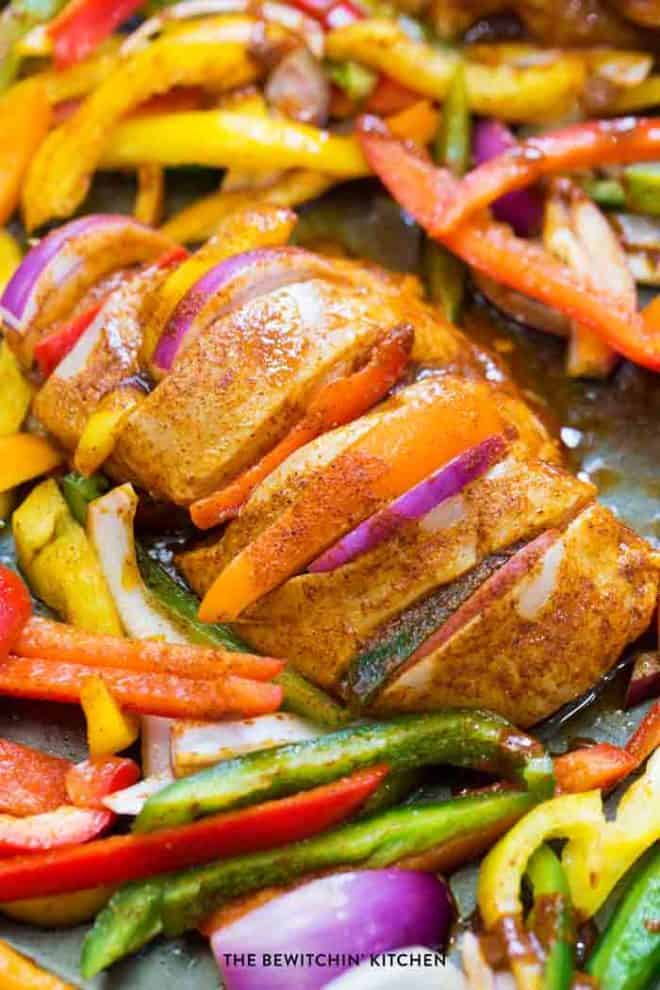 Hasselback Chicken
Seriously, what can you NOT do with chicken? Fry, bake, broil, roast, wings, breasts, things, and now we have hasselback. I assume hasselback chicken was inspired by hasselback potatoes, which is where you cut it almost through and stuff it with delicious flavors.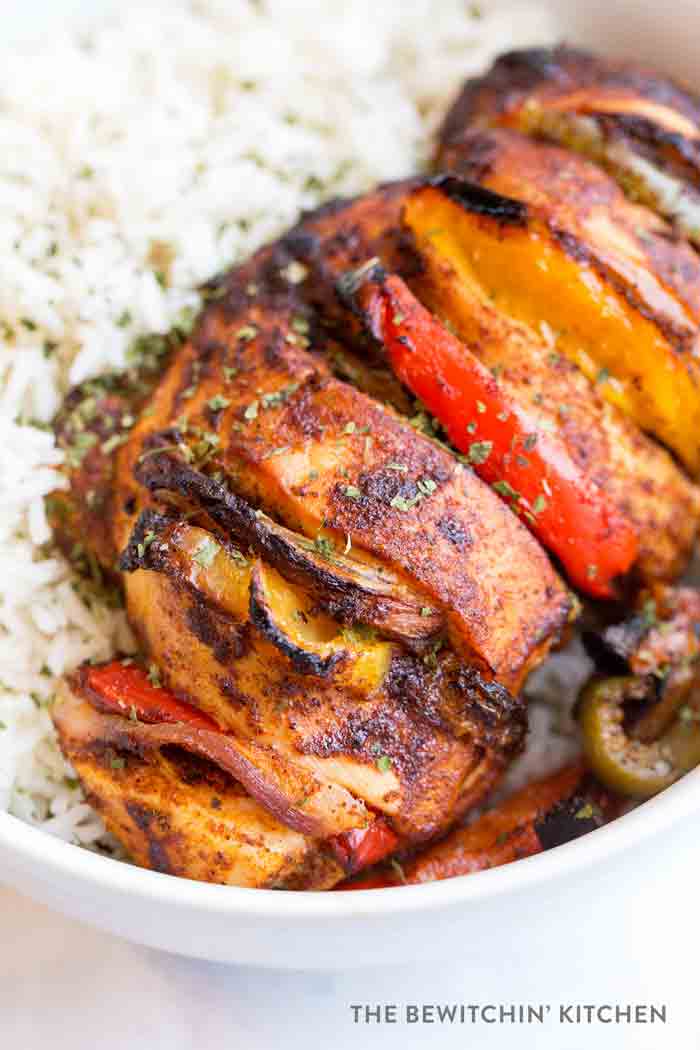 More Whole30 chicken recipes:
TBK's Pro Tip: Don't do what I first did and bake the lone peppers and chicken at the same time. The peppers will be charred. Save the peppers for the last 20 minutes.
Enjoy this fajita hasselback chicken! It's so good, even my picky eater liked it (mom win!). Serve with lettuce wraps, cauliflower rice, or (if not Whole30) regular ol' rice works just as well! Note: this authentic guacamole recipe is DELICIOUS on the side as well.
Chicken Fajita Hasselback Chicken
This easy whole30 recipe for fajita hasselback chicken is a clean eating must do! A healthy, high protein, low carb alternative to a dinner favorite is always good in my books. A twist on fajitas with the simplicity of sheet pan chicken. This falls under keto recipes, 21 Day Fix, 80 Day Obsession, and paleo recipe approved.
Servings 4
Calories 350kcal
Ingredients
4 chicken breasts
2 red peppers sliced
2 orange peppers sliced
2 green peppers sliced
1 red onion sliced
1/4 cup olive oil
3 tbsps lime juice
1 tbsp chili powder
1 tsp  cumin
1/2 tsp paprika
1/2 tsp  garlic powder
1/4 tsp cayenne powder
1/4 tsp  salt
Instructions
Preheat oven to 375
Slice the chicken breasts nearly through width wise, just enough to stuff.

Add a few of the bell peppers and onions to the slits, set aside. The rest of the peppers and onions, add to another bowl.

Combine the olive oil, lime juice, and spices in a sperate bowl.

Place the stuffed chicken breasts in a bowl or Ziploc bag and pour the marinade in.

If there is any marinade left, add to the rest of the vegetables. Let side for at least an hour.

Drizzle some olive oil onto a sheet pan, add the chicken. Pop in the oven and bake for 15-20 minutes. The rest of the marinade, pour over the sliced veggies.

Pull the sheet pan out and add the vegetables. Pop back in the oven and roast until chicken is done (another 20 minutes).
Nutrition
Serving: 1g | Calories: 350kcal | Carbohydrates: 24.9g | Protein: 27.9g | Fat: 17.8g | Saturated Fat: 2.8g | Cholesterol: 82.7mg | Sodium: 263.3mg | Fiber: 4g | Sugar: 8.2g
Follow On Pinterest
Follow @bewitchinkitchen On Pinterest for more delicious recipes!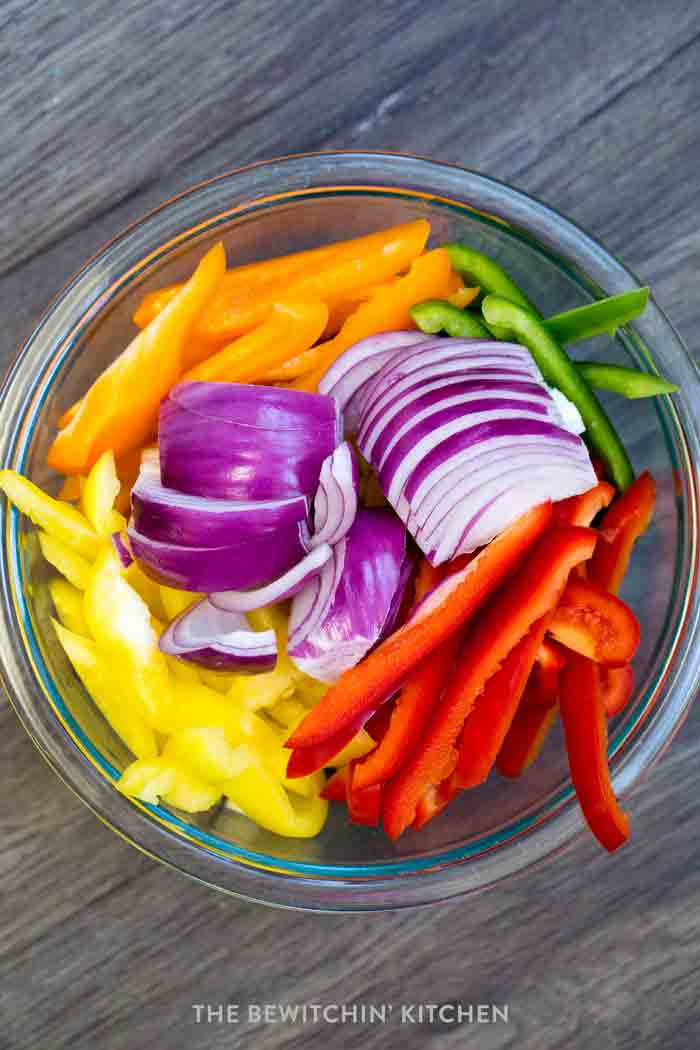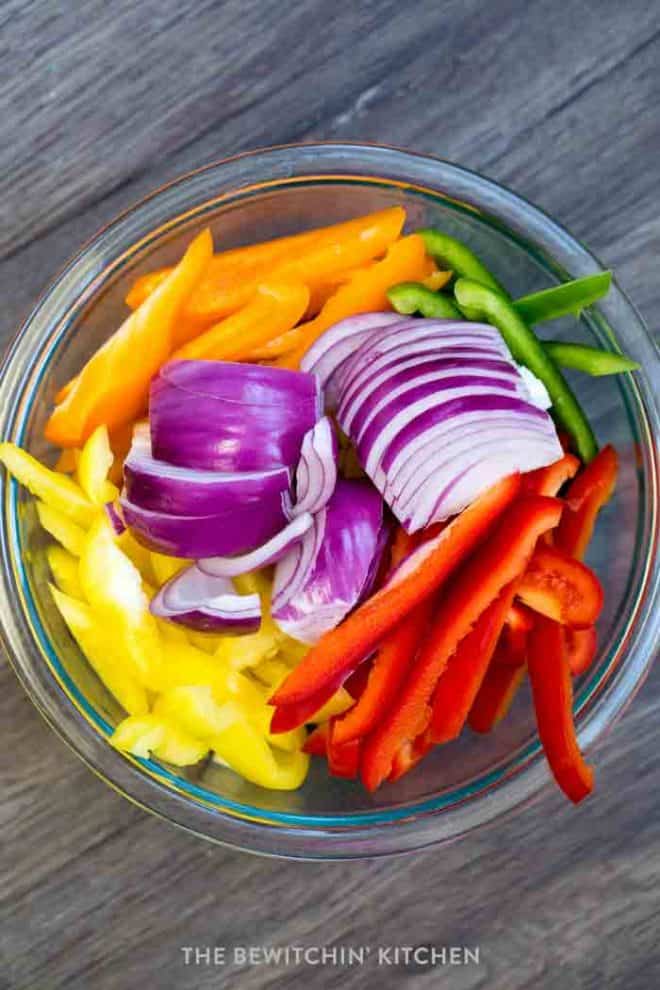 Want more healthy recipe inspiration? Search the healthy recipe section over at Chicken.ca. Regardless of your dietary needs or what you're craving, you can search the site based on what you're looking for. Check out and follow the Chicken Farmers of Canada on the following social profiles: Facebook, Twitter, Instagram, and Pinterest.