How To Make Cauliflower Rice + Video
This week marked my first week of Whole30. I have been wanting to switch up the side dishes and thought cauliflower rice would be a smart choice. I put together this recipe for riced cauliflower that is easy to make and adds a nice earthy flavor to any dish. I wanted to share it with you, here's how to make cauliflower rice.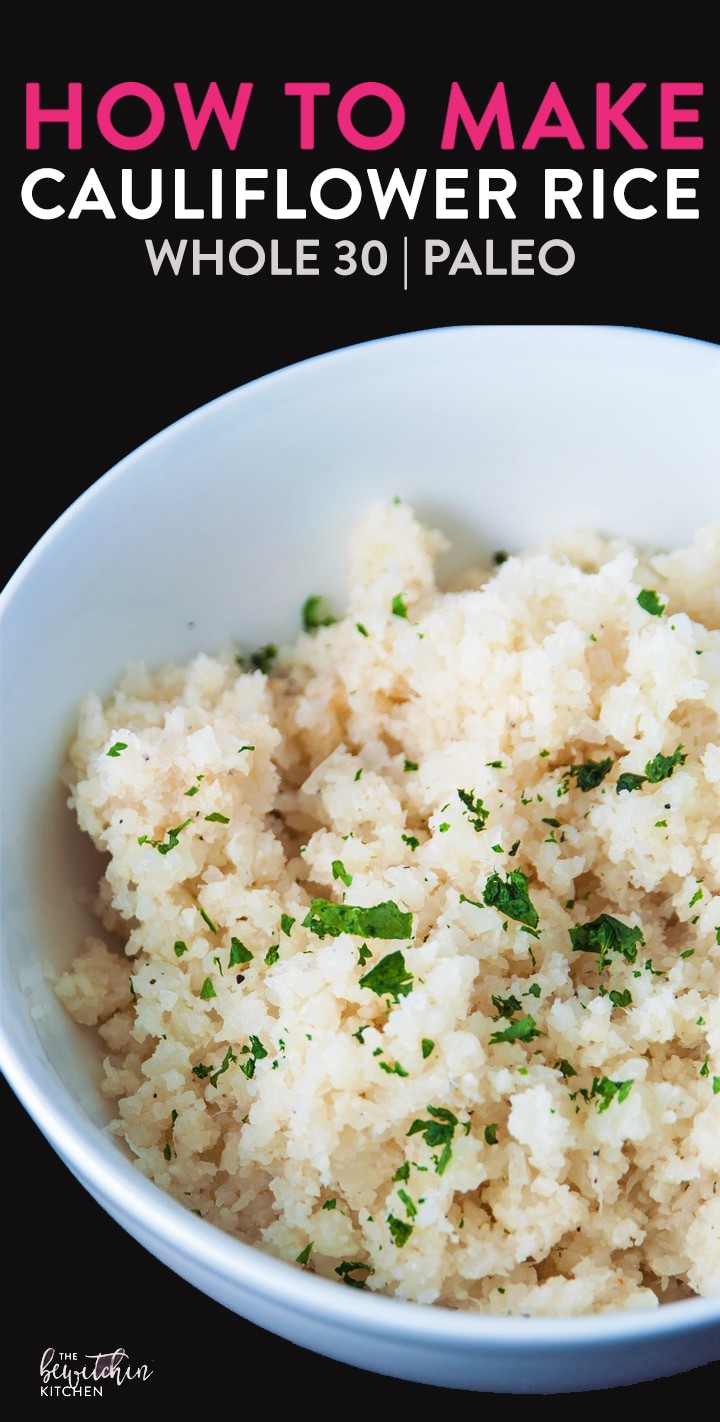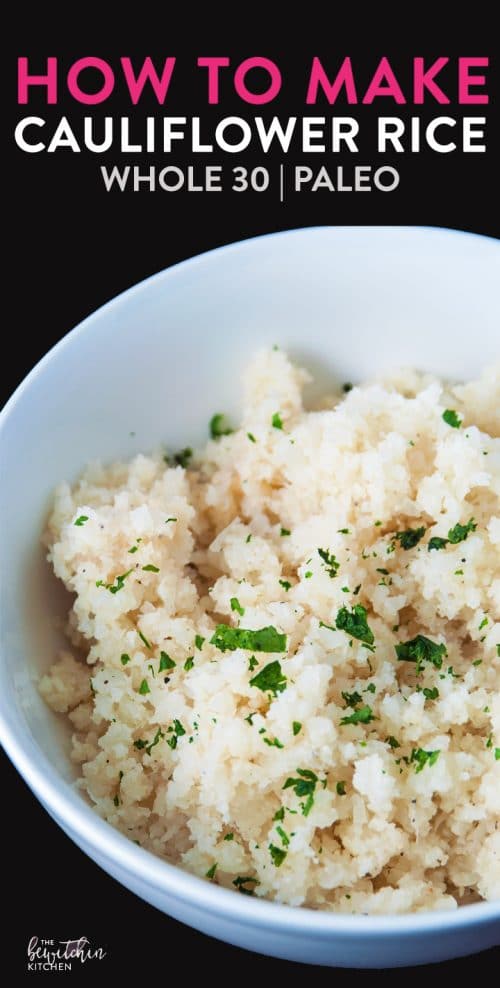 Cauliflower Rice
Do you know what's awesome about cauliflower? You can use it for everything! From cauliflower pizza crust (including my favorite recipe for BBQ cauliflower pizza) to roasted cauliflower dip this vegetable can mimic flour and cream-based foods. It's the miracle vegetable, in my personal opinion.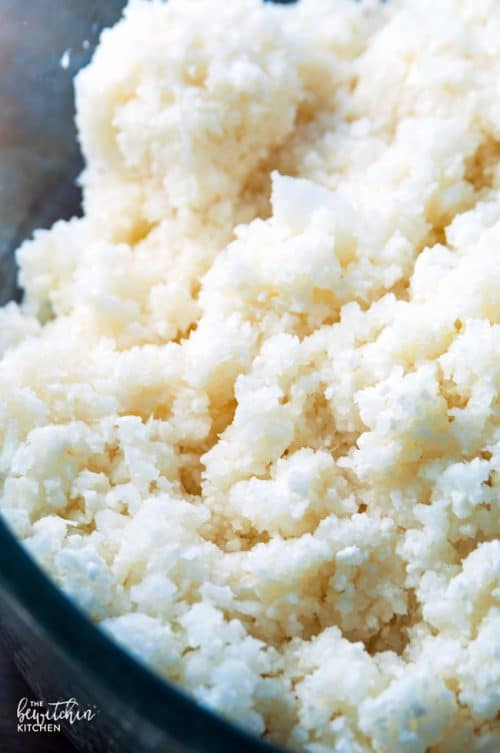 I used my new favorite kitchen tool (the Vitamix 7500) to rice the cauliflower, but you can use a food processor or (if you have the patience) a knife. When the rice is ready, take a few sheets of paper towel and squeeze out some of the moisture.
Ricing Cauliflower
When prepping to use the cauliflower for rice, don't over do it. Too much ricing will leave you with cauliflower mashed "potatoes" instead of the grainy texture you are looking for. When ricing the cauliflower, you may have to give it a little stir in between pulses.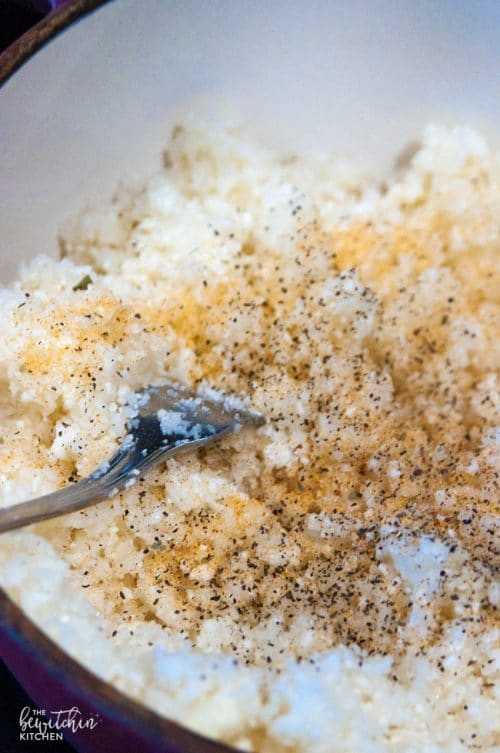 The spices and seasonings I added were: salt, pepper, and garlic powder. It went well with the Coconut Curry Chicken Meatballs I made with the rice, but you can add whatever you want.
My suggestion is to make a big batch in advance, that way you will have a healthy side dish to grab and go all week long.
Related: Roasted Cauliflower Cheddar Soup.
How To Make Cauliflower Rice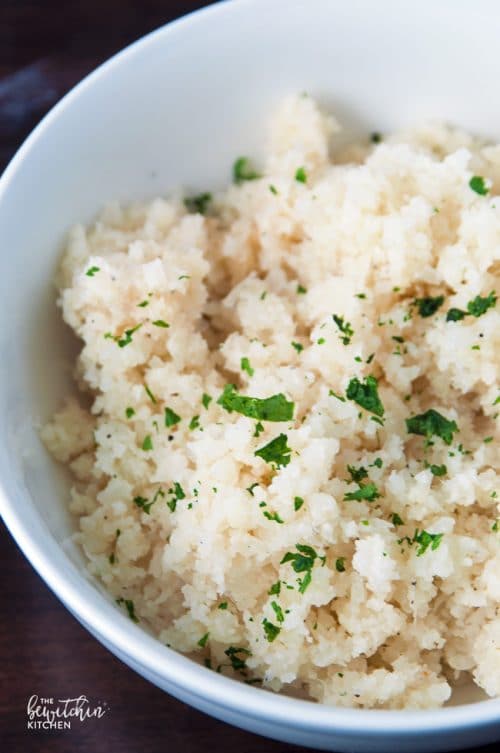 Here's how to make cauliflower rice. Seriously, is there anything cauliflower can't do? The added bonus? It's Whole30, Paleo, and 21 Day Fix approved.
Is Cauliflower Rice good for weight loss?
Using cauliflower rice as an alternative to traditional rice will definitely aid in your weight loss goals. Cauliflower is lower in calories by nearly 10x and offers significantly less carbs than white rice. It's micronutrient counts are higher than rice and can help you with energy levels, inflammation reduction, and provides a calorie reduced way to feel full.
How can I keep it from getting soggy?
They key here is to ensure you don't overcook the riced cauliflower. If you want it to be a bit more crunchy, try cooking it for 5 minutes at a slightly higher heat and remove immediately. If you cook it too long, it does have a tendency to go soggy, so keep your eye out for that exact right moment to pull it off the stove and serve.
How should I spice my cauliflower rice?
There are a ton of ways to make cauliflower rice taste even better. This recipe goes very simple with salt and pepper which keeps things mild and earthy. You can however add any number of types of spices from simple All Spice varieties, to
Cauliflower Rice Recipe
This is a quick tutorial for how to make cauliflower rice. Tips and tricks on ricing cauliflower to get an even and wonderful side dish for any occasion.
Servings 3 cups
Calories 63kcal
Ingredients
1 head cauliflower
1 tsp olive oil
1 tsp garlic powder
1/4 tsp salt and pepper
Instructions
Clean your cauliflower and let dry.

Break the cauliflower into florets and add them to your high powdered blender or food processor.

Pulse until the cauliflower turns into "rice". Squeeze out as much water as possible with paper towel.

In a wide skillet (or pot) over medium – medium/high heat add the olive oil, cauliflower, garlic powder, salt, and pepper. Stir around for 5 minutes, cover and cook for roughly five more minutes. You want the rice to lose the crunch and take on a slightly softer texture.

You can remove additional moisture by stirring it just a bit little longer but be careful not to overcook it.

Salt and pepper to add flavor to taste or use any spices that fit your main dish.
Nutrition
Serving: 1cup | Calories: 63kcal | Carbohydrates: 10g | Protein: 4g | Fat: 2g | Saturated Fat: 1g | Polyunsaturated Fat: 1g | Monounsaturated Fat: 1g | Sodium: 252mg | Potassium: 585mg | Fiber: 4g | Sugar: 4g | Vitamin C: 92mg | Calcium: 43mg | Iron: 1mg
Follow On Pinterest
Follow @bewitchinkitchen On Pinterest for more delicious recipes!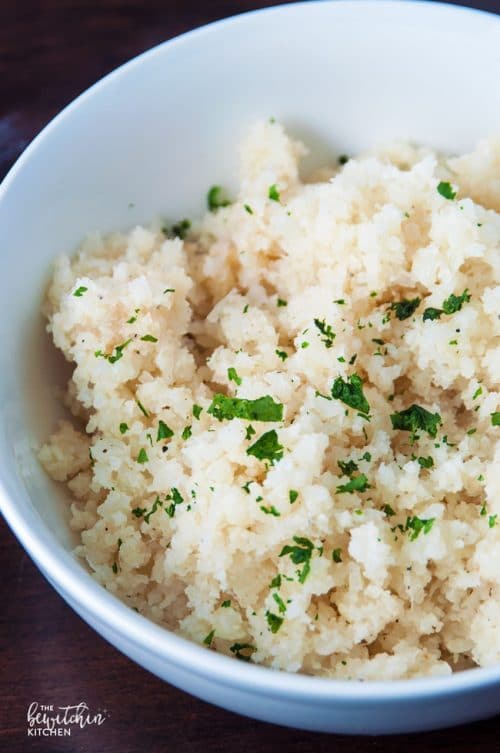 What would you serve with Cauliflower Rice? Share it in the comments.
This post contains affiliate links to products that I personally use and love.