Your Guide to Eating Gluten Free at Disneyland
Are you looking to go gluten free at Disneyland and you don't know where to go to eat or what to order once you get there? You're in luck! I'm going to break down the gluten free items at several Disneyland restaurants.
There is a list available at City Hall on Main Street as well if you're looking for a hard copy once you're there. I recommend checking in with them as they may update the list. Please keep in mind that menus change, and to always ask your server about gluten free options.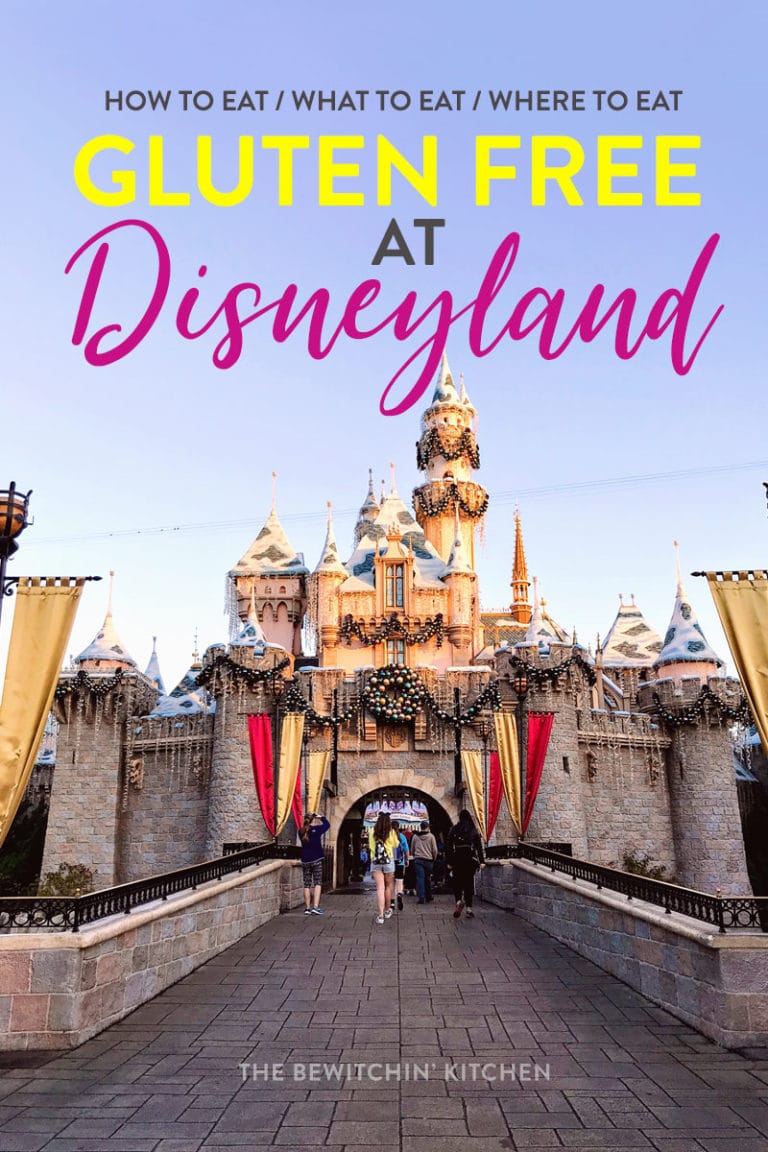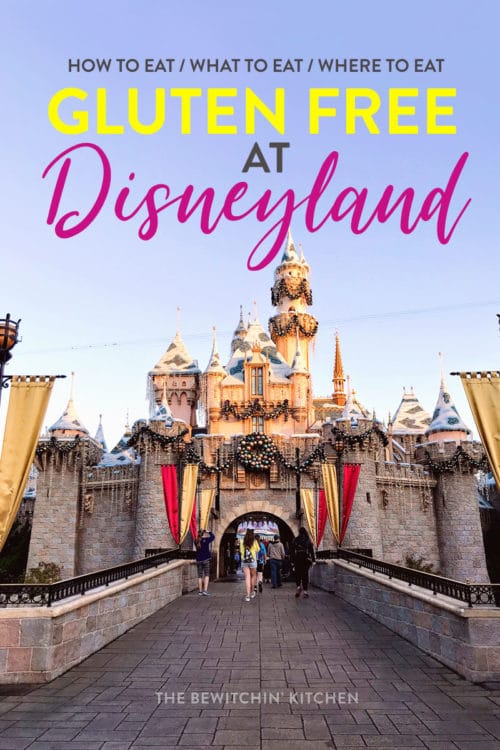 Gluten Free at Disneyland
Gluten-free is a healthy lifestyle choice for most people and a necessity for others. To lead a gluten-free lifestyle and enjoy going on vacation can be a challenge.
I hope this helps to make your time at Disney easier and more enjoyable. No matter where you go or what you decide to eat, your best course of action is always to ask the chef about the foods and how it is prepared – especially if you're gluten-free due to an allergy rather than a dietary preference or choice.
If you're looking for healthier options here's how to eat healthy at Disneyland. Take a tip from this read and bring your own snacks with you to the park!
No matter where you go, be sure to request a gluten-free bun or bread if it's not specified on the menu.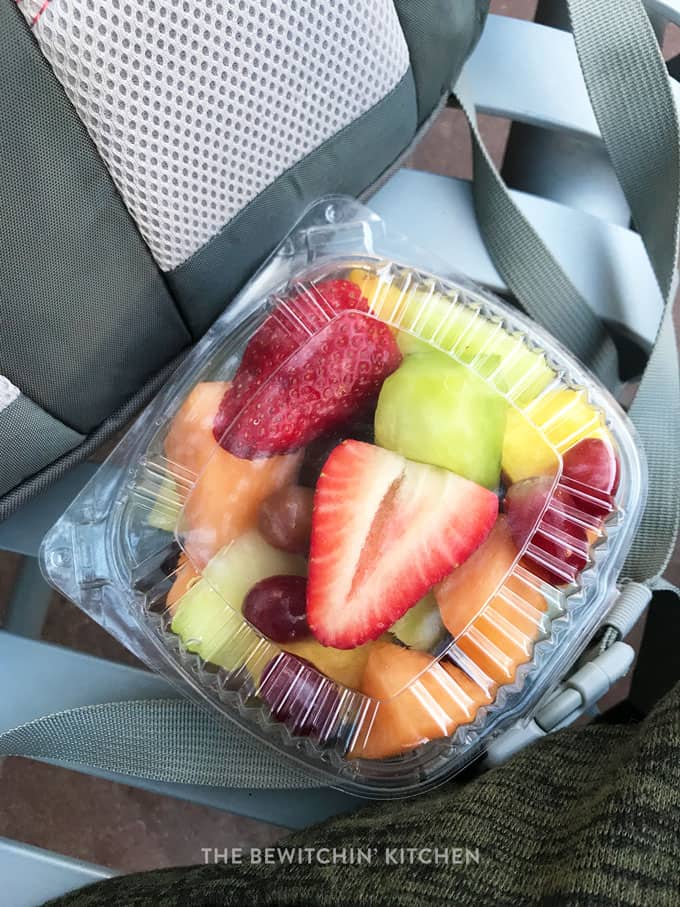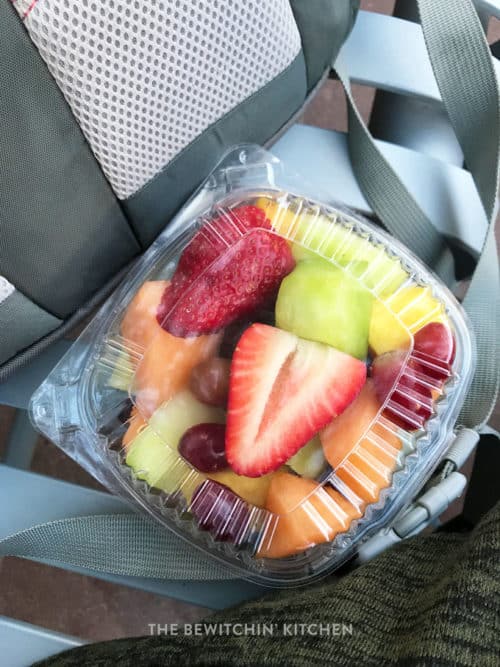 Disney cast members always do a wonderful job of asking if anyone has any allergies, but they forget to ask, let them know. A lot of the time there is an allergy menu that they will give you, or at the very least they will be knowledgeable on your options.
I ate at Storyteller's Cafe at the Grand Californian for Christmas and the Chef came out and walked me through the buffet showing me what I could and could not have. It was really helpful because it gave me options, plus reassurance on what I could/could not have.
Fruit Stands
Throughout the park, you will find various fruit carts with fresh whole fruit and cut up fruit packages.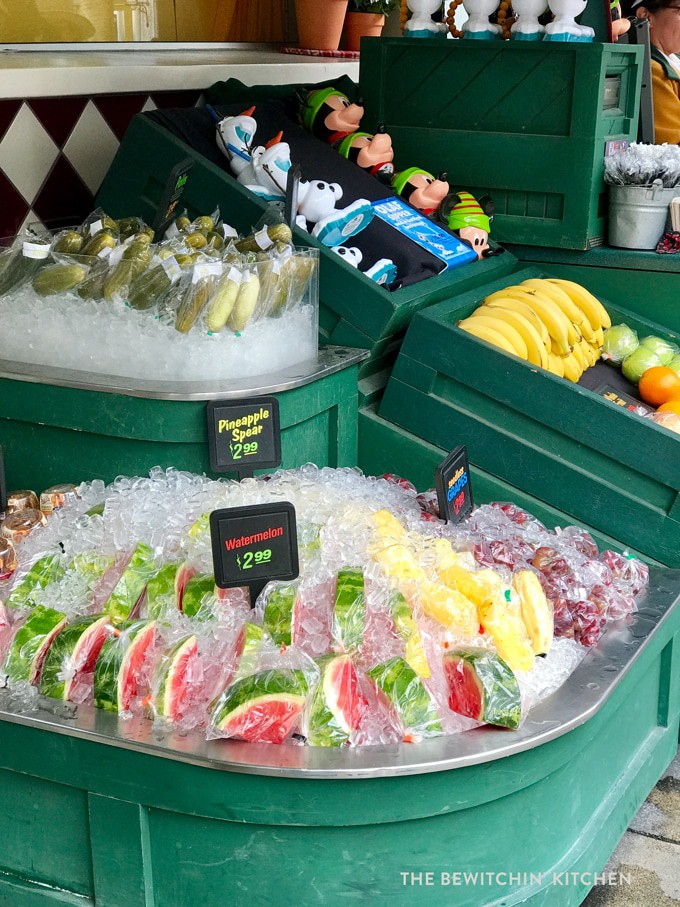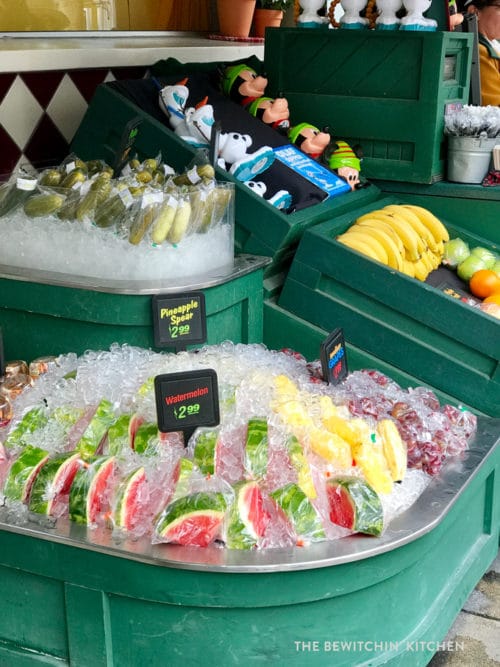 Outdoor Vending Carts
Turkey legs
Popcorn
Kettle corn
Cotton Candy
Mickey ice cream bars on a stick
Main Street, U.S.A.
You are on Main St. and you are hungry! Where can you go to get a good breakfast that is gluten-free? Look no further than the Plaza Inn. They have yummy omelets made with fresh eggs, so you can customize what you want in your omelet. Plaza Inn has fresh fruits and delicious bacon and ham, and you will also find gluten-free waffles upon request.
Plaza Inn
Omelets, bacon, fresh eggs, fresh fruit, hash browns, sausage, ham
Baked chicken
Hot dog
It's lunchtime and you have been walking all morning. Time to refuel! Check out Jolly Holiday Bakery for some great lunchtime treats.
Remember to request the gluten-free rolls or buns, just keep in mind that this will up your wait time a bit.
Want a salad? No problem! Just forego the breadsticks and you are well on your way to the next attraction feeling refueled and energized.
TBK's Pro Tip: Try the tomato soup. It's a great addition to their sandwiches.
Jolly Holiday Bakery Gluten Friendly Options

Turkey sandwich – I ordered this with a gluten-free bun on my recent trip, it was delicious.
Caprese sandwich
Tuna salad sandwich
Waldorf salad sandwich
Angus roast beef sandwich
Pastrami Reuben
Tomato soup
Jolly Holiday salad
Angus roast beef salad
Kid's turkey and toasted cheese sandwich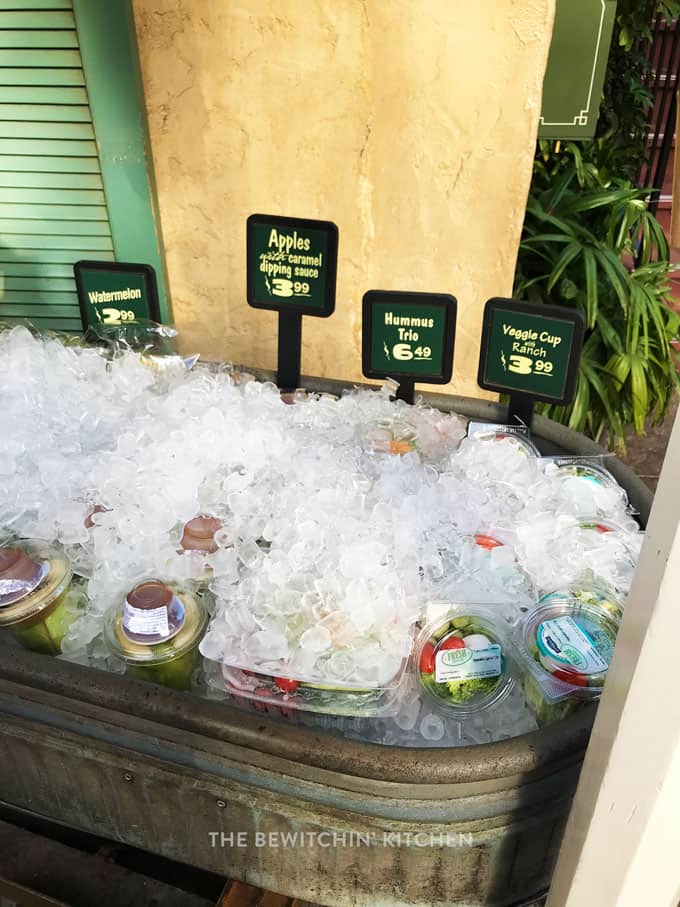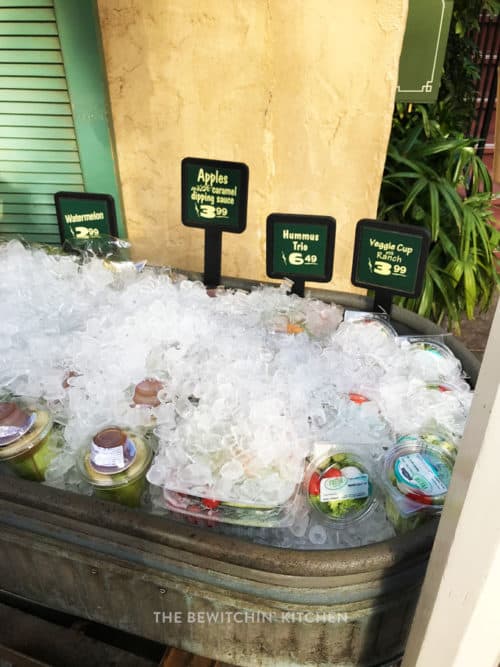 Carnation Cafe
For breakfast, you'll find scrambled eggs, breakfast potatoes, bacon, ham, and fresh fruit.
For lunch or dinner, you'll find chicken breast, three cheese veggie sandwich, turkey sandwich, Chef salad, steak melt, and child's hot dog plate. All items are served with pickle spear and choice of fresh fruit, sauteed vegetables, or green salad.
Tomorrowland Gluten Free Options
Welcome to Tomorrowland! The land of wonder and by the time you get here I am sure you are becoming hangry, unless you started here of course. Whatever the case if you find yourself here and in need of some great gluten free ideas check out the Tomorrowland Terrace they have hamburgers and a grilled chicken breast sandwich with a gluten free bun upon request, yummy.
Tomorrowland Terrace
Scrambled eggs, bacon, potatoes
Hamburger with lettuce and tomato, side of fresh fruit
Cheeseburger with American cheese, lettuce and tomato, side of fresh fruit
Grilled chicken breast sandwich with lettuce and avocado sauce, side of fresh fruit
French Fries
Red Rockets Pizza Port is where you can get your oodles of rice noodles with a tomato basil sauce that will rival some Italian restaurants. Their pizza can come with a gluten free crust just ask them when you order.
Redd Rocket's Pizza Port
Rice noodles with marinara sauce or tomato basil sauce
Romaine lettuce with chicken breast and fat free raspberry dressing
Starfield of greens with basil vinaigrette
Planetary pizza salad [*request a new base and bowl to avoid cross-contact]
Cheese or Pepperoni pizza
Adventureland Gluten Free Foods
Tiki Juice Bar
Pineapple spears
Dole whip frozen drink
Bengal Barbecue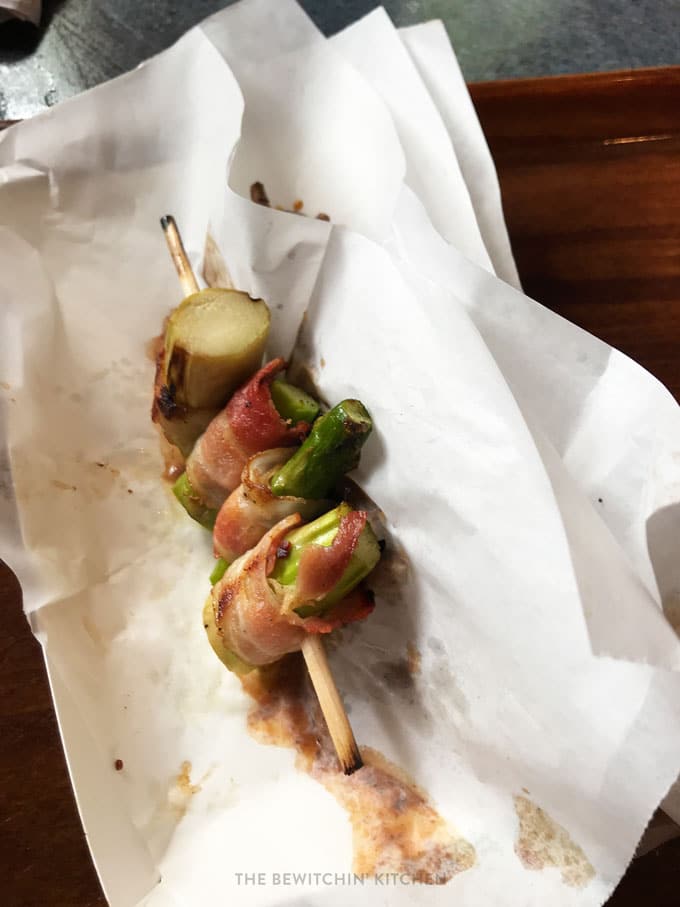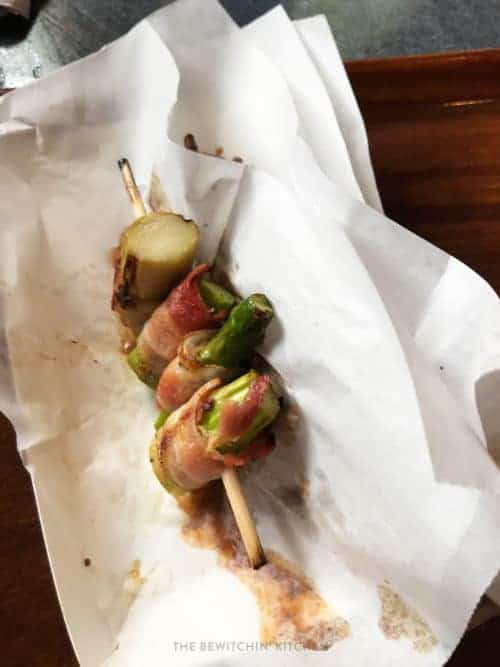 Bengal BBQ is one of my favorite Disney dining spots. Please keep in mind that the sauces are not gluten friendly at the time of this post, so order without.
Safari Skewer
Banyan Beef Skewer
Outback Vegetable Skewer
Cheiftain Chicken SkeFruit
Pork Belly Skewer
Hummus Trio
Spring Roll
Frontierland
Big Thunder Ranch
Ask to speak with a chef or manager to learn which items on the menu are gluten-free.
At Rancho Del Zocalo you can get your corn tortillas down in this ranch (pun intended).
The veggie tacos are wonderful but if you are looking for something a little different try the fire roasted chicken. It's a delicious dish and filling too, want a tostada? Ask for no shell, please.
Rancho Del Zocalo
Vegetable tacos
Plain chicken tacos
Quesadillas, 50/50 cheese in a corn tortilla
Cheese enchiladas with cotija cheese
Cheese enchiladas with carne asada, cotija cheese (also comes with rice, beans, shredded lettuce, 50/50 cheese, pico de gallo, guacamole, and sour cream.)
Fire roasted chicken [with corn tortillas] (also comes with rice, beans, shredded lettuce, 50/50 cheese, pico de gallo, guacamole, and sour cream.)
Tostada salad (plain chicken or veggie)
Fresh fruit plate
Fantasyland
In Fantasyland, all your kids fantasies will come true. Have fun here and eat heartily.
There are hamburgers and pastrami in the Village Haus, Toon Town has treats and a chef salad check the label on the dressing or bring your own.
Village Haus
Angus pastrami burger
Hamburger or cheeseburger
French fries [*request that fries be fried in the fries only fryer]
Apple cheddar salad
Troubadour Tavern
Baked potato with butter and sour cream
Toon Town
Toon-up Treats
Chef salad
Kid's hot dog without a bun, with applesauce
New Orleans Square
New Orleans Square is fantastic with blackened salmon, New York strip steaks, and much more!
Blue Bayou
Five pepper roast New York
Blackened Cajun spiced salmon
Tesoro Island chicken
Portobello mushroom with maque choux
Broiled filet mignon
Bayou surf and turf (after 4 P.M.)
Cafe Orleans
La salade de maison (house salad)
'Crescent City' salad with salmon or chicken
N'awlins vegetable ragout
Kids chicken breast [*request rice noodles]
Kids seared salmon fillet [*request rice noodles]
Critter County
Hungry Bear Restaurant
Hamburger
Sweet potato fries [*request that fries be cooked in fries only fryer]
Watermelon chicken salad
Gluten Free at Disney California Adventure
Throughout the park: Fountain Minute Maid Lemonade and Light Lemonade.
Various Fruit Carts: located throughout the park with fresh whole fruit, cut up fruit packages; ask for an ingredient list for any prepared items.
Jack Jack Cookie Nom Noms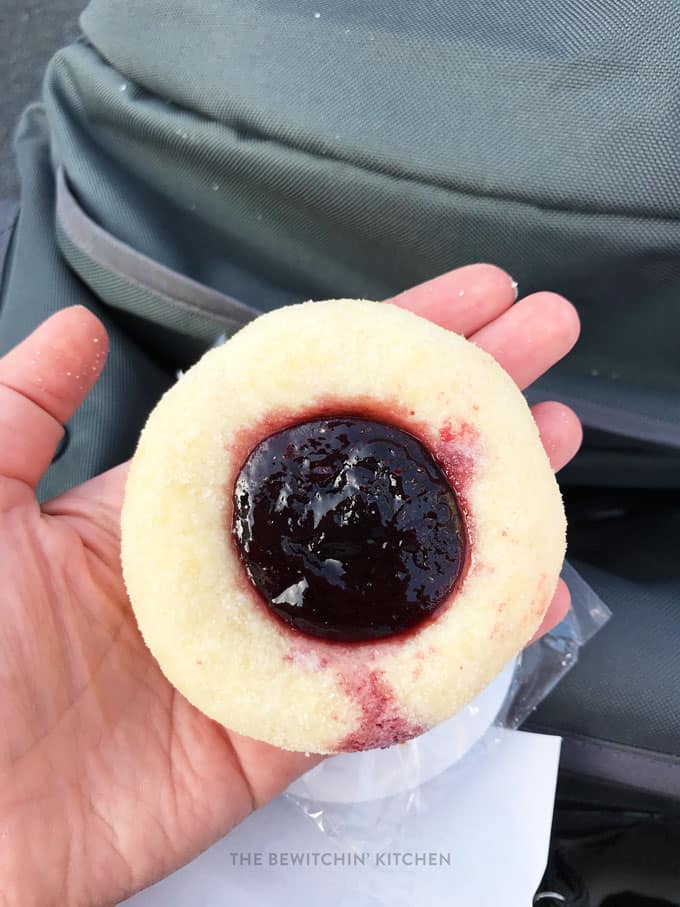 When you finish riding the Incredicoaster, you'll find the cookie cart on exit. Good news THEY HAVE A GLUTEN FREE COOKIE!
It's the Incredicookie and it's a giant thumbprint cookie made gluten free.
Another awesome feature, if you're dairy free, they also serve almond milk so everyone can have cookies and milk after braving the Incredicoaster and saving Jack Jack.
LampLight Lounge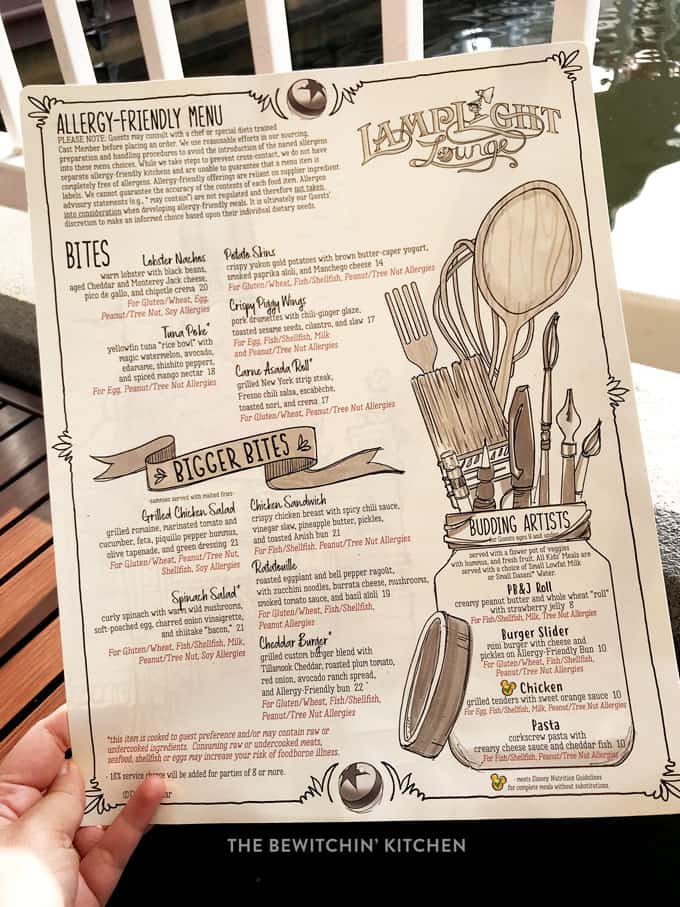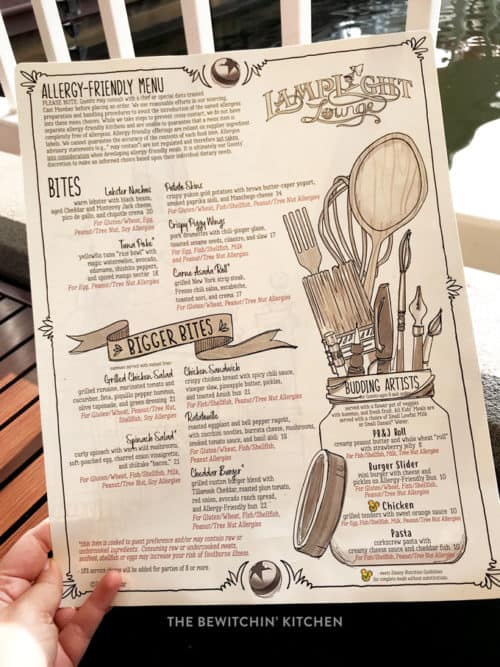 Lamplight Lounge had a specific allergy menu and it was very helpful. I had the grilled chicken salad and it was delicious.
Boardwalk Pizza and Pasta

Check out the Boardwalk Pizza just remember to ask for the gluten free crust and no breadsticks.
Cheese or pepperoni or BBQ chicken pizza
Boardwalk field greens salad
Caesar salad
Italian salad
Rice noodles with marinara salad
Paradise Garden Grill
Chicken skewer (this is one of my favorites).
Beef skewer
Vegetable skewer
Moroccan chili
Cucumber salad
Greek salad
Hamburgers, chicken, and fries oh my! The same goes here as with other restaurants: make sure you request the gluten-free bun. Stay awhile and enjoy the good American food!
Smokejumpers' Grill
Hamburger patty with or without cheese
Grilled chicken salad [*request no cucumber sticks] your choice of dressing
Grilled chicken sandwich from a fresh pan
French fries
Kid's sliders without the bun, with carrots
Clarabelle's Hand-Scooped Ice Cream
Fill your sweet tooth here. Only 2 of the ice creams are not gluten free (Cookies & Cream and Tollhouse). A great end to the day.
Lucky Fortune Cookery
Chicken, beef, tofu made with rice and vegetables [*substitute soy sauce with yuzu]
Cocina Cucamonga
Corn tortillas
1/2 chicken
Carne asada
Three way veggies
Six way veggies
Kid's chicken
Fruit cup
Mexican rice
Refried beans
Veggie salad
Guacamole
Pico de gallo
Sour cream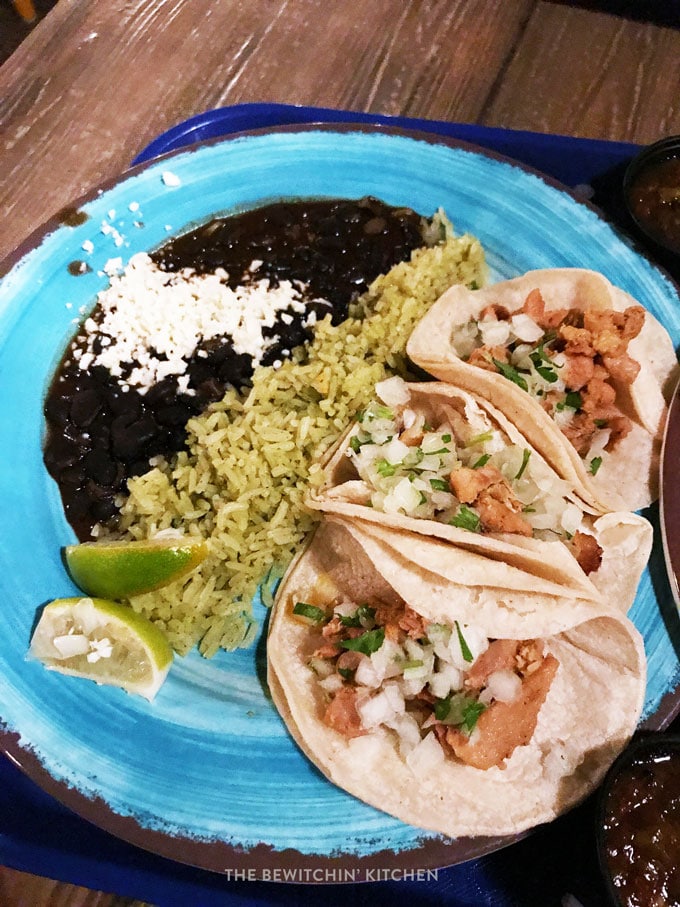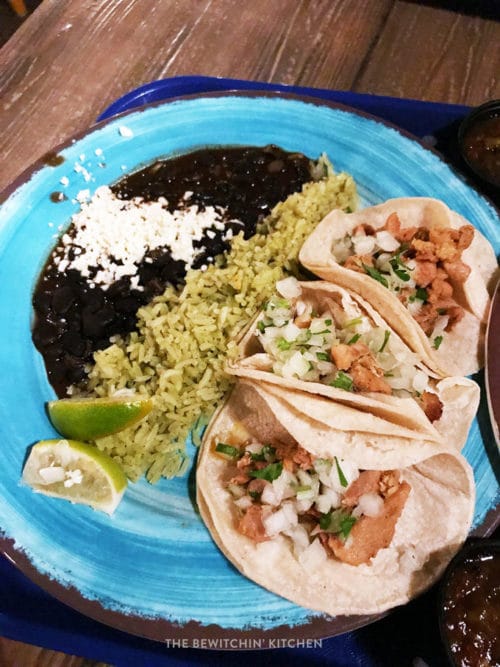 I had the chicken street tacos a few days ago and they were delicious! I highly recommend them for a gluten free Disneyland dinner.
Golden Vine Winery- Trattoria
Caprese salad
Shrimp piccata [no crust on polenta]
Italian iceberg wedge
Tuscan salad
Trattoria salad
Arugula salad
All create your own pasta can be substituted with gluten free pasta.
Bolognese, shrimp scampi, all vongole, broccolini aglio olio, and pomodoro
Seasonal fish
Garlic and herb roasted chicken
Gluten Free at Downtown Disney
I won't list all the options, but I will discuss my experience on my recent trip in finding gluten free meals at Downtown Disney.
Naples Pizza has a gluten-free option for pasta.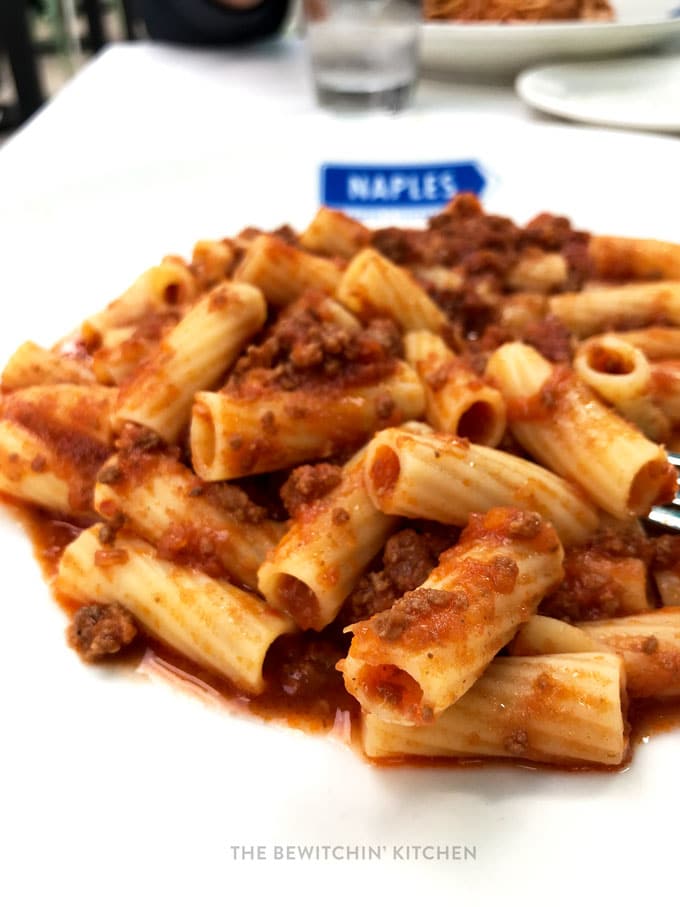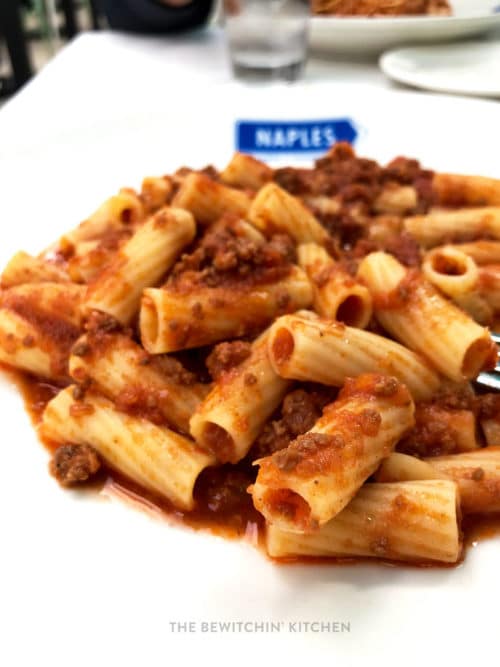 I personally ordered the spaghetti off the gluten free/allergy menu. I received a gluten free pasta (it wasn't spaghetti, so don't get your hopes up like I did) with a meat sauce. Meanwhile, my husband had regular spaghetti with marinara and meatballs that looked so good! I was disappointed to see that our portion sizes were drastically different (he had a lot more) but it was the same price. Also, if I'm being honest here. What I received didn't taste like "spaghetti and meat sauce". It tasted like Chef Boyardee, which I have never been a fan of. My husband said his pasta dish didn't taste anything like mine.
It's something to consider when choosing a restaurant for gluten free options at Downtown Disney.
UVA Bar & Cafe
A quick heads up, they do not have gluten free bread but they will lettuce wrap a burger for you. The garlic fries are also good for a gluten free option.
The salads are also safe for gluten free diners.
Kayla's Cakes
The macarons are a delicious gluten free treat. I ordered a box of 12 and they were so good (reme Brule was my favorite).
Kayla's Cakes is located across from World of Disney and beside Naples (it's a kiosk). I also saw they had a cart in DCA but it didn't sound like that's a regular occurance.
I hope this helps you along your gluten-free journey and makes your stay at Disney more enjoyable. Have fun, and eat up.
More Disneyland Tips
What are your favorite gluten free options at Disneyland? Leave me a comment and let me know.
Don't forget to Pin this post and share it with your friends!