Healthy Potato Salad
Potato salad season will soon be upon us. It's always great to have an easy potato salad recipe in your arsenal. This recipe is also vegan friendly. Soon picnics, BBQ's and family get-togethers will be underway. Horray for warm weather!
Potato salad is a forgiving recipe, and you can add in more vegetables that you like or take out those that you don't. I like a hearty, chunky potato salad, so I tend to add in more veggies. You can also add hard boiled eggs, (which I didn't in this recipe as this recipe is Vegan.)
For more potato and BBQ recipes, check out: Crispy Smashed BBQ Potatoes, Honey Mustard BBQ Chicken Foil Packets, Honey Dijon BBQ Chicken Bowls, Maple Whiskey BBQ Sauce, Twice Baked Potatoes.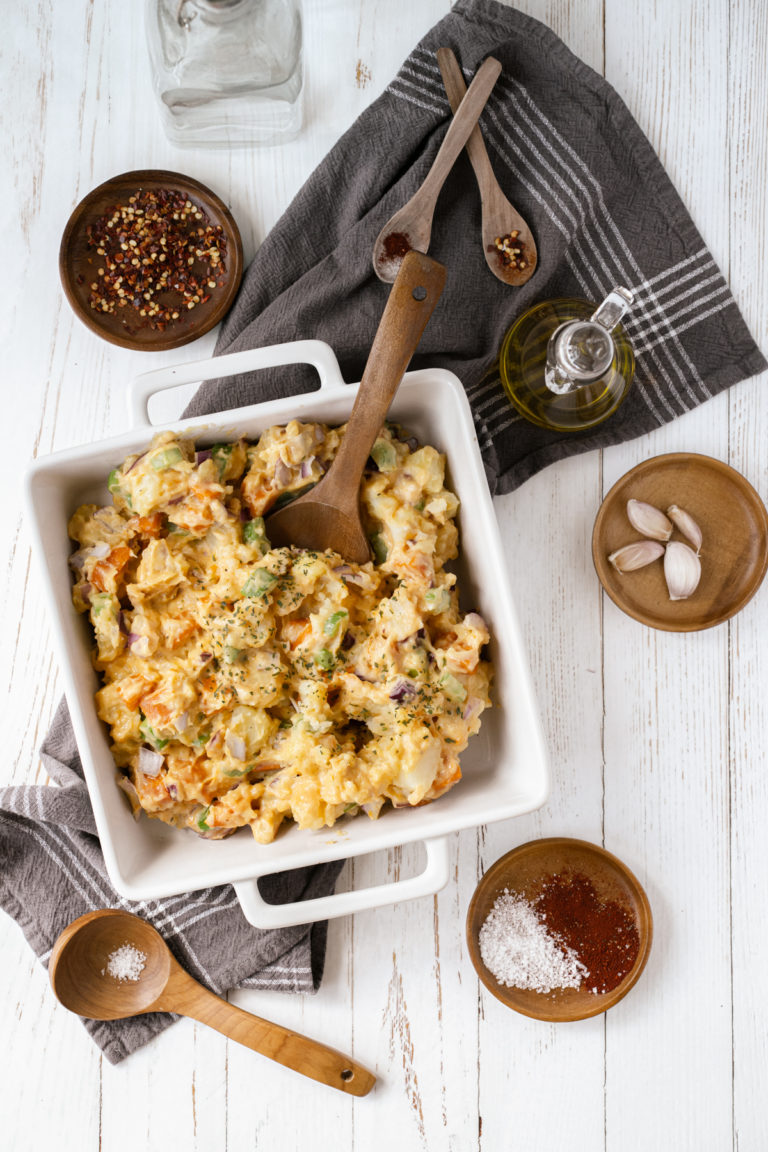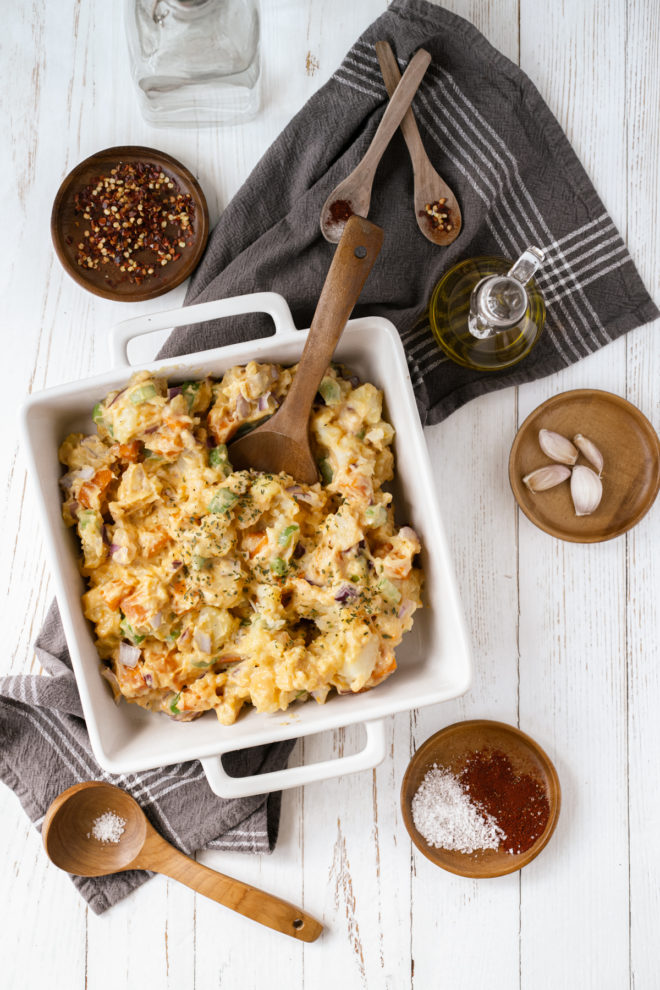 Vegan Potato Salad Ingredients:
1 pound potatoes (about 4 medium sizes)
1 carrot
½ red onion
1 cup vegan mayo
¼ cup mustard
½ tsp salt
½ tsp ground pepper
2-3 celery sticks, about 1 cup
½ tsp paprika
½ tsp garlic powder
1 tbsp olive oil
1/3 cup sweet pickle relish (optional)
A sprinkle of green onion flake (optional)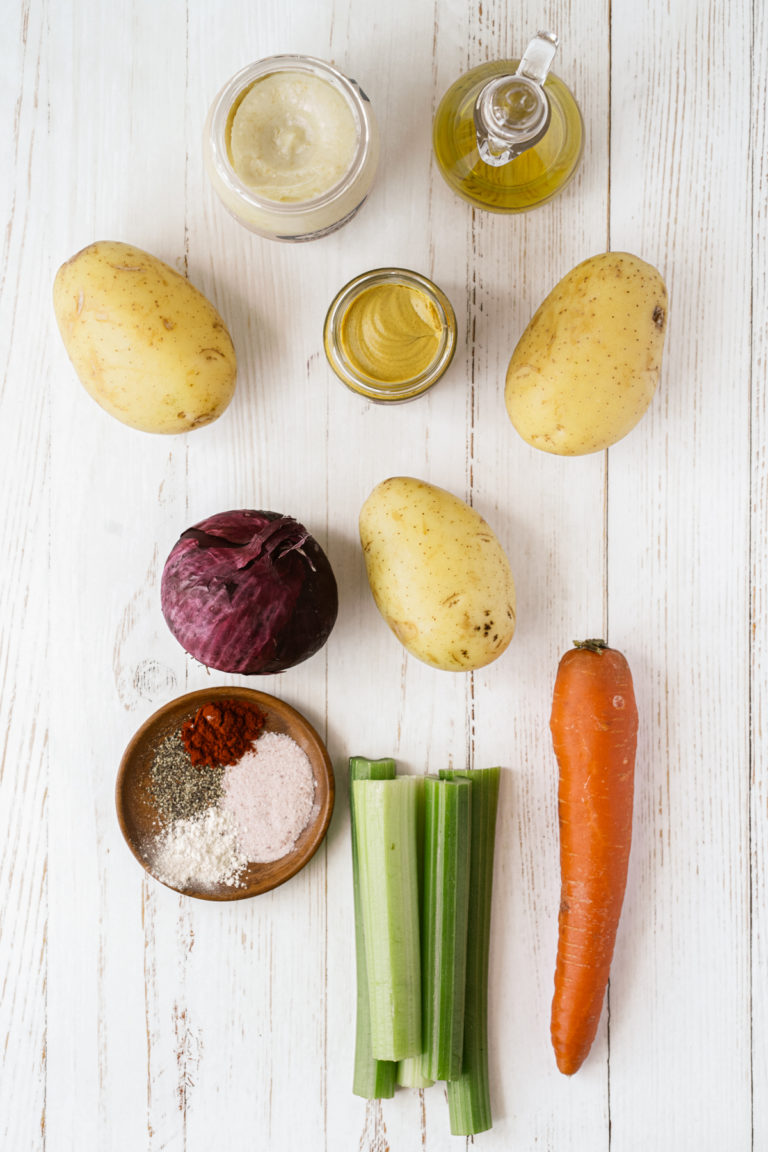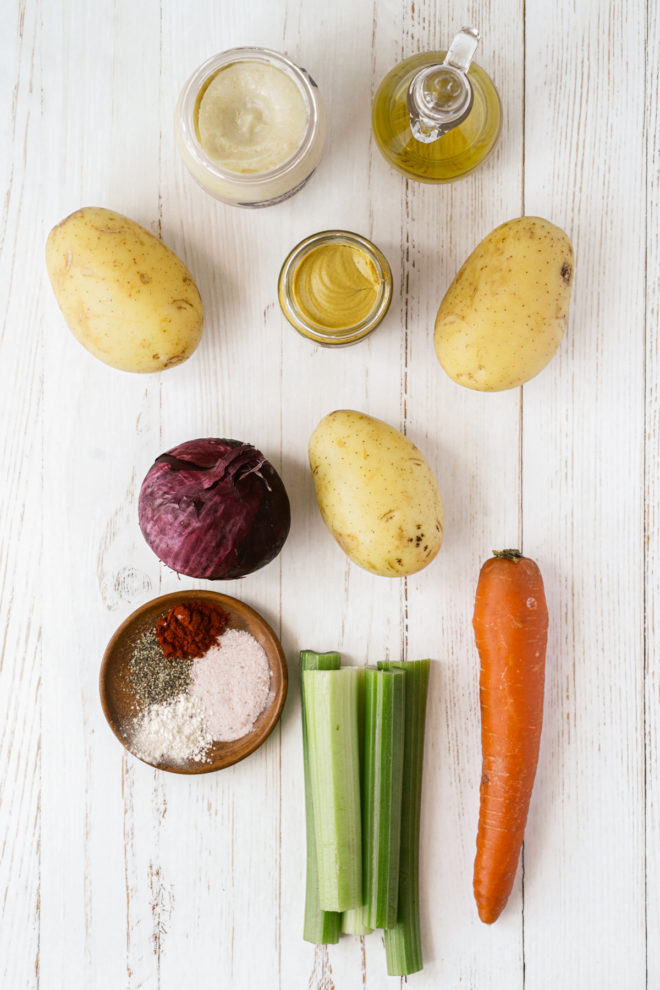 Healthy Potato Salad Mayo, Vegan Mayo and Miracle Whip Comparisons:
Miracle Whip as a Substitute for Mayo: What makes the potato salad base is the combination of mustard and mayonnaise, but even the mayo is optional. Miracle whip is a good substitution for mayo in this recipe because it tends to have a sweeter taste.
Miracle Whip is also lower in calories and fat. However, it does contain high fructose corn syrup, so it's not my first choice. If you do decide to substitute it, the sweetness of the Miracle Whip combines well with the savory onion and mustard mixture. If you're using the Miracle Whip, I'd go for the yellow onion.
Regular Mayo versus Vegan Mayo: Regular mayonnaise is made using eggs and oils, so it is definitely not vegan. The vegan substitute takes oil, vinegar, some kind of citrus juice and an egg substitute. The vegan mixture is decidedly healthier because it has only 1.5 grams of fat versus the whopping 10 grams of regular mayo and 25 calories per serving versus the 94 calories per serving in classic mayo. The bottom line here is that the vegan option is the healthier option in potato salad.
Healthy Potato Salad Options:
Yellow Onions as a Substitute for Red: Yellow onions will work with this recipe just as well as the red. In fact, I would reccomend washing the red once they are chopped in a collander to take the pugency out of them. With a yellow onion, you won't have to do that. I do think that the red onions are prettier in the final presentation.
Optional Sweet Pickle Relish: Sweet pickle relish is a classic ingredient in potato salad. I love it and will usually add in about a third cup to this recipe.
Optional Hard Boiled Eggs: Hard boiled eggs are another standard in potato salad. Hard boiled eggs will tak up the calorie count and cholesterol count. But they also add in some protein. The option that I have here is a vegan recipe, so I don't include eggs.
Optional Green Onions: Green onions on top will add a nice flair of color. In this salad, I used a green onion flake.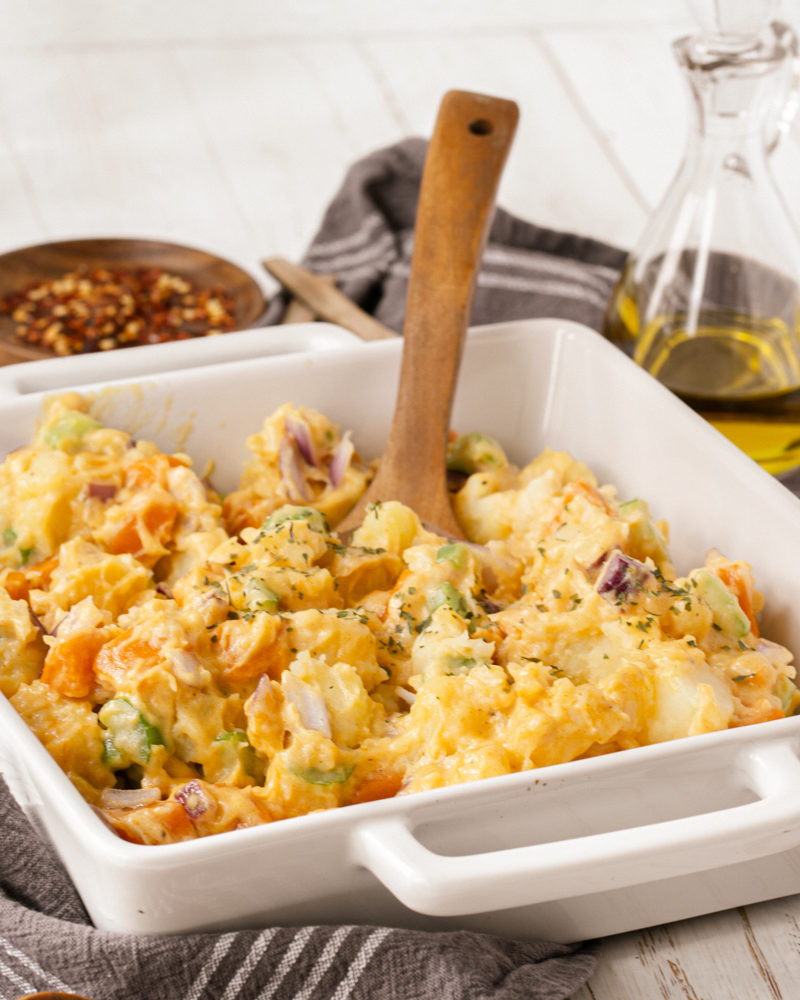 Healthy Potato Salad Directions
Peel and chop potatos into bite sized pieces. Boil or steam your potatos until tender.
Next, peel and chop carrots into small pieces. Boil or steam them as well.
Then put veggies in a large bowl to cool.
Chop or use a mandoline on your celery sticks to get small pieces.
In the same large bowl add all ingredients together.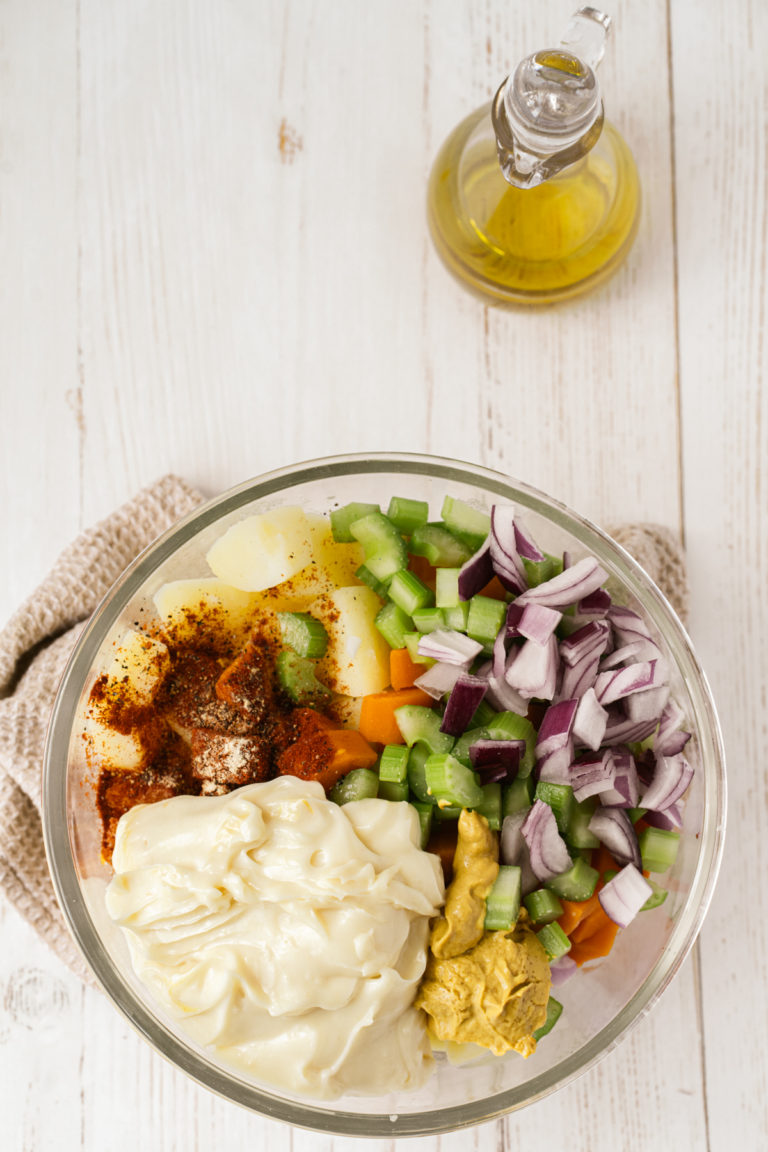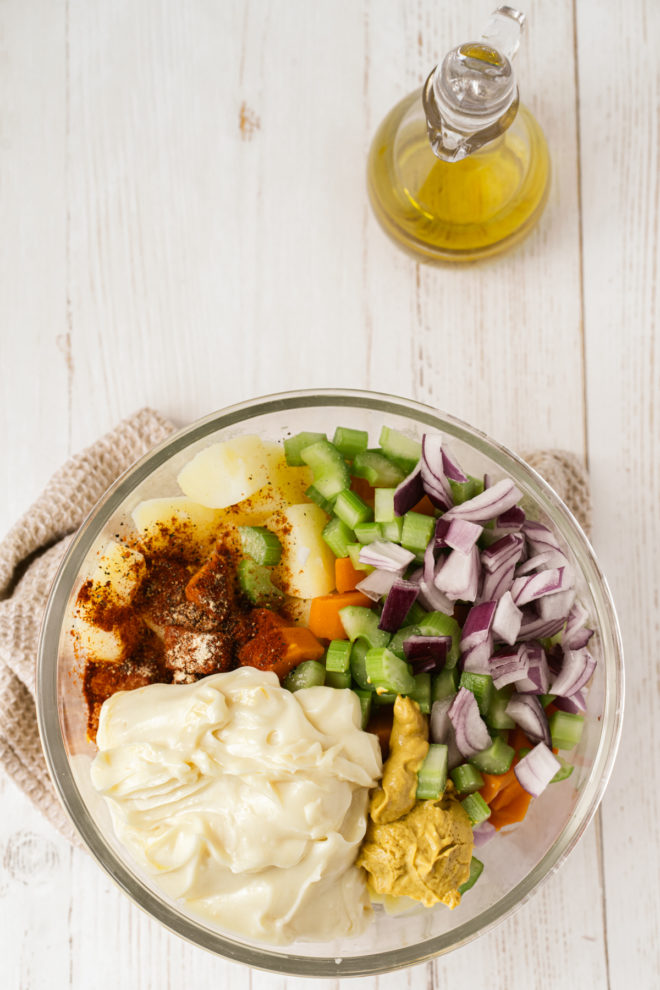 6. Mix well.
7. Refridgerate for an hour, and enjoy!
Healthy Potato Salad
This Easy Potato Salad is a classic spin on potato salad with a vegan option. Happy BBQing!
Servings 8
Calories 272kcal
Ingredients
1 lb potatoes
1 carrot
1/2 red onion
1 cup vegan mayo
1/4 cup mustard
1/2 tsp salt
1/2 tsp ground pepper
2 celery sticks
1/2 tsp paprika
1/2 tsp garlic powder
1 tbsp olive oil
1/2 cup sweet pickle relish
Instructions
Peel and chop potatoes into bite size pieces.

Cook potatoes in boiling water until tender.

Peel the carrot and chop it into small pieces.

Cook it in boiling water or steam.

Drain potatoes and carrots and place them in a large bowl.

Chop celery sticks into small pieces.

Add all ingredients to the large bowl and stir.

Refridgerate for an hour.
Nutrition
Calories: 272kcal | Carbohydrates: 19g | Protein: 2g | Fat: 20g | Saturated Fat: 2g | Polyunsaturated Fat: 1g | Monounsaturated Fat: 2g | Trans Fat: 1g | Sodium: 528mg | Potassium: 297mg | Fiber: 2g | Sugar: 6g | Vitamin A: 1534IU | Vitamin C: 12mg | Calcium: 17mg | Iron: 1mg
Follow On Pinterest
Follow @bewitchinkitchen On Pinterest for more delicious recipes!
For more potato and BBQ recipes, check out: Crispy Smashed BBQ Potatoes, Honey Mustard BBQ Chicken Foil Packets, Honey Dijon BBQ Chicken Bowls, Maple Whiskey BBQ Sauce, Twice Baked Potatoes.