Quick Tips to Save Money at Disney (land or world)
If you're looking for simple ways on how to save money at Disney, these tips can be a big help! Just because you're at Disney doesn't mean that you have to break the bank!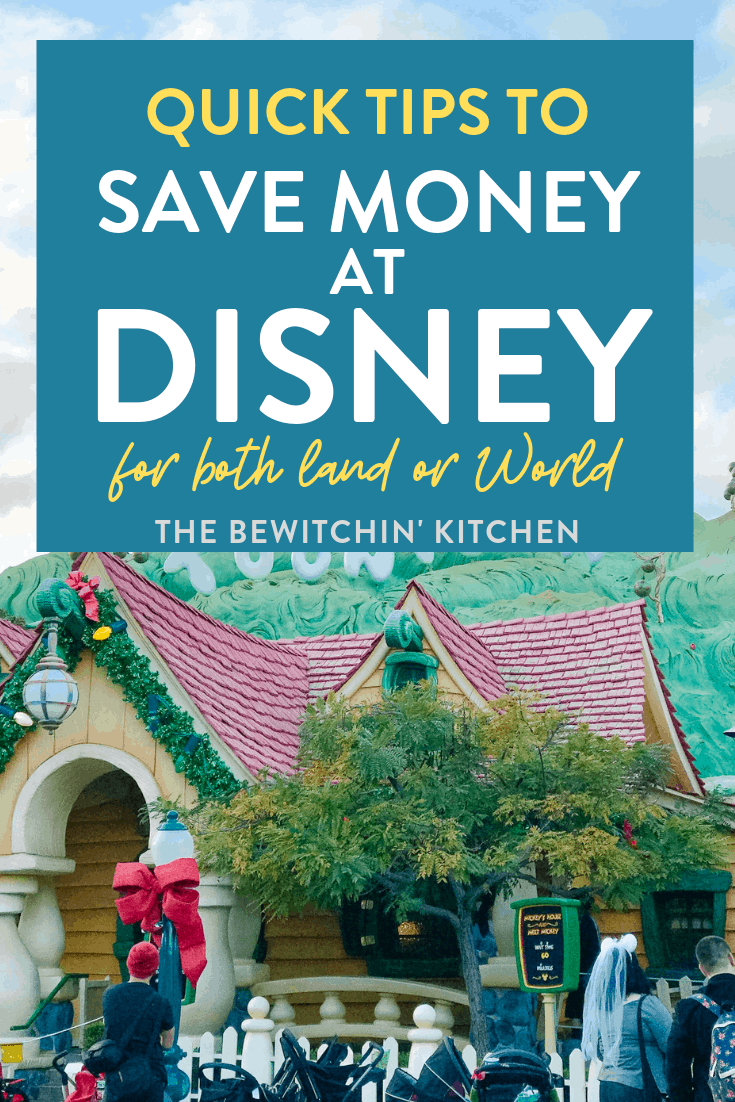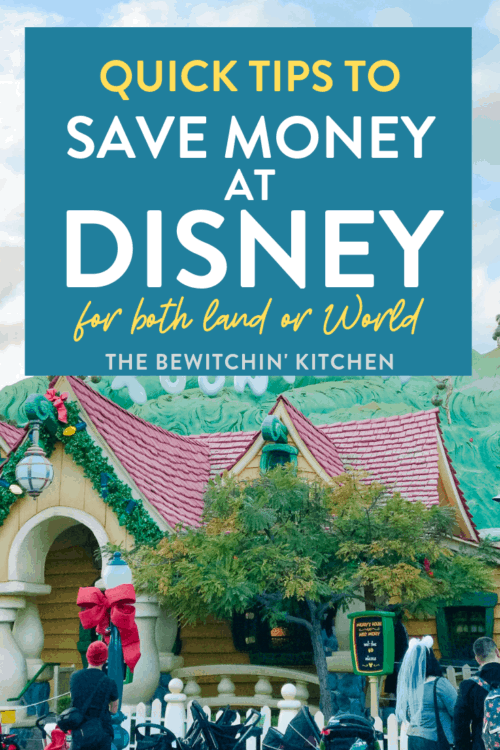 Many people feel that just because they're headed to Disneyland or Walt Disney World, their budget doesn't truly matter. This is not only wrong, but it can get some people in a money spending bind.
I get it. It's tempting to go wild and buy anything and everything that you want at Disney, you have to remember that all vacations and trips need some sort of budget.
Finding ways to control your spending while on a Disney trip isn't hard, but it does tip a bit of discipline and planning to stay on track!
How to Save Money at Disney
Planning a trip to Disney is exciting! There are literally princesses and characters just waiting for you and your family to arrive.
While you may have Disney on the brain, it's super important to make certain that you have your finances mentally prepared as well.
There's nothing worse than going on a vacation and blowing your budget too early which then, in turn, causes you to not be able to afford to do all the fun Disney activities that you had originally planned! So stick to the original plan and you'll have no problem saving money at Disney.
How do you resist spending money at Disney?
It can be hard. I get it.
The easiest way to resist spending money is to talk to your family about your budget before you leave for your trip.
Beach time at the resorts is free (above photo was taken at Polynesian Resort).
If everyone is on board and knows that there is a limit, there's a much better chance that they'll respect the budget as well. You can't expect someone to follow a budget if they don't know what it is, right?
TBK's Pro Tip: Before you even get to the park order some souvenirs at the Shop Disney clearance shop or Amazon. Your littles will still get some fun gifs and it's a great way to save money while at Disney.
Saving money on food at Disney
One of the biggest expenses that families incur at Disney is the food.
Everything seems to cost money! And while it might be tempting to spend $10 on a burger, why do that when you can spend that $10 later at the store and get a lot more food items to enjoy throughout the entire trip? (Seriously! $10 at the grocery store can get you a bag of chips, microwave popcorn, fresh strawberries and more!)
The first step to save money at Disney is to find a local grocery delivery service (like Instacart) to have some goods delivered to you. Breakfast is our big delivery because then we can get to the parks early and get as much in as possible. I used Garden Grocer during my last stay at DisneyWorld, they delivered straight to the Polynesian bell services!
At WDW take a look at the Disney Dining Plans and see if they're right for you. Do the math, it's only right for you if you'll eat that much food.
If you visit WDW more than once and are an AP holder, DVC member, or Florida resident, Tables in Wonderland may be for you. This membership saves you 20% off food. Again, do the math to see if it saves for you in the long run.
Pack a snack to take into the park
Yep, it's true! Disney allows its guests to bring in snack items without an issue!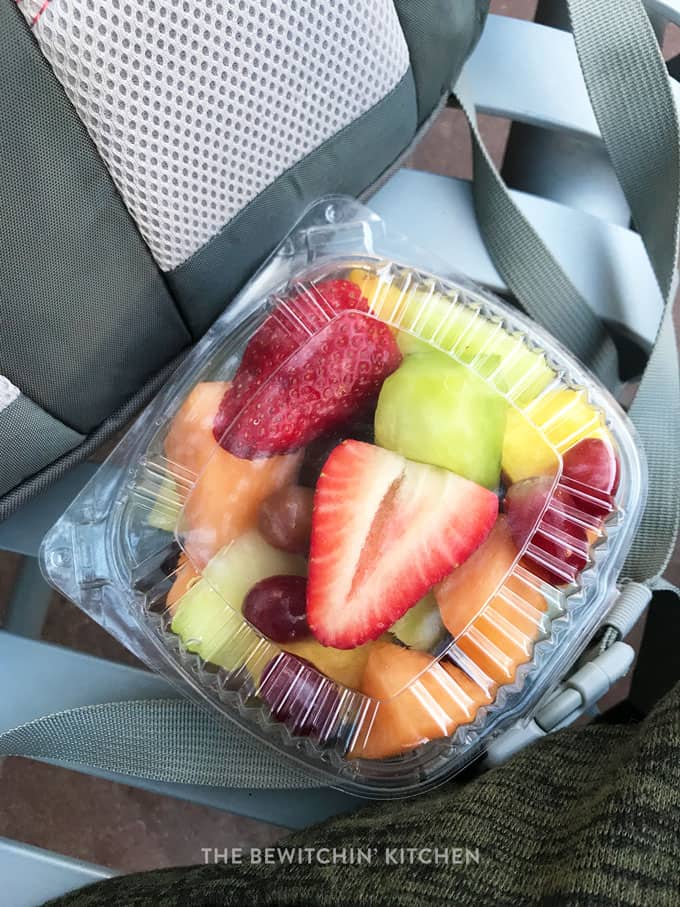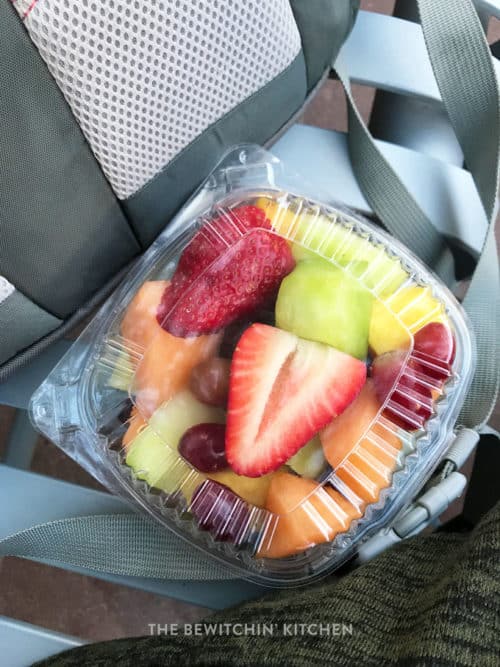 Load up on some fresh fruit, veggies, power bars, muffins and any other food items that don't have to be temperature regulated!
That way, you don't have to spend a dime on food if you don't want to.
Here's how to eat healthy at Disneyland.
Have everyone in your family pack their own water bottle
Another huge cost in Disney is the drinks! It just makes sense, right?
You literally spend all day walking and standing in the sun, feeling like you're thirsty all the time. Instead of spending $6 (or more!) every time you need a drink, you can bring in your own water bottle and fill it up for free for the entire day.
Talk about a huge way to control your spending at Disney!
How to stop spending money on clothes at Disney
When at Disney, you just want to "look" Disney. The Mickey Mouse ears, the cute shirts…all of it. But guess what? Those prices for that merchandise are inflated inside the parks.
If you truly want to find a good deal to score some Disney swag, the key is to purchase it online before your trip.
Places like Amazon and even the online Disney store offer much cheaper options for all different types of Disney gear and clothing.
Get the styles that you want and do so while staying within budget! It just doesn't get much better than that.
How do you cut back spending?
Truthfully, this is different for everyone. Some people spend money freely without even actually realizing that they have a spending problem. Once it's brought to their attention, it's an action that can be corrected easily. Others might need a little more help.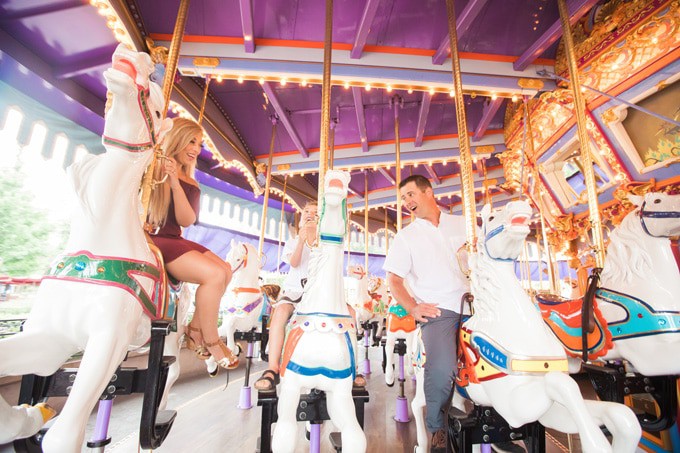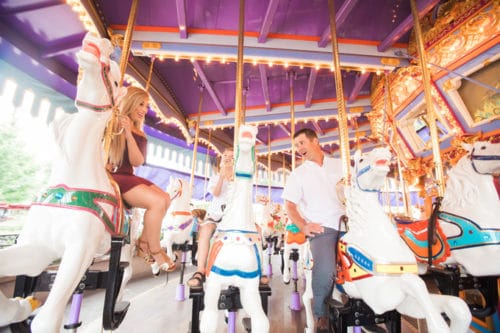 Save money on Mouse Ears by checking out these beautiful Mouse Ears on Etsy.
If you know that your Disney vacation is going to be expensive, don't spend days leading up to it being stressed out.
Acknowledge it and make a plan moving forward. Having a solid vacation savings fund is a great way to be able to relax and enjoy the trip.
ie: For the 6 months leading up to your Disney trip, put back $50 each week from your paycheck, if possible. (if not that amount, choose whatever you can afford) Then, once your trip date arrives, you've got a nice little lump sum of money that you didn't spend and you've saved to enjoy on your trip!
Doing that is the easiest way to cut back on spending to then be able to use it for your upcoming vacation.
Saving money at Disney is possible!
You just need to plan ahead of time and understand your financial limitations and budget. Once you have that under control, your finances will fall into line as well!
I could seriously save so much money right here, because I could sit in front of the tree of life all day and be fully content.
Need more money saving tips for Disneyland specifically? Here's how to save money at Disneyland.
What are your quick tips to save money at Disney? Leave them in the comments.