Wink | Baby Gift Guide

 Most moms want to get back to their post-pregnancy size as soon as possible. I know I personally don't feel like myself right now. That's why I am glad there is Wink Shapewear.
I have been reviewing the Ultimate Postpartum Bikini. It's a seamless compression piece that is made of medical compression material. It's recommended to wear the Ultimate Postpartum Bikini for the first eight weeks after you have the baby (or post abdominal surgery) to reap all the benefits Wink products provide.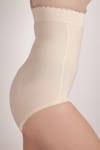 My stomach is still sticking out a bit, but almost how it was before I had Carter. So I have been using the postpartum bikini as shapewear. It's great to wear under my tighter shirts as it smoothes out the lumps and bumps that I'm still struggling with (muffin top especially). I like how it is a bikini and goes all the way down, so it doesn't raise up like others have I tried and show the mess I'm trying to hide.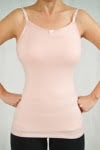 I'm curvy on my backside and have always had a butt and thighs, I'm not a big girl by any means but it's just something that's bigger. The only thing I could live without when it comes to my postpartum bikini is how it cuts into my rear end. It would be great for jeans, but when I'm wearing my yoga pants it shows and it is a little embarrassing. However, it would be the perfect accessory when wearing a dress.
Another product of Wink's that I like is the Nurse N Blast compression tank. It comes in pink (which I love) and serves to purposes: flatten your tummy and provide an easy way to nurse your little one.
For more information on Wink Shapewear visit, winkshapewear.com and don't forget to like their Facebook Pages: Wink Shapewear and Wink Belly Bands.
FREE Recipe Binder
Are you constantly wondering what's for dinner?
When I don't meal plan I feel behind, and we usually end up ordering take out. This recipe binder will keep you organized and make life a little bit easier.