$25 DIY Bathroom Countertops
Yes, you heard me right and no, I'm not joking around. I recently took on a project to update and clean up the look in my bathroom with these DIY bathroom countertops.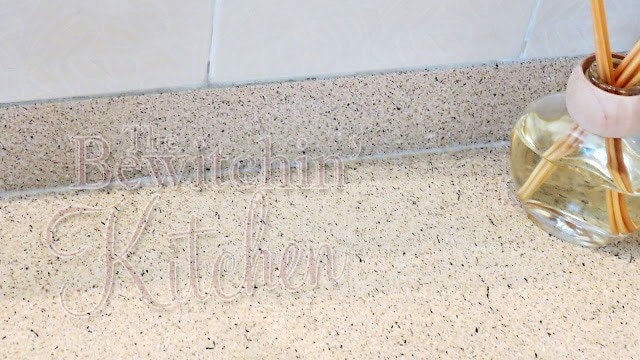 DIY Bathroom Countertops
Now I'm far from being a do-it-yourself diva, but I have to admit I'm pretty proud of myself with how well this turned out especially when this was a spur of the moment – last minute project and we all know how those usually turn out.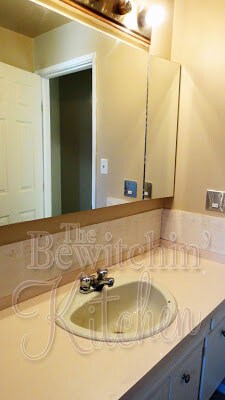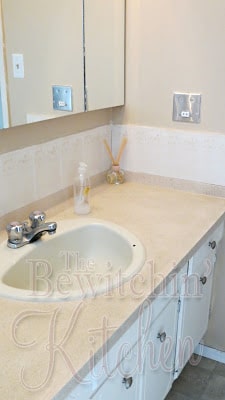 I'm pretty sure that my counter top color was once called "dusty rose", very 90's and very ugly. I couldn't get the color to truly show in the lighting, it's a lot pinker than that, it made my skin crawl. Now it's clean, modern and my bathroom feels a lot more "airy". My next $20 bathroom projects will be to paint the ceramic tiles and the vanity (posts will follow).
DIY Bathroom Countertops – What You Need:
This post contains affiliate links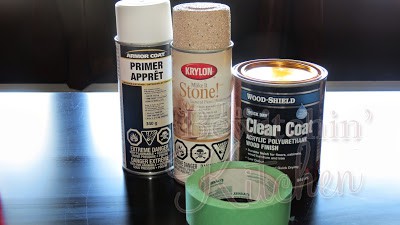 DIY Bathroom Countertops -How To Do It: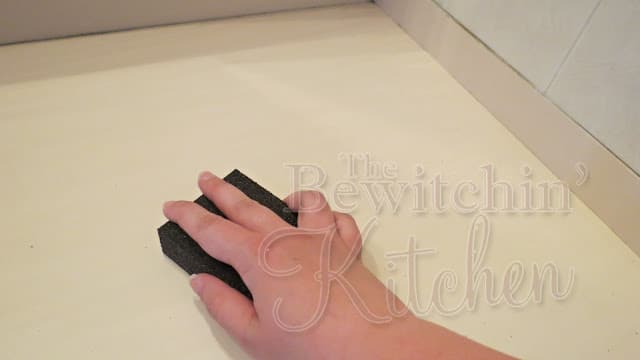 Begin with a clean surface to work with and take a sanding block (or paper) and lightly sand to rough up your working surface. You want the primer to be able to stick. I was surprised with how much of the pink disappeared as I sanded, leaving a lighter (almost white) base to work with. Don't forget to sand the edges of your counter top and the "banner" around it. Wipe off any additional dust.

This part is really important, probably the most important step in this whole process. You need to prep! It took me a good fifteen minutes, and it was tedious, and it sucked but if I didn't there would have been a huge mess to clean up (or sand off) when I was done and that would have taken even longer. I put paper in the sink and taped it down with painters tape (not the nicest job, but it worked), I lined the floor with newspapers/flyers, and taped the tiles and vanity surrounding the counter top.

It's time to start spraying. Take your spray primer and evenly apply it to the countertop. I had to do two coats for it to cover the area to my liking. I used a white primer since I used a beige in my next step, however; if you are doing a darker countertop you can use a grey primer, or whatever other colors you can find. Make sure all the windows (and even outside doors) are open. The fumes are terrible and I only had my bathroom window open, we camped out downstairs for hours until it was liveable upstairs. Let dry overnight.

The next morning take your choice of Krylon Make It Stone spray paint and start spraying. Don't spray in lines, that was my first mistake that I had to fix. Do short bursts to cover your to get the desired effect. Let first layer dry for an hour and repeat until can is empty. If you have a bigger area, I recommend more then one can. It doesn't last long, and this is something I wish I did.  DO NOT touch this paint while it dries, you will ruin the finish. I let this dry for eight hours, or until hard when knocked on.

Now the fun part (I'm being sarcastic). Apply the polyurethane in think layers with the foam brush. Cleaning up with paper town or tissue in between each application where it built up. Let dry for two hours. Repeat this at least ten times. I did eleven and I'm feel like I could still do more. I do find this counter top durable and I have cleaned it with Lysol wipes, however I haven't scrubbed two hard. I think if I was to do a few more coats of polyurethane I would be more comfortable. But that's the great thing about it, you can always do more whenever you want. You use very little of the can and it's always there for reapplying.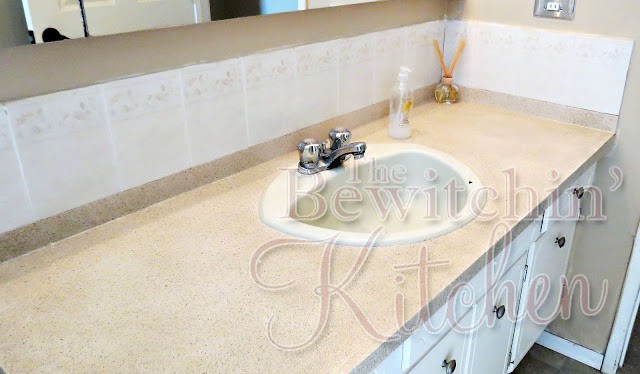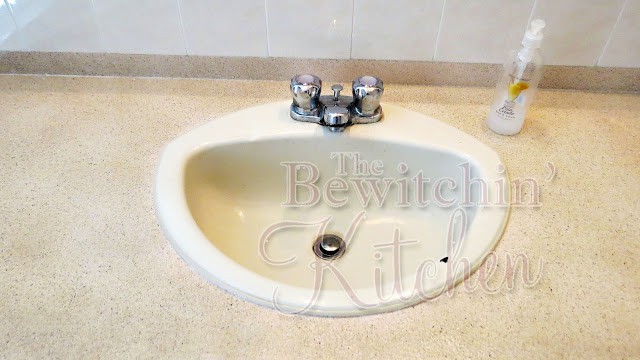 Looking for more great ideas? Click here to follow me on Pinterest!
Visit Randa | The Bewitchin' Kitchen's profile on Pinterest.