Belly Bandit

For years I have been saying that once I got pregnant one of the first things I could buy for after the baby would be a Belly Bandit. So when I was told that I was accepted to review one, I was thrilled. Actually I was ecstatic.
About Belly Bandit
taken from their website.
The first-ever post-partum compression wrap, Belly Bandit helps you regain your pre-pregnancy figure, restore your physical health and renew your self-confidence—so that you can rejoice in being a new mom while feeling like your old self again! Belly Bandit's post-partum compression garments are specially engineered with innovative technical details and medical-grade, latex-free fabrics to do what no surgery, core class or crash diet can—naturally, safely, comfortably and conveniently.
Our exclusive collections are designed to help you flatten the uterus and loose inches, while offering support and comfort for normal physical concerns associated with pregnancy, c-sections and breastfeeding. With a revolutionary range of products that wrap you in perfection at every shape and stage, Belly Bandit provides a foundation of slimming support that you can rely on long after you deliver.
I received the black Bamboo Belly Bandit to review. I chose the bamboo because the original birth plan for Carter was a c-section and the natural bamboo material is recommended for moms who are having a scheduled c-section. The bamboo Belly Bandit is also the most popular one that the company has. It's very eco friendly and very "green". It's also a celebrity favorite, read the celebrity testimonials and even Kourtney Kardashian has a limited edition Belly Bandit of her own.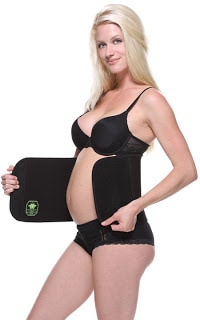 I had a 41″ waist towards the end of my pregnancy (8 months mind you) so I chose to order the Belly Bandit in medium.Turned out, I needed small. I first tried it on day three postpartum and I was already running out of velcro to fasten it and my belly was still large at this point. So when I wore it, I was at the very edge of the velcro and it felt a little flimsy because it's not as tight as it should be. So after speaking with my contact representing Belly Bandit, we decided to opt for a small.
Now that I have the correct sizing, what a difference. The support (even at 3 months PP) you receive from Belly Bandit is unbelievable. My stomach is almost back to where it was pre pregnancy, and since I am reviewing this so late I don't believe it's 100% The Belly Bandit. I actually love this product because of the postural support it provides,  the Belly Bandit has me catching myself slouching and I believe I have improved my posture because of it.
Would I purchase The Belly Bandit? Absolutely. Also, you don't need to have just had a baby, The Belly Bandit is a great way to hide the muffin top as described in the below video:
For more information on Belly Bandit and to see all the products carried visit bellybandit.com.
Pin It