30 Before 30 – A Bucket List of Adventures and Self Discovery #30Before30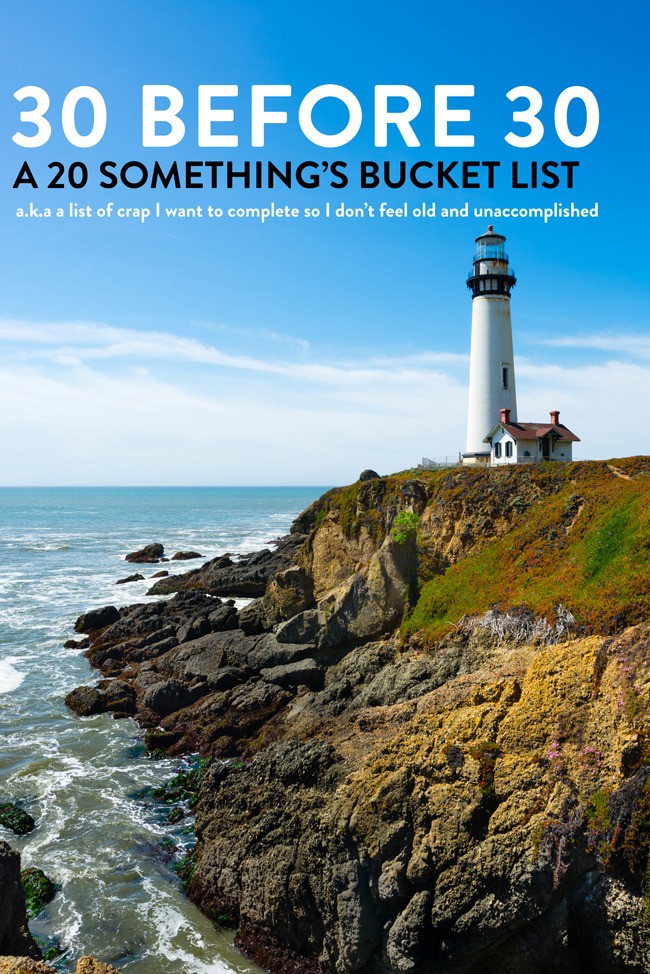 On August 14, 2018 I'll be turning 30 years old and there are so many things I wish to accomplish before then. Thus, 30 before 30 was born.
This summer I met Tammilee from Tammilee Tips. She inspired me with her 40 Before 40 to buck up and reach some of my goals. If you haven't yet, please check out her blog. She has awe-inspiring travel stories, drool-worthy recipes, and (of course) helpful tips to make your travel and food goals easier.
A lot of my 30 before 30 "goals" are travel related. This past year (2016) I have traveled more than I have my whole life combined. As a matter of fact, as I'm typing this out, I'm sitting in an airport waiting to board a flight to Vancouver (which will begin my journey to Key West). Do I expect every single one of these travel goals to be met? No, but I'm going to do my best to try and I'm going to blog about my experiences.
Note: when I began this list I started to dream big and I made a bonus list below the 30 before 30, I'm going to just say I have already started my 40 before 40 list (or maybe 35 before 35?).
30 Before 30
Take my family to Disney. This is my #1 goal, I'm determined to make this happen. Disneyland or Disney World, it doesn't matter. I'm so excited to say that I went! Read about it here: How Not To Do Disneyland.
Take my family to Universal Studios. Because if I'm at Disney, I better go to Universal Studios. Read how I think Visiting Universal Studios with Young Kids should be added to your bucket list.
Try Sushi.
Go to Nashville.
Paddleboard.
Go to NYC.
Find the strength to not let people walk all over me.
Write an eBook.Delish Dressings & Vinaigrettes I did it! is now available!
Swim with the dolphins.
Visit the east coast of Canada, see the east coast beauty and visit a Maritime Lighthouse.
Have another baby.
Earn an independent living.
Fly first class.
Visit Jasper – not just drive through it. I have driven through Jasper, AB at least 30 times but I have never stayed the night and explored.
Fall in love with yoga.
Buy less stuff. Gain more experiences.
Run 5K.
Go To Vegas. I would love to celebrate my 30th birthday here.
Get a fish pedicure.
Get professional photos of myself for the blog. This is more about investing in myself and finding expenses like this worth it. I hired Sarina Love Photography for Disneyland Family Photos and got headshots done.
Get a tattoo. Can you believe I don't have one?
Zipline.  DONE! I have both zip lined at the Outdoor Adventure from Vallarta Adventures and Ziptrek Eco Tours in Whistler.
Stay at Disney's Grand Californian
Climb a lighthouse and enjoy the view.
Sip Champagne on a yacht.
Splurge on a weekend at Sparkling Hills in Vernon, BC.
Own my own vehicle.
Visit San Fransisco.
Go Parasailing. Read about my experience Parasailing in Key West.
Go Jet Skiing. Post to come.
I tried to stay away from business goals. It was really hard, but I wanted to keep this to my personal goals. Business goals is a whole new blog post.
Superstar Bonus List (40 Before 40)
I'll be adding to this over time.
Go to Europe
See Stonehenge
See the pyramids
See Greek architecture
See Pompeii
Meet my English family
Gondola in Venice
Eat real pasta and pizza in Italy
Santorini
At least 5 more cruises – I fell in love with cruising.
Get my Nexus Card
Visit Bora Bora, stay in those huts on the water.
Australia – first class flight because I was told you don't want to fly any other way that far.
Cruise the west coast
Alaskan Cruise
Bahamas – doesn't matter where, I just need to go.
White water rafting
Travel to Jasper via rail for a weekend away (at this moment I live only 3 hours away so I see this being a possibility).
Do you have a 30 before 30? 40 before 40? 50 before 50? Share in the comments some of the things you have always wanted to do.