Paleo Turkey Meatballs
These Paleo Turkey Meatballs make clean eating and following a paleo and Whole30 diet easy! 5 simple ingredients and a handful of seasonings make these low carb turkey meatballs a simple, savory weeknight meal.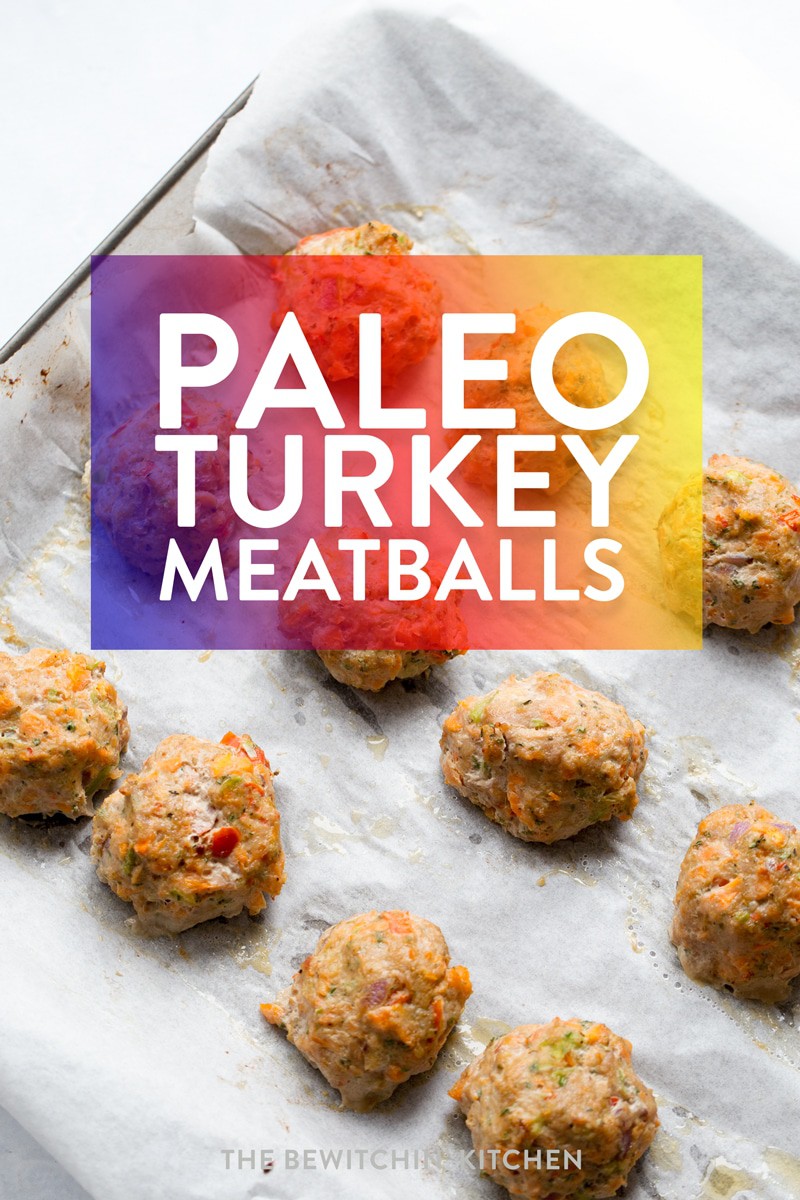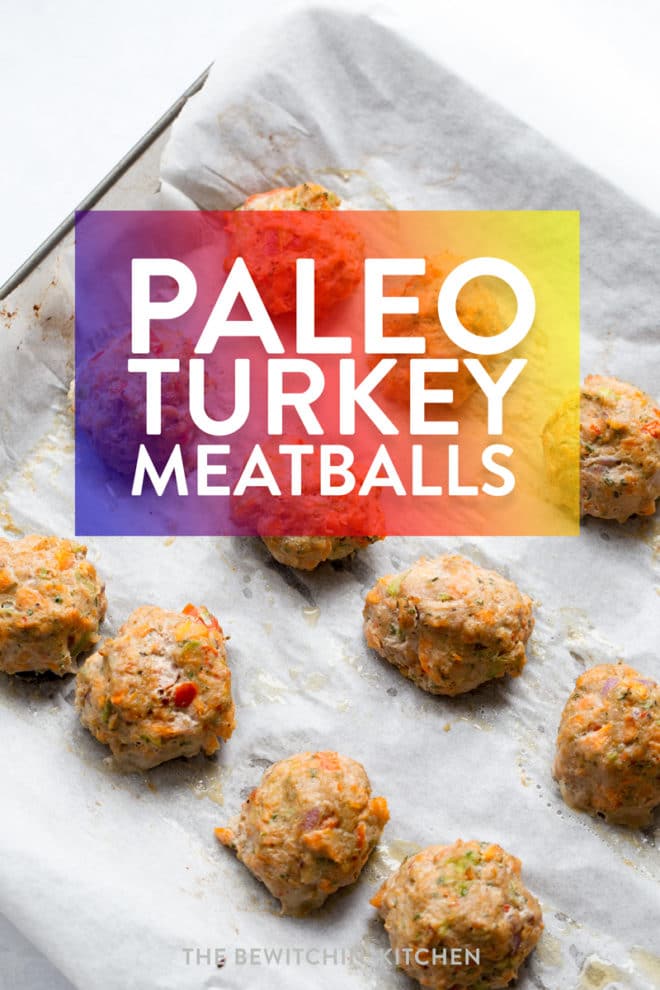 Paleo Turkey Meatballs
Disclosure: This post contains affiliate links. As an Amazon Associate, I earn from qualifying purchases.
The best part of these Whole30 turkey meatballs? The fact that they're loaded with vegetables! Your kids won't even know they're eating a clean recipe that follows Whole30, paleo, keto, low carb, 21 day Fix, Portion fix, and gluten free guidelines. You may as well call these hidden veggie meatballs.
I slightly adapted this recipe from the Paleo Plan website. I love this recipe for ground turkey meatballs because it has hidden vegetables, which is perfect for picky eaters.
For more clean eating meatballs, try these Whole30 Butter Chicken Meatballs or Coconut Curry Baked Chicken Meatballs.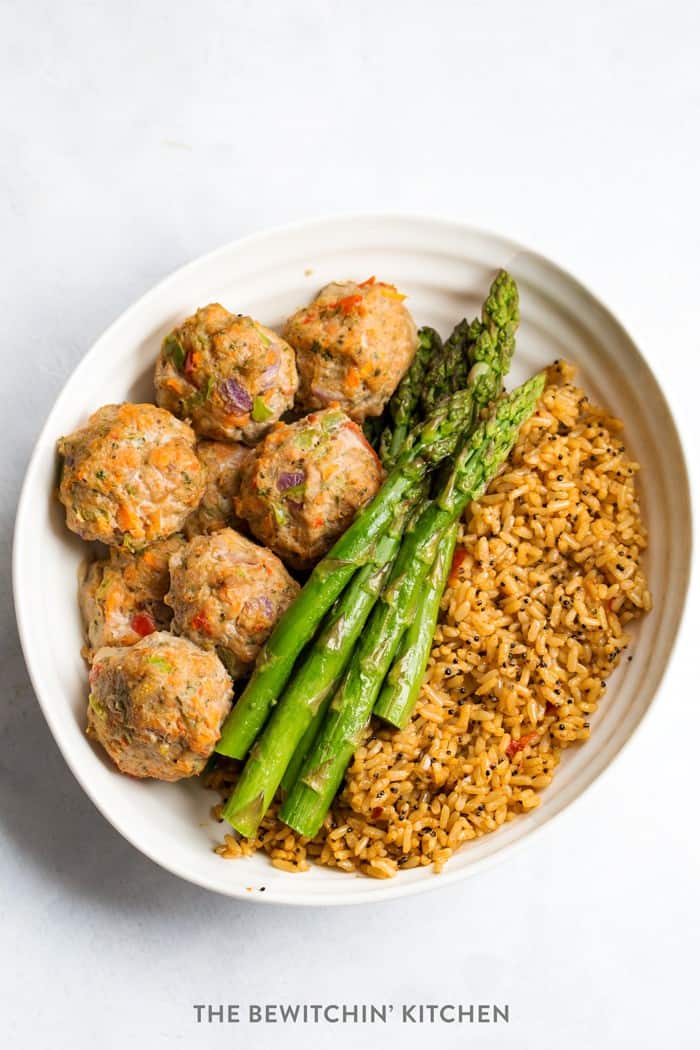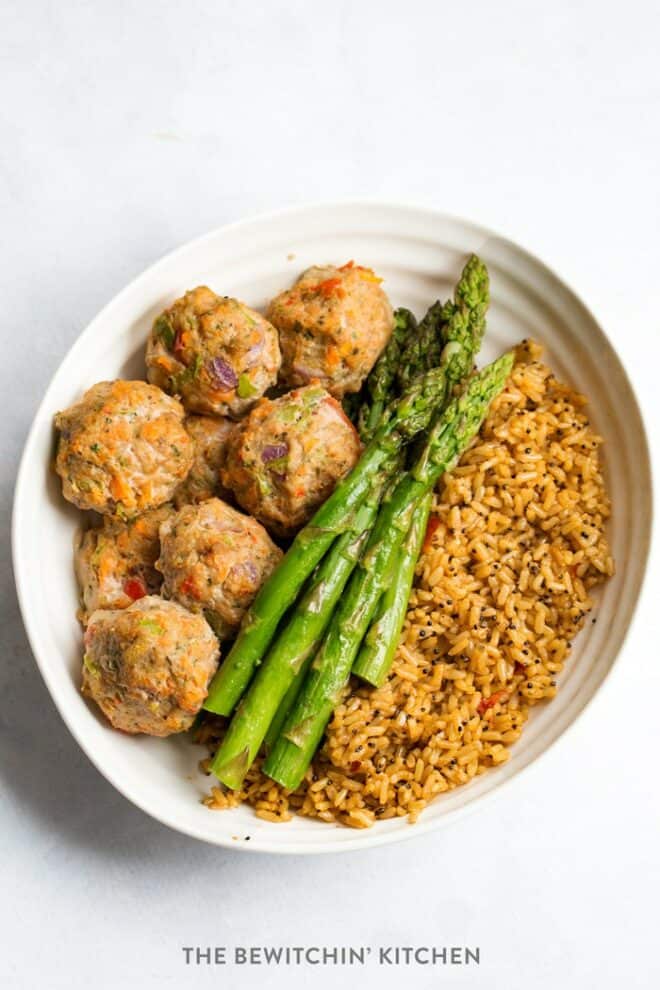 Note: if you're not following the paleo diet, rice is okay (like in the above photo).
Why You'll Love These Whole30 Turkey Meatballs
Healthy – Hidden veggie meatballs follow most clean-eating lifestyles.
Simple – Just a handful of ingredients pulls this delicious recipe together in about half an hour!
Delicious – Even those who aren't following a specific lifestyle diet will enjoy these turkey veggie meatballs.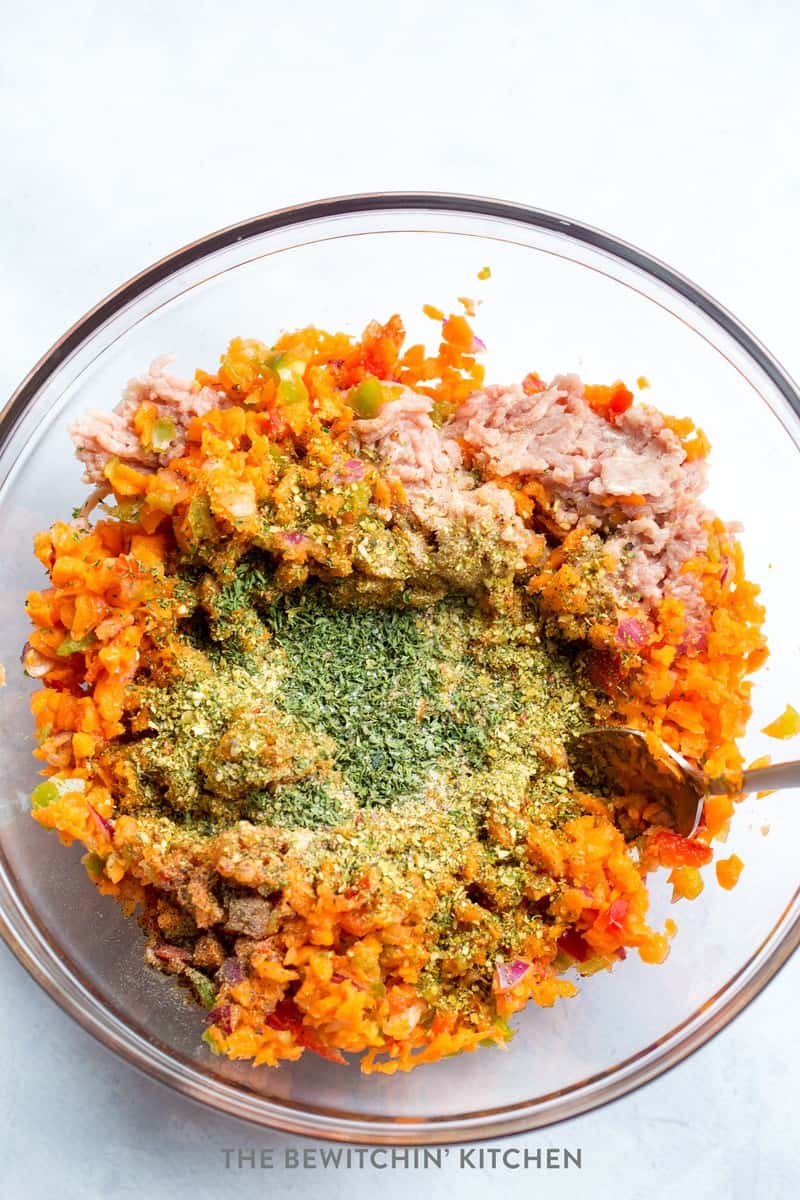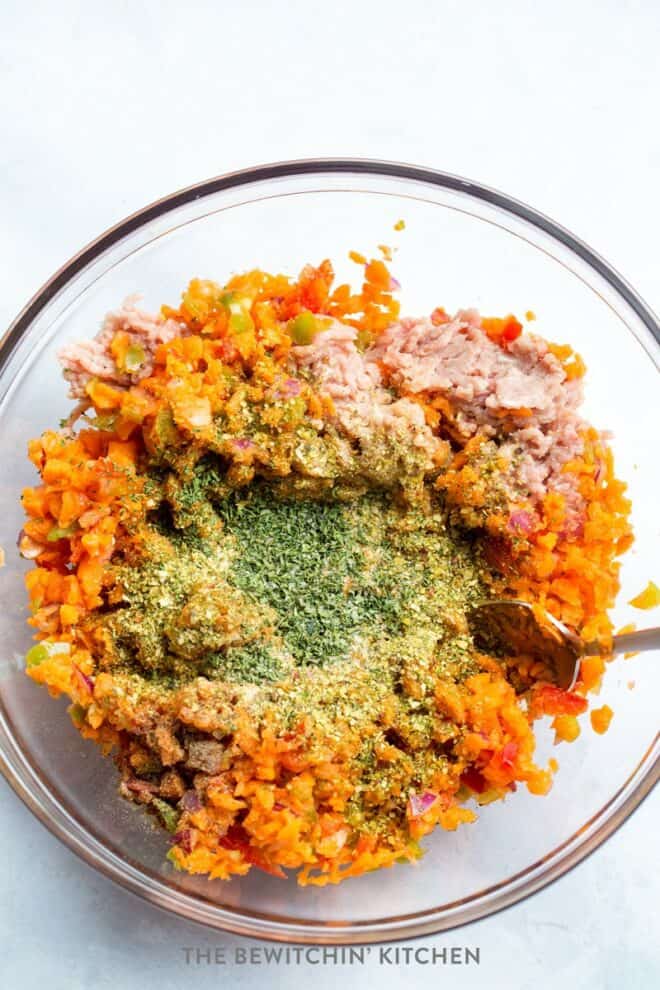 How to Make Low Carb Turkey Meatballs
Make Meatball Mixture
Preheat oven to 350F and prepare a baking sheet with foil or parchment paper.
Add carrots, onion, bell pepper, and seasonings to a food processor or high powered blender. Pulse until there are no large chunks left. Move the vegetable mixture to a bowl and add the ground turkey. Mix the low carb turkey meatballs mixture until well combined.
Bake Turkey Veggie Meatballs
Form the mixture into 1.5″-2″ balls and drop them onto the prepared baking sheet. Bake in the preheated oven for 25-30 minutes. Allow the paleo turkey meatballs to cool for 5 minutes before serving.
Serve your Whole30 turkey meatballs with asparagus, a side salad, roasted broccoli and cauliflower, or zucchini noodles.
You can also serve over rice or quinoa if you're not following a low-carb or paleo diet. You could even serve under a marinara sauce for a cleaner alternative to typical meatballs.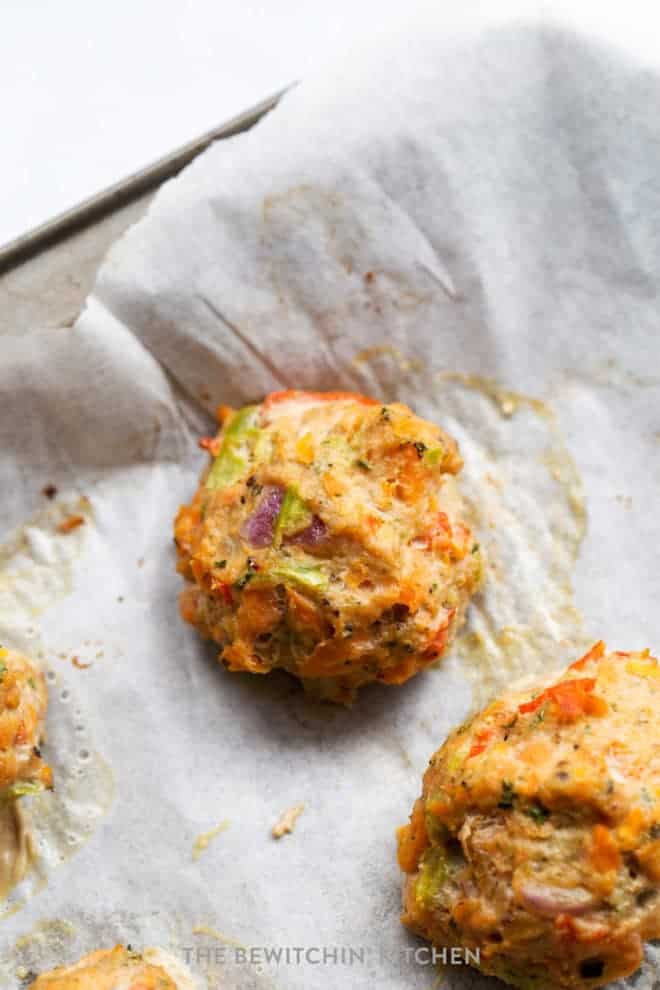 Frequently Asked Questions About Hidden Veggie Meatballs
What is a Paleo Diet?
When you think Paleo, think about how a caveman would eat. There are no pre-packaged (and heavily processed) foods, and herbs are fine but grains are not. There is a debate on whether quinoa is truly paleo or not. Personally, I still eat it.
These turkey veggie meatballs are free from grains and dairy, making them a great fit for clean-eating diets that allow meat.
How Long Do You Bake Paleo Turkey Meatballs?
I found that cooking the meatballs for 30 minutes was perfect. The meatballs were still tender and not at all dry. I recommend you check them at 25 minutes and go from there.
Ground turkey is safe to eat at 165F (if you use a meat thermometer).
Tough meatballs are usually a result of them being overcooked or overmixed. Mix your ingredients until they're just combined, and bake just until 165F.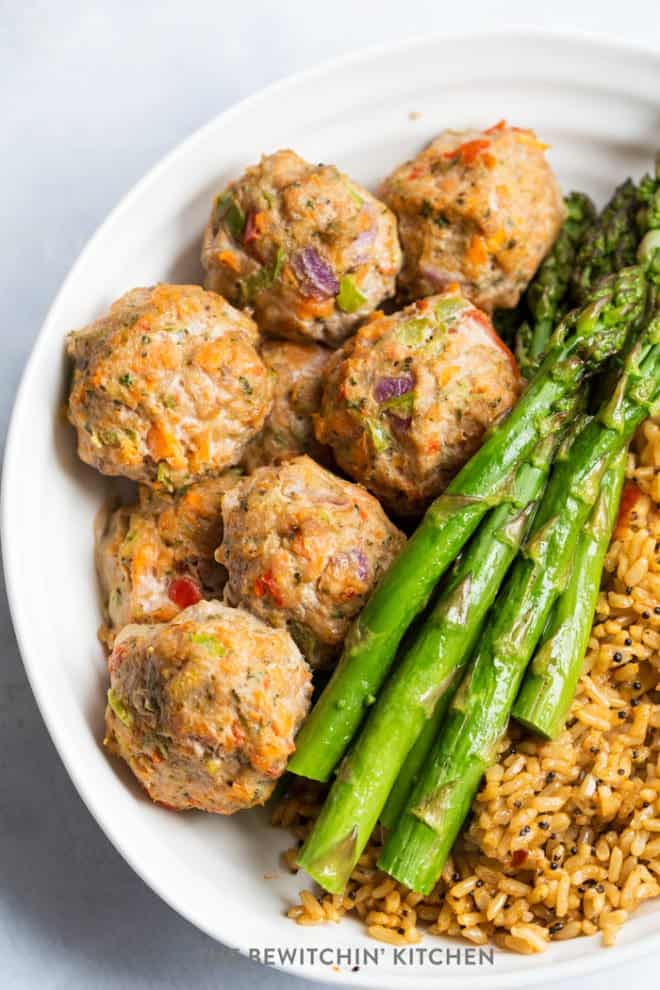 More Paleo Recipes
Ginger Lime Chicken Lettuce Wraps (Slow Cooker + Instant Pot Recipe)
Paleo Turkey Meatballs
These paleo turkey meatballs make clean eating and following a paleo and Whole30 diet easy! Gluten free meatballs loaded with hidden vegetables make this healthy ground turkey recipe a hit with kids of all ages.
Servings 20 meatballs
Calories 41kcal
Ingredients
1 lb ground turkey
1 1/2-2 cups baby carrots depending on how you would like your texture
1/2 whole red onion
1/2 whole red bell pepper
1/2 whole green bell pepper
2 tbsps Italian seasoning
1 tbsp ground parsley dried
1 tsp garlic powder
1 tsp sea salt and pepper to taste
Instructions
Preheat oven to 350. Line a 9×13 baking sheet with foil or parchment paper.


Combine everything but the ground turkey to a high powered blender or food processor and pulse until no big chunks are left. You may have to stir in between to have a common texture.

Add the newly chopped ingredients to the turkey, and mix together.

Shape the meatballs into 1 – 1/2" sizes. I took my 1 1/2 tablespoon, scooped the mixture and dropped on a foil lined baking sheet.

Bake for 25-30 minutes. Let stand for five minutes to cool.
Notes
Container Counts for 21 Day Fix
Full recipe: 4 greens, 4 red.
Per serving (based on 4 servings): 1 green, 1 red.
Nutrition
Serving: 1meatball | Calories: 41kcal | Carbohydrates: 1.6g | Protein: 4.7g | Fat: 1.8g | Saturated Fat: 0.5g | Polyunsaturated Fat: 0.5g | Monounsaturated Fat: 0.6g | Cholesterol: 15.6mg | Sodium: 137.3mg | Fiber: 0.5g | Sugar: 0.9g
Follow On Pinterest
Follow @bewitchinkitchen On Pinterest for more delicious recipes!