Paleo Turkey Meatballs
These paleo turkey meatballs make clean eating and following a paleo and Whole30 diet easy! Gluten free meatballs baked in the oven for less than a half hour with wholesome ingredients? Sold! My favorite part of turkey meatball recipe? The fact that it's loaded with hidden vegetables. Eating healthy has never been easier! This recipe follows the following diet guidelines: Whole30, paleo, keto, low carb, 21 day Fix, Portion fix, gluten free, clean eating. It basically checks off for every lifestyle out there (well, other than vegetarian and vegan 😉).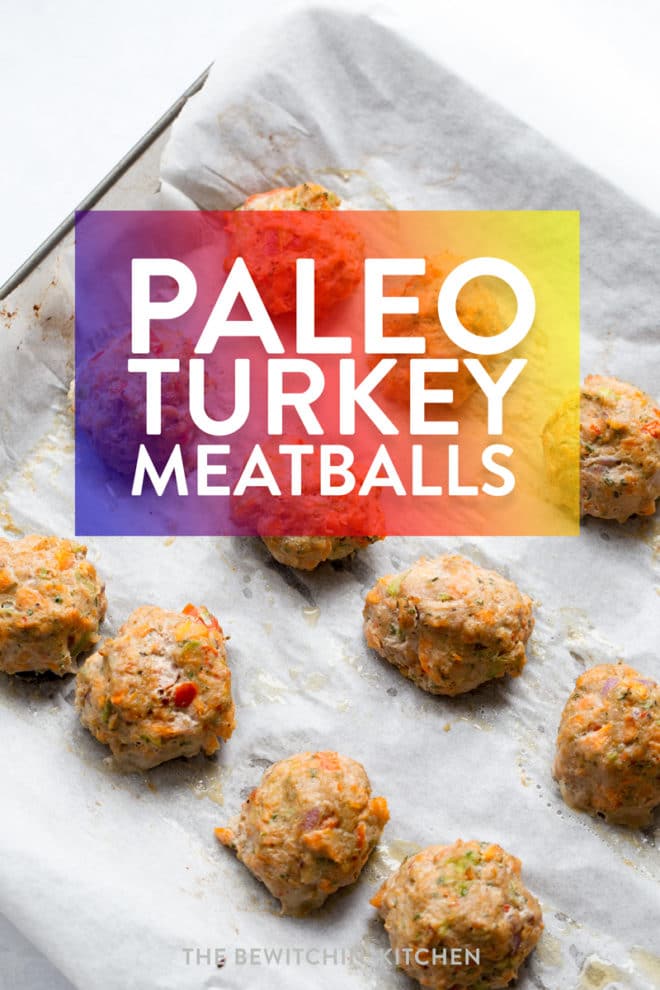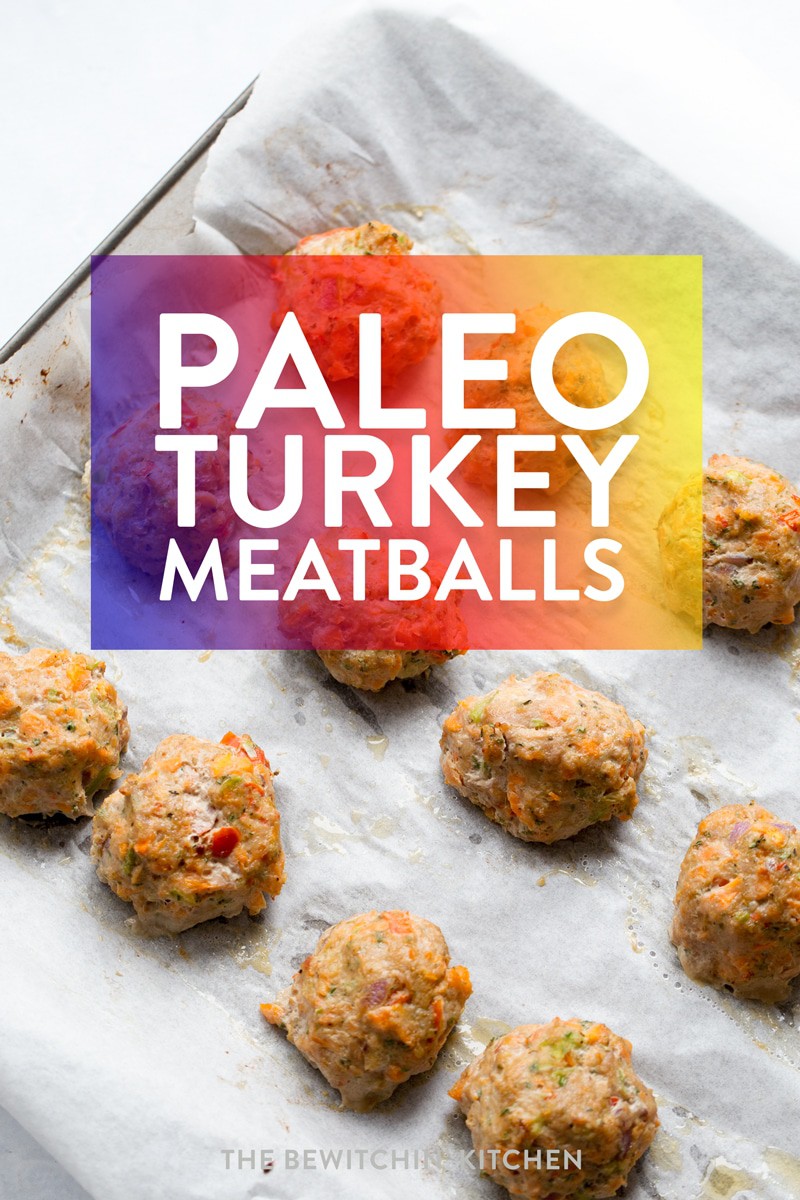 This recipe originally appeared on The Bewitchin' Kitchen way back in August 2012, but since I made these again (with some changes) I wanted to bring it front and center. So I republished it for your convenience. Enjoy!
Paleo Turkey Meatballs
Disclosure: This post contains affiliate links. As an Amazon Associate, I earn from qualifying purchases.
If you couldn't tell from my last Wordless Wednesday post, our home is experiencing some technical difficulties when it comes to food. I'm pretty sure my husband is gluten intolerant and for myself? It's dairy. I have heard about the Paleo lifestyle for a while now and for the last week, I have taken it upon our family to give it a try. I always have ground turkey in my freezer and I wanted to do something different than the typical baked turkey meatballs.

OUR LATEST VIDEOS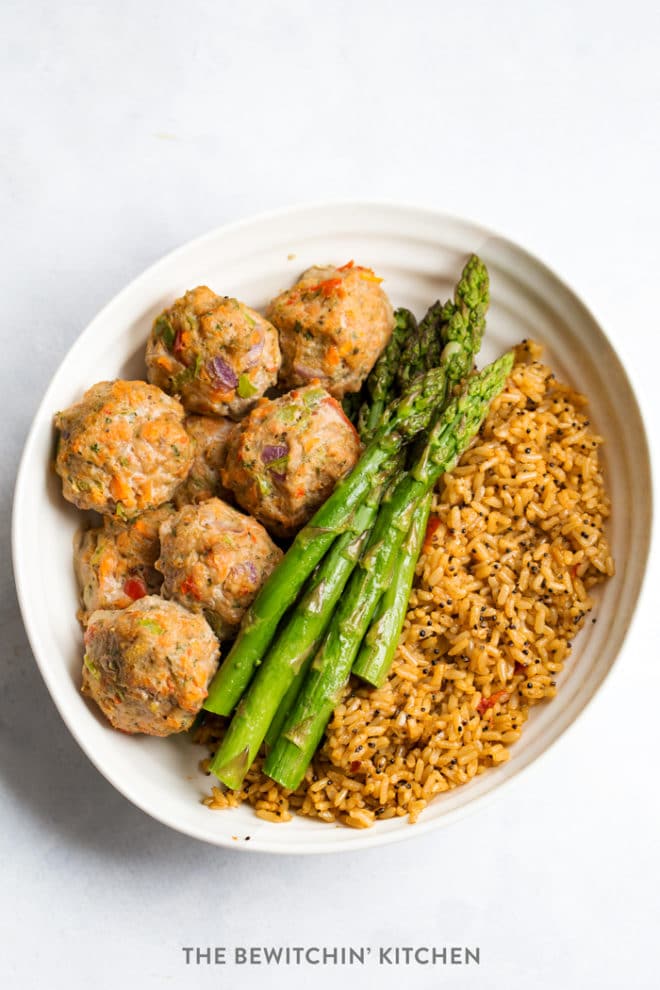 Note: if you're not following the paleo diet, rice is okay (like in the above photo).
What is Paleo?
When you think Paleo, think about how a caveman would eat. There are no pre-packaged (and heavily processed) foods, herbs are fine but grains are not. There is a debate on quinoa and if it's truly paleo or not, personally I eat still. That and rice. We're not 100%. Anything is better than nothing. For more information check out Paleo VS Whole30: What's the Difference?
As I said before, we're going paleo for the next few weeks because we're weeding out a few food intolerances for my husband. Since paleo recipes are on trend, it's really easy to find healthy recipes (like these healthy turkey meatballs) with the paleo label.
Randa's Tip: Use a Vitamix or another high powered blender to chop your vegetables at once. This saves you so much time!
What to serve with meatballs?
If you're curious on what to serve with meatballs other than spaghetti, here's a few ideas:
rice (if not paleo or Whole30)
asparagus
salad (broccoli salad or even this three pepper salad).
roasted broccoli and cauliflower
zucchini noodles (done in a stir fry)
As you can see you can expand with those ideas and truly create anything. This particular recipe for turkey meatballs is mild and makes a great base for any dish.
Paleo Turkey Meatballs Ingredients
What's awesome about paleo and Whole30 recipes is that the ingredients are simple. You probably have everything you need at home, and there are no special trips to the store for foreign or odd ingredients. Here are the ingredients for these paleo and Whole30 meatballs:
Ground turkey
Baby carrots
Red onion
Garlic
Garlic salt
Red bell pepper
Green bell pepper
Dried parsley
Sea salt and pepper
In addition to these ingredients, you'll also need foil, parchment paper, or a silicone baking mat
to keep the ground turkey meatballs from sticking to the pan (this makes for much easier clean up).

Healthy Turkey Meatballs
I slightly adapted this recipe from the Paleo Plan website. I love this recipe for ground turkey meatballs because it has hidden vegetables, which is perfect for picky eaters.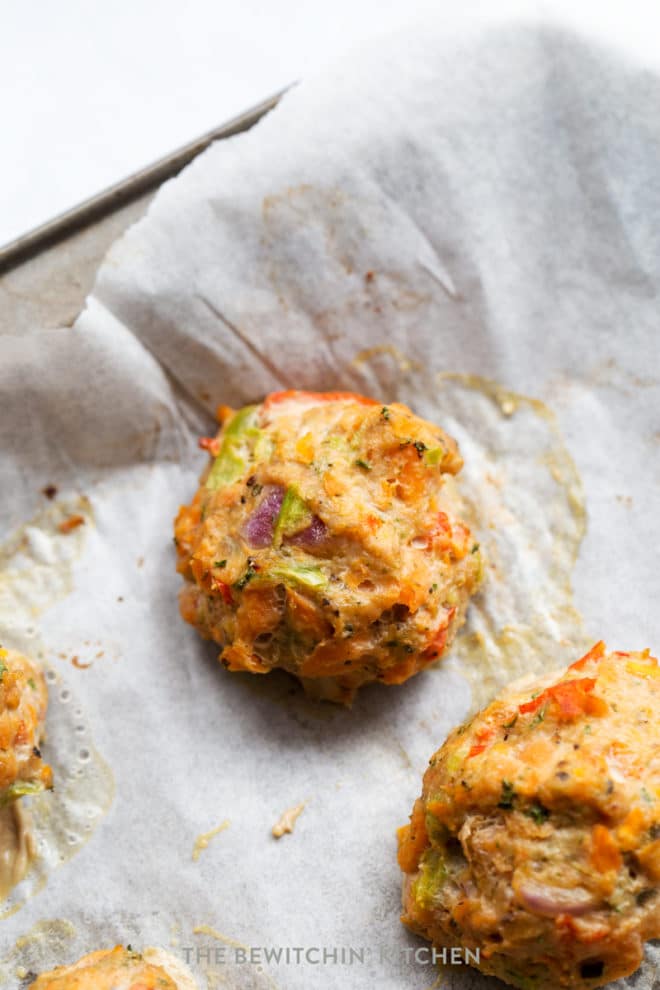 I have to say I LOVE the color that shows with these easy turkey meatballs. In the above photo, you can see the "hidden" vegetables: red onion, green pepper, red pepper, and carrot. Not only do these hidden vegetables add some nutritional value, but they also help give the paleo meatballs a sweeter flavour.
Paleo Recipes on The Bewitchin' Kitchen
Don't forget to check out the paleo meal plan I put together too.
How long to bake turkey meatballs
I'm known to overcook my poultry, I'd rather be safe than sorry. However, I found that cooking the paleo turkey meatballs for 30 minutes was perfect. The meatballs were still tender and not at all dry. I recommend checking them at 25 minutes and to go from there. Ground turkey is cooked at 165 degrees F (if you use a meat thermometer).
How to make turkey meatballs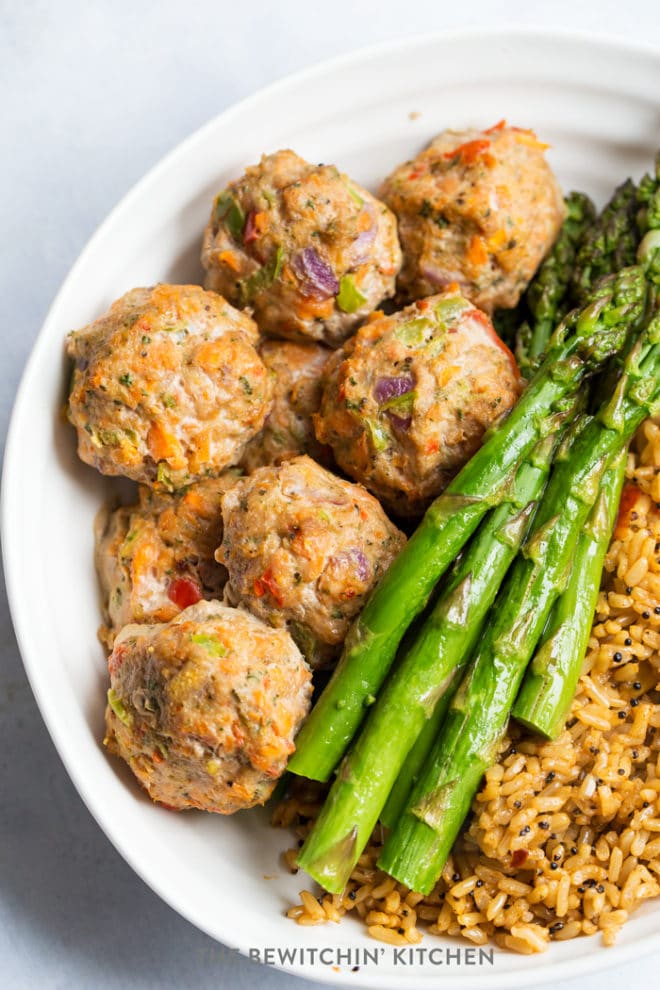 This recipe for skinny meatballs is incredibly fast and easy (not to mention delicious) and because of how little effort it takes, it's a perfect weeknight meal. I served it with a salad, asparagus (and a side of rice for my son). These healthy meatballs are also a great way to health up meatballs in marinara sauce.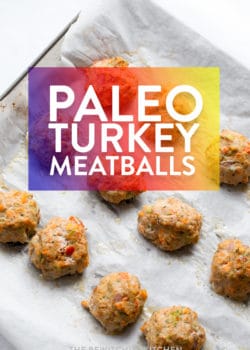 Paleo Turkey Meatballs
These paleo turkey meatballs make clean eating and following a paleo and Whole30 diet easy! Gluten free meatballs loaded with hidden vegetables make this healthy ground turkey recipe a hit with kids of all ages.
Ingredients:
1lb ground turkey
1 1/2-2 cups of baby carrots (depending on how you would like your texture).
1/2 red onion
1 tsp garlic powder
1/2 red bell pepper
1/2 green bell pepper
1 tbsp ground parsley
2 tbsp Paleo Italian seasoning
Sea salt and pepper to taste
Directions:
Preheat oven to 350. Line a 9×13 baking sheet with foil or parchment paper.
Combine everything but the ground turkey to a high powered blender or food processor and pulse until no big chunks are left. You may have to stir in between to have a common texture.
Add the newly chopped ingredients to the turkey, and mix together.
Shape the meatballs into 1 – 1/2″ sizes. I took my 1 1/2 tablespoon, scooped the mixture and dropped on a foil lined baking sheet.
Bake for 25-30 minutes. Let stand for five minutes to cool.
Nutrition Information
Yield: 20, Serving Size: 1 meatball
Amount Per Serving:
Calories: 51 Calories
Total Fat: 1.8g
Saturated Fat: 0.5g
Cholesterol: 15.6mg
Sodium: 138.5mg
Carbohydrates: 3.9g
Fiber: 0.6g
Sugar: 0.9g
Protein: 5.1g
Slightly adapted this recipe from Paleo Plan.
All images and text © .
FREE Recipe Binder
Are you constantly wondering what's for dinner?
When I don't meal plan I feel behind, and we usually end up ordering take out. This recipe binder will keep you organized and make life a little bit easier.
products I used to make this happen Shop This Post
(may include affiliate links)