Southwestern Chicken Meatloaf Muffins
If you're looking for a healthy and tasty meal prep idea (or just a quick and easy dinner) then you're going to love these Southwestern Chicken Meatloaf Muffins!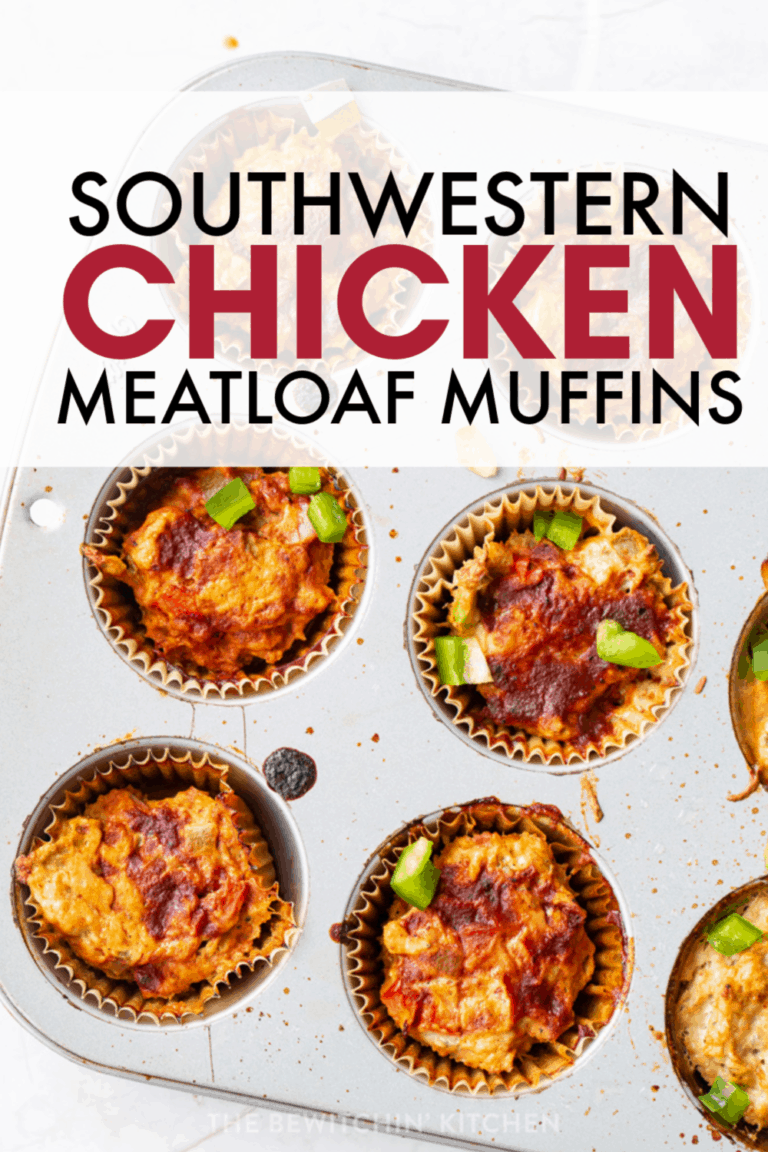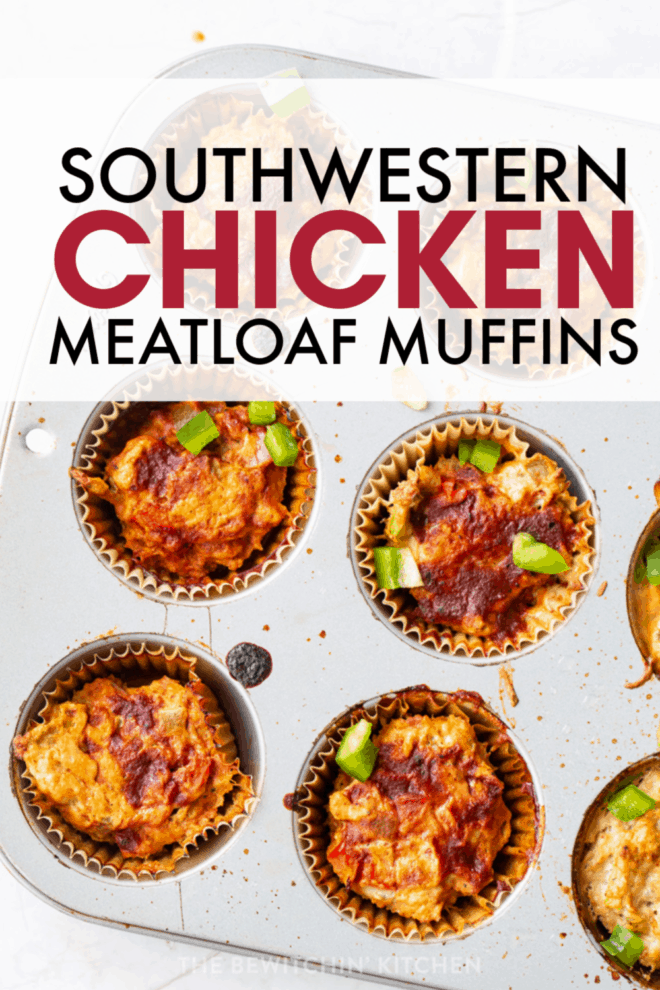 Disclosure: I am participating in the Chicken Farmers of Canada campaign managed by SJ Consulting. I received compensation in exchange for my participation in this campaign. The opinions on this blog are my own.
Southwestern Chicken Meatloaf Muffins
I'm always looking for tasty ways to up my protein intake. I've mentioned this before on the blog because it's generally the way I eat: a high protein diet, with veggies, and whole grains (for the most part anyway).
Ground chicken is one of the easiest ways to do this. It's such a mild base that you can really add whatever flavors you want to spruce it up and fix it just the way you want.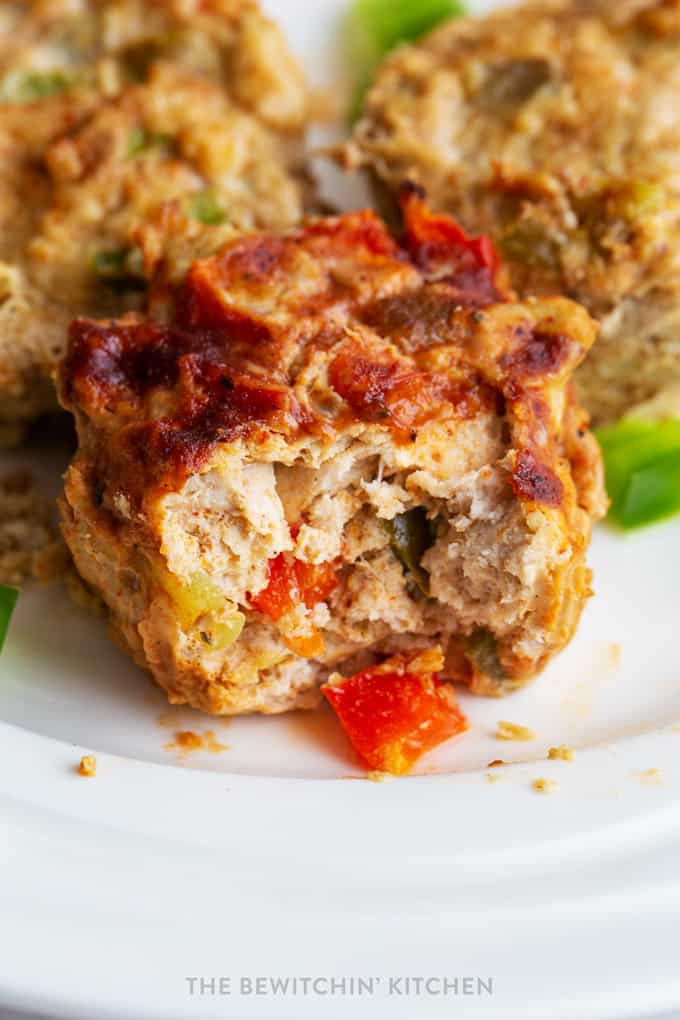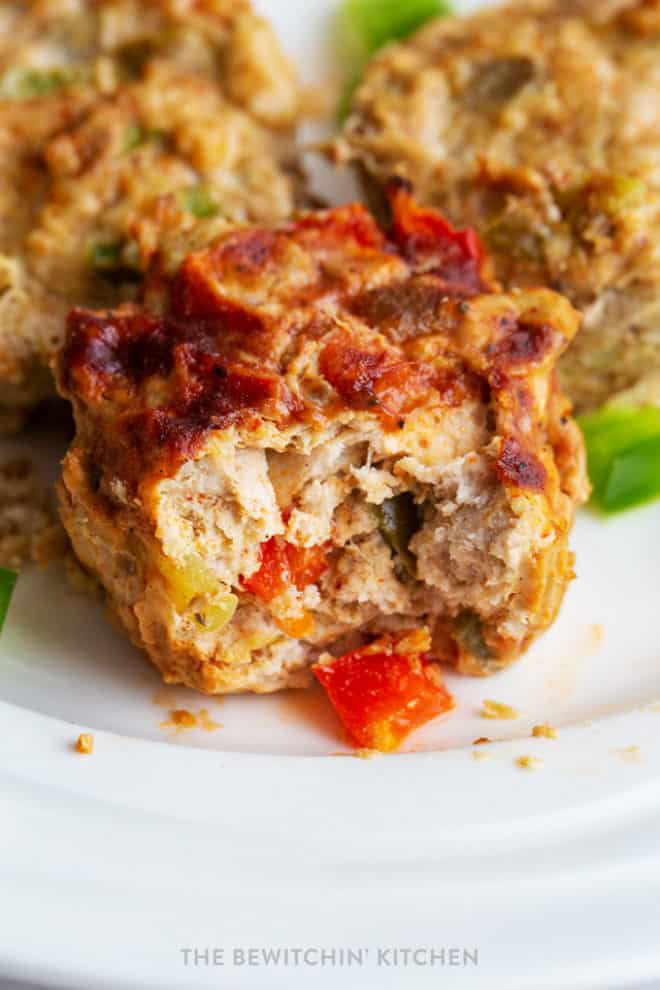 This may not be the proper term, but it "absorbs" flavors. It's the best way I can describe it.
With that in mind, I chose chili and cumin spices for a southwest flavor for these particular mini chicken meatloaves.
Where to find Canadian Chicken
Every month I share a chicken recipe and encourage my fellow Canadians to purchase chicken that has been raised by a Canadian Farmer.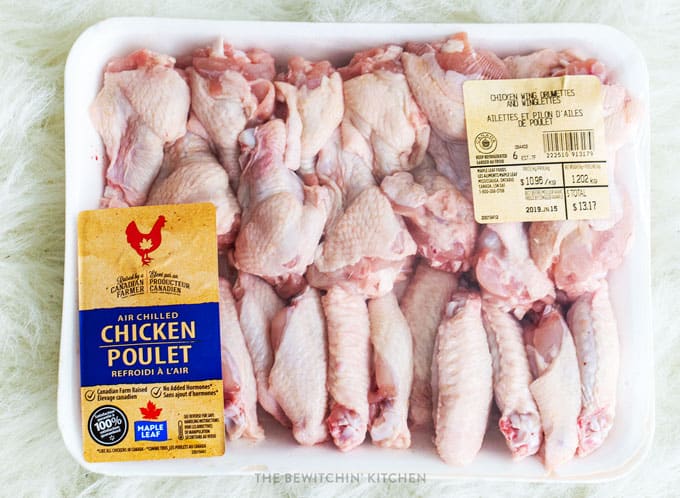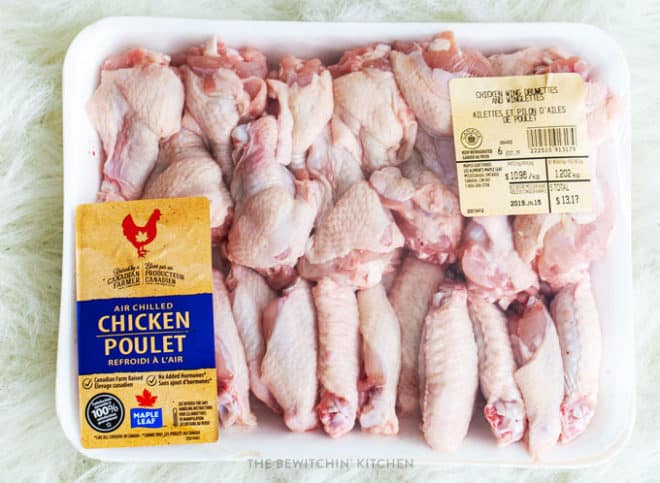 You can find chicken that has been raised by a Canadian farmer by looking for the logo (see example above).
Why should you buy chicken with this label?
Not only is Canadian chicken is a healthy choice because it's grain-fed, free of added hormones and steroids but it's and raised right here in Canada according to nationally-set, high food safety, and animal care standards.

● There is a mandatory, robust, third- party-audited Animal Care Program that is administered across all Canadian chicken farms.
● Canadian chicken farmers adhere to a strict mandatory On-Farm Food Safety Program.
● Canadian chicken farmers are committed to sustainability through innovation, by preserving the health of the land, providing value to Canada's economy, & making affordable food for Canadians.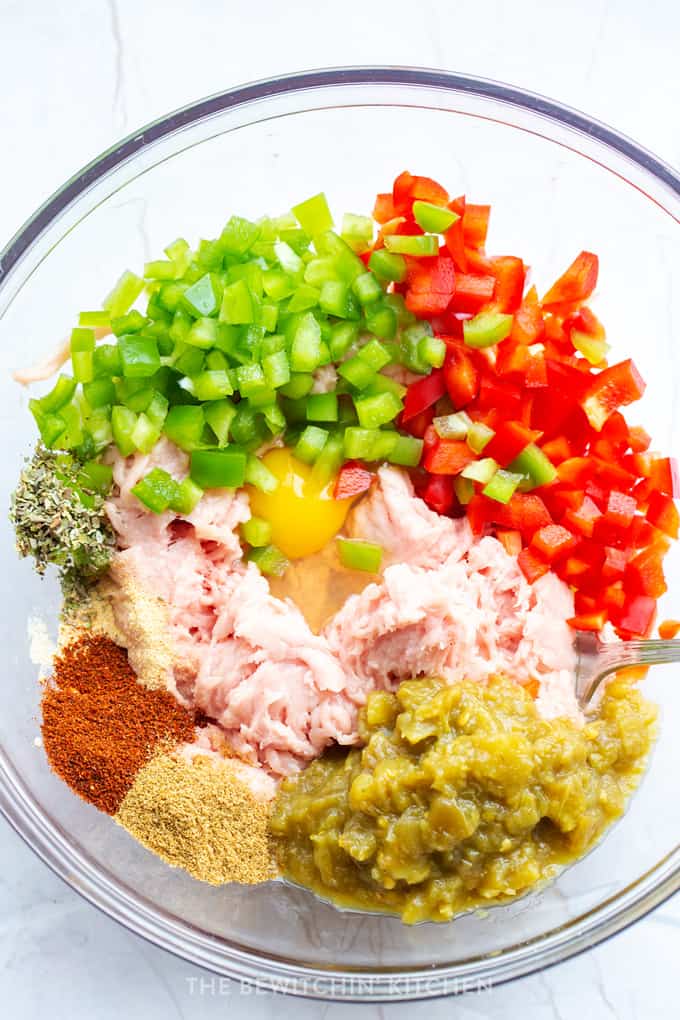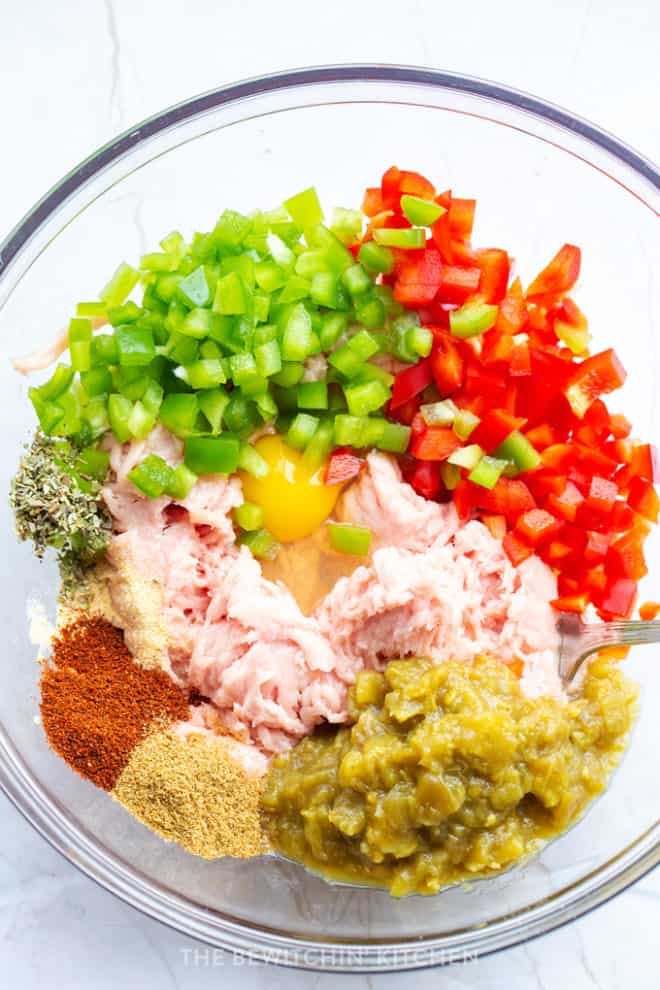 How to store this recipe
If you're meal prepping this recipe then I recommend cooking them in parchment paper muffin liners (or silicone liners) and store them in a sealed container.
They keep for about 4-5 days and the liners just help container any mess that could happen if you're packing them for lunches.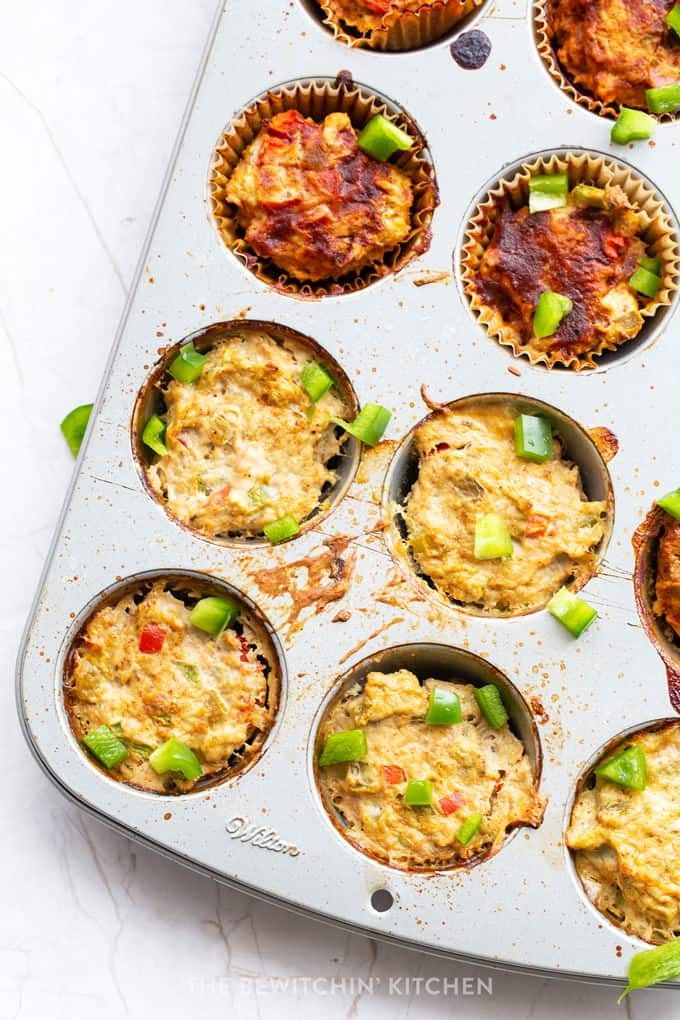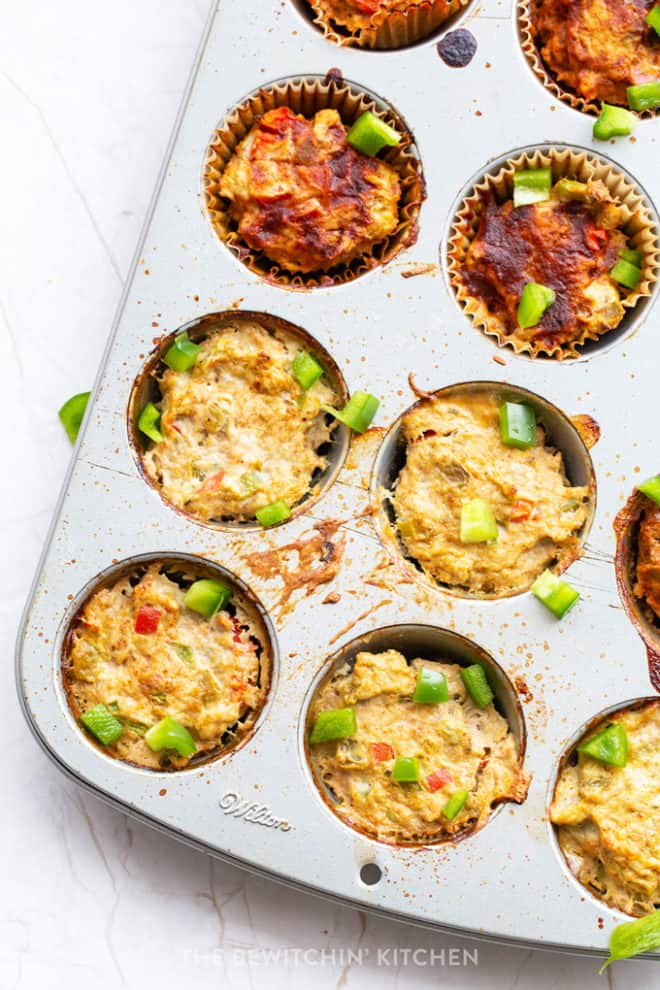 Why is there no breadcrumbs?
I'm often asked why I don't add breadcrumbs to my meatballs and most ground meat recipes.
I don't feel it needs it. The use of breadcrumbs was first added back when families really needed to stretch their meal. So they would add breadcrumbs or oats to bulk it up.
I haven't added any of the filler because of what I need in my recipes to help me reach my nutritional goals. These goals change all the time, but for now this is what helps me get there.
If you would like to add some bulk, you can try oats (preferred in oat flour form), almond flour, or breadcrumbs. You may have to add some liquid so the meat doesn't dry out in the oven.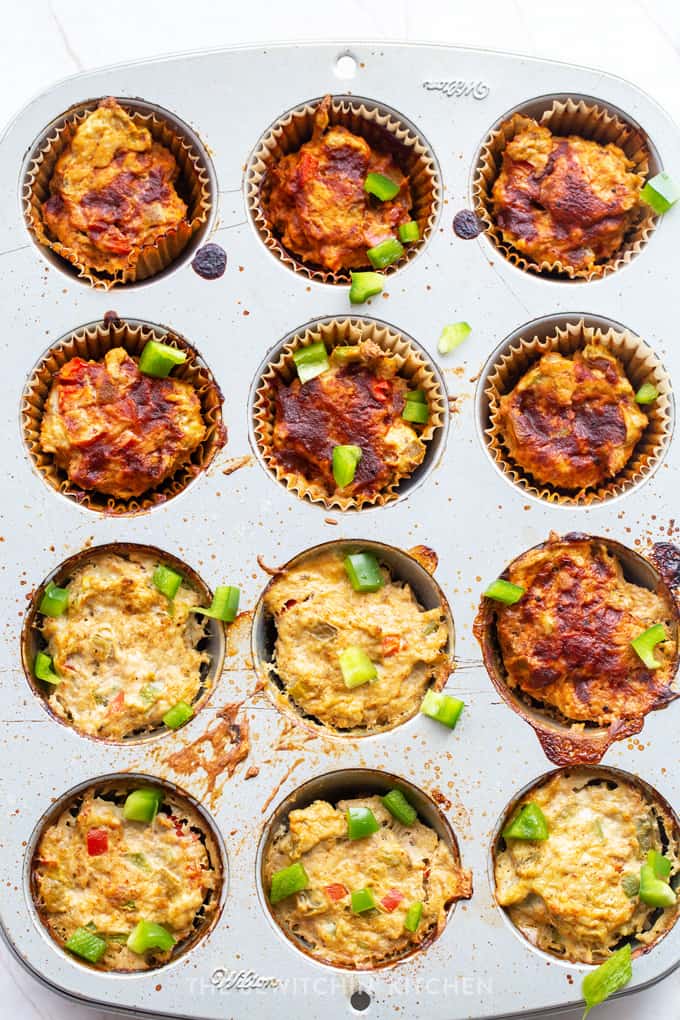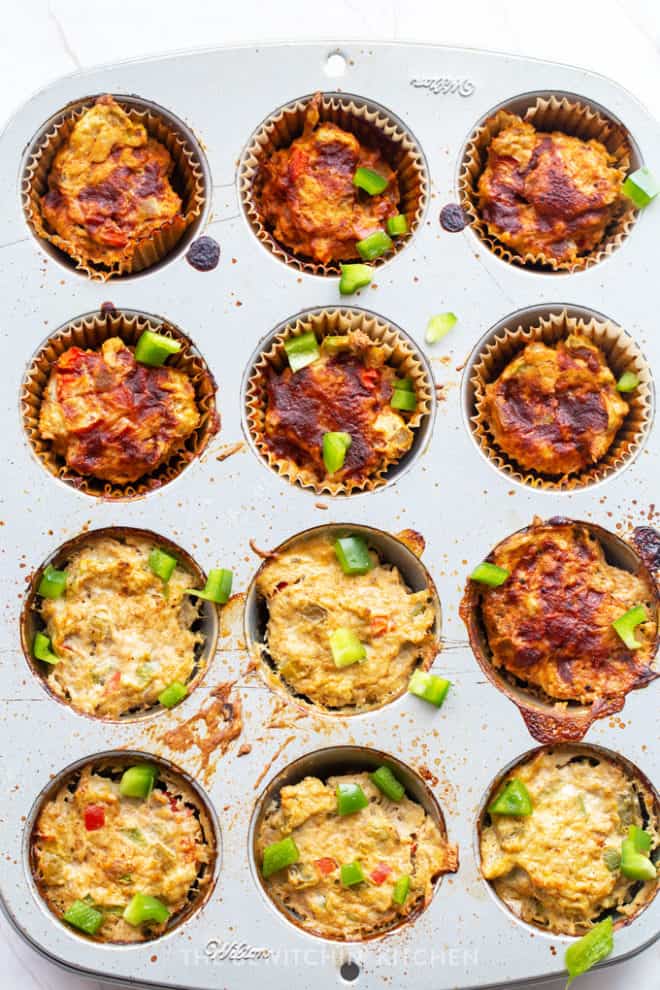 More Ground Chicken Recipes
I don't know about you but I often feel stuck with ground meat recipes. Here are a few recipes using ground chicken that I think you'll like.
Want more? Search the recipe sections over at Chicken.ca to discover more healthy recipes. Don't forget to follow them over at Facebook, Twitter, Instagram, and Pinterest.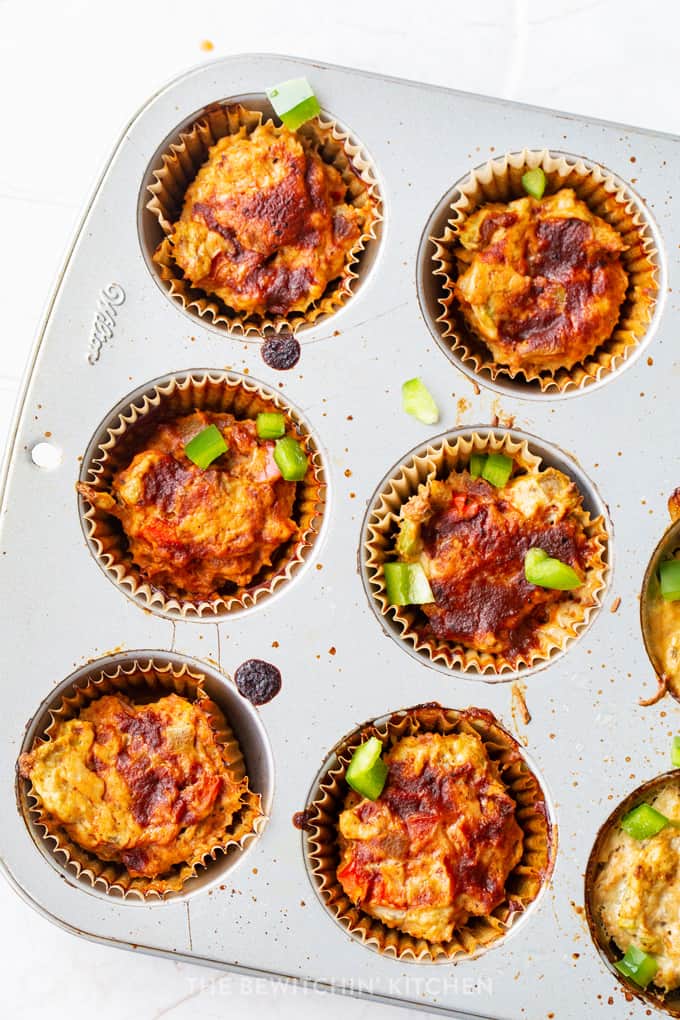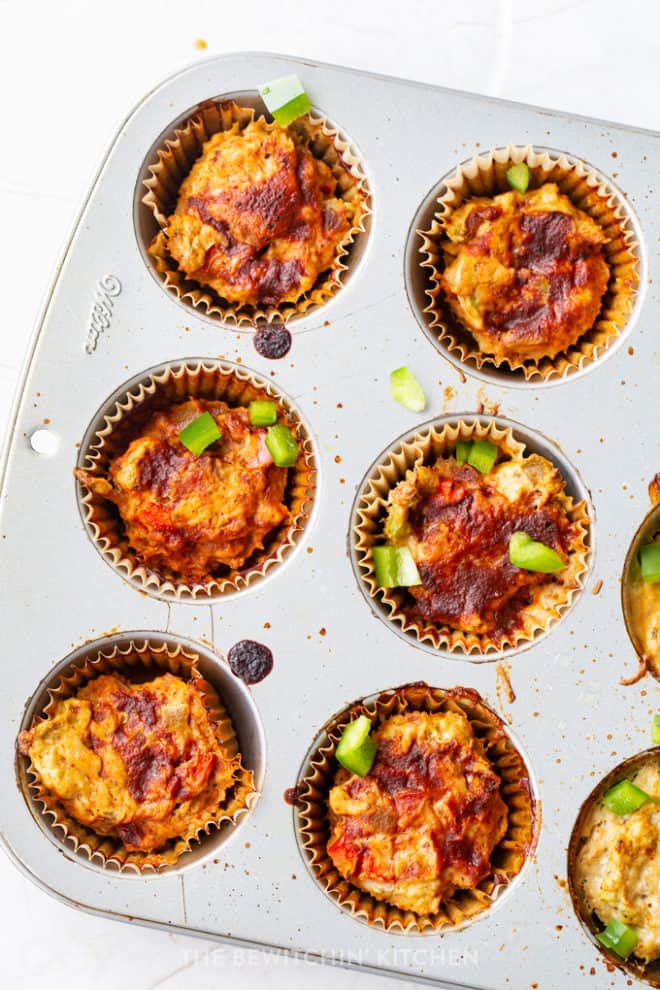 GIVEAWAY
My friends over at Canadian Chicken Farmers of Canada is giving away the following to one lucky winner!
Giveaway Prizes:
● Instant Pot 9-in-1 Duo Plus 6 qt.
● Cuisinart CookFresh Digital Glass Steamer
● Cuisinart Stainless-steel 21-piece knife set
Giveaway is open to residents of Canada must be 18+. Giveaway runs March 9-30.
How to Make Mini Meatloaves with Ground Chicken
This chicken meatloaf recipe is crazy easy!
All you have to do is add everything into a mixing bowl and mix.
Then once it's ready, pop some cupcake liners in your muffin tin and then scoop the chicken mixture in and bake. I like to add roughly two teaspoons of my favorite barbecue sauce on top before I bake for some added flavor.
Southwestern Chicken Meatloaf Muffins
If you're looking for a healthy and tasty meal prep recipe (or just a quick and easy dinner) then you're going to love these low carb Chicken Meatloaf Muffins!
Prep Time 5 minutes
Cook Time 25 minutes
Total Time 30 minutes
Servings 12 muffins
Calories 64kcal
Ingredients
1 lb ground chicken
1 egg
1/2 red pepper diced
1/2 green pepper diced
1 4oz can chopped green chiles 127ml
2 tsp chili powder
1 tsp cumin
1 tsp garlic powder
1/2 tsp oregano
1/2 tsp salt
Optional top with fav BBQ Sauce I love the brand Stubbs
Instructions
Pre heat oven to 400F

Line a muffin tin with parchment cupcake liners or silicone liners. Set aside.In a mixing bowl add all of the ingredients (except for the optional BBQ sauce). Combine until everything is mixed throughly.

Divide the chicken mixture among the muffin tin easily. If you're adding the optional BBQ sauce, use your favorite brand and add 1-2 tsps on top of the mini meatloaves.

Bake at 400 for 20-25 minutes or until cooked (chicken should be 170F if using a thermometer).

Let sit for 5 minutes.
Notes
Nutritional Information The calorie and macronutrrition information for this recipe doesn't include the BBQ sauce as everyone's preference is different and each variety has a different nutritional profile. Just read the label and add the additional calories/macros for each tablespoon you use.
Nutrition
Serving: 1muffin | Calories: 64kcal | Carbohydrates: 1g | Protein: 7g | Fat: 4g | Saturated Fat: 1g | Cholesterol: 46mg | Sodium: 131mg | Potassium: 231mg | Fiber: 1g | Sugar: 1g | Vitamin A: 292IU | Vitamin C: 10mg | Calcium: 8mg | Iron: 1mg
Follow On Pinterest
Follow @randaderkson On Pinterest for more delicious recipes!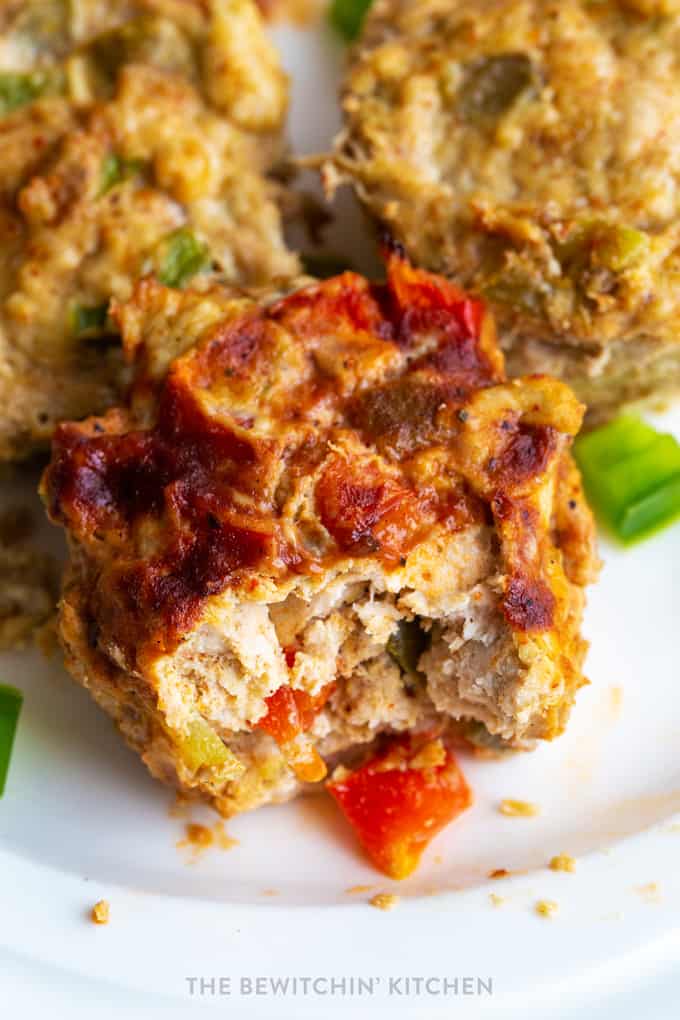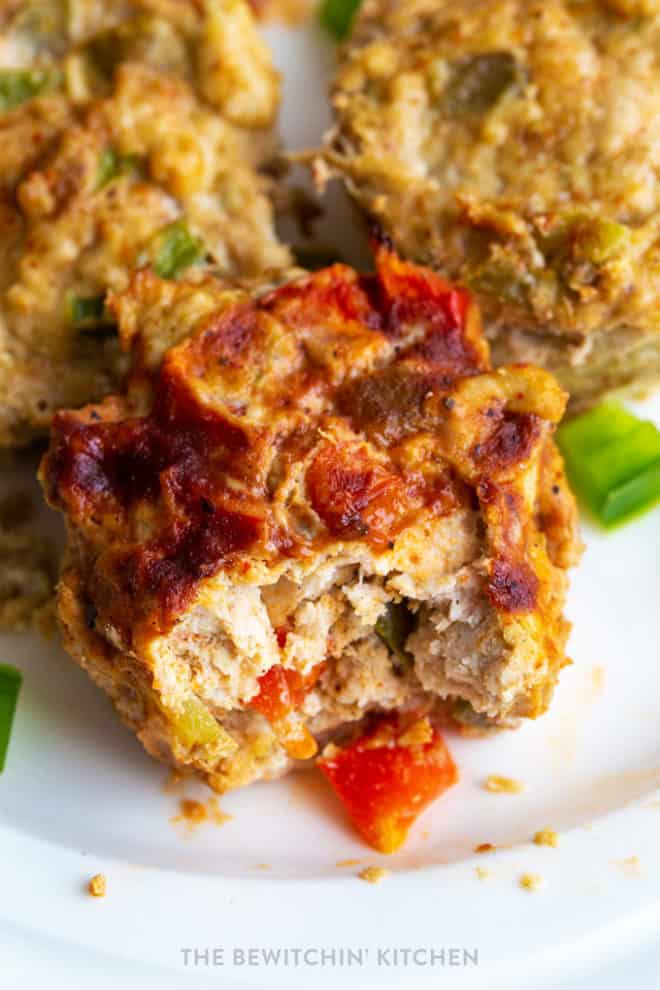 FREE Recipe Binder
Are you constantly wondering what's for dinner?
When I don't meal plan I feel behind, and we usually end up ordering take out. This recipe binder will keep you organized and make life a little bit easier.