Coconut Breakfast Balls
When it comes to eating breakfast, I'll be the first to admit I don't have the best habits. I tend to skip it because I'm either too tired or busy to cook anything up. I prefer to make something ahead of time that's easy to prepare and healthier, like easy coconut balls so I put a twist on them and came up with these Coconut Breakfast Balls.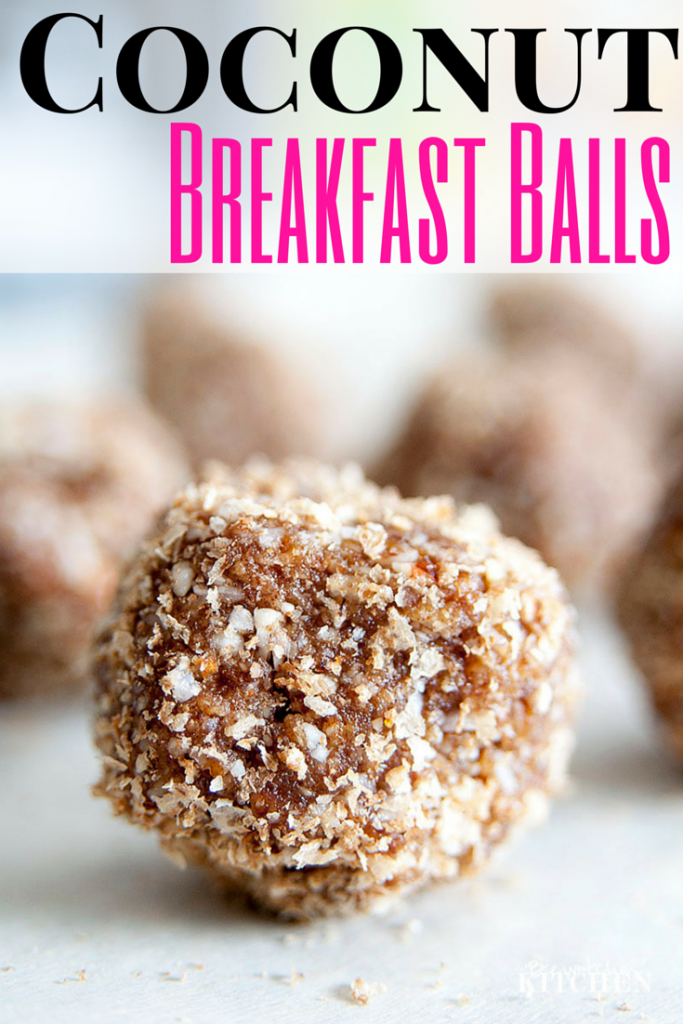 I am doing my best to keep my refined sugar levels to a minimum, and when I start my day out right I find that I keep it up throughout the day. I've been experimenting with Weetabix over the past few weeks on some yummy breakfast recipes and snacks and came up with a couple to show off.
Why Weetabix?
It's simple, Weetabix is made with four ingredients. It contains the nutrients that I need to run a blog, achieve my fitness goals and chase a busy toddler around all day. Just two biscuits is packed with whole grain goodness. Let's not forget to mention it has 4g of fibre, only 2g of sugar, and is 130 calories. In case you're wondering it's also non-GMO certified.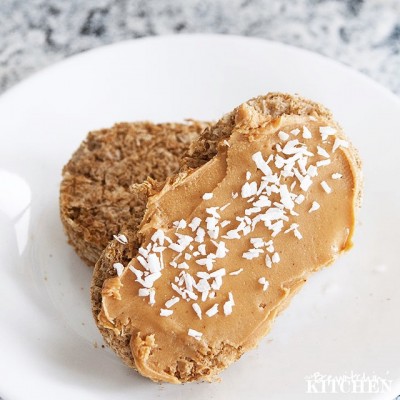 There are so many options when it comes to using Weetabix: serving it with cereal, spreading it with your favorite nut butter (pictured above), or creating something new altogether (just like my Coconut Breakfast Balls).
 Coconut Breakfast Balls: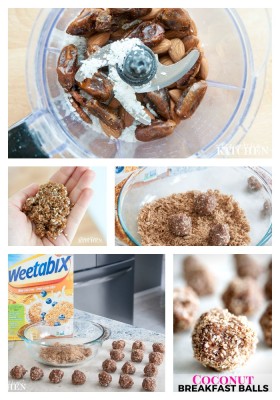 Making the coconut breakfast balls is simple. Combine everything in a blender and go. You'll know the mixture is ready when you are able to shape it into a ball. From there you just have to shape it, roll it in the Weetabix and you're good to go.
Recipe and nutritional information are in the recipe card below.
Coconut Breakfast Balls
Coconut Breakfast Balls
This energizing recipe for Coconut Breakfast Balls is easy and a healthy choice. This can easily be made to fit paleo, raw or gluten free lifestyles.
Servings 18
Calories 82kcal
Ingredients
1 cup pitted dates
1/2 cup almonds
1/2 cup pecans
1/2 cup unsweetened coconut flakes shredded
1 Weetabix
Instructions
In a high powered blender or food processor add the dates, almonds, pecans and coconut flakes.

Mix in the blender until the mixture is able to be formed until a ball.

In a seperate bowl, crush the Weetabix.

Form mixture into little balls, transfer to the Weetabix bowl and roll around until it's coated.
Nutrition
Serving: 1ball | Calories: 82kcal | Carbohydrates: 8g | Protein: 1g | Fat: 5g | Saturated Fat: 1g | Sodium: 1mg | Potassium: 115mg | Fiber: 2g | Sugar: 5g | Calcium: 17mg | Iron: 0.5mg
Follow On Pinterest
Follow @bewitchinkitchen On Pinterest for more delicious recipes!
More Coconut Balls:
Chocolate Covered Coconut Balls
Helpful Supplies for Making Coconut Balls:
Reynolds Baking Sheets Parchment Paper
Shredded Coconut
What's your go-to breakfast recipe?
Looking for more great ideas? Click here to follow me on Pinterest!
Visit Randa | The Bewitchin' Kitchen's profile on Pinterest.