Cherry Lemonade Muffins
I'm sure you're all sick of hearing about my four cherry trees, but it's causing me to post some delicious recipes (like these Cherry Lemonade Muffins). I can get used to all this fresh fruit at my disposal.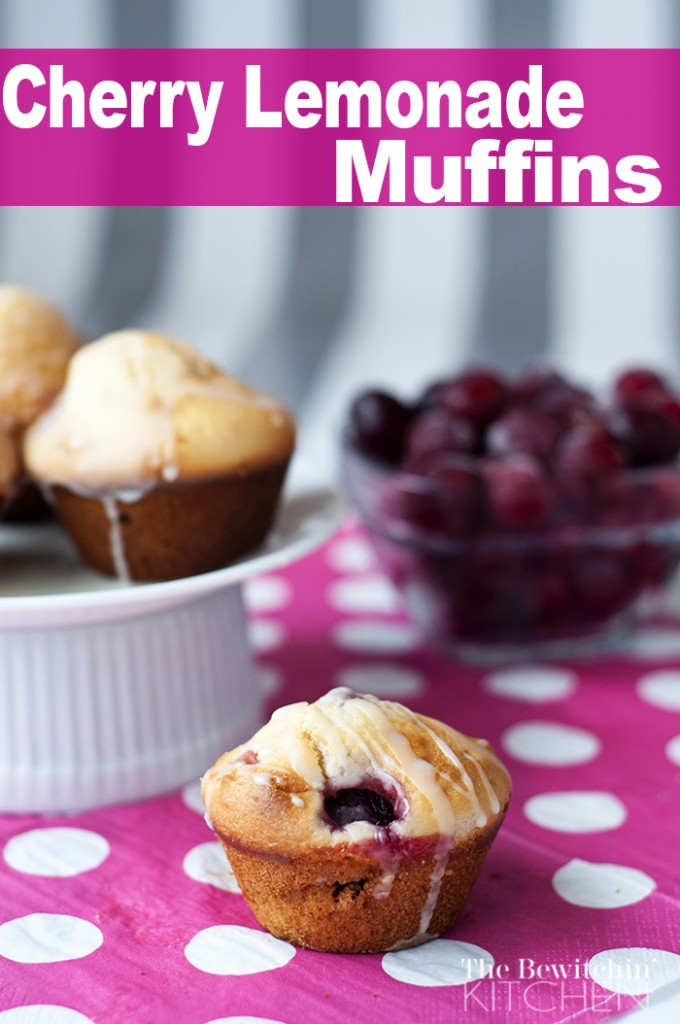 These muffins are freaking amazing!
I try my best to post healthier recipes on The Bewitchin' Kitchen, but I also believe that a healthy lifestyle has some treats in moderation.
This is one of those times I get to post a treat.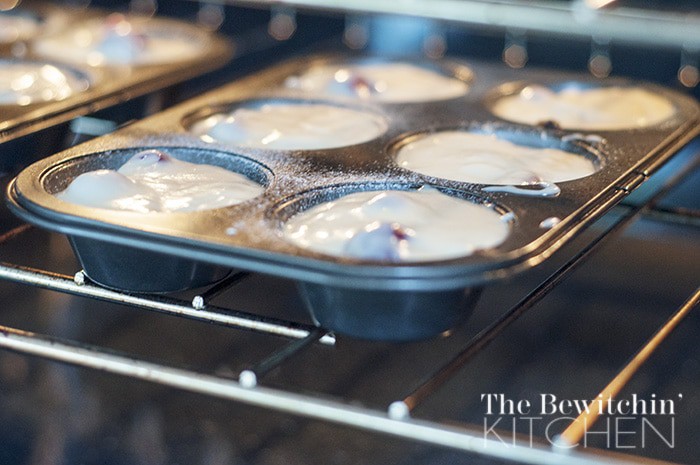 I found a basic muffin batter on All Recipes, and made some changes by reducing some of the refined sugar and replacing it with maple syrup (aka liquid gold here in Canada), replaced the vegetable oil with coconut oil and added lemon. The aroma that filled my house while these baked was so comforting, it was nice to finally have a real baking smell in my house instead of faking it with Scentsy all the time (that being said, I currently have some Blueberry Cheesecake in my warmer;)).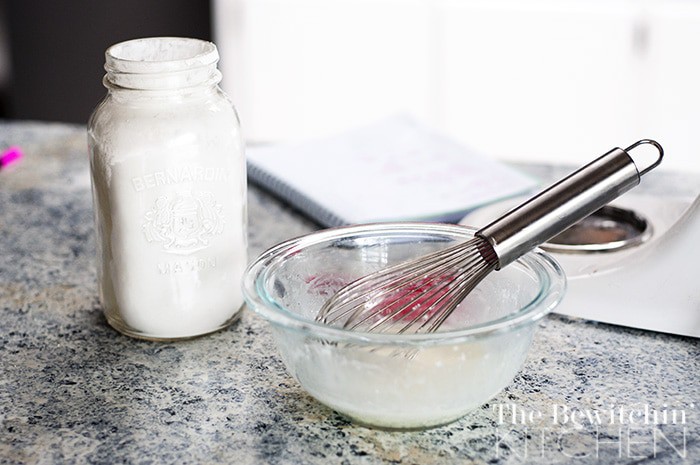 I felt a little creative and decided to make a glaze while the muffins were baking (I didn't want to waste the lemon I zested), I didn't do any measuring. I just used the juice of the lemon and some powdered sugar (well, not some it was over two cups – I tried to measure for the sake of the recipe but a bunch came out at once which ruined that plan).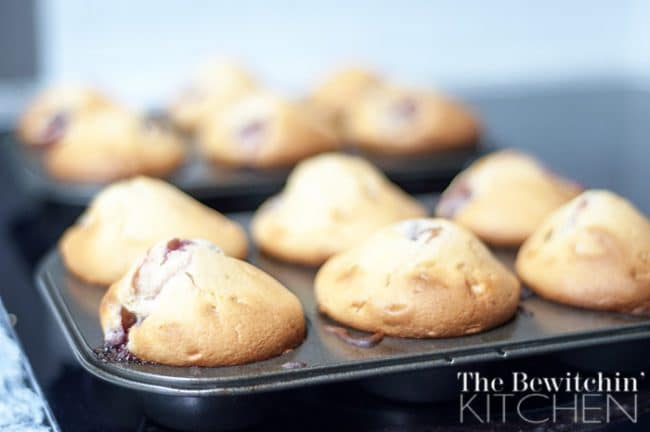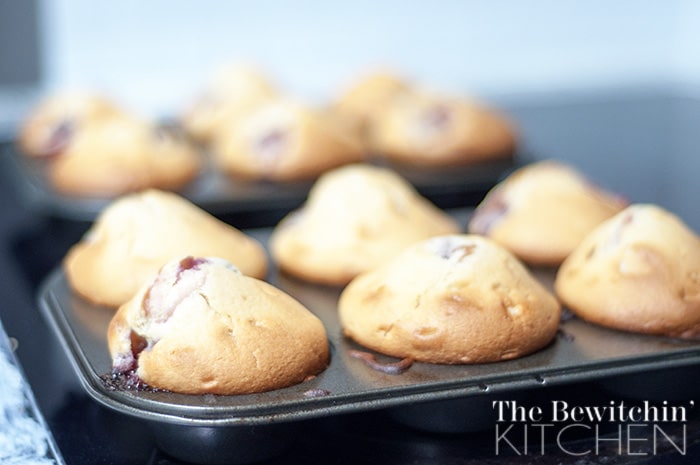 I stared at them for a while when they came out of the oven, they were perfect. They smelled divine and I couldn't wait to start glazing them. I was really excited that they came out on the first attempt!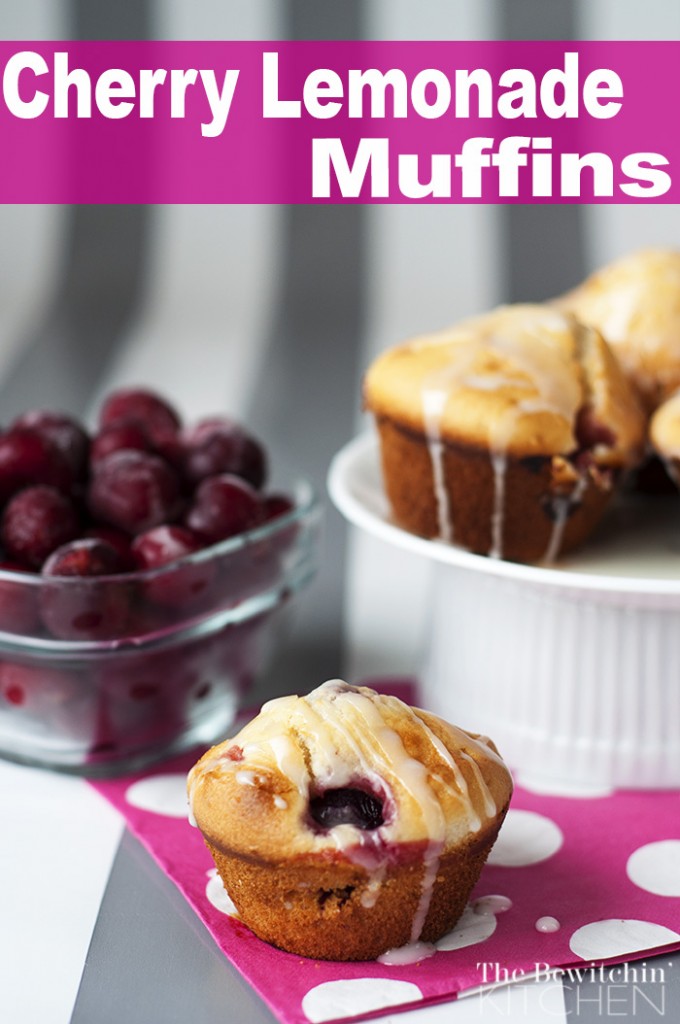 Looking for more cherry recipes? Check these out:
How To Dehydrate Cherries In The Oven.
Cherry Popsicles.
How To Flash Freeze Cherries.
Dark Chocolate and Cherry Granola Bars.
Also, don't forget to try these banana brown sugar crumb muffins from Noshing with The Nolands.
Cherry Lemonade Muffins
These muffins are perfect for summer picnics and get togethers. They're so fresh, moist and full of flavour.
Servings 12 people
Calories 411kcal
Ingredients
Muffins:
2 cups all purpose flour
3 tsp baking powder
1/2 tsp sea salt
1/2 cup sugar
Zest of 1 lemon roughly 1 tablespoon
1/4 cup maple syrup
1 egg
1 cup whole milk room temperature
1/2 cup coconut oil melted
1 1/2 cups cherries
Glaze:
Juice of 1 Lemon
2- 2 1/2 cup powdered sugar.
Instructions
Pre heat oven to 400 F.

Muffins:

In your mixer, combine dry ingredients.

In a separate bowl add the maple syrup, coconut oil, and milk. If your milk isn't at room temperature, zap it in the microwave for a bit. If it's too cool it will harden the coconut oil. Add egg and add the wet mixture to the dry ingredients. Mix up.

One your ingredients are combined, add in cherries (if they are frozen, microwave them until room temperate as it will cool the batter and change the baking times). Fold until combined.

Grease muffins tins and add batter.

Baked for 22-25 minutes (or until toothpick or fork comes out clear).

For The Glaze:

While the muffins are baking, make the glaze. Juice the lemon into a bowl and whisk sugar in until it forms a glaze. I was up to two cups of powdered sugar before a bunch fell out and I could no longer keep track. Taste and adjust to your liking.
Nutrition
Serving: 1g | Calories: 411kcal | Carbohydrates: 79g | Protein: 4g | Fat: 10g | Saturated Fat: 8g | Polyunsaturated Fat: 1g | Monounsaturated Fat: 1g | Trans Fat: 1g | Cholesterol: 16mg | Sodium: 219mg | Potassium: 122mg | Fiber: 1g | Sugar: 60g | Vitamin A: 66IU | Vitamin C: 7mg | Calcium: 100mg | Iron: 1mg
Follow On Pinterest
Follow @bewitchinkitchen On Pinterest for more delicious recipes!
Like these Cherry Lemonade Muffins, why not pin it?
Looking for more great ideas? Click here to follow me on Pinterest!
Visit Randa | The Bewitchin' Kitchen's profile on Pinterest.