Cake Rush Brush #TBKGiftGuide

I have a slight obsession with dry shampoo, it's a beauty product that I use often whether my hair is clean or dirty. So I'm really excited to let you guys know about Cake's Rush Brush.
Why Dry Shampoo?
I don't wash my hair on a daily basis. Now before you get skeeved and leave my blog in disgust please know that I still bathe on a daily basis. Phew, now that I defended my hygiene we can continue.
It's not recommended to wash your hair on a daily basis. Washing your hair all the time actually makes your hair greasy (trust me, once your hair gets used to not being washed daily it will not be greasy if you skip a day or two). Not only does it bring out your oils, but it also fades hair color and damages your tresses. After spending all that money on your fabulous color – you want to make sure you preserve it!

The Cake Rush Brush:
The Cake Rush Brush is great for when your hair needs a pick me up.
What I love about this beauty tool is the fact that it's so portable. Simply toss it in your purse, in the car or (in your gym or school locker) and you'll have an instant improvement.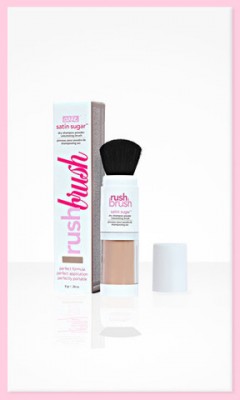 Cake's Rush Brush comes in three different hues: light, dark and darkest. In each chamber of the brush there is Cake's Satin Sugar (their award winning dry shampoo).
What I really like about the Rush Brush is how even the application is. In the past, all the dry shampoos I have tried were sprays and they always left white spots on my hair, and even when I could brush it out it still left a "aged effect". The fact that the Rush Brush can match my hair color makes it discreet that I have dry shampoo in my hair. The fluffy brush makes it even to disperse it too.
This would make a stocking stuffer for the lady (or ladies) in your life. All us women can benefit from this new must have beauty tool.
To find out more about The Rush Brush and other Cake Beauty products visit cakebeauty.com.