Dried Cherries In The Oven
Make dried cherries at home without any special equipment! Dehydrate in the oven and enjoy as a healthy snack, on top of oatmeal or salads, or in homemade granola bars.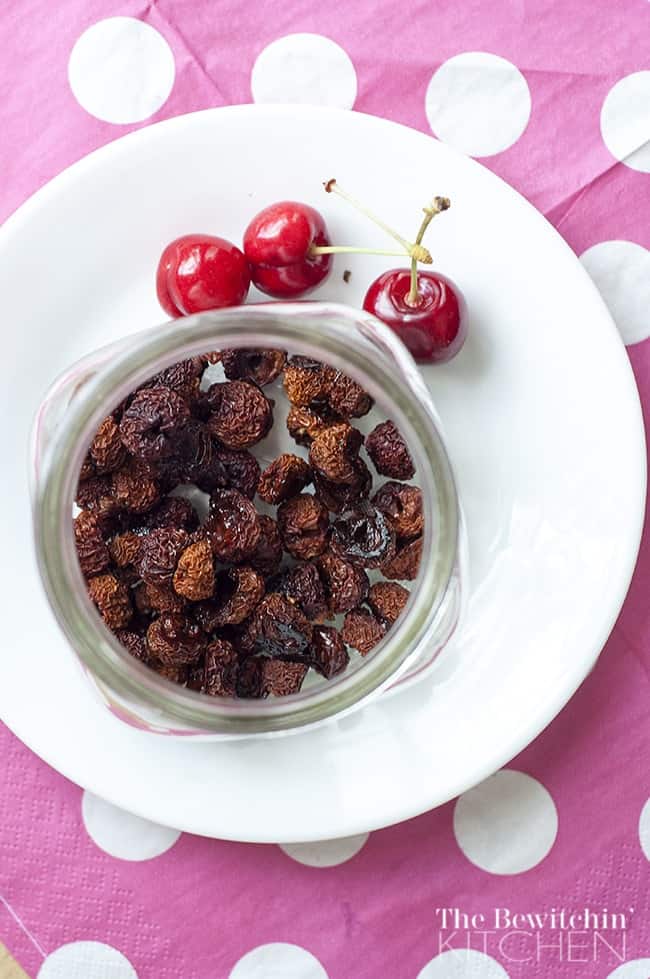 Tart Dried Cherries
I have a slight conundrum — I have four cherry trees (and a pear tree) in my backyard, but I'm not entirely fond of cherries. So, what's a girl to do with an abundance of this sweet and tart fruit? Dehydrate it in the oven, of course!
Cherry dehydrating is really easy to do, and it's a great way to process large quantities of the fruit before it goes bad. I also have plans for pie filling and simply freezing bags for smoothies, but I wanted to try this method out. After all, I had tons of success when I used it to make Pear Fruit Leather!
You will need to have your oven on low heat for a good chunk of the day, but it's easier (and cheaper!) than buying a bulky dehydrator machine. Once you pop a handful of chewy dried tart cherries in your mouth, you'll know it was worth it!
Why You Will Love Dehydrated Cherries
No special equipment – just a sheet pan and your oven
Healthy snack – naturally sweet and loaded with antioxidants
Make a small or large batch – this recipe works with any amount
Store for later – dried cherries keep for at least 6 months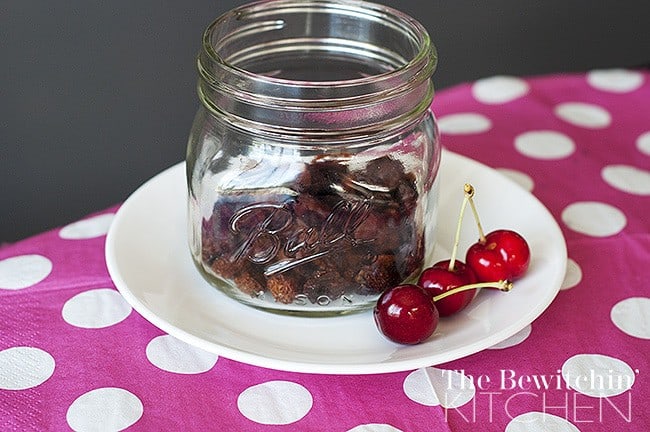 How To Make Dried Tart Cherries
This recipe for dehydrated cherries is so incredibly simple and easy, it may not actually qualify as a recipe. Just wash and pit the fruit, then toss it in the oven until it's dried.
That said, there are a few tips I want to share with you to guarantee you get a perfect batch every time. There's nothing worse than wasting a bowl full of gorgeous cherries!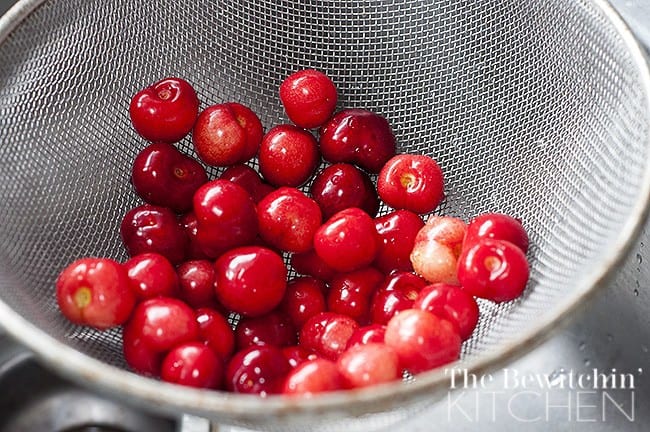 Wash and pit each and every cherry
This is the most time-consuming, hands-on step of this process, so roll those shoulders and get ready! You'll need to remove any trace of stems as well.
Since my cherries came from my own tree, a quick rinse in water was all I needed. If you get yours from the store or a local farmers market, I recommend giving them a spray with my Homemade Fruit and Veggie Wash. It's made with all-natural ingredients and will remove dirt, bacteria, and harmful pesticides from your produce.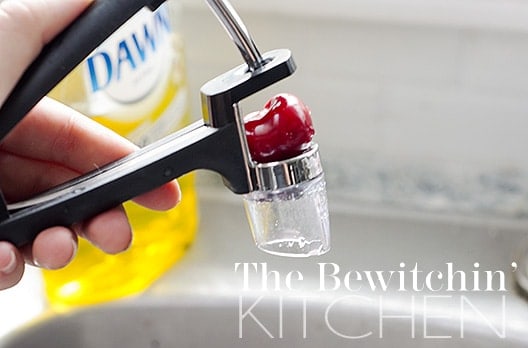 To pit the cherries, I used this handy dandy OXO Cherry Pitter. It was so much easier (and quicker) than using a glass straw, which is what I've used in the past.
Collect the seeds in a small bowl to toss or compost, then place the pitted cherries in a separate bowl.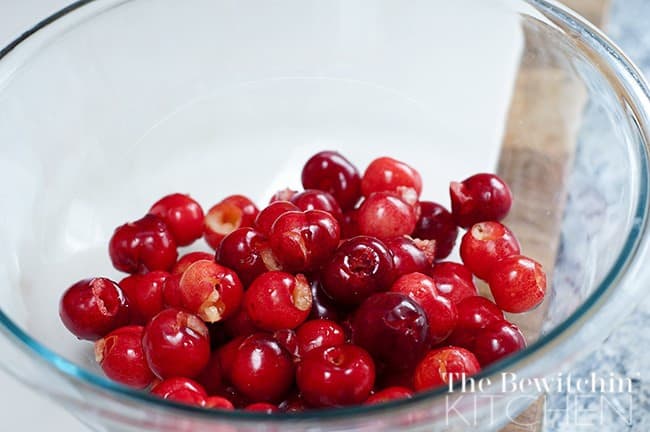 I didn't have too many cherries to start with, but this was a trial run anyway. The great thing about cherry dehydrating is that you can process as much fruit as will fit in your oven!
Dehydrate In Oven
While you're pitting the cherries, preheat your oven to the lowest setting it will go — in my case, that's 170 degrees F. Many ovens won't go lower than 200 degrees F, and that's just fine too!
Line a large baking pan with a silpat mat or parchment paper and arrange the fruit on top. Be sure to leave space between each cherry to really help with the drying process.
It took about 9 hours at 170 degrees F for the cherries to dehydrate in the oven.
At 200 degrees F, they may be ready in as little as 6 hours. It is also possible to reduce the baking time if you halve the cherries instead of leaving them whole.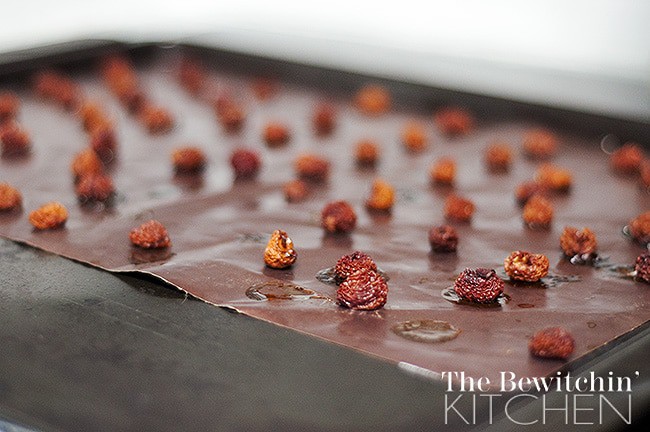 They don't look too appetizing when they are done. In fact, they look more like sun-dried tomatoes than a sweet treat. But, trust me, these dried tart cherries are super tasty!
Don't forget to let them cool completely before transferring them to a storage container.
What To Do With Dehydrated Cherries
There are so many delicious ways to enjoy these tart and sweet little bites — I immediately whipped up a batch of my Chocolate Cherry Granola Bars.
Here are some more of my favorite ways to use dried cherries, but be sure to let me know what else you come up with in the comments!
Alone as a snack
On salads
In muffins and scones
Over yogurt or oatmeal
Mixed into pancakes or waffles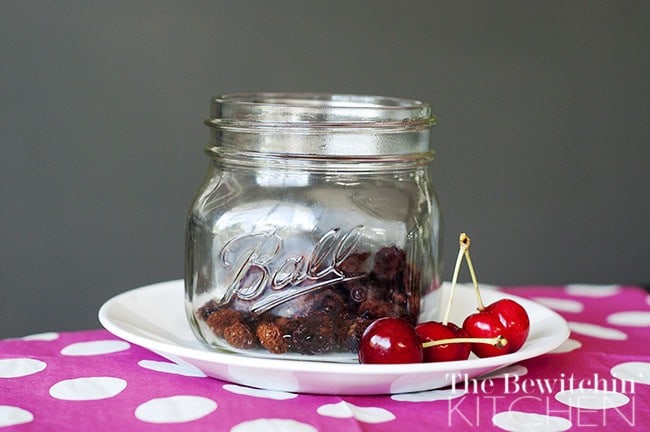 Frequently Asked Questions about Cherry Dehydrating
Why dehydrate cherries in the oven?
I wanted to dehydrate them because 1. I didn't want them to go bad and 2. I wanted to put them in things like granola bars and salads. I also figured dehydrating them will make them last a little longer (did I mention I have four trees). I used the oven because I don't own a dehydrator.
How do you store dried cherries?
Any airtight container will work for storing your dried cherries — I like to keep mine in a glass jar with a spring lid so I can easily add to it as I make more.
When kept in a cool, dark place or in your refrigerator, dehydrated cherries will last for 6 to 12 months. You can also store them in the freezer indefinitely, but you should use them within 18 months for best results.
What are dried tart cherries good for?
Aside from being a tasty snack, dehydrated cherries are loaded with antioxidants that can help with inflammation, pain relief, heart health, and muscle recovery.
Both tart and sweet cherries contain melatonin, which can help you get a restful night's sleep. Dried tart cherries (and tart cherry juice) also contain tryptophan, which you may know as the snooze-inducing amino acid found in turkey meat!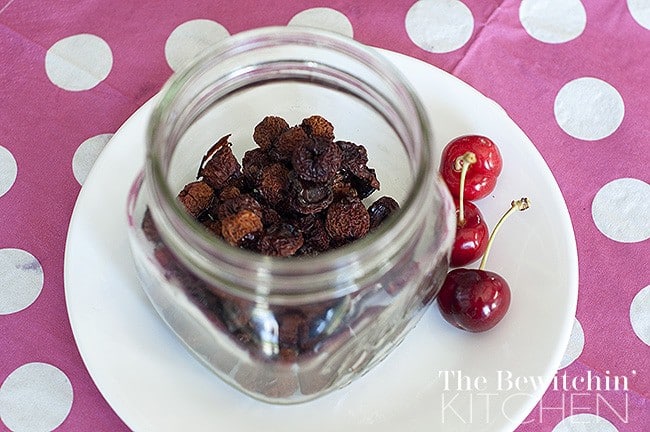 More Homemade Pantry Staple Recipes
Gluten Free All Purpose Flour Blend
Homemade Sugar Free Applesauce