How To Dehydrate Cherries In The Oven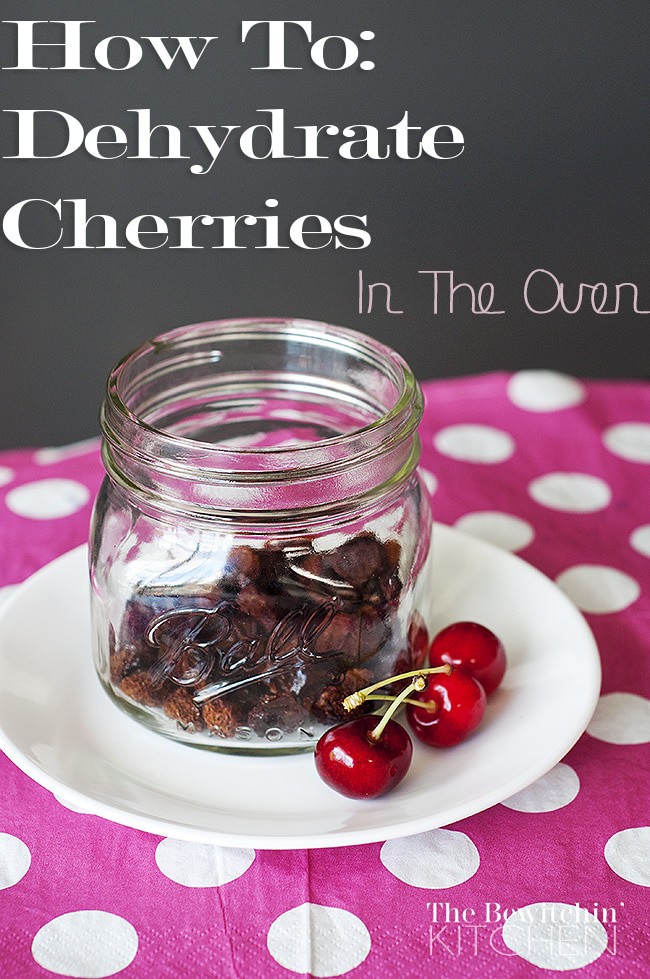 I have four cherry trees in my back yard. Four cherry trees and a pear tree (to be exact), and it's a little intimidating. Mostly because I don't care for cherries, so I decided it's time to get a little creative. I decided I was going to dehydrate cherries in the oven.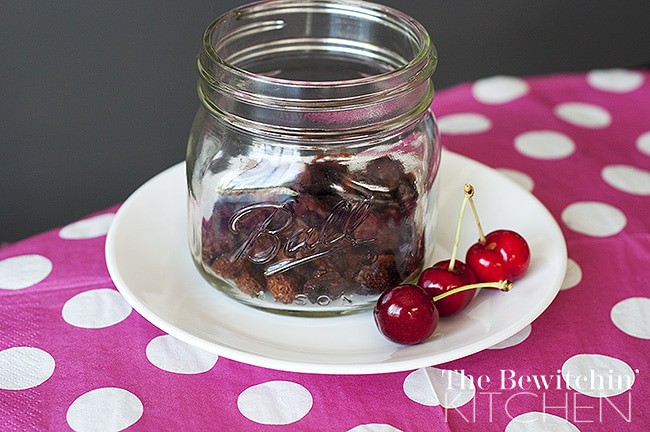 I only picked a few yesterday, as many are too high up for me to reach and most are not ready yet. I have a few ideas on what I want to do with the trees: pies, fruit leather, smoothies, muffins, and dehydrating. I decided to use this method to dehydrate the cherries after successfully using it to make Pear Fruit Leather.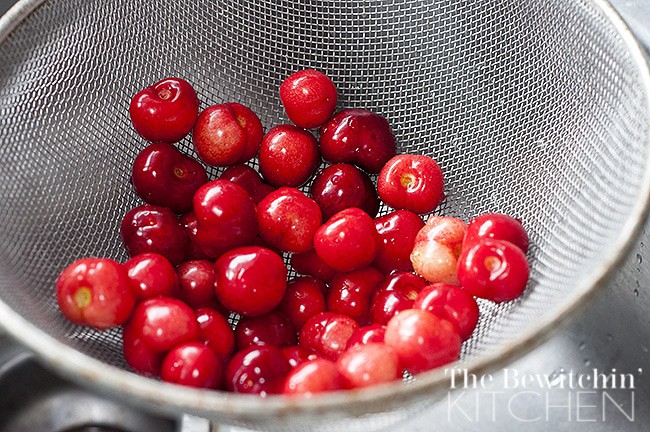 Why dehydrate cherries in the oven?
I wanted to dehydrate them because 1. I didn't want them to go bad and 2. I wanted to put them in things like granola bars and salads. I also figured dehydrating them will make them last a little longer (did I mention I have four trees). I used the oven because I don't own a dehydrator.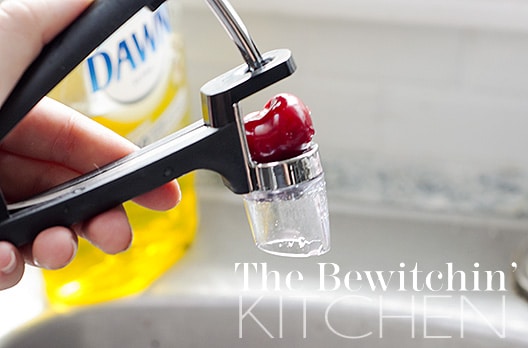 To pit the cherries I used this handy dandy OXO Cherry Pitter, it was so much easier (and quicker) then using a glass straw; which is what I did last year.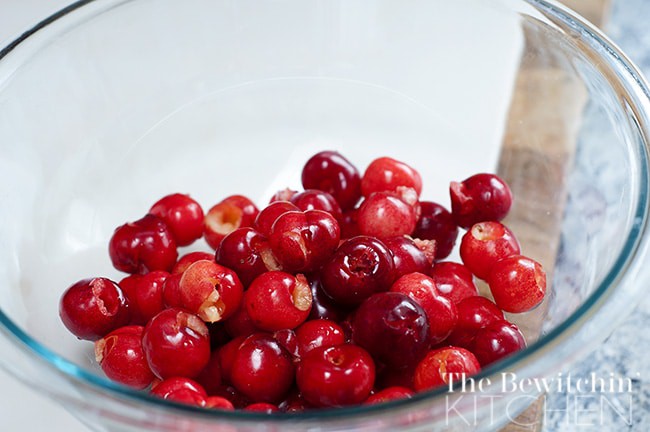 I didn't have many cherries to start with, but that was okay. This was a trial run anyway, I didn't want to waste any (just in case).
After pitting the cherries, I pre-heated the oven to the lowest it would go. In my case, that's 170 degrees. On a baking pan, I laid down a slip mat sheet and arranged the cherries on top. I placed them in and nine hours later, I finally took them out.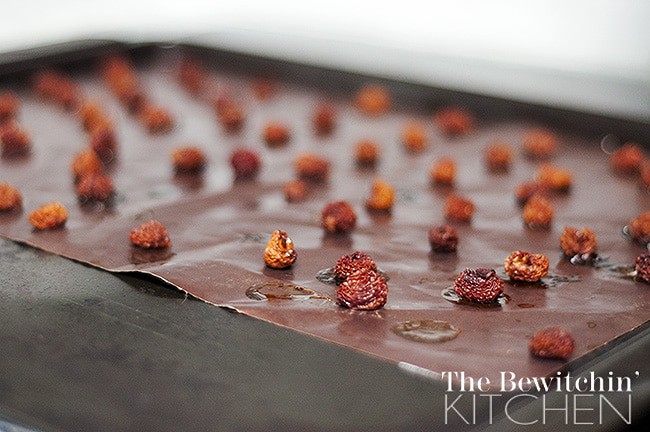 They don't look too appetizing when they come out of the oven. They look more like sun dried tomatoes.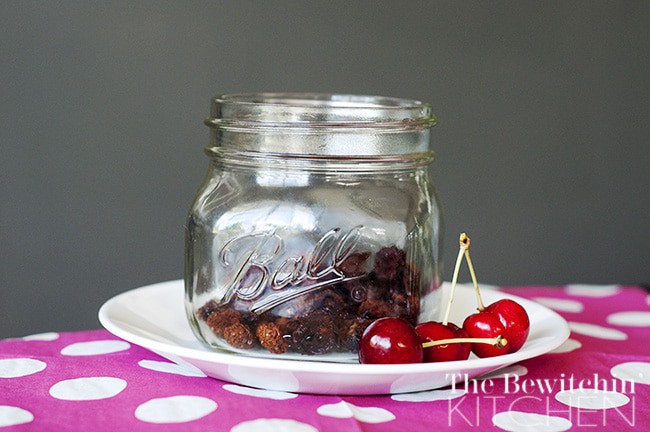 I'm storing these in a glass mason jar (and will be adding to it later), I'm not too sure on how long it will last but I'm hoping it will keep a couple of months anyway. If you need a refresher here is what I did:
How To Dehydrate Cherries In The Oven.
You will need:
Cherries
Cherry pitter
Oven
Baking sheet
Slip mat or parchment paper
How to do it:
Heat your oven to the lowest setting (mine was 170). Line parchment paper (or the Silpat) on a baking sheet and arrange cherries.
Bake for 9 nine hours.
It is possible that if you halved the cherries, it would cut some of the drying time out.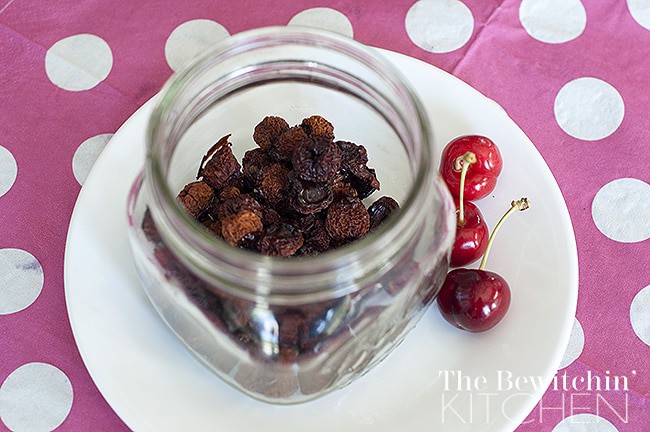 Recipes you can make with dehydrated cherries:
Homemade Granola
Salads

Have you ever dehydrated fruit?