Dark Chocolate and Cherry Homemade Granola Bars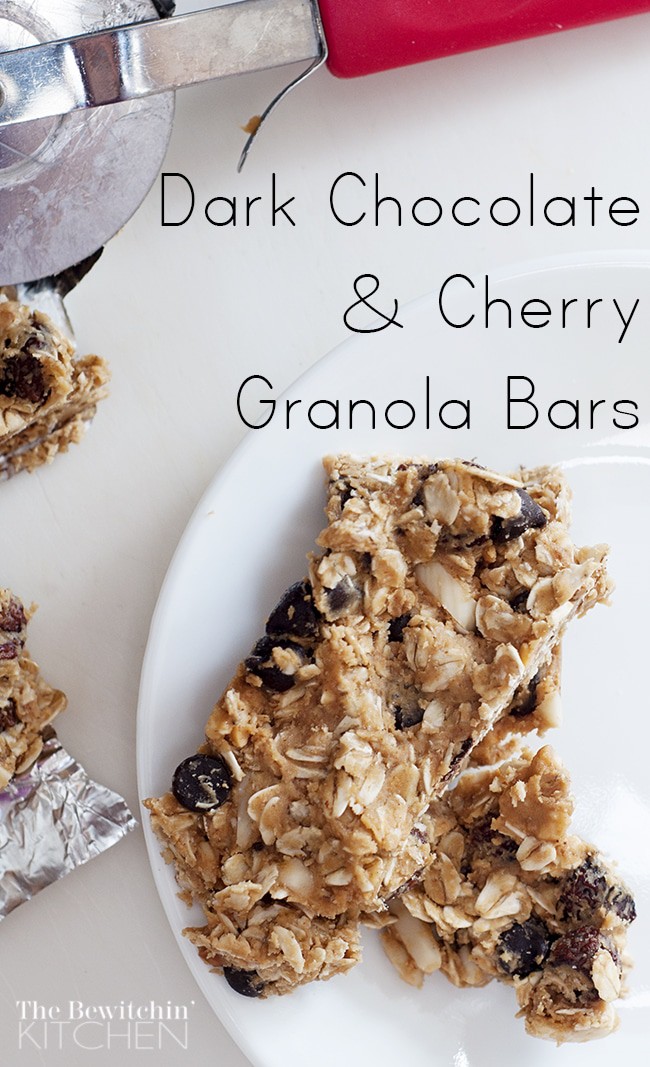 I knew I wanted to make cherry homemade granola bars for weeks now, it's why I dehydrated a mini batch of cherries (check out How To Dehydrate Cherries). It's been a hot summer, and my kitchen is unbearable so I also wanted these to be no bake.
I finally had the opportunity to put everything together, I had a sleeping toddler and a clean house. It was finally time to try making these bars, but I wasn't 100% on the best method. I make a no bake cookie out of Shakeology often, and it uses oats, honey and peanut butter. It tastes amazing, so I knew I wanted to go along the same path to make the bars bind. (On a side note, if you're a Shake-O user and have never made the no-bake cookies, do it tonight! You're getting a days worth of fruits, veggies and amazing super-food nutrition in a cookie.)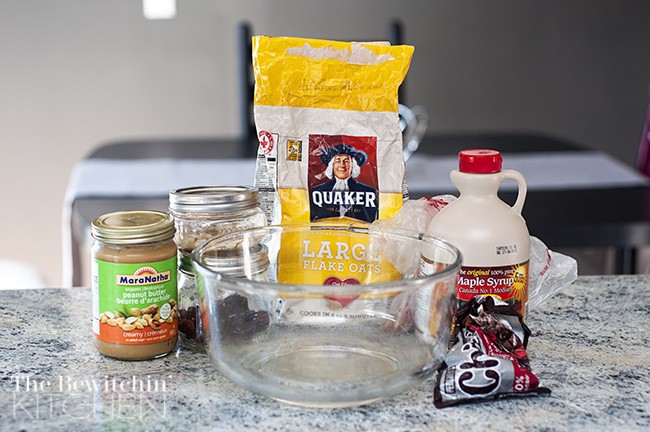 When I was opting my ingredients, I chose slivered almonds for two very important and highly scientific reasons:
I had some I needed to use up
It's easier for my two year old to chew.
Whole almonds work just as well and would look nice in the bars. I also almost put coconut in them as well, maybe next time. I'm thinking about a dark chocolate and coconut granola bar next time around.
If you don't have any cherries to dehydrate, use a dried fruit of choice – raisins would work well here.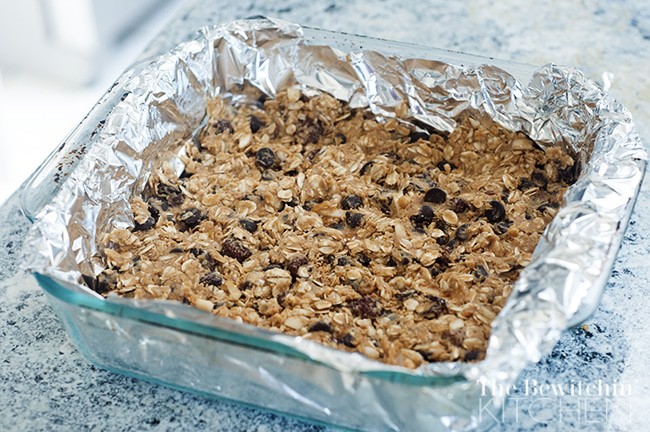 Another note: line your baking pan with either parchment paper or foil. Not only does it make clean up easier, but it's easy to transport the bars in and out to cut. Be sure to check out these peanut butter recipes too!
Dark Chocolate Cherry Homemade Granola Bars
These dark chocolate and cherry granola bars will please any guest in the house!
Servings 4 people
Calories 483kcal
Ingredients
1 cup rolled oats
2 tbsp slivered almonds
1/4 cup dehydrated cherries How To Dehydrate Cherries In The Oven
3/4 cup natural peanut butter
2 tbsp maple syrup
1/8 tsp sea salt
1/4 cup dark chocolate chips
Instructions
Combine all the ingredients in bowl.

Line a 9x9 pan with parchment paper or foil.

Press the granola mixture into the pan and place in the freezer for 1-2 hours or until set.

At this point you can cut into bars and individually wrap if desired.

Enjoy!
Nutrition
Calories: 483kcal | Carbohydrates: 39g | Protein: 17g | Fat: 32g | Saturated Fat: 9g | Polyunsaturated Fat: 8g | Monounsaturated Fat: 14g | Cholesterol: 1mg | Sodium: 309mg | Potassium: 535mg | Fiber: 6g | Sugar: 16g | Vitamin A: 7IU | Vitamin C: 1mg | Calcium: 91mg | Iron: 2mg
Follow On Pinterest
Follow @bewitchinkitchen On Pinterest for more delicious recipes!
Want more cherry recipes? Check these out:
How To Dehydrate Cherries In The Oven
How To Freeze Cherries and Not Have Them Stick
Have you ever made homemade granola bars before?