Chocolate Protein Mug Cake
Protein Mug Cake is a healthy, flourless alternative to traditional mug cake recipes. Each bite of sweet, tender protein cake in a mug is packed with healthy fats, protein, and nutrients to give you the boost of energy you need!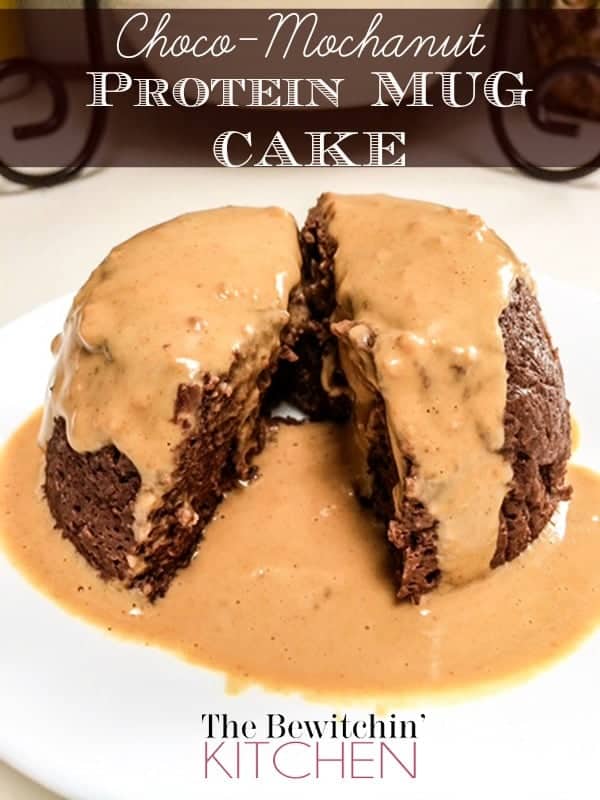 Delicious Protein Mug Cake
I have been seeing a lot of mug cake recipes floating around Pinterest, Instagram, and Facebook. While the idea is great, a lot of these single-serve "mug of cake" recipes are higher in calories than a regular slice of cake!
That's why I'm really into protein mug cake — each serving keeps you feeling full without the added calories that flour-based ones have.
Sure, cooking anything in the microwave kills most of the nutrition. But when the options are to go out and buy a McCain Chocolate Cake (and devour the whole thing) or make a protein powder mug cake, I go for mug cake!
This particular protein cake in a mug is made with PB2, a favorite peanut butter alternative of mine. Craving the real thing? Be sure to check out more of my peanut butter recipes.
Why You Will Love Protein Cake in a Mug
Healthy dessert – load of protein and nutrients
Ready in minutes – just mix and microwave
Customizable – try different flavors and toppings
Naturally gluten free – when you use the products listed
Protein Mug Cake Recipe Tips
There really isn't much to it – mix together the ingredients, pour the batter into a greased heat-safe mug, and microwave until fluffy!
While your protein mug cake is cooking, whisk together a simple drizzle topping for an extra touch of sweetness.
Try Different Powders
First, choose your favorite protein powder — that's where the biggest boost comes from! I typically have Dymatize Elite on hand. I have used the Cafe Mocha and Cookies n' Cream flavors for this protein mug cake recipe, and both taste great.
Next up is the PB2, which is simply powdered peanut butter (or peanut flour). I have it in both regular and chocolate. Just Great Stuff is an organic powdered peanut butter without any added sugar, and it makes a great substitute for your protein powder mug cake. I use both.
Make Note of the Texture
This isn't your average mug cake! Remember, there is NO FLOUR in this recipe, so the texture is more sponge-like.
You may also notice a difference in consistency if you use a different protein powder. Some absorb liquid more than others, so you may need to experiment until your protein cake in a mug comes out just right.
Use the Whole Egg
You can substitute 4 egg whites for one egg, but it only saves you about 10 calories. You may as well use the whole egg in your protein chocolate mug cake to get all of the benefits.
And what are those, you may ask? First, the yolk contains the bulk of an egg's iron, folate, and B12. It also houses loads of vitamins and nutrients, including several that support eye and brain health.
You will also find plenty of healthy fats, including omega-3, in the yolk of an egg. Finally, you can't forget about the antioxidants and heart-healthy amino acids.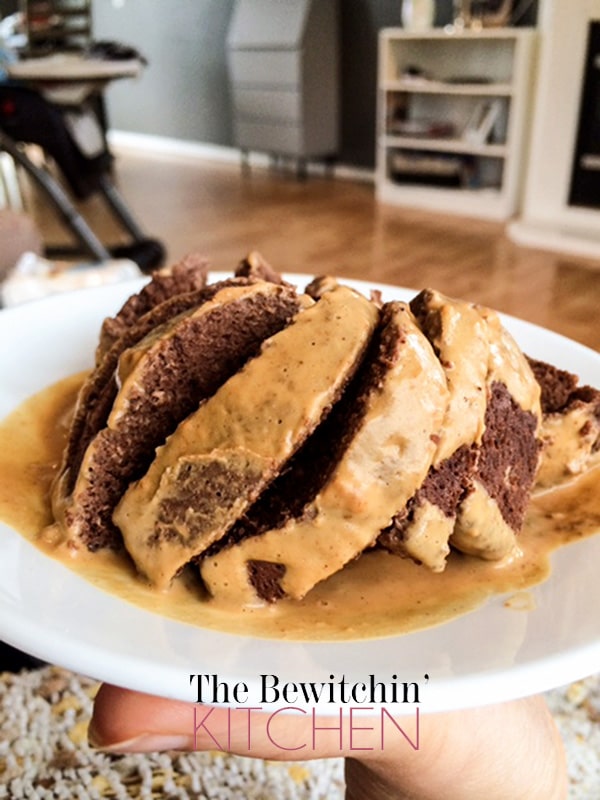 Frequently Asked Questions about Protein Powder Mug Cake
Are protein mug cakes healthy?
They are certainly healthier than the traditional versions! My protein mug cake recipe is loaded with protein from protein powder, PB2, and eggs. There are also plenty of other vitamins and nutrients, so you can feel good about your sweet treat.
In fact, it's also a great option for breakfast since it will keep you feeling full well into your morning.
What toppings can you add to mug cake?
I like to top my protein chocolate mug cake with a simple drizzle made from extra peanut flour and almond milk. If you aren't worried about the extra calories, some homemade whipped cream or a few chocolate chips would be delicious!
Or, try some fresh fruit slices instead. Bananas are the perfect flavor pairing for chocolate and peanut butter, but strawberries and raspberries can be tasty too.
Can you make mug cakes in ramekins?
Absolutely! Any microwave-safe vessel will do, as long as it is large enough for the batter to expand. A good rule of thumb is to use a mug that holds about twice the volume as the batter.
More Protein Powder Recipes:
No Bake Chocolate & Cranberry Bars
Strawberry Pina Colada Shaved Ice
Chocolate Protein Mug Cake
Protein Mug Cake is a healthy, flourless alternative to traditional mug cake recipes. Each bite of sweet, tender protein cake in a mug is packed with healthy fats, protein, and nutrients to give you the boost of energy you need!
Servings 1
Calories 247kcal
Ingredients
1/8 cup cocoa powder
1/8 cup chocolate PB2
1/4 cup unsweetened vanilla almond milk
1 egg
3 packages stevia
1/2 scoop cafe mocha protein powder
Drizzle Topping
1 tablespoon Just Great Stuff or PB2
almond milk just enough to make it pourable
Instructions
In a bowl combine all ingredients (except drizzle). Spray a mug with non stick spray, pour in batter and microwave 30 seconds at a time until cooked (mine took 1 1/2 minutes).

Combine drizzle ingredients and pour.
Nutrition
Calories: 247kcal | Carbohydrates: 25g | Protein: 26g | Fat: 10g | Saturated Fat: 3g | Polyunsaturated Fat: 1g | Monounsaturated Fat: 2g | Trans Fat: 0.02g | Cholesterol: 181mg | Sodium: 415mg | Potassium: 521mg | Fiber: 10g | Sugar: 6g | Vitamin A: 288IU | Calcium: 236mg | Iron: 3mg
Follow On Pinterest
Follow @bewitchinkitchen On Pinterest for more delicious recipes!
What's your favorite mug cake recipe? Have you ever tried adding protein powder to it?