Curry Quinoa with Kale and Roasted Cauliflower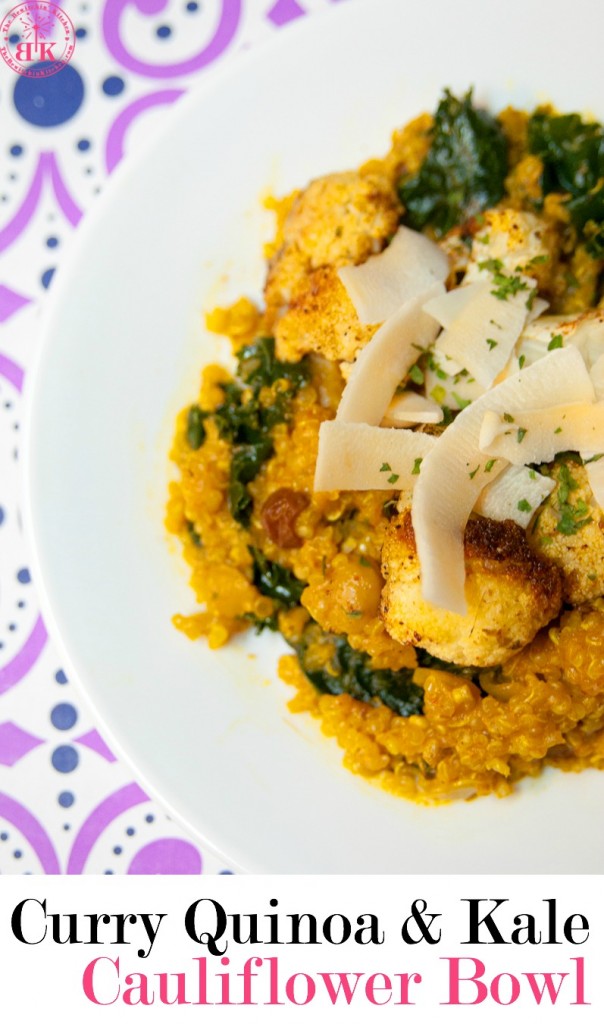 I love to try new recipes that feature old and new favorite ingredients. Right now I do a lot of cooking with coconut oil, but after making this Curry Quinoa with Kale and Roasted Cauliflower I may have a few new regulars in my kitchen.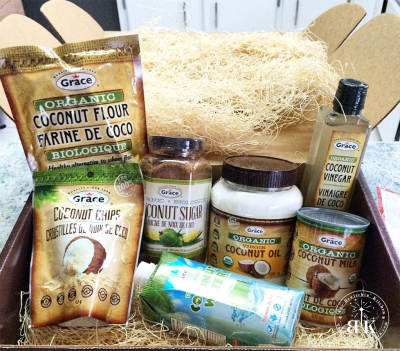 If you follow me on Instagram, you may have noticed I received a delivery I was rather excited about a few weeks ago. The delivery was from Grace Foods and contained a few coconut products that I was looking forward to trying out. I'm all for healthy foods that taste great and right now I'm all about the coconut. As I said before, I do a lot of cooking with coconut oil (I have even replaced my coffee creamer with coconut oil). Did you know that coconut oil has been endorsed by leading medical and health experts as a food that can help protect us from heart disease? There are a number of nutritional benefits of using coconut products in our cooking (fibre, protein and good fat) and not only does coconut help us feel better but it also helps us look better (there are a number of beneficial uses for hair, skin and nails). Add in the fact that it can help fight off infections, and we have a superfood that tastes good and is easy to incorporate into our everyday life.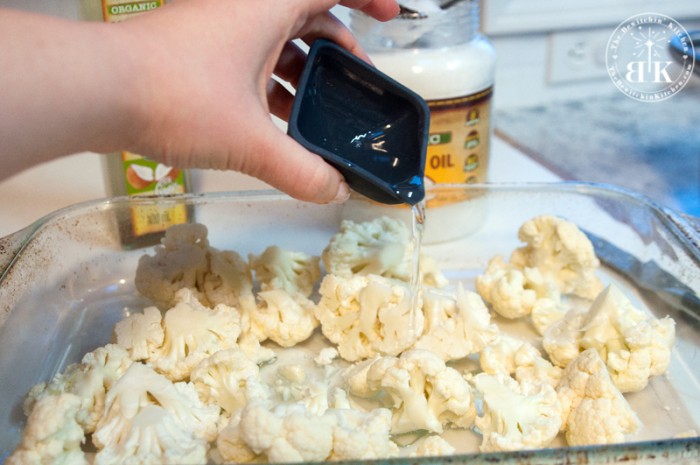 I used a number of organic coconut products from Grace Foods in this Curry Quinoa recipe. Including:
Grace Organic Virgin Coconut Oil
Grace Organic Coconut Milk
Grace Organic Coconut Vinegar
Grace All Natural Coconut Chips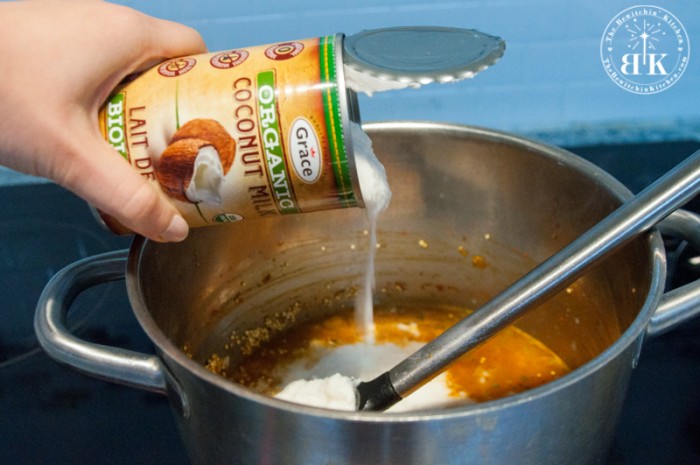 It was easy to incorporate the coconut products by doing a few simple swaps:
Organic Virgin Coconut Oil for Olive Oil
Coconut Milk for 1 cup of water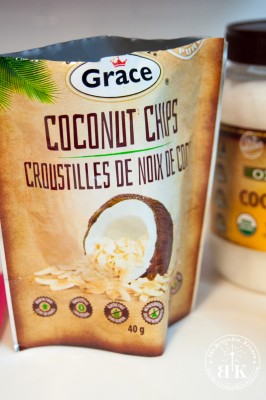 I also added some new-to-me ingredients to the Curry Quinoa dish: All Natural Coconut Chips and Organic Coconut Vinegar. A word of caution: the Coconut Chips are highly addictive and are heaven in a bag. Do not sample them before garnishing as you will eat half the bag yourself and feel shame.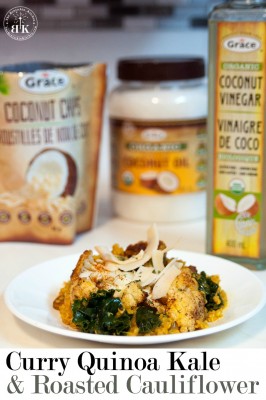 In the end you will have this amazing recipe from Curry Quinoa with Kale and Roasted Cauliflower. It's a great vegetarian meal to have on hand for "meatless Monday". It's filling and chocked full of superfoods (coconut, kale, quinoa, curry).
Healthy Curry Recipes
CURRY QUINOA WITH KALE AND ROASTED CAULIFLOWER
This Curry Quinoa and Kale Cauliflower Bowl is a great vegetarian dish.
Servings 4
Calories 469kcal
Ingredients
Roasted Cauliflower:
1 head cauliflower broken up into florets
2 tbsp coconut oil melted
1 tsp dried thyme
1 1/2 tsp paprika
1/4 tsp sea salt
Pinch cayenne pepper
Curried Quinoa:
2 tbsp coconut oil
1 onion chopped
1 carrot finely chopped
1 tsp powdered ginger
2 cloves garlic minced
1 tbsp mild curry powder
1/2 tsp sea salt
1/4 tsp ground pepper
4 tsp red thai curry paste
1 cup quinoa
1 cup chicken broth no or low sodium
1 can 400 mL Grace Organic Coconut Milk
1 cup chickpeas drained and rinsed
1/4 cup raisins
3 cups thinly sliced kale ribs removed
1 tbsp Grace Organic Coconut Vinegar
2 tbsp finely chopped fresh parsley optional
1/4 cup Grace Coconut Chips
Instructions
Pre heat oven to 425 F.

For The Cauliflower:

In a large baking dish, toss the cauliflower florets with Grace Coconut Oil, salt, pepper, cayenne, paprika and thyme. Roast for 25-30 minutes, or until golden brown.

For The Curry:

In a medium pan, melt the Grace Coconut Oil. Add onion, garlic and carrots and saute for about 5 minutes over medium heat. Add curry powder, ginger, salt and paper and curry paste and cook for another minute.

Add the dried quinoa and stir until it's well coated with the curry mixture. Next add the can of Grace Organic Coconut Milk, chicken broth, raisins and chickpeas. Bring to a boil then reduce heat to low. Cover and let it do it's thing for 15 minutes.

In 15 minutes there should still be a little liquid left (if not, add some water), this is when you would add your chopped up kale. Let it cook for another 5 minutes, or until all the liquid is absorbed. Add the Grace Coconut Vinegar, stir, remove from heat and let stand for 5 minutes.

Assembly:

Divide the quinoa between four plates and top with the roasted cauliflower. Garnish with parsley and 1 tbsp of Grace Coconut Chips.
Nutrition
Serving: 1g | Calories: 469kcal | Carbohydrates: 64g | Protein: 16g | Fat: 19g | Saturated Fat: 12g | Sodium: 735mg | Potassium: 1300mg | Fiber: 11g | Sugar: 7g | Vitamin A: 8955IU | Vitamin C: 141.1mg | Calcium: 189mg | Iron: 6.2mg
Follow On Pinterest
Follow @bewitchinkitchen On Pinterest for more delicious recipes!
Do you cook with coconut products? What's your favorite recipe?
Looking for more great ideas? Click here to follow me on Pinterest!
Visit Randa | The Bewitchin' Kitchen's profile on Pinterest.